During the month of April I am participating in the  Blogging from A to Z Challenge.  The challenge has each blogger select a theme and then do a post thematically from A to Z during each day of April , except Sundays. My blog is number 1337 out of 1670 participating blogs. This year my A to Z posts will take you across the back roads of America to many unique towns, some known for their names, other for unique sites in town. To see what other bloggers will be posting about, check out the link:  A to Z Theme Reveal List for 2016
The A Towns
Amarillo, Texas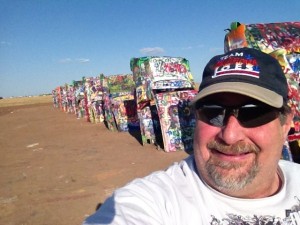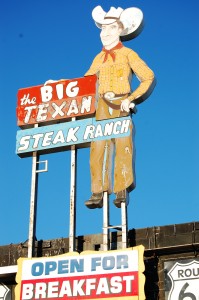 Amarillo is one of the Route 66 towns with a load of places to see and things to do.  One of the most famous attractions is Cadillac Ranch.   It is also famous for the Big Texan Steak Ranch, home of the 72 OZ Steak Challenge. See my full post about Cadillac Ranch, the Steak Ranch and more HERE
Adair, Iowa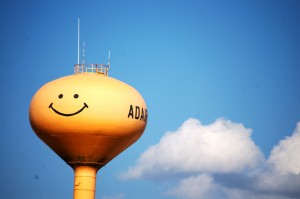 Adair, Iowa is a small town located off of Interstate 80 (which also serve as US Hwy 6) and is located west of Des Moines. The appeal here is the famed Smiley Water Tower.  The town is also located in the midst of the one the Mid-American Wind Farms and then just acres upon acres of corn fields.  You can read more about my visit to Adair and other places in Iowa and Nebraska HERE.
Alzada, Montana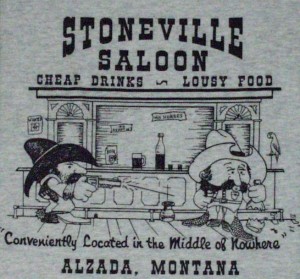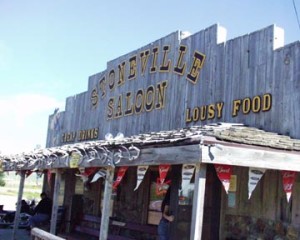 Alzada, Montana is a dot on the map in Carter County in the southeastern corner of Montana.  As of the 2010 census it had a population of 29. Perhaps the small little place in the middle of nowhere is best known for the Stoneville Saloon, which beckons passer's by with their famed "Cheap Drinks – Lousy Food" slogan.  I visited there with my family and ate their delicious burgers back in 2005.  Read about it and our southeastern Montana adventures HERE.
Alamogordo, New Mexico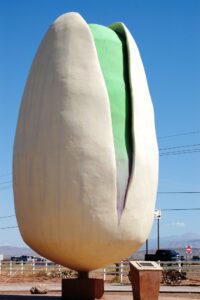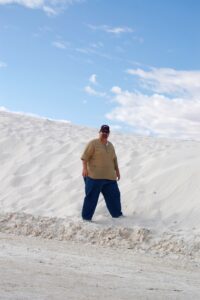 Alamogordo is located about 12-15 miles east of White Sands National Monument at the junctions of US Highways 70, 54 and 82.  It is one of the premier pistachio growing capitals of the US and is home to the world's largest pistachio nut, which resides at McGinn's Pistachio Tree Ranch.
Alligator, Mississippi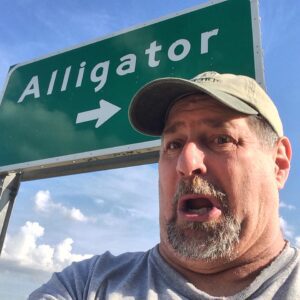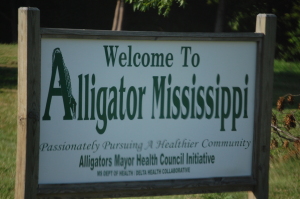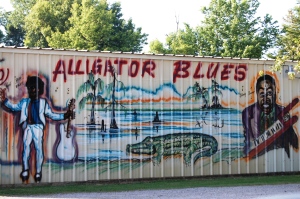 I visited the small town of Alligator, Mississippi while on a drive down the historic Blues Highway, US Highway 61 in Mississippi, in the summer of 2014.  The town has a little over 200 citizens, but is colorful and fun.   There are four or five colorful murals, a Blues Bar and, as of 2009, the town celebrated its first black Mayor.  It is known as the home of the Alligator Blues. See my original post about the Blues Highway HERE.
Alliance, Nebraska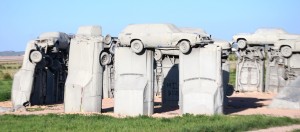 Car art dots the United States (see my post about Car Art places HERE).  The Cadillac Ranch, mentioned above and Carhenge in Alliance, NE are probably the two most famous.  Alliance is located in the northwestern corner of Nebraska, just east of Scottsbluff.  The town has about 8500 people and Carhenge is most certainly its biggest draw.  I visited there in May 2014 and have an extensive writeup about the unique attraction HERE.
Ada, Michigan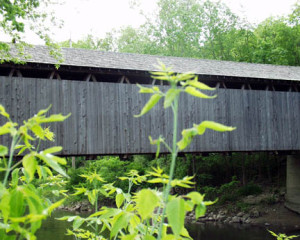 I have a fascination with many things and one of them is covered bridges.  I have visited dozens of them in the US and Canada.  One of these is located just outside of Ada, MI, which is a suburb of Grand Rapids.  I visited there in 2008 and made my way to a number of places in southern Michigan as well.  You can read the full story HERE.
Akela Flats, New Mexico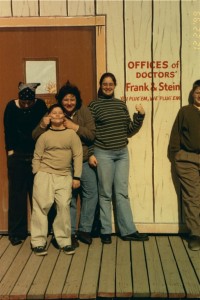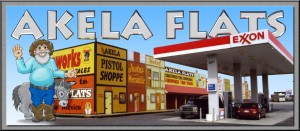 Finally, the last of my A towns is Akela Flats, NM.  Located outside of Deming, NM clear in south on Interstate 10, it is the home of one of the unique Bowlin Travel Centers.  Bowlin owns "The Thing" travel center in Dragoon, AZ and a couple of others.  Akela Flats has an old set of western style store fronts, with fun names…perfect for the family travel photos.  The stores always have the unique tourist trap types of gifts and foods, a throwback to the old days of travel on Route 66 and other US Highways.
Did You Miss My Other A to Z Challenge Posts? Click on a letter below to see the others.
A B C D E F G H I J K L M N O P Q R S T U V W X Y Z
Learn More About the A to Z Challenge and visit hundreds of other participating blogs (click logo below)