During the month of April I am participating in the Blogging from A to Z Challenge. The challenge has each blogger select a theme and then do a post thematically from A to Z during each day of April , except Sundays. My blog is number 1337 out of 1670 participating blogs. This year my A to Z posts will take you across the back roads of America to many unique towns, some known for their names, other for unique sites in town. To see what other bloggers will be posting about, check out the link: A to Z Theme Reveal List for 2016
The B Towns
Bemidji, Minnesota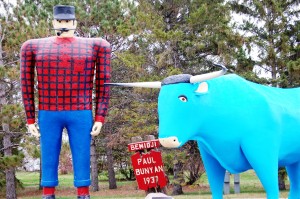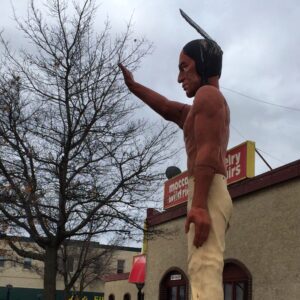 Visiting Bemidji, MN was a lifelong dream of mine believe it or not.  As a young kid in the 1960s I had seen black and white photos of the giant Paul Bunyan Statue with his giant ox in LIFE magazine. I finally got to visit this iconic statue as well as a myriad of other sites in Bemidji, which is on US Highway 2 in western Minnesota. See my full post about Bemidji and my US Highway 2 cross country road trip  HERE.
Boring, Oregon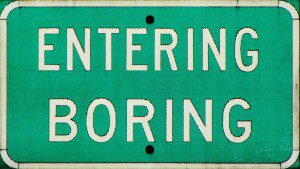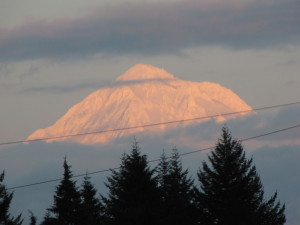 In 2012 I visited Oregon on a couple of occasions for business.  While in Portland, I was fascinated with a town called Boring and wanted to have the opportunity to visit there and see if it lived up to its name.   The town actually has about 8000 people and is a distant suburb of Portland and is reached on Oregon Highway 212. It offers some fabulous views of the massive Mt. Hood and provides a few chuckles with places like the Boring City Hall, the Boring Fire Department and a few other Boring places.  The community was named after William H. Boring, an early resident of the area who began farming there in the 1870s.  See more about my Boring visit HERE.
Blackfoot, Idaho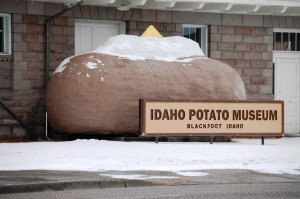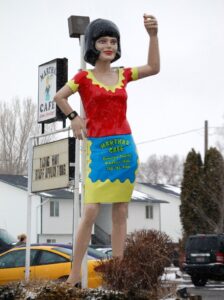 In 2013 I took a two week business trip to Rexburg, Idaho.  While there I made a visit to Blackfoot so I could see the famed Idaho Potato Museum and the worlds largest baked and buttered potato.  The town is at the end of US Highway 26 and is crossed through by Interstate 15 and  US 91 and is almost exactly between Idaho Falls and Pocatello.  The town has a number of nice murals, a great Uniroyal Gal statue and a couple of awesome drive-in eateries including Rupe's Burgers and Martha's Cafe. For more on my visit to Blackfoot and the surrounding area in 2013, click HERE.
Burk's Falls, Ontario, Canada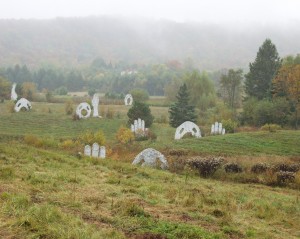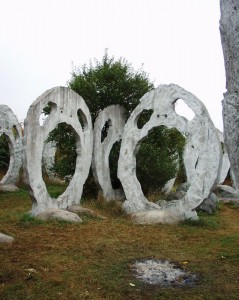 I worked in southern Ontario during a good part of 2008 and one of the most quirky and unique places I ever visited was on a farm just outside of Burk's Falls, Ontario. Canadian secondary school teacher Peter Camani created these spooky yet fascinating landscape pieces of art, which cover quite a bit of acreage. Since the mid-1970s besides being a teacher, he has built these massive structures and amazing castle.  Burk's Falls is way up north in Ontario, on Canadian Highway 11 west of Algonquin Provincial Park. Once there, you need to find Midlothian Road and head west.  You can't miss this freaky place.  Read more about my visit and see more photos HERE.
Booger Holler, Arkansas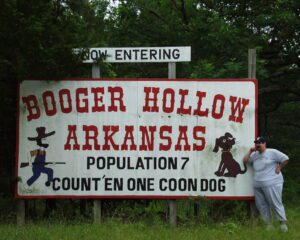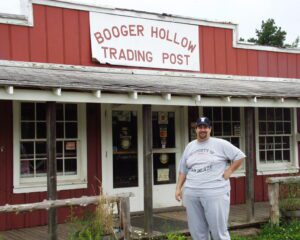 When a town has a name like Booger Holler, how can you NOT go see it.  On a trip through Arkansas on my way to Fort Worth, Texas in 2007, I went 30 miles out of my way to visit Booger Holler.  Obscurely located on the winding AR Hwy 7, the place is barely a dot on the map.  At one time it Booger Hollow was once a popular tourist attraction along the Scenic 7 Byway. Though it is a "ghost attraction" today — closed and abandoned, it's still worth a stop for its interesting photo opportunities, especially the main attraction — a two-story outhouse.  You can read more about this unique offbeat and quirky attraction on a distant back road in Arkansas by clicking HERE.
Brownsville, Tennessee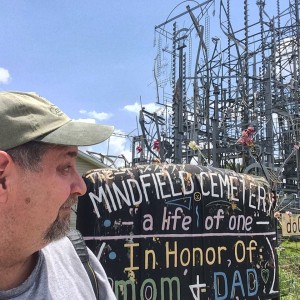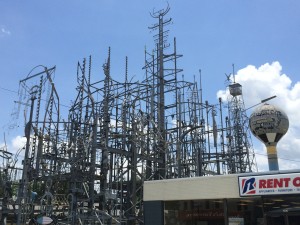 On a road trip to Galveston in 2014, I made it a point to take back roads all the way from Lexington to Galveston.  Along the way, I hit a number of unique attractions before making my way to US 61 and the Blues Highway in Mississippi.  One of my stops was in Brownsville, Tennessee, home of the uber quirky Billy Tripp's Mindfield, which was built to honor Mr. Tripp's parents.  A towering and dizzying metal sculpture, it was most certainly not something one would expect in a quiet little Tennessee town like Brownsville, which can be reached on US 79 northeast of Memphis.  Read more about this strange attraction and quaint town HERE.
Babb, Montana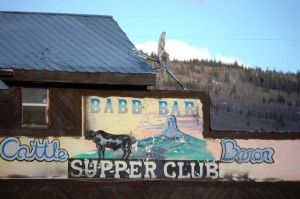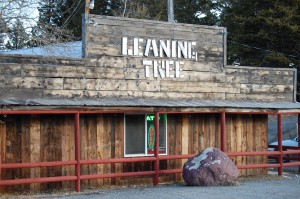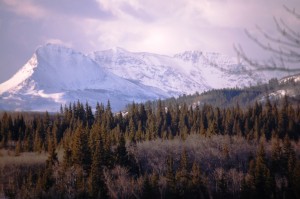 On a number of occasions I visited family in Shelby, Montana.  On one trip we took a ride to the edge of Glacier National Park and visited the little community of Babb, Montana.  We ate breakfast at the Leaning Tree Cafe and enjoyed a spectacular view of the Rocky Mountains.  Babb is located on US Highway 89, one of America's most scenic highways and it is the first US town south of the Canadian border on that highway.  See more about this lovely place HERE.
Blackwater, Missouri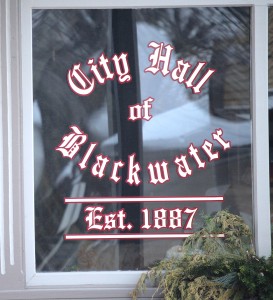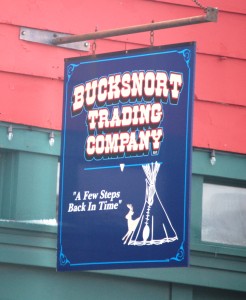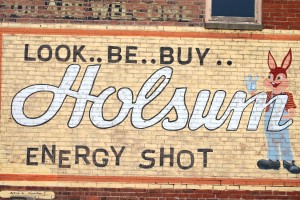 I like visiting towns that are named in songs.  In the past I have visited China Grove, TX and LaGrange, TX and on one trip I drive into Blackwater, MO for a quick look see.   Blackwater is the home of the Bucksnort Trading Company (not to be confused with Bucksnort, TN) and can be reached by taking Missouri Highway K north of Interstate 70.  Fun little place with Antiques, some great old Wall Art and more.
Bena, Minnesota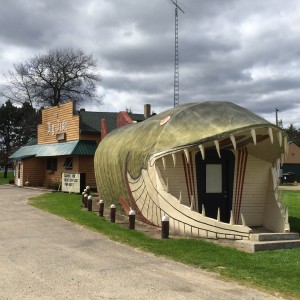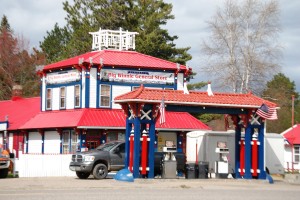 Last stop on the B Town visit is the town of Bena, Minnesota, another of the many fascinating places to be seen on US Highway 2 in Minnesota.  It is home of the Big Fish Supper Club including the giant walk in fish.  Bena is also home to the historic Big Winnie Store and RV Park.  Built in 1932, this place has been a haven for travelers for over 80 years. Bena is actually not too far from Bemidji (see above).  The long US 2 trip report from 2013 can be seen HERE.
Bucksnort, Tennessee (Honorable Mention)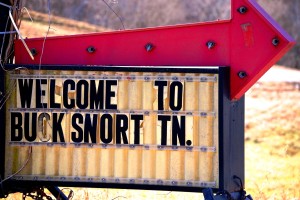 Honestly, since I mentioned the Bucksnort Trading Company in Missouri, how can I forget adding the unusual community of Bucksnort, TN. It is located near Exit 152 on Interstate 40, a few miles east of the Tennessee River. Strange name with just a small truck stop and convenience store.  I visited here in 2010 on a trip from Bugtussle, KY to Bugtussle, TX (all in one day — see below)
Bugtussle, Kentucky and Bugtussle, Texas (Honorable Mention)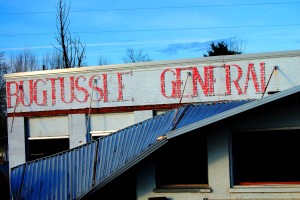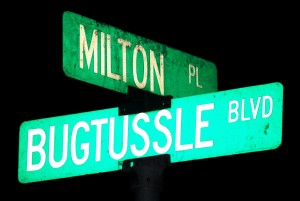 And finally, how about a couple of places named Bugtussle?  In February 2010 I had a crazy notion – how about driving from my home in Lexington, KY to Bugtussle, KY and then drive all the way to Bugtussle, TX on the same day, taking back roads through Tennessee, Arkansas and Texas. I had known the name Bugtussle from the Beverly Hillbillies and so, in my own quirky way, I thought it would be fun!  Bugtussle, KY is a small community on the border of Tennessee on Kentucky Hwy 87 south of Glasgow, KY.  Bugtussle, TX is just a corner at the intersection of Texas Farm Road 1550 and Texas Hwy 34, southwest of Paris, TX.  On the same trip I visited Bucksnort, TN (see above) and on the way home visited Uncertain, TX (which will be featured on my U Towns post later this month).  See the original Bugtussle trip post HERE.
Did You Miss My Other A to Z Challenge Posts? Click on a letter below to see the others.
A B C D E F G H I J K L M N O P Q R S T U V W X Y Z
Learn More About the A to Z Challenge and visit hundreds of other participating blogs (click logo below)