During the month of April I am participating in the Blogging from A to Z Challenge. The challenge has each blogger select a theme and then do a post thematically from A to Z during each day of April , except Sundays. My blog is number 1337 out of 1670 participating blogs. This year my A to Z posts will take you across the back roads of America to many unique towns, some known for their names, other for unique sites in town. To see what other bloggers will be posting about, check out the link: A to Z Theme Reveal List for 2016
The C Towns
Cactus Flat, South Dakota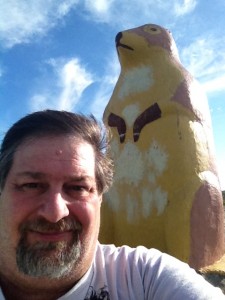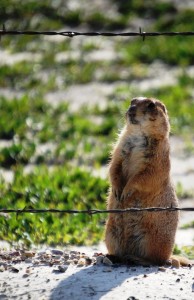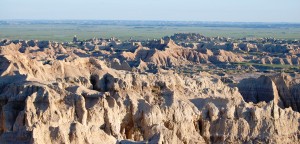 Visiting National Parks is always a fun adventure and especially this year as the National Park Service turns 100 on August 25, 2016.  One of the great parks in this country is Badlands National Park in South Dakota.  Near the northeast entrance and right off of Interstate 90 at Exit 131 is a place called Cactus Flat. As with most National Park entrance areas, this is a touristy area with a couple of "tourist traps" such as the Badlands Ranch Store.  And just near the trading post is the 'World's Largest Prairie Dog," a six ton pink giant that overshadows a REAL Prairie Dog community where you can feed them and take photos.  Read all about my 2013 visit to the Badlands HERE.
Centralia, Missouri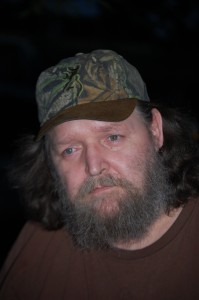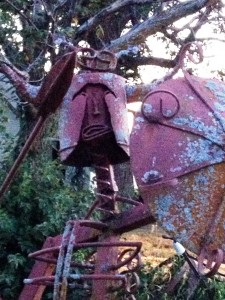 I have had a passion for "collecting" scrap metal sculptures from the around the country.  My collections come in photographs of said objects as most are way too heavy and too large for a car.  Most of these artists make them as a hobby and then display them on their properties (see my special post about these HERE).  Back in October 2013, on a return trip from Omaha, we made a visit to the community of Centralia, Missouri to track down one of these artists.  Larry Vennard is a nice guy and a fun artist.  He has a number of scrap metal dinosaurs sitting in his front yard on Highway T.  Check out my full post about Larry HERE.
Cape Elizabeth, Maine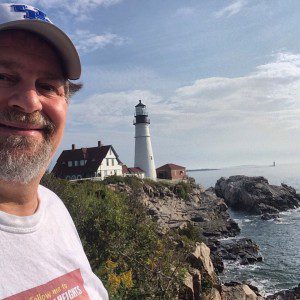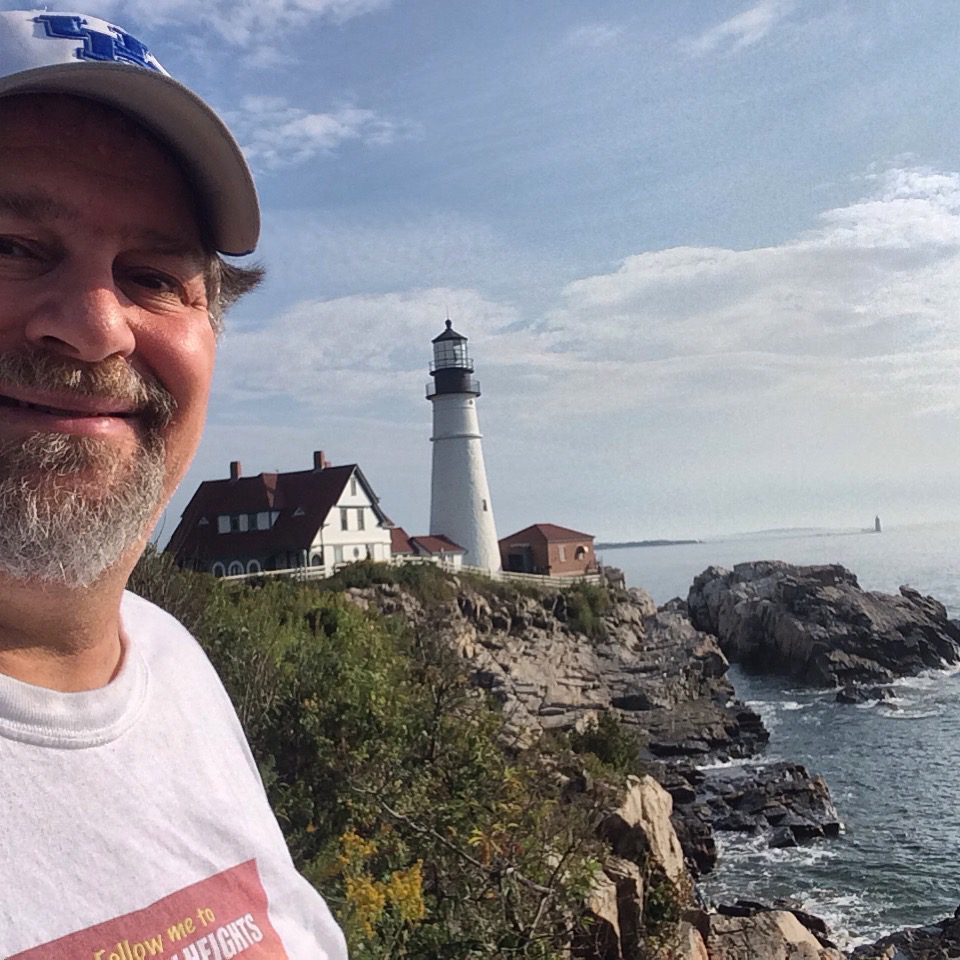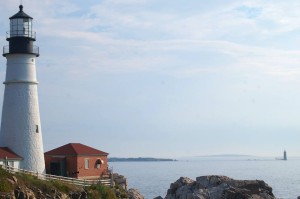 In the summer of 2015 my wife, one of my daughters and some of the grandchildren took a drive to Connecticut to visit our son.  While up in New England, we also made our way up to Maine to visit Old Orchard Beach, but also visited the famed Portland Head Light in Cape Elizabeth, Maine. Read about the entire visit HERE.
Climax, North Carolina and Climax, Kentucky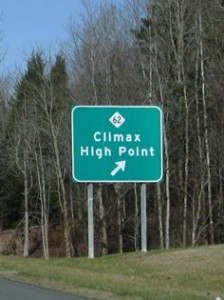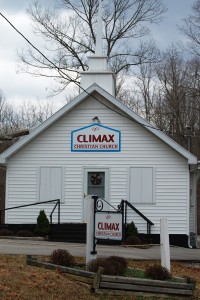 Most road trips have their highs and lows.  But occasionally the trip can reach a Climax.  In my case I made a trip to Climax, North Carolina and then on to High Point, North Carolina in March 2012.  I stopped halfway there to call my wife and tell her I was somewhere between Climax and High Point. HA!
On another March trip, in 2009, with my wife in tow, we took a back roads "staycation" in Kentucky along KY Hwy 1912 (Climax Brushcreek Road) and I nabbed the photo of the Climax Christian Church. I even joked at that time the for members of the church there, it was always the climax of their week!
Choteau, Montana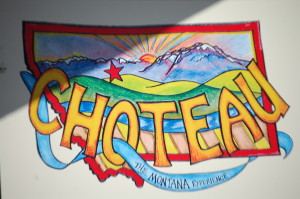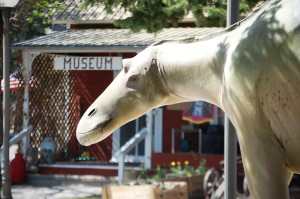 From Canada to Mexico, US Highway 89 is probably one of the most scenic routes in the country. Up in Montana it runs along Glacier National Park.  One of the communities along that route is the town of Choteau. This town is one of the gateways to Glacier and offers a wonderful museum in the Old Trail Museum which offers large dinosaurs, a grizzly bear exhibit and a number of other fun things…even a great place to get an ice cream cone!  Check out my trip down US 89 in Montana from 2014 — RIGHT HERE!
Cave City, Kentucky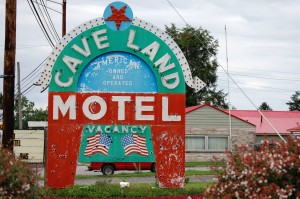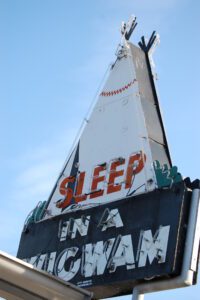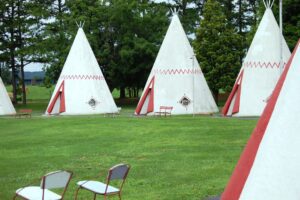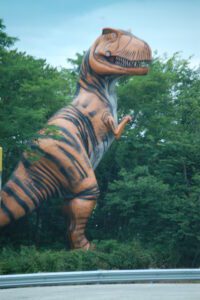 Not too far from my home in Lexington, KY is yet another National Park…Mammoth Cave National Park.  Like the other two listed above, this one is surrounded by tourist traps and a Gateway town known as Cave City.  Cave City is one of those touristy towns that has been around since the 1950s.  Along with the Route 66 type of feel with neon and old motels, it is also home to one of only 3 remaining Wigwam Motel Villages, a vestige of the early travel days of the late 1950s and 1960s.  The town is also home to Dinosaur World, which features a number of giant dinosaur statues. Cave City is accessed from Exit 53 on Interstate 65 south of Louisville.  You can learn more about the Wigwam Village HERE.
Charm, Ohio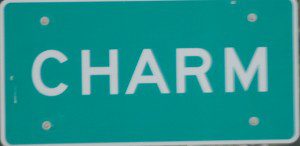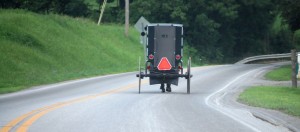 I am fascinated by other cultures, especially those that live in the US and Canada.  From the Hopi and Navajo Indians to the Amish and Mennonites, some people choose alternative lifestyles without electricity, running water or otherwise.  In my years of travel I have visited a number of Amish communities and one of my favorites is Charm, Ohio.  As its name implies, it has a simple charm to it.  To get there you take Ohio 557 south from Berlin, Ohio.  But be careful, this is the heart of Ohio Amish country and there could be a slow moving buggy on the road.
Chelsea, Michigan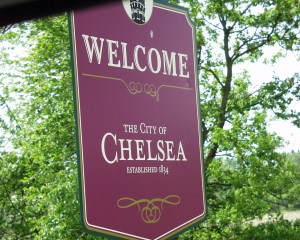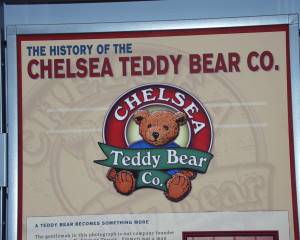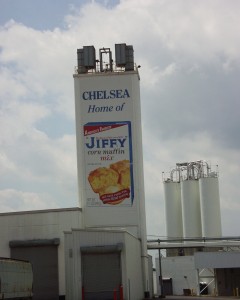 On one of my trips to Michigan, I made way into the town of Chelsea.  My daughter is named Chelsea, so I thought it would be fun to stop at the Chelsea Teddy Bear Factory and get her a namesake teddy bear.  Chelsea is located on MI Hwy 52 south of Pinckney and Hell and is basically off of Interstate 94 west of Ann Arbor.  It is quaint little town with beautiful architecture, the Teddy Bear Factory and is the home of the Jiffy Company, makers of that famous corn muffin mix.  You can read about my trip there in 2008 by going HERE.
Champaign, Illinois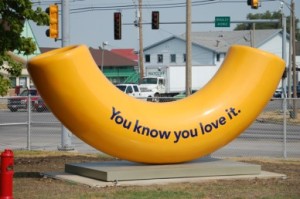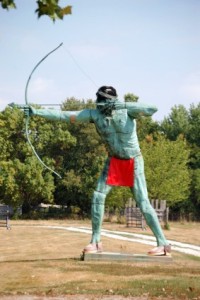 Deep in the heart of Illinois and a little south of Normal (in both the literal and figurative senses!) is the cool little town of Champaign, Illinois. This town is off of Interstate 74 west of Indianapolis and has some fun, kid friendly places to visit.  The best place for a visit is Curtis Orchards.  An orchard and pumpkin patch, they offer a real yellow brick road and have a number of Wizard of Oz themed attractions, murals and even the cafe, which is called the Flying Monkey Cafe.  In the back part of the orchard there is a huge metal Indian statue shooting an arrow.  Check out more about the fun visit I made in 2012 HERE.
Cut Bank, Montana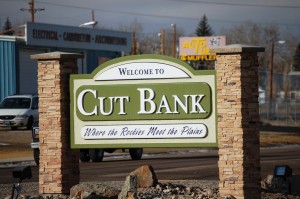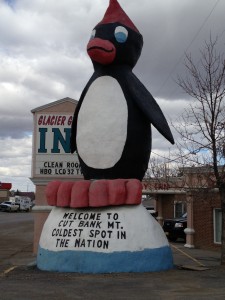 For a number of years my daughter and her family lived in Shelby, Montana.  During my visits there I made a few treks down US Highway 2 into Cut Bank, Montana in order to get to Glacier National Park.  Cut Bank is one of the gateways to Glacier and has a number of interesting and even quirky sites.  There are a number of excellent wall murals dotting the town, a huge railroad trestle for railroad enthusiasts and then the "World's Largest Penguin" statue that touts the town as the coldest spot in the nation.  Check out a write up about my road trip across the Hi Line of Montana back in July 2014 – you can see it HERE.
Caledonia, Ontario, Canada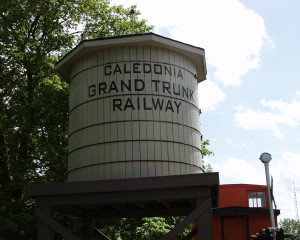 While working in Ontario, Canada in 2008, I had the opportunity to drive all over the province.  One of the interesting stops I found was Caledonia. Caledonia is a small riverside community located on the Grand River in Haldimand County, Ontario and has a population of just under 10,000.  In the late 1880s it became a stop along the Grand Trunk Railway which ran through Canada and into Michigan.  In fact, the 1970s Rock Band, Grand Funk Railroad took their name as a play on this railway.  You can read more about my visit to Caledonia and the surrounding towns of Norwich and Otterville in 2008 by clicking HERE.
Cut and Shoot, Texas (Honorable Mention)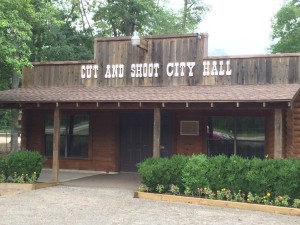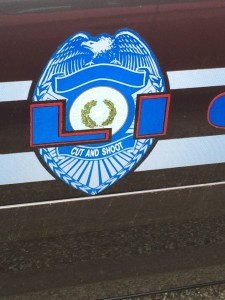 I am always in search of uniquely named towns.  There are very few in the country with multiple words in the name, and Cut and Shoot, Texas is one of them.  On a trip to Galveston in 2014, I made my through this town north of Houston just to get a picture with the town hall building….a rustic old piece of art.  I was also pleasantly surprised to see their police cars.  How many police departments actually have Shoot in their name?   Check out more about my drive through…  HERE
China Grove, Texas (Honorable Mention)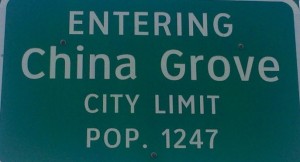 I drove through China Grove, TX back in 2013 on my way to San Antonio.  Indeed, I went out of my so I could see this sleepy little town near San Anton…  (yes, made famous by the Doobie Brothers)
Cool, Texas and Coolville, Ohio (Honorable Mention)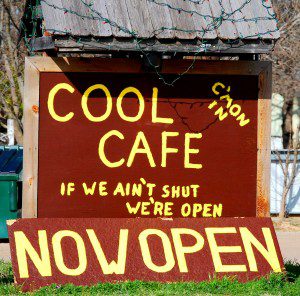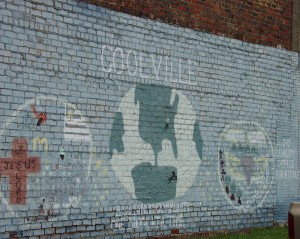 Then there are the Cool places to visit.  Cool, TX, which is located on US Highway 180 between Weatherford and Mineral Wells.  Known for their unique cafe, the Cool Cafe, which has been closed both times I went through there. You can see a bit more in my post HERE.   Then, up in Ohio, there is the small community of Coolville, located on US Highway 50 just north of the Ohio River and near the West Virginia border.  You can see my writeup of Coolville HERE.
Did You Miss My Other A to Z Challenge Posts? Click on a letter below to see the others.
A B C D E F G H I J K L M N O P Q R S T U V W X Y Z
Learn More About the A to Z Challenge and visit hundreds of other participating blogs (click logo below)