During the month of April I am participating in the Blogging from A to Z Challenge. The challenge has each blogger select a theme and then do a post thematically from A to Z during each day of April , except Sundays. My blog is number 1337 out of 1670 participating blogs. This year my A to Z posts will take you across the back roads of America to many unique towns, some known for their names, other for unique sites in town. To see what other bloggers will be posting about, check out the link: A to Z Theme Reveal List for 2016
The D Towns
Douglas, Wyoming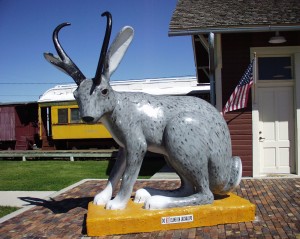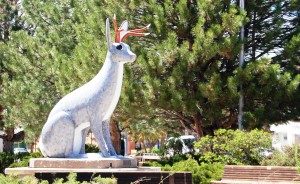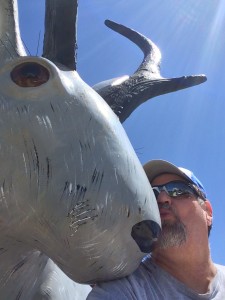 As I travel across the US and Canada, I am always on the lookout for quirky things and big statues.  Well, Douglas, Wyoming provides plenty in that area.  Touted as the Jackalope Capital of the World, Douglas has jackalopes dotting the town, including a couple of big ones.  And "What is a jackalope?" you ask…  Check out my full posts on Douglas HERE and ALSO HERE.
DeForest, Wisconsin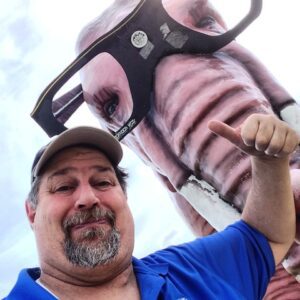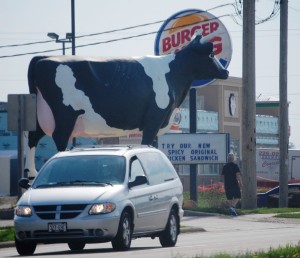 Perhaps Wisconsin is the home of the most Big Things.  Throughout the state there are big cows (it is a cheesy state mind you) and big mice.  There is a big bulldog in Beloit (see here).  However, not much tops the big pink elephant at the Shell One Stop in DeForest, WI and the big cow named Sissy is also one of America's biggest.  Read the bigger story and see more photos HERE.
Discovery Bay, Washington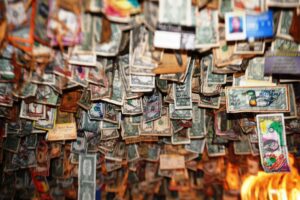 The theme of quirky runs throughout the veins of this post.  I now move on to Discovery Bay, WA on US Highway 101 northwest of Seattle, (near Port Townsend, WA) home of the uniquely quirky Fat Smitty's burger place.  Surrounded by a menagerie of interesting and colorful wood carvings on the outside and walls and ceilings plastered with dollar bills (and other denominations), this is a place to behold.  Oh, and yes, the burgers aren't too bad either.  See my full post about my August 2015 visit to Fat Smitty's HERE.
Dublin, Ohio and Dublin, Texas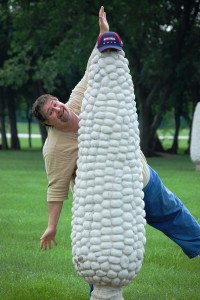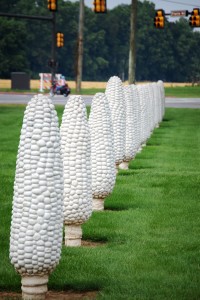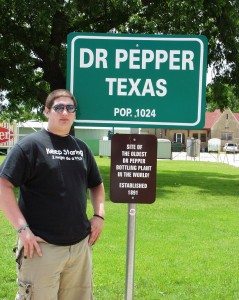 I have never been to Dublin, Ireland, but I have been to Dublin, Ohio and Dublin, Texas.  The two American towns named Dublin are distinctly different, but both offer some surprises.
In Dublin, OH you can play amongst ears of corn at the "Field of Corn" is a publicly funded art installation in the city of Dublin, Ohio. The installation consists of 109 concrete ears of corn positioned in rows and standing upright in a grassy field.  Sculpted by Malcolm Cochran, a professor of sculpting at Ohio State University, the park was named the Sam and Eulalia Frantz Park, and was originally farmed by Sam Frantz, an inventor of several hybrid corn species.  This is not the only unique public art work in Dublin.  This is one of a few towns that has worked to bring in a plethora of unique, cool and sometimes quirky works of outdoor art. Check out the Dublin Arts Council's website.
In 2007 I took a trip with my son to Texas and Arkansas (I noted our visit to Booger Holler in my B Towns post of the #AtoZChallenge).  On that same trip we visited the town of Dublin, TX, near Waco, to visit what was, at that time, the only remaining Dr Pepper plant in the world that made Dr Pepper with pure cane sugar.  The plant has eventually converted and the museum was moved to Waco.  But I note it here because, back then, they changed the name of the town to Dr Pepper, Texas once a year (and set the population at 1024 — if you are a Dr Pepper fan, you'll know what the 1024 means).
Dragoon, Arizona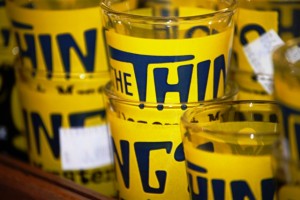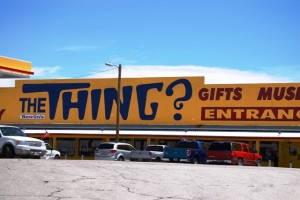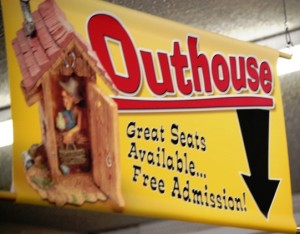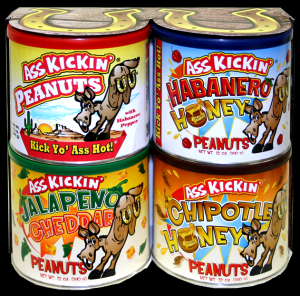 I mentioned Bowlin's resorts in my post on Akela Flats in the A to Z Challenge last week.  Bowlin has another fun touristy place in Arizona called "The Thing."  This is one of those places that has billboards hundreds of miles away promoting the unusual site (other's that I recall seeing in diverse places include "Where the hell is Wall Drug?" (South Dakota), "Visit Little America" (Wyoming), "Rock City" (Tennessee).  I'll actually hit these places in future posts. ).  As for an explanation of "The Thing", you'll have to make your way south of Tucson on Interstate 10, pay the fee and go see it for yourself.  Make sure you visit the famed Outhouse and get some of those amazing Ass Kickin' Peanuts!  They are available at many fine tourist trap shops around the southwest.
Denton, Texas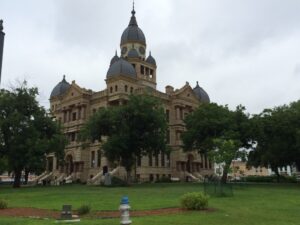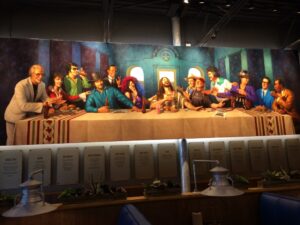 A well kept secret of a place is Denton, Texas.  Just north of the excitement of the Dallas metroplex, Denton sits quietly with its grand architecture, ghost walks and a unique burger joint that features a wonderful, yet controversial mural call the The Great Texas Supper, a play on the Last Supper painting but instead has a number of dead Texas musicians.  The LSA Burger Company also features a tribute to Willie Nelson, a Texas shaped "Texas Instruments" sculpture and bars covered with old record albums.  See my full post HERE.
Durant, Oklahoma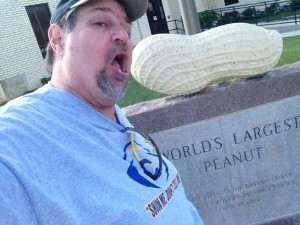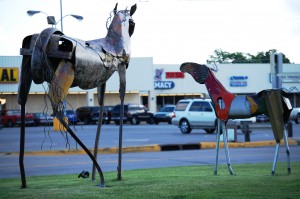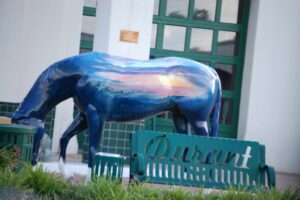 Durant, Oklahoma is one of those unique small towns that brings me so much enjoyment in travel.  Home of the "World's Largest Peanut" statue, it is also decorated with dozens of painted horses. Durant is in the Choctaw Nation and is currently ranked as one of the fastest growing cities in the United States.   Though Durant lays claim to the "World's Largest Peanut", its a title it shares with two other monuments in Texas and Ashburn, Georgia. This monument is for the peanut growers in Bryan County and I found it on the front lawn of Durant's city hall.  See more about my trip to Durant and other locales from back in 2013 HERE.
Danville, Illinois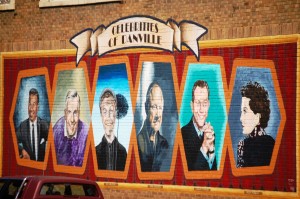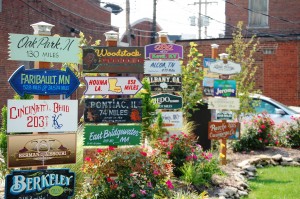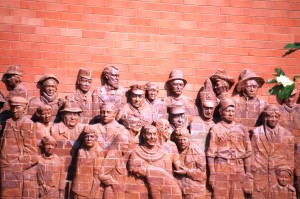 I visited Danville, Illinois on a trip to Omaha in 2013.  This is one of those towns you can spend a good day in.  With dozens of wall murals depicting town history and town heroes, the art is great. But there are other unique pieces of art such as the Danville USA Brick Sculpture shown above.  But most interesting to me was the Lindley Sign Post Forest. The story is unique….Carl Lindley, one of the mural artists in Danville, has the same name as Carl Lindley (also originally from Danville, IL), the founder of the original sign post forest in Alaska (see here). This tradition started in 1942 by Carl K. Lindley, a U. S. Army Engineer, 341 company "D". When building many signs in the area, he added a sign to a sign post which stated, "Danville, Illinois, 2835 miles".  The Alaska version has over 47,000 signs.  I think the more mini version in Danville has about 200.  Read the bigger story and see photos in my 2013 post HERE.
Dallas, South Dakota (Honorable mention)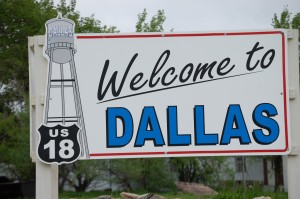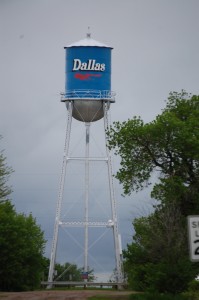 In 2013 I trekked across the country to Idaho and, along the way, took a drive along the Oyate Trail in South Dakota, which covers US Highways 18 and 50. (See the full post HERE).  One of the unique little places I visited was Dallas, SD.  Unlike the huge metropolis of Dallas, Texas, this small community has no stop light but it DOES have a water tower right in the middle of the road!
Denver, North Carolina (Honorable mention)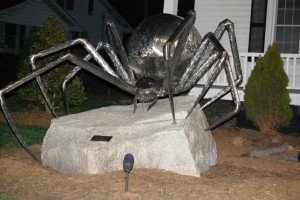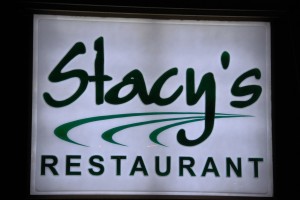 If I am going to include a Dallas, I might as well also include a Denver, this one in North Carolina.  Denver is a town of a little over 13,000 fine folk who enjoy the luxurious life on the west shore of Lake Norman, just off of NC Hwy 7.  I visited some friends there in March 2012.  We went downtown to dinner and lo and behold I saw a giant black widow!!  Creepy.  Sculpted by artist Dave Simpson, it apparently advertises a pest management company. The gleaming arachnid, with its eight-foot-long legs, perches on a boulder.  After that appetizing moment we had a wonderful dinner at Stacy's Restaurant. It was a great local home cooked meal type of place.
Damon, Texas (Honorable mention)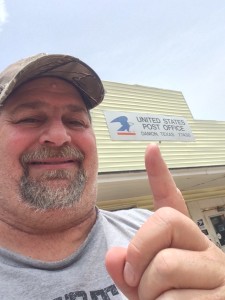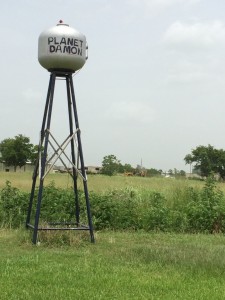 Another town with a unique water tower and a fun post office is Damon, Texas.  A small place in southern Texas, it has one of the smallest water towers I ave seen and it boasts the name "Planet Damon."  Fun fun.  See my full trip HERE.
Did You Miss My Other A to Z Challenge Posts? Click on a letter below to see the others.
A B C D E F G H I J K L M N O P Q R S T U V W X Y Z
Learn More About the A to Z Challenge and visit hundreds of other participating blogs (click logo below)