During the month of April I am participating in the Blogging from A to Z Challenge. The challenge has each blogger select a theme and then do a post thematically from A to Z during each day of April , except Sundays. My blog is number 1337 out of 1670 participating blogs. This year my A to Z posts will take you across the back roads of America to many unique  what other bloggers will be posting about, check out the link: A to Z Theme Reveal List for 2016
The E Towns
Earth, Texas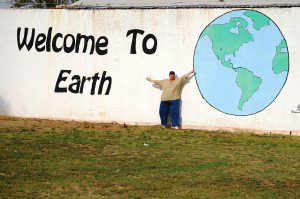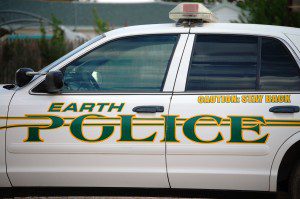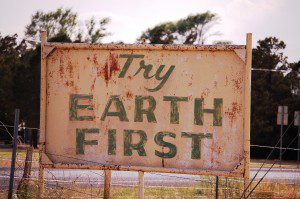 I finally visited Earth.  All of my travels and I had never been there.  Yes, there is a town called Earth and it is in Texas.  The town is on US Highway 70, east of the New Mexico border in far west Texas.  The community only has about 1000 residents, but is big in advertising Earth.  There is even an Earth Police Car.  See my original post on Earth, Texas from 2011 HERE.
Eureka Springs, Arkansas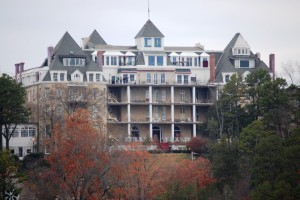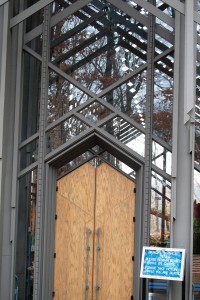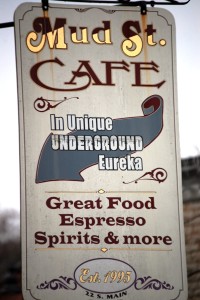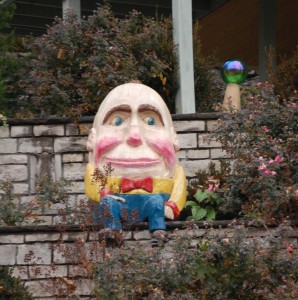 I was on another Texas trip in November 2012 with my wife. On the way home, after a long day,  we decided to find a hotel in a nearby town.  We used our phones to find us a place close by and were given Eureka Springs, Arkansas and the Crescent Hotel.  Lo and behold, when we arrived, we found out that the Crescent Hotel is considered the most haunted hotel in America.  They even give haunted tours nightly.  And, I swear, we did see an apparition in our room.  We asked "Lucy, Lucy, what did you die for?" and she said "Nothing, nothing, nothing at all."  Eureka Springs is a very unique and touristy location with some lovely eateries, lots of gift shops and more.  We had a nice breakfast at the Mud Street Cafe, located in a basement.  Great food and great atmosphere.
Elbe, Washington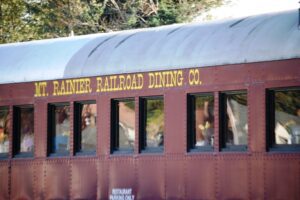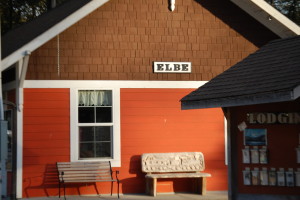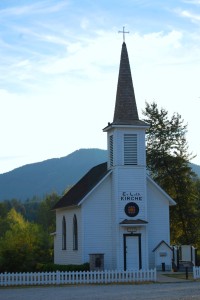 We visited our daughter and her family in Port Orchard, WA in the summer of 2015.  During our visit we went many places and, on one of the road trips from Mt. Rainier National Park, we stopped in the very small community of Elbe, Washington for dinner.  The town only has a population of under 30, but operates a huge dinner train…the kind that is stationary.  Called the Mt. Rainier Dining Company, it provided a great meal in our own private dining car.  The town also has a small church (see here).  You can read more about that trip and see more photos HERE.
Easton, Pennsylvania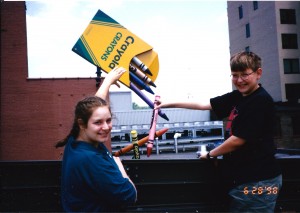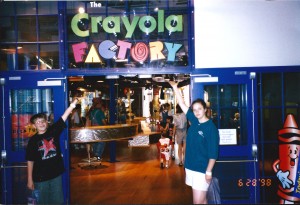 Way back in the late 1990s, we had occasion to take our daughter to participate in an all-star chorus in Europe.  We had to drop her off in Pennsylvania.  Along the way, we visited the fun town of Easton, Pennsylvania and their Crayola Factory.  Back then they also had a PEZ Museum, but it is no longer there.
Eldon, Iowa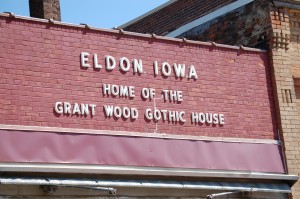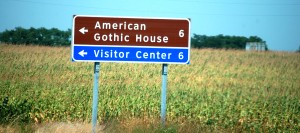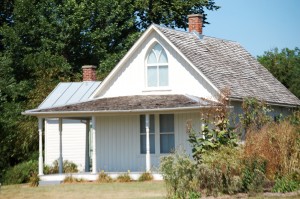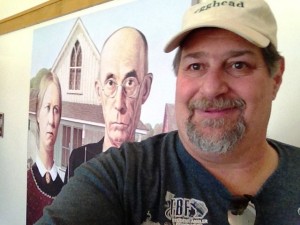 I was on a five day trip to Omaha with my daughter in 2014.  We took a few days to sight see on the way there and back.  One of the places we made our way to was Eldon, Iowa. This community of less than 1000 that sits along the Des Moines River, is like many other midwestern communities, quaint and well kept.  It was an old railroad town. But, this one offered something most don't have…an opportunity to visit the actual house featured in the world famous (and oft parodied) American Gothic House.  You can see more about our Iowa visit and the Gothic House HERE.
Egg Harbor, Wisconsin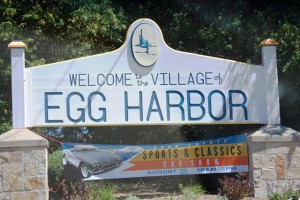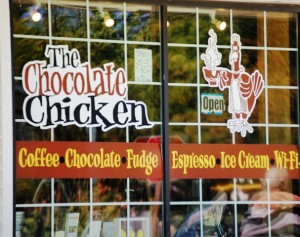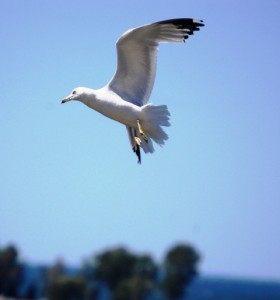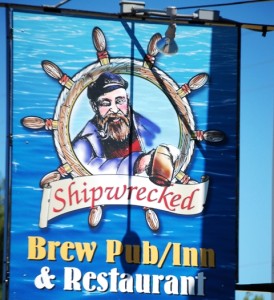 Another trip with a different daughter and granddaughter was taken in 2013 as we ventured to Wisconsin for fun.  On that adventure we made our way into Egg Harbor, Wisconsin on the Eastern Peninsula of the state.  Among all of the lighthouses, this lovely community offered scenic views, shots of seagulls and unique shops and eateries.  We ate at the Shipwrecked Pub/Inn and also visited the Chocolate Chicken for desert. You can see the whole story HERE.
East Peoria, Illinois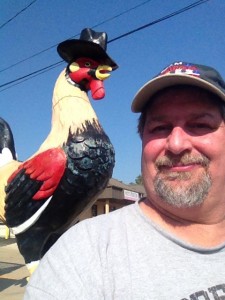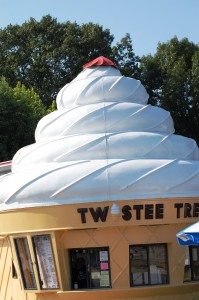 East Peoria, Illinois is one of those towns with a lot of quirkiness.  Drive along US Hwy 24 and US Hwy 150 through town and it is much like a Route 66 drive.  There are big animal statues along the route and then there is fun M & M's Twistee Treat Ice Cream place.
Embro, Ontario, Canada (Honorable mention)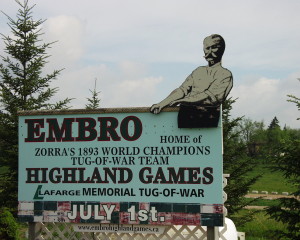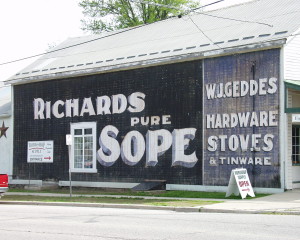 As I have noted in other posts, during 2008 I worked in Woodstock, Ontario at the Toyota plant as a Japanese interpreter.  During my time off, I traveled throughout much of southern Ontario.  One of the towns I enjoyed visiting was Embro, which is in the larger township of Zorra.  Embro is home of the Highland Games, a  large event run by the Zorra Caledonian Society since the 1930s to perpetuate "the spirit, music and games of Scotland".   A great little community and a fun taste of Scotland in the hills of Oxford County, Ontario.
Eagle, Colorado (Honorable Mention)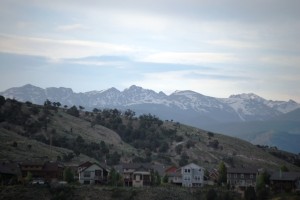 I included Eagle, Colorado in this due to the spectacular views from this town.  It is located down the freeway from Vail.  I stayed there one evening in 2013 and it was a lovely little town in the midst of the Rocky Mountains.  You can see the entire trip report HERE.
Endeavor, Wisconsin (Honorable mention)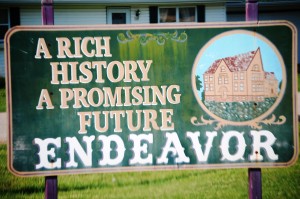 And finally, just had to add this one because of the name.  I visited Endeavor on the same trip as Egg Harbor (see above).
Did You Miss My Other A to Z Challenge Posts? Click on a letter below to see the others.
A B C D E F G H I J K L M N O P Q R S T U V W X Y Z
Learn More About the A to Z Challenge and visit hundreds of other participating blogs (click logo below)