During the month of April I am participating in the Blogging from A to Z Challenge. The challenge has each blogger select a theme and then do a post thematically from A to Z during each day of April , except Sundays. My blog is number 1337 out of 1670 participating blogs. This year my A to Z posts will take you across the back roads of America to many unique  towns. To see what other bloggers will be posting about, check out the link: A to Z Theme Reveal List for 2016
The F Towns
Flagstaff, Arizona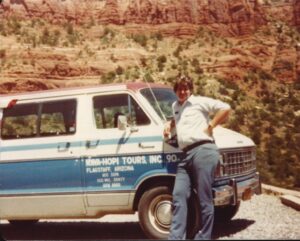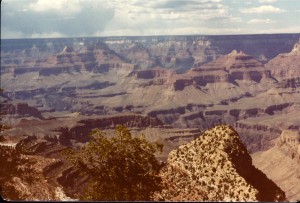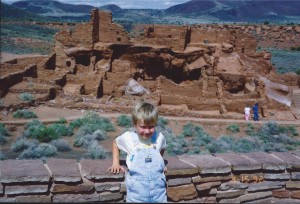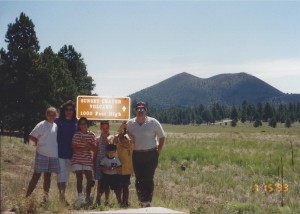 I cannot do an A to Z Challenge about towns in America without including Flagstaff, Arizona.  Not only is this town the gateway to Grand Canyon National Park, it is also the jump off spot to other National Monuments including Walnut Canyon NM, Sunset Crater NM, Wupatki NM, Montezuma Castle NM, Slide Rock State Park in Oak Creek Canyon, and the amazing Meteor Crater.  The town is only  a couple of hours from Monument Valley, the Petrified Forest National Park, Hoover Dam, Glen Canyon Dam, Lake Powell and more.  Truly a tourist haven.  And, it was a major stop on Route 66 and was at the intersection of US Highway 89 and Route 66.   From 1981 to 1983 I worked as a tour guide for Nava-Hopi Tours, which was a  Gray Line Tour Company.  It was there that my family began to grow…three children were born there and I graduated from Northern Arizona University.   But one of the best times in my life was working as a tour guide.  For any traveler in America, Flagstaff should be one of the Top Five stops on your list!!
Friendly, West Virginia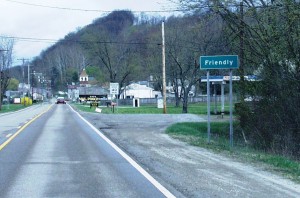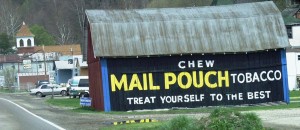 Friendly, West Virginia is a small town of maybe 150 people.  Located on the Ohio River across from Ohio on WV Hwy 2.  Highway 2 is an amazingly scenic drive along the Ohio River, running through many small towns.  Its only rival is the same route across the river in Ohio and Kentucky (see Fly, OH below).  The town is also the setting for the novel Shiloh, a Newbery Medal-winning children's novel by Phyllis Reynolds Naylor published in 1991. It is the first in a quartet about a young boy and the title character, an abused dog. Naylor decided to write Shiloh after an emotionally taxing experience in West Virginia where she encountered an abused dog. Read more about the drives along the Ohio River in my detailed post HERE.
Friendship, Arkansas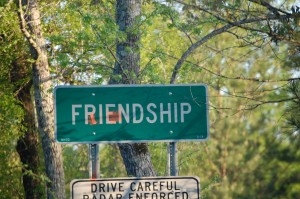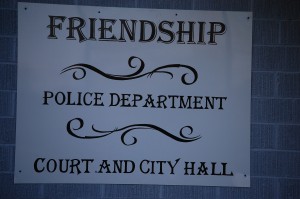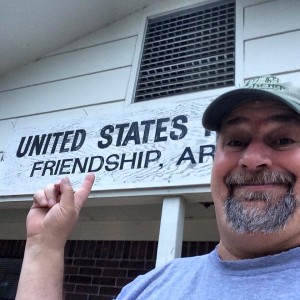 If I visited Friendly, obviously, I should also visit Friendship in Arkansas. This is another small community of perhaps 200 friendly folks in south central Arkansas.  It is accessible off of Interstate 30, but is right on US Highway 67. They even have a Friendship Police Department which seems like an oxymoron.  If for any other reason, you can stop there and then tell people that you finally found Friendship.  Read about my 2010 visit to Friendship (as well as Metropolis, IL which will be covered in my M Towns post HERE.
Flippin, Arkansas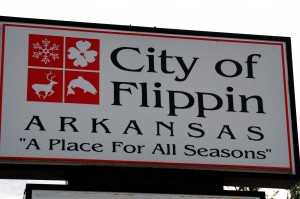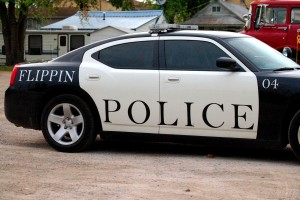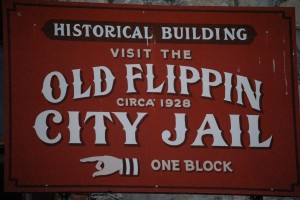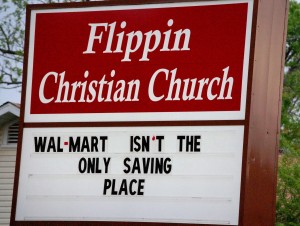 In 2010 I took a trip to Texas for work.  On the way home I decided to take a trip through the Ozarks.  It was a bit out of the way, but was well worth it.  One of the places I visited on the way home was Flippin, Arkansas. This nice town is located in north central Arkansas, east of Eureka Springs (which I mentioned on my E Towns post) on US 412.  It is the gateway to the Ozarks and a lovely drive.  But, then again, many of us know that the word "Flippin" can be used as an alternative to another word, so when the Flippin Police pull you over and you go to the Flippin Jail or even attend church at the Flippin Christian Church or shop at your friendly Flippin WalMart, it brings a laugh.
Fair Play, South Carolina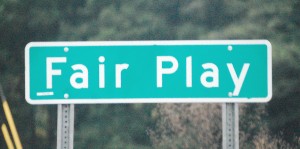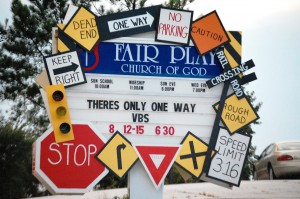 On August 8, 2012 I was on a trip from eastern Tennessee to Atlanta for work.  Along the way I went through North and South Carolina and happened to go through Fair Play, South Carolina.  Not sure how the town got its name, but there is something about the name coming from a fight. Interestingly, throughout most of this small town, the Motto "Our Name Says It All" is posted.  The photo on the left is the main entry sign.  The town is just off of Interstate 85 and is the junction of SC Hwys 243, 182 and 59.  You can read more about my visit HERE.
Fergus Falls, Minnesota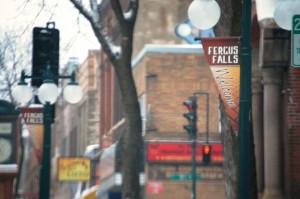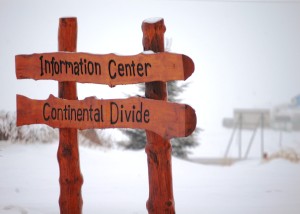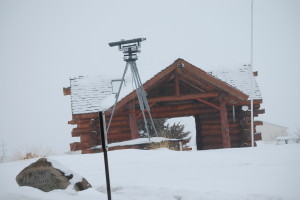 On  cross country trip in March 2013, I made my way across Minnesota in the cold snowy winter.  Along the way I visited Fergus Falls.  I think it would be a marvelous place to visit in the late spring or early summer.  Being a prairie town there is plenty of wildlife.  It is also noted as a Continental Divide location.  Having lived in the Rocky Mountains for much of my life, the term Continental Divide conjurs up the place where the rivers flow east or west.  But, apparently, the land is located right on the divide between the Hudson Bay and Gulf of Mexico watersheds.  Fairly unique!!  You can read about the long trip across Minnesota and North Dakota in 2013 HERE.
Feely, Montana (Honorable Mention)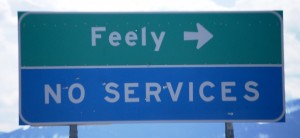 Came across a place called Feely in Montana on a trip.  It is located south of Butte on Interstate 15. Always into the touchy and feely of life, I had to stop and get a picture. No services there and no report about the place here, just a picture.
Flippin, Kentucky (Honorable mention)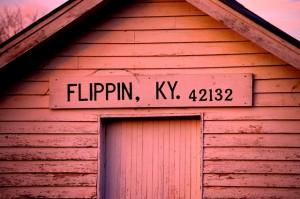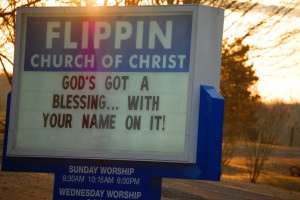 OK.  If I am going to include Flippin, Arkansas, I might as well give mention to Flippin, Kentucky, which is just north of Bugtussle, KY.  See my report on Bugtussle in my B Towns post.
Fly, Ohio (Honorable Mention)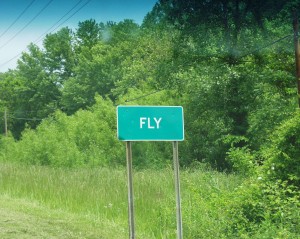 I mentioned Friendly, WV above and the drive along the Ohio River.  Just a tad north of Friendly and across the Ohio River is the small community of Fly, OH.   I know nothing about the place, but it can join Black Gnat, KY in my bug towns.  (I did not include Black Gnat in this year's A to Z posts).
Four Way, Texas (Honorable mention)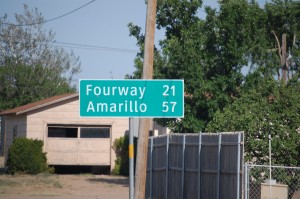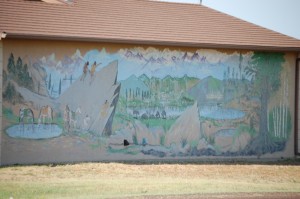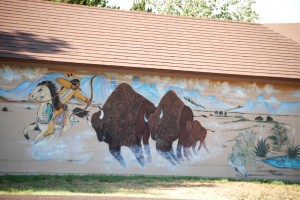 Four Way, Texas is a very small community at a crossroads in the panhandle of Texas north of Amarillo.  I went through there while on US Highway 87 heading to Amarillo. At the junction of US 87 and TX 354, there were some buildings with a few murals.  That is pretty much all that was there.  The hamlet is named for its position on the spot where U.S. Highway 87 from Dumas to Masterson crosses the route from Channing to Lake Meredith and Stinnett.
Future City, IL (Honorable mention)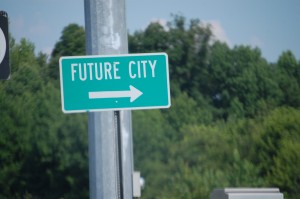 This is the first nearly ghost town mention in my A to Z Challenge. Future City was developed as a suburb of Cairo, IL, which sits at the confluence of the Ohio and Mississippi Rivers around the turn of the (19th-20th) century. At that time Cairo was still growing and prosperous. By 1912 Future City would have had a population of several hundreds. Between 1912 and 1913 Future City was almost entirely destroyed by three separate flooding events. The town was  partially rebuilt, but Cairo has since collapsed and the area has experienced a drastic drop in population. Today there are 6 or so occupied homes in Future City's otherwise empty grid of streets.
Did You Miss My Other A to Z Challenge Posts? Click on a letter below to see the others.
A B C D E F G H I J K L M N O P Q R S T U V W X Y Z
Learn More About the A to Z Challenge and visit hundreds of other participating blogs (click logo below)