During the month of April I am participating in the Blogging from A to Z Challenge. The challenge has each blogger select a theme and then do a post thematically from A to Z during each day of April , except Sundays. My blog is number 1337 out of 1670 participating blogs. This year my A to Z posts will take you across the back roads of America to many unique what other bloggers will be posting about, check out the link: A to Z Theme Reveal List for 2016
The H Towns
Hell, Michigan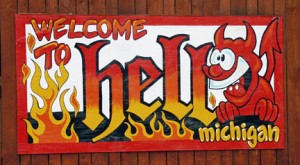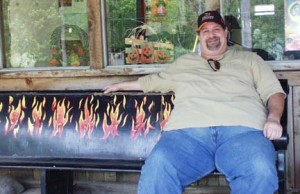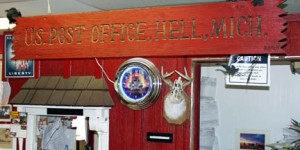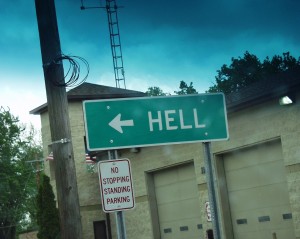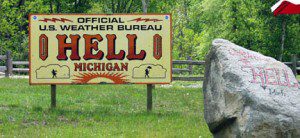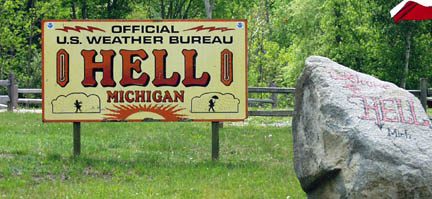 I can't in good conscience include a post about towns that begin with H without starting with Hell, Michigan. Located near Pinckney on a beautiful forest drive, Hell is a great tourist spot.  There are only a few buildings there including an unofficial Post Office (it is actually part of Pinckney, but they have this one there and will do a Hell post mark).  There is an ice cream/gift shop called I Scream, then there is the Dam Fine Food and Spirits place and you can even get official Dam U T-shirts (Damnation University).  No public restrooms, just Porta Potties.  You can see my complete post about Michigan and Hell that I wrote back in 2008 HERE.
Hamtramck, Michigan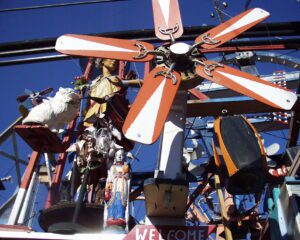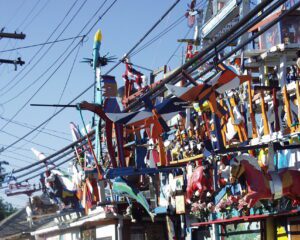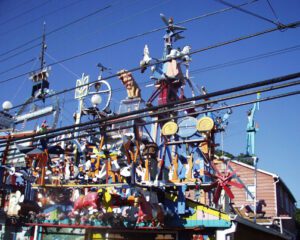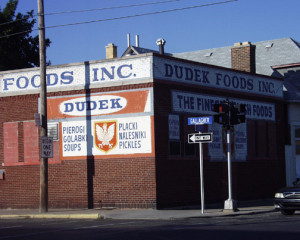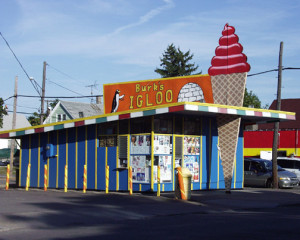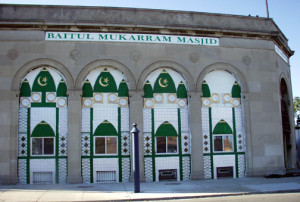 Sticking in Michigan, swing over to the Hamtramck suburb of Detroit.  This is a very interesting place to say the least.  Hamtramck was originally settled by German farmers, but Polish immigrants flooded into the area when the Dodge Brothers plant opened in 1914. Poles used to make up a large proportion of the population. It is sometimes confused with Poletown, a traditional Polish neighborhood, which used to lie mostly in the city of Detroit and includes a small part of Hamtramck. But more recently (November 2015) the blue-collar city that has been home to Polish Catholic immigrants and their descendants for more than a century has now become what demographers think is the first jurisdiction in the nation to elect a
majority-Muslim council.  In fact, in 2013 the town earned the distinction of becoming what appears to be the first majority-Muslim city in the United States following the arrival of thousands of immigrants from Yemen, Bangladesh and Bosnia over a decade.
Despite all of this, tucked away on a side street is probably one of the most interesting accumulations of weird whirly gigs, mannequins, and a plethora of oddball knick knacks.  Known as Hamtramck Disneyland, it is a yard art folk art located owned by a man named Dmytro Szylak. Hamtramck Disneyland was started in 1992 and came to be finished in 1999. Szylak died at age 92 in May 2015 and now the future of the place, located at 12087 Klinger St in Hamtramck, is in question. But the menagerie of fun will always be etched in my mind.
Hamilton, Ontario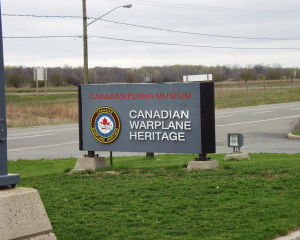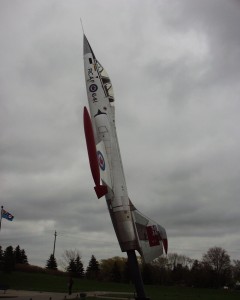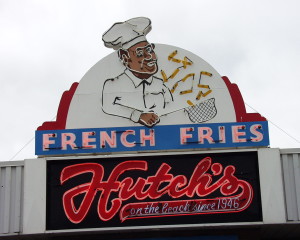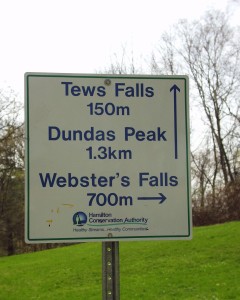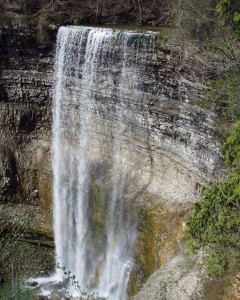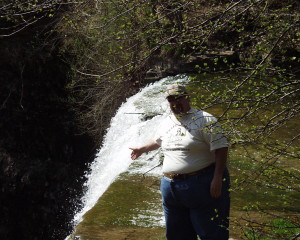 While living in Ontario in 2008, I visited a number of places and always seemed to pass through Hamilton, a wonderful place to visit.  In the town itself is the Canadian Warplane Heritage Museum, which contains over 40 different aircraft. Then there are the waterfalls!!  The township has over 100 waterfalls within a short drive from downtown, and many of them are spectacular.  The area is part of the Niagara Escarpment which provides perfect geological conditions for waterfalls to occur, from Tobermory to Niagara Falls. The most scenic waterfall in Hamilton is Webster's Falls. With its 98 ft crest, it is the largest waterfall within the city. Tew's Falls is a 135 ft ribbon waterfall, and is the tallest waterfall found in Hamilton. Both are in photos above. There is a website dedicated to the waterfalls of Hamilton HERE.  And then, after all of the waterfalls, head over to Lake Ontario and to the shoreside burger joint known as Hutch's on the Beach for a great burger in a 1960s style diner.
Hatch, New Mexico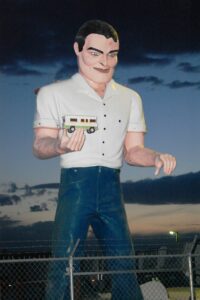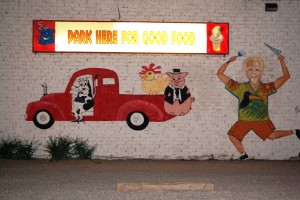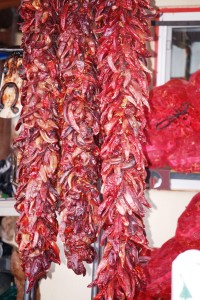 We'll move from Hutch's on the Beach clear south to Hatch, New Mexico. Hatch is known as the Chile Capital of the World. Located off Interstate 25, between Las Cruces and Truth or Consequences, the Village of Hatch has a population registered at little over 1,600 people.  Chiles can be seen everywhere, both dried and fresh.  The Hatch Green Chiles are my most favorite in the world!! Stop into one of the shops and get some and you too will be hooked.  Every year in September they have their Hatch Valley Chile Festival which looks amazing.  While in Hatch, check out Sparky's burger joint which has a vintage A&W Family on the roof and nearby is giant Muffler Man.  Ronald McDonald, Colonel Sanders and other fun stuff decorates the place known for BBQ and their World Famous Green Chile Cheeseburger.  I went through there a few years ago, but never got around to writing a blog post.  But many of my photos can be seen HERE.
Hico, Texas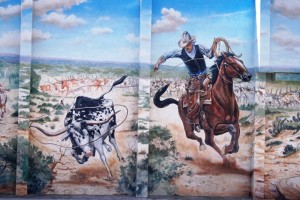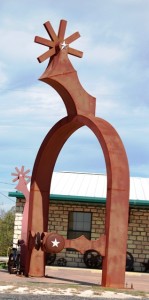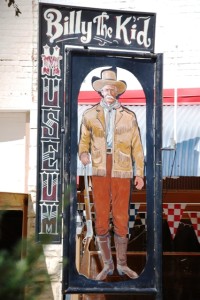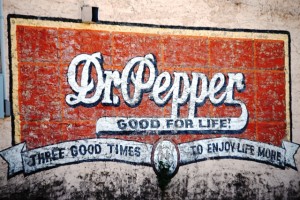 Hico is Texas all the way.  Only about 1400 people live there, but everything is BIG there.  From the giant 12 foot tall spurs in front of a business to the many murals splashed on walls throughout the town, it is a fun place.  And of course, you can't miss the Billy the Kid Museum in downtown.  The town where "Everybody is Somebody" is covered in my 2012 Blog Post HERE.
Hopland, California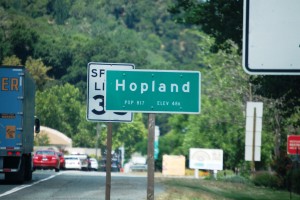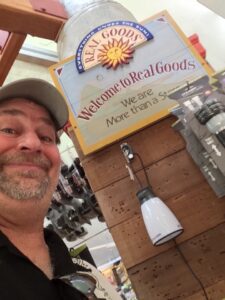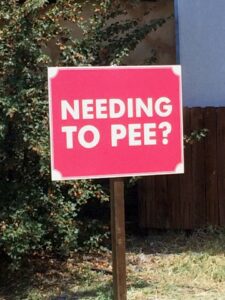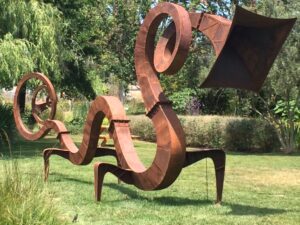 In May 2015 I was in the San Francisco area to participate in Antsy McClain's Woodflock gathering in Red Bluff, CA.  Along the way we passed a sign that said "Needing to Pee?"  What a kick! It was one of many signs in Hopland advertising the naturalist's department store known as Real Goods. Hopland It is located on the west bank of the Russian River 13 miles south-southeast of Ukiah, at an elevation of 502 feet and has a population of about 750 environmentally conscious folks.  I got to meet one of America's Solar Pioneers while there and saw a plethora of interesting items inn the shop, which is an extension of their massive website catalog.  The place has a see through working beehive, the strangest restrooms in the world and some interesting, unique and even quirky items for sale.  See my full post about Real Goods HERE.
Hoboken, New Jersey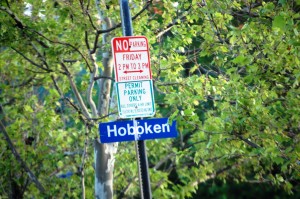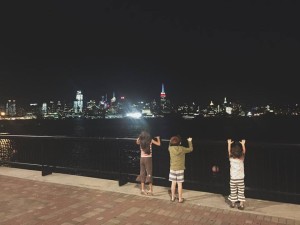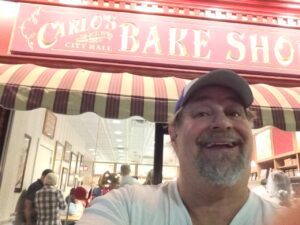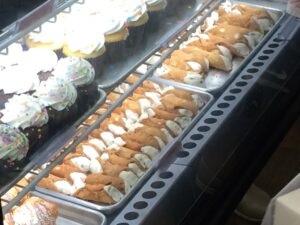 On another family trip in 2015, my wife, daughter and grandchildren all headed east to Connecticut for a baby blessing.  On the way we made a stop in Hoboken, NJ, which offers amazing views of New York City and is also the home of world famous Carlos Bake Shop, from the TV show Cake Boss.  The town is packed, the roads are narrow, but the atmosphere, even at 11 PM, is amazing.  See my complete roadtrip report, including Hoboken photos (and Hershey, PA photos) HERE.
Hugo, Oklahoma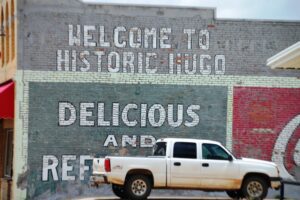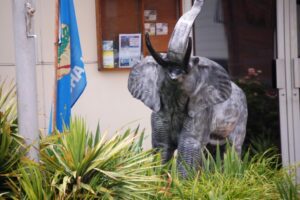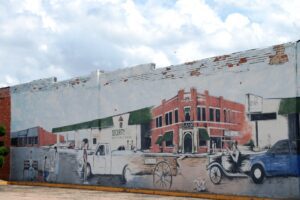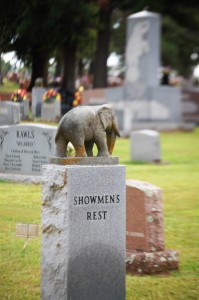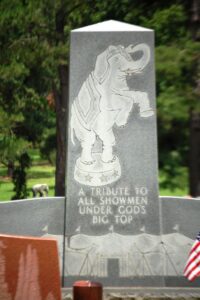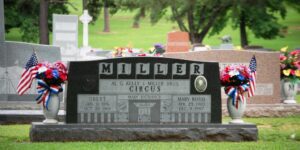 On a return trip from Texas in 2014, I made my way into southeast Oklahoma for a visit to Hugo, which has the nickname of Circus City USA as it is perhaps best known as a resting place for Circus Performers and, has become the eternal resting place for many of these performers. Hugo has been a circus wintering ground since 1942 and is still such for three circuses and their staff and performers, The Carson and Barnes Circus, The Kelly-Miller Circus, and the Culpepper-Merriweather Circus.  It is a common site to drive past their grounds in the winter and see them taking care of an elephant or working on their equipment. The town cemetery, Mt. Olivet Cemetery, has a special area called Showmen's Rest which features unique headstones and grave sites for circus performers and owners. there is also a section called Bull Rider's Reprieve set aside as a resting place for rodeo riders that have passed on.  I thoroughly enjoyed the brief visit to this hallowed ground to remember circus performers.  Here are a few photos from this fascinating corner of a cemetery.  Read more about it in my 2015 post HERE.

Hershey, Pennsylvania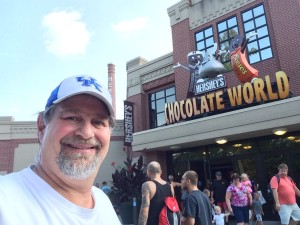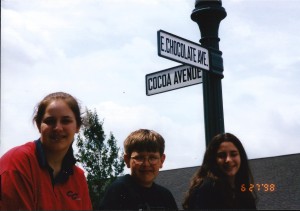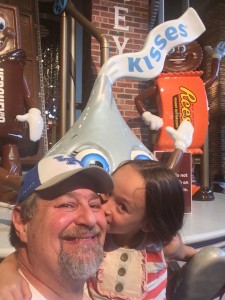 In the southwest region of Pennsylvania, near Harrisburg, the chocolate scented town of Hershey rests. Home of the Hershey Chocolate company, the town is decorated everywhere with chocolaty things, right down to the town's Hershey's Kiss shaped streetlights. I visited there in 1998 and then again in 2015. Hershey's Chocolate World has some great stuff, lots of chocolate for sale and even a factory tour.  We visited Hershey on the same trip as Hoboken, so check out my blog link above.
Home on the Range, North Dakota (Honorable Mention)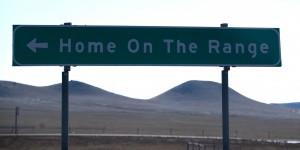 Oh give me a home where the buffalo roam…well, Home on the Range is somewhere in Western North Dakota off of Interstate 94. It turns out that Home on the Range is a working Catholic-run ranch for boys and girls ages 12-19, especially those that were abused or come from broken families. It helps them readjust and cope.  Appears to be a great program.
Hamburg, Iowa (Honorable Mention)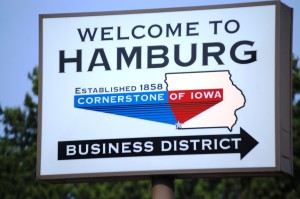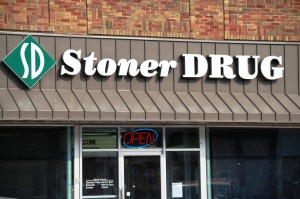 Finally, I wanted to mention the small town of Hamburg, Iowa only because of the unique shop there known as Stoner Drug Store.  They even sell T-Shirts!! The Drug store still has a working Malt/Soda Bar like they had in the 1960s. You can see more HERE.
Did You Miss My Other A to Z Challenge Posts? Click on a letter below to see the others.
A B C D E F G H I J K L M N O P Q R S T U V W X Y Z
Learn More About the A to Z Challenge and visit hundreds of other participating blogs (click logo below)