During the month of April I am participating in the Blogging from A to Z Challenge. The challenge has each blogger select a theme and then do a post thematically from A to Z during each day of April , except Sundays. My blog is number 1337 out of 1670 participating blogs. This year my A to Z posts will take you across the back roads of America to many unique what other bloggers will be posting about, check out the link: A to Z Theme Reveal List for 2016
The J Towns
Jamestown, North Dakota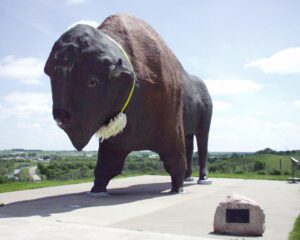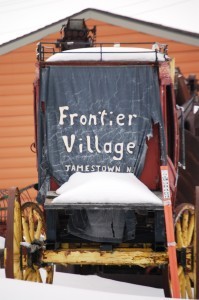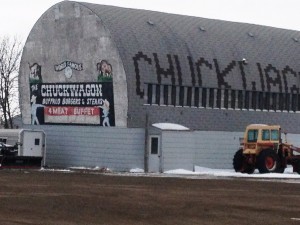 One of my fun places to stop in North Dakota is Jamestown. It is known as the "Buffalo City" and one can find all kinds of Buffalo things, including "the World's Largest Buffalo" statue and  the National Buffalo Museum.  It was commissioned in 1959 by local businessman Harold Newman, and built by art students from Jamestown College, under the supervision of art instructor and designer, Elmer Peterson. It is visible from Interstate 94, overlooking the city from above the James River valley. The statue is 26 feet tall, 46 feet long and weighs 60 tons. It was constructed with stucco and cement around a steel beam frame shaped with wire mesh and is one of the giants across the US. See more about my visit to Jamestown HERE.
Joseph, Oregon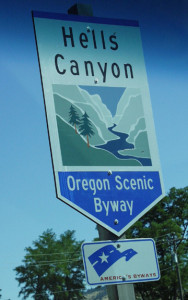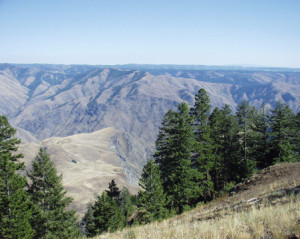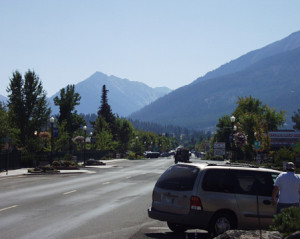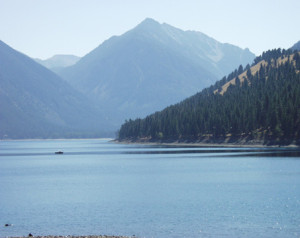 Known as "The Little Switzerland" of the United States, Joseph, Oregon is a scenic town on the shores of the lovely Wallowa Lake. I visited this community in 2007 and was enthralled by the beauty.  Like many towns, they have an art walk with many fine outdoor sculptures, including the intricate eagle sculpture "The Spirit of Joseph" by Steve Parks.  Joseph was named after Chief Joseph of the Wallowa Band of the Nez Perce Tribe.  Joseph is also about an hour away from the awe inspiring Hell's Canyon. Despite the grandeur and wide expanses of the Grand Canyon in Arizona, Hell's Canyon has been carved much deeper by the Snake River. The canyon is about 100 miles in length and there is one 40 mile section that is nearly 5500 feet deep. But the steepest point from river to rim is at Granite Creek. This is an amazing 7900 foot deep section of the canyon!! The widest expanse across the canyon is 10 miles. The Hell's Canyon Scenic Byway is an awesome way to spend a day driving and taking in the wonderful views.  See more about my NW Oregon  and SW Washington roadtrip from 2007 HERE.
Jeffersonville, Indiana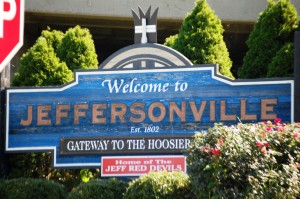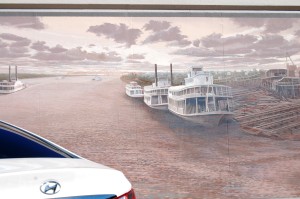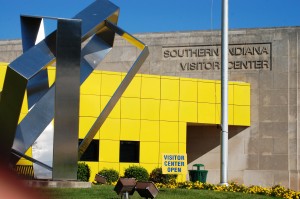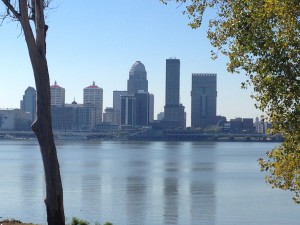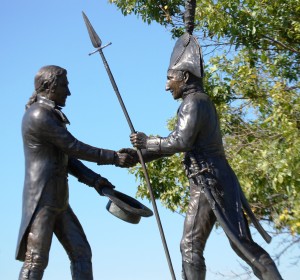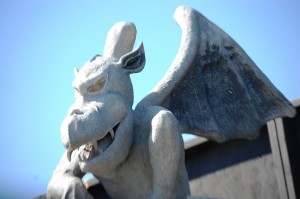 Just across the Ohio River from Louisville, KY is the river town of Jeffersonville, Indiana. Two different cities and a shared river and bridge.  In September 2013 , with camera in hand,  I drove around Louisville and then across the river to Jeffersonville.  The town has a series of floodwall murals which are delightful to walk along and see. Turns out that the 12 murals depicting the history of Jeffersonville were painted by Robert Dafford and his crew.  This project began in 2007 and was completed in 2012.  Ironically, I had seen his mural works in previous visits to Point Pleasant, WV, Paducah, KY and Portsmouth, OH. (see Paducah work here and the Point Pleasant work here). Dafford apparently has his photorealistic mural art in over 200 locations around the world. Jeffersonville is also home to The Industrial Terrorplex, a massive haunted house and "horror complex" created using state of the art Hollywood effects, offered up some surprises as I rounded the corner.  A couple of huge gargoyles were waiting on the fencepost to pounce down on me. See more about this unique Ohio River town in my 2013 post HERE.
Juneau, Alaska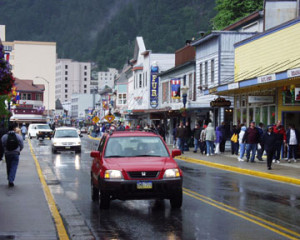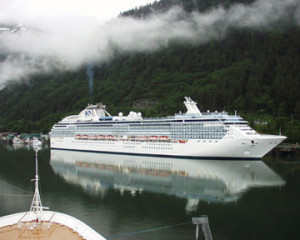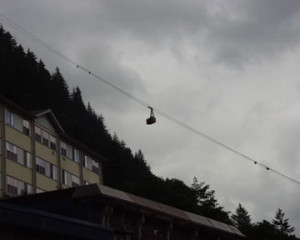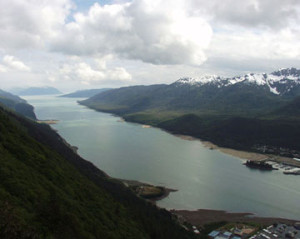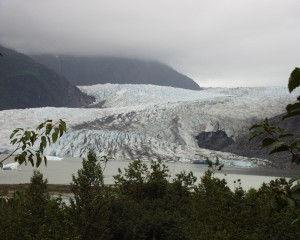 One of the few places you cannot get to on a backroad by car is Juneau, Alaska.  Only accessible via air or boat, we visited while on a cruise in June 2004 with other family members.  Sitting along the Gastineau Channel, the town is picturesque and touristy.  It is the gateway to Mendenhall Glacier as well.  Mendenhall Glacier is about 13.6 miles long located in Mendenhall Valley, about 12 miles from downtown Juneau. We also took the Mount Roberts Tramway to the top of the mountain and enjoyed a spectacular view.  The tramway's cars rise 1,800 feet from the cruise ship dock in downtown Juneau through the rain forest to the Mountain House, offering expansive views of Juneau and Gastineau Channel. The Tramway is one of the most vertical tramways in the world. See the entire report of this trip HERE.
Jackson Hole, Wyoming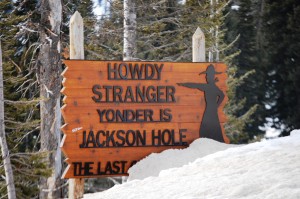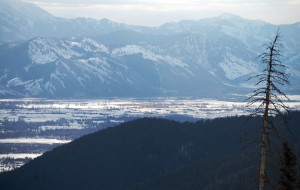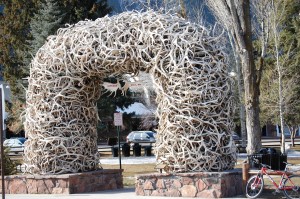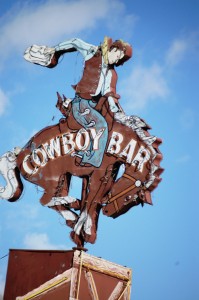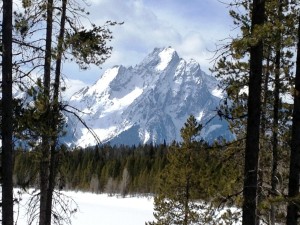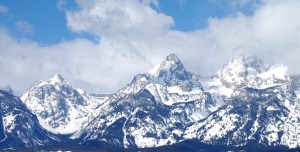 One of my FAVORITE places in the US is Jackson Hole, Wyoming.  It is the gateway to the Grand Tetons National Park and is a beautiful town nestled in a picturesque valley. See my full post from a 2013 visit HERE.  It is one my "Heaven on Earth" places.
Janesville, Wisconsin (Honorable Mention)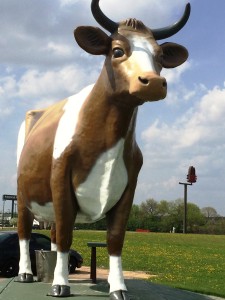 Another of the interesting towns in Wisconsin, Janesville is not too far from Madison and north of Beloit.  The town has big cows and cheese factories as well as a great history.  Definitely worth a visit.
Jackson Center, Ohio (Honorable Mention)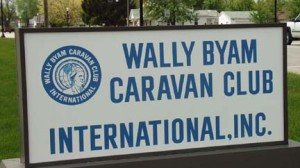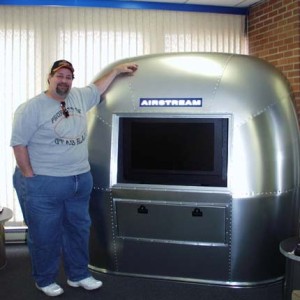 Jackson Center, Ohio is the home of the Airstream Factory. Everyone has seen these iconic trailers on the roads.  This is where they come from.  They give tours!!  Check out a report about my visit there in May 2008 right HERE.
Jamaica Beach, Texas (Honorable Mention)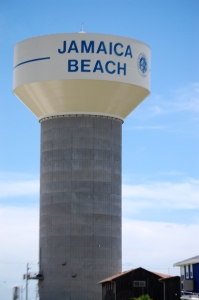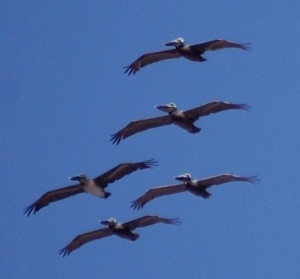 On one end of Galveston Island in Texas is Jamaica Beach, with nice beaches, condos to stay in and wonderful views of the Gulf of Mexico.  Brown pelicans are in the air everywhere.  See my 2014 post with many pelican shots and lots of views of the beautiful gulf coast HERE.
Jamestown, New York (Honorable Mention)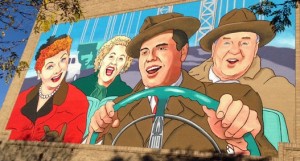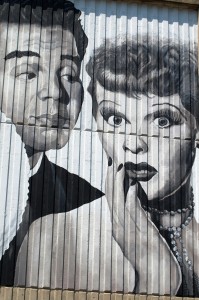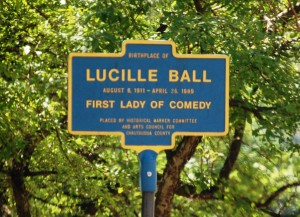 Finally, I would be remiss if I didn't include another Jamestown.  (And yes, I have also been to Jamestown, VA to see the old Jamestown history!!) Jamestown, New York is the birthplace of iconic TV star Lucille Ball.  There is Lucy and Desi stuff all over town.  We didn't have time to visit the Lucy-Desi Center, but I did at least get shots of the facilities and the murals.  See my full report about my New York trip to Jamestown and other places nearby by clicking HERE.
Did You Miss My Other A to Z Challenge Posts? Click on a letter below to see the others.
A B C D E F G H I J K L M N O P Q R S T U V W X Y Z
Learn More About the A to Z Challenge and visit hundreds of other participating blogs (click logo below)