During the month of April I am participating in the Blogging from A to Z Challenge. The challenge has each blogger select a theme and then do a post thematically from A to Z during each day of April , except Sundays. My blog is number 1337 out of 1670 participating blogs. This year my A to Z posts will take you across the back roads of America to many unique what other bloggers will be posting about, check out the link: A to Z Theme Reveal List for 2016
The L Towns
LeClaire, Iowa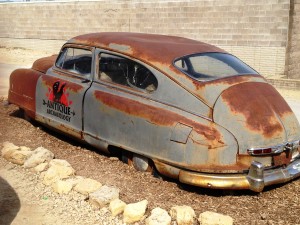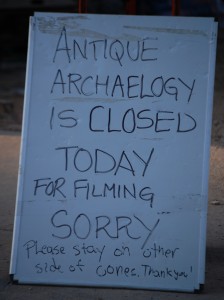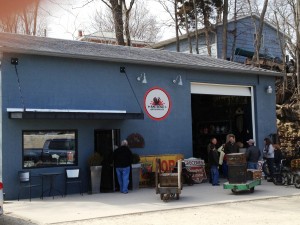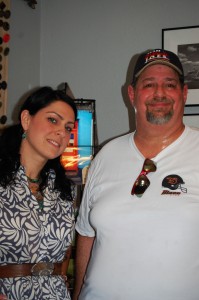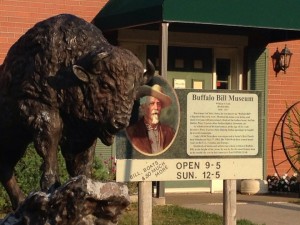 First stop on the L Town Road Trip is LeClaire, Iowa.  This town literally sits on the shore of the Mississippi River and is definitely a river town.  Today the town is perhaps most well known for the shop known as Antique Archaeology, home of the famed History Channel TV Show American Pickers.  The show has enjoyed 14 seasons and has nearly 200 episodes as Mike and Franks travel the back roads of the U.S. looking for the rare and valuable items in old barns and other odd places.  Their Office Manager Danielle frequents the show as well.  I got to meet her in 2012 (see photo above). But what many don't know is that the western icon Buffalo Bill Cody was born here. Born near LeClaire in Scott County, Iowa, in 1846, Buffalo Bill rode on the Pony Express at the age of 14, fought in the American Civil War, served as a scout for the Army, and was already an Old West legend before mounting his famous Wild West show, which traveled the United States and Europe. There is a museum in his honor in LeClaire. Cody, Wyoming is named for him.  The town has a number of unique antique shops and eateries.  Definitely worth a visit. I like the place so much I have been there FOUR times!! See more detailed posts about  my visits HERE and HERE.
Lake Nebagamon, Wisconsin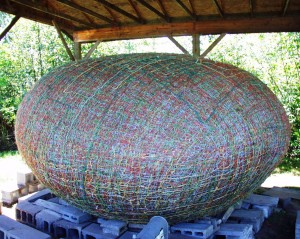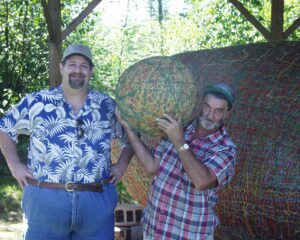 On a trip I took with my son back in 2007 to the western US, we made our way into a backwoods town in northern Wisconsin in search of the famed Largest Twine Ball in the World.  We finally found the 19,000 pound monstrosity on the shores of Lake Nebagamon just east of US Highway 53 and south of US Highway 2 near Superior, WI.  As unique as the ball was, were fascinated by the creator of this iconic attraction, James Frank Kotera, who calls himself "JFK the Twine Ball Man" and claims to be the most famous JFK.  I even made a video of this guy….enjoy a laugh.  You can see a flashback post of my 2007 visit HERE and then check out my 2007 Mockumentary Video with JFK below.
Lesage, West Virginia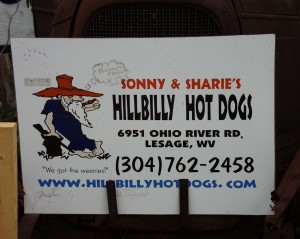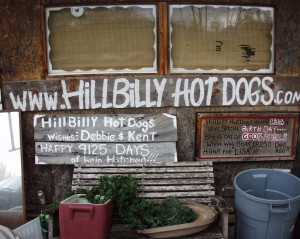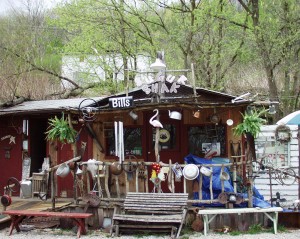 Drive along the Ohio River out of Huntington, West Virginia and a few miles up WV Highway 2 you'll come across what appears to be a junk collectors' paradise.  What it really is may surprise you…it is a world famous hot dog joint known as Hillbilly Hot Dogs. The place has been features on Diners, Dives and Drive Ins as well as a number of other shows.  And yes, they do make a killer hot dog!!  Check out my really fun 2008 Slide Show HERE.
LeRoy, New York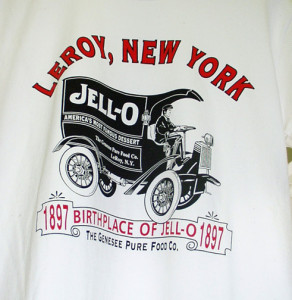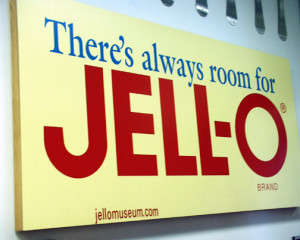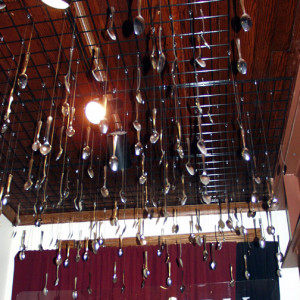 So, you have had the Hot Dogs and you want dessert?  How about taking a trip to the community of LeRoy, New York on New York Highway 5 and visit the funky little JELL-O Museum. A ceiling full of spoons, a couple of "Did You Know JELL-O quizzes," Bill Cosby memorabilia and lots of JELL-O souvenirs. See my 2008 trip report that includes more about the JELL-O museum HERE.
Lizard Lick, North Carolina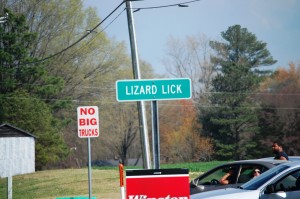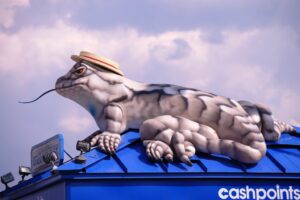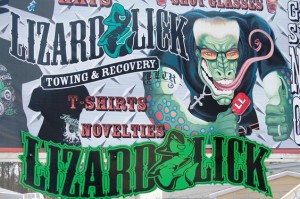 Travel along NC Highway 97 and you will eventually hit a crossroads at Lizard Lick Road and come across the small community of Lizard Lick, NC.  The town supposedly got its name from a "passing observer who saw many lizards sunning and licking themselves on a rail fence."  In any case, it really became famous in 1998 when Nintendo did a big splashy introduction of their game called "Yoshi's Story." Then, in September 2009 Lizard Lick once again received publicity, this time on a national level when TruTV became aware of a local towing and recovery company owned and operated by evangelist and Lizard Lick honorary "Mayor" Ronnie Shirley and his wife Amy Shirley, called Lizard Lick Towing and Recovery.  The program, called Lizard Lick Towing,  ran for four seasons from 2011-2014
Lake Jackson, Texas (Honorable Mention)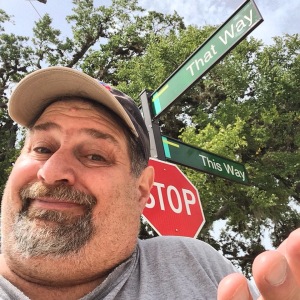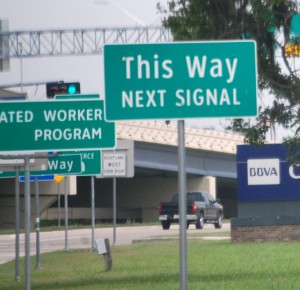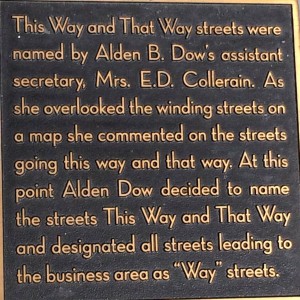 On a trip to Galveston in 2014, I was apprised of a town called Lake Jackson, Texas.  Located on Texas Highway 288, it doesn't necessarily offer too much, but it has a REALLY curious street name — in fact, a couple of them.  The main street through town is called This Way and downtown it intersects with another street called That Way.  You can read the story on the photo of the plaque above.  Definitely a fun quirky place.  Read more about my visit HERE.
Lost Springs, Wyoming (Honorable Mention)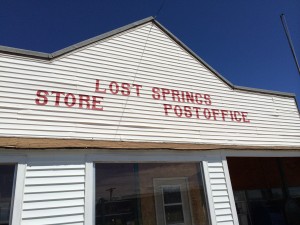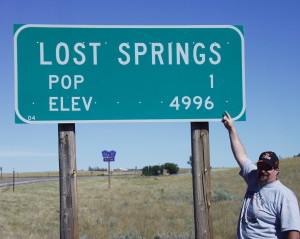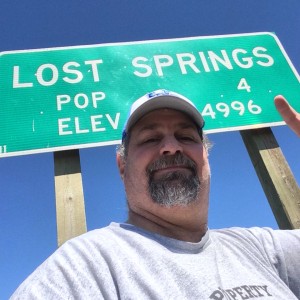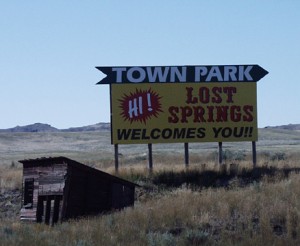 Back in 2007 I made a trip through central Wyoming on US Highway 20 with my son Solomon and we came to a place named Lost Springs, which had a sign proclaiming Population 1.  At that time it was one of only three or four towns with that population.  On a return visit in 2014, the town had grown by three. There is a Post Office, Bar and Antique shop…all were closed on both visits. The entire town must have been on vacation…all four of them. See my original 2007 Post HERE.  My 2014 Return Trip is documented HERE.
Langdon, North Dakota (Honorable Mention)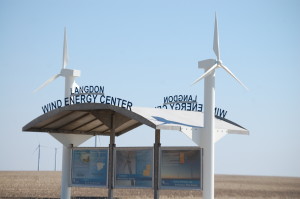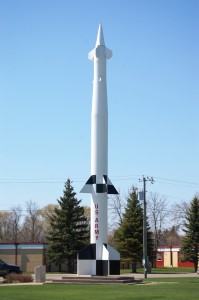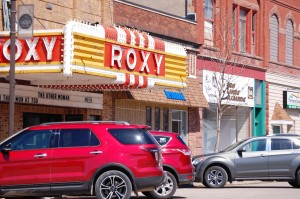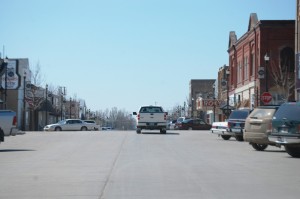 Finally, there is that small town north of US Highway 2 in North Dakota called Langdon. Located at the crossroads of ND Highway 1 and ND Highway 5 very close to Canada, my interest in the town was its Spartan missile in the park. You can see more photos and read more about it HERE.
Did You Miss My Other A to Z Challenge Posts? Click on a letter below to see the others.
A B C D E F G H I J K L M N O P Q R S T U V W X Y Z
Learn More About the A to Z Challenge and visit hundreds of other participating blogs (click logo below)