During the month of April I am participating in the Blogging from A to Z Challenge. The challenge has each blogger select a theme and then do a post thematically from A to Z during each day of April , except Sundays. My blog is number 1337 out of 1670 participating blogs. This year my A to Z posts will take you across the back roads of America to many unique what other bloggers will be posting about, check out the link: A to Z Theme Reveal List for 2016
The S Towns
Steubenville, Ohio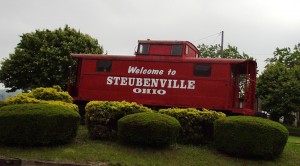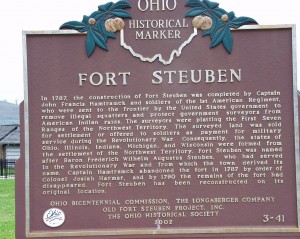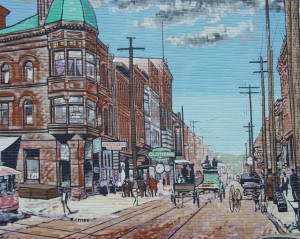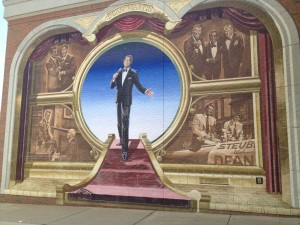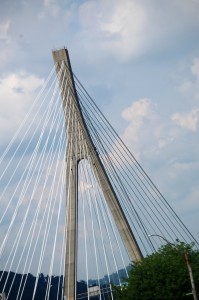 On the banks of the Ohio River bordering the upper panhandle of West Virginia lies the old steel mining town of Steubenville, Ohio. This is the hometown of the famous actor/singer Dean Martin and is known as the City of Murals, with over 25 larger than life murals painted on the sides of buildings around town. The town of over 20,000 seems to be one of those dying steel towns. As I drove around town I got a sense of sadness. Many old crippled folks hobbling along the streets and many of the downtown businesses were welfare-related businesses. Up on the hill above the city there seemed to be a little more life. But, I also saw obvious signs that the town is trying to redefine itself as a historical tourism location with the murals, a new museum dedicated to the Old Fort Steuben and then the Ohio River scenery of course.  Check out my 2008 blog post about this and other Ohio River towns HERE.
Stanley, Idaho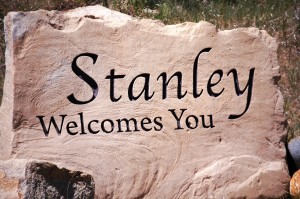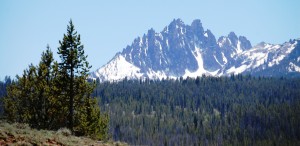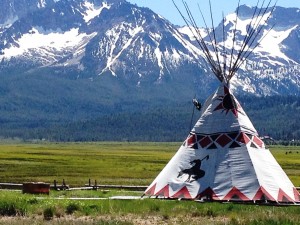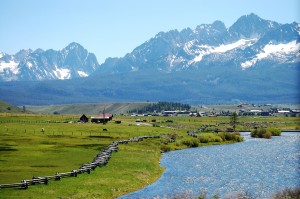 I visited Idaho a couple of times in 2013 for some work and took the weekends to travel an see some of the sights. One place I had dreamed of visiting was the Sawtooth Mountain Range.  Nestled at the base of the mountain range is the pristine little community of Stanley, which boasts a whopping 60-70 residents year round.  I could SOOO live in this place.  Pristine views, clean air and a few log cabins….even a Teepee…dot the town.  There is only one gas station and a couple of places to eat.  But what got me was the stunning views.  Check out more about my visit to Stanley in 2013 by clicking HERE.
Sedona, Arizona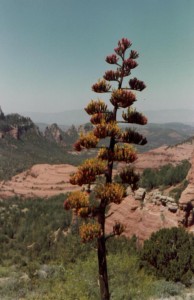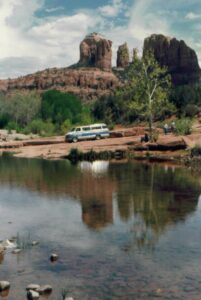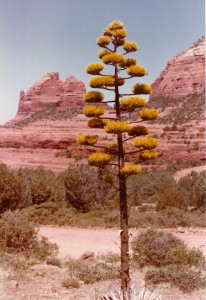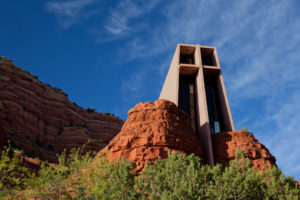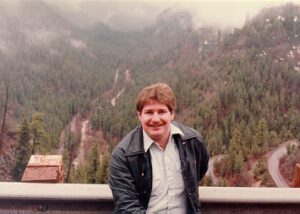 In the early 1980s I attended college at Northern Arizona University in Flagstaff, Arizona. During my four years there, I spent much of it working for Nava-Hopi Tours as a tour guide.  One of my twice weekly trips was to Sedona via the amazing switchbacks of the Oak Creek Canyon scenic drive. Personally, I am a fan of the Rocky Mountains, but Sedona most certainly is one of the most scenic places in the United States.  The massive red rocks, the colorful character of the residents, the Pink Jeep Tours, the impressive Chapel of the Holy Cross and more…this is a must see location. I look forward to my next visit to Arizona as I have not been to Sedona since the 1990s.
Santa Rosa, California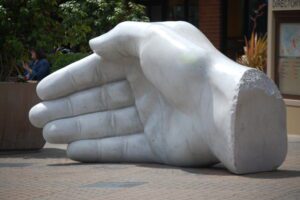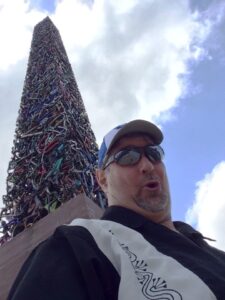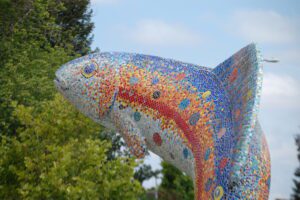 In 2015 I visited California to attend the Woodflock event with Antsy McClain and the Trailer Park Troubadours. Prior to getting up to Red Bluff, CA where the event was held, I spent a couple of days with some of my acquaintances in the Santa Rosa area and actually got to tour around this funky town. I visited The Hand statue shown above, which is actually titled "Agraria" and is by artist Larry Kirkland. Then there is the ultimate in quirky attractions, a giant obelisk made completely of bicycle parts.  Called "Cyclisk," this was created in 2010 by Petaluma-based artists Mark Grieve and Ilana Spector and weighs about 10,000 lb and is made from roughly 340 recycled bicycles collected from local nonprofit community bike projects. It took nearly four months of welding to manufacture. There are a number of other fun attractions in this artsy little town.  You can see many more photos and more details in my 2015 blog post HERE.
Staunton, Illinois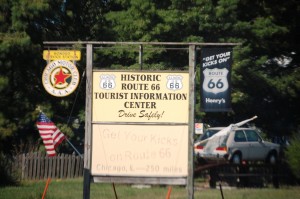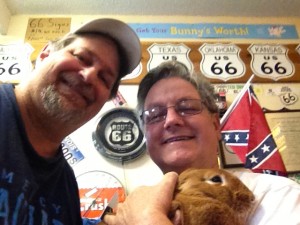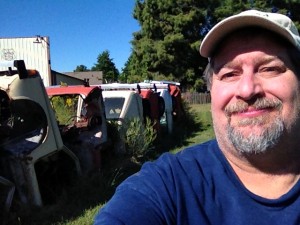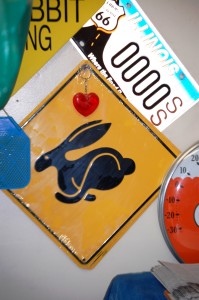 If you have been following my A to Z Blog Post, you would have noticed on the A Towns post that I covered both Amarillo in Texas and Alliance in Nebraska.  These two locations are home to two of the most well know "Car Art" sites in the United States, namely Cadillac Ranch and Carhenge.  Cadillac Ranch is right off of US Highway 66 in Amaraillo.  But if you continue east on US Route 66 into Illinois, you will come across a lesser known "Car Art" and Route 66 memorabilia spot near Staunton, Illinois. Known as "Henry's Rabbit Ranch (also sometimes written as 'Ra66it Ranch')," this place celebrates Route 66 and the people along the highway with its emporium of highway and trucking memorabilia that includes a collection of Campbell's "Humpin' to Please" trailers next to a replica of a vintage gas station. Owner Rich Henry and his wife Linda have built up a shop chock full of Route 66 memorabilia, a collection of old half buried VW Rabbits in their unique replicating of "Cadillac Ranch" (thus Rabbit Ranch….) and even have a pen full of live rabbits.  See more about my 2013 visit HERE.
Sisters, Oregon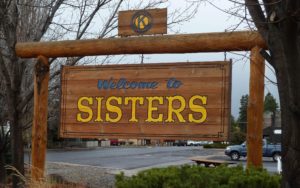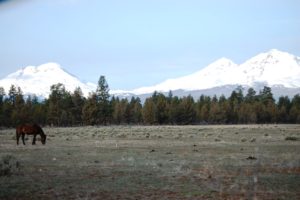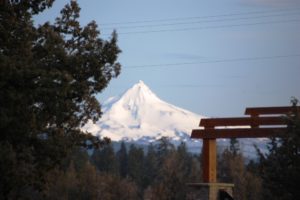 I had the wonderful opportunity to visit Oregon three times between 2011 and 2012 while working for iHigh.com.  On one of the trips I attended the Oregon High School Athletic Directors Conference at a resort near Bend and, along the way, drove some back roads, one of which took me into the town of Sisters, Oregon. The town gets its name from a set of three mountains in the Southern Cascades known as "The Three Sisters."  From town you can also get a spectacular view of Mt. Jefferson, Oregon's second highest peak.  Though not as high in altitude as Stanley, Idaho, this westernesque town (their biggest employer is a huge ranch), Sisters is another place that I could most certainly love and enjoy. Definitely worth a visit!
Seymour, Wisconsin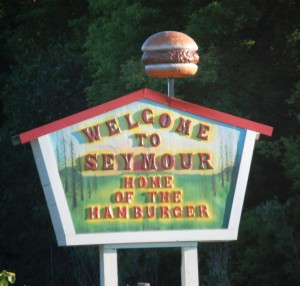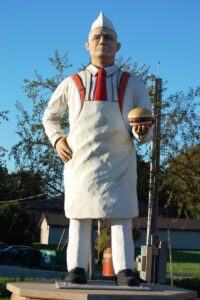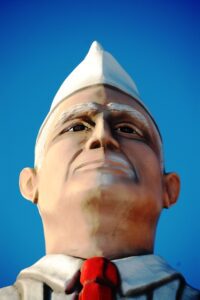 Do you like hamburgers? How about hamburger history?  Back in 2012 on a visit to Wisconsin, we made our way into Seymour, which claims to be the home of the hamburger.  According to its history, Charles Nagreen (1870-1951), put ground beef patties in a bun and began calling them Hamburgers back in 1885.  They have an annual hamburger festival and there are a couple of giant hamburgers in town.  You can see more about Seymour by clicking HERE.
Santa Claus, Indiana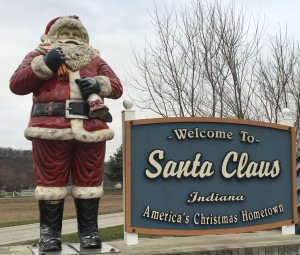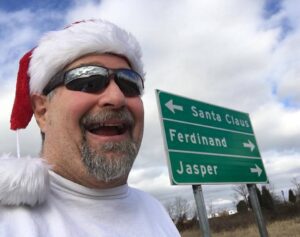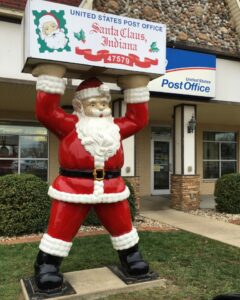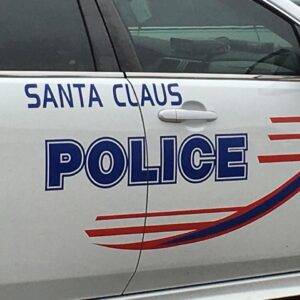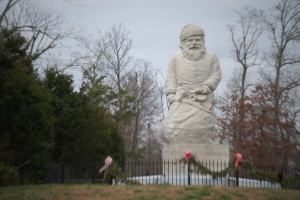 Perhaps you prefer Christmas year round.  You can get that in the village of Santa Claus, Indiana. There are a number of Santa Claus statues around town, Christmas-themed shops, a Post Office that has a Santa Claus in the front and even a Santa Claus Police Department!!  As a family, we made a visit there during the Christmas season of 2015 and had a good time.  You can see more about our visit to Santa Claus and a ton of photos HERE.
Sandwich, New Hampshire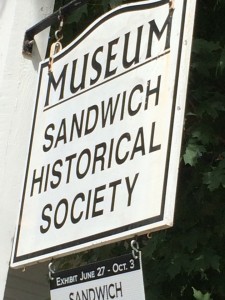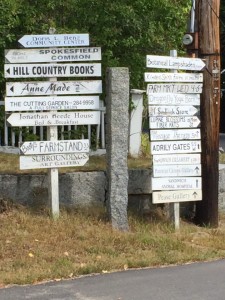 On a trip to Connecticut in the summer of 2015, we made our way into New Hampshire and Vermont so i could knock off the remaining states in my quest to hit all 50.  One of my "wish list" stops was to go to Sandwich, NH in order to get a sat a sandwich there.  We even planned the trip such that we would get there around lunch time.  But, alas, there are no Sandwich places in Sandwich, New Hampshire (that we could locate anyway.)
Sweet Grass, Montana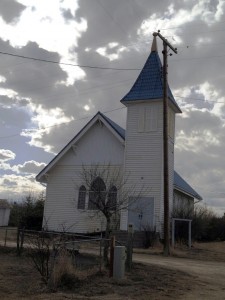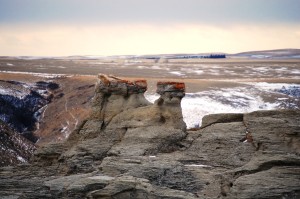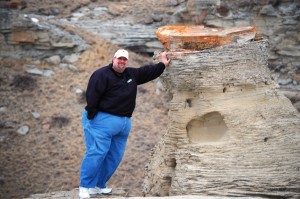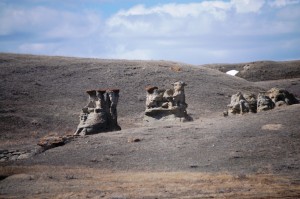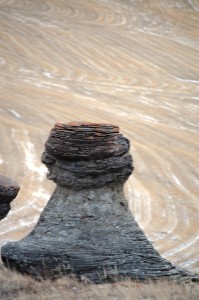 Way up north in Montana, practically at the Canadian border is the town of Sweet Grass, Montana. Though predominantly a border crossing, the town has a couple of interesting things.  First off, there is a church with a blue roof…a rarity on the back roads of America.  And then there are the interesting geologic hoodoo formation of the Jerusalem Rocks.  These outcroppings can be visited via a rough dirt road.  I have written about these and some other similar formations in a post HERE.
Shakespeare and Stratford, Ontario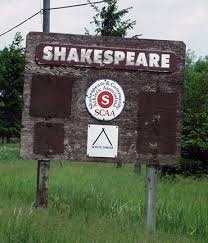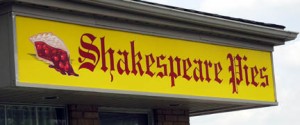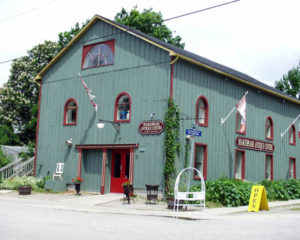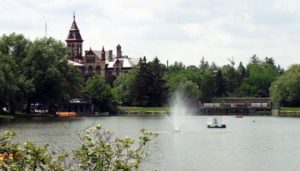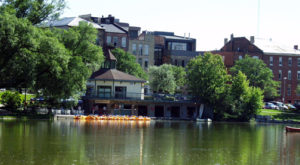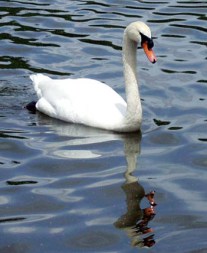 As I have noted before, in 2008 I was working in Canada.  On one a couple of occasions I got to visit the small town of Shakespeare and the neighboring town of Stratford in Perth County. Full of little antique shops and some beautiful scenery, these are certainly two unique places to visit. You can read about some of my exploits in this part of Ontario in 2008 in my post HERE.
Sikeston, Missouri (Honorable Mention)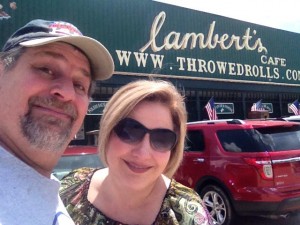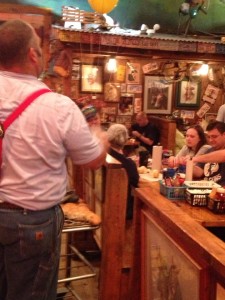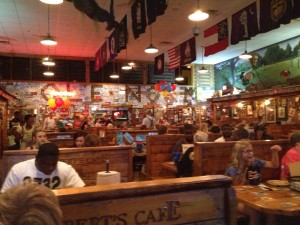 I wanted to mention Sikeston, Missouri namely because it is home to one of America's more unique eateries…Lambert's Cafe – the Home of the Throwed Rolls. Offering great home style cooking, big portions, and yes, Throwed Rolls – literally throwing them to you across the room – it is a fun and delicious place to eat. Close to the entertainment town of Branson, Sikeston is a great stop along the way.  Read more HERE.
Success, Missouri (Honorable Mention)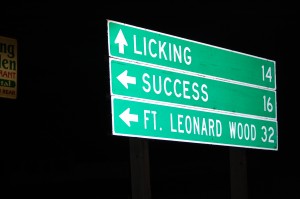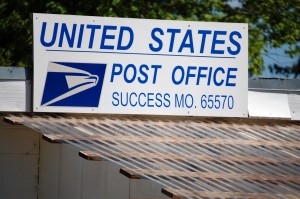 I was heading north on US 63 in Missouri one day.  As I got to Houston, MO (in Texas County — NO JOKE!!), I passed the sign above.  I took the 16 mile trek to look for Success.  The road to Success from Houston is lined with old doublewides and rusted out cars.  No joke!!  And once you find Success, you will see that there is not much there.  At least you can say you found it.
Soda Springs, Idaho (Honorable Mention)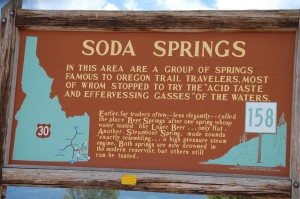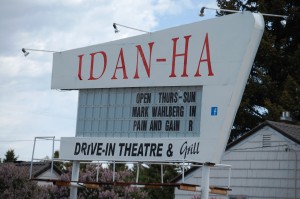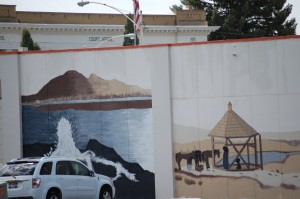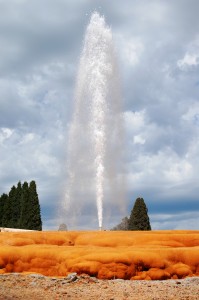 And my final S Town is Soda Springs, Idaho.  It sits on top of many hot springs and has a geyser too!! There is a lot of history here.  In fact, Brigham Young, the great Mormon leader, even had a home here.   Soda Springs has the only captive geyser in the world.  It was discovered in an attempt to find a hot water source for a swimming pool.  On November 30, 1937, the drill went down 315 feet and unleashed the geyser.  The extreme pressure is caused by carbon dioxide gas mixing with water in an underground chamber.  The water is around 72 F.  It is now controlled by a timer.  It erupts every hour on the hour and reaches heights of 100 feet year round.  You can read more about my visit to Soda Springs and other areas in Idaho and Wyoming HERE.
Did You Miss My Other A to Z Challenge Posts? Click on a letter below to see the others.
A B C D E F G H I J K L M N O P Q R S T U V W X Y Z
Learn More About the A to Z Challenge and visit hundreds of other participating blogs (click logo below)