During the month of April I am participating in the Blogging from A to Z Challenge. The challenge has each blogger select a theme and then do a post thematically from A to Z during each day of April , except Sundays. My blog is number 1337 out of 1670 participating blogs. This year my A to Z posts will take you across the back roads of America to many unique towns. To see what other bloggers will be posting about, check out the link: A to Z Theme Reveal List for 2016
The V Towns
Vulcan, Alberta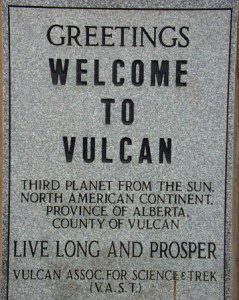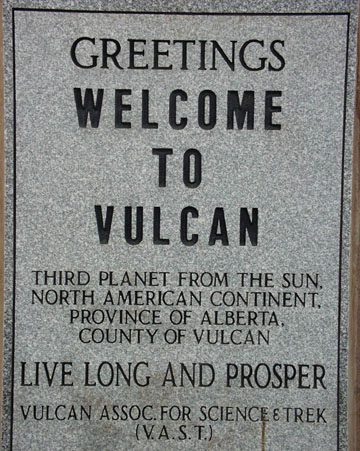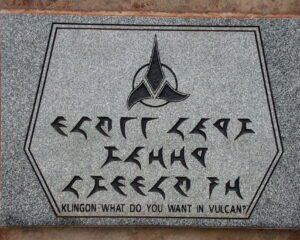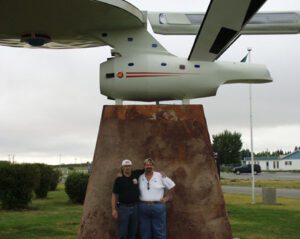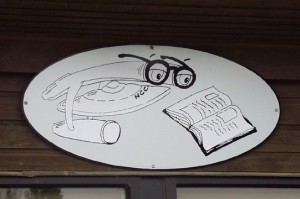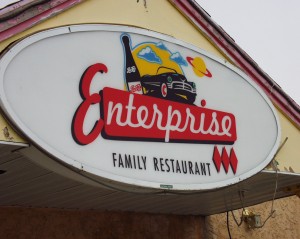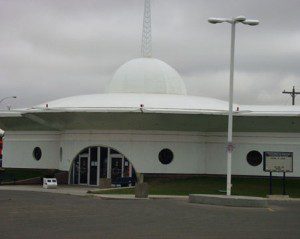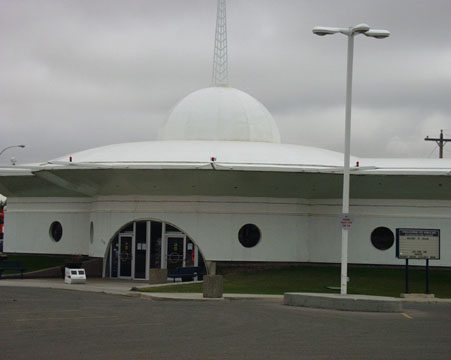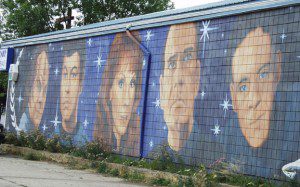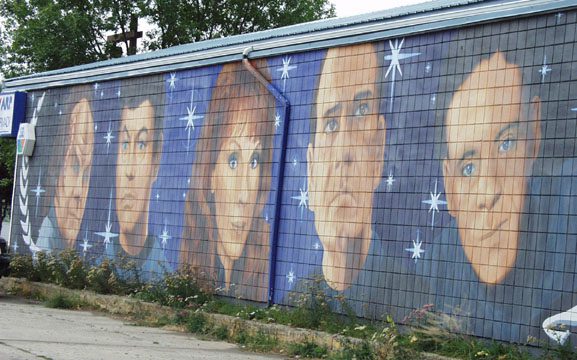 Back in 2007 I had occasion to visit a friend of mine in Alberta, Canada.  One of the side trips we tool was to the town of Vulcan, which has taken full advantage of its name and the association with the TV show Star Trek.  Vulcan is a town located midway between the cities of Calgary and Lethbridge inthe prairies of Southern Alberta, Canada.  The population of the town was 1,940 in 2006, and the population of the county, which is also named Vulcan. See more about my Vulcan visit HERE. Live long and prosper!!
Valier, Montana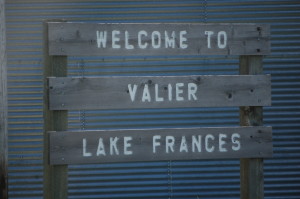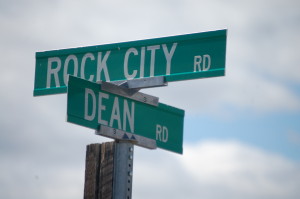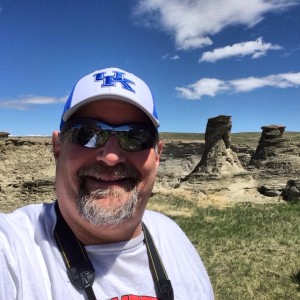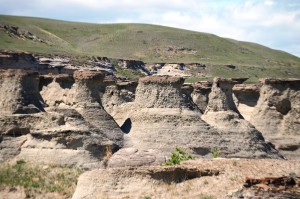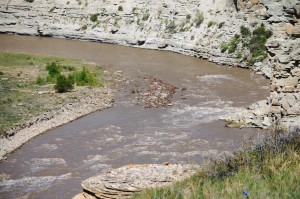 Last week I posted about a place near Sweet Grass, Montana called Jerusalem Rocks.  About 70 south of there is a town called Valier.  It is a small town of about 700 and really does not have a whole lot there. But, just outside of town is another outcropping of hoodoos and formations in a place called Rock City.  I wrote about this and other similar places in a post HERE.  But, you may also want to check out my complete post on my Montana US Highway 89 adventure HERE.
Vernal, Utah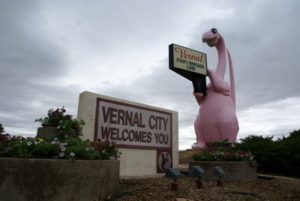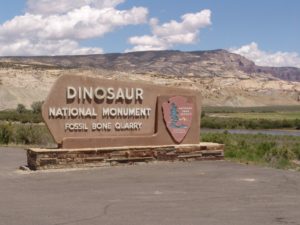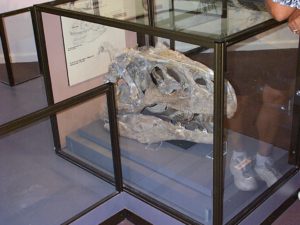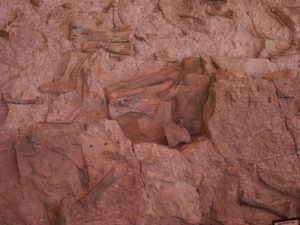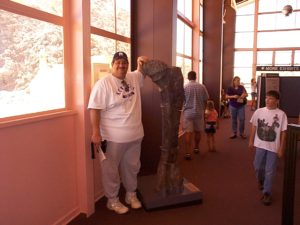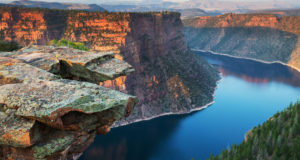 In 1975 I made weekly trips from Salt Lake City to Vernal, Utah for work as a record/tape distributor.  I loved the drive and Vernal was actually a nice place to visit every week.  In the early 2000s I once again visited with my family as we ventured to the Dinosaur National Monument.  Along with my trips, I would drive the switchbacks form Vernal and over the area known as Flaming Gorge.  This is beautiful country and well worth the visit.  It has been many years since I have been there, and I hope to get there again soon!
Vandalia, Illinois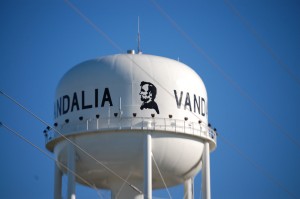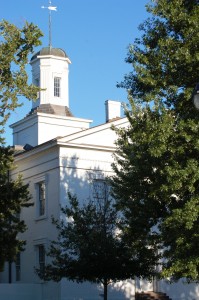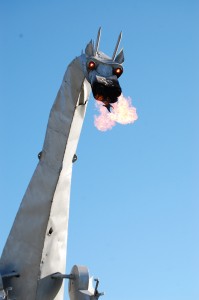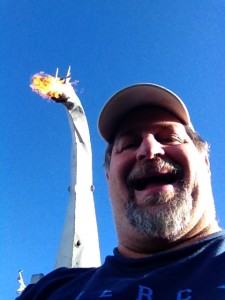 On a family trip in 2014, we drove through the town of Vandalia, Illinois as part of our return trip home.  Our main reason for coming here was to see a fire breathing dragon…made from metal. But, Vandalia is so much more.  This is where Abraham Lincoln kicked off his career as a politician.  It was the western terminus of the National Road, one of America's first highways.  The Kaskaskia Dragon was a load of fun for the grandkids too!! Check out my full trip report with lots of photos HERE.
Vicksburg, Mississippi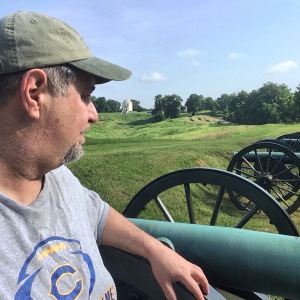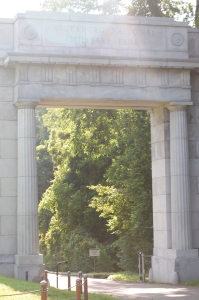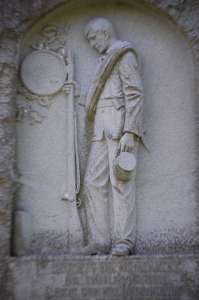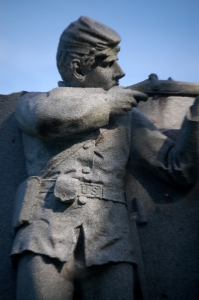 In the summer of 2014 I cruised down the Blues Highway and ended up spending the night in Vicksburg, Mississippi. I woke up early the next day to visit the Vicksburg National Military Park before heading further south on Highway 61. The park preserves the site of the American Civil War Battle of Vicksburg, waged from May 18 to July 4, 1863 and also commemorates the greater Vicksburg Campaign, which preceded the battle. The expansive park includes 1,340 historic monuments and markers, 20 miles of historic trenches and earthworks, a 16-mile tour road, 144 emplaced cannons, a restored gunboat, and more. A must see for Civil War enthusiasts, but also a great place to learn about a facet of American history.  Besides the park, the town has a great Coca Cola memorabilia museum and a number of murals along the river wall.  You can see many more photos and a more detailed writeup about my visit in 2014 HERE.
Versailles, Kentucky (Honorable Mention)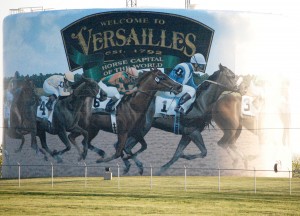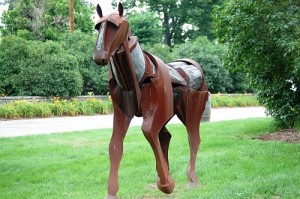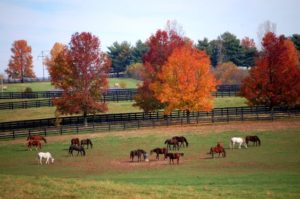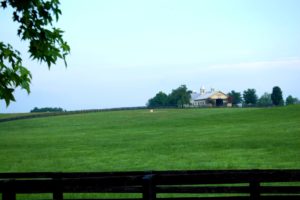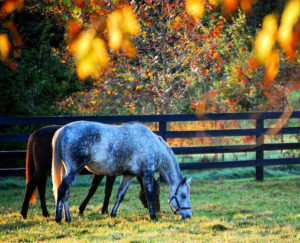 Living in Lexington, Kentucky offers many wonderful opportunities for "Staycations."  One great place to visit nearby is the lovely and historic town of Versailles (pronounced Ver-sales) which is on US Highway 62 west of Lexington. Versailles is well-known for its quaint, small-town beauty, beautiful horse farms and Kentucky's famed bourbon distilleries, including the famed Woodford Reserve.  Many of the famed Bluegrass Horse Farms are in Woodford County and near Versailles.   I have never written a blog post about Versailles, but I would highly recommend a visit there if you come to Kentucky.  Plan the trip in April and go to the races at nearby Keeneland Racetrack then take the Bourbon Trail.  Check out my 2013 blog post about Horse Farm Country with many photos about horses, horse farms and the Horse Capital of the World — right HERE.
Vincennes, Indiana (Honorable Mention)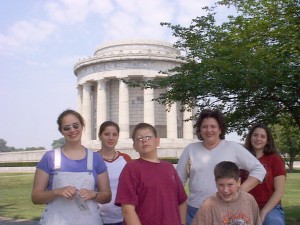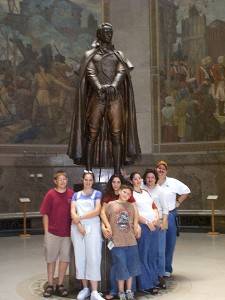 In the summer of 2001 my family took a trip westward to Utah (including the trip to Vernal noted above).  Early in the trip we went through Vincennes, Indiana to visit the George Rogers Clark National Historical Park. Founded in 1732 by French fur traders, Vincennes is the oldest continually inhabited European settlement in Indiana and one of the oldest settlements west of the Appalachians. It sits at the intersection of US Highway 41 and US Highway 50. George Rogers Clark (November 19, 1752 – February 13, 1818) was a surveyor, soldier, and militia officer from Virginia and the highest ranking American military officer on the northwestern frontier during the American Revolutionary War. He served as leader of the Kentucky (then part of Virginia) militia throughout much of the war. Clark is best known for his celebrated captures of Kaskaskia (1778) (Way before the fiery dragon noted above!!) and Vincennes (1779) during the Illinois Campaign, which greatly weakened British influence in the Northwest Territory. Because the British ceded the entire Northwest Territory to the United States in the 1783 Treaty of Paris, Clark has often been hailed as the "Conqueror of the Old Northwest".  his younger brother William was the "Clark" in the Lewis and Clark expeditions.  This trip was well before my travel blogging days, but the Memorial was definitely one of our more memorable experiences on a trip across the country to see history.
Did You Miss My Other A to Z Challenge Posts? Click on a letter below to see the others.
A B C D E F G H I J K L M N O P Q R S T U V W X Y Z
Learn More About the A to Z Challenge and visit hundreds of other participating blogs (click logo below)