During the month of April I am participating in the Blogging from A to Z Challenge. The challenge has each blogger select a theme and then do a post thematically from A to Z during each day of April , except Sundays. My blog is number 1337 out of 1670 participating blogs. This year my A to Z posts will take you across the back roads of America to many unique towns. To see what other bloggers will be posting about, check out the link: A to Z Theme Reveal List for 2016
The W Towns
Wharton, Texas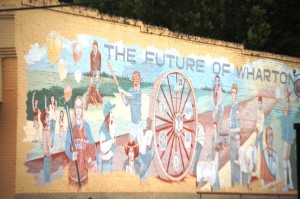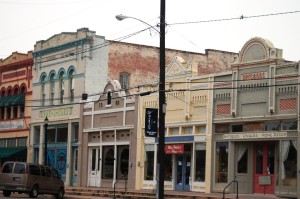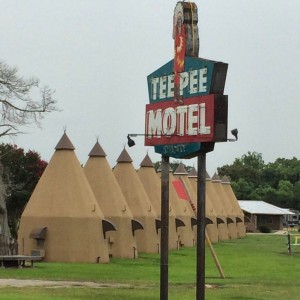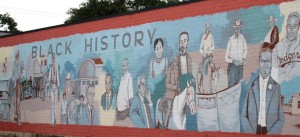 Lots of fun things to see in the little town of Wharton.  My main reason for visiting Wharton was to visit the Tee Pee Motel, a retro throwback to the 50s and 60s. According to their website, "The Teepee Motel was originally built in 1942 by George and Toppie Belcher to serve travelers heading across Texas on State Highway 60. The Teepee operated for 40 years, until the Interstate Highway system and a new era of travel routed customers away from the motel in the early 1980's. The motel eventually closed and would remain so for over 15 years.  Another notable set of items are a number of murals painted by Independence, Texas mural artist Dayton Wodrich.  He has done at least five murals in Wharton (though I only saw four when I drove around town).  You can see my full post about this trip HERE.
Welland, Ontario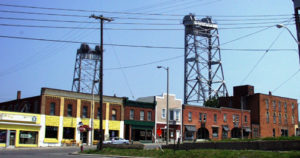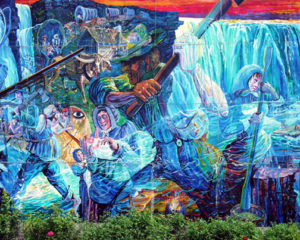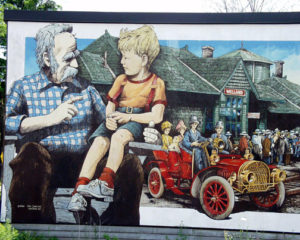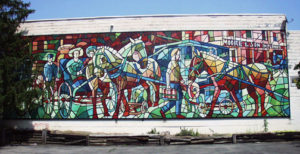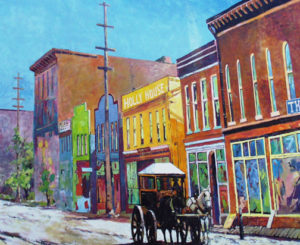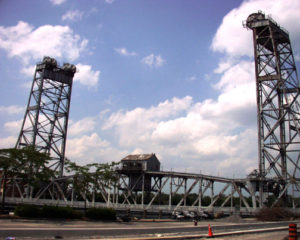 When visiting Ontario, Canada, one of the main attractions is Niagara Falls.  But not too far west of there  is the town of Welland. The
town of about 50,000 people was long associated with an inland canal from Lake Erie, but more recently is known for its large "outdoor
art gallery" of more than 25 murals, some of which are 3 stories high.
I have been to many towns with murals and am finding that this is a great new tradition by cities and towns. My first mural sighting in Welland was a huge painting on the side of Sears at the Seaway Mall. This mural depicted the entire history of the area and was so big
I had to take a number of photos to get it. You can see a portion of it above.  The other thing of interest is the HUGE Welland Canal Lift Bridge, which towers over the town.   Read more and see quite a few other mural shots in my July 2008 post HERE.
Winterset, Iowa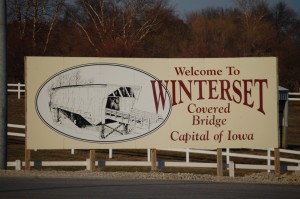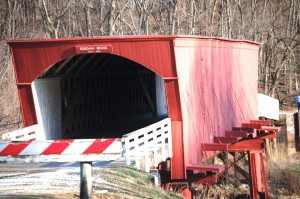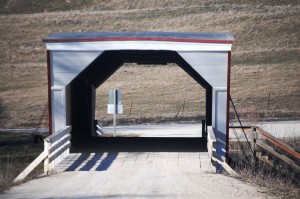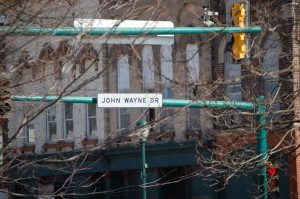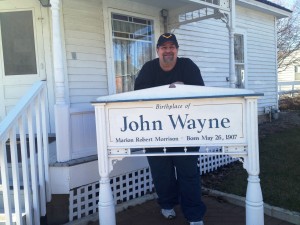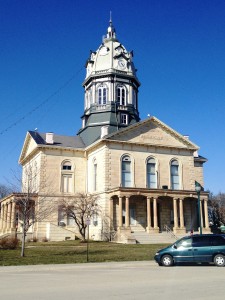 I have always wanted to go to Winterset, Iowa, famed for the "Covered Bridges of Madison County" (See a map here).  Robert James Waller made these famous with his book called The Bridges of Madison County. The county originally had 19 covered bridges, but now only six remain.  There are actually a couple of other places with quite a few covered bridges including the bridges in Greene County, Ohio (see map) near Xenia, Ohio which I will feature in my X Towns post later this week,  (see my write up of my visit to many of these), the 18 bridges in Fairfield County, Ohio (also see map) and the 17 bridges in Ashtabula County, Ohio (also see map here), including the newest and longest, which is the Smolen-Gulf Bridge at 613 feet long (see my photo of this bridge).  Kentucky and Michigan both still have quite a few as well. There are just over 125 covered bridges still in the United States and I have been fortunate to have visited many of them.  Therefore this was an exciting visit for me.  But Winterset is also famous as the birthplace of John Wayne.  You can see my complete and detailed post about Winterset HERE.
Wapiti, Wyoming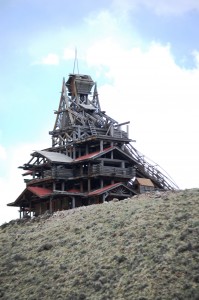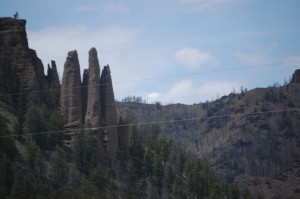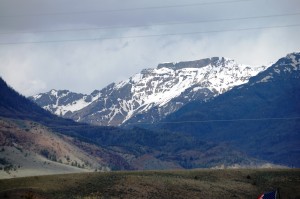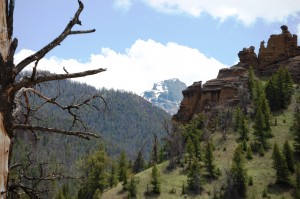 There are many roads into Yellowstone National Park and I have taken most of them.  One of the most scenic is the drive west out of Cody, Wyoming on US Highway 14/16/20.  This takes you into Yellowstone through the small and very scenic community of Wapiti.  It is home to the famously unique Smith Mansion high up on a hill overlooking the valley. This 40 year old structure was the brainchild of Wyoming artist Lee Smith. Smith spent his life, and eventually tragically ended it building this unique house for his family.  He fell to his death at the age of 48 in 1992.  The home is 5 stories tall, has numerous staircases and rooms and hidden entrances.  Check out the complete post from my 2013 drive from Gillette, WY through Cody and Wapiti into Yellowstone HERE.
Wall, South Dakota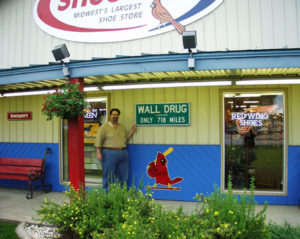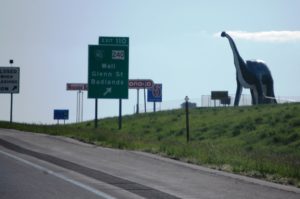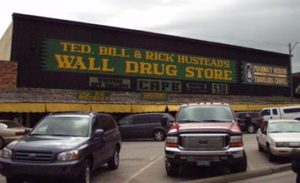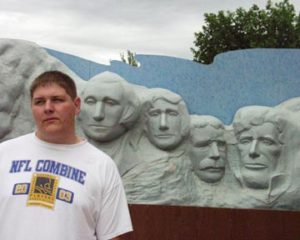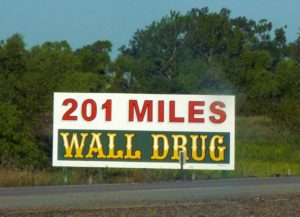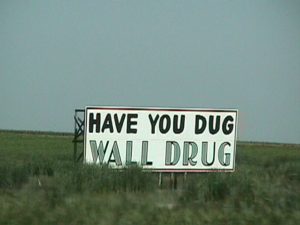 There are many roadside attractions in the United States that are advertised by billboards for miles and miles before the attraction.  However, in my recollection, none of them have the far reach of Wall Drug in South Dakota.  I can remember as a teeneager seeing signs that said "Where the Hell is Wall Drug?" and "Wall Drug 1200 miles," etc. Even on a 2005 visit to Black Earth, Minnesota, there was a Wall Drug sign on a boot shop noting that it was 718 miles away. Our visit in 2005 was fun and there really is a lot to do there for a place in the middle of nowhere.  Check out more about it in my 2005 post HERE.
Walla Walla, Washington (Honorable Mention)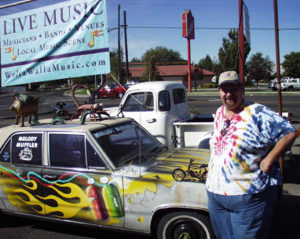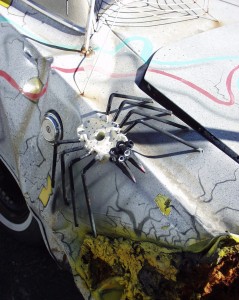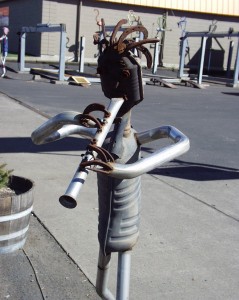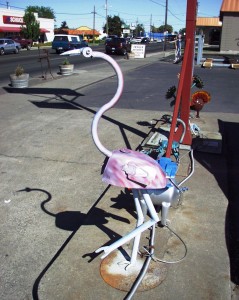 As I have noted in other posts, in 2007 I took a trip to Washington with my son Solomon to work with Antsy McClain on some shows he had out there.  On one of the days off we took a side trip to Walla Walla, Washington, specifically to go see the Melody Muffler shop and all of the great pieces of art made from mufflers and car parts.  A few examples are shown above.  You can see more and the whole story HERE.
Walcott, Iowa (Honorable Mention)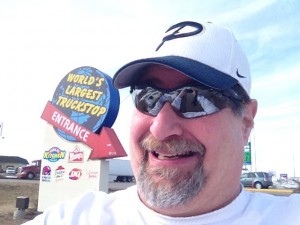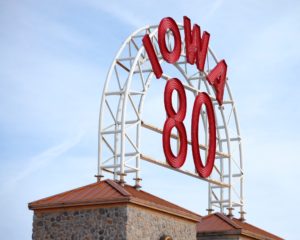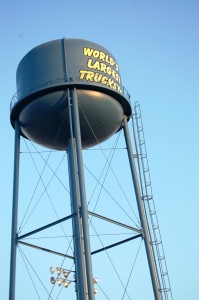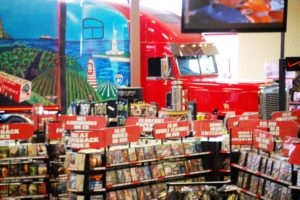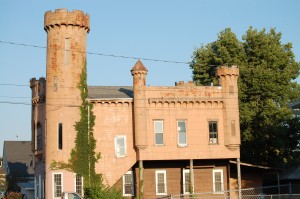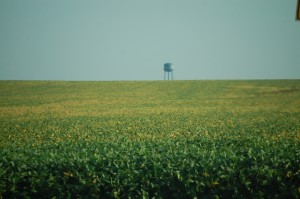 Somewhere on Interstate 80 there is a truck stop…a HUGE one…the largest one in the world.  It sits in the small town of Walcott a few miles west of Davenport. I have visited there three times since it is a convenient stop along the Interstate.  Not only does it have the Truck Stop, but in town there is an old castle, a few interesting scrap metal sculptures and a neon sign or two.  I have even spent the night in this town. You can read more about my trips HERE and HERE.
Waldo, Arkansas (Honorable Mention)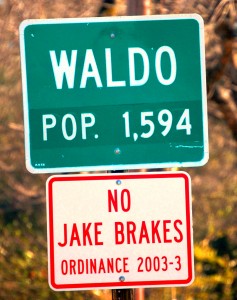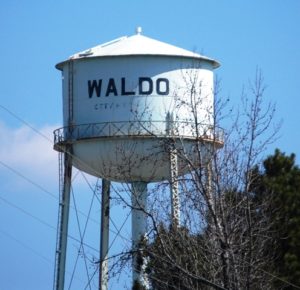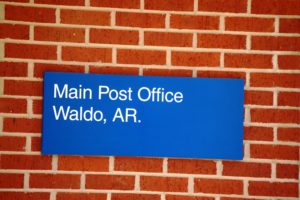 In the 1990s "Where's Waldo" became a fad.  Well, I found one of the Waldos in Arkansas on a trip in 2010.  A few shots are above, but the bigger story of that trip is HERE.
Worland, Wyoming (Honorable Mention)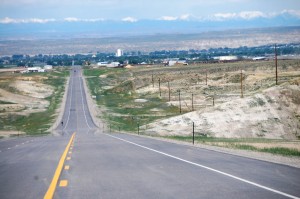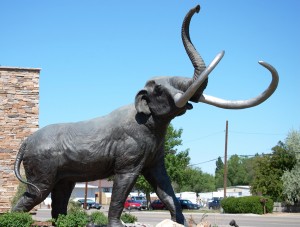 I visited Worland, Wyoming on the same trip as Wapiti above.  The real drawing card to this town is the big Mammoth Statue they have there.  There is also a museum.  Definitely worth a visit if you are going to be anywhere near.
West Montrose, Ontario (Honorable Mention)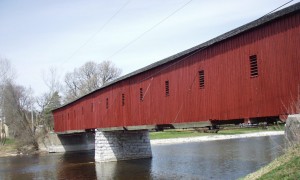 I mentioned the covered bridges of Madison County above in the Winterset section.  And in my X Town post I'll be reviewing more covered bridges in the Xenia, Ohio area.  But, my interest was piqued in 2008 when I visited the one shown above.  This bridge, the West Montrose Covered Bridge, is the longest in tact covered bridge in Canada.  You can read more about this bridge and many more of my visits to places around Ontario in 2008 in my 2009 Retrospective post HERE.
Winner, South Dakota (Honorable Mention)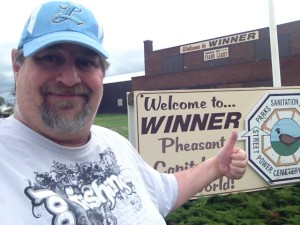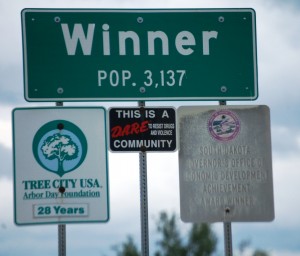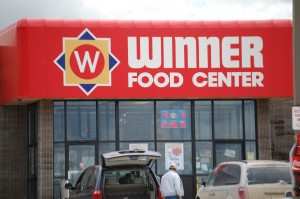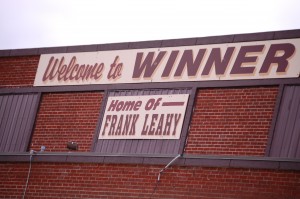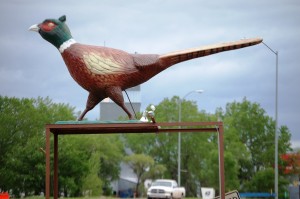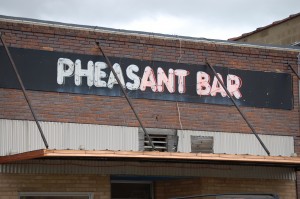 I am always the sucker for visiting towns with fun names.  I couldn't resist visiting Winner, SD on the Oyate Trail in 2013.  I definitely wanted a photo with the sign.  What I later found out is that there was a major multi-million dollar Powerball winner that lives in Winner and had bought his winning ticket in Winner.  So, Talent, Oregon may have had a finalist on America's Got Talent, but Winner, SD has a Powerball Winner. Winner also claims to be the Pheasant Capital of the World, but Gregory, down the highway from Winner also lays claim to the same.  You can see the entire story and more photos HERE.
Did You Miss My Other A to Z Challenge Posts? Click on a letter below to see the others.
A B C D E F G H I J K L M N O P Q R S T U V W X Y Z
Learn More About the A to Z Challenge and visit hundreds of other participating blogs (click logo below)