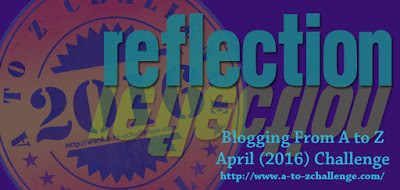 During the month of April 2016 I participated in the Blogging from A to Z Challenge. The challenge had each blogger select a theme and then do a post thematically from A to Z during each day of April , except Sundays.
This was my first opportunity to really participate in this annual event, which just completed its 6th year.  It was not easy!!  I had to not only post something daily, but also create a theme and stick with it.  And, in my perfectionist way, I wanted to make sure there were plenty of photos and commentary.  I wrote in such a way to draw people to the more detailed posts, where ever possible. 
It was a load of fun and I completed the challenge.  Not sure how many actually did, but it was certainly tough, yet fulfilling. 
What I really loved about the event was being able to communicate and link up with others doing the same thing.  I have made some new friends on Instagram, Twitter and Facebook.  I have found some interesting blogs to follow and also have a few new followers.
I most certainly look forward to participating again next year.  Now to start thinking of a good theme for next year.  May actually take a long time!!!
A BIG Thanks to Arlee Bird and her wonderful team!!
My blog was number 1337 out of 1670 participating blogs. This year my A to Z posts took readers across the back roads of America to many unique towns.  See what other bloggers posted about, check out the link: A to Z Theme Reveal List for 2016
Following is a complete listing of each with the banners associated with each post's link. Click on the Lettered Banner to go to the specific post.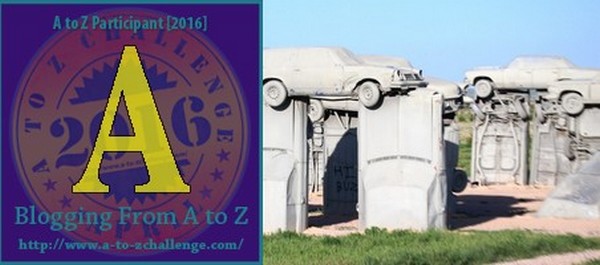 The A Towns: Amarillo, TX – Adair, IA – Alzada, MT – Alamogordo, NM – Alligator, MS – Alliance, NE – Ada, MI – Akela Flats, NM

The B Towns: Bemidji, MN – Boring, OR – Blackfoot, ID – Burk's Falls, ON – Booger Holler, AR – Brownsville, TN – Babb, MT – Blackwater, MO – Bena, MN – Bucksnort, TN – Bugtussle, KY – Bugtussle, TX

The C Towns: Cactus Flat, SD – Centralia, MO – Cape Elizabeth, ME – Climax, NC – Climax, KY – Choteau, MT – Cave City, KY – Charm, OH – Chelsea, MI – Champaign, IL – Cut Bank, MT – Caledonia, ON – Cut and Shoot, TX – China Grove, TX – Cool, TX – Coolville, OH

The D Towns: Douglas, WY – DeForest, WI – Discovery Bay, WA – Dublin, OH – Dublin, TX – Dragoon, AZ – Denton, TX – Durant, OK – Danville, IL – Dallas, SD – Denver, NC – Damon, TX

The E Towns: Earth, TX – Eureka Springs, AR – Elbe, WA – Easton, PA – Eldon, IA – Egg Harbor, WI – East Peoria, IL – Embro, ON – Eagle, CO – Endeavor, WI

The F Towns: Flagstaff, AZ – Friendly, WV – Friendship, AR – Flippin, AR – Fair Play, SC – Fergus Falls, MN – Feely, MT – Flippin, KY – Fly, OH – Four Way, TX – Future City, IL

The G Towns: Gainesville, TX – Gothenburg, NE – Guthrie, KY – Gregory, SD – Galata, MT – Glasgow, MT – Glasgow, KY – Gardiner, MT – Gillette, WY – Granbury, TX – Grand Forks, ND – Gravel Switch, KY – Gilboa, OH – Georgetown, TX

The H Towns: Hell, MI – Hamtramck, MI – Hamilton, ON – Hatch, NM – Hico, TX – Hopland, CA – Hoboken, NJ – Hugo, OK – Hershey, PA – Home on the Range, ND – Hamburg, IA

The I Towns: Indian Head, SK – Intercourse, PA – Ironwood, MI – Independence, MO – Idaho Falls, ID – Iona, ID – Inverness, MT – Iron River, WI

The J Towns: Jamestown, ND – Joseph, OR – Jeffersonville, IN – Juneau, AK – Jackson Hole, WY – Janesville, WI – Jackson Center, OH – Jamaica Beach, TX – Jamestown, NY

The K Towns: Kemmerer, WY – Keystone, SD – Ketchikan, AK – Kensington District, ON – Kadoka, SD – Kremlin, MT – Kirkwood, MO

The L Towns: LeClaire, IA – Lake Nebagamon, WI – Lesage, WV – LeRoy, NY – Lizard Lick, NC – Lake Jackson, TX – Lost Springs, WY – Langdon, ND

The M Towns: Mt. Horeb, WI – Meadville, PA – Metropolis, IL – Marshfield, WI – Moenave, AZ – Mystic, CT – Montrose, SD – Minot, ND – Mitchell, SD – Mapleton, ON – Medina, NY – Moose Jaw, SK – Mars, PA

The N Towns: Nicholson, PA – Nekoma, ND – Natchez, MS – Neah Bay, WA – Nauvoo, IL – Newport, OR – Newark, OH – Normal, IL – Nice, CA – New Salem, ND

The O Towns: Only, TN – Old Orchard Beach, ME – Okay, OK – Oil Springs, ON – Oak Creek, CO – Oacoma, SD – Odd, WV – Onawa, IA – Oddville, KY

The P Towns: Pella, IA – Peculiar, MO – Pierre Part, LA – Point Pleasant, WV – Paris, KY – Paris, TX – Paris, TN – Paris, ON – Port Orchard, WA – Powder River, WY – Paducah, KY – Port Gibson, MS – Palmyra, NY – Perryville, KY – Paxton, NE – Pembroke, NY – Penn Yan, NY – Ponder, TX

The Q Towns: Quincy, IL – Quartzsite, AZ – Queen City, OH (Cincinnati) – Quicksand, KY

The R Towns: Roswell, NM – Regent, ND – Rhinelander, WI – Rabbit Hash, KY – Raton, NM – Red Lodge, MT – Riverside, IA – Rugby, ND – Rudyard, MT

The S Towns: Steubenville, OH – Stanley, ID – Sedona, AZ – Santa Rosa, CA – Staunton, IL – Sisters, OR – Seymour, WI – Santa Claus, IN – Sandwich, NH – Sweet Grass, MT – Shakespeare, ON – Stratford, ON – Sikeston, MO – Success, MO – Soda Springs, ID

The T Towns: Tightwad, MO – Talent, OR – Toad Suck, AR – Thermopolis, WY – Teton Valley, ID – Tetonia, ID – Tuba City, AZ – Tornado, WV – Tavistock, ON – Tomahawk, WI – Tripp, SD – Tunica, MS – Tioga, TX – Ten Sleep, WY – Torch, OH

The U Towns: Uncertain, TX – Uncasville, CT – Upper Lake, CA – Ukiah, CA – Upton, KY

The V Towns: Vulcan, AB – Valier, MT – Vernal, UT – Vandalia, IL – Vicksburg, MS – Versailles, KY – Vincennes, IN

The W Towns: Wharton, TX – Welland, ON – Wapiti, WY – Wall, SD – Winterset, IA – Winner, SD – Walla Wall, WA – Worland, WY – Walcott, IA – Waldo, AR – West Montrose, ON

The X Towns: Xenia, OH – Lexington, KY – Cotopaxi, CO – Oxford County, ON – Texarkana, AR – Texline, TX – Rexburg, ID – Exie, KY

The Y Towns: Yampa, CO – West Yellowstone, MT –  Yellville, AR – York, NE

The Z Towns: Zanesville, OH – Zelienople, PA – Zurich, MT