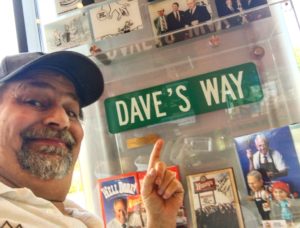 In May, I had occasion to take my wife to Kirtland, Ohio for a conference and spent time myself in my birthplace of Little Italy and Cleveland. I've covered most of this in some previous blogs (Little Italy post   Cleveland post   Kirtland/Novelty post), but wanted to touch on a couple of other places that we passed on our way to Kirtland and on our way back home to Kentucky.
Visiting Dublin, Ohio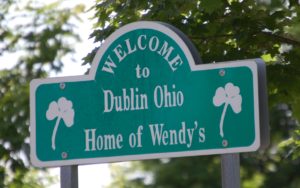 On the way up, we had a friend to visit in Dublin, Ohio and so made our way there. While my wife was tied up at her friend's house for an hour or so, I made a drive over to Wendy's headquarters. Dave Thomas got his start here in Dublin with the first Wendy's in the company which has become an international Burger Company second or third only to McDonald's and possibly Burger King. I actually have a daughter that is worked for Wendy's for nearly 16 years, more than half of her life, so it has had an impact on my family in a sense.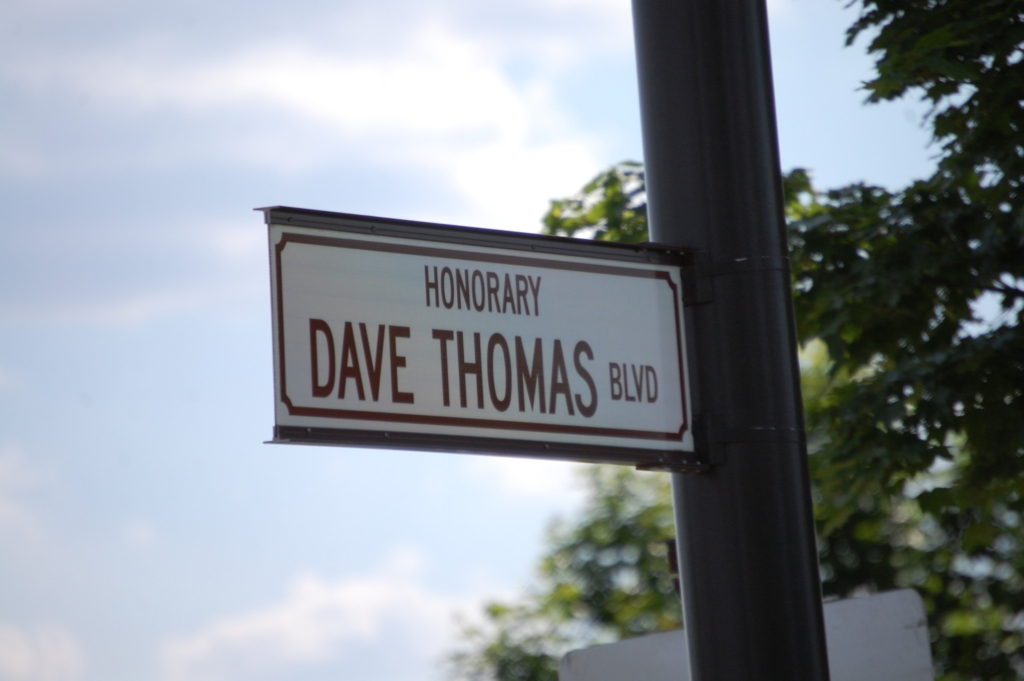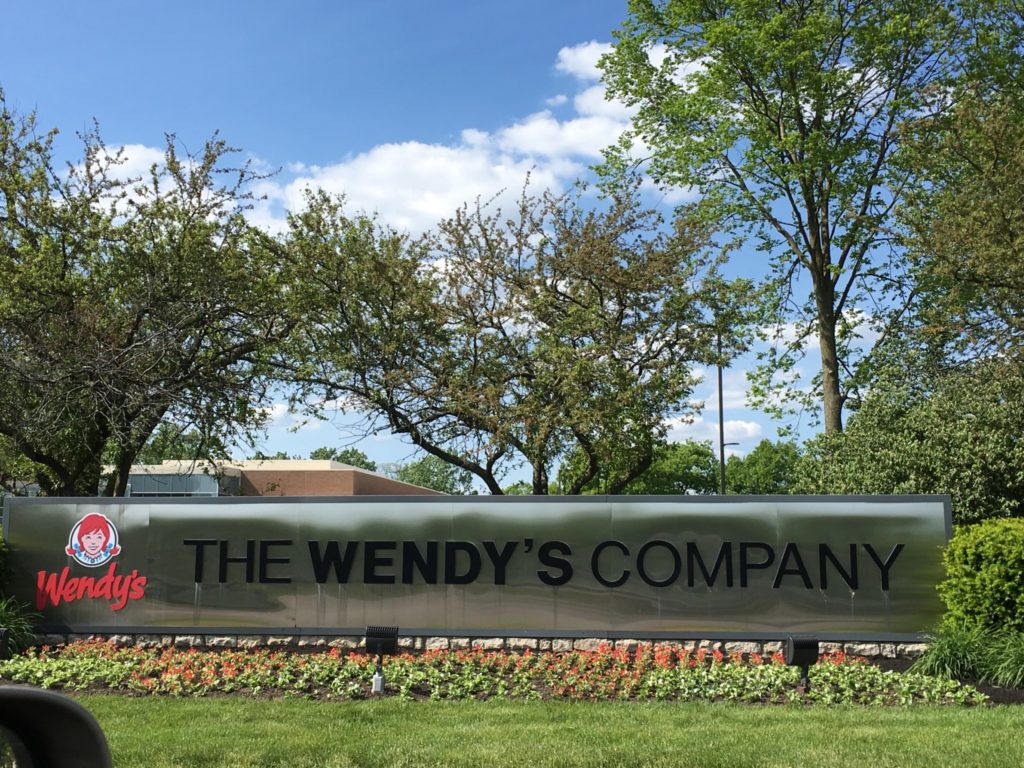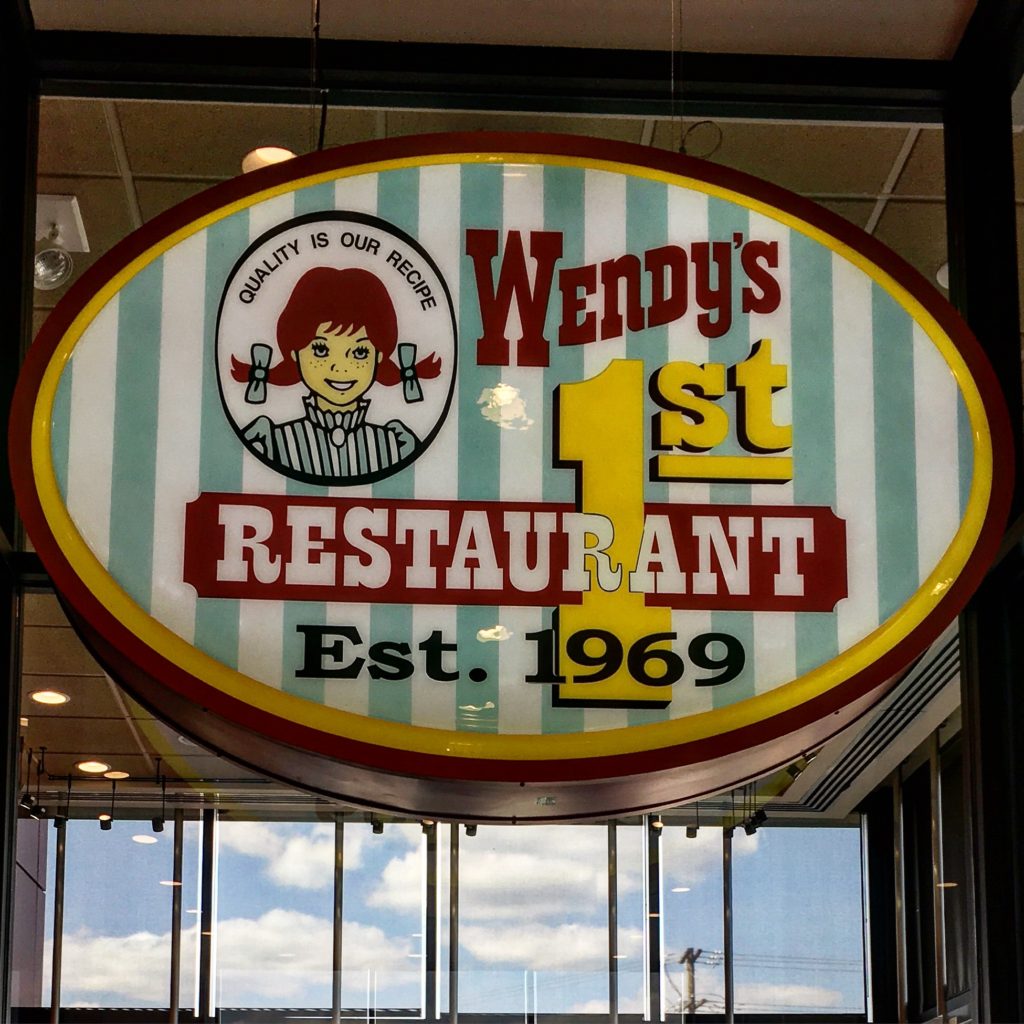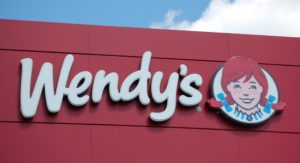 Although the original Wendy's restaurant is no longer around, just down the road from their headquarters building they have built a Flagship restaurant that includes a Wendy's museum, a nice statue of David Thomas holding a bag of burgers and a frosty, and a number of other unique little trinkets including a $105,000 Crystal Wendy's Classic Single.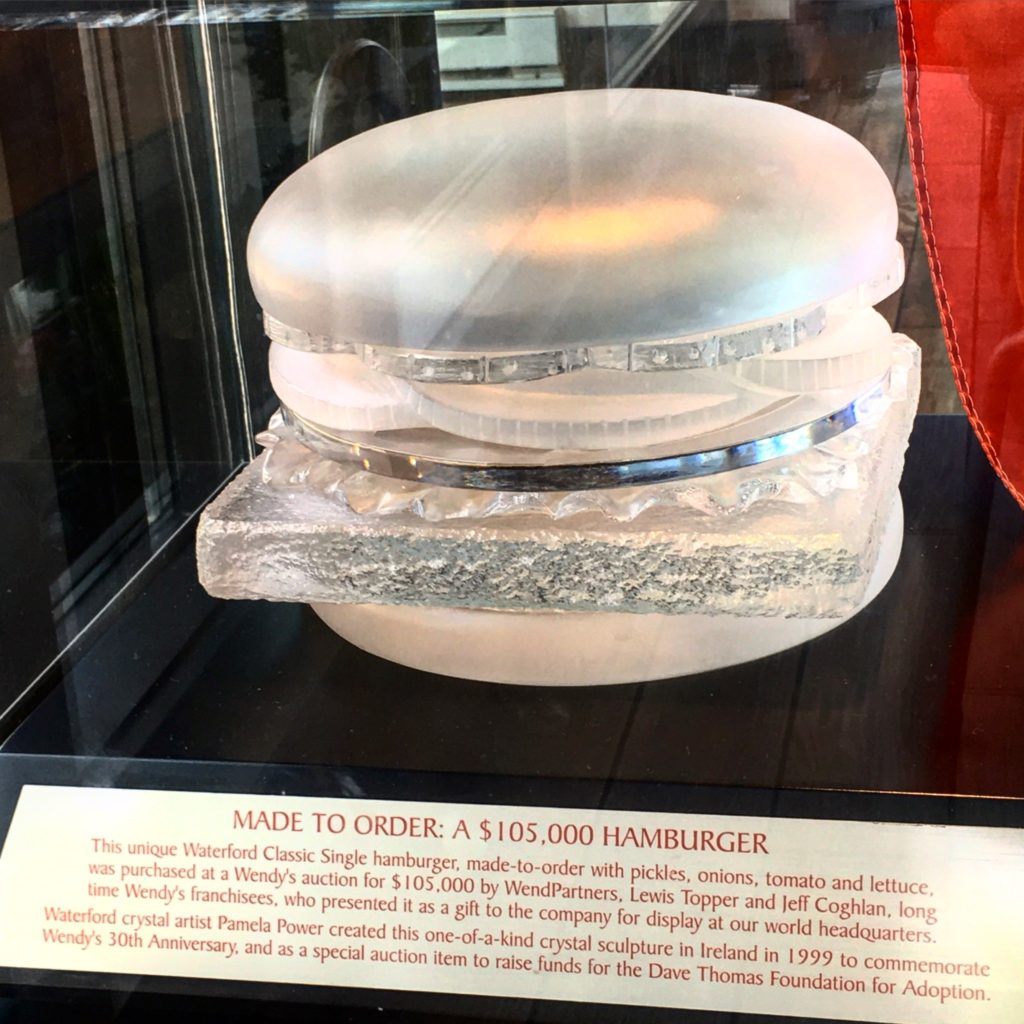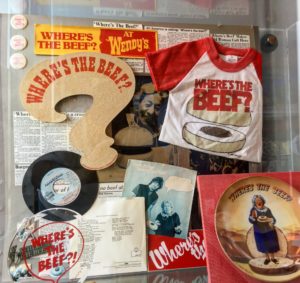 There is a "where's the beef?" Section where you can see some of the memorabilia from that particular campaign for Wendy's a few years back.
The little museum is also filled with a variety of Wendy's and Dave Thomas memorabilia.  Many of them are fun to take some time and look at .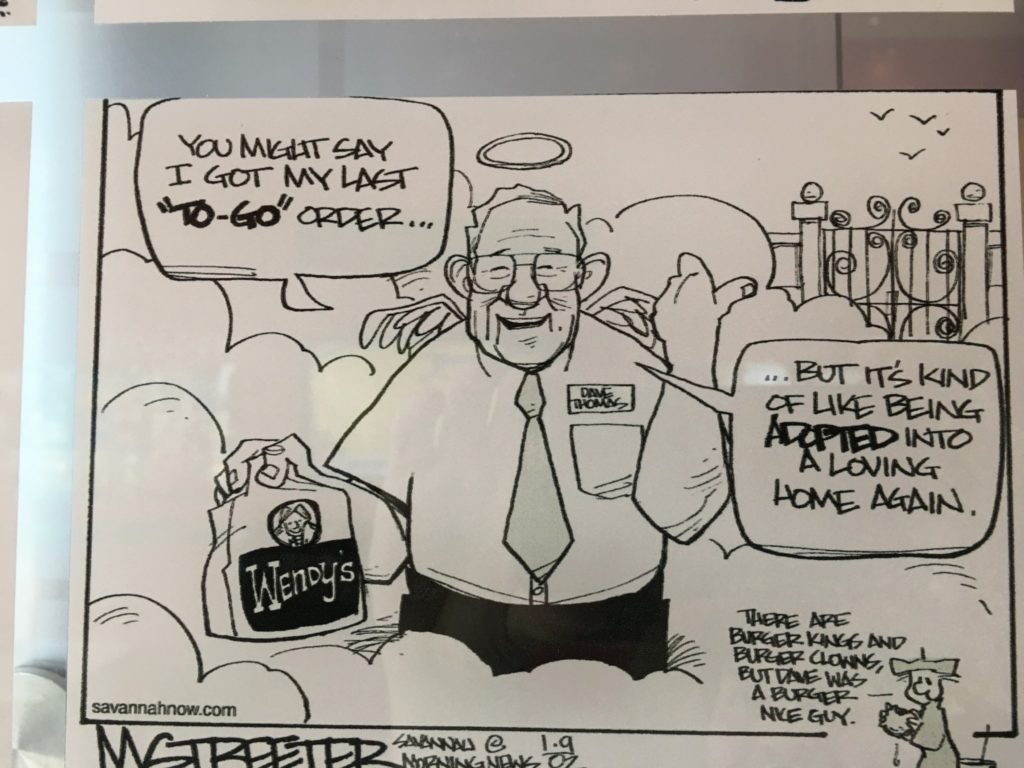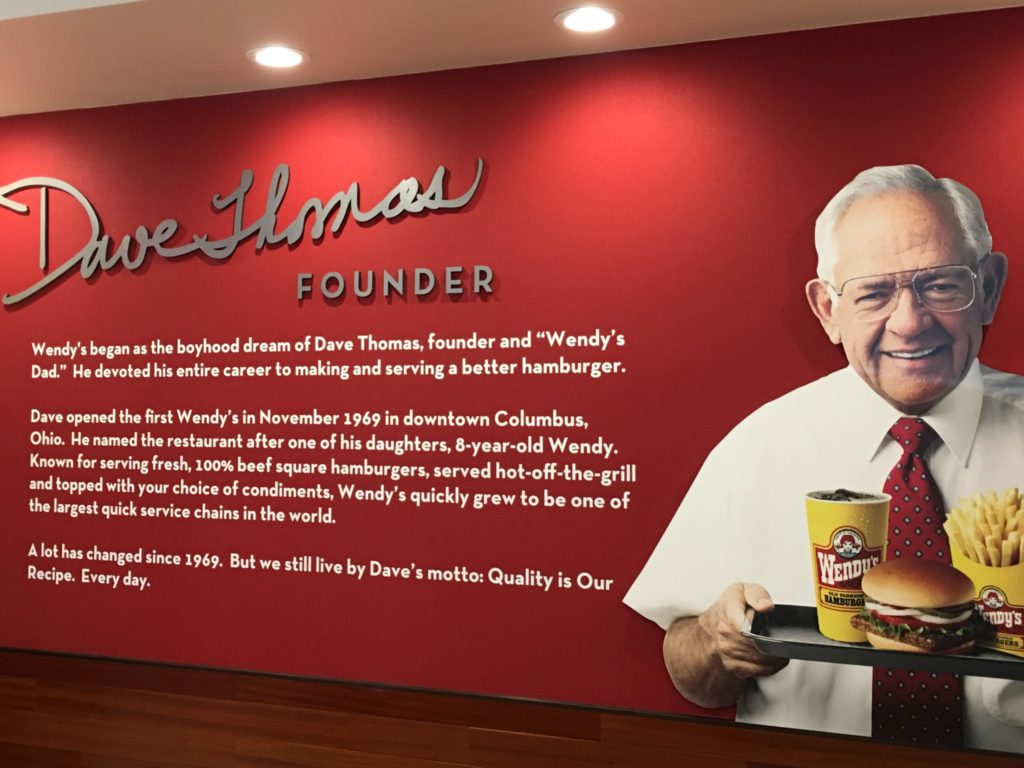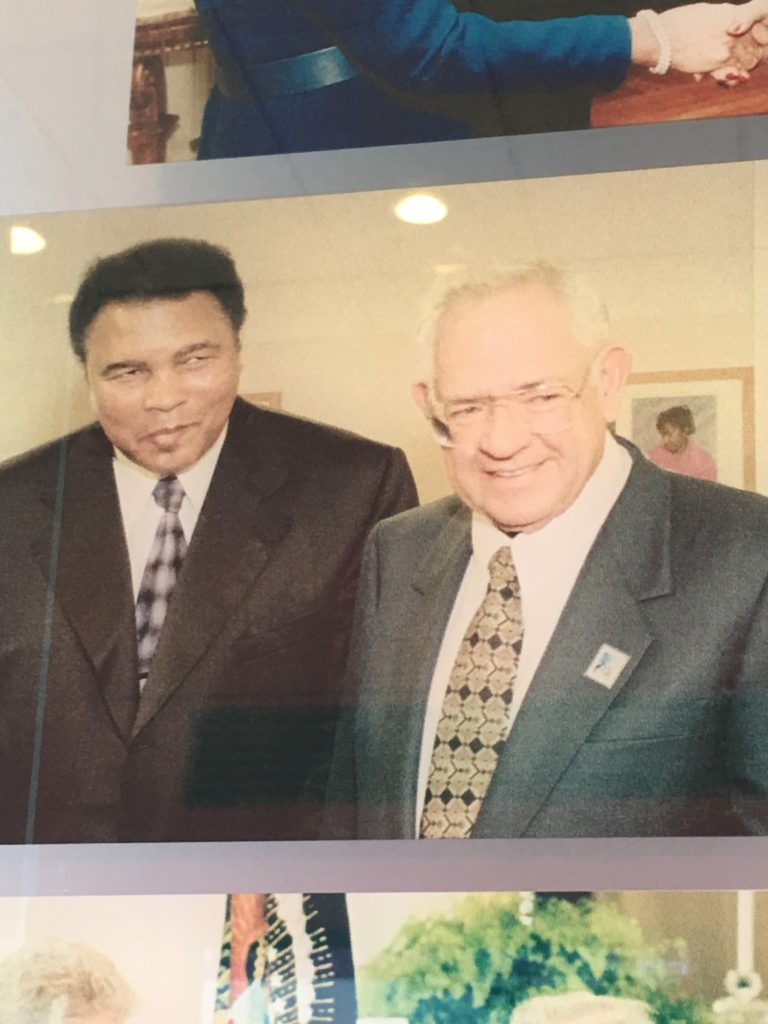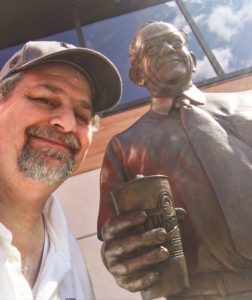 Finally, you can't miss the great statue of Dave Thomas that welcomes visitors from the parking lot into the store.  He holds the recognizable Wendy's bag and a Frosty in the other hand.
Honestly, the little Dave Thomas/Wendy's museum at this Dublin Wendy's is well worth a visit.  It is free (though you can also walk through with a Frosty and peruse all of the displays.  Lots to see!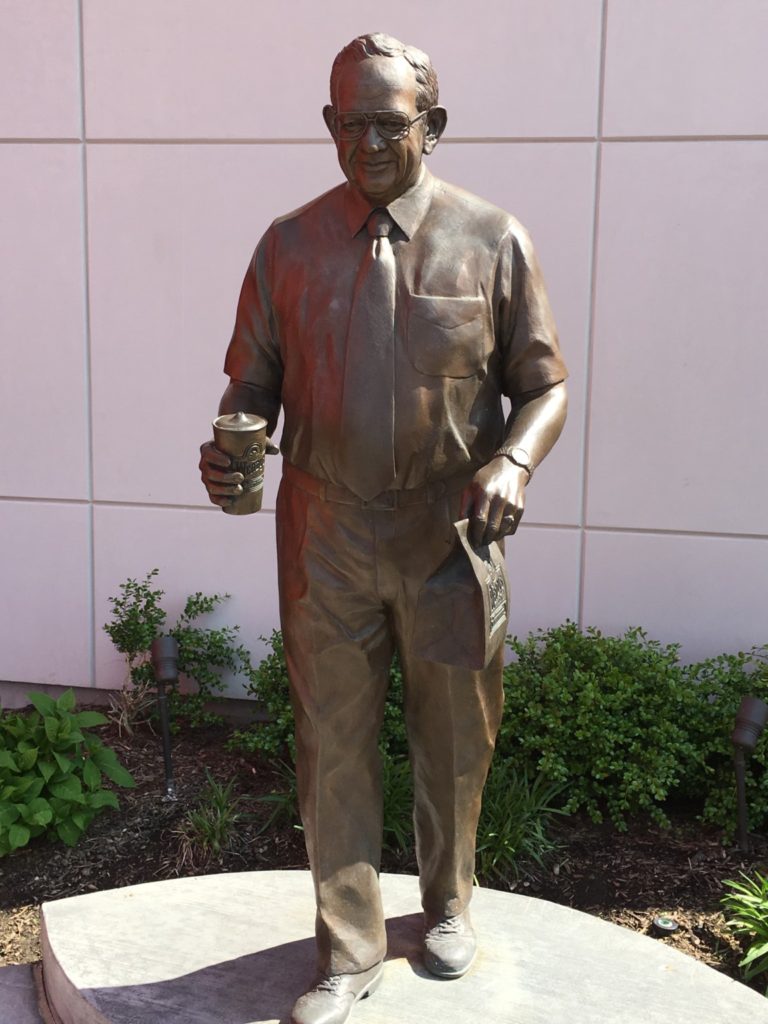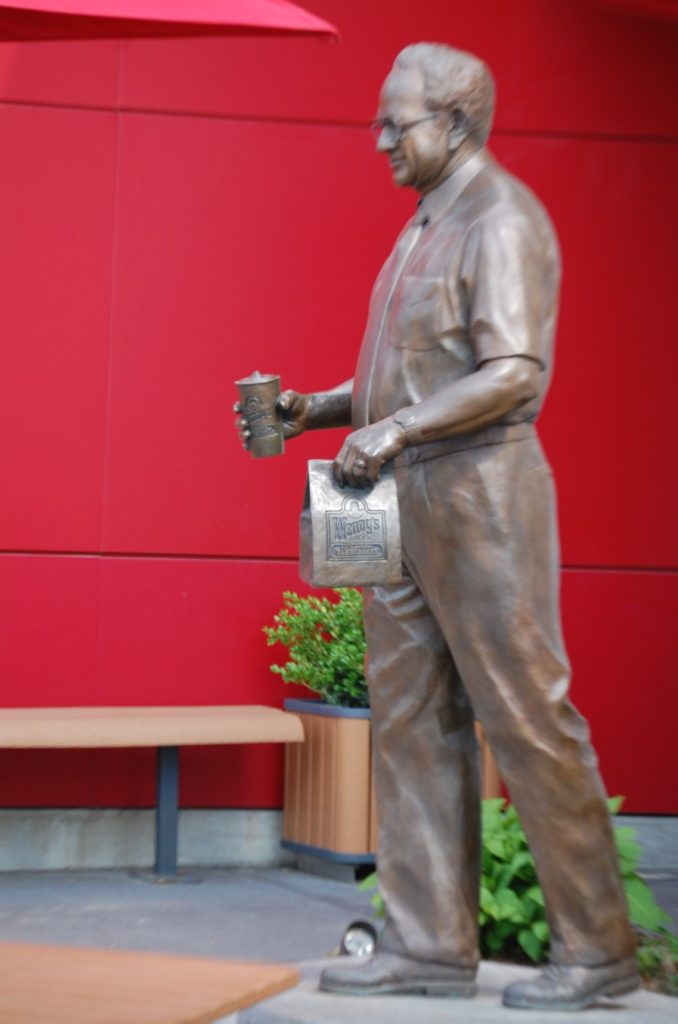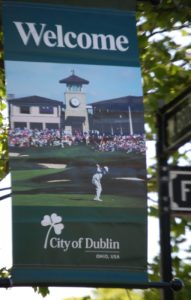 While in Dublin, I drove through the little downtown area of the town. I have been to Dublin before, but never to the downtown area which has some good old rustic buildings and historic places. They also have a corner with honorary street names for Jack Nicklaus and Johnny Miller.
It is the home of the Ohio native Jack Nicklaus designed Muirfield Village Golf Club which was dedicated in 1974.  This is home to the prestigious Memorial Tournament, which recently named golf hall of famer Johnny Miller as its 2016 Honoree. The Tournament, founded and hosted by Jack Nicklaus, is conducted each year with three goals in mind: to honor the memory of individuals living and deceased who have distinguished themselves in the game of golf; to showcase the world's best golfers competing on one of the most challenging venues in the world for the enjoyment of spectators; and to benefit many Greater Columbus Charities in alliance with the Nicklaus Children's Healthcare Foundation, Nationwide Children's Hospital and numerous other local organizations.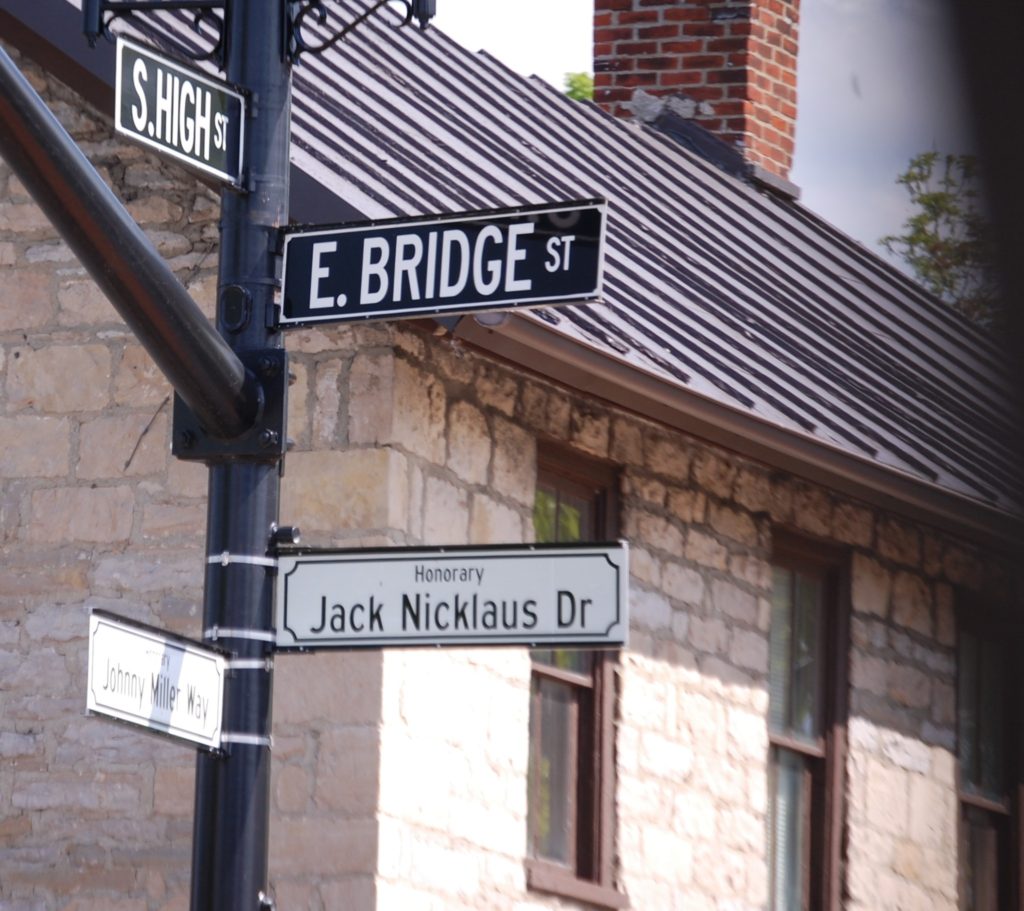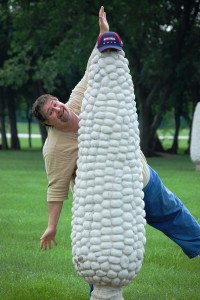 Another point of interest in Dublin which I did not visit on this trip but which I have been to on a couple of occasions is the unique and fun Cement Corn Cob park. I've written about this park in the past in the past but, I figured I would just include a shot about it here as well.
The "Field of Corn" is a publicly funded art installation in Dublin. The installation consists of 109 concrete ears of corn positioned in rows and standing upright in a grassy field.  Sculpted by Malcolm Cochran, a professor of sculpting at Ohio State University, the park was named the Sam and Eulalia Frantz Park, and was originally farmed by Sam Frantz, an inventor of several hybrid corn species.  This is not the only unique public art work in Dublin.  This is one of a few towns that has worked to bring in a plethora of unique, cool and sometimes quirky works of outdoor art. Check out the Dublin Arts Council's website.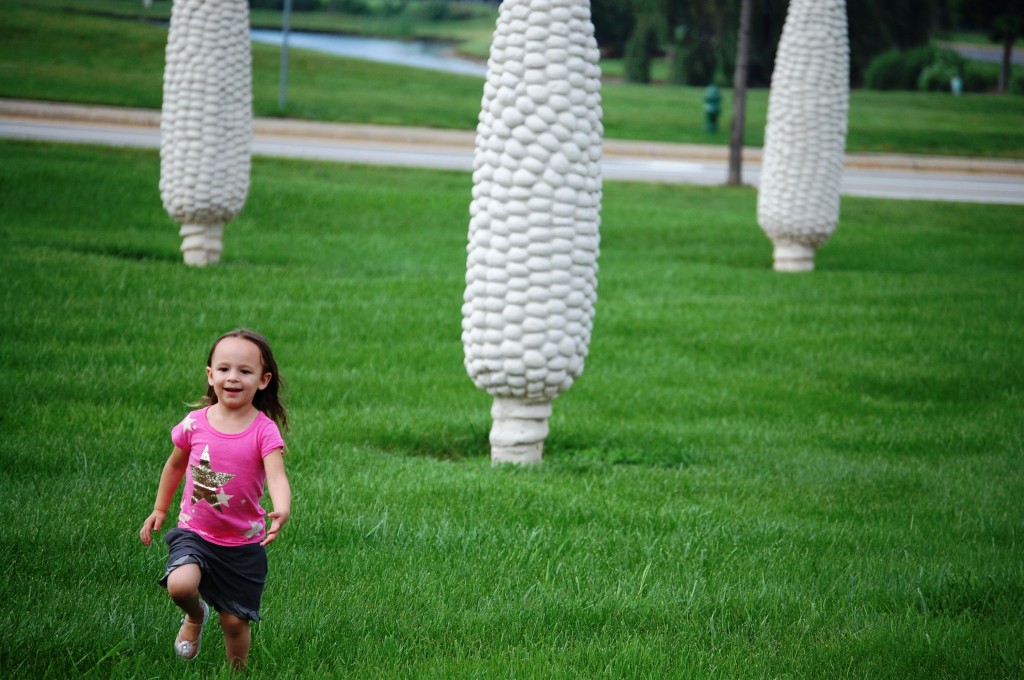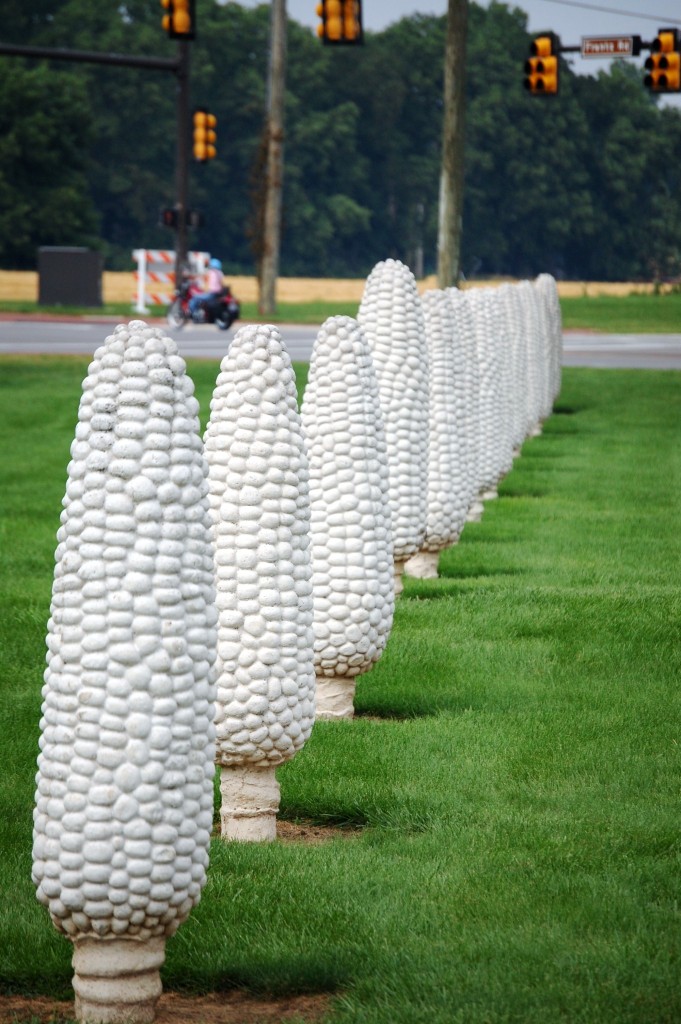 Visiting Wilmington, Ohio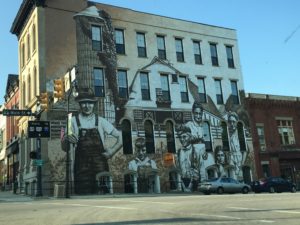 On our return home, after a nice visit to Cuyahoga Valley National Park, my wife and I stopped along the way for some dinner. Not certain as to where we should go, we decided on taking a little side trip into the small town of Wilmington, Ohio, which is about 5 miles east of Interstate 71 on US Highway 22 and also US Highway 68, almost exactly halfway between Columbus and Cincinnati. I did not know what to expect when I got there, but I was pleasantly surprised that this small college town had a couple of wonderful murals on the sides of the buildings. Something fun to add to my collection!!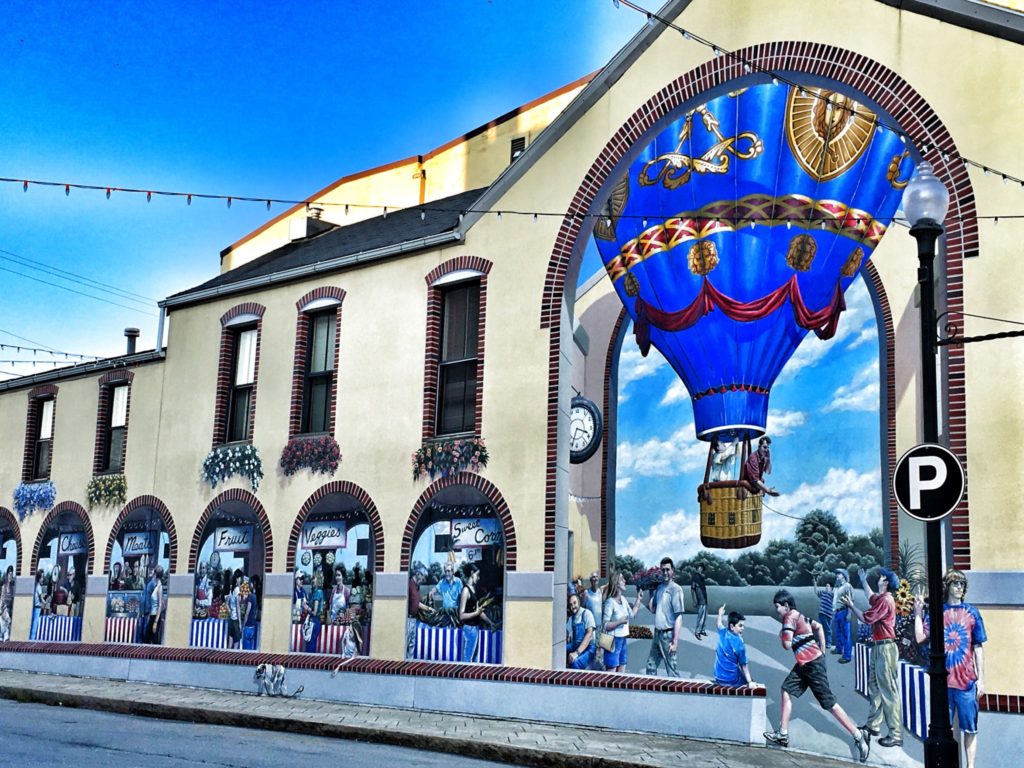 One of the murals depicts a farmers market and covers a few of the little archways in one building. This was done by artist Jason Morgan from Yellow Springs, Ohio, just north of Xenia.
http://jasonmorganportraits.com/JM_Portraits/GalleryMurals/Pages/Farmers_Market.html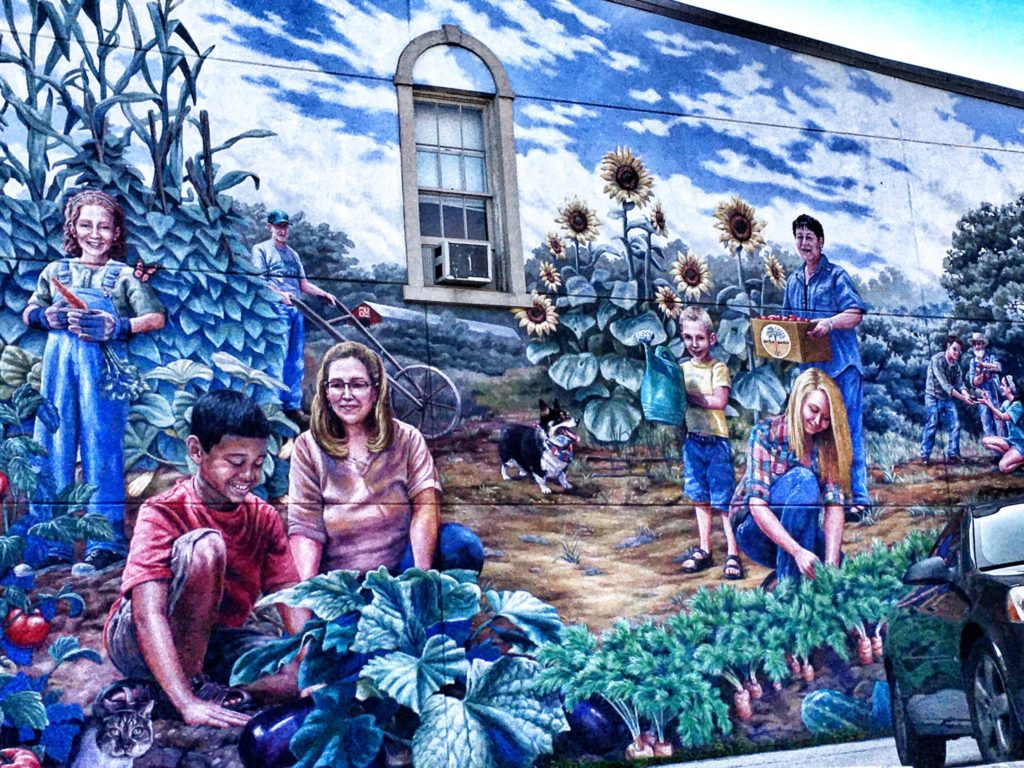 Another of the nice murals is the Community Garden Mural on E. Locust St. This too was painted by Jason Morgan, one of four that he has done in the city.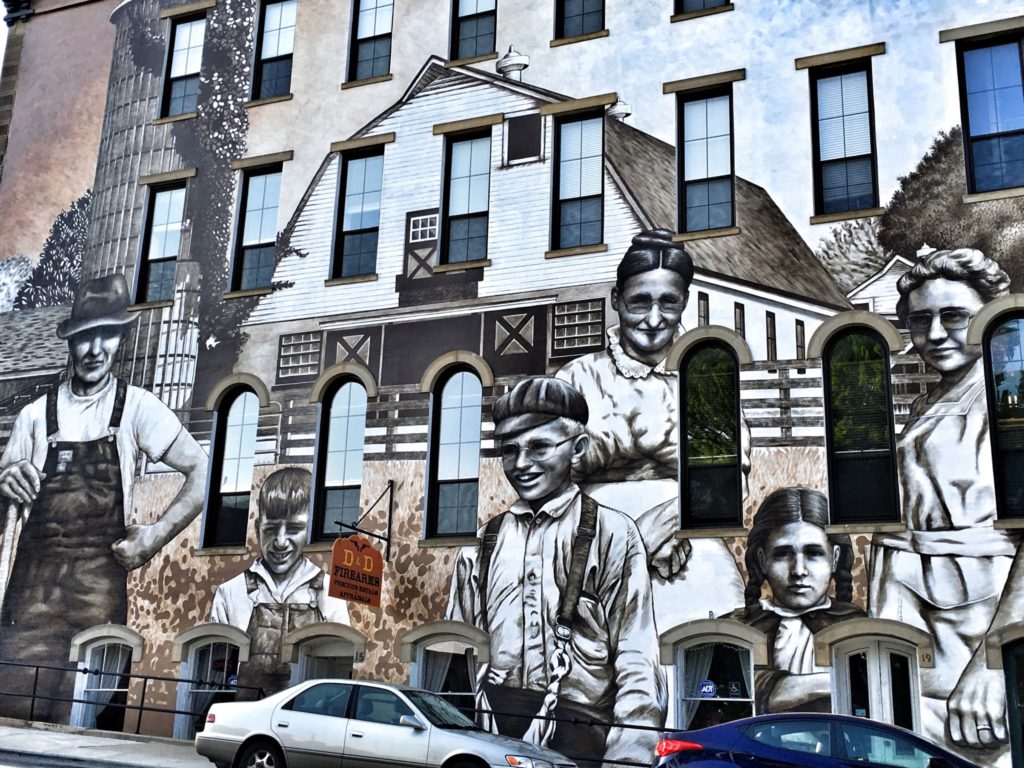 The last mural that we came across was the Heritage Harvesters Mural which is located on N. South St. This mural is huge and covers the entire side of  a three-story building. It represents some of the history of the farmers in this put on the farmland-centric community.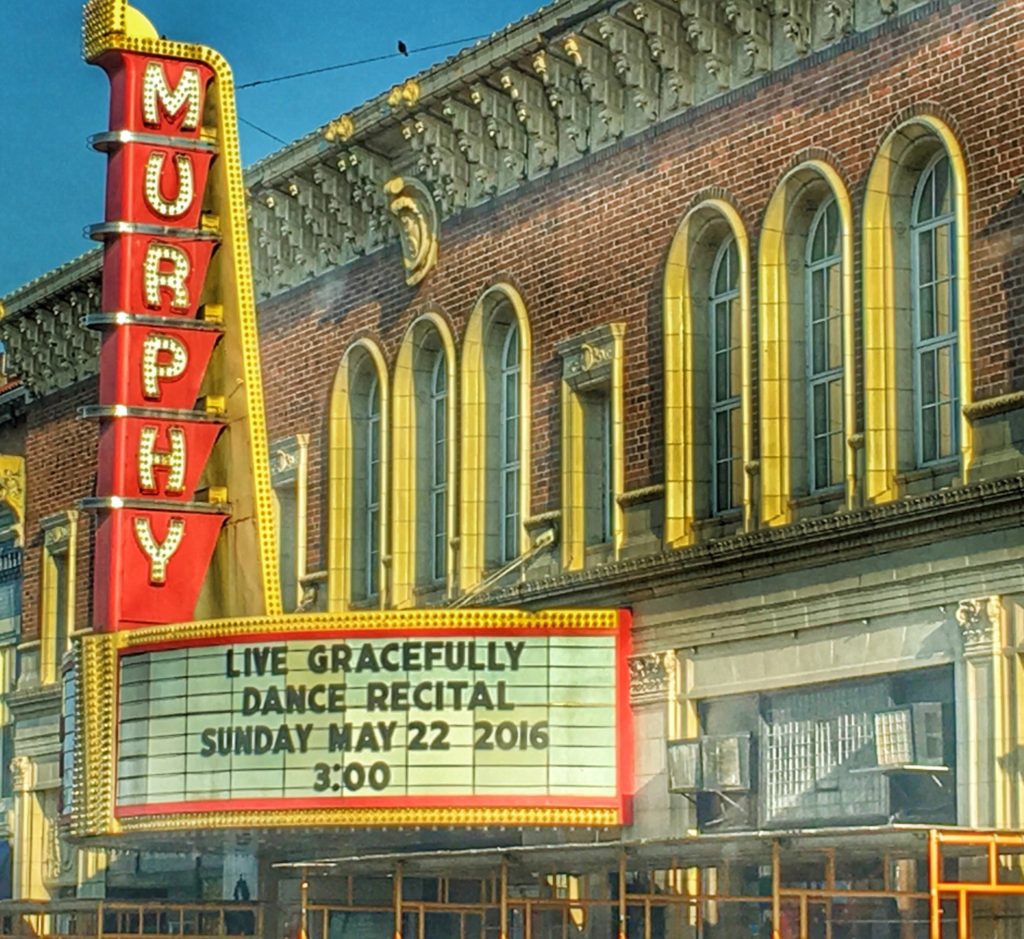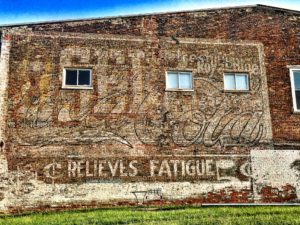 I also enjoyed the downtown area.  They have a wonderful old theater sign, which is shown below.  The Murphy Theatre is historic and is apparently as nice inside as it appears on the outside. It was originally built in 1918 by Charles Murphy. It was a movie theater from 1929 to the mid-1980s, but is now used as a venue for concerts and community events.
The Mexican restaurant (the El Dorado Restaurant) that we ate at was so-so, but it did fill us up enough for the remainder of our trip home. And thus we were back on the road returning back to Lexington after a good time in northern Ohio. If you did not see my other posts, please give them a visit (the links are at the top of this post).