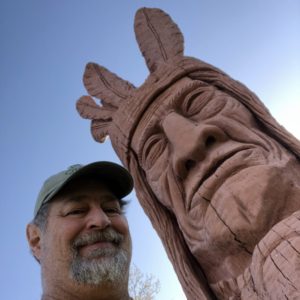 I have posted about the Trail of the Whispering Giants in earlier posts, but my April 2018 trip afforded me the opportunity to double my visits from the past as I was able to create a route that let me hit six more of them as I traveled west to Washington and then back.  In this post I will feature the new ones I visited, but will also include a brief view of the others I have visited in past years.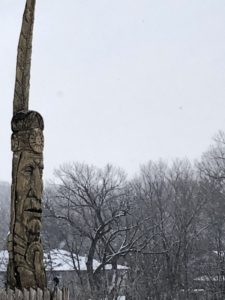 Peter "Wolf" Toth, a Hungarian-born sculptor now living in the United States, began creating a series of wooden sculptures to honor Native Americans and placed them in almost all 50 of the US States and some in Canada as well. He called these collectively the "Trail of the Whispering Giants."  His first one was built in La Jolla, California in 1972.  The second of them was created and placed in his hometown of Akron, Ohio.  By 1988 he had created 58 Whispering Giants with at least one in every U.S. state, though some have disappeared since.  Each of the creations are numbered in the order Peter Toth created and placed them.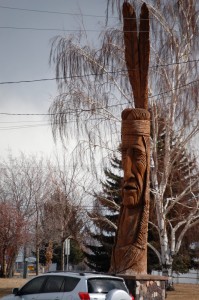 My goal in my travels has been to try to route my trips such that I can visit as many of these as possible.  Doing a cross country road trip on back roads facilitates this opportunity fairly well, as long as I don't have to go too far out of my way or weather doesn't stop me.   I planned on eight visits on this trip and made six.  Two of the statues are no longer in existence, both apparently victims of bad weather.
There are instances where Mr. Toth has gone back and replaced them and/or repaired damaged ones.  But some don't get replaced or, at least have not yet been to this point.
#61 – Ho-Ma-Sjah-Nah-Zhee-Ga – Allen Park, Ottawa, Illinois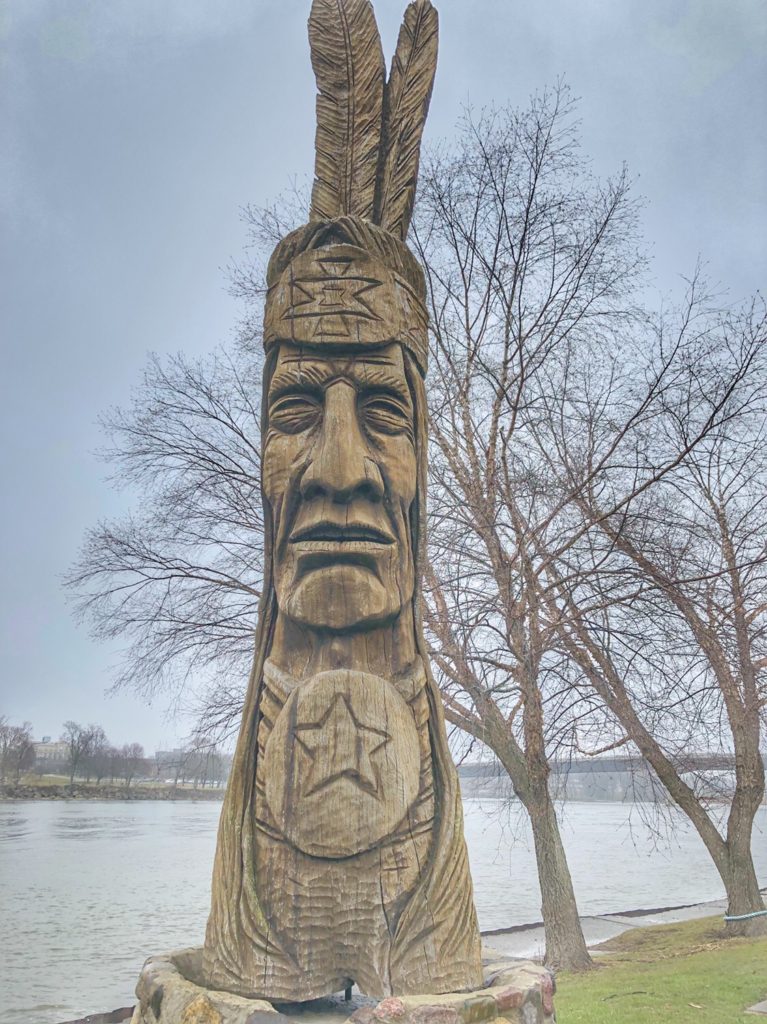 My first stop on the trip was in a park along the Illinois River near Ottawa, IL.  This was created in May 1989 and stands 13 feet tall.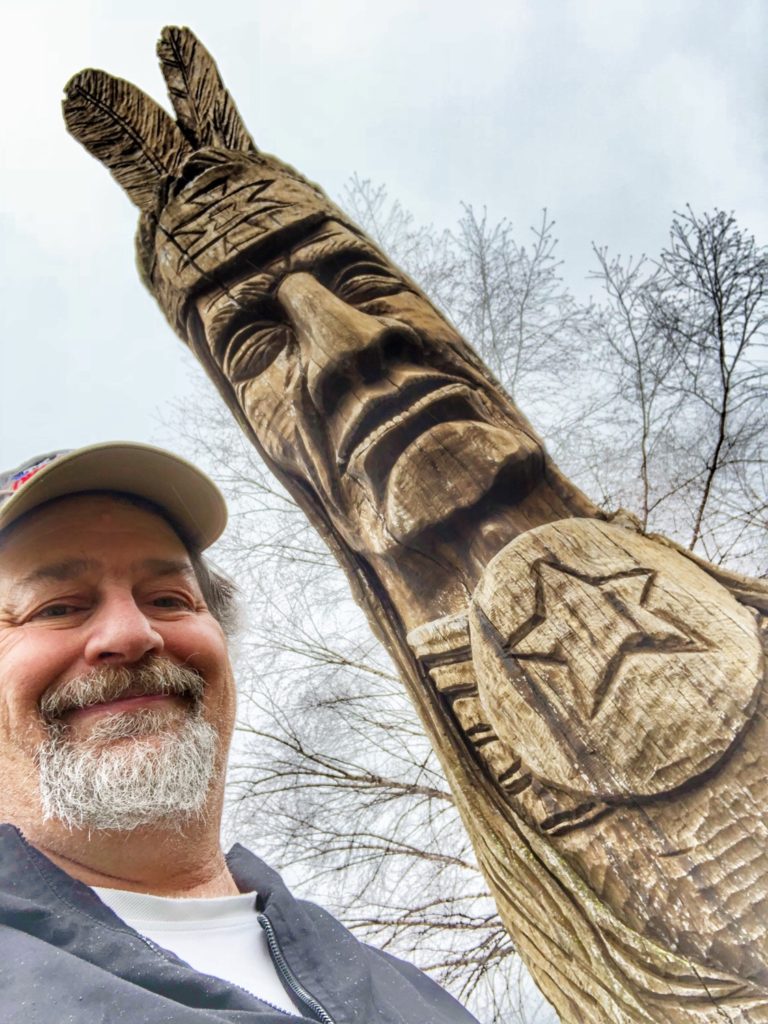 #62 – Chief Walks with the Wind – Starved Rock State Park near Utica, IL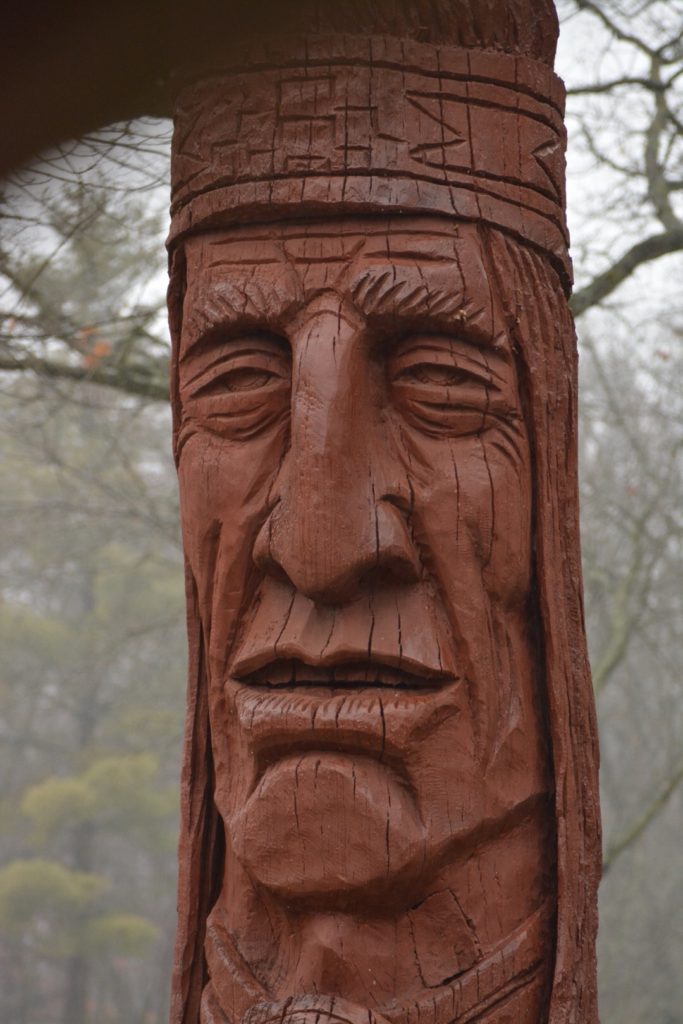 Just a short drive from Ottawa is the lovely Starved Rock State Park, near Utica, Illinois.  Apparently, Mr. Toth likes this area as he put up three of his Whispering Giants in close proximity to each other. The "Chief Walks With the Wind" stands 20 feet tall and sits in front of the State Park visitor center.  A drive around the state park shows off a number of other impressive wood carvings by other artists.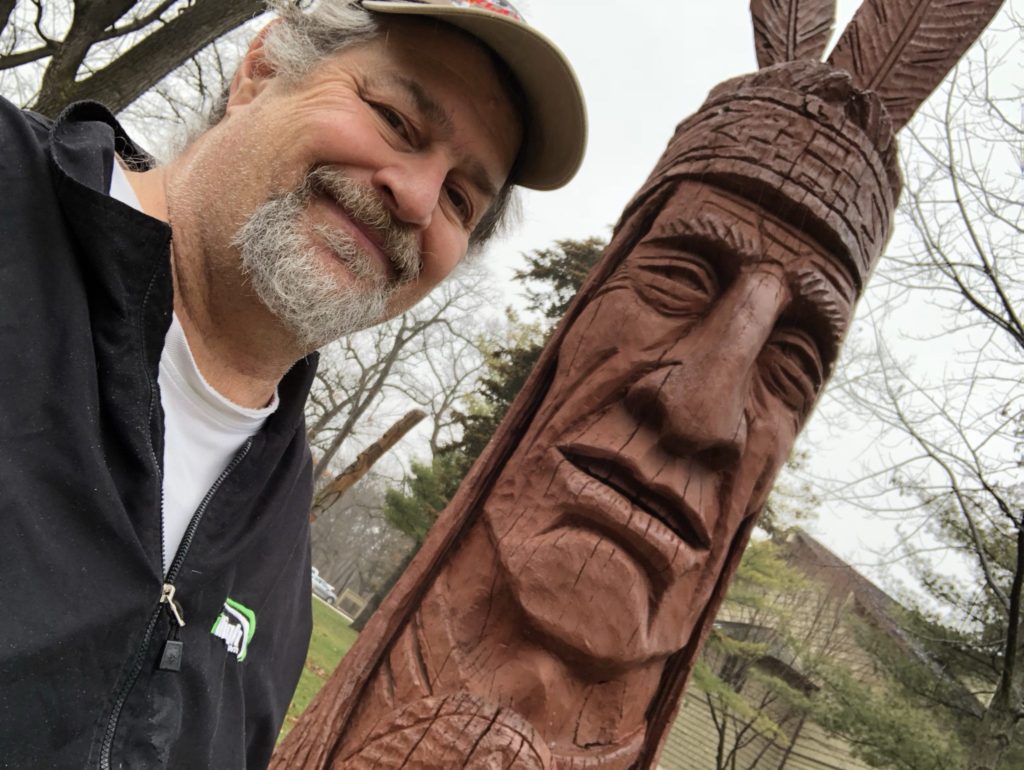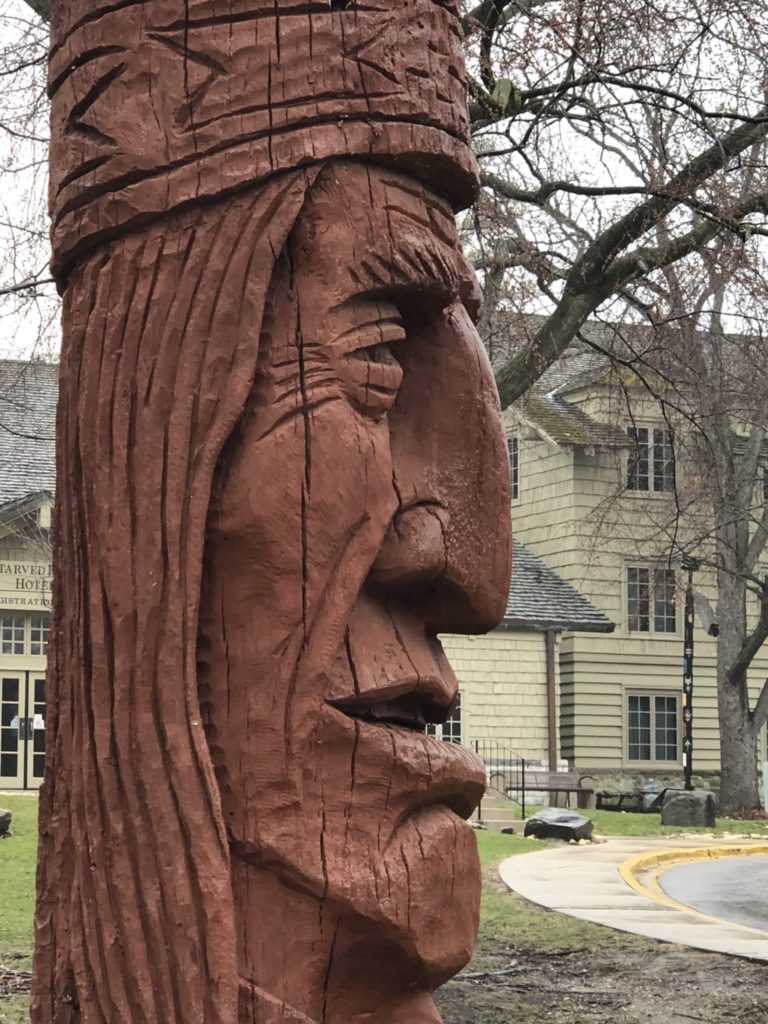 #16 – Hopewell Giant – Village of Hopewell, Illinois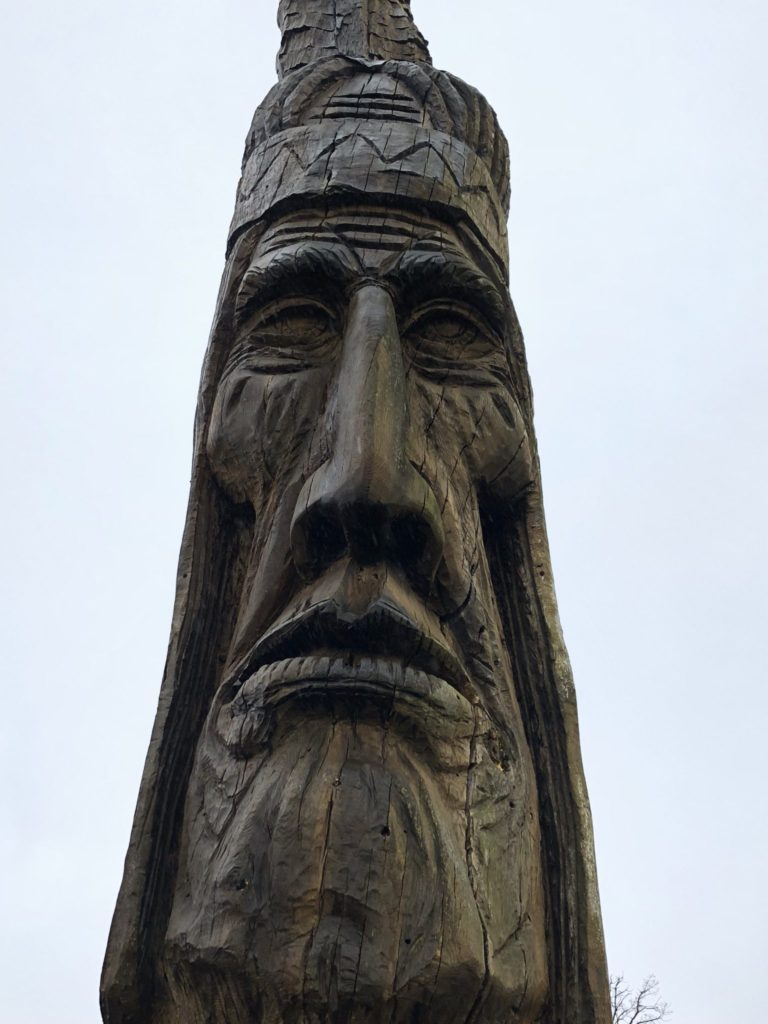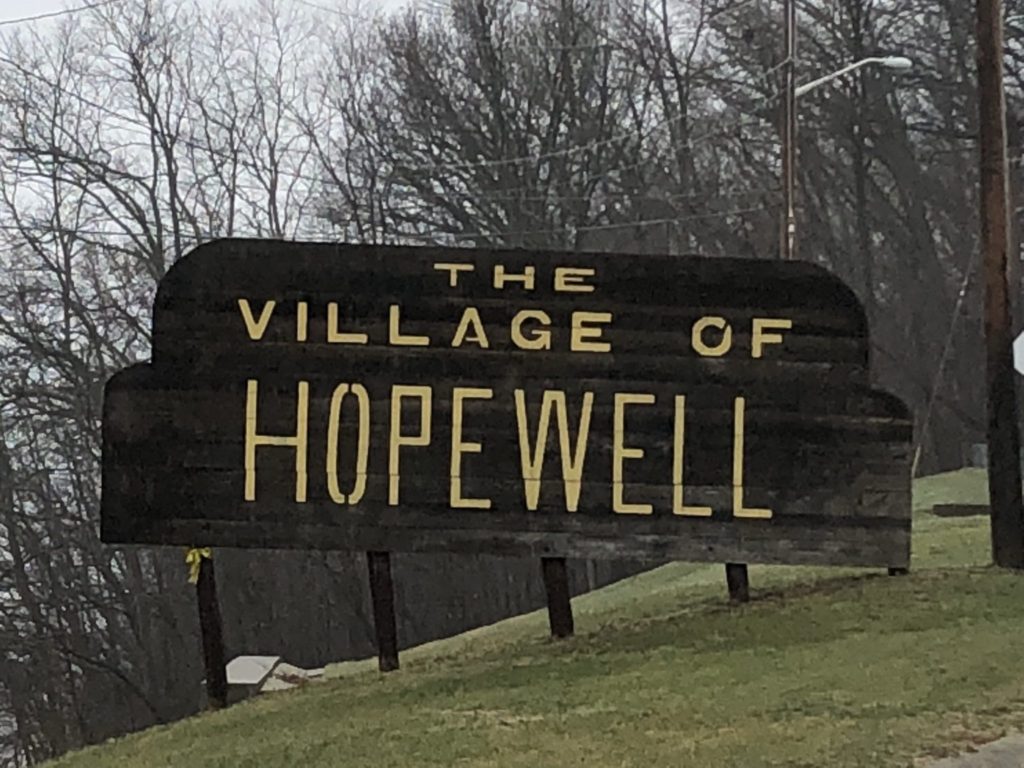 The Hopewell Giant is the 16th sculpture that Mr. Toth created.  It was put up in October 1975.  It sits up on a bluff at the entrance of the Village of Hopewell.  This statue is about 30 feet tall and overlooks the Illinois River valley below.  Apparently the Hopewell Indian Nation lived along the Illinois River nearly 3000 years ago.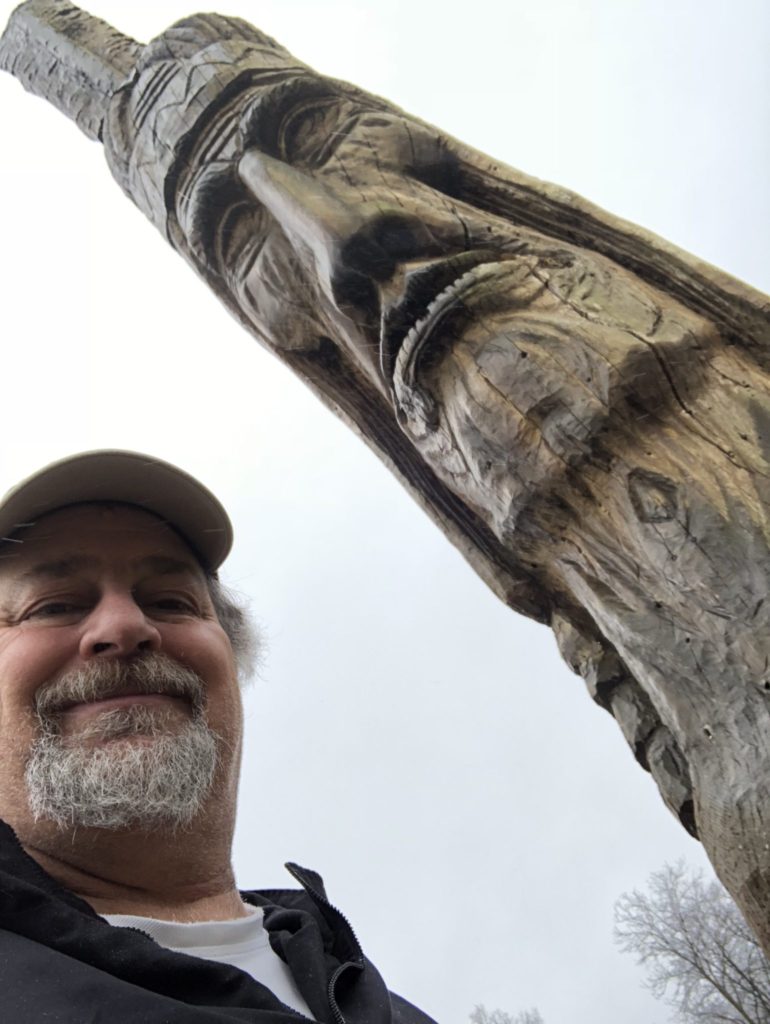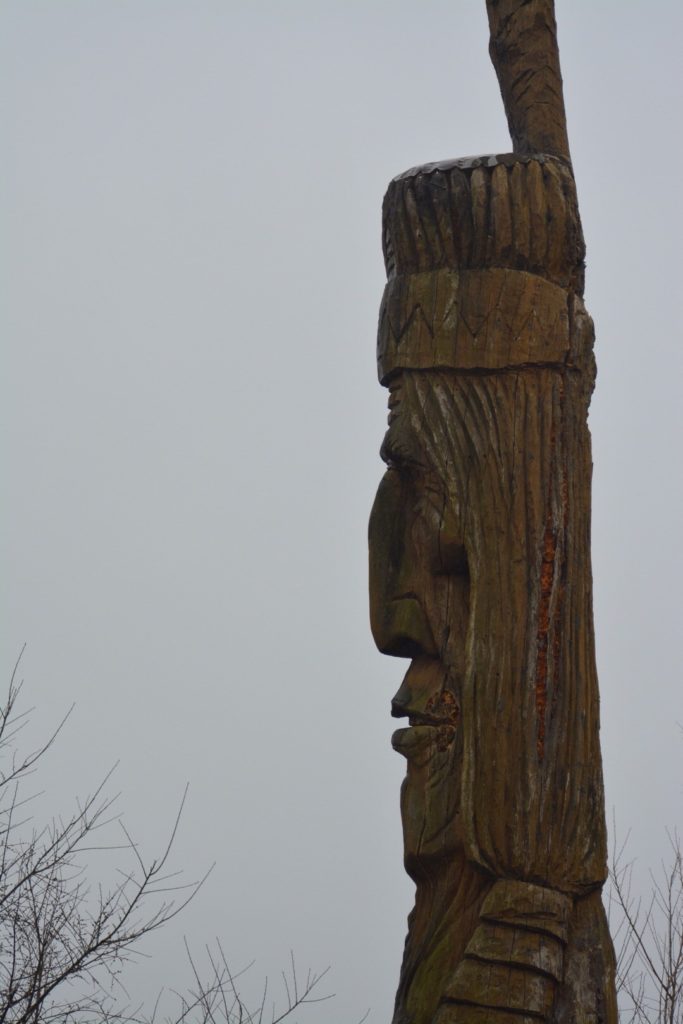 #68 – Veteran's Memorial – Iowa Falls, Iowa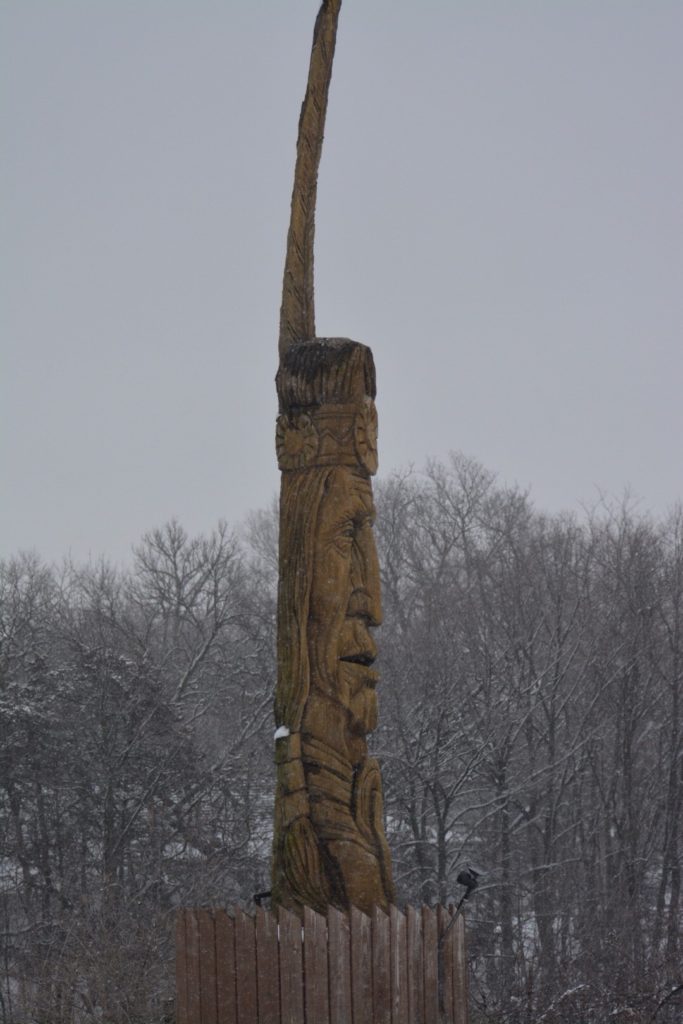 The Whispering Giant of Iowa Falls, Iowa doesn't seem to have a name.  As well, the current statue, which is #68 on the list was put up in 1999 to replace #28.  This one is 30 feet tall.  Unfortunately, it was snowing in Iowa Falls when I arrived and there was nearly a foot of snow on the ground.  Needless to say, I didn't trudge through the snow to get a selfie with this one.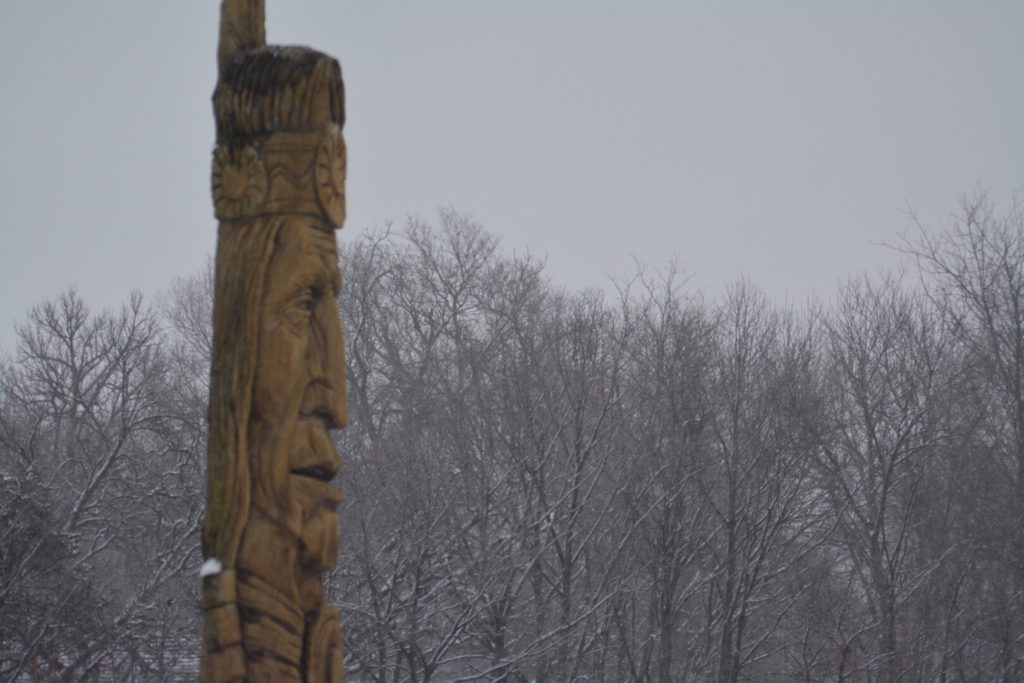 #57 – Ikala Nawan – Astoria, Oregon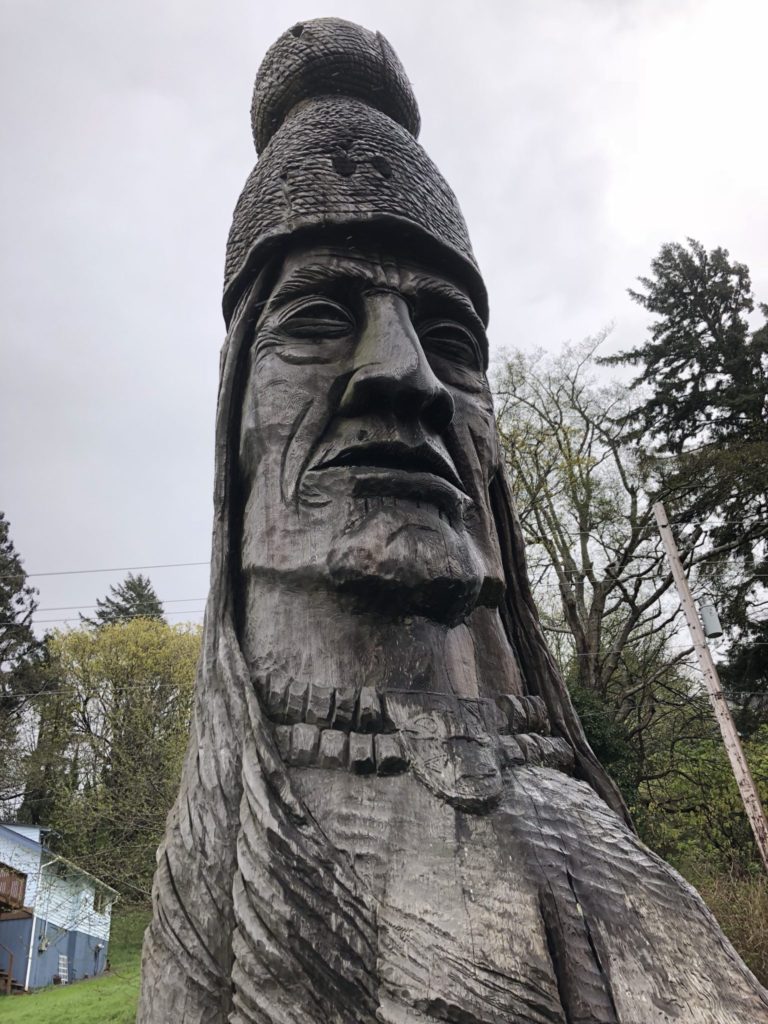 On my return trip home, I had planned on visiting the Whispering Giants in Victoria, WA, Astoria, OR and Hillsboro, OR.  Unfortunately, the only one of the three remaining is the Astoria Giant, named Ikala Nawan. This 18 foot tall cedar giant sits in a narrow strip of park off of US Highway 101 in the lovely town of Astoria.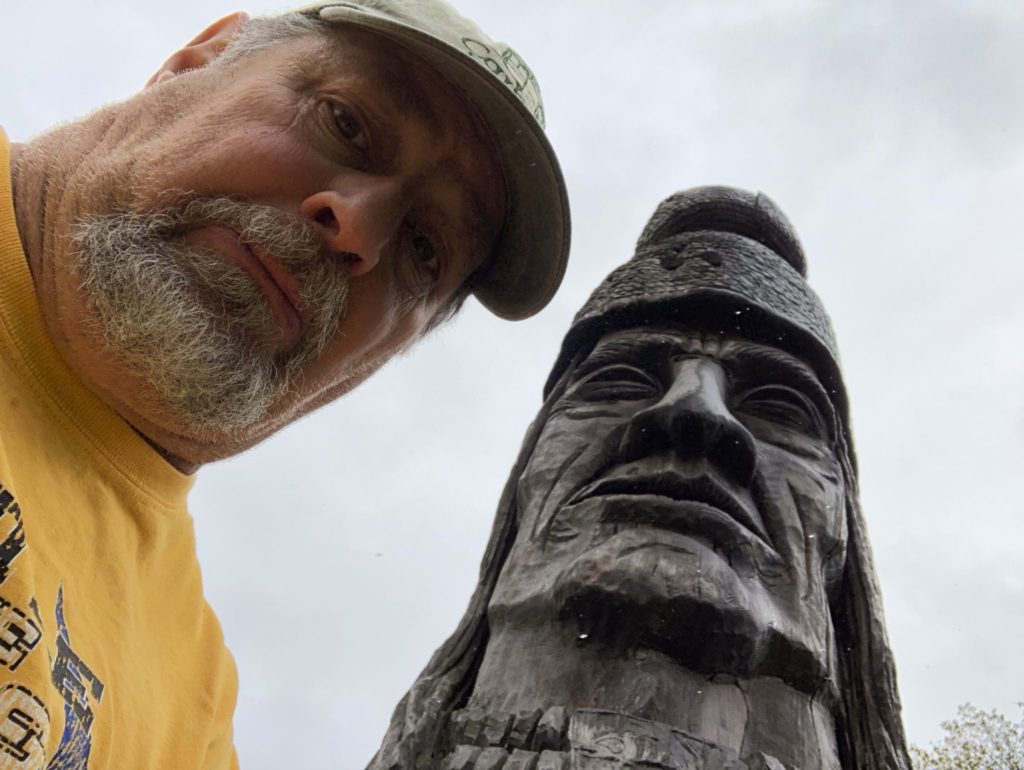 #52 – Chief Wasatch – Murray Park, Murray, UT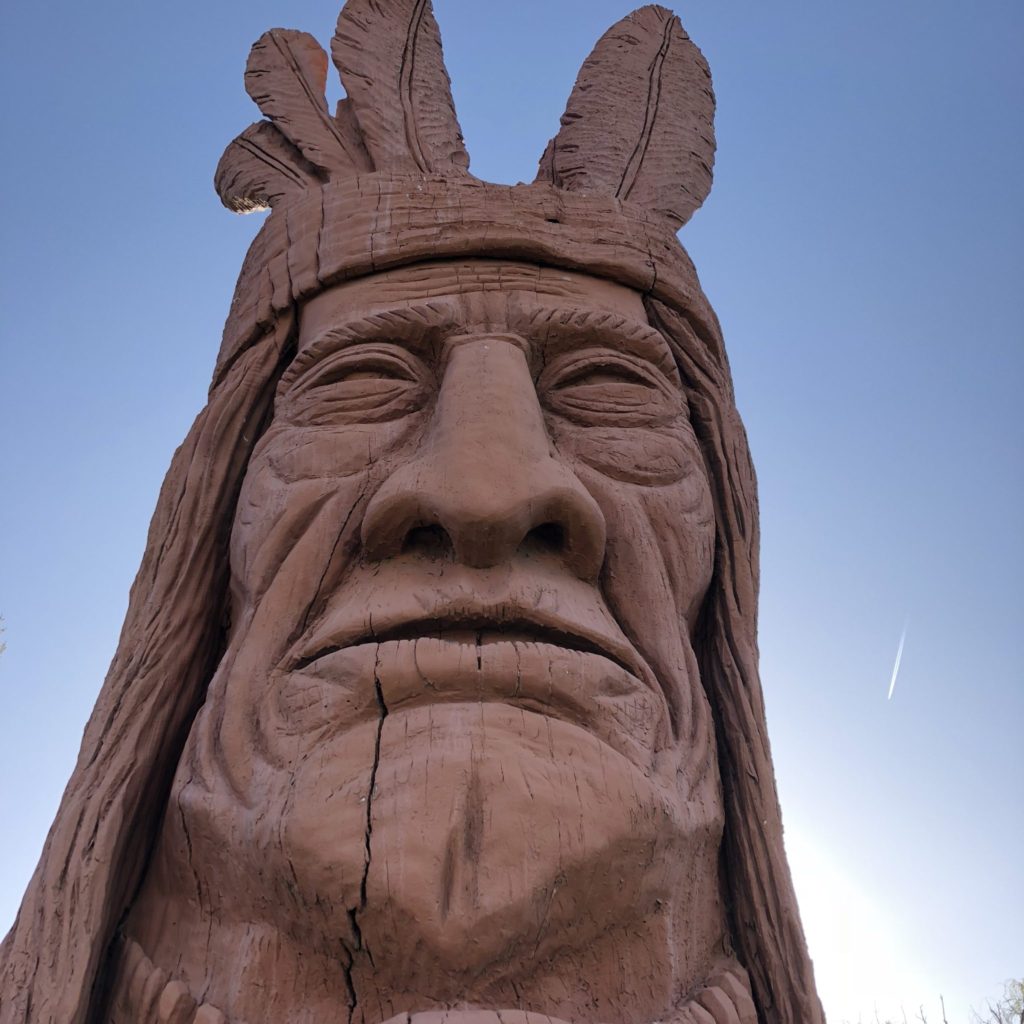 By mid-April I was in my old stomping grounds of Murray, UT.  I gradated high school in Murray and spent many a day in Murray Park playing church softball.  At that time, Chief Wasatch was not set up. Peter Toth created this guy in November 1985 right at the entrance to Murray Park, overlooking State Street, the main drag through town. It was nice visiting the park after a more than 40 year hiatus. Chief Wasatch is 23 feet tall and made of cottonwood, one of the most common trees in the area.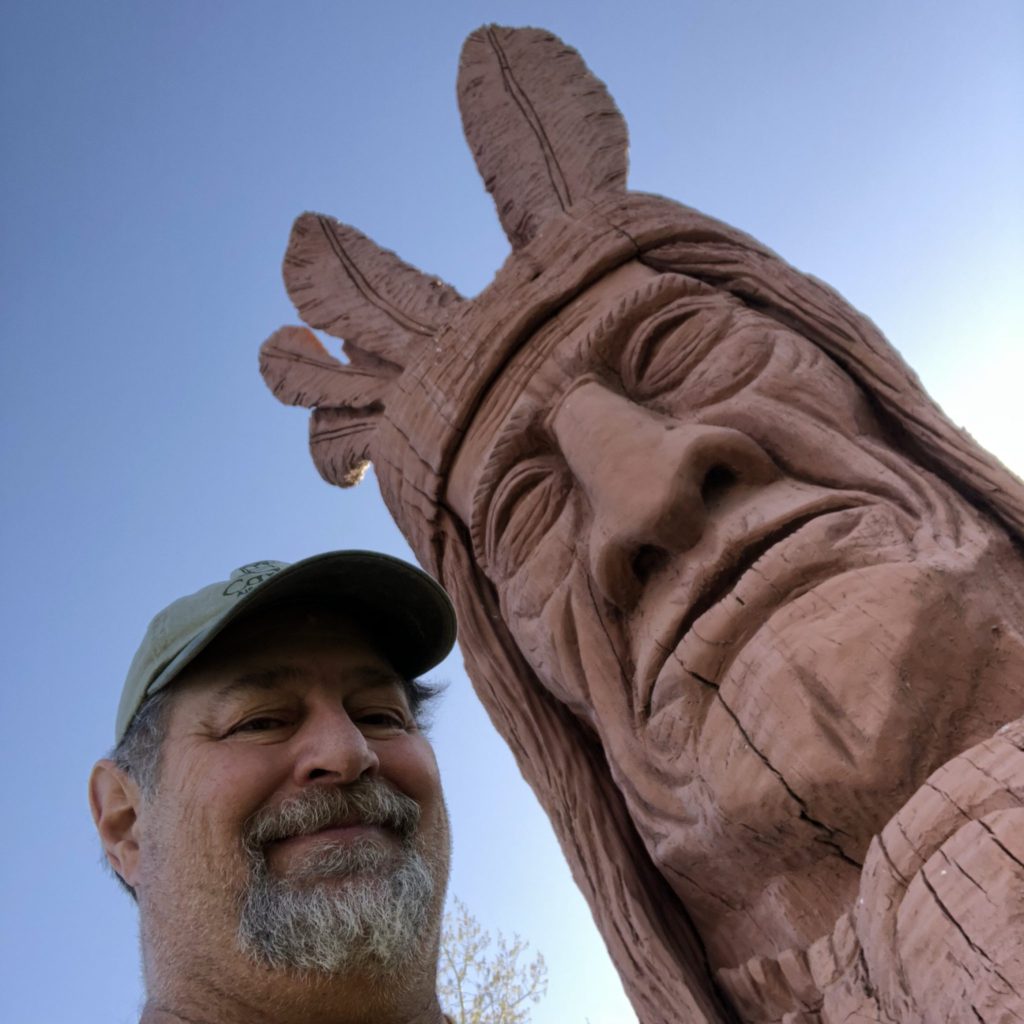 And thus completes my report of the six Whispering Giants I visited during my trip in April.  Following are photos I have taken of others in my past travels. Their number and location is in the photo caption.
#32 – Red Lodge, Montana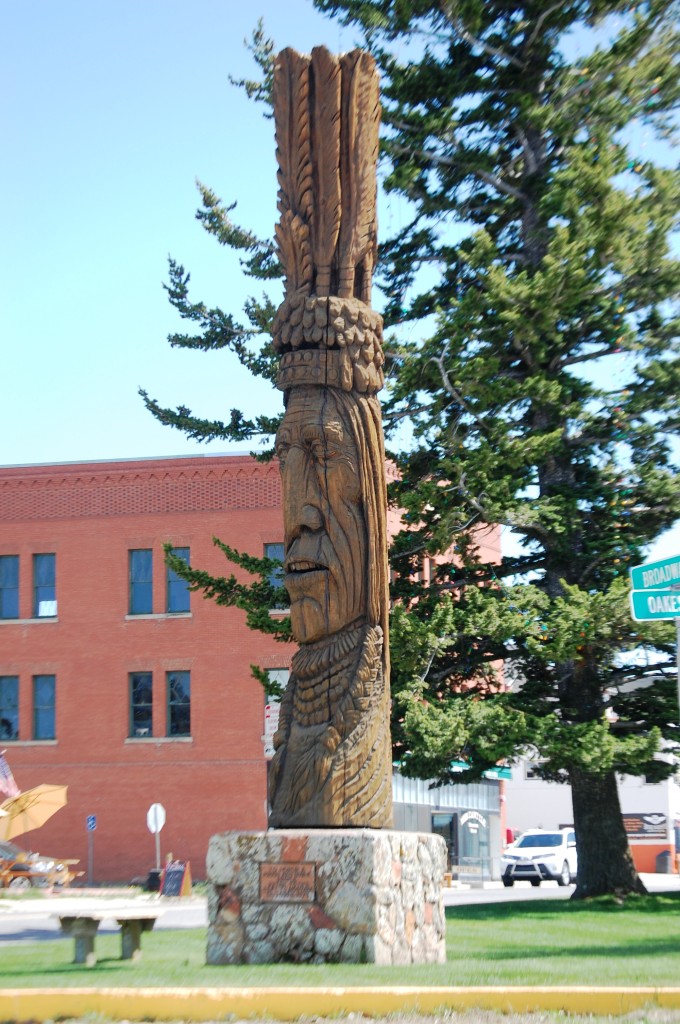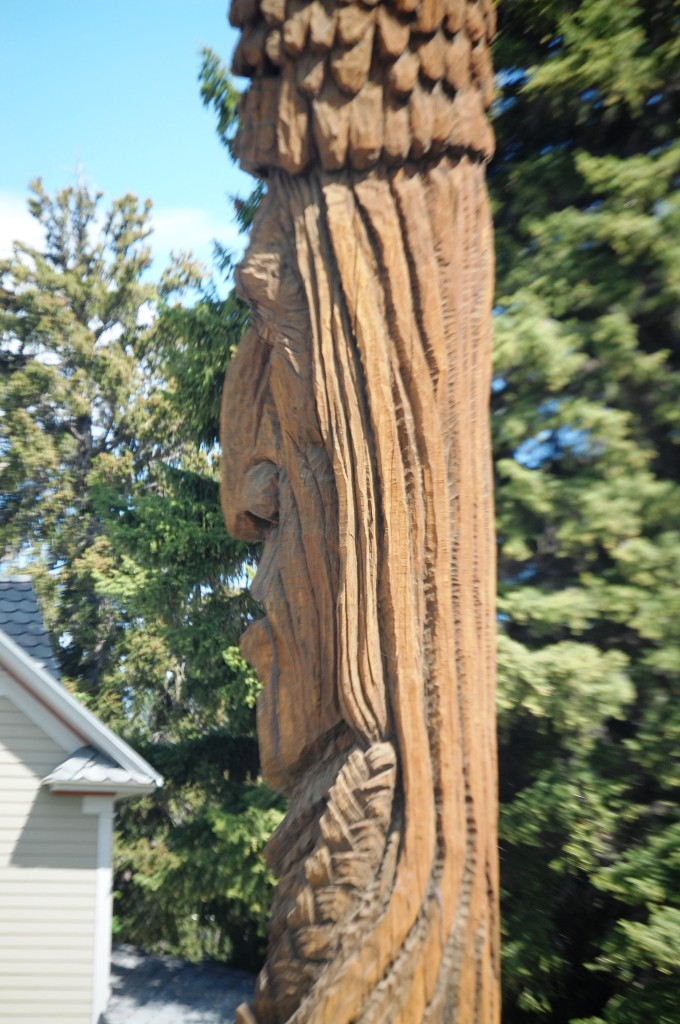 #37 – Idaho Falls, Idaho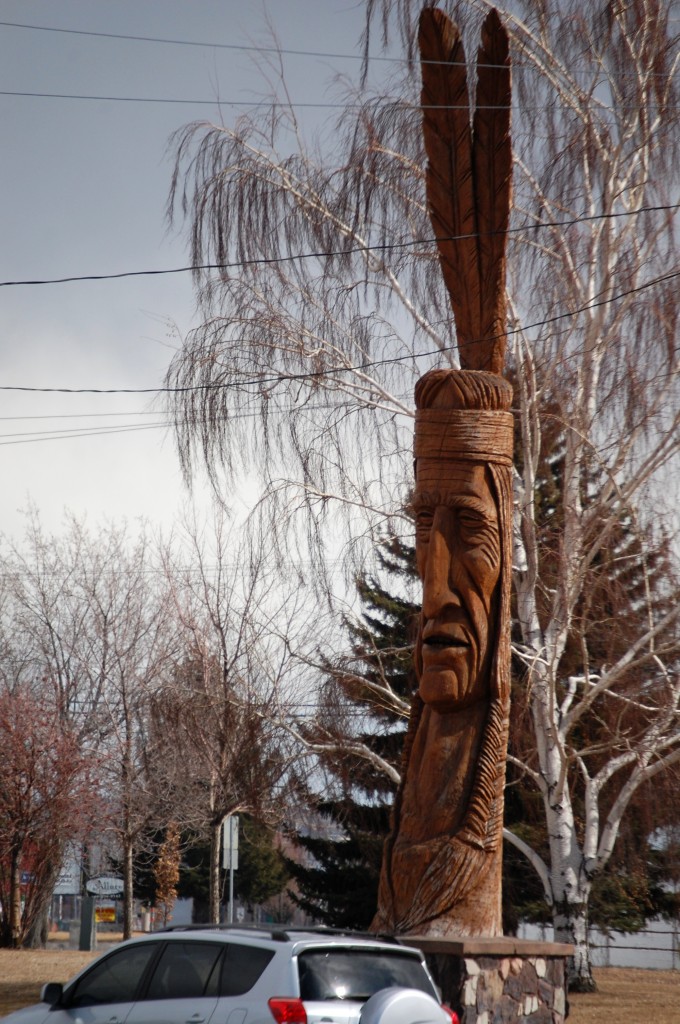 #21 – Ocean City, Maryland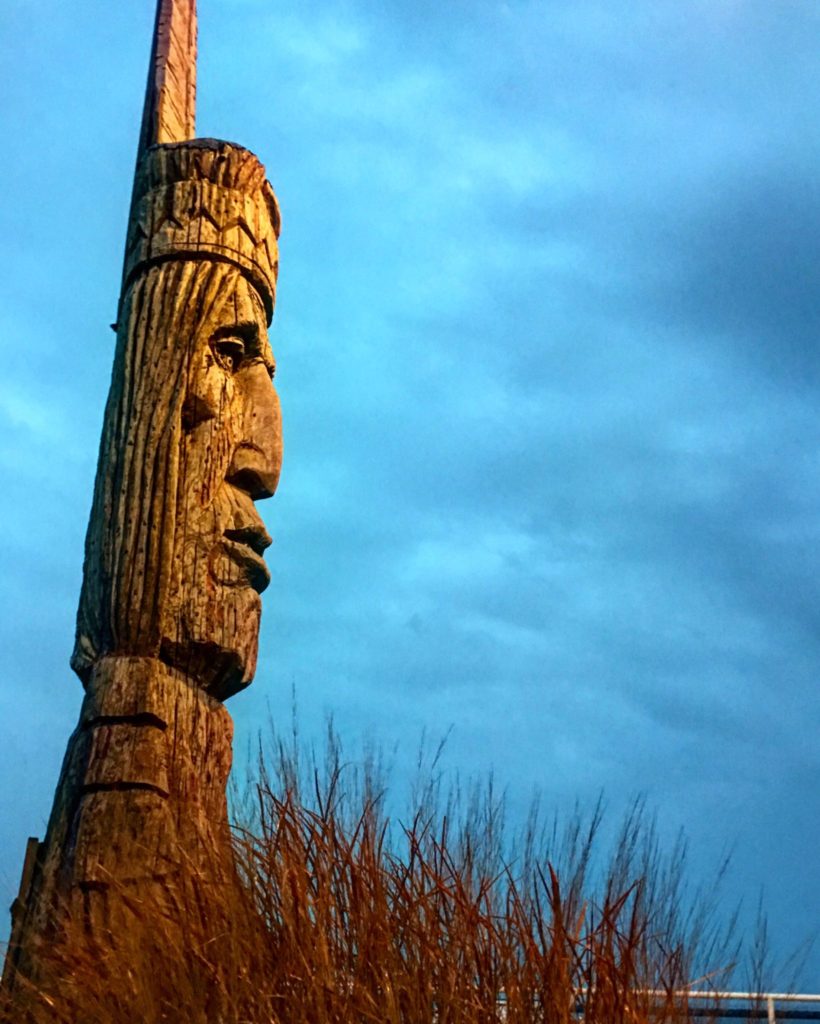 #69 – Bethany Beach, Delaware (replaced #22)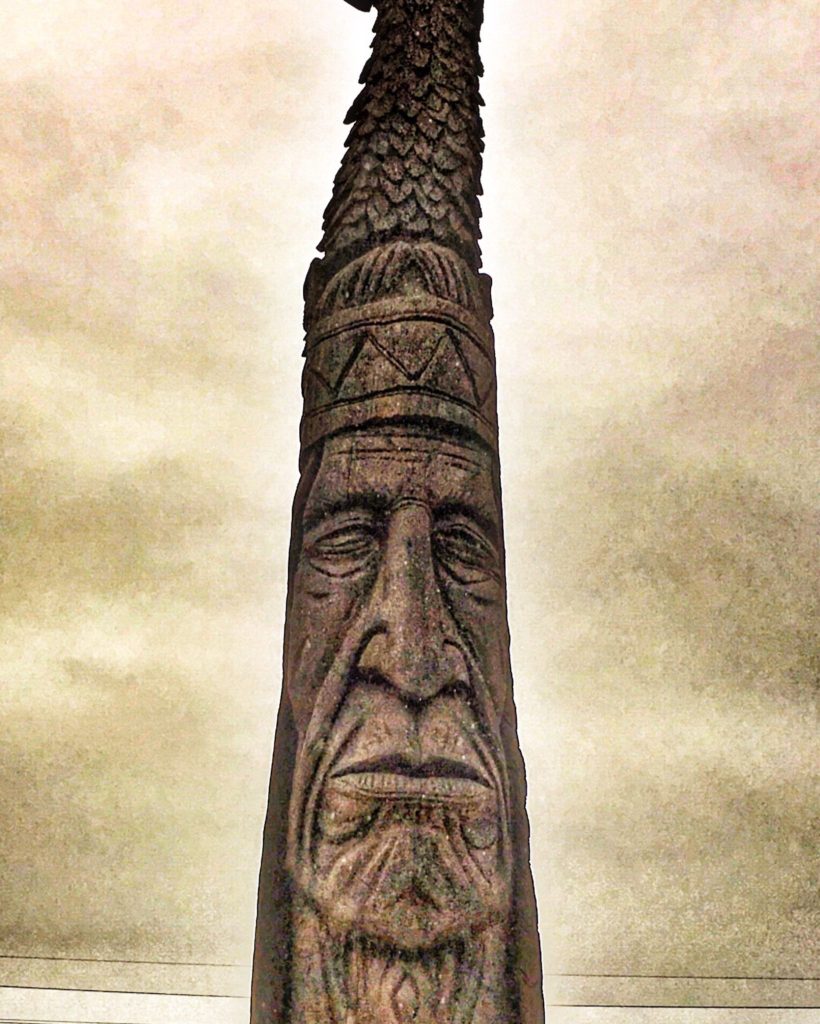 #50 – Paducah, Kentucky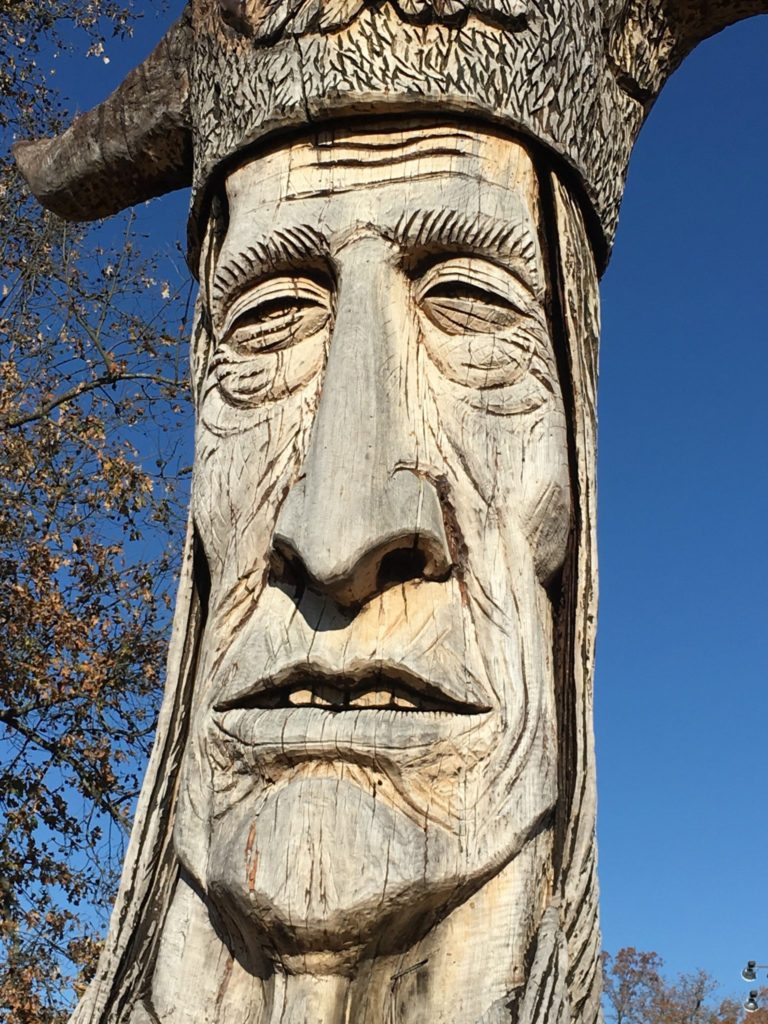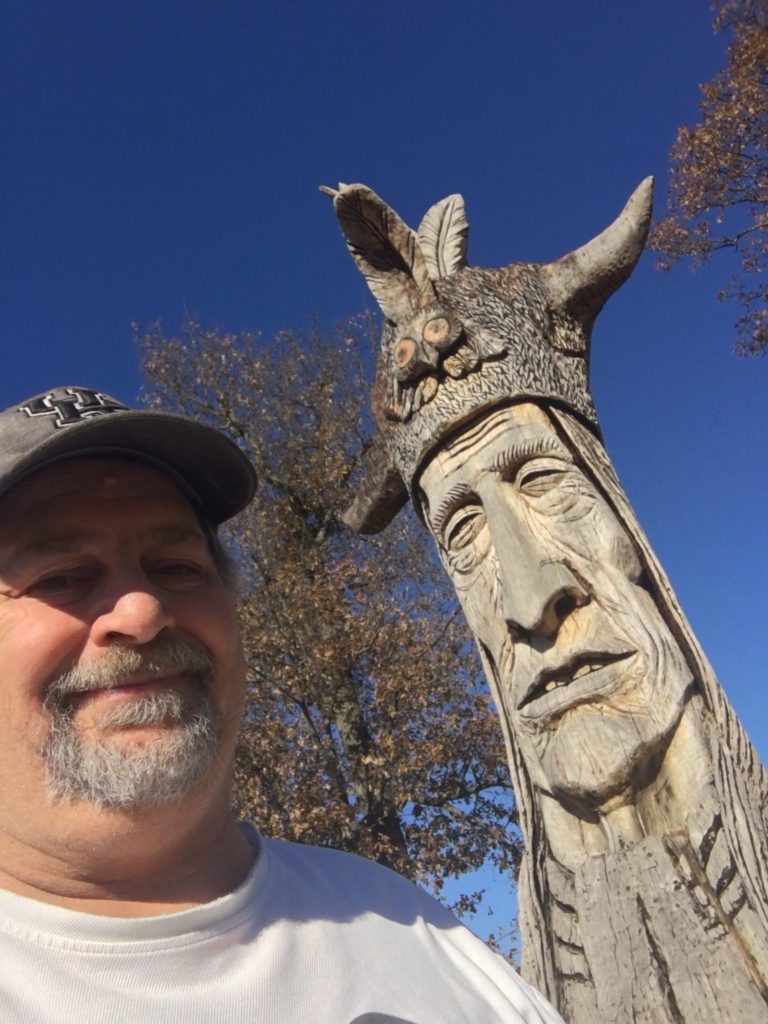 ENJOY THE RIDE!  CHOOSE HAPPY!
If you like what you see, you may want to check out my book: Less Beaten Paths of America: Unique Town Names, available on Amazon.  My second book, Less Beaten Paths of America: Quirky and Offbeat Roadside Attractions, is currently being worked on and I hope to make it available in late May or early June 2018. Click on the photo below for more details or to get a copy of the book.