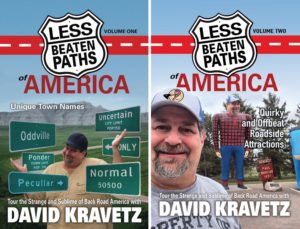 As an After Halloween Treat, for a limited time you will be able to download both of my books – my newest — "Less Beaten Paths of America: Quirky and Offbeat Roadside Attractions" and also "Less Beaten Paths of America: Unique Town Names." TOTALLY FREE!!
This is part of the Trick-Or-Treat Book Blog Hop hosted by Author Patricia Lynne.
Both of these volumes are collections of my many travels across the United States and Canada. As you know, I have photographed well-known and not so well-known attractions along the way. In this book I share my experiences and occasional challenges, but always provide some fun and personal anecdotal stories of the quirky and offbeat places that the large and small communities offer.
My first book is all about Unique Town Names and is all in black and white.  My Second book features dozens of quirky and offbeat attractions from all over the U.S. and even in Canada.  ALL of the photos are in FULL COLOR.
If you like what you see, please kindly leave a review for the book/books on Amazon.  A certain author will deeply appreciate it!
Both books will be available for FREE and forever download from November 1 at 3 AM EST thru November 5 at midnight.
You can get the Quirky and Offbeat Attractions download here.
You can get the Unique Town Names download here.
I hope you'll take advantage of the FREE download beginning Nov. 1.  Then, ENJOY THE READ and go forth and ENJOY THE RIDE!!