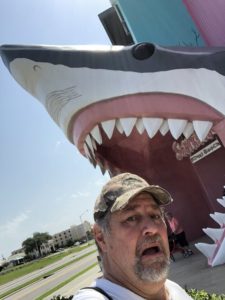 Obviously, one of my favorite things to do on road trips short or long is locate the fun, unique and offbeat roadside attractions.  And, fortunately, 2018 provided me a plethora of these.  I have already written about a few of them individually in past months, but this post will be a nice little "photo tour" of some of my favorites.
Having been through 26 different states in 2018, I had plenty of sites and loads of fun.  I got to share many of these with grandchildren, which made it even better.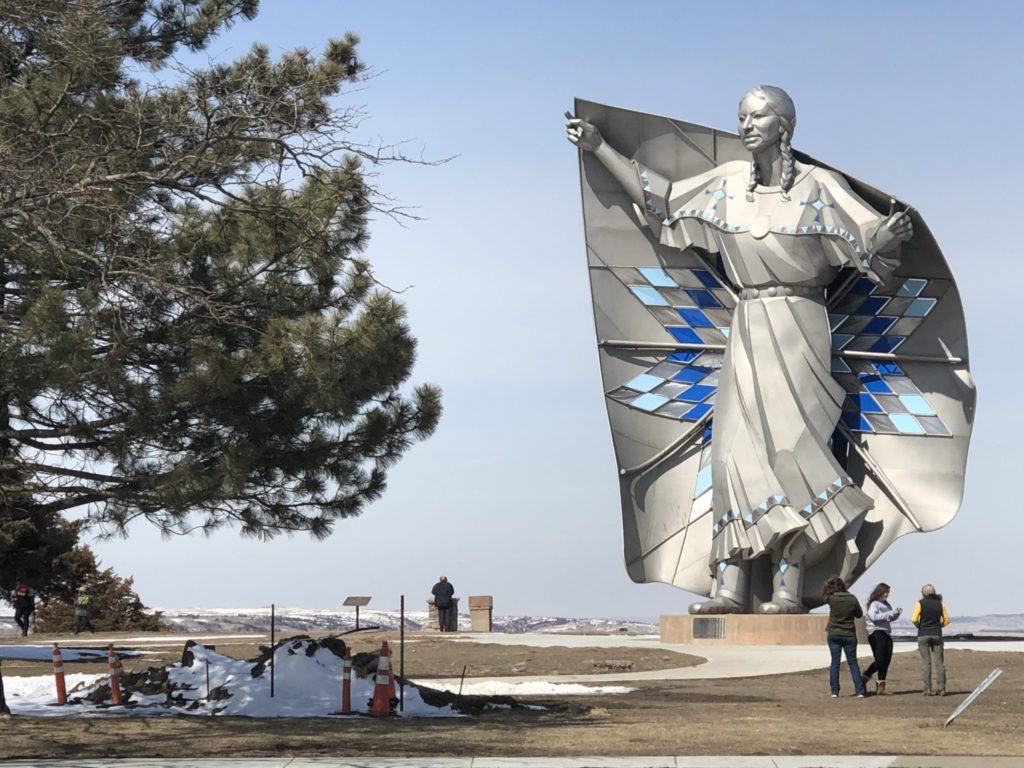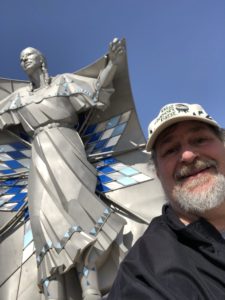 Perhaps my favorite from 2018 was the amazing giant Dignity: Of Earth and Sky statue in Chamberlain, South Dakota.  This giant 50 foot tall steel statue honors the women of the Lakota and Dakota tribes.  It was created by artist  South Dakota Dale Lamphere.  It sits in a rest area overlooking the Missouri River and can be seen from quite a distance.
The statue also features a Star Quilt that has more than 100 blue diamond shapes that move in the wind.  Really a wonderful site and it is also one of America's tallest statues (the 20th tallest according to Wikipedia listing).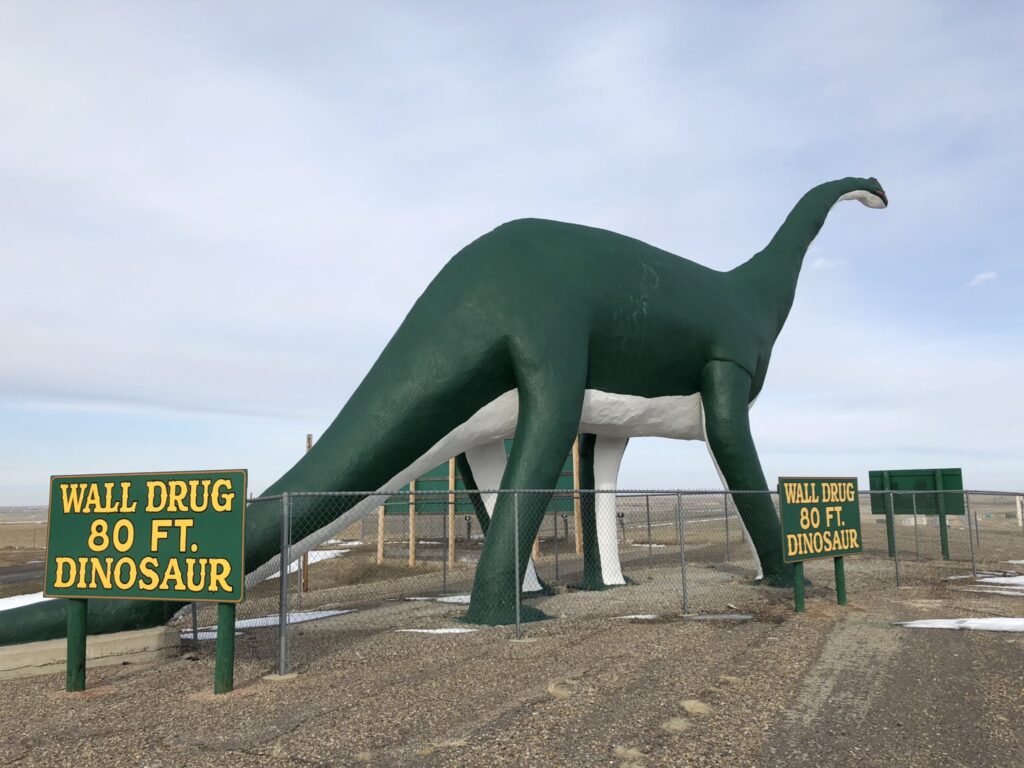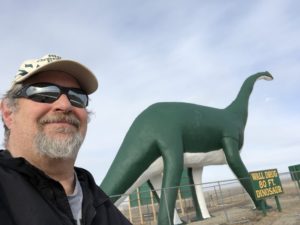 Another giant is just down the road from Dignity. Wall Drug's giant brontosaurus stretches 80 feet and sits 37 feet tall as it overlooks Interstate 90  at the Wall Exit.  Even there is no time for a visit to Wall Drug, there is always time to stop for a photo-op with a giant friendly dino!
Dinosaurs seem to be all over the country and on my four big trips in 2018 I came across a few more of them.  Always fun!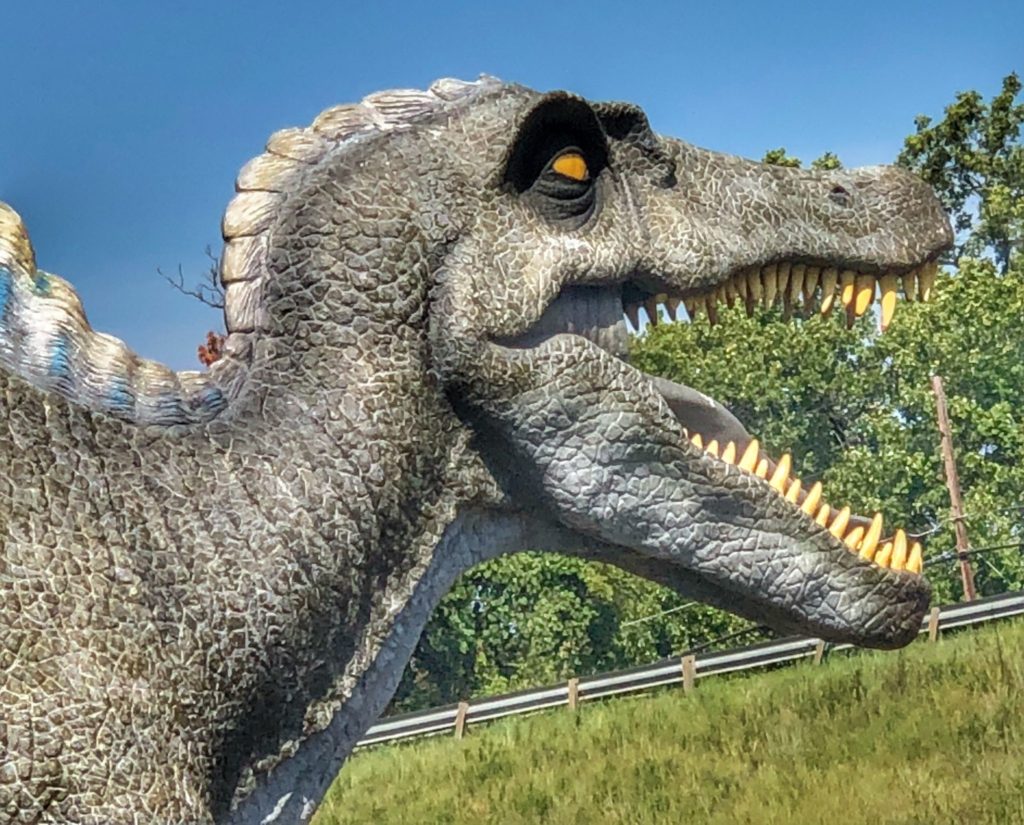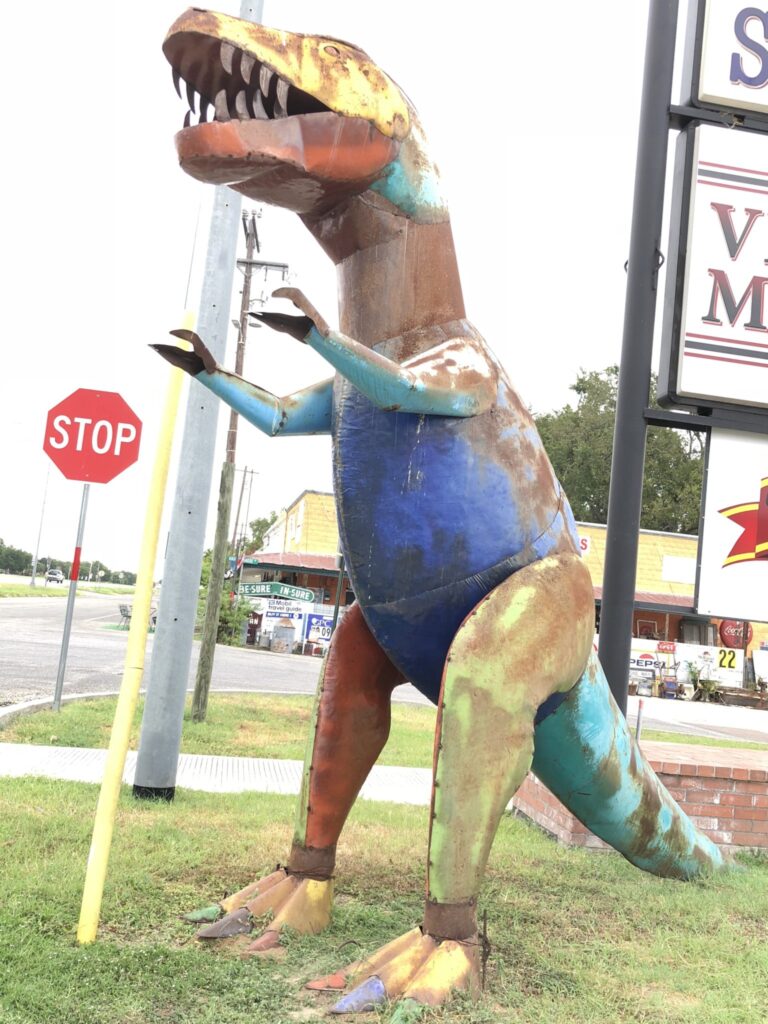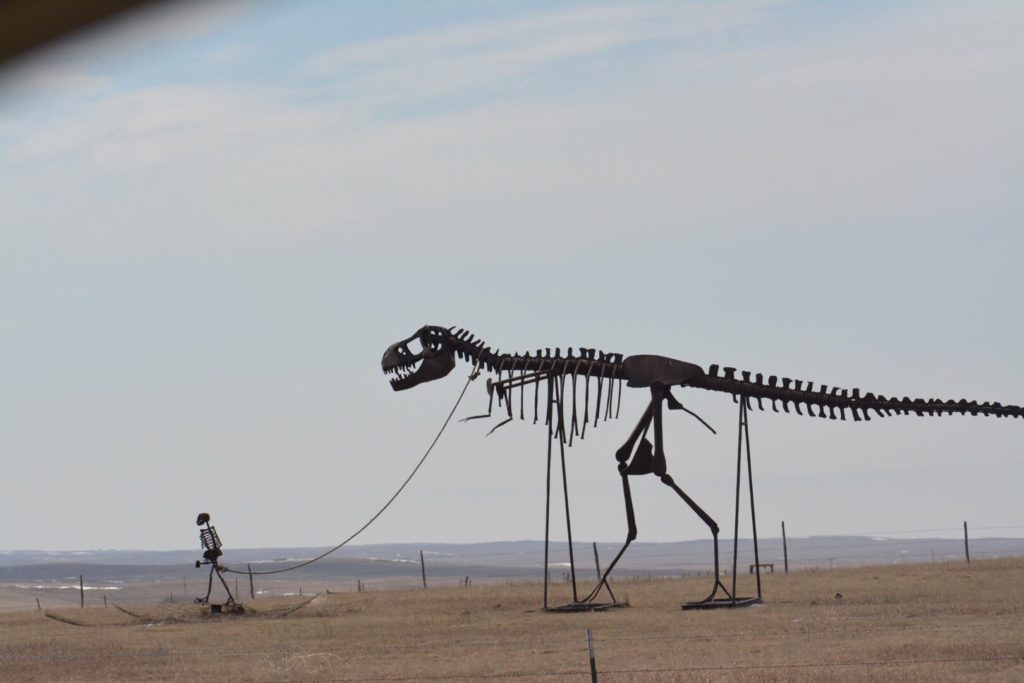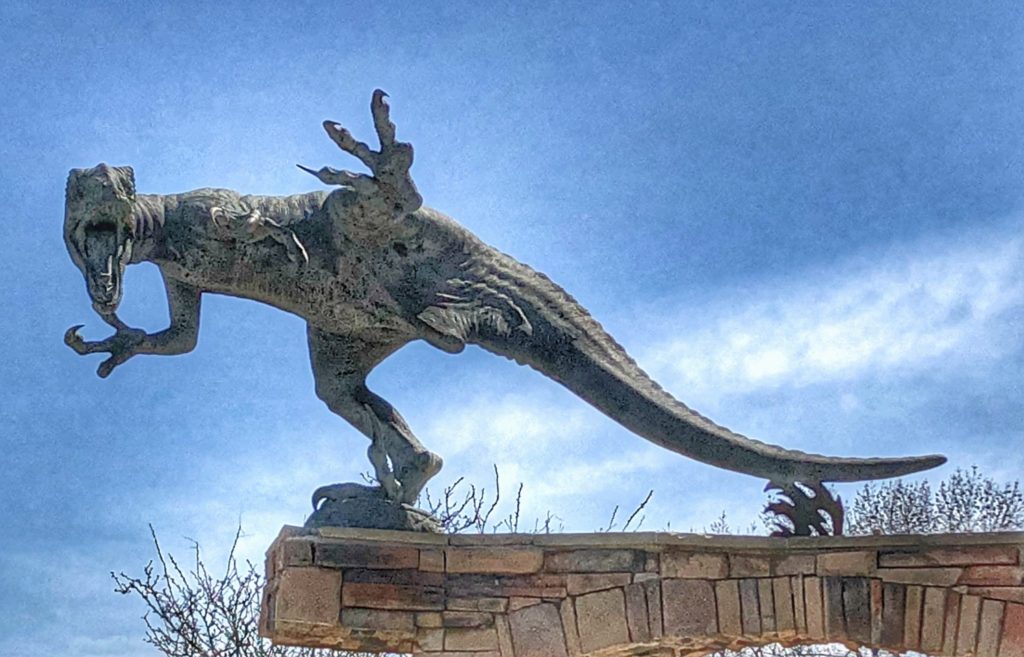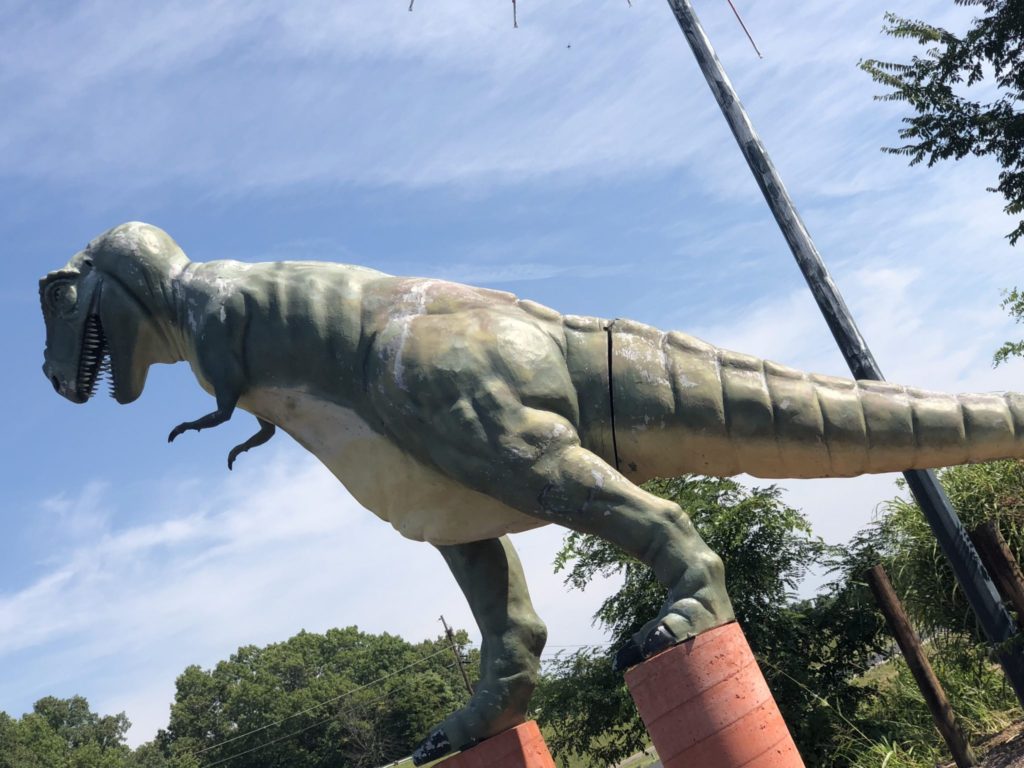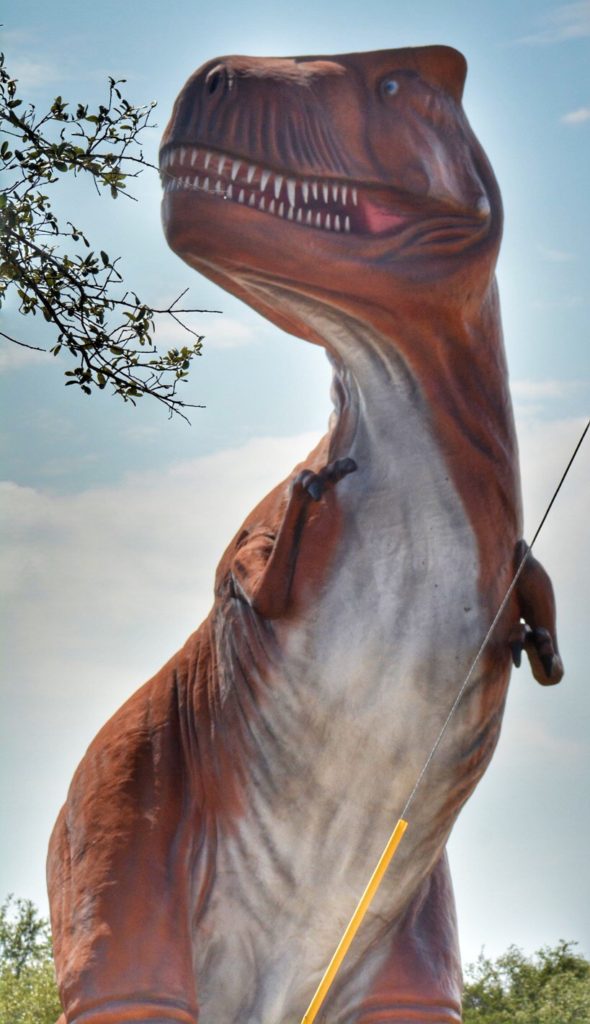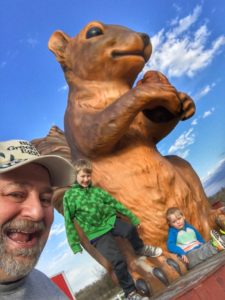 Dinosaurs are not the only giants that I came across on the road in 2018.  One of my favorite "giants" was "Ms. Pearl" the giant squirrel in Cedar Creek, Texas at the Berdoll Pecan Candy factory.   Created in 2011, it stands 14 feet tall and currently lays claim to be the tallest squirrel statue in the world.  Like many "roadside" attractions, this one is very visible off of TX Hwy 71.
Nice thing about Berdoll's is that you can get your picture with Ms. Pearl and even get some Pecan goodies from their 24/7 Pecan Vending Machine.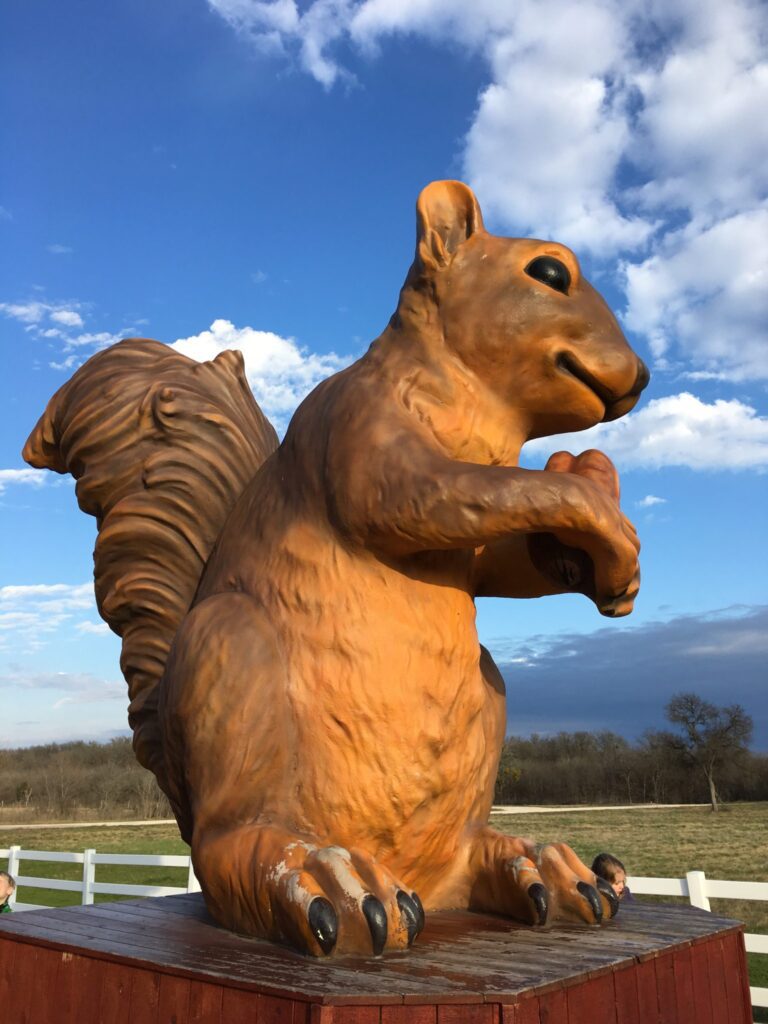 Other big things I came across in 2018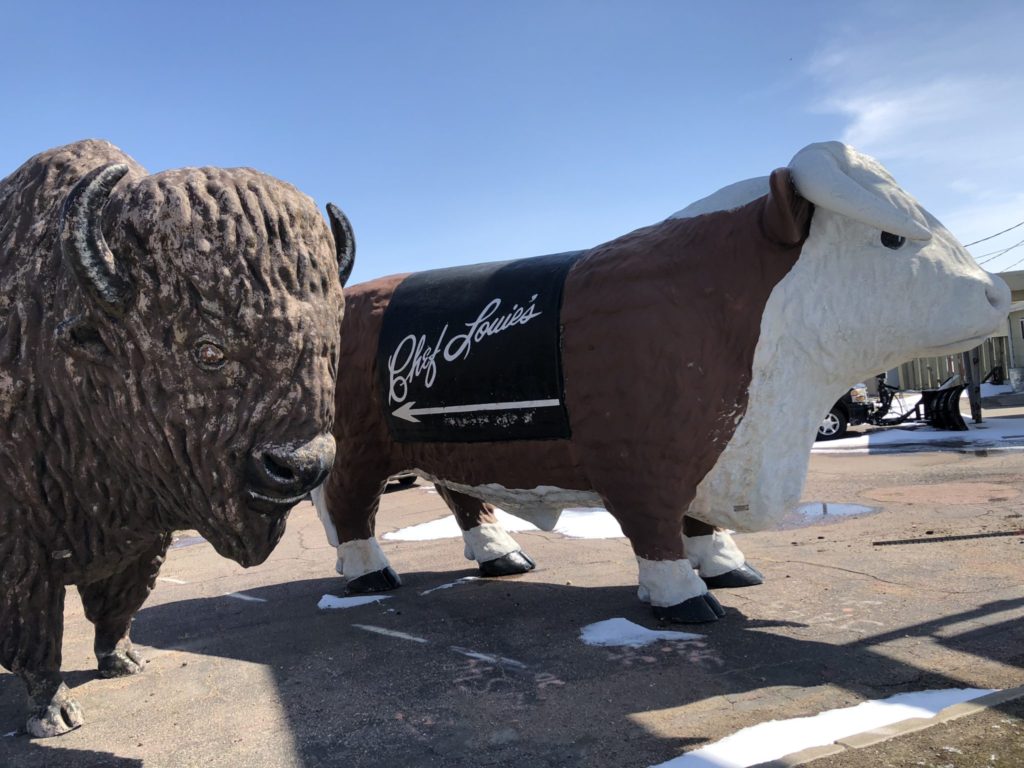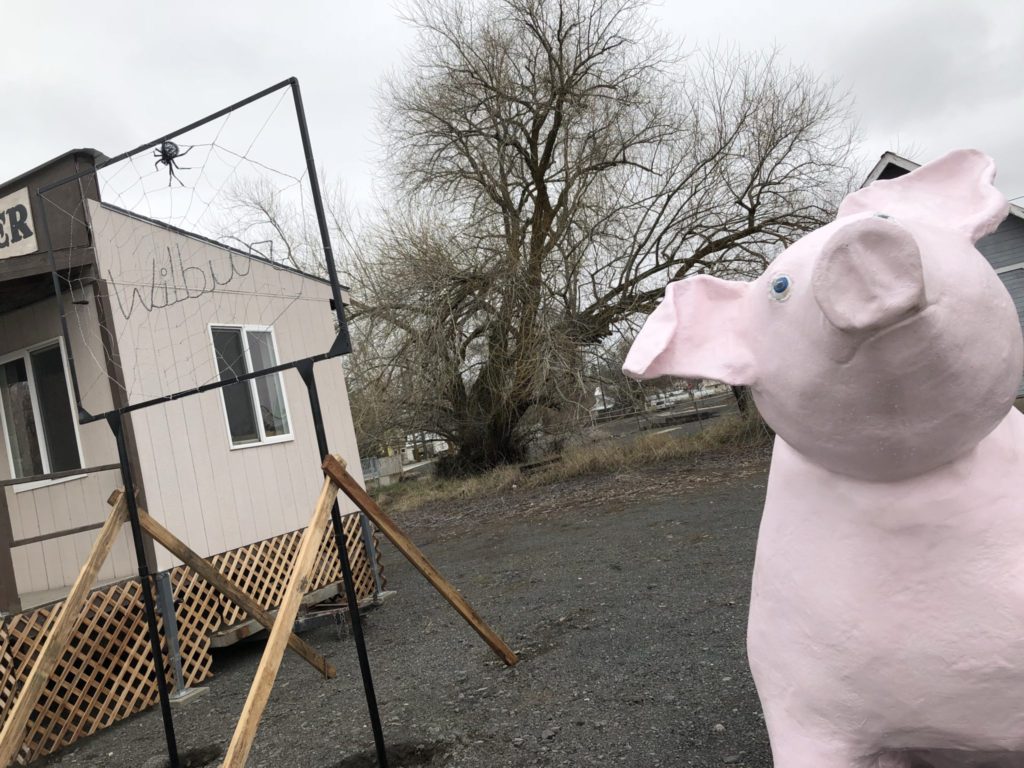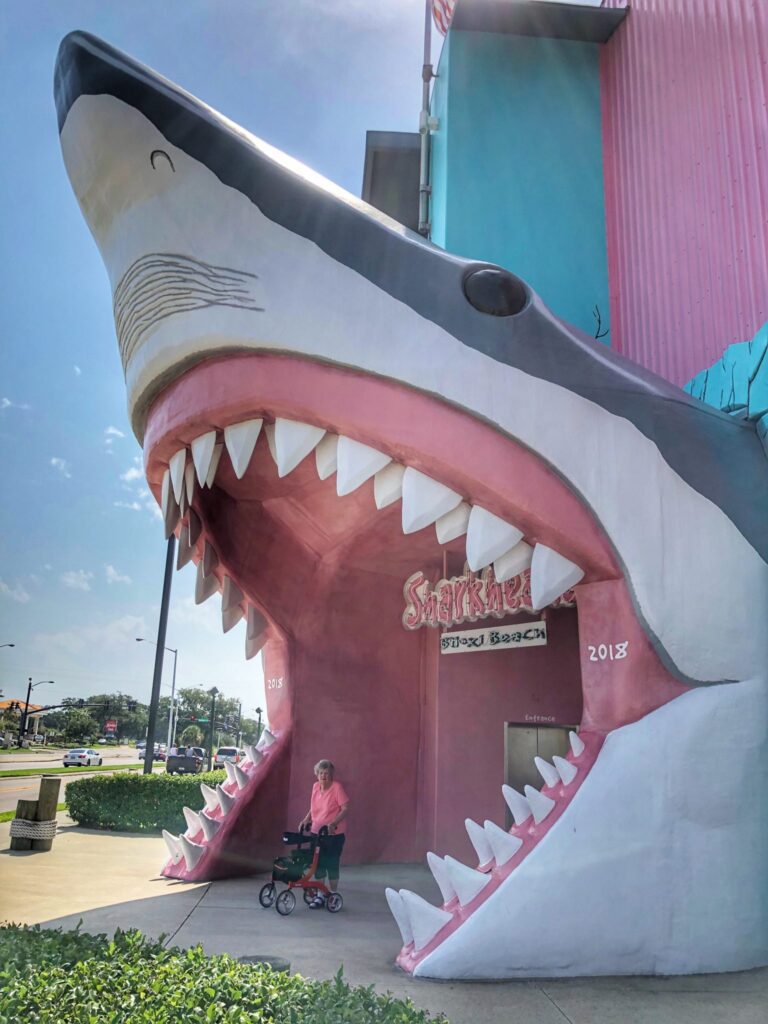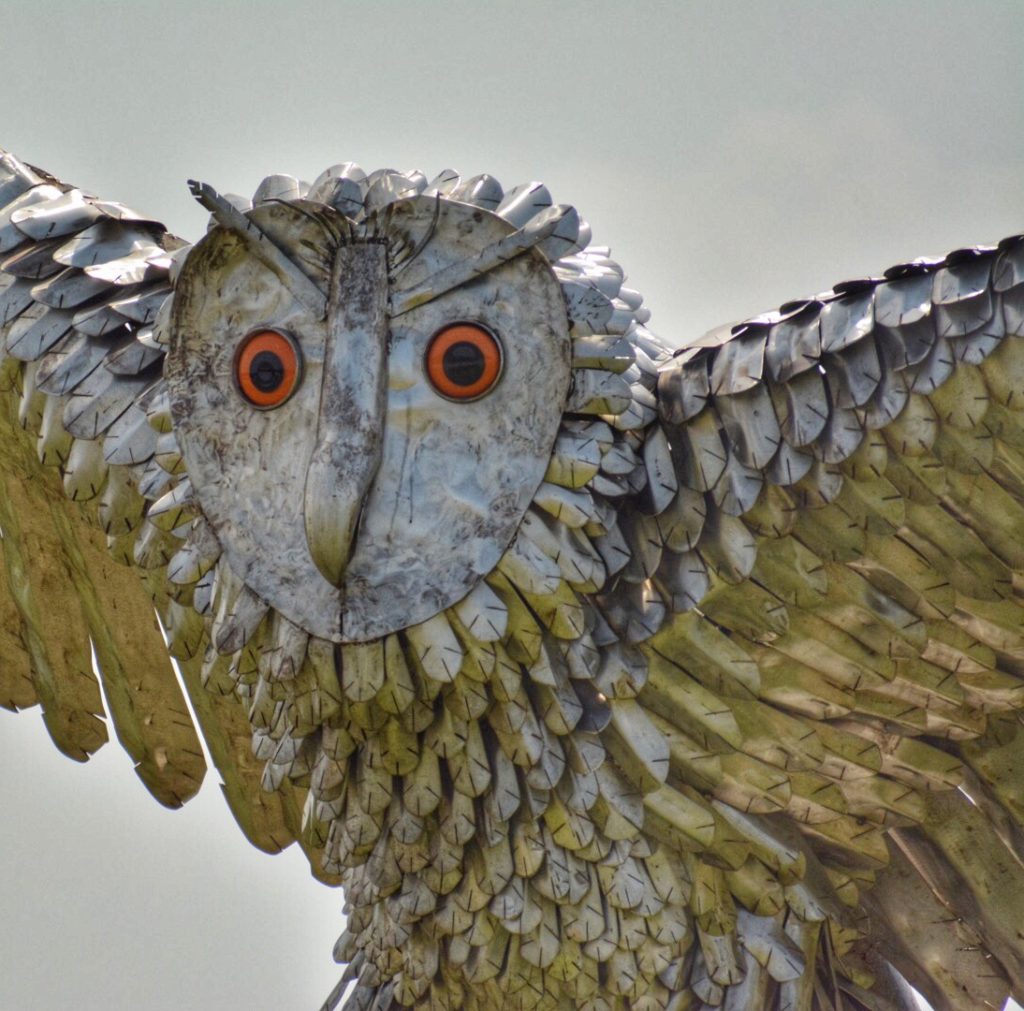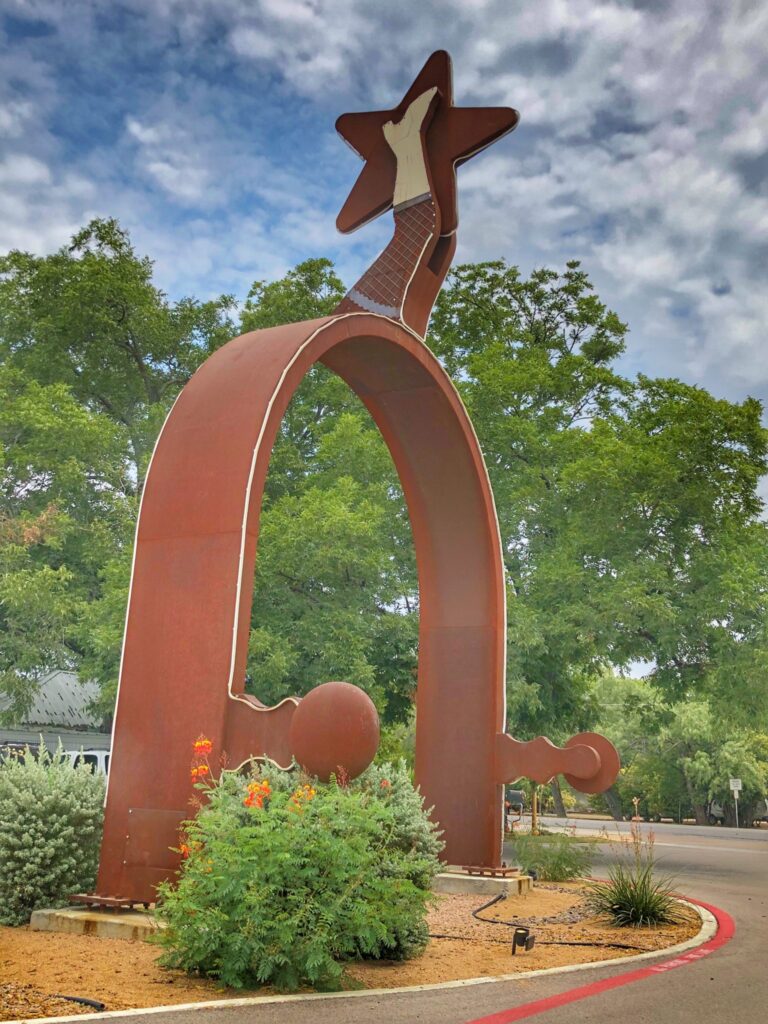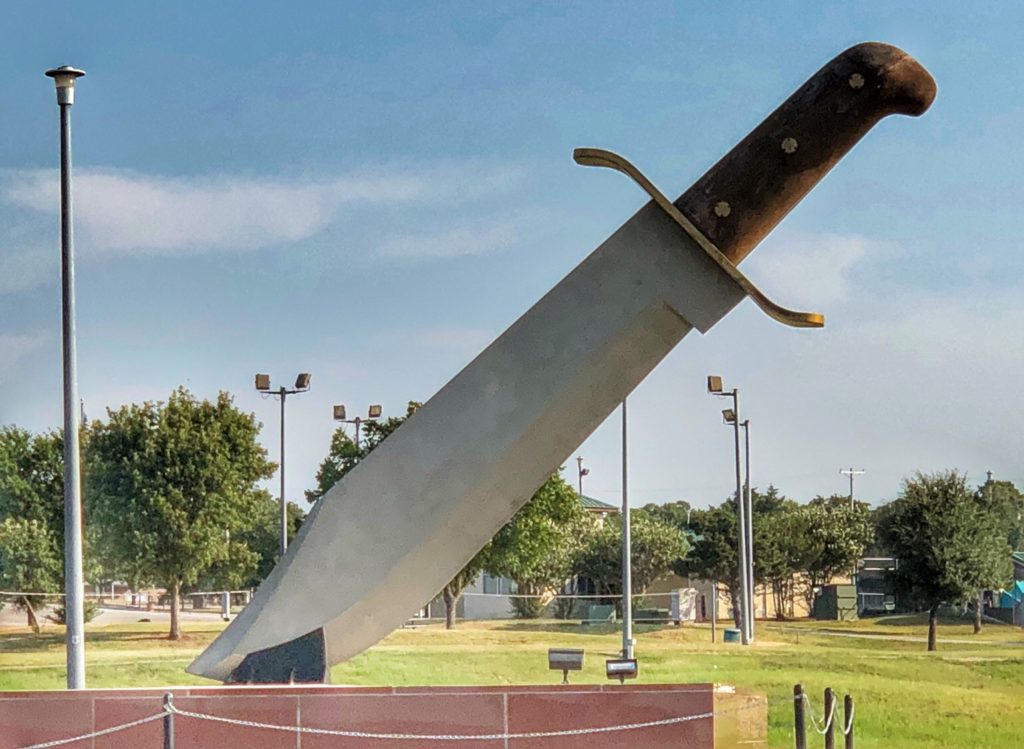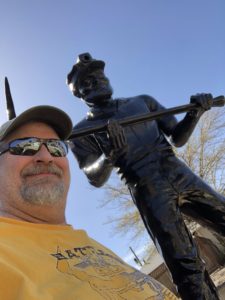 Then there are the big Muffler Men and Big John statues.  There are dozens and dozens of these dotting the landscape.  I came across a couple of fun ones in 2018.  In Helper, Utah there is one that is painted totally black…to represent the Coal Miners.
These guys are about 15 feet tall and basically all look alike except for the additional things added to them by the local sites.  Over the years I personally have photographed nearly 40 different versions of Big John, Muffler Men or Uniroyal Gals.
You can find them looking like Paul Bunyan, cowboys, Indians and other fun things.
I always like coming across these unique pieces of funky Americana.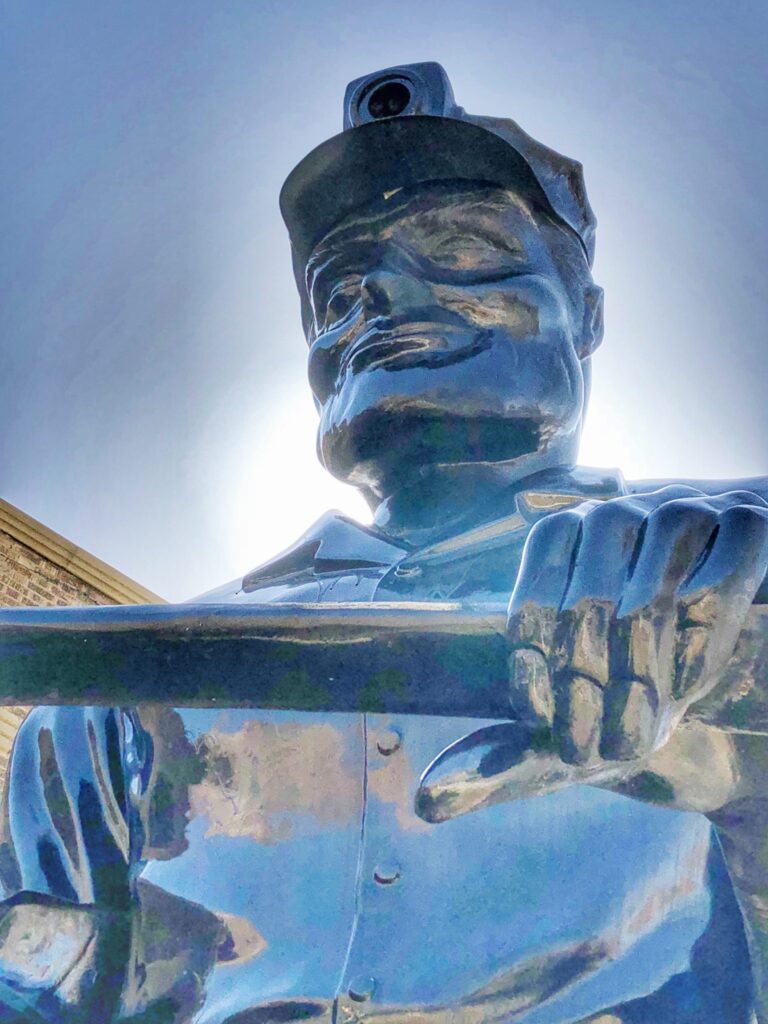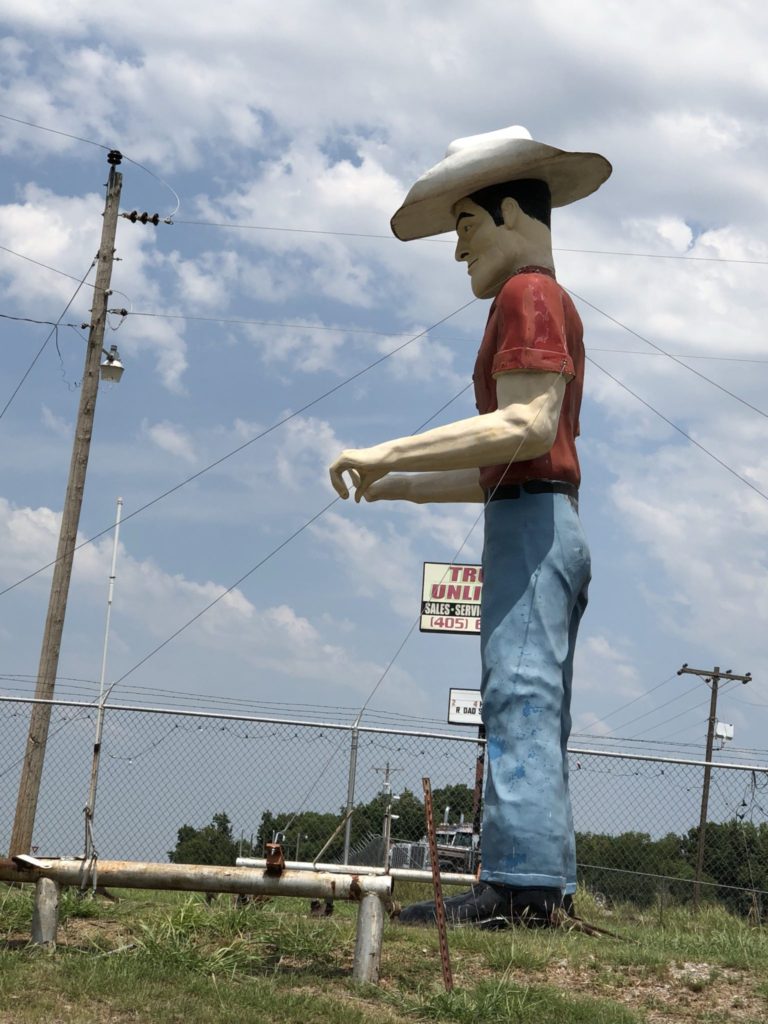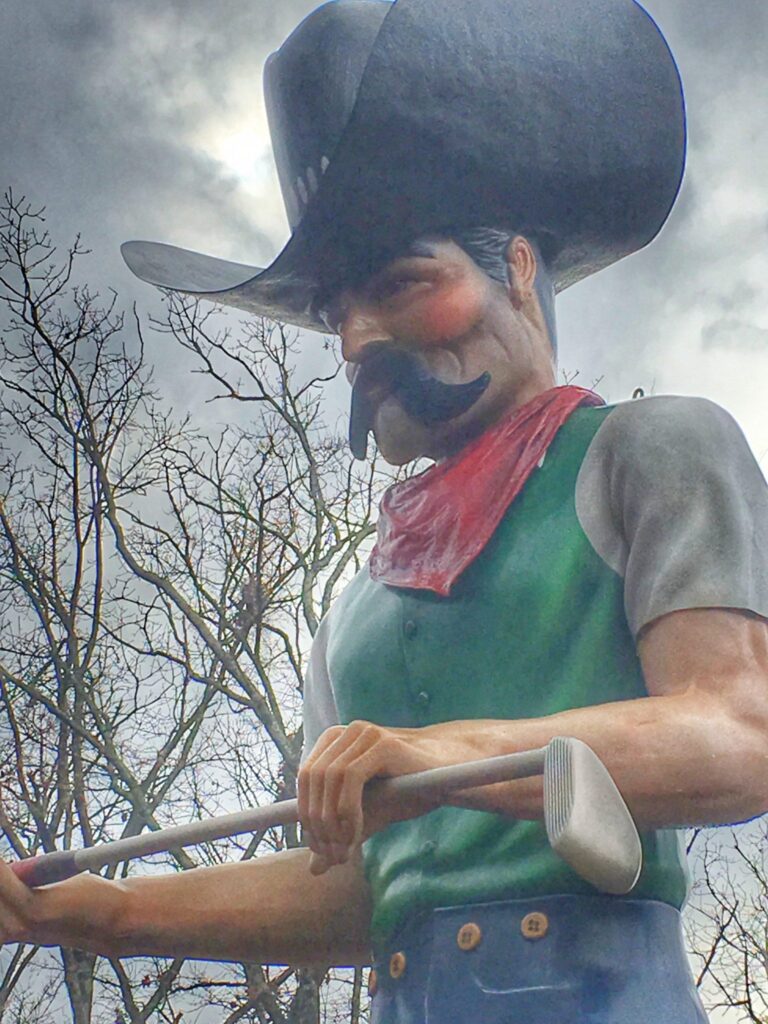 I am working on Part 2 of this travel report with more big and unique things to see.  Watch for it soon.