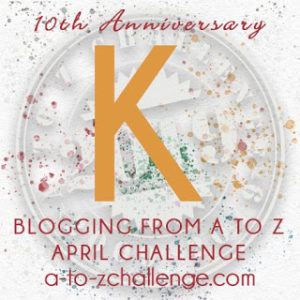 (Editor's Note:  For  my  2019  posts,  I will be posting photos from my travels in 2018.  I visited 26 states and drive over 13,000 miles in 2018.  These posts will feature of few of the road signs and business signs I came across, as well as some stories behind them.  Enjoy the Read and Enjoy the Ride!)
From Kentucky to Kansas and all places around them east and west, there are killer signs that kan be found.  And here are some of the K signs I found in 2018. Enjoy the Read.  Enjoy the Ride.
Kingston, Washington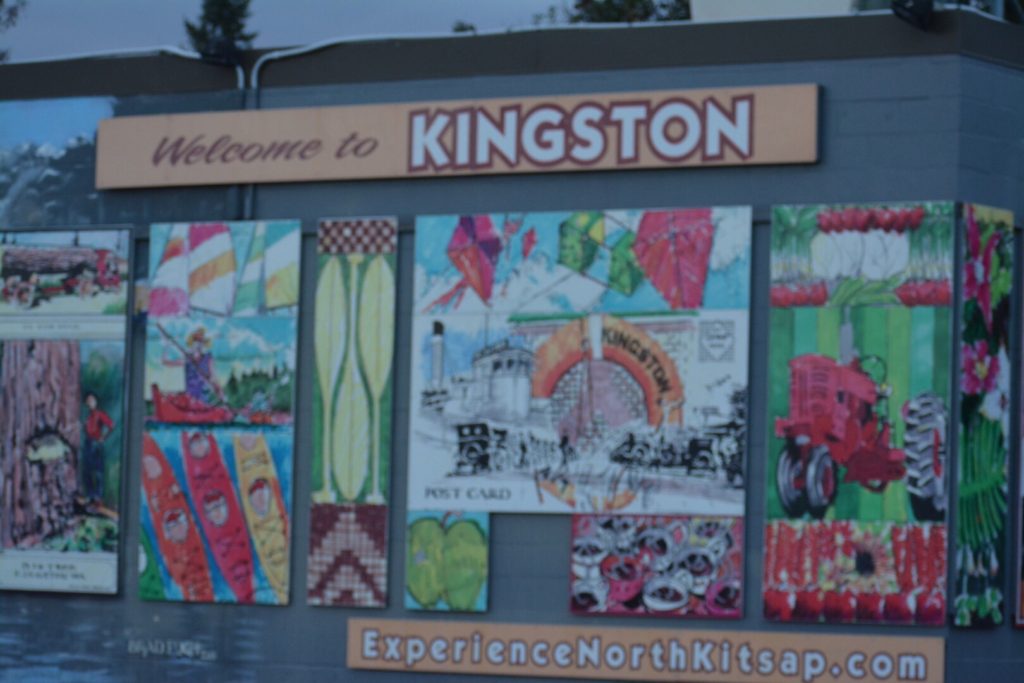 Kingston, Washington is home to one of the large Puget Sound Ferry ports and I loved the colorful Welcome Sign. From the ferry you can drive inland on Washington Hwy 104 into the northern section of the beautiful Kitsap Peninsula area of Washington.
Kountry Korners Krazy Kreatures, Kingston, Washington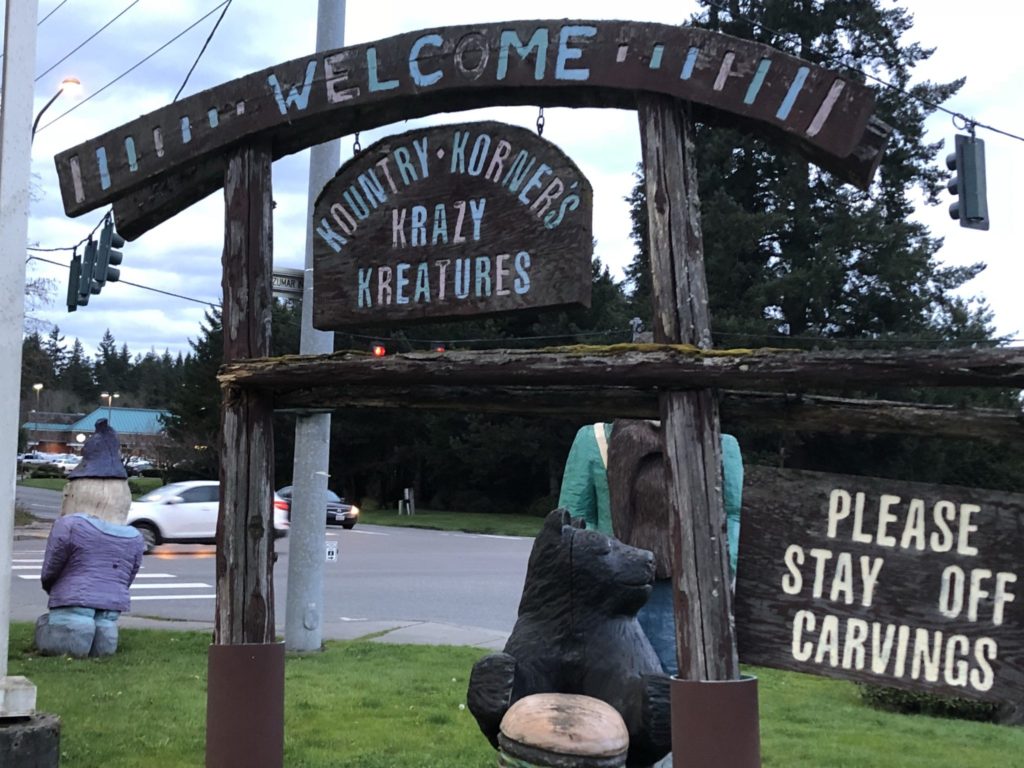 And while driving down WA 104, watch closely for some unique chainsaw-carved wooden Kreatures, better known as the Kountry Korners Krazy Kreatures.  These unique carvings by local artist Terry Tessmer were moved to a new location in town in 2018 after the Port Gamble S'Klallam Tribe bought the Kountry Korners gas station where these carvings sat for about 30 years.  The Krazy Kreatures can now be found in front of the Kingston Mercantile and Marine store which is up the road on WA 104
Kickapoo Joy Juice Sign, Trimble, Arkansas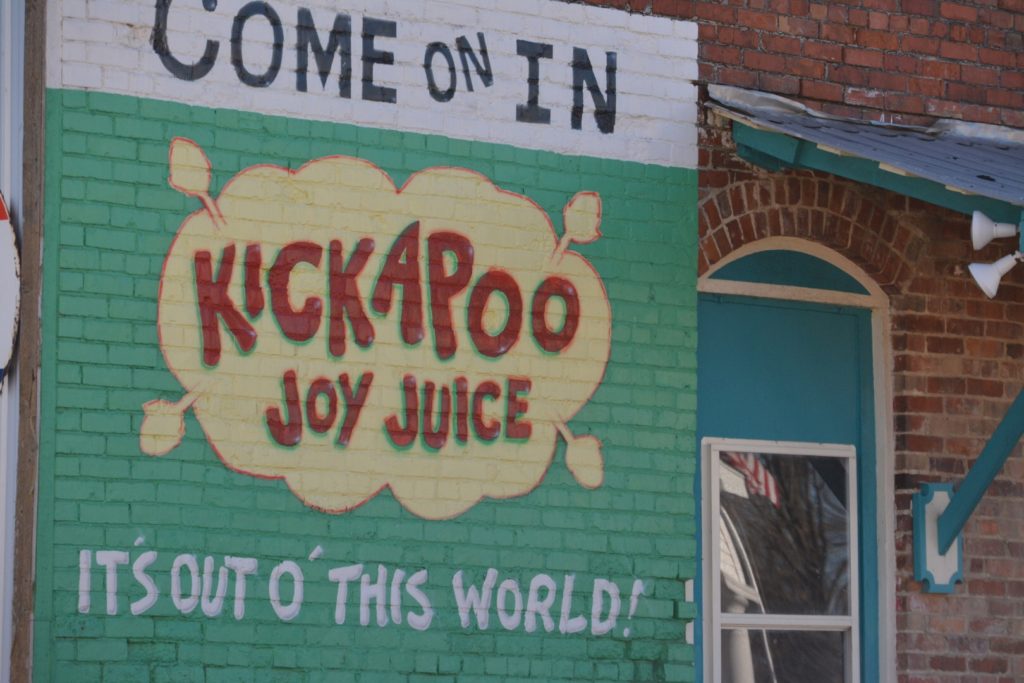 OK.  I admit it.  I have never tried Kickapoo Joy Juice or any of the other three Kickapoo Soda Flavors (including Fruit Shine – Sangria Flavor, Fuzzy Navel – Peach Flavor and Malibu – Piña Colada Flavor.)  According to the Kickapoo Website, the original Joy Juice drink was inspired by the Li'l Abner comic strip wherein Al Capp, the comic creator, referred to it as a "volatile brew." In the comic it was brewed by Hairless Joe and Lonesome Polecat, a couple of backwoods poachers.  The actual soda was introduced to the U.S. in 1965.  Based on the description as a citrus flavored drink, I am assuming it is similar to Mountain Dew, which back in the day used a hillbilly on its packaging.  The drink is touted to be "Weirdly Refreshing.  Refreshingly Weird."   I suppose I ought to give it a try.   Looks like you can get it at Cracker Barrels around the country, as well as other locations.
Kit Carson, Colorado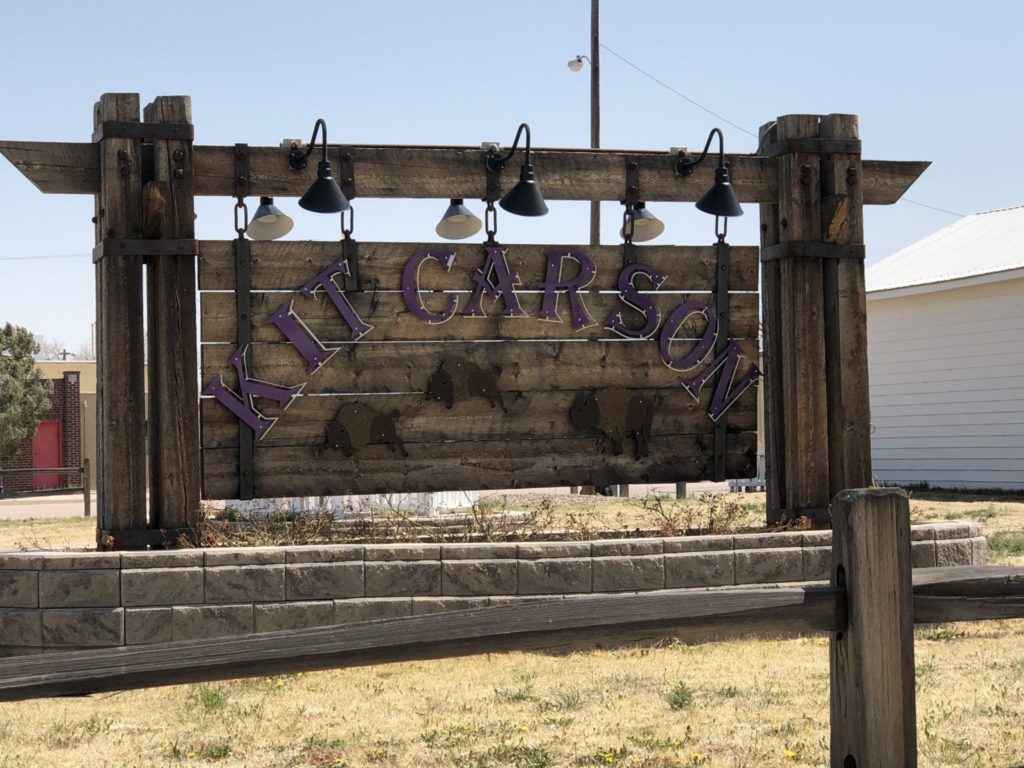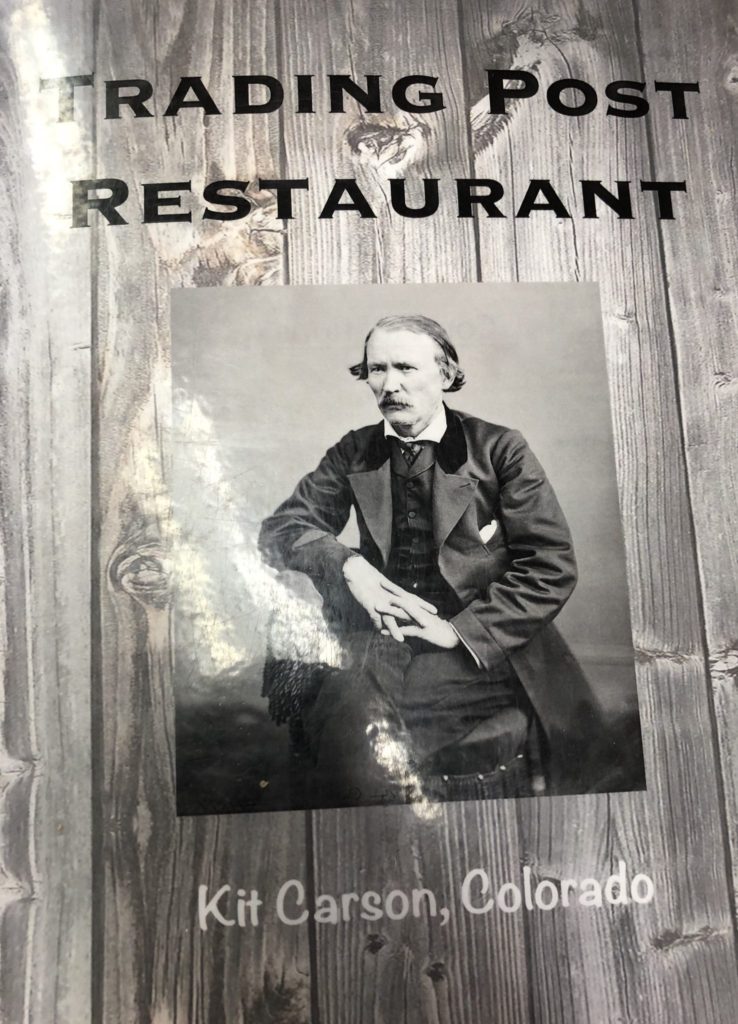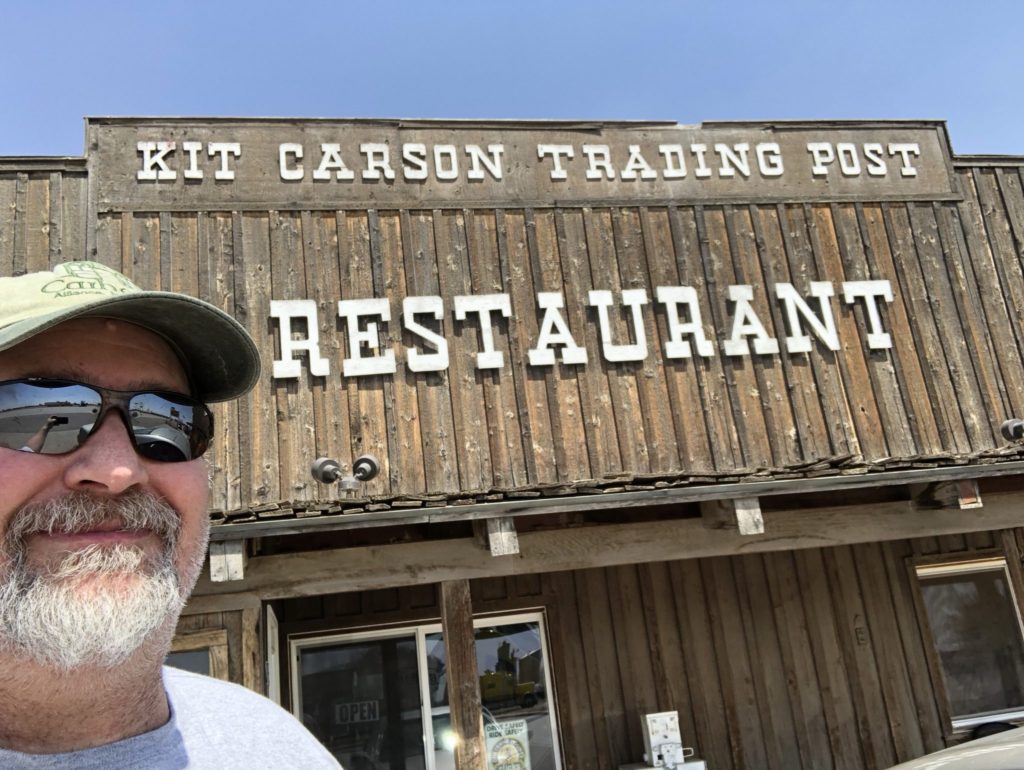 Another town named (with the full name) of a famed historical figure, Kit Carson, Colorado was established in the eastern plains of Colorado in 1838 as a trade and supply outpost.  By 1872 it was a booming commercial center.  The town still survives off of ranching, railroad, oil wells and tourists traveling on US Highways 287 and 40.
On a long windy and dusty stretch from Colorado Springs (about a 100 mile long straight road – has slight turn), taking Colorado Highway 94 through Ellicott, Yoder, Rush and Punkin Center, I eventually made my way into Kit Carson.  I stopped at the Kit Carson Trading Post and Restaurant for restroom break and a hot meal.   Good family restaurant with plenty of tasty food.
KY Head Hunters, Greensburg, Kentucky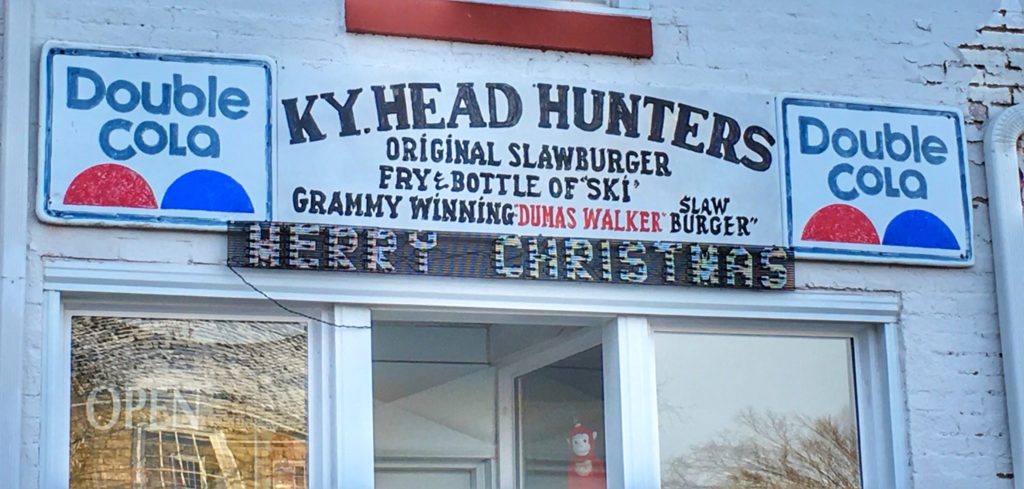 Actually, the place is called Adolphus Ennis Lunch Room and is really famous for their Original Slawburger.  The country rock band, the Kentucky Headhunters kind of referred to it in their song Dumas Walker.  The Headhunters were from Wisdom, Kentucky and would frequent A. Ennis to get a "slawburger, fries and a bottle of Ski (a local soft drink).  Like Kickapoo Joy Juice, Ski is a citrus flavored soft drink manufactured by the Excel Bottling Company of Breese, Illinois.  As for the restaurant, I have not been inside, but it is apparently still like an old diner.  Next trip down south requires a visit so I too can have a slawburger, fries and a Ski.
Like what you see here? Well, there is lots more!  I currently have two books about offbeat and quirky places to take on your road trips. You can see both of my books at http://amzn.to/2ks6fQZ. Working on Book 3, coming in late Spring 2019!!