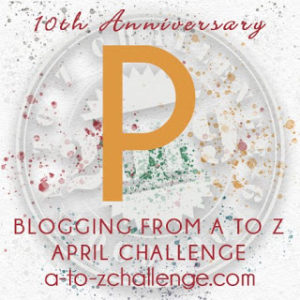 Perfection is not something I seek on a road trip.  Play is the key word for me.  Driving from here to there on a back road is like playing.  The game of discovery is so much fun. And I am passionate about the places I venture into, whether it be a small country community on a narrow two-lane road or a big city amid the proud tall-standing buildings.  Pure passionate playfulness. And here are some of the interesting P signs I discovered in my 2018 travels. Enjoy the Read. Enjoy the Ride.
Putnam's One-Stop Bait Shop Sign, Rogersville, Alabama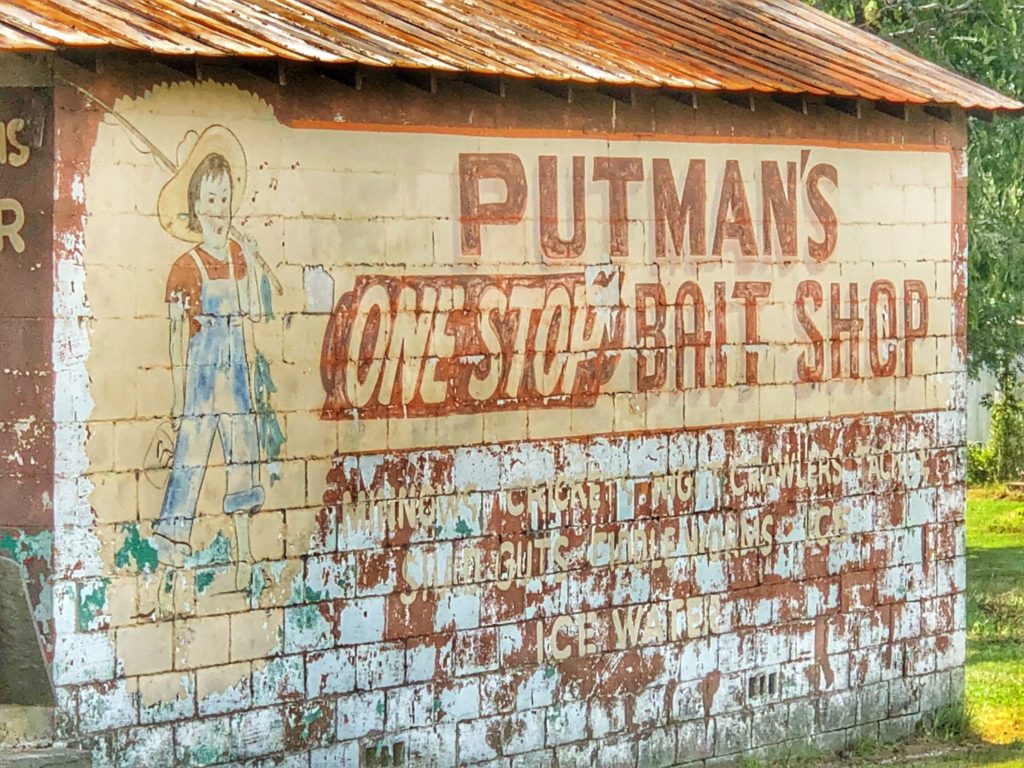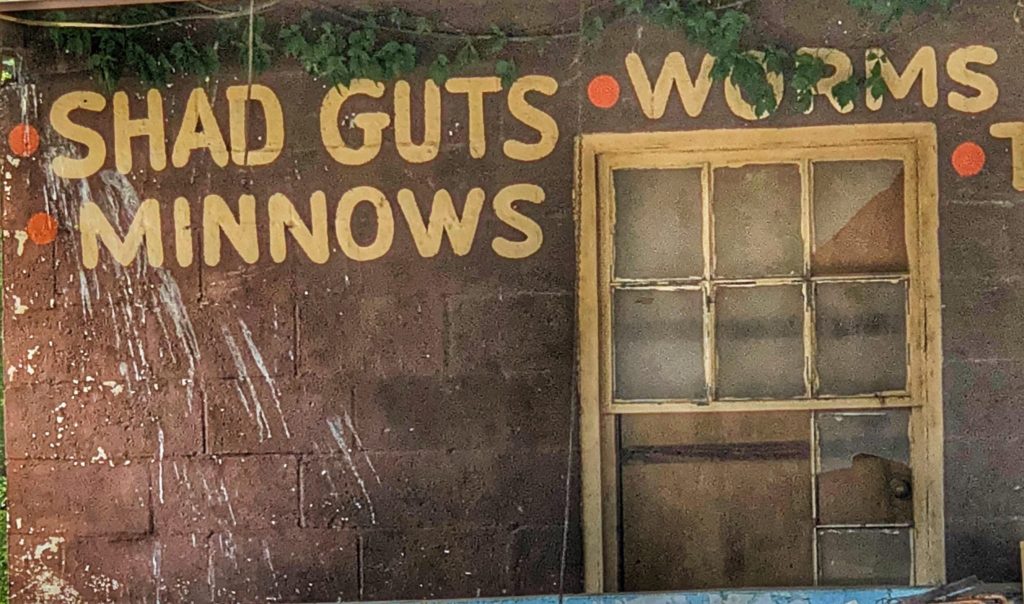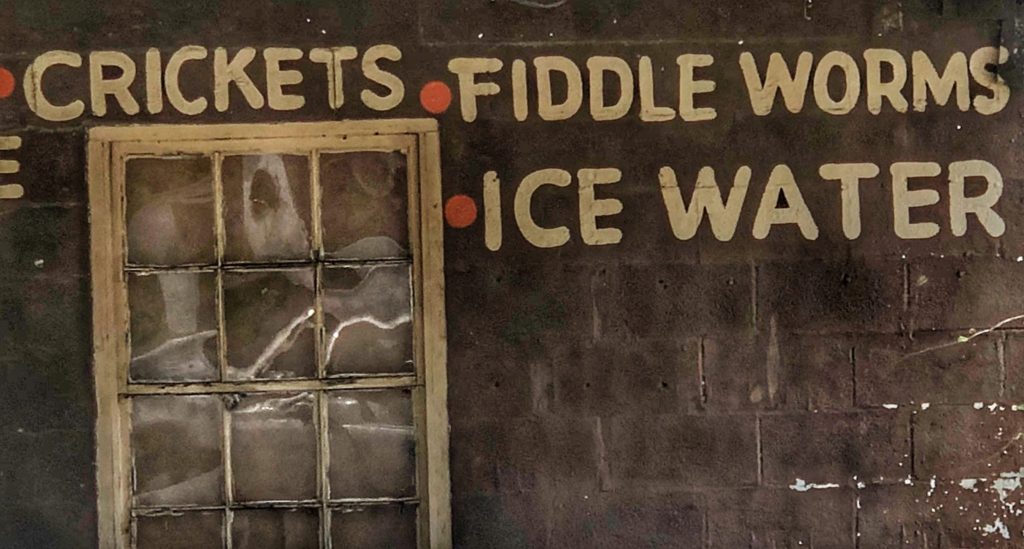 Driving to Houston through Alabama brought plenty of surprises.  It was my first trip into this section of Northern Alabama.  We drove down Alabama 101 from Lexington, Alabama towards the Tennessee River crossing at Wheeler Dam.  Just before we got there, I came across this old bait shop just south of the intersection of AL 101 and US Highway 72.  The old faded mural on the side of the building is what grabbed me.  The Fiddle Worms and Shad Guts on the front of the building were the final clinchers.  What in the world is a fiddle worm?  What the heck are Shad Guts? (No, I am not a fisherman).
Petrified Wood Gas Station, Decatur, Texas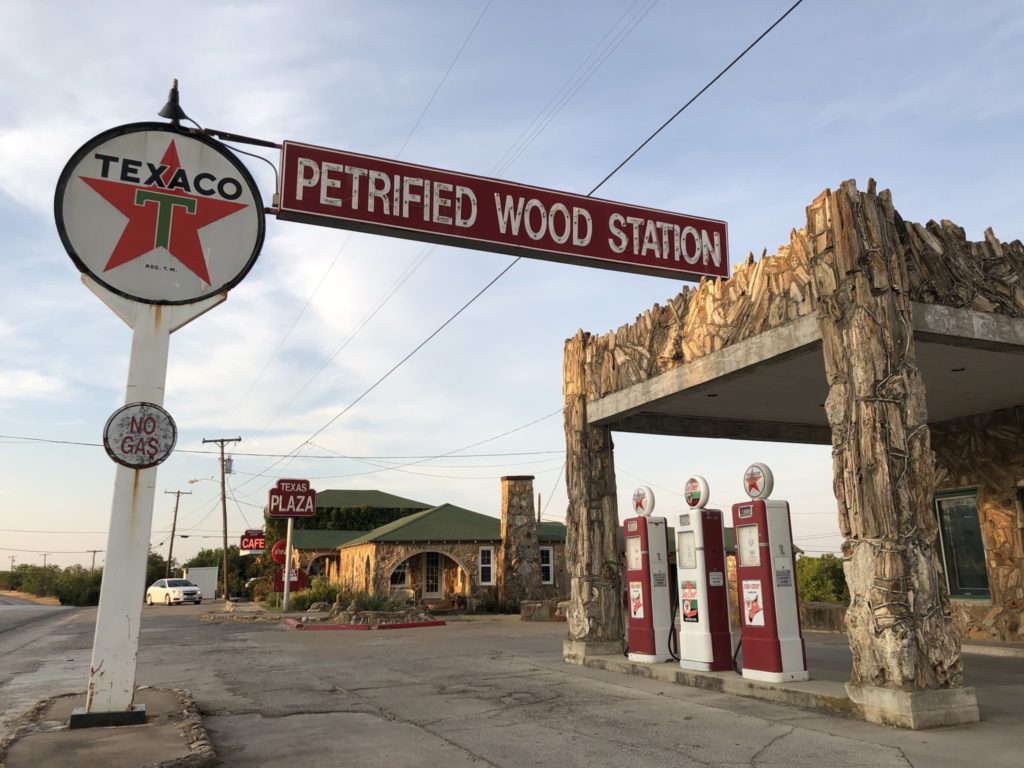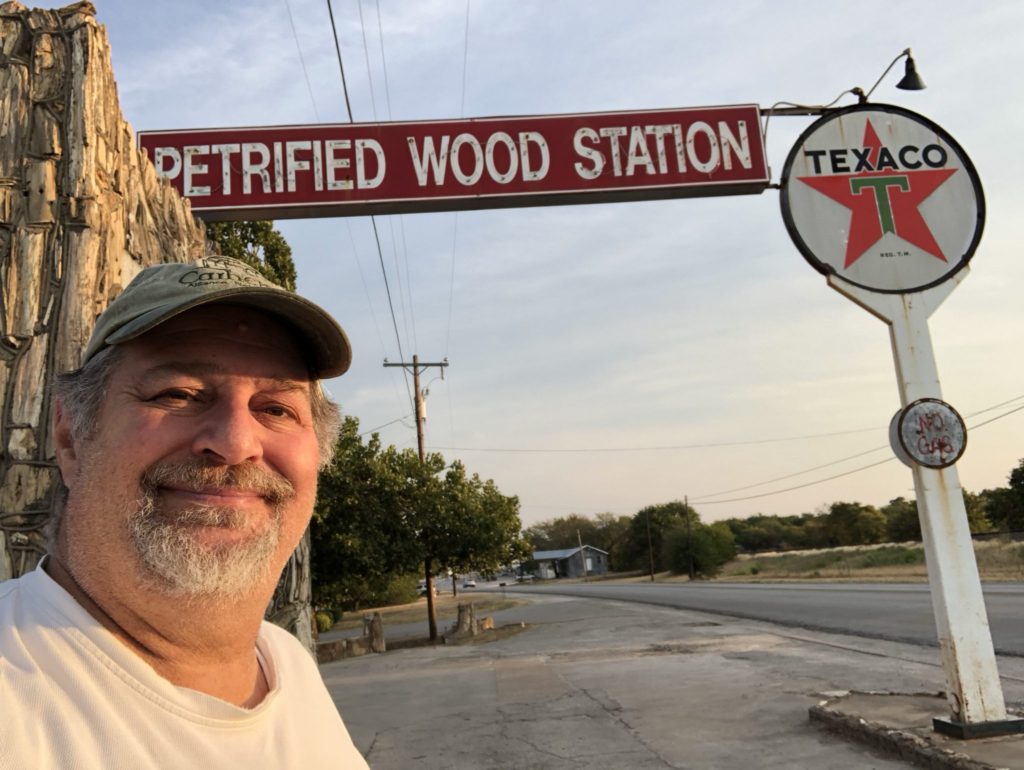 This place was on my MUST SEE bucket list for a number of years and I finally got to see it last summer on my way back to Kentucky from a visit to Texas with my granddaughter.  Sitting on the local business route of US Highways 81/287 is an old gas station and Tourist Camp faced with Petrified Wood. It is a nostalgic throwback to the early days of road travel.  It is no longer a functioning gas station, but it is a symbol for the town of Decatur.   According to a history of Wise County, Texas, this station was built in 1927 by E.F. Boydston, a local businessman in the county.   Initially, he built a wooden shed for travelers as well as a couple of cabins.  He allowed visitors to build campfires on the spot.  By 1931 he had built three wooden cabins with garages.  It was called the Texas Tourist Camp at the time. Then, for some reason, maybe looks, he faced his station and the three cabins with petrified wood in 1935 after the highway was widened.   The Boydston family ultimately sold the property in 1988.    On a side note, there is a legend that Bonnie and Clyde stayed at the tourist camp during their runs from the law.
Papa Joe's Stop & Go, Crescent Junction, Utah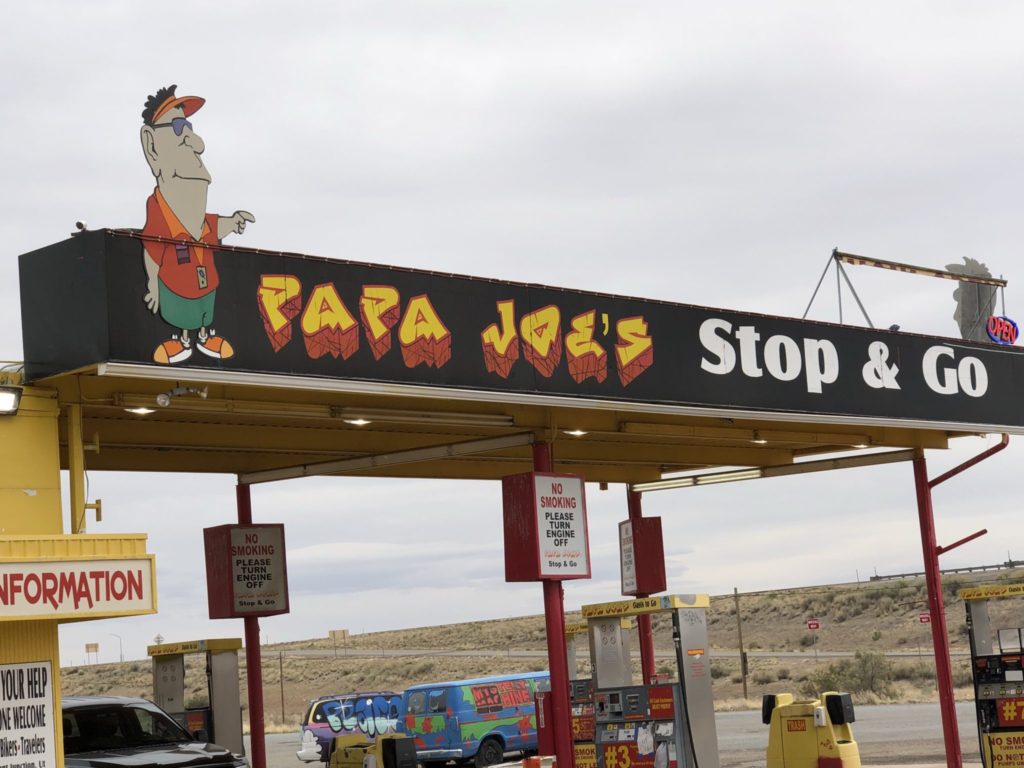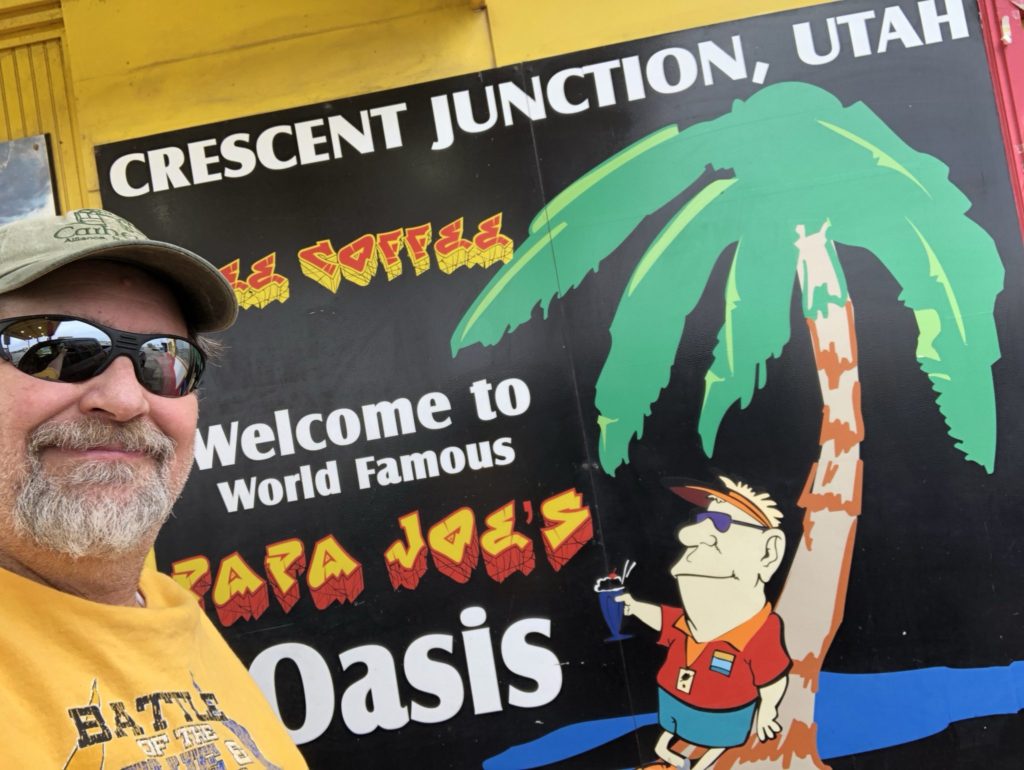 Crescent Junction, Utah is called such because it is the junction of US Highways 191, 50 and 6.  Traveling on Interstate 70 east from Green River, Utah towards Grand Junction, Colorado, Crescent Junction sends US 191 south towards Moab while US 50/6 continue east.  At the Junction, which really is in the middle of the eastern Utah desert, there is not much.  Need a restroom break, water, drinks, snacks?  Papa Joe's offers all of this and more.
Like many other "tourist traps," this place offers many goodies, Utah souvenirs, has alien cut outs, an old replica of the Scooby Doo Magic Van, and has recently opened a second building to carry Beef Jerky products.
Only recommendation…you may want to avoid buying gas.  Get your gas in Green River, Moab or Grand Junction.  Papa Joe likes to price gouge a bit on the car juice.
Powder River Lanes, Broadus, Montana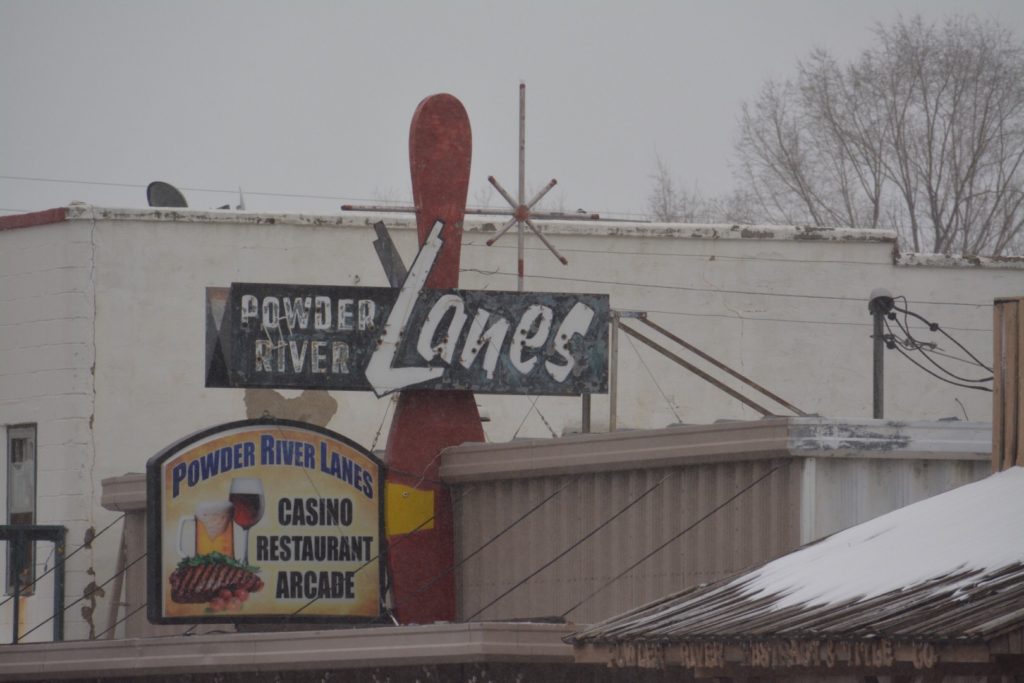 Old bowling alleys always provide some fun sign shots.  Back in the 1960s bowling was a big thing.  Many people enjoy the sport (my hand is raised as one of them), but you don't see many new ones going up.  The old vintage signs are always a kick.  I saw this one in Broadus, Montana on my northwest from South Dakota towards Billings on US Highway 212. Nowadays, casinos are a big thing and Montana has hundreds of small casinos.  There is one in this old bowling alley.
Pacific Coast Scenic Byway, Cosmopolis, Washington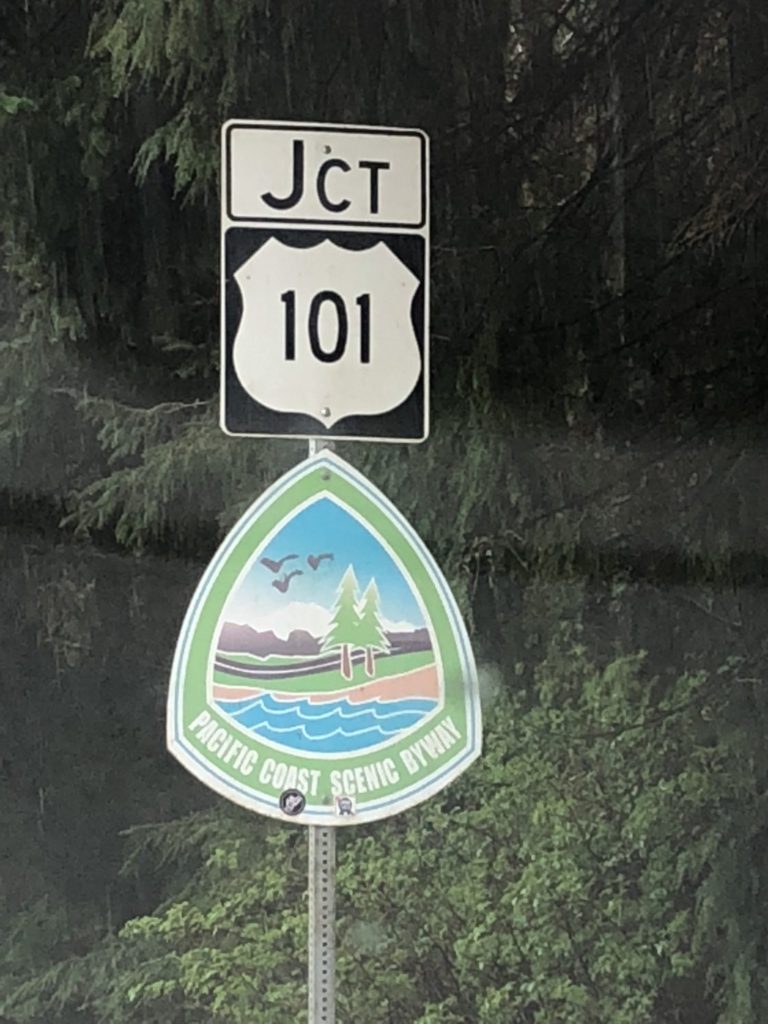 Both Washington and Oregon have a Pacific Coast Scenic Byway.  I was able to drive part of Washington's in 2018. The Washington version of the Pacific Coast Scenic Byway is a 350 mile drive starting in Olympia, Washington. From there it outlines the entire Olympic Peninsula, and then meanders through Olympic National Park and its lush rain forests.  It continues along ocean beaches beginning at Olympia's Ruby Beach, then extends south to the border with Oregon, ending near Long Beach, Washington. Some of the route also goes along US Highway 101.  I would love to drive the entire route someday.
Portway Tavern, Astoria, Oregon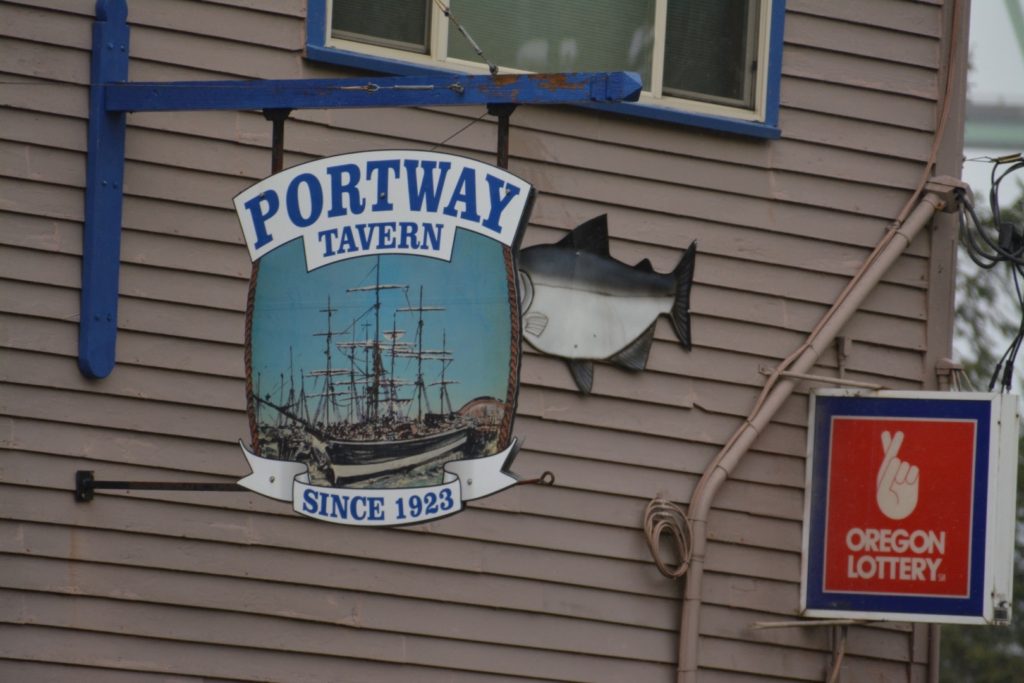 This is another of those places with a unique business sign. I didn't stop into the Portway Tavern, located in the VERY scenic town of Astoria in northwest Oregon.  It is one of those places with a colorful history, dating back to the 1920s, when the place was established by Victor Jarvinen. It has a number of unique stories and myths and claims to be the oldest tavern/saloon west of the Rockies.
Like what you see? Well, there is lots more!  I currently have two books about offbeat and quirky places to take on your road trips. You can see both of my books at http://amzn.to/2ks6fQZ. Working on Book 3, coming in late Spring 2019!!