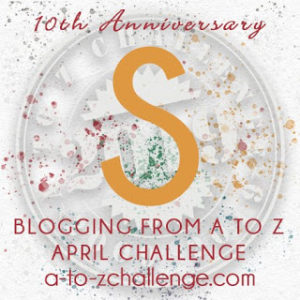 Since man could walk, travel has been a part of life.  The sensational opportunity to see the world has kept most of us from being sedentary. The singular driving force is the strong desire of discovery.
For nearly 50 years I have sought the sensation, the scintillating, the stylish and the silly in my travels.  In 2018, that striving for something special continued.  I hope you will enjoy some of the S Signs I discovered in my 2018 travels. Enjoy the Read. Enjoy the Ride.
Smiley, Texas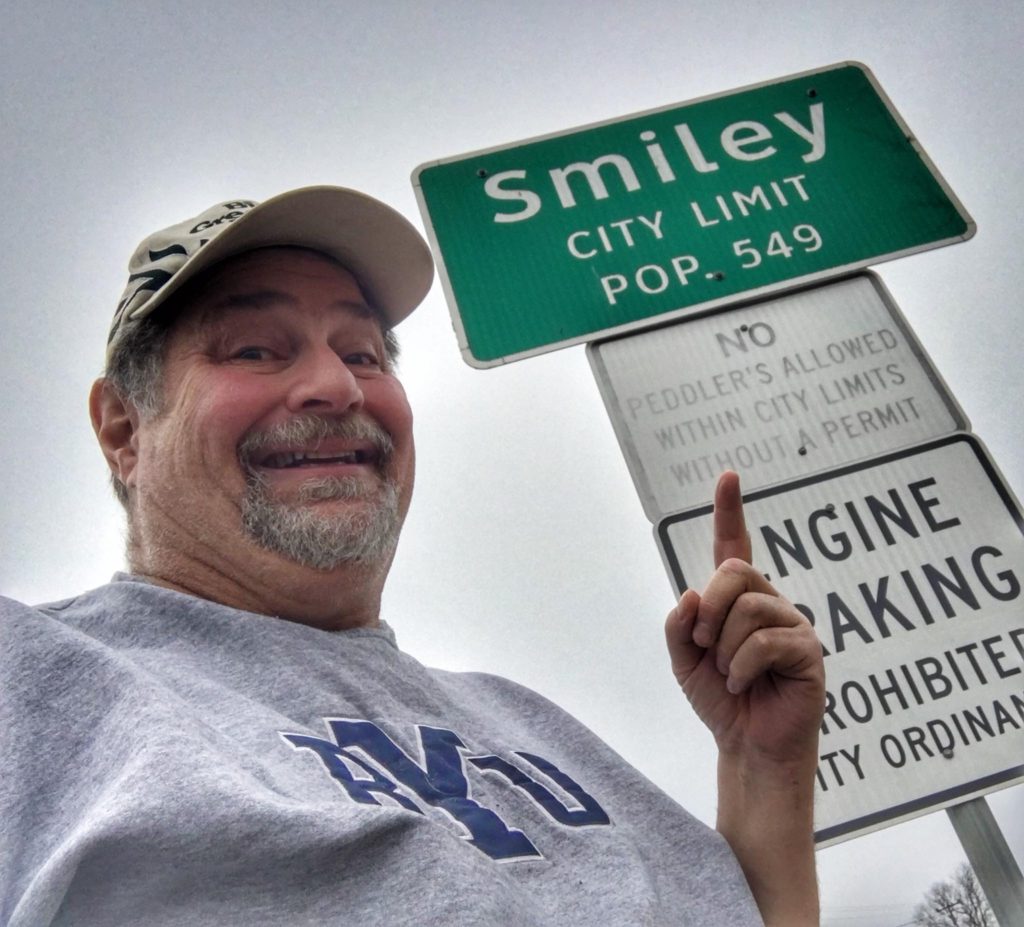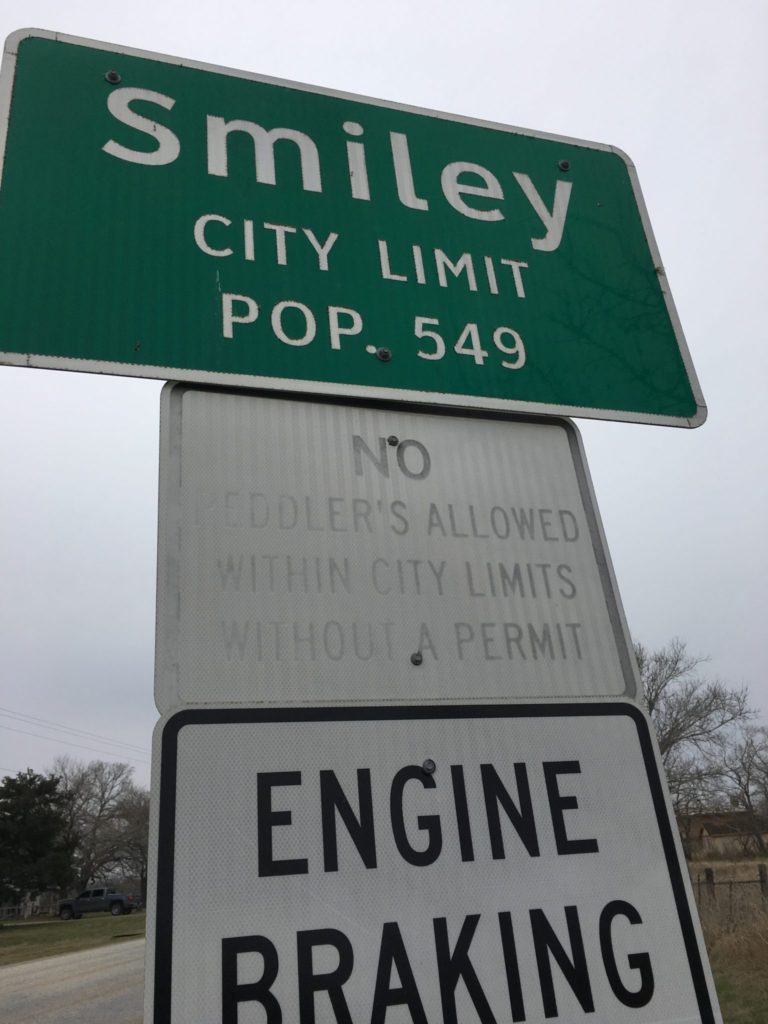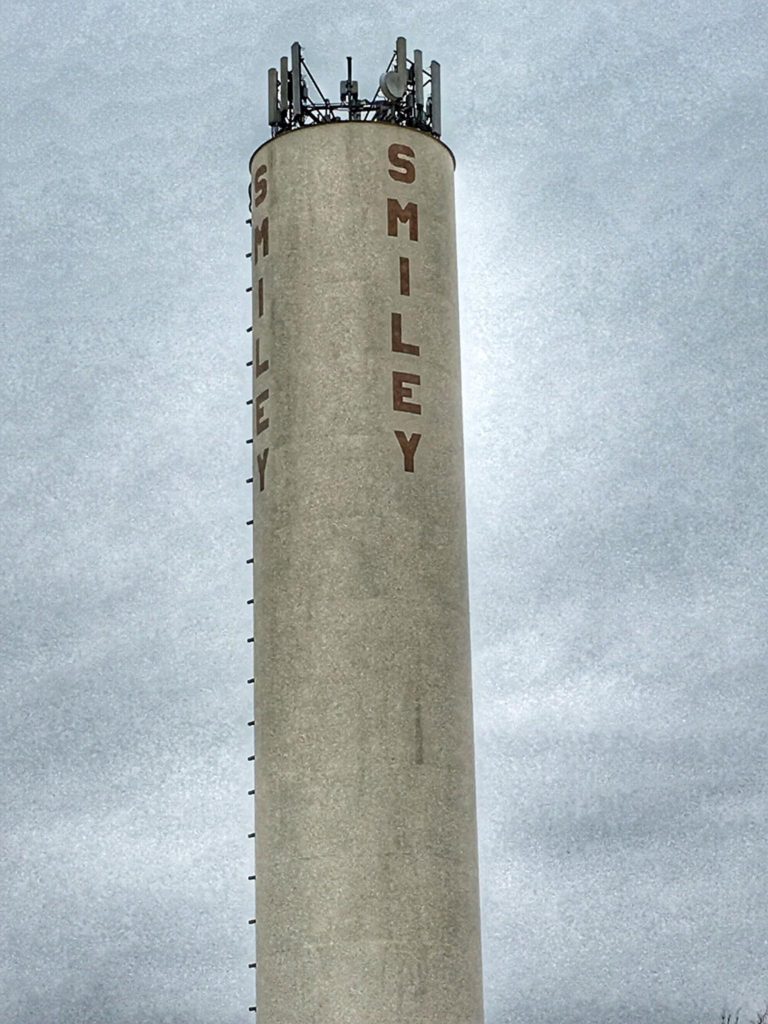 I was down in Houston in February 2018 and took the grandsons on an expedition.  One of my "goal places" was Smiley, Texas.   I always love places with unique names.  The small community's name has nothing to do with smiles.  Rather, it was named after trader and sheepherder John Smiley in the 1870s.   The town of about 450 is located at the intersection of US Highway 87 and Farm Roads 3234 and 108.  Honestly, the town looked very depressed and run down.  Probably not much to smile about.
Sunset Motel, Belle Fourche, South Dakota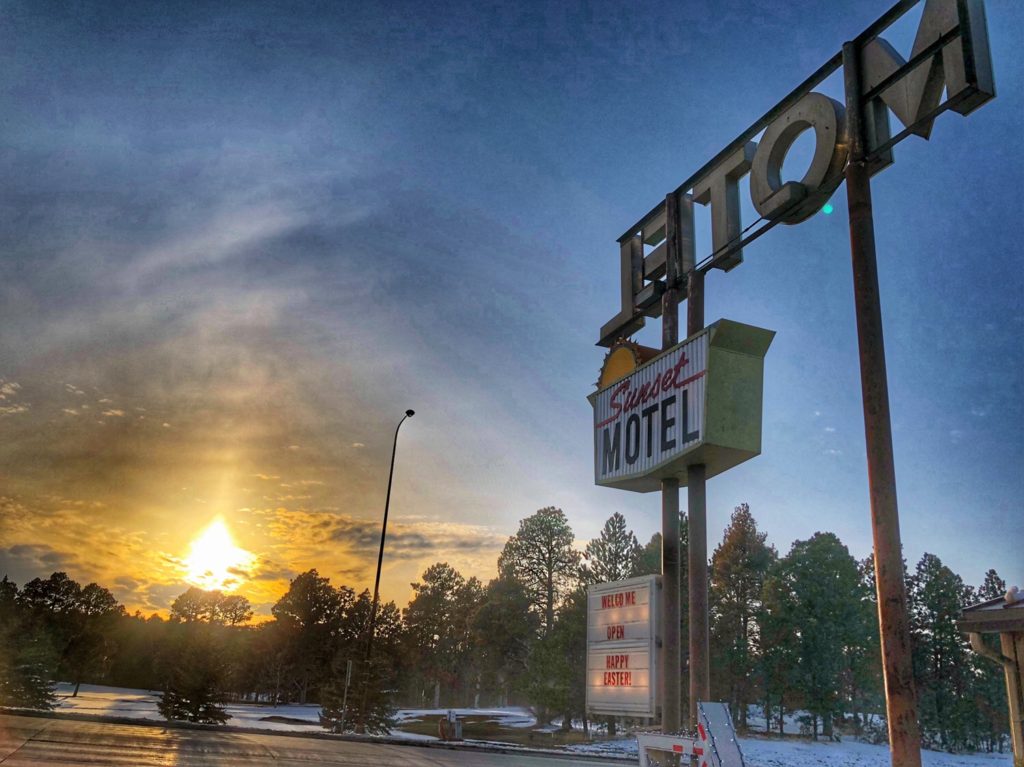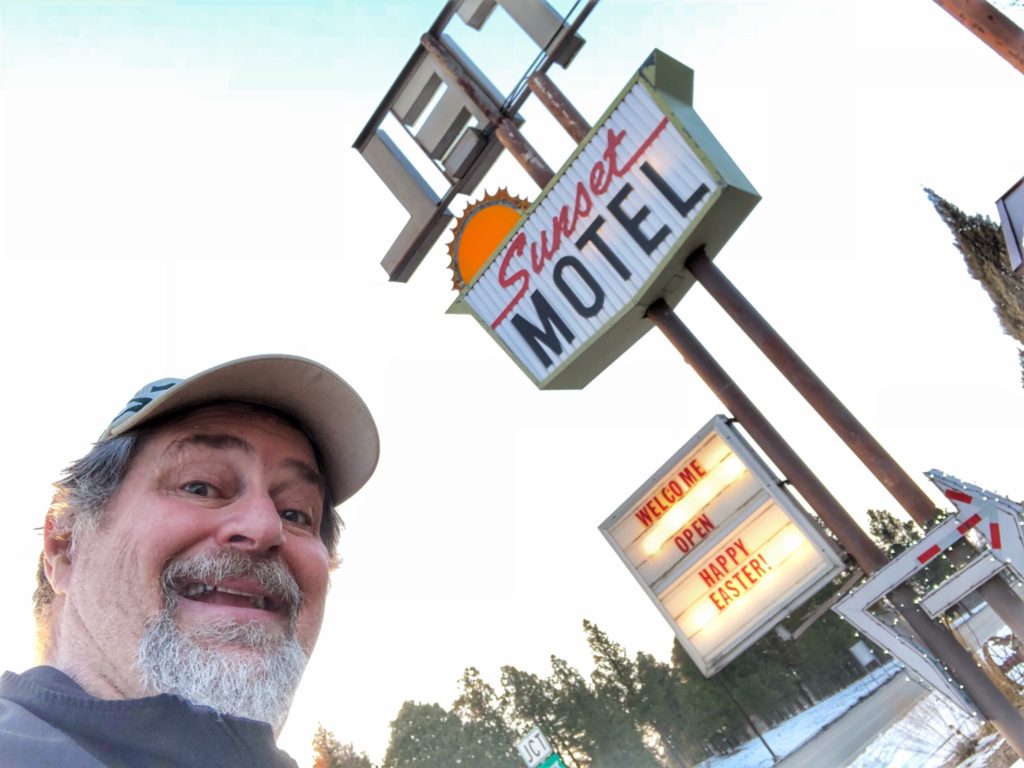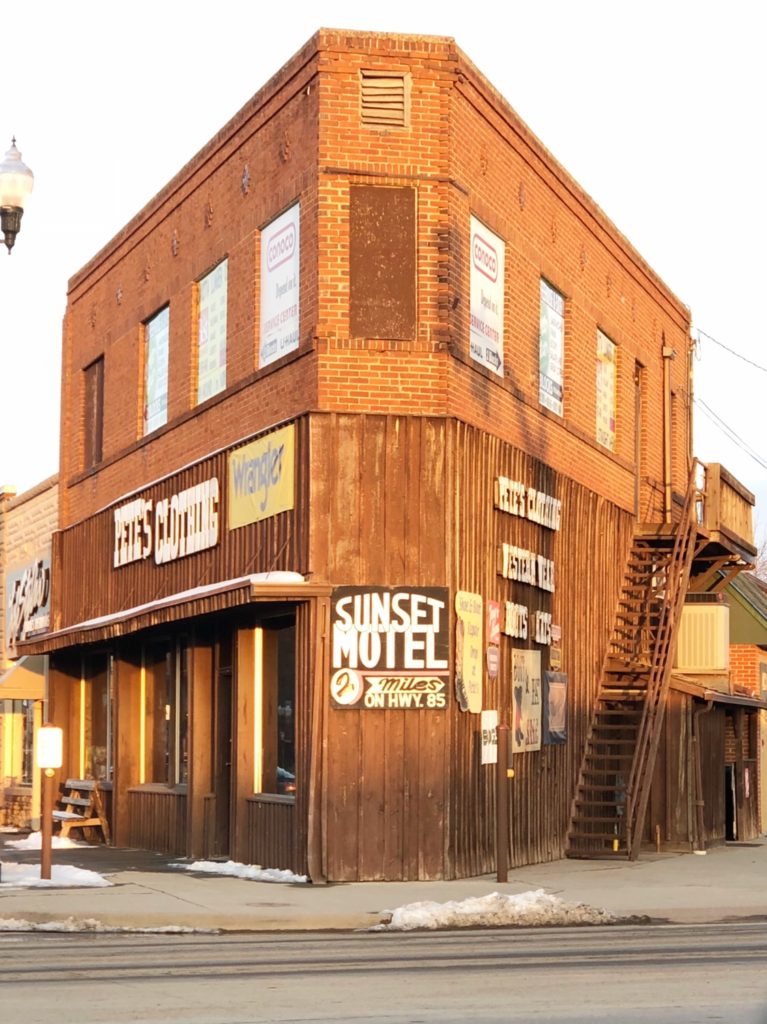 When I take a long road trip, I don't typically plan on a place to stay until late in the day.  I never know how far along I'll get before it gets dark.  Such was the case with my visit to Belle Fourche.  After traveling west on Interstate 90 thru to Wall, SD, I decided to head northwest on US Highway 85 towards Montana and made it into Belle Fourche.  I always try to stay at a local, vintage motel on these trips nowadays, just for the experience (good or bad).  I got to Belle Fourche at sunset, just in time to get a nice shot of the sunset with the Sunset Motel 5 sign.  It was a nice stay.
Starved Rock State Park, Oglesby, Illinois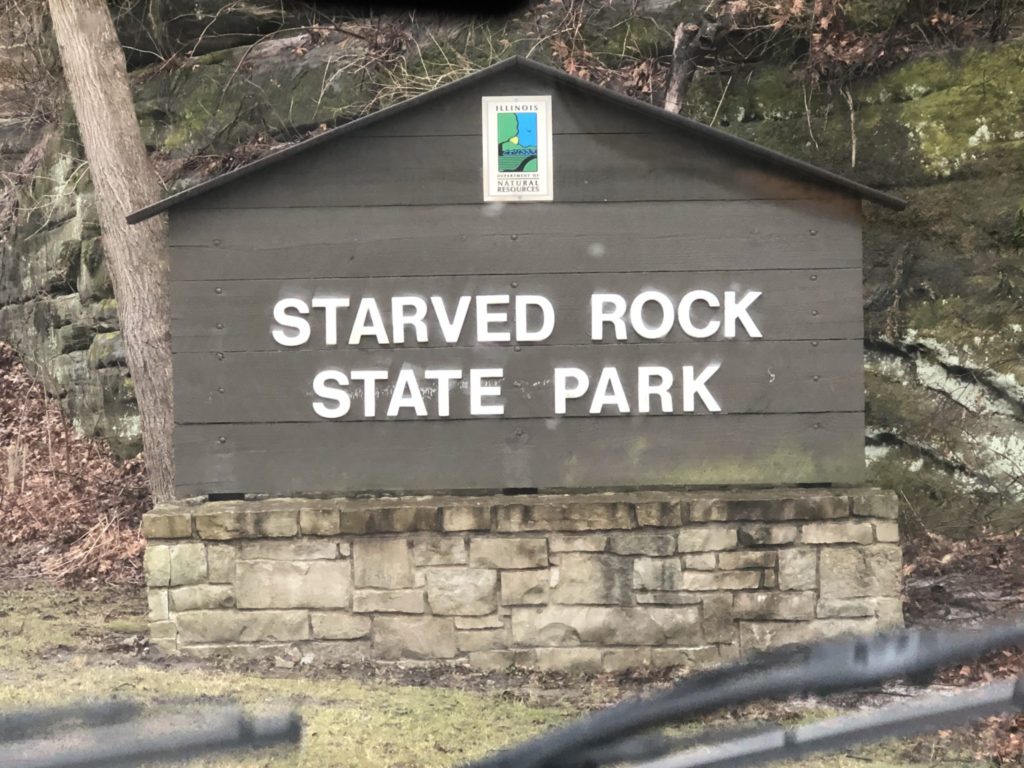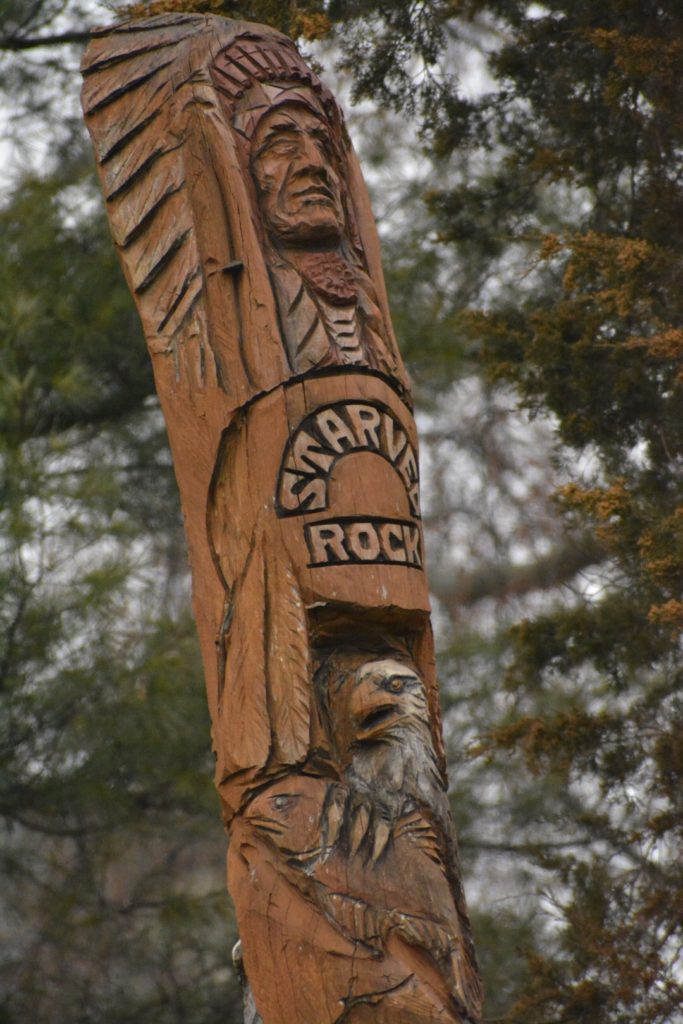 I made my way to Starved Rock State Park which is a huge natural park situated on the Illinois River just south of North Utica, Illinois and east of Oglesby, Illinois.  My sole purpose was to track down one of the Whispering Giant carvings by artist Peter Toth.  I was pleasantly surprised by what I saw and hope to visit there for a more extended trip sometime in the near future.  The park has 18 small canyons and numerous waterfalls that can be seen from a number of hiking trails.
Skykomish, Washington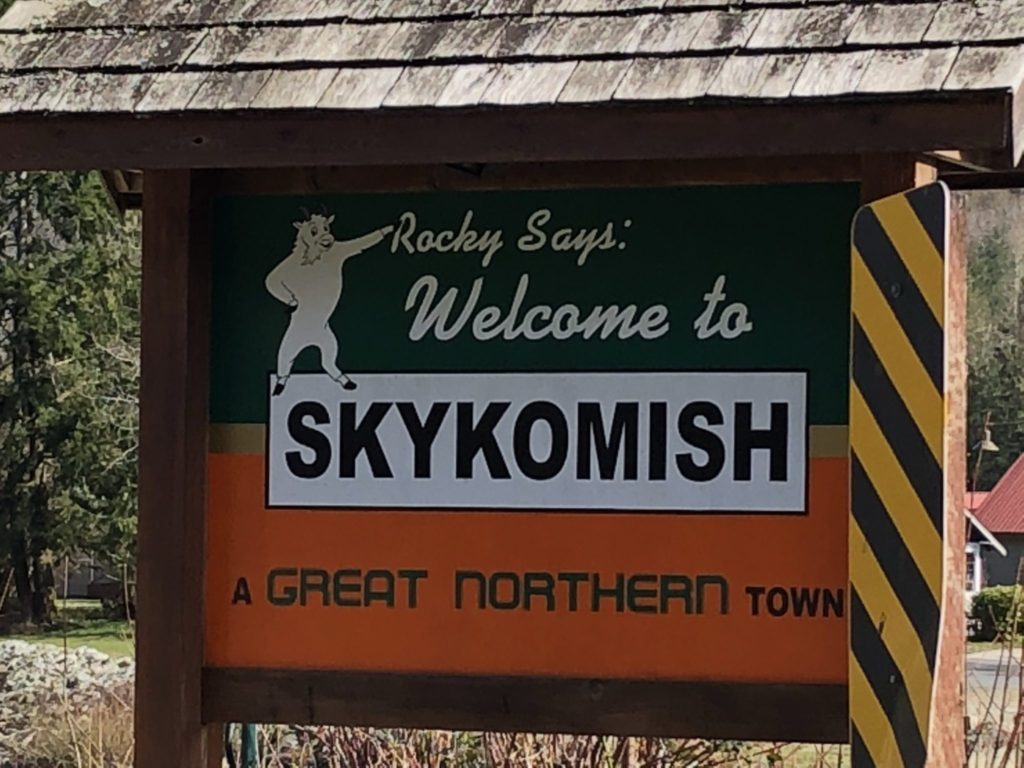 Skykomish – interesting name and splendid vistas!  I pulled into Skykomish on a beautiful April day after coming down from the snow-packed Stevens Pass on US Highway 2.  Though the altitude is only 928 feet, it feels completely like a mountain town as it is surrounded by the tall scenic mountains of the Cascade Range.  The name "Skykomish" derives from the Skykomish or Skai-whamish tribe who inhabited the area before any Europeans arrived. The town of Skykomish was officially incorporated on June 5, 1909.  The main purpose of the town was to be a fueling station for the railroad.
Sabine Theatre, Many, Louisiana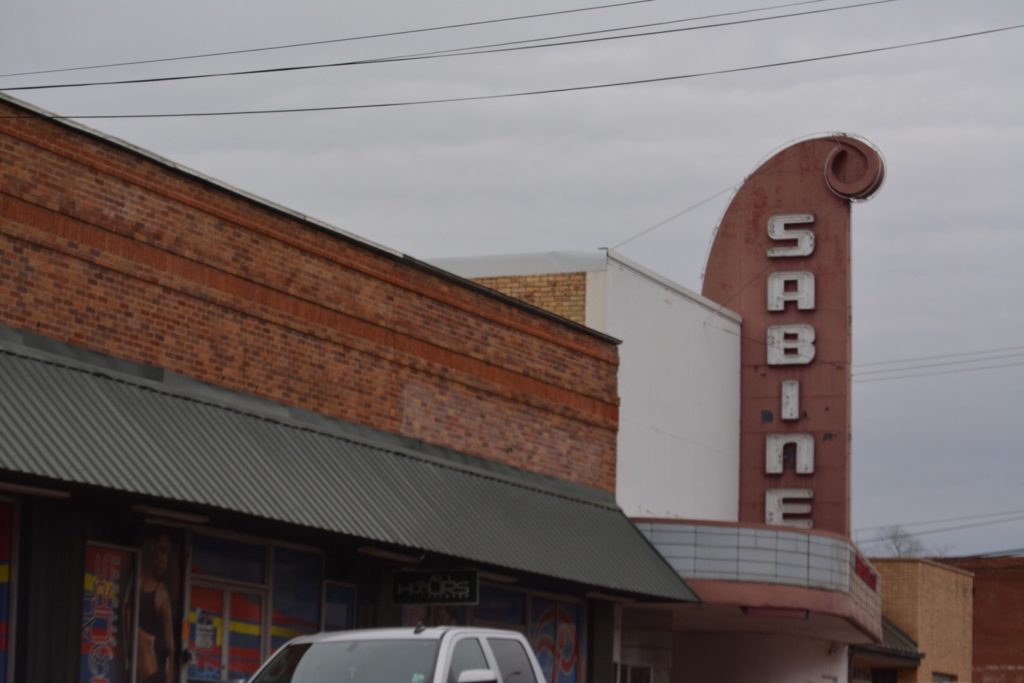 The old classic move marquee is slowly disappearing, so, whenever I hit a small town with a huge classic marquee, I want to grab a shot. Such was the case of the Sabine in Many, Louisiana. Built in 1947, the Sabine Theatre was acquired by the town of Many in the mid-1990's. Like many theatres across the country, the Sabine is now typically used for live theatre, musical performances, occasional movies, and other community events.
Shiner, Texas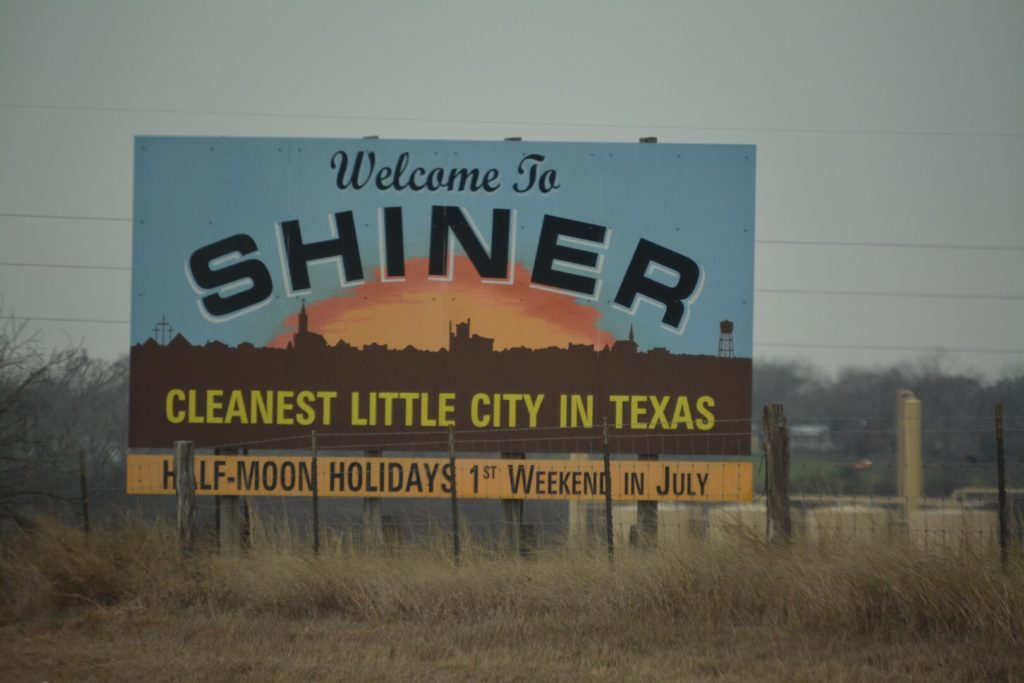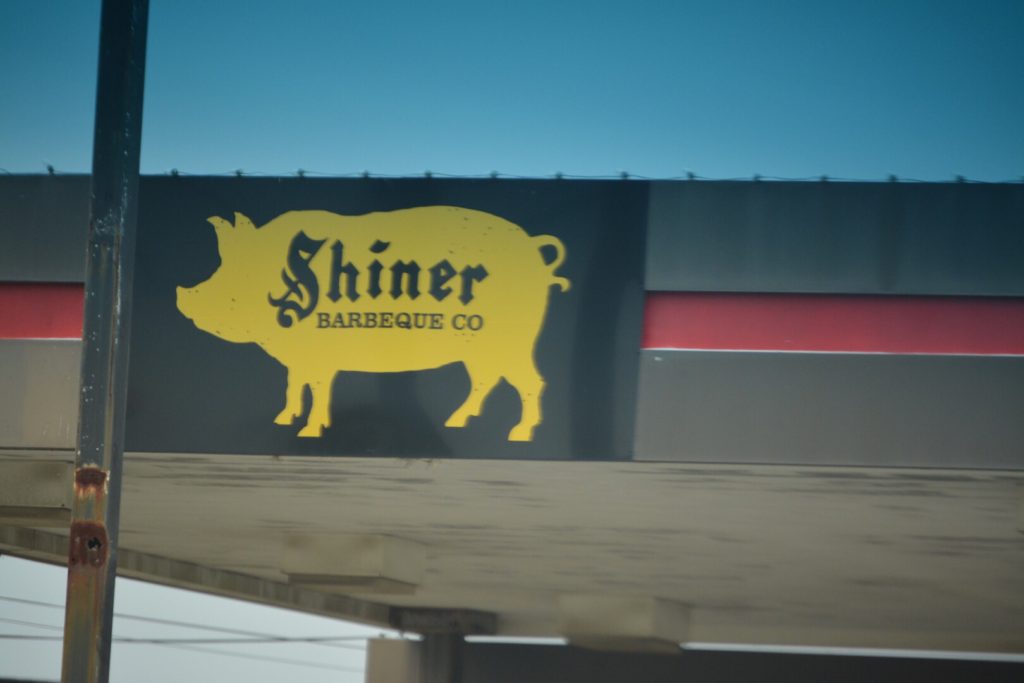 When I hear the word shiner, I usually think of a black eye.  So, on my trip to see Smiley (see above), I also went through the town of Shiner, Texas.  Located on US Highway 90, the town is now locally famous in Texas as the home of the Spoetzl Brewery,  best known for producing Shiner Bock, a dark German/Czech-style beer that is now distributed in 49 states.  I didn't visit the brewery, but learned that the town was named for Henry B. Shiner, who donated 250 acres of land in 1887 and then incorporated in 1890.
Sublime Baptist Church, Sublime, Texas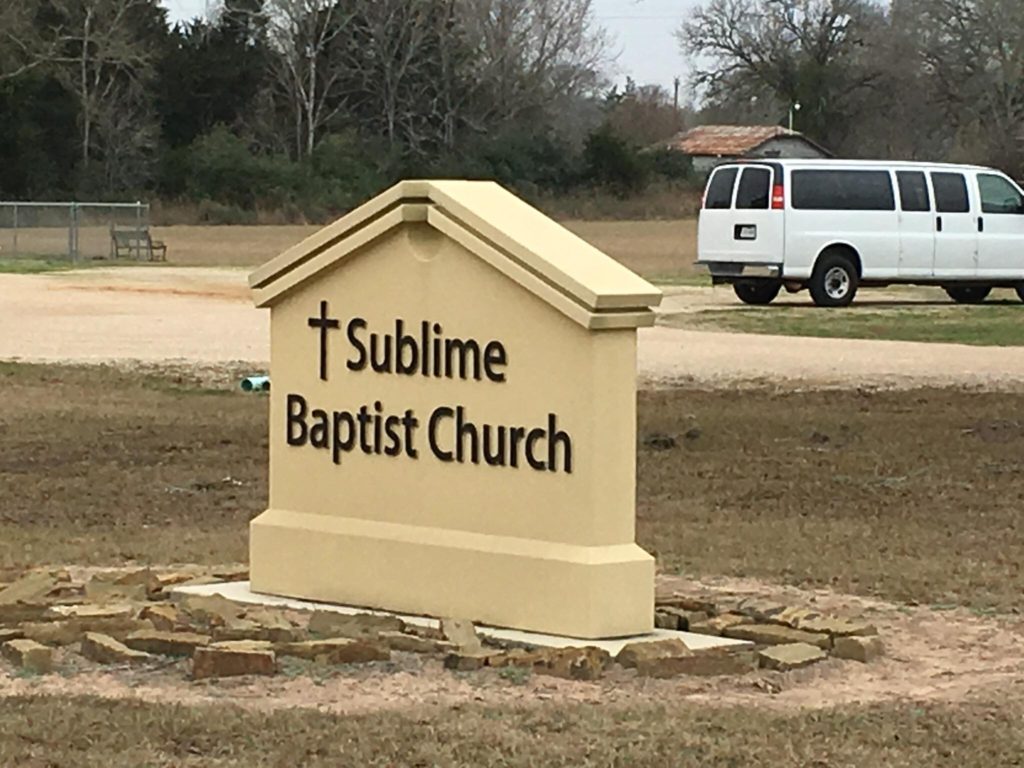 Continue East on US Highway 90 from Shiner and you'll pass through the small community if Sublime.  Isn't that just sublime?  There isn't much here.  The population is about 75, and has been since the 1950s. The name was set in 1875 when a post office was established there.
Stardust Motel, Wallace, Idaho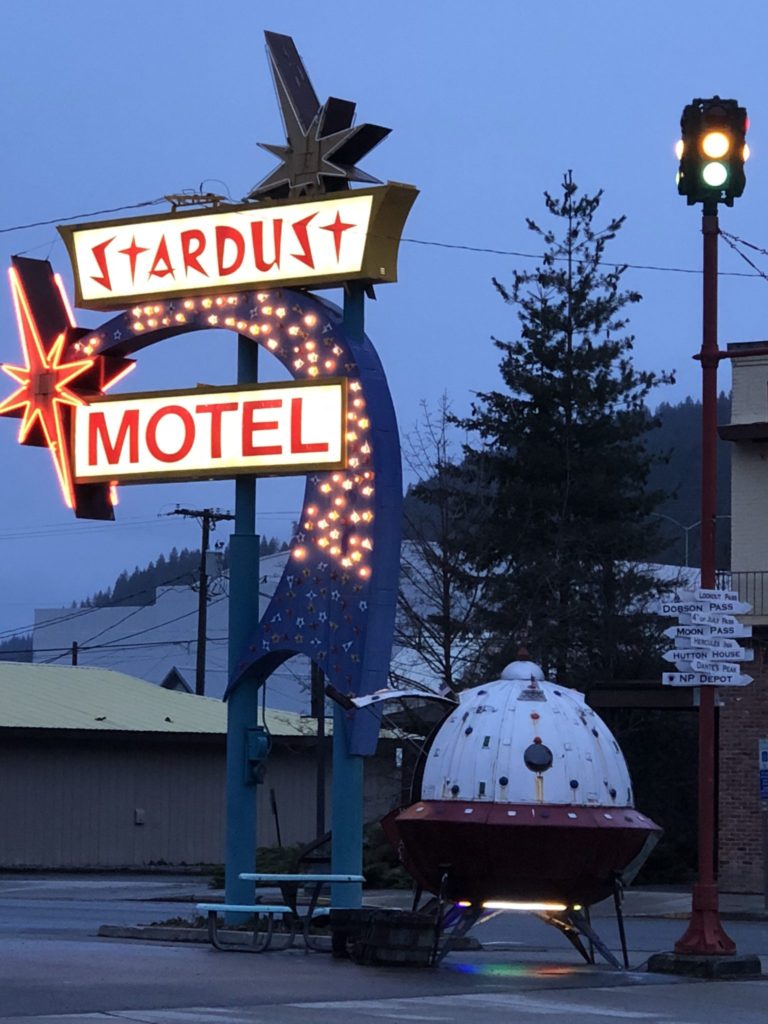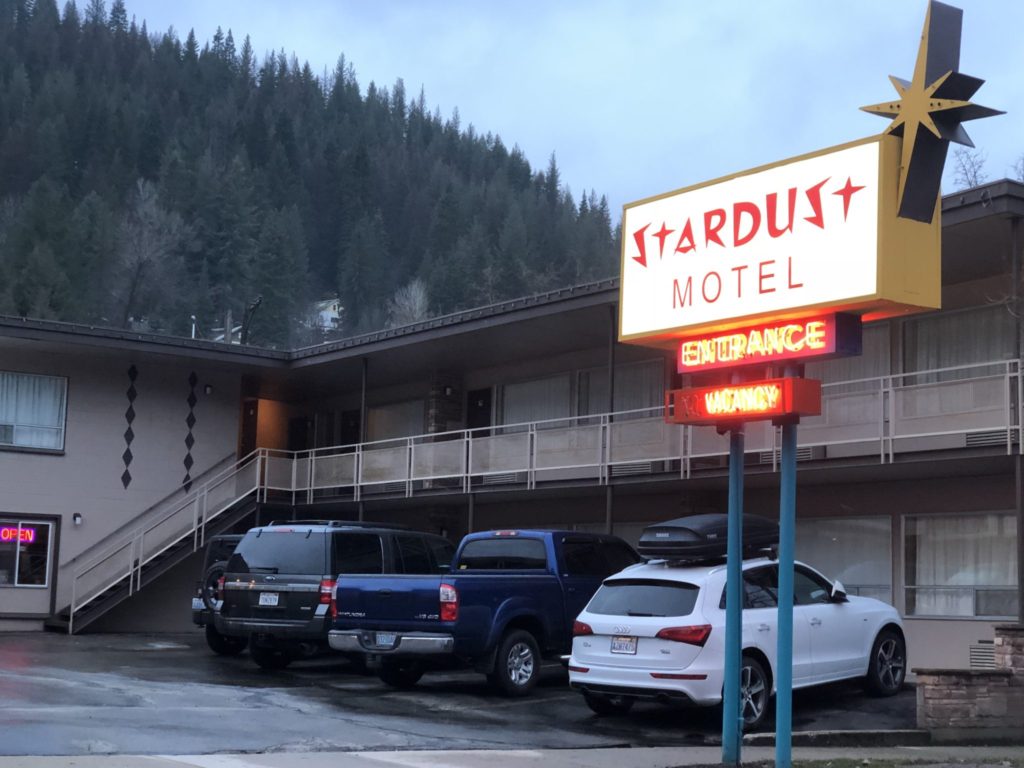 Like the Sunset Motel in South Dakota, I ended up in the mountain town of Wallace, Idaho on my way west to Washington in April 2018.  I just stopped in and got a room at the Stardust.  Classic vintage motel sign drew me in.  Nice rooms, good rates and a lovely little town.
Spar Cafe, Olympia, Washington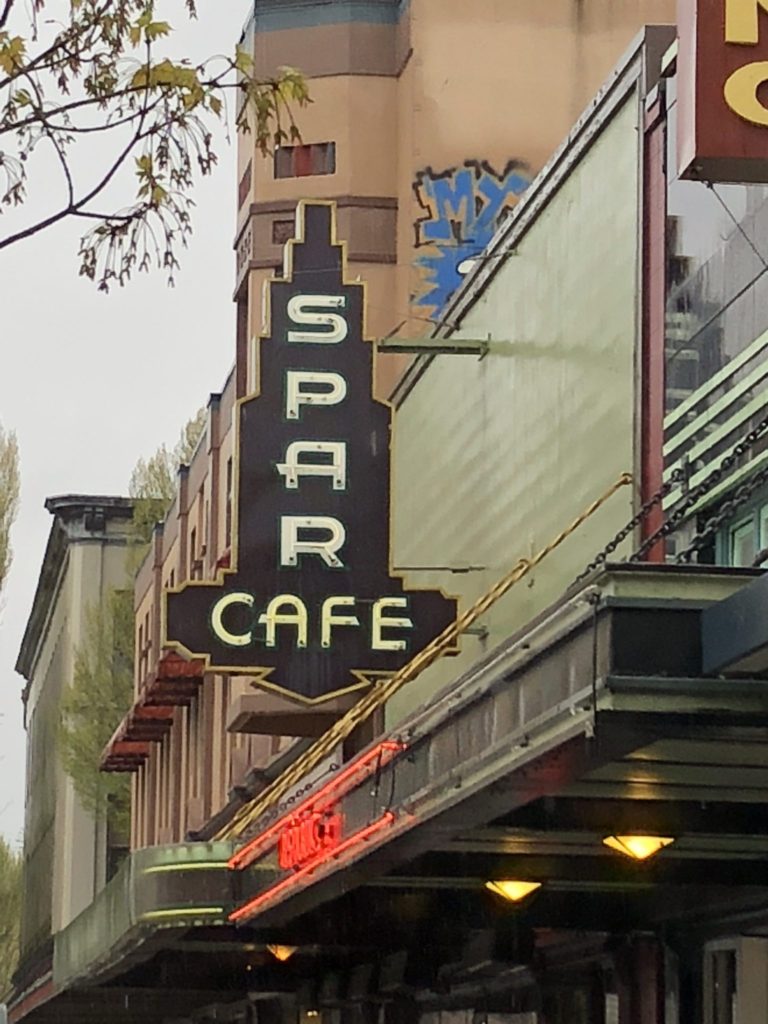 I stopped in to Olympia to have breakfast with some old friends.  We ate the Spar Cafe in downtown Olympia.  First established in the 1930s, the eatery is filled with interesting art.   Originally touted as a "fine eating and recreation parlor,"  can you still see the original bar, artwork, chandeliers, and other furnishings.  I heard that even the drinking water is served up old school—straight from its own artesian well.
Like what you see? Well, there is lots more!  I currently have two books about offbeat and quirky places to take on your road trips. You can see both of my books at http://amzn.to/2ks6fQZ. Working on Book 3, coming in late Spring 2019!!