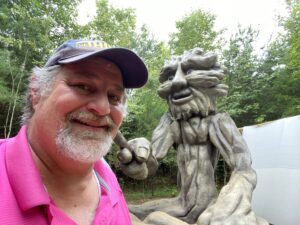 This is the seventh post in my series on Muhlenberg County, Kentucky. On August 18, 2021 I was invited by Misty Deason, the owner of Apple House Mercantile and a member of the Muhlenberg County Board of Tourism, to come out for a visit.  She now carries my Less Beaten Paths books in her shop and wanted me to come out and sign them and then visit some of the major tourist attractions in this small, but unique, Kentucky county.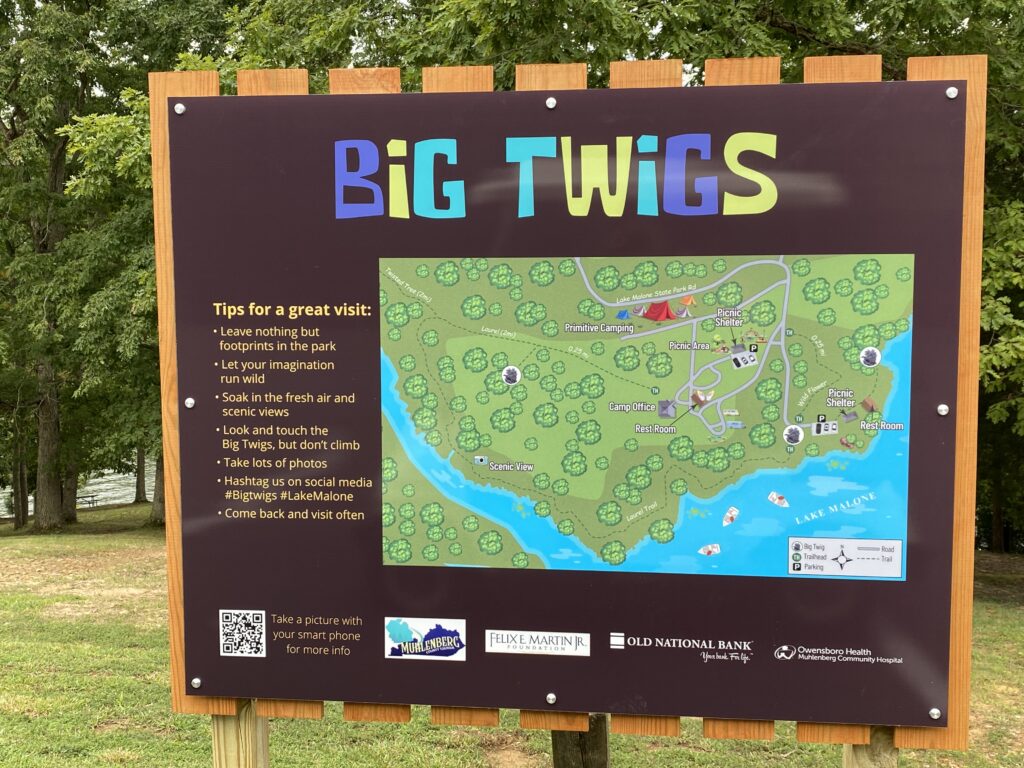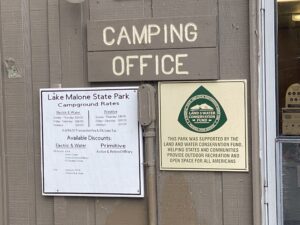 I had many reasons for a visit to Muhlenberg County via Misty's kind invitation.  Besides signing the books, I was most excited to visit with the county's newest giant residents in Lake Malone State Park in the southern part of the county.  The "Big Twigs," as they are known, moved into their spots in the State Park just a week prior to my visit.  They are truly giant residents of the county, coming at 14 feet tall.  But, they are also as friendly as can be.  The three include Oakley Malone, Bobber Malone and Happy Malone.  The park is a perfect place for them to settle in and make their home as it provides excellent accommodations for their hobbies.
These giants fit into the forest environment nicely with their large "twiggish" look and feel (though they are actually made from fiberglass and steel frames and then coated with car paint).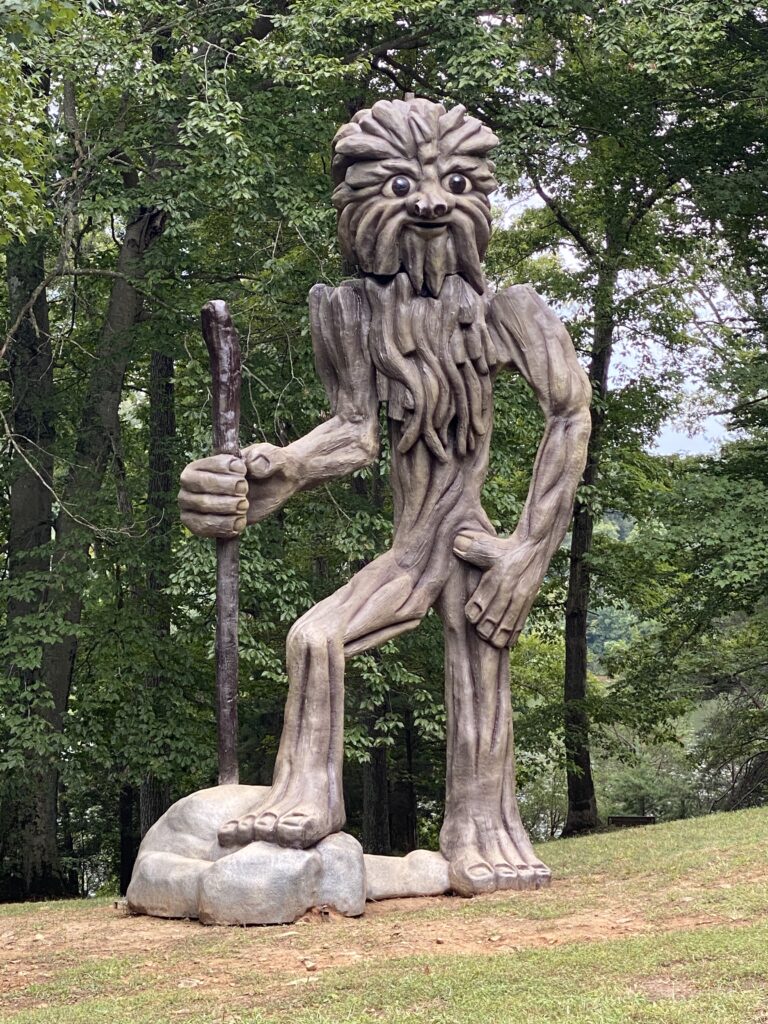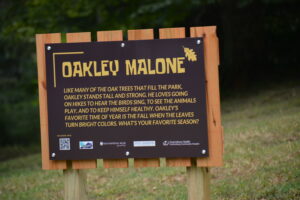 The easiest one to locate is Oakley, who loves hiking.  As his profile notes:
Like many of the oak trees that fill the park, Oakley stands tall and strong. He loves going on hikes to hear the birds, see the animas and keep himself healthy!
He stands with a nice gaze out to the park with hiking pole in hand. And he loves to be the first of the three to be photographed.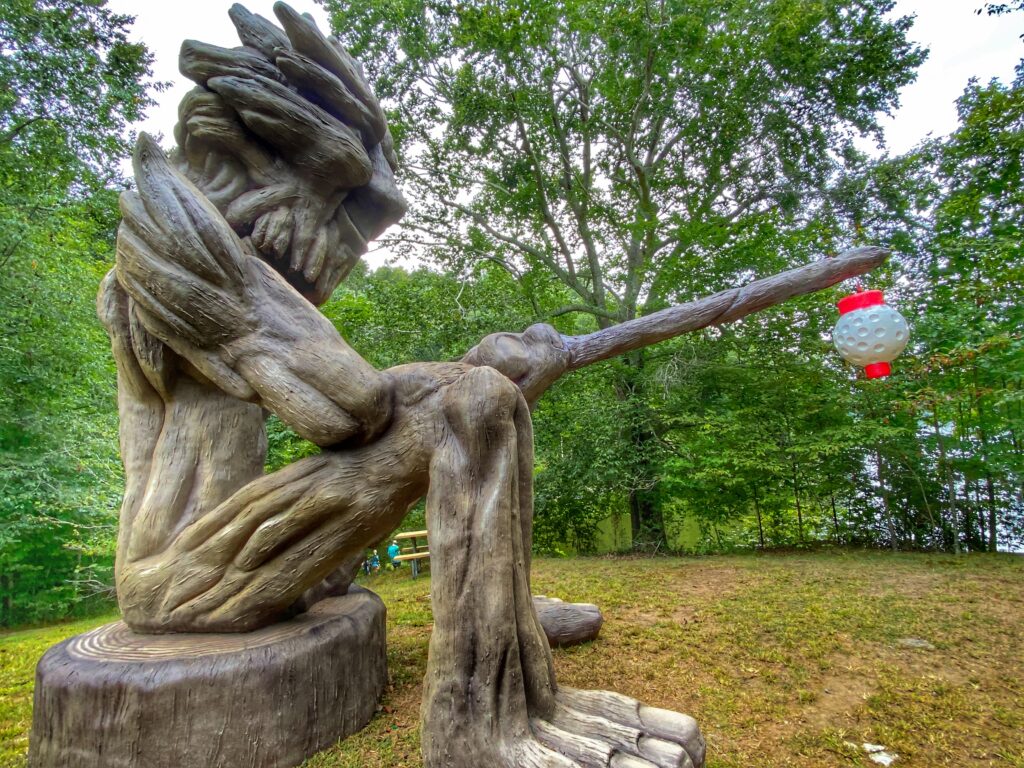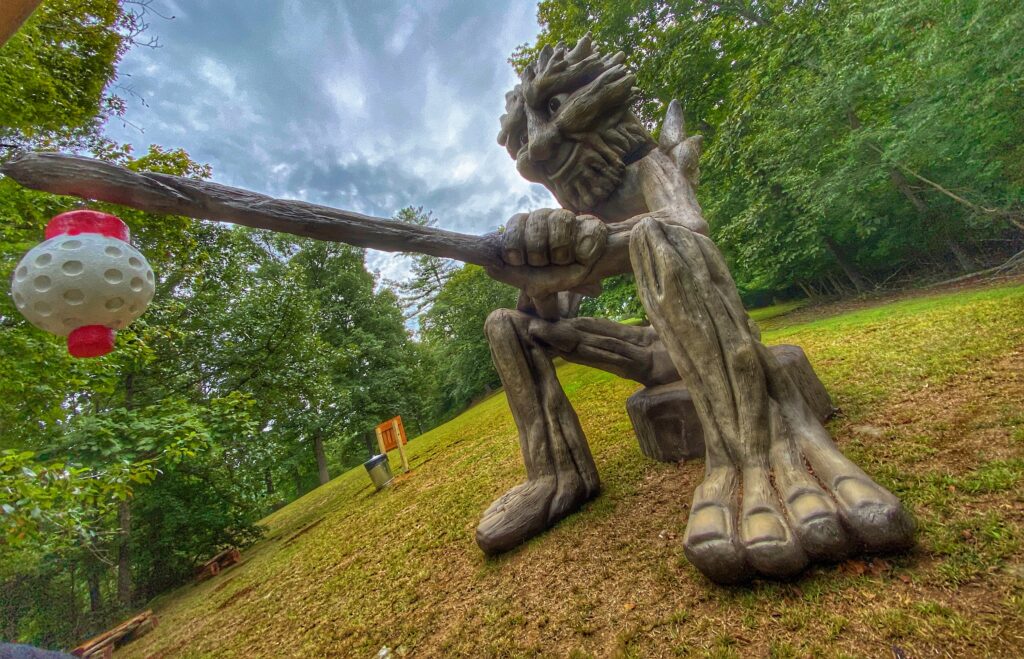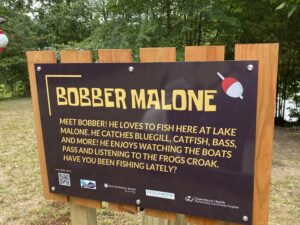 From there, we meandered closer to the nice lake to find Bobber fishing. Sitting comfortably on a large stump with fishing pole in hand and his namesake bobber hanging from the end, he is ready to catch some big ones.  Bobber's profile:
He loves to fish here at Lake Malone. He catches bluegill, catfish, bass, and more. He enjoys watching the boats pass and listening to the frogs croak.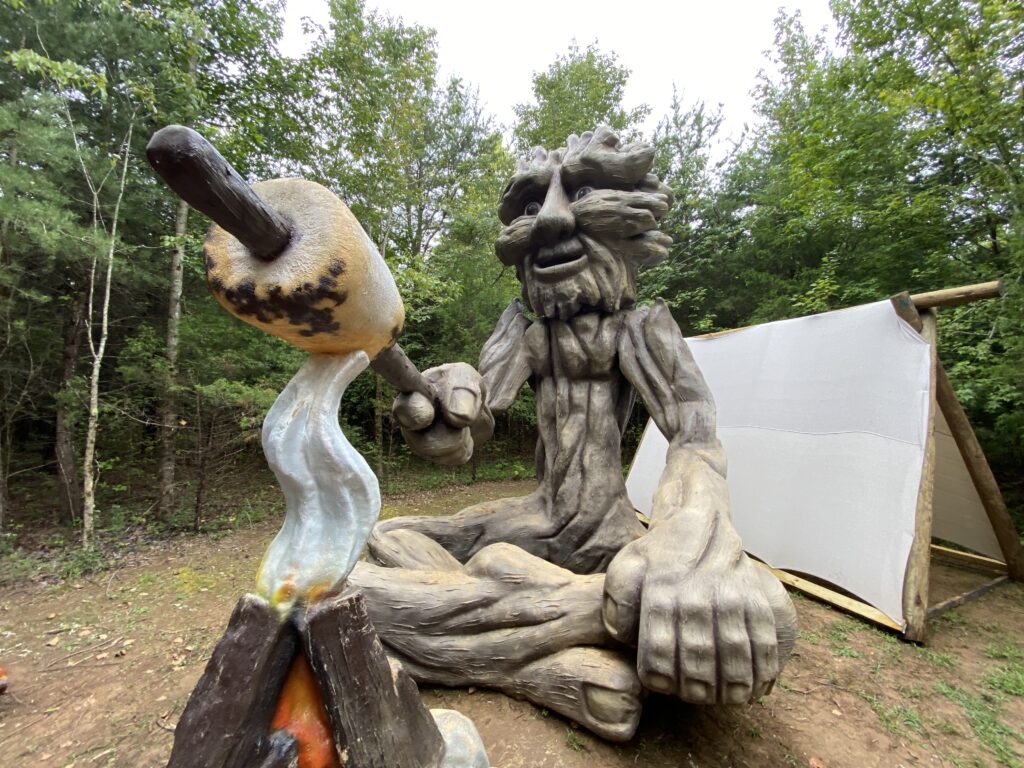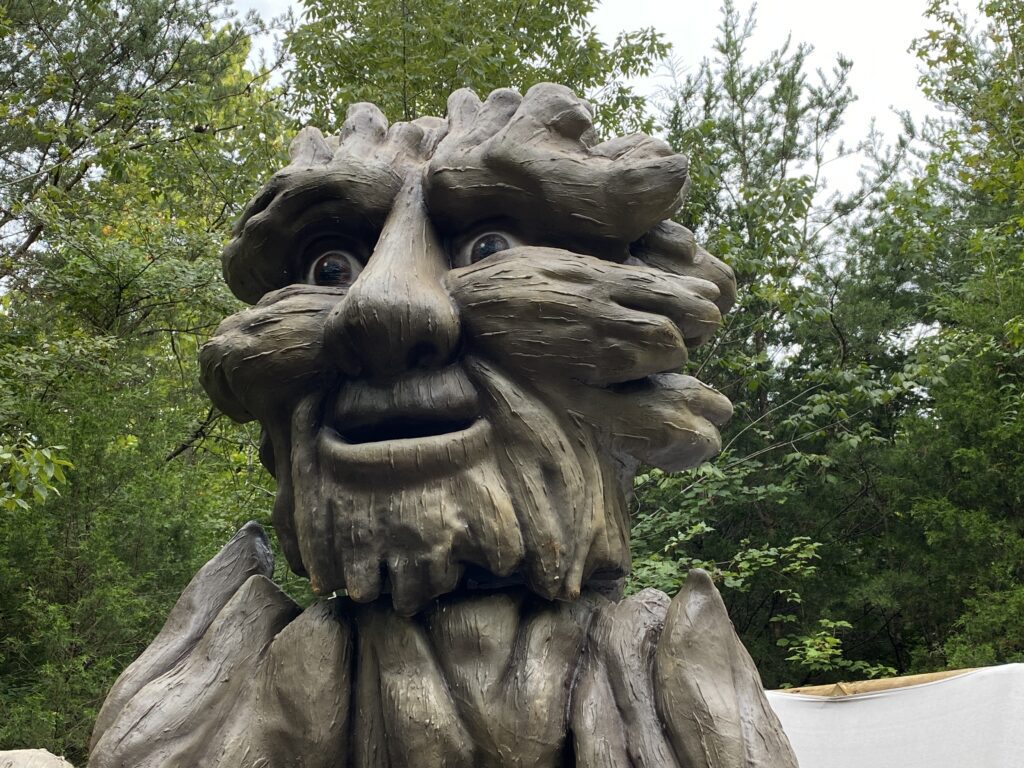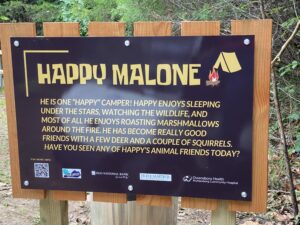 Now, Happy Malone is the most difficult to find as he sought out a more quiet and comfortable location in the woods.  He has set up his tent, lit a nice campfire and pulled out his marshmallows to roast over the open fire. It is a bit of hike to get in to visit with him.  Fortunately, we were able to cheat with a golf cart, but he was still "Happy" to see us!  Of him, his profile says:
He is one "Happy" camper!  Happy sleeps under the stars, watches the wildlife and most of all enjoys roasting marshmallows around the fire.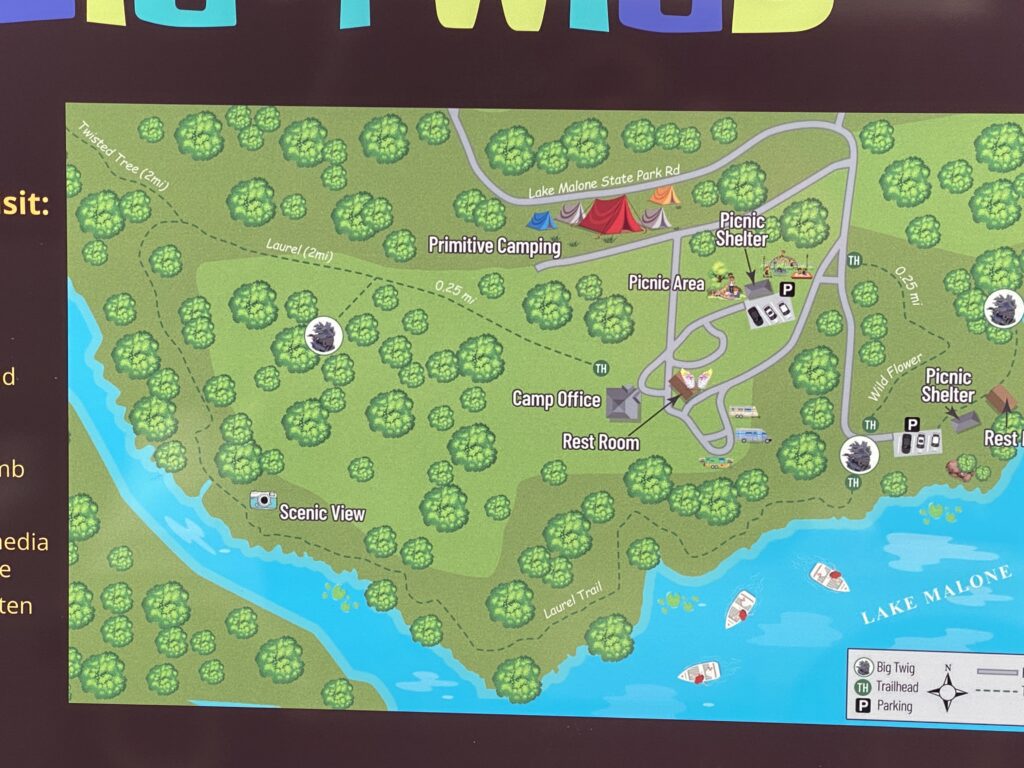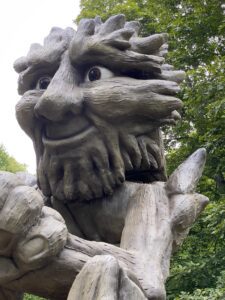 Lake Malone State Park is an easy drive from Central City or Greenville and is free to the public.  The Big Twigs love taking photos with everyone and really do like visits with folks from all over.
These sculptures were commissioned by Muhlenberg County in order to draw more visitors to their small, but beautiful, Western Kentucky county. They were created by Steve Brauch of Brainchild Creative out of Sevierville, Tennessee.  The Big Twigs were actually not his first creation of these giants. He had created one in 2019 for Gatlinburg's Vista Garden overlooking the Smoky Mountains at the top of Anakeesta Mountain.  This one is called the Willow Man sculpture and is a bit larger than his Big Twig cousins.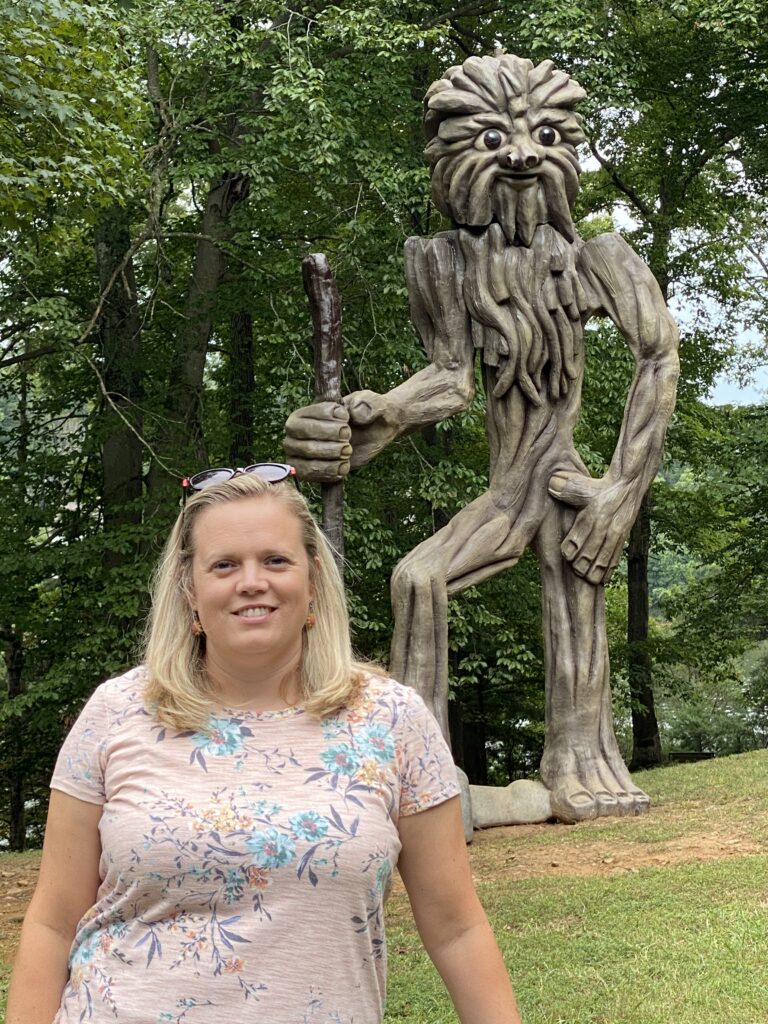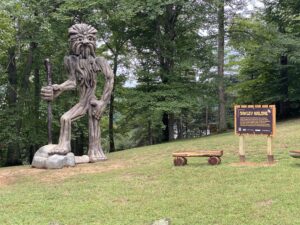 While visiting with the Big Twigs, I also got to meet (and thank) County Tourism Director Beth Newman, who was also visiting with the Big Twigs after the previous week's big crowds.  She worked hard to get funding, which came from the Felix E. Martin Jr. Foundation, along with donations from others.  The project cost over $55,000 and includes a forthcoming book that tells the stories of the Twigs and their lives.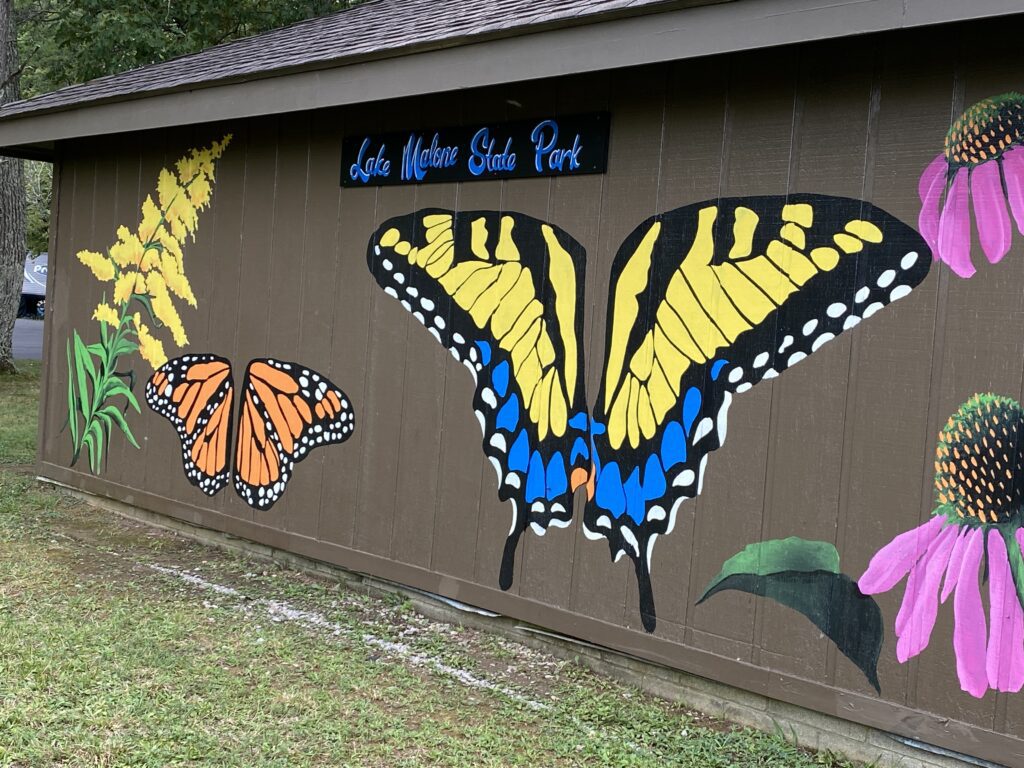 By the way, as you enter the park, you will see a lovely butterfly wing mural on the east side of the park's bathhouse near the campground to welcome to you. This was designed and installed by local artist Jacob Abbott.  This is one of many butterfly installations that can be found around the county (I'll have some in a future post).
Did you find this post interesting?  I have visited many interesting places like this one that dot  the United States. My books detail dozens of these kinds of places. You can find my Less Beaten Paths books on Amazon.com!  Currently there are four in print (and in Kindle version too!!)  You can see my books on my author page at https://www.amazon.com/~/e/B0784XVGSW
MY NEW BOOK "8154" is NOW AVAILABLE ON AMAZON (and also on the Muhlenberg County Apple House Mercantile Website)