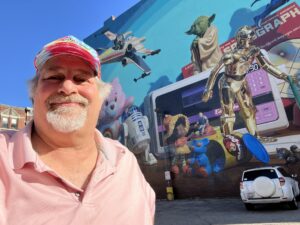 It has been a while since I posted photos of murals in Cincinnati. My previous post that included a number of murals was in 2014 (See it here). Like many larger cities, Cincinnati has an organization dedicated to the promotion of public and theirs is called ArtWorks. ArtWorks has been around since 1996 and, since that time, has completed more than 14,000 public and private art projects in its 26 years, including more than 230 permanent outdoor murals. This post will feature a few of them that I captured on November 6, 2022. It by no means even comes close to all of the murals to be found in the Cincinnati Metro area.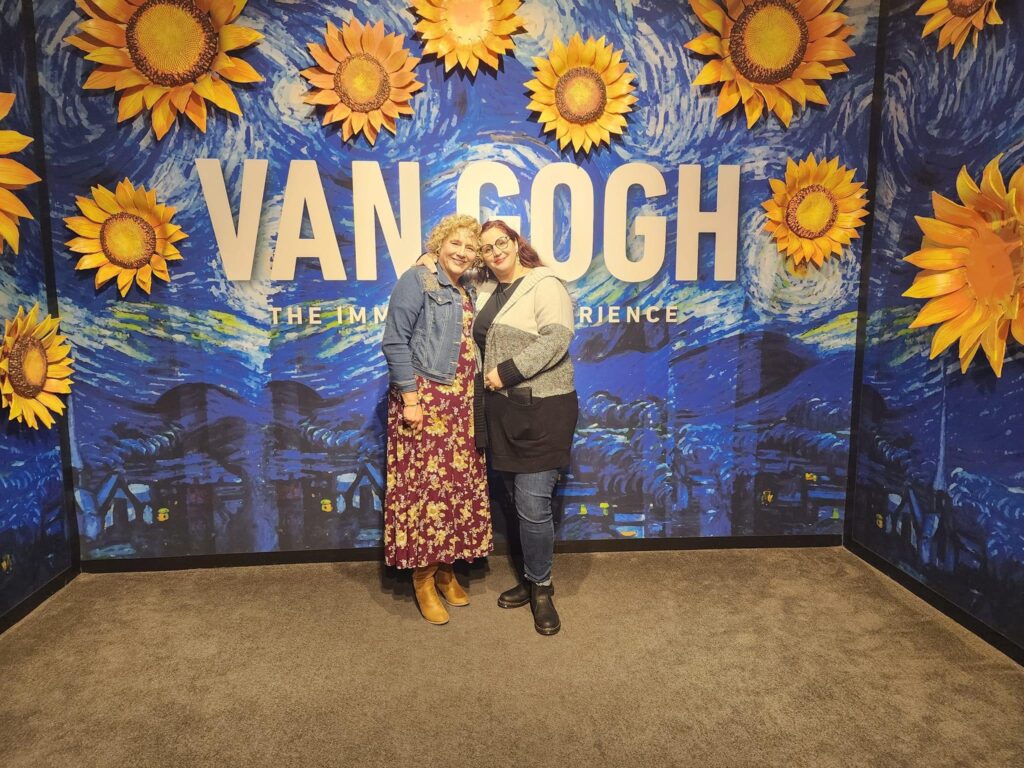 On November 6, my wife and daughter attended the amazing Van Gogh Experience, which runs through Jan. 2, 2023 in Cincinnati. While they spent nearly three hours enjoying Van Gogh, I drove around downtown Cincinnati to look for murals, some that I had definitely wanted to see, and others that I might run across. I also took many photos of downtown which I will add to a different post.
CINCINNATI TOY HERITAGE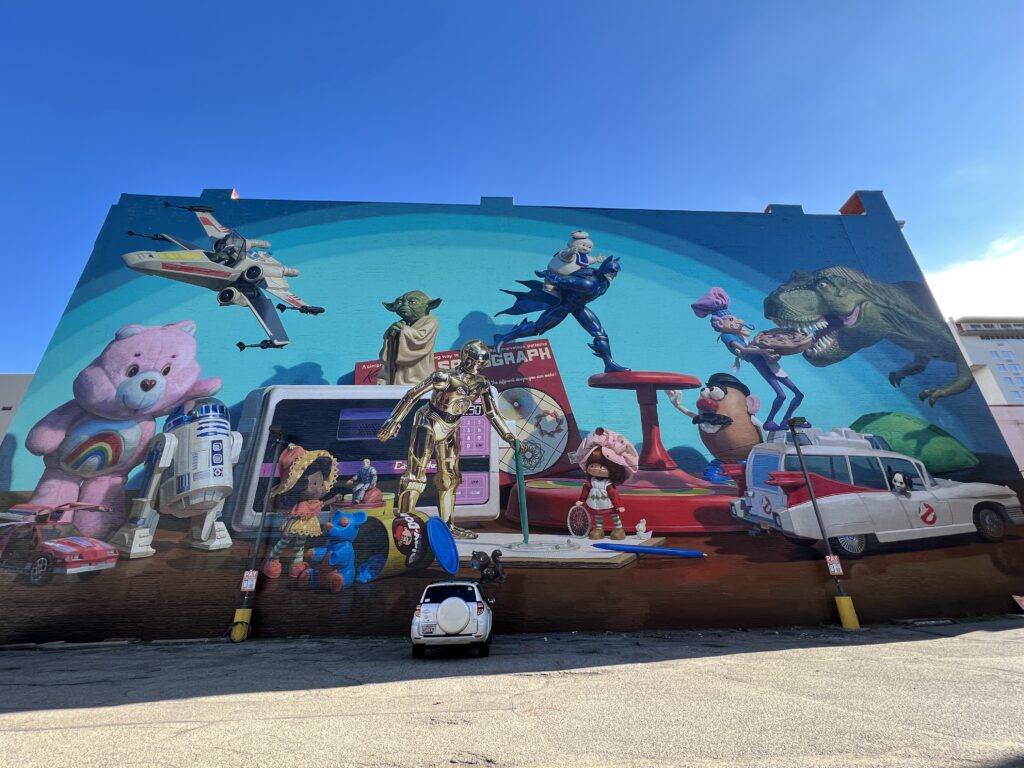 I really had one specific mural I definitely wanted to see. Titled Cincinnati Toy Heritage, this lovely and very detailed mural depicts numerous toys from the Kenner Toy Collections. Kenner Toys was a Cincinnati-based toy manufacturer that was established in 1946 and eventually was purchased by Hasbro toys in mid-1991. For those old enough to remember, Kenner was the home of the Spirograph drawing toy, the famed Easy-Bake Oven, Play-Doh modeling clay, and many of the original Star Wars action figures from the first Star Wars movies. The mural nicely depicts these and more. This huge mural was created in 2016 by local artist Jonathan Queen and is downtown on Court Street. Queen has painted a few murals in the area. Following are some sectional shots of the mural.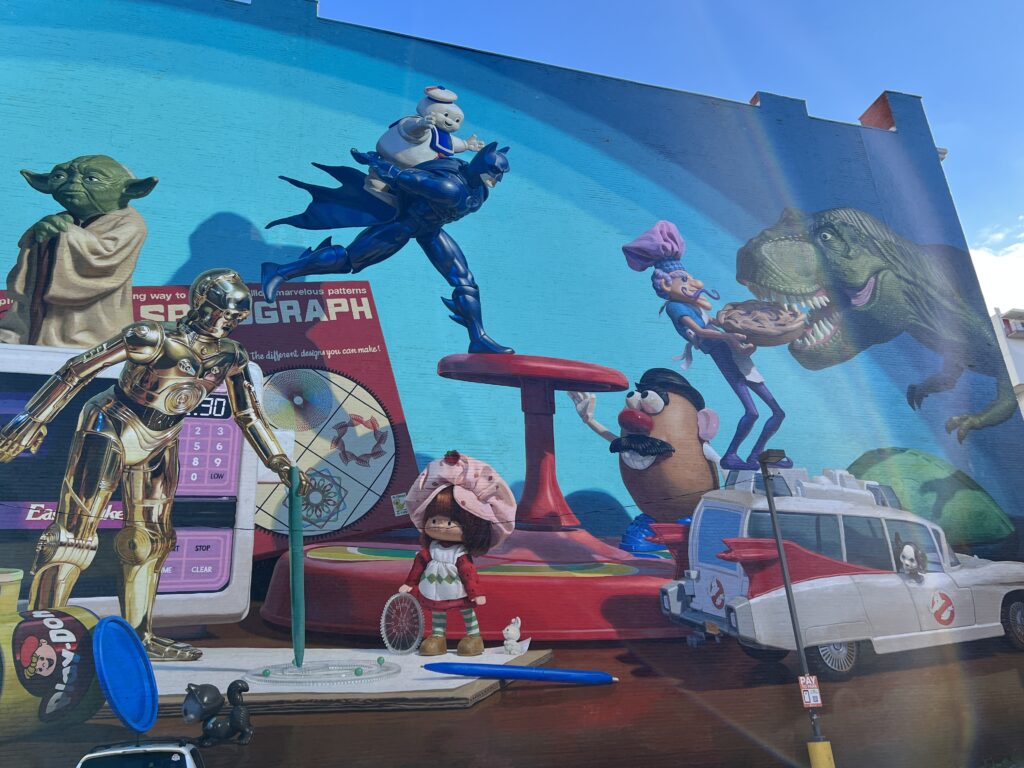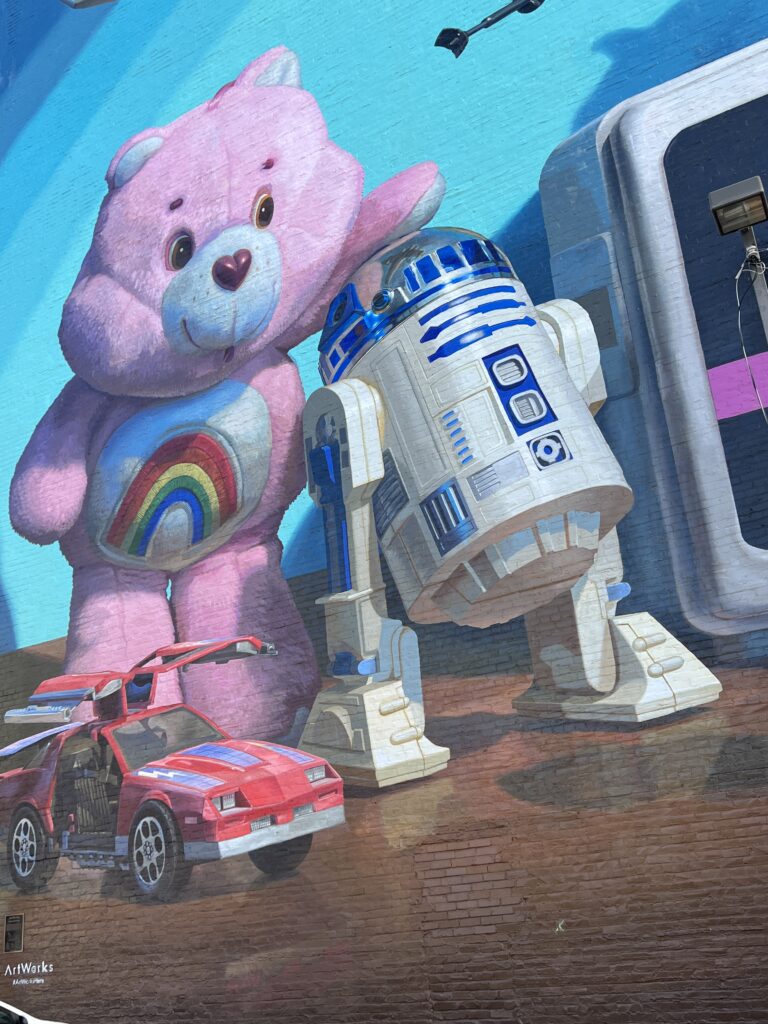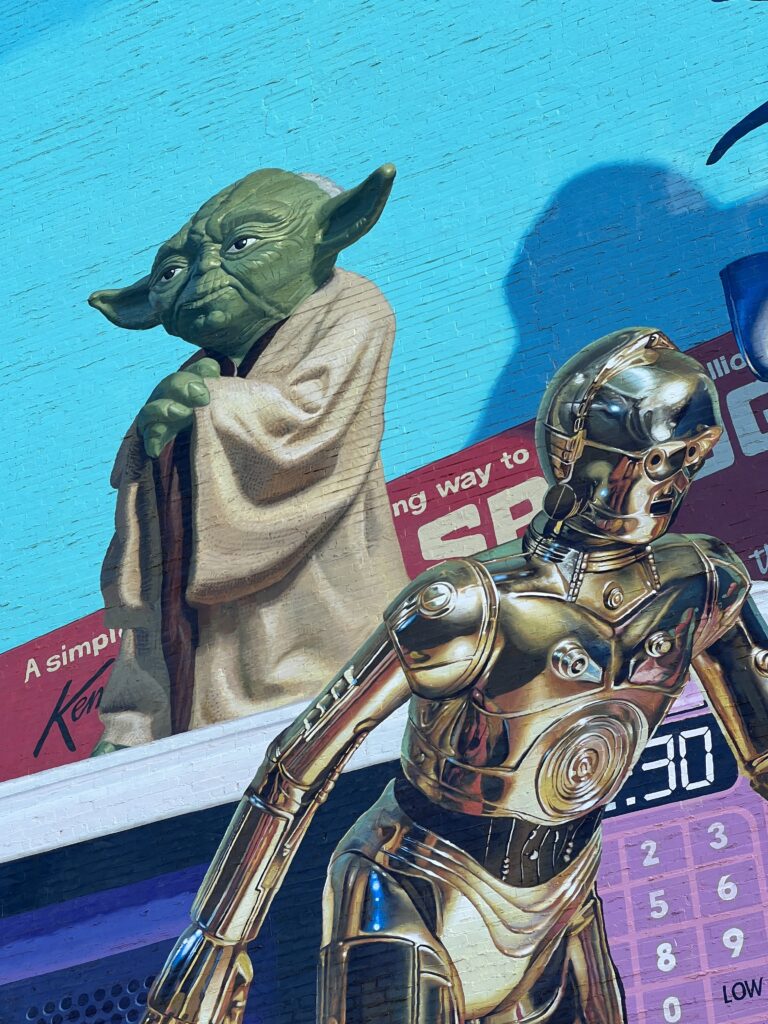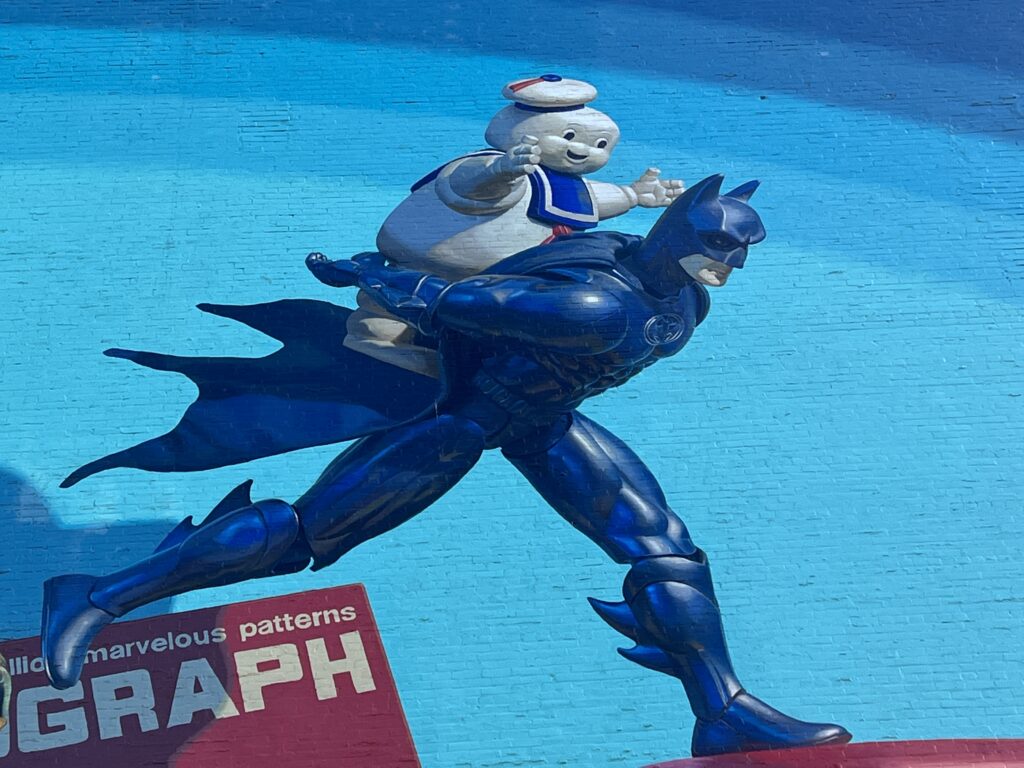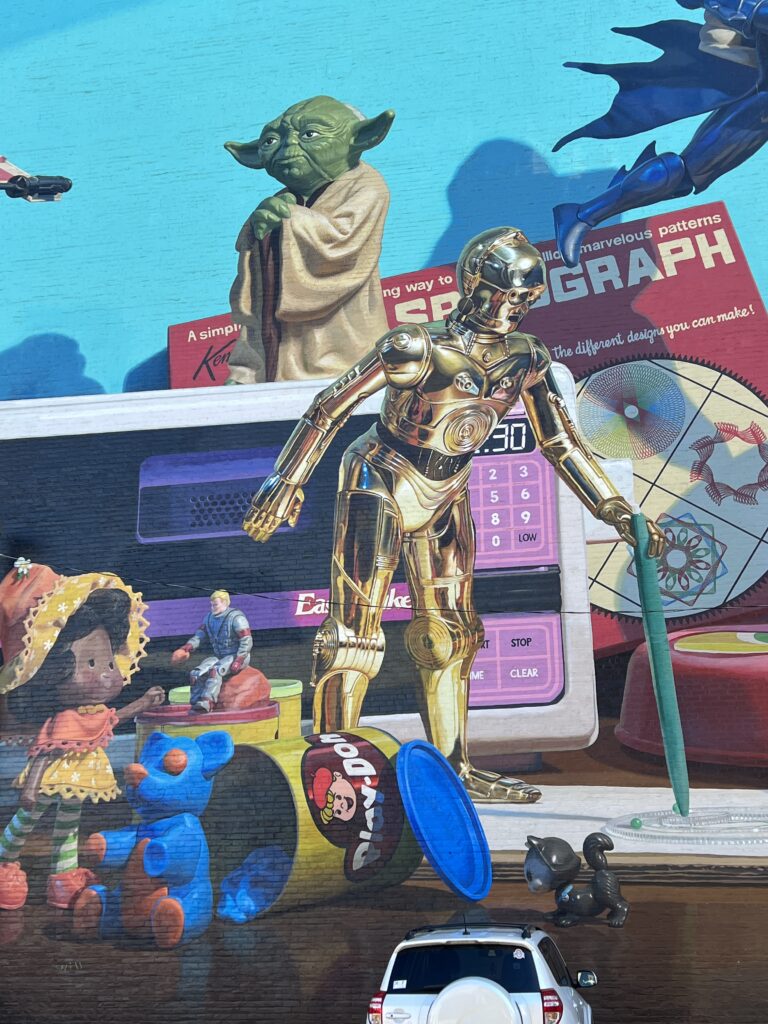 DREAM BIG & FLY HIGH
Cincinnati is home to the Flying Pig Marathon which was established in 1999 and has become one of America's largest marathons. In 2018, to celebrate the 20th anniversary of the marathon, a mural was commissioned to be painted in a prominent downtown location. Titled Dream Big and Fly High, this mural showcases a Flying Pig. It was designed by Cincinnati artist Sara Cormier and sits on the front of the Hyatt Regency Hotel.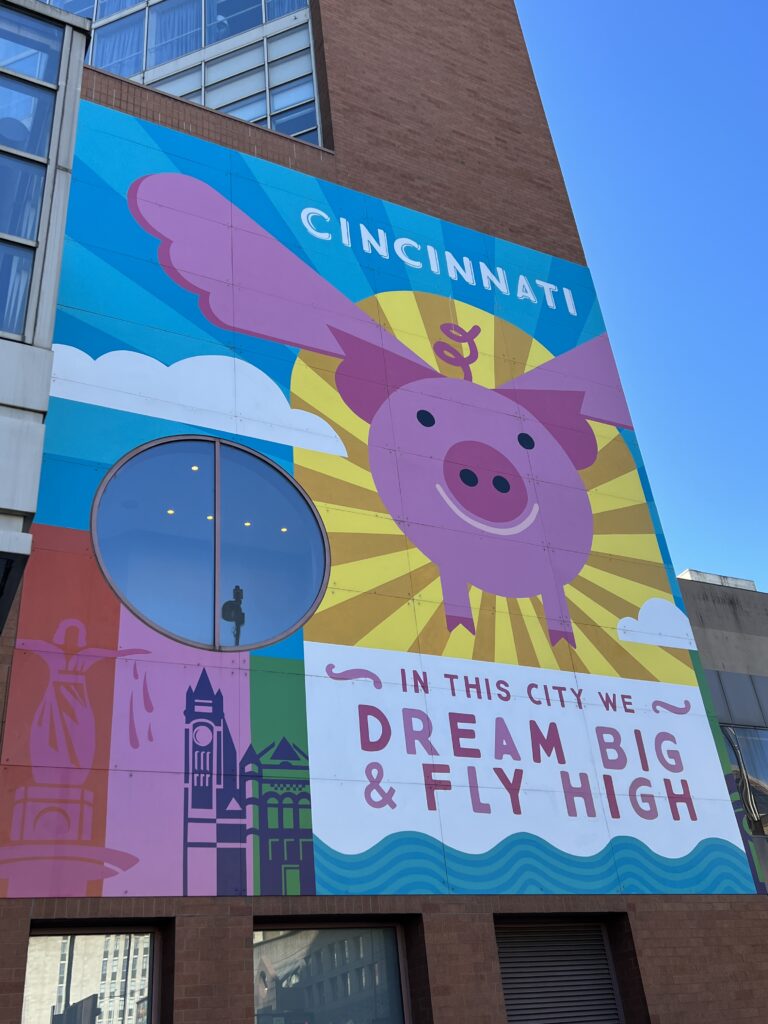 ARMSTRONG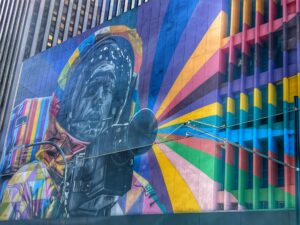 I meandered my way around the city, literally street by street in all directions. My biggest most amazing discovery was the huge mural titled Armstrong, which has been painted on the Fifth Third Bank Headquarters building in downtown Cincinnati. It is a very colorful and giant mural. This was designed in 2015 by world-renowned Brazilian artist Eduardo Kobra, who also painted the giant Abraham Lincoln mural in my hometown of Lexington, Kentucky for the PRHBTN organization. Kobra is famed for his use of rainbow colors, starbursts and other forms of color. The Armstrong mural does not disappoint. This mural pays tribute to Neil Armstrong, a Wapakoneta, Ohio native and at the time of its creation in 2015, was the largest project in ArtWorks' 21-year history.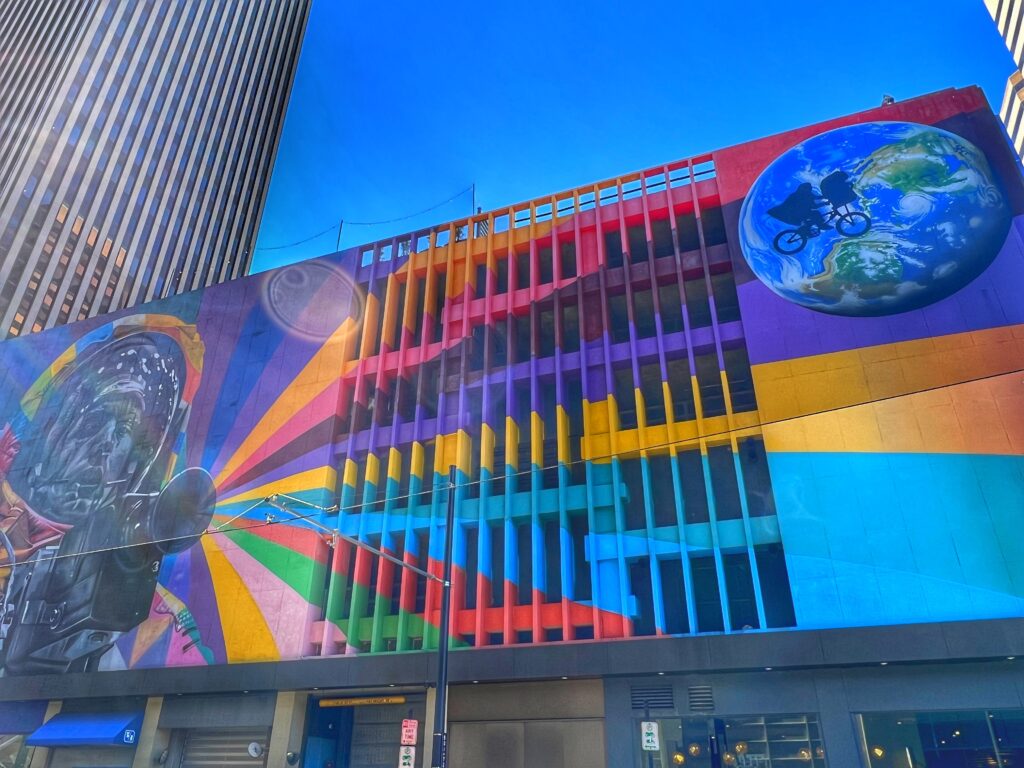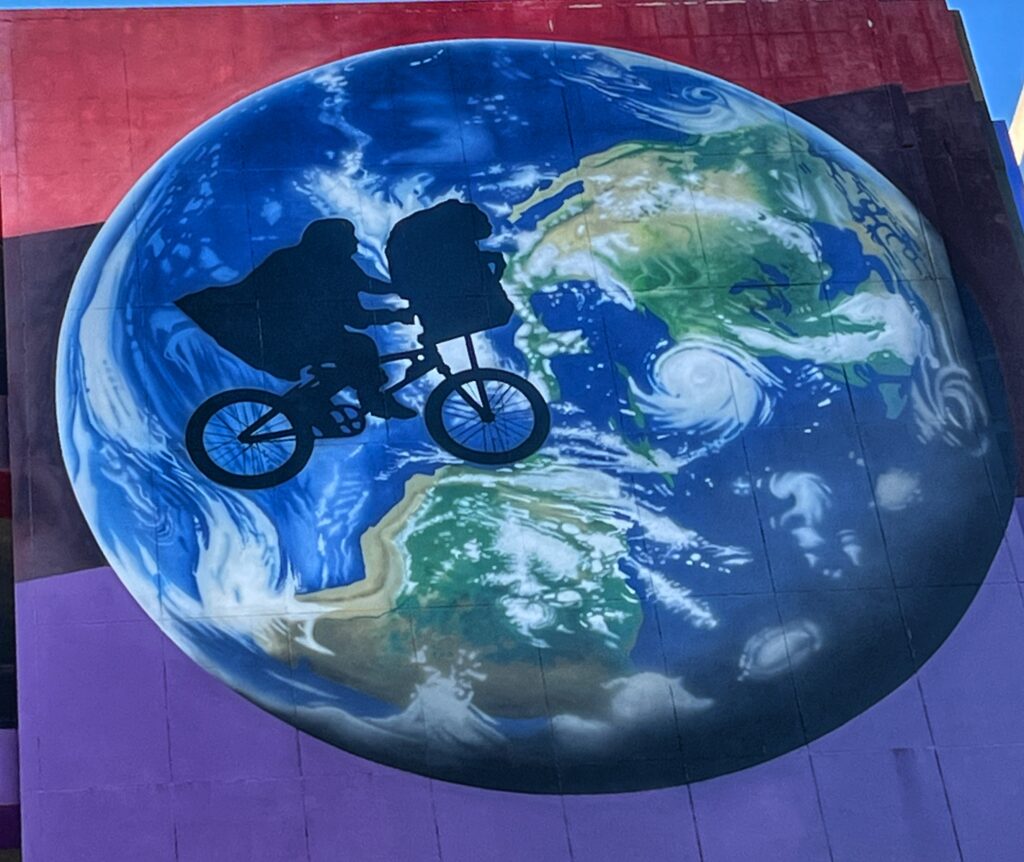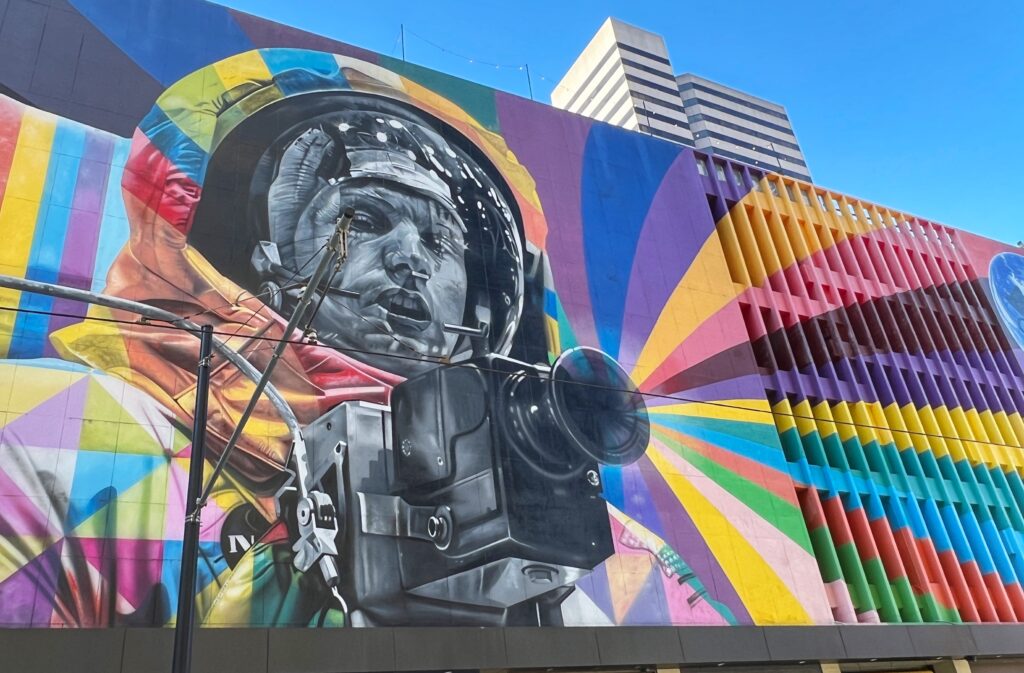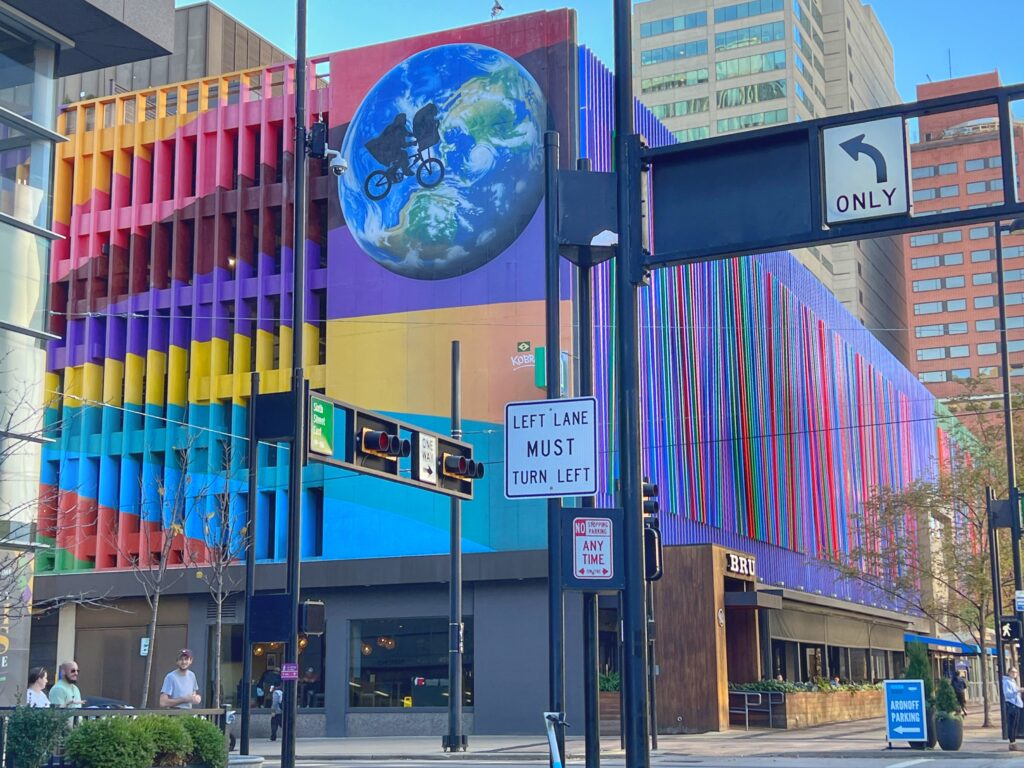 MARTHA, THE LAST PASSENGER PIGEON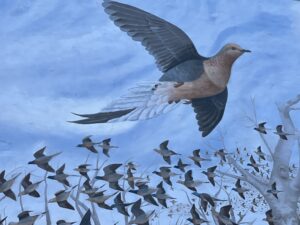 This mural is a statement on wildlife preservation. Martha was the name of the last passenger pigeon to live out her days at the Cincinnati Zoo. She died in 1914. Wildlife artist and conservationist John A. Ruthven (1924-2020) painted a print of Martha and this print was reproduced in mural form. Ruthven, a Cincinnati native, was a recipient of the National Medal of Arts in 2004 for his impeccable wildlife art and some call him the 20th Century Audubon. This mural is located on 8th Street in Cincinnati.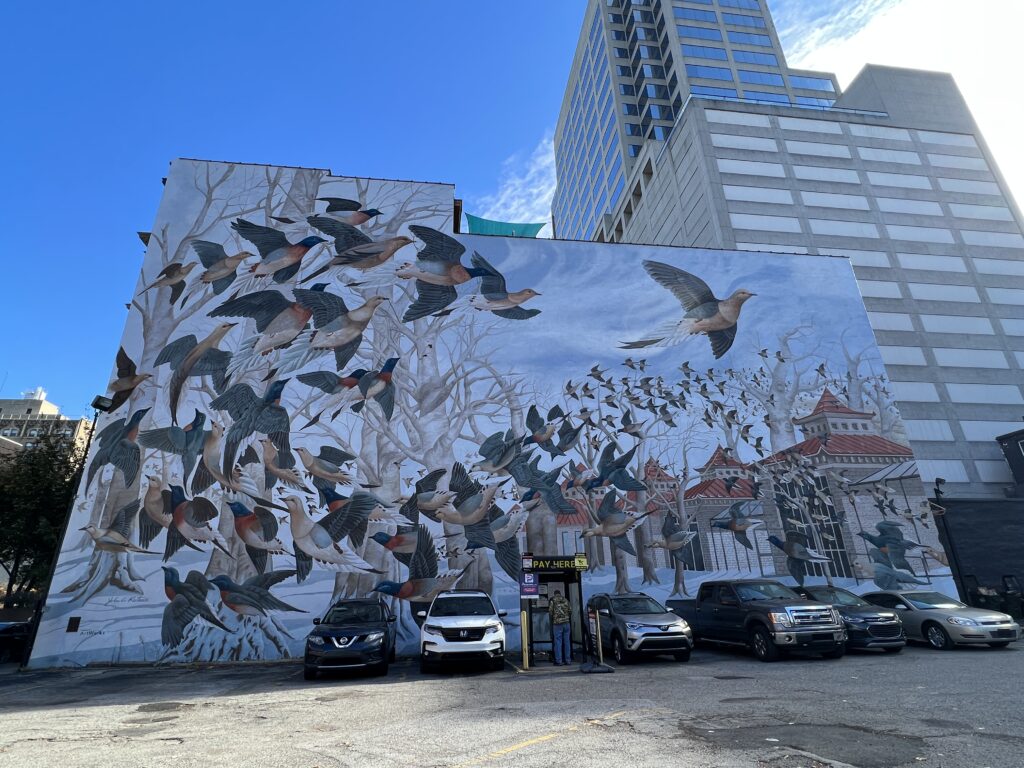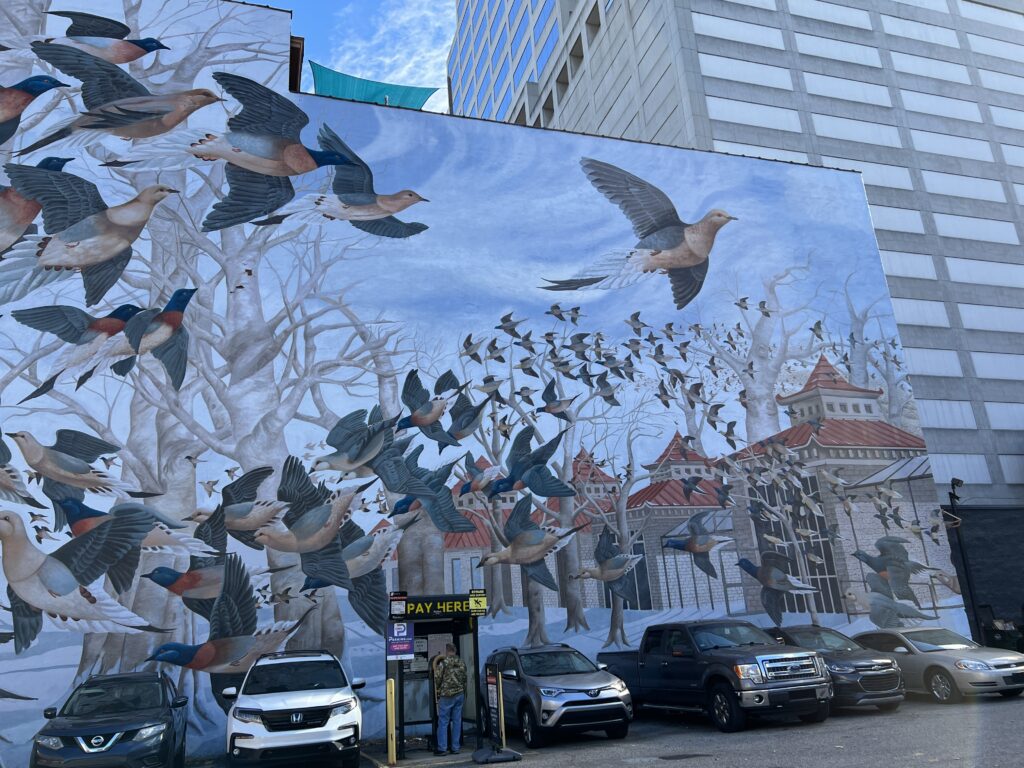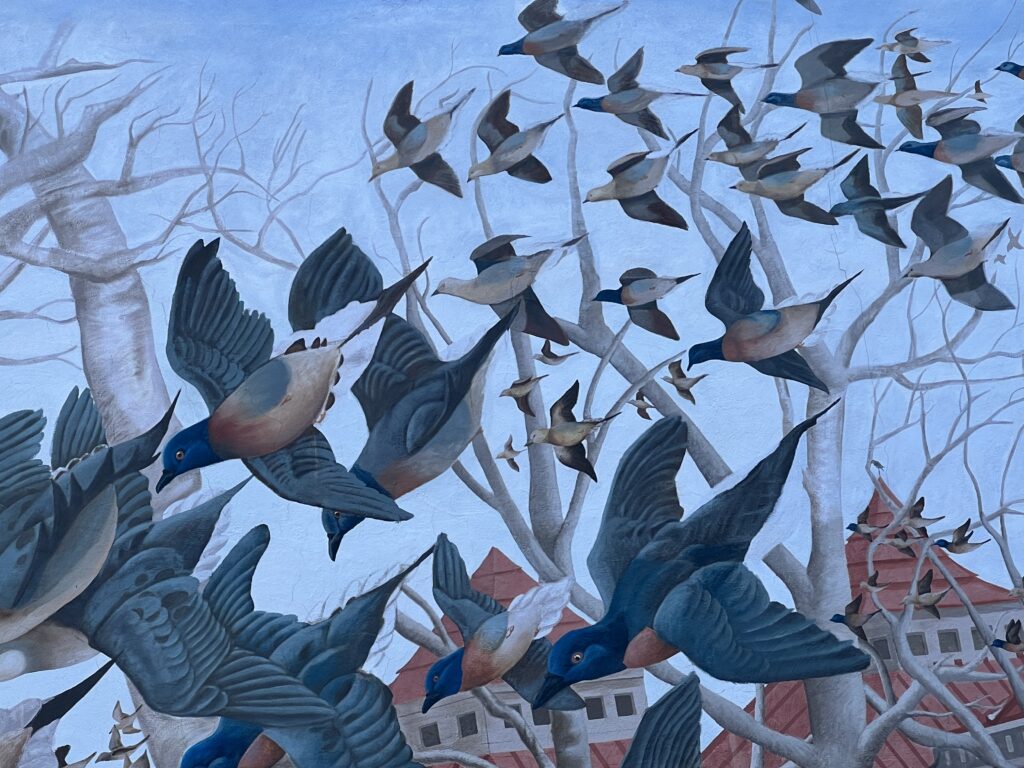 HOMECOMING (BLUEBIRDS)
Cincinnati-based artist Charley Harper (1922-2007) was known for his highly stylized minimalist prints of wildlife. His artwork for this was taken and created into a mural by local mural artist Jenny Ustick and a team of artists in 2012. This large mural is located on East Court Street.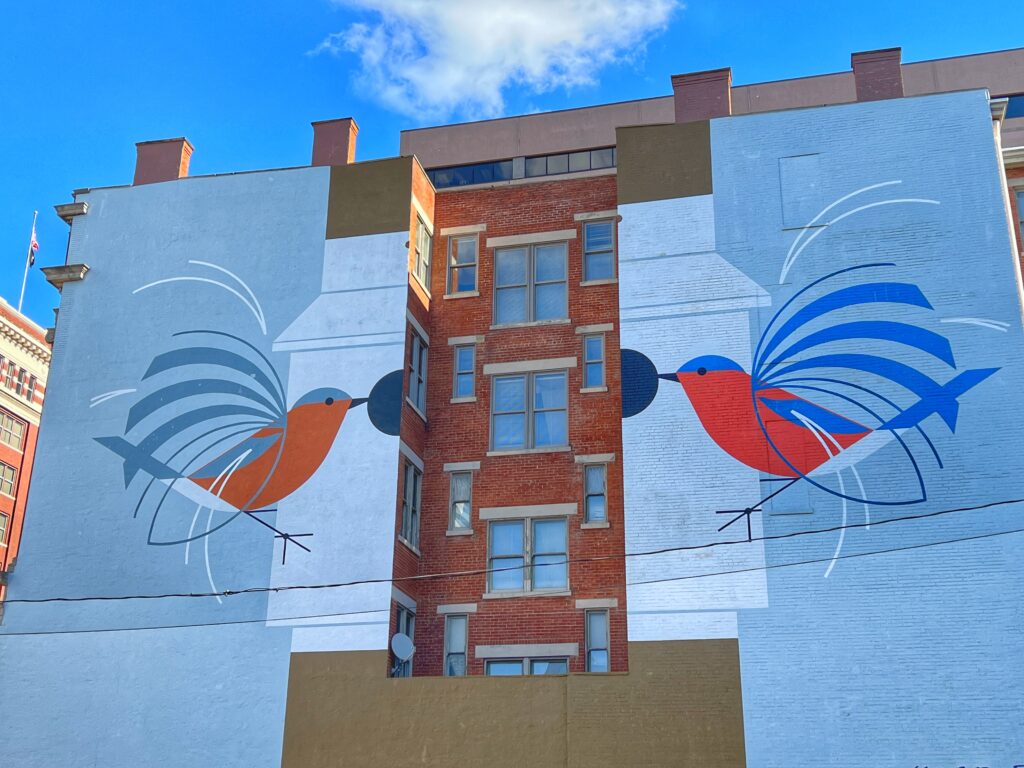 VISIONARY REALITY THRESHOLD
This huge and very colorful mural is actually in three different panels. It was designed by world-renowned artist Saya Woolfalk, who was born in Gifu, Japan but currently resides in New York. She was assisted by Project Manager Paul Loehle and a team of artists. The mural features a series of mandala-like portals inviting the viewer in to explore the intricacies of the pattern-work as they turn to deep contemplation and personal reflection to imagine a future society. A large goddess rises to watch over and protect the entire city. The mural is located on Walnut Street.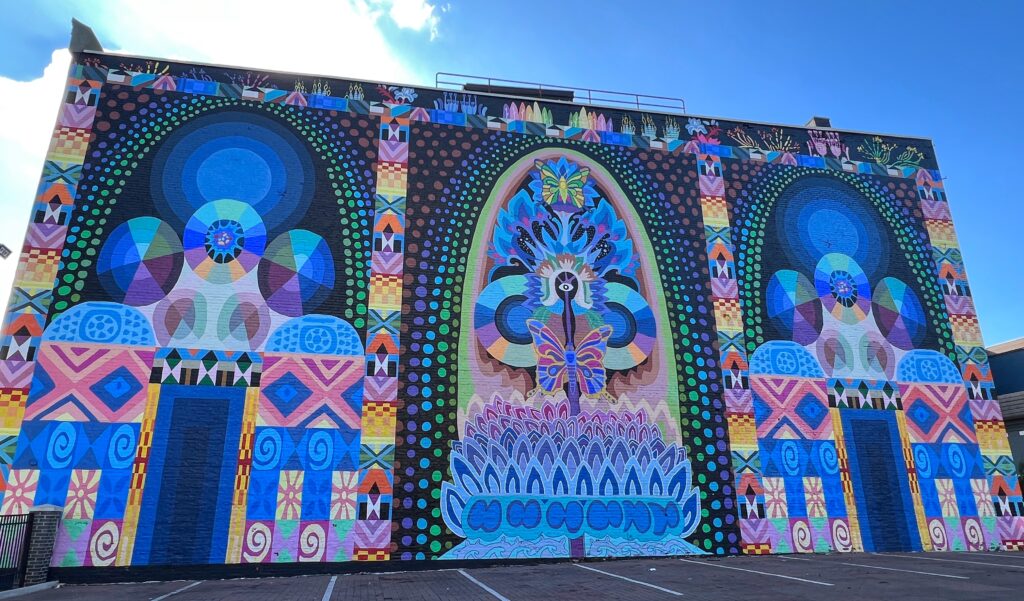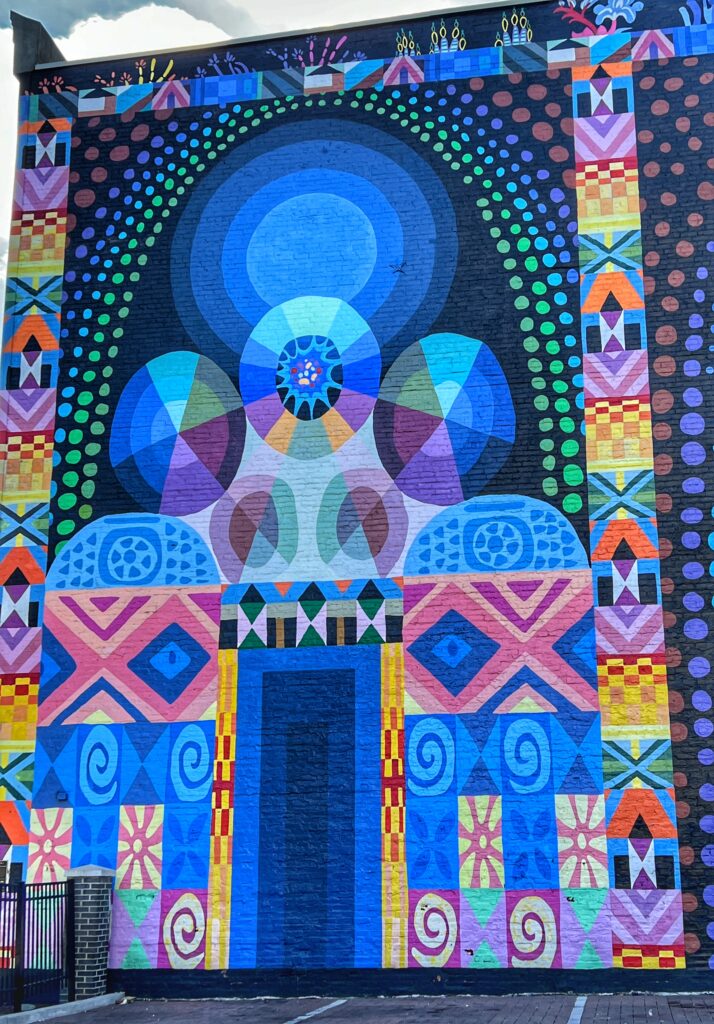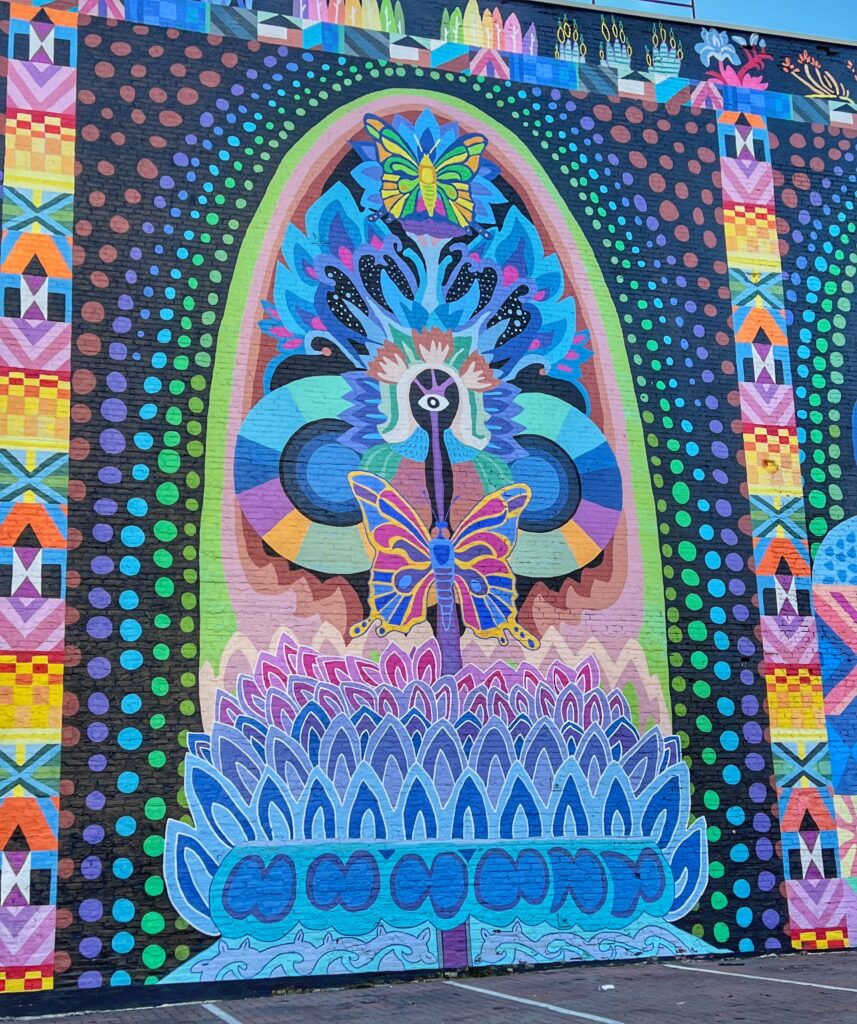 MOTHER'S BOUQUET
This colorful floral mural located on 7th Street in Cincinnati was designed and painted by Detroit-based artist Louise "Ouizi" Jones whose floral murals can be found in many U.S. cities and some international locations. This mural is located in the same parking area as the Passenger Pigeon mural above.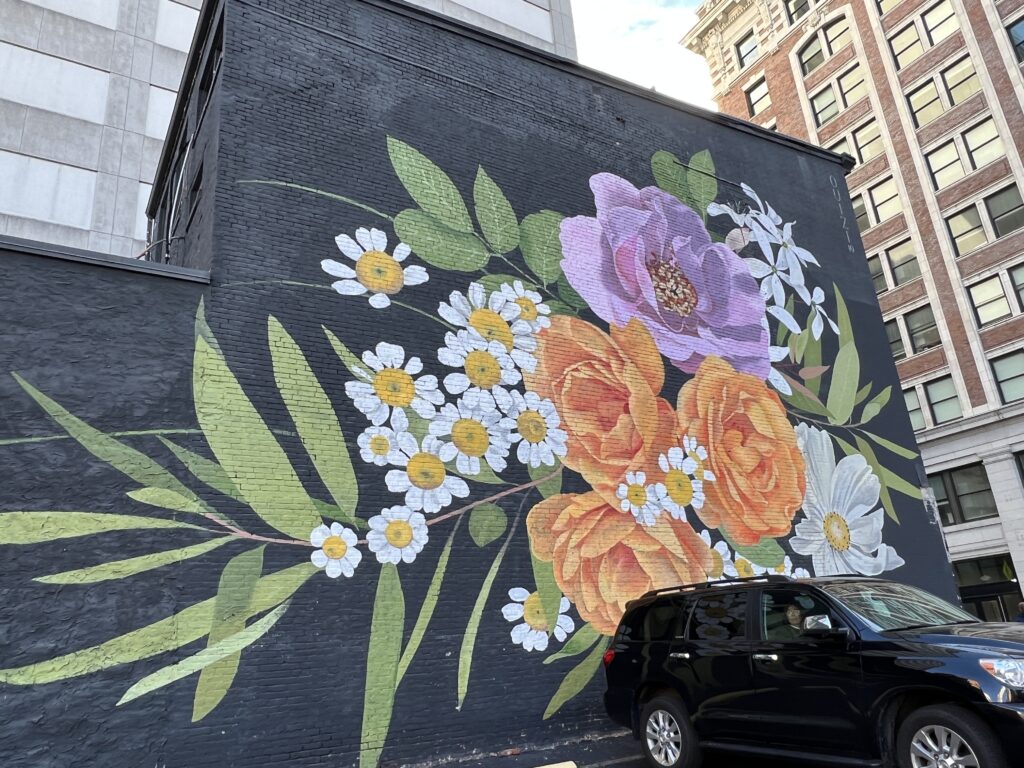 BREWING HERITAGE: GRAIN TO GLASS
This 2015 mural celebrates Cincinnati's brewing heritage. From left to right it highlights each step in the production of a glass of beer. The mural was designed and painted by Cincinnati artist Jim Effler, well known for his beer poster and label designs. He has designed 3 murals for ArtWorks since 2015.This 90′ by 30′ mural is located on the Moerlein Brewery at 25 Back Street.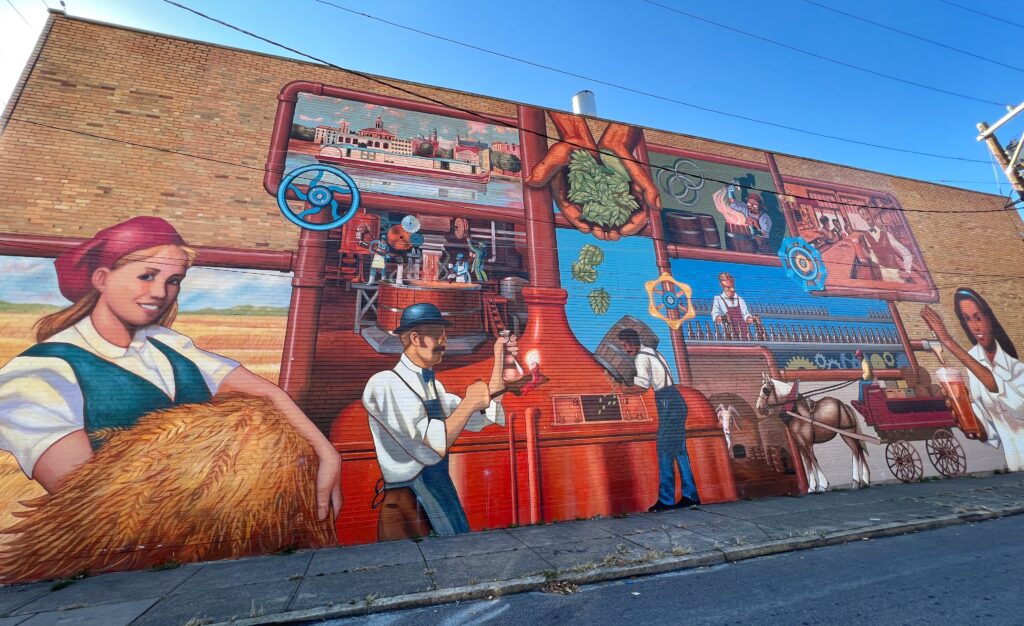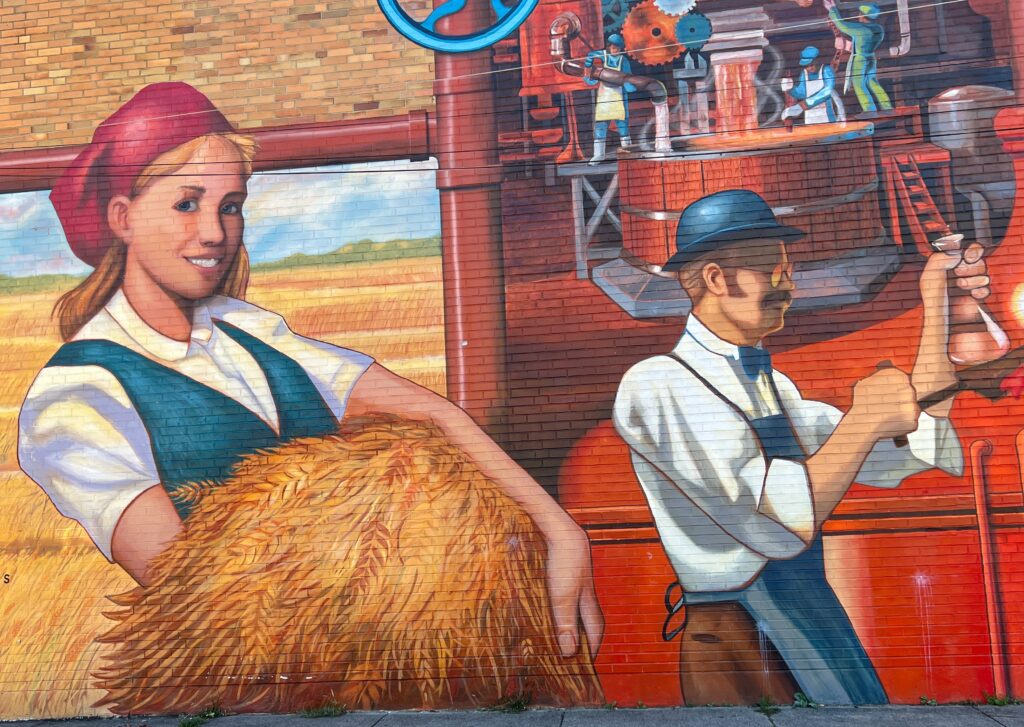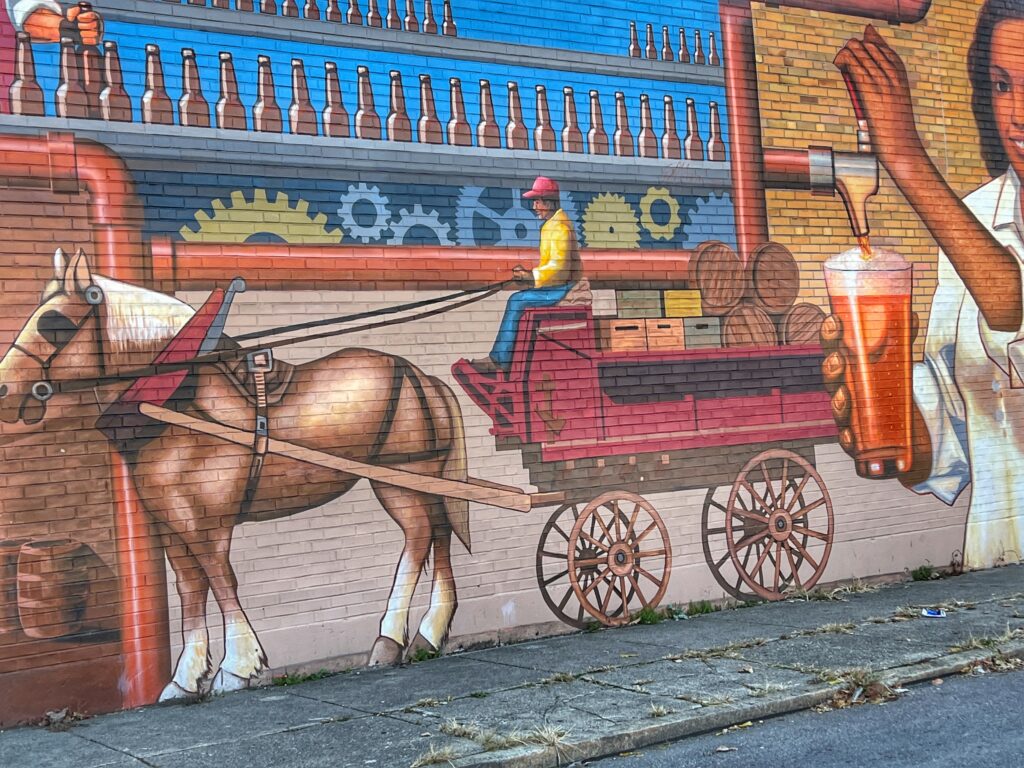 WILLKOMMEN TO CLIFTON HEIGHTS
This is another mural designed and painted by Jennifer Ustick. Located in the Clifton Heights neighborhood of Cincinnati on Wheeler St., the colorful and detailed mural depicts some of the iconic structures and buildings in one of Cincinnati's most diverse neighborhoods.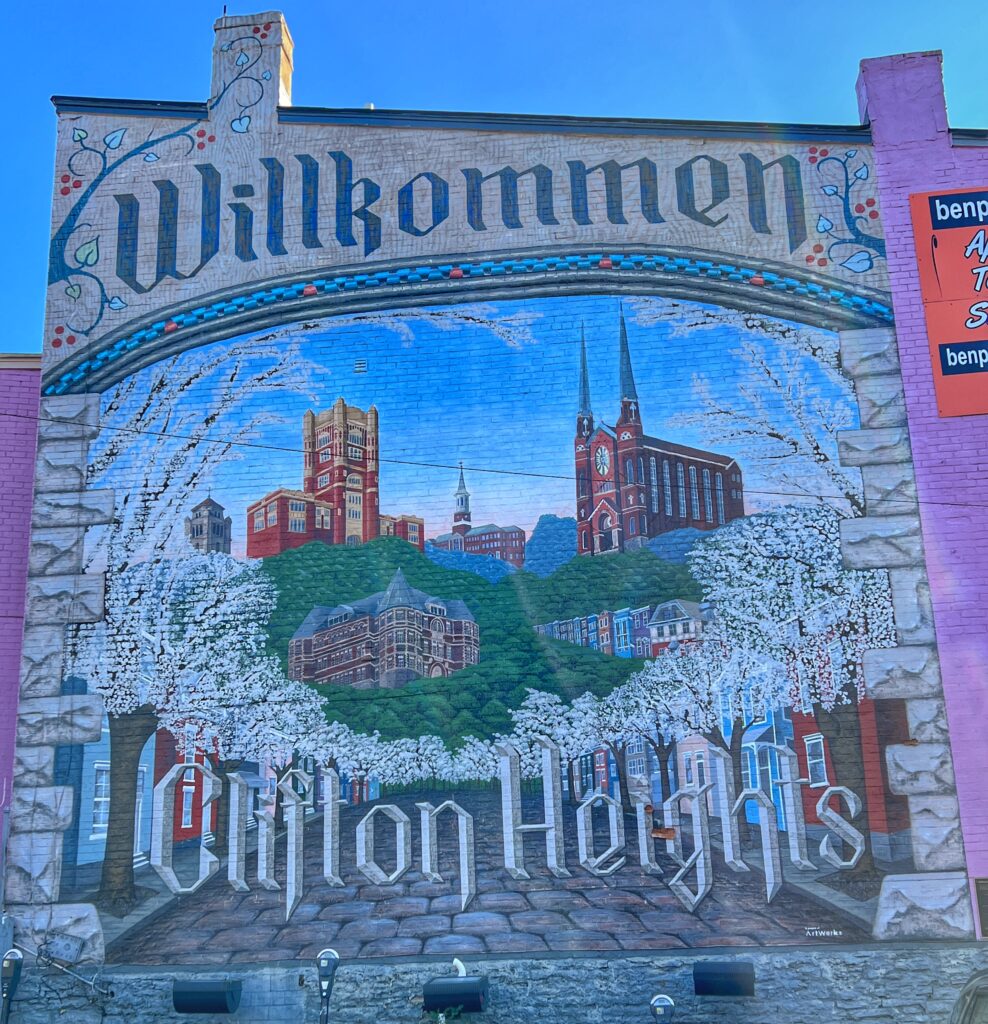 ALUMNI SUPERHEROES
The University of Cincinnati commissioned this temporary mural in the Over-the-Rhine neighborhood to pay tribute to 19 extraordinary alumni award recipients. Designed and painted by a collective of artists known as The Agar, each of the recipients was designed by an illustrator and then compiled into a mural design. Located on Vine Street, this mural will remain until March 2023.
COMING OF AGE (3CDC)
Another project of The Agar group was the first of many planned projects for the Court Street revitalization effort. Coming of Age was designed and painted by Cincinnati artist Gee Horton. This unique mural stares you down as you drive towards the Court Plaza in downtown Cincinnati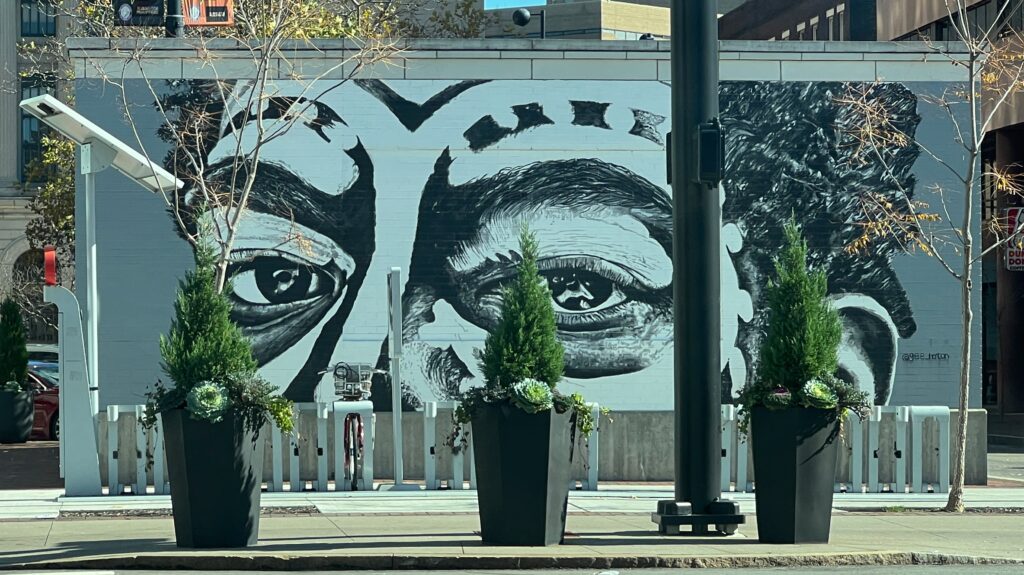 DEMOCRACY!
This very unique mural on Walnut Street comes from a design by British artist/illustrator Ralph Steadman. Cincinnati artists Jim Effler and Jenny Ustick were the project managers. There are actually three murals of his in this area, but I only got this one.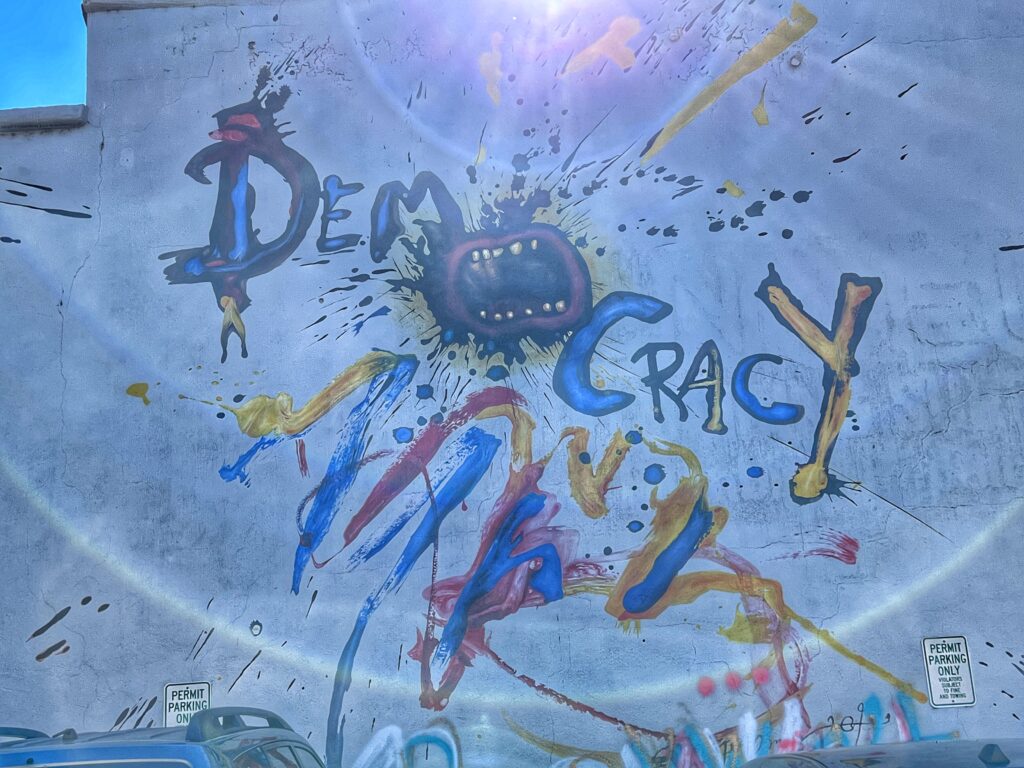 MR. TARBELL TIPS HIS HAT
I had visited this mural in the past, but took a new shot with the trees covering part of the work. It provided a fresh perspective for me. The mural depicts a Cincinnati native named Jim Tarbell, tipping his hat to welcome visitors to Cincinnati. It is located on Vine Street. The mural was designed and painted by Indiana Artist Tim Parsley. Parsley also worked as the project manager for the Martha, the Last Passenger Pigeon mural and a few others in Cincinnati.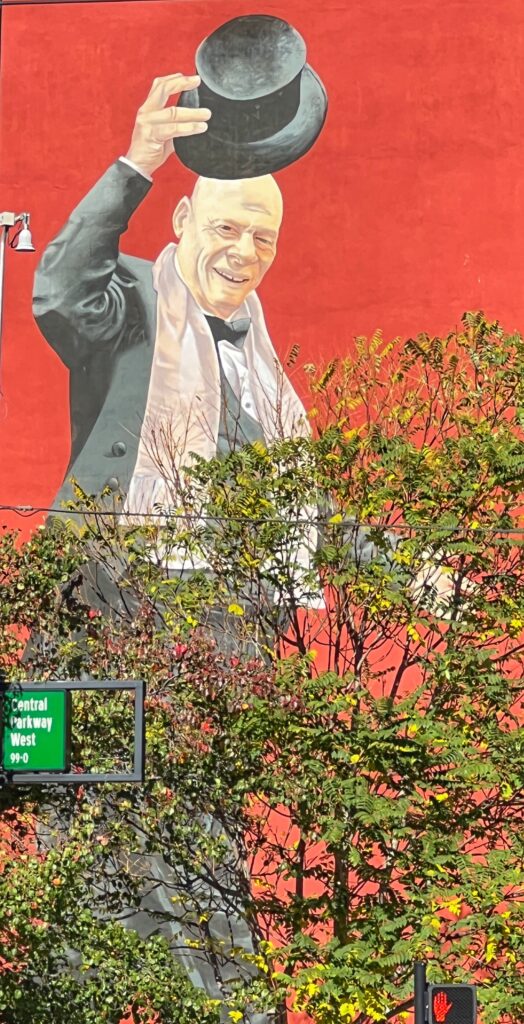 ON THE SHOULDERS OF GIANTS
This mural is located on W. Eighth Street and honors the legacy of service from the Cincinnati and Hamilton County police forces. It was designed and painted by Cincinnati artist Scott Donaldson. It is on the side of the Greater Cincinnati Police Museum and was completed in 2008.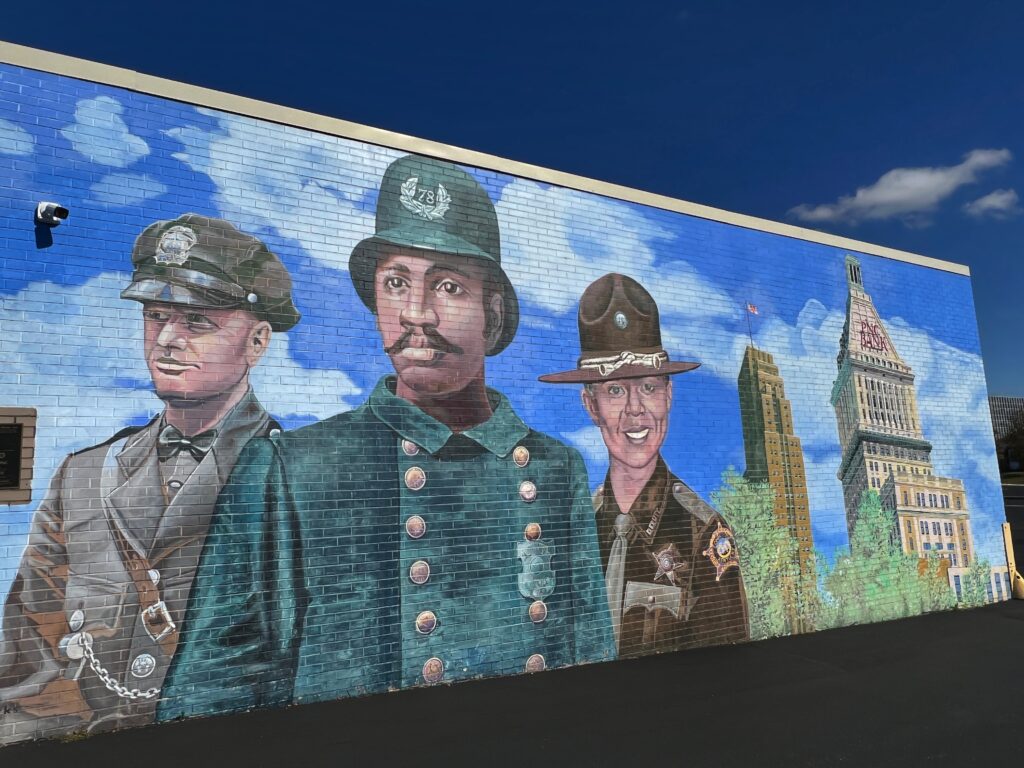 CONNECTED THROUGH THE GENERATIONS
Designed by Chicago-based artist Molly Costello, this mural was created to celebrate the YWCA's mission and legacy to eliminate racism. Molly is a white non-binary queer illustrator. They seek to find ways to help us shape our emergent world. They teamed up with ArtWorks to create this mural to celebrate the 150th Anniversary of the YWCA. Molly's design was put the wall by Rebecca Nava Soto and a team of artists from Cincinnati. The characters in the mural are portrayed working together to pursue a more equitable and just world for the inclusion of all people. It was completed in September 2019 and can be seen on W. Court Street.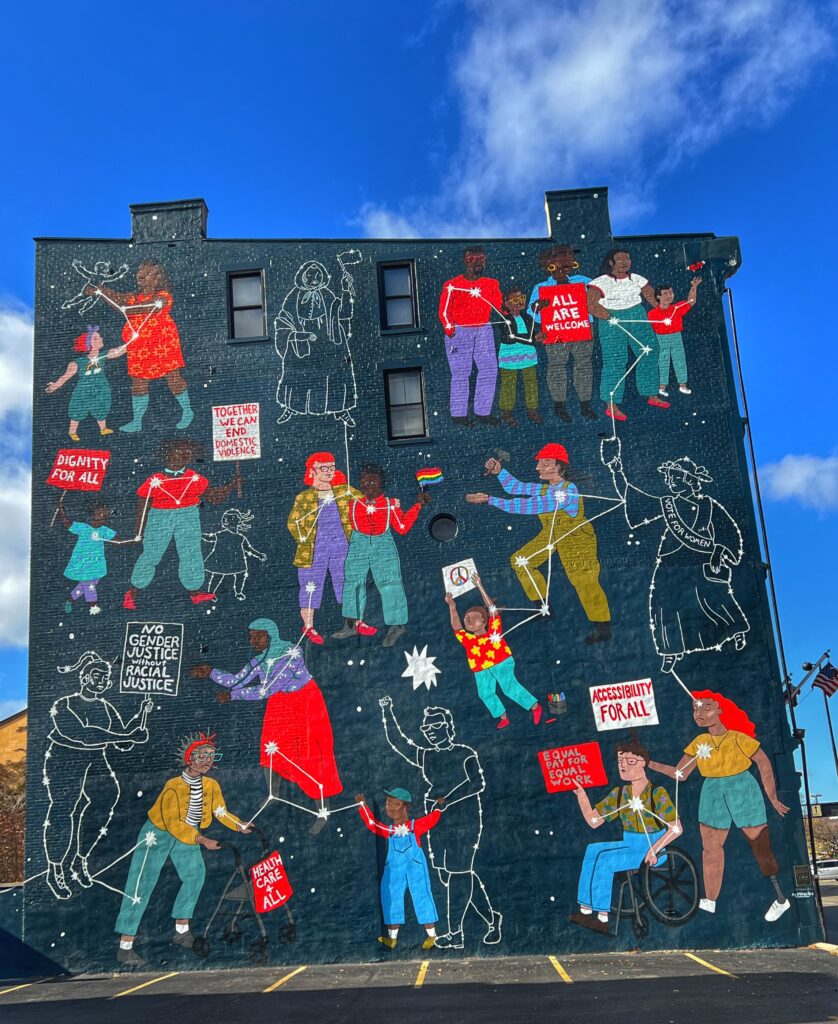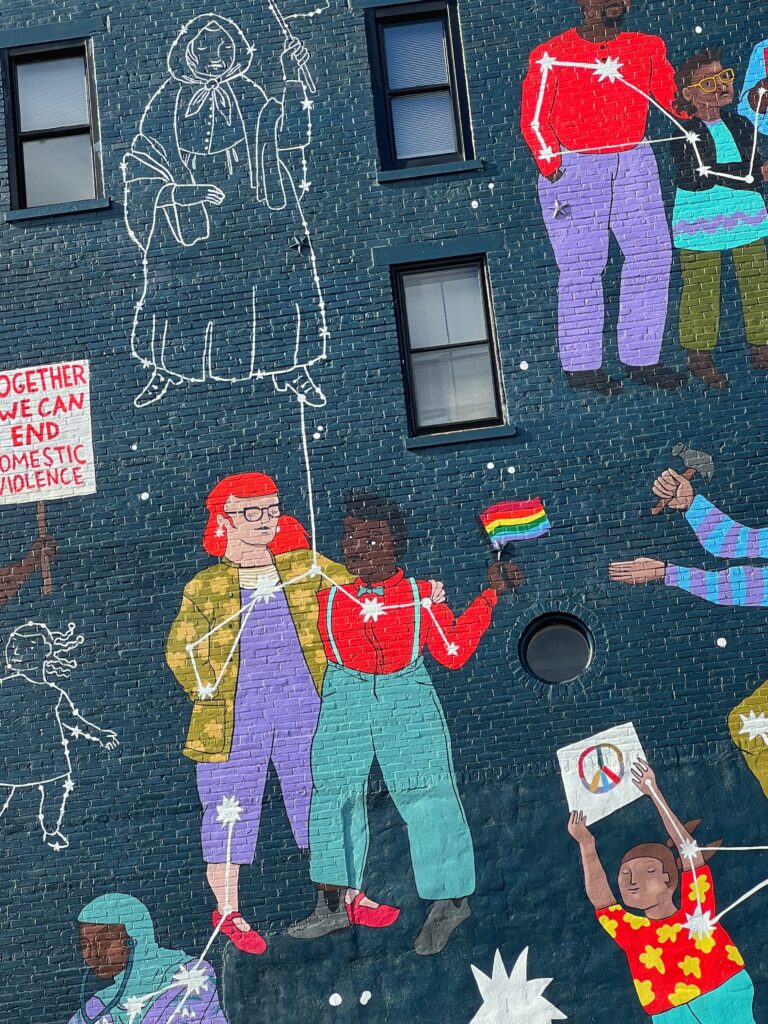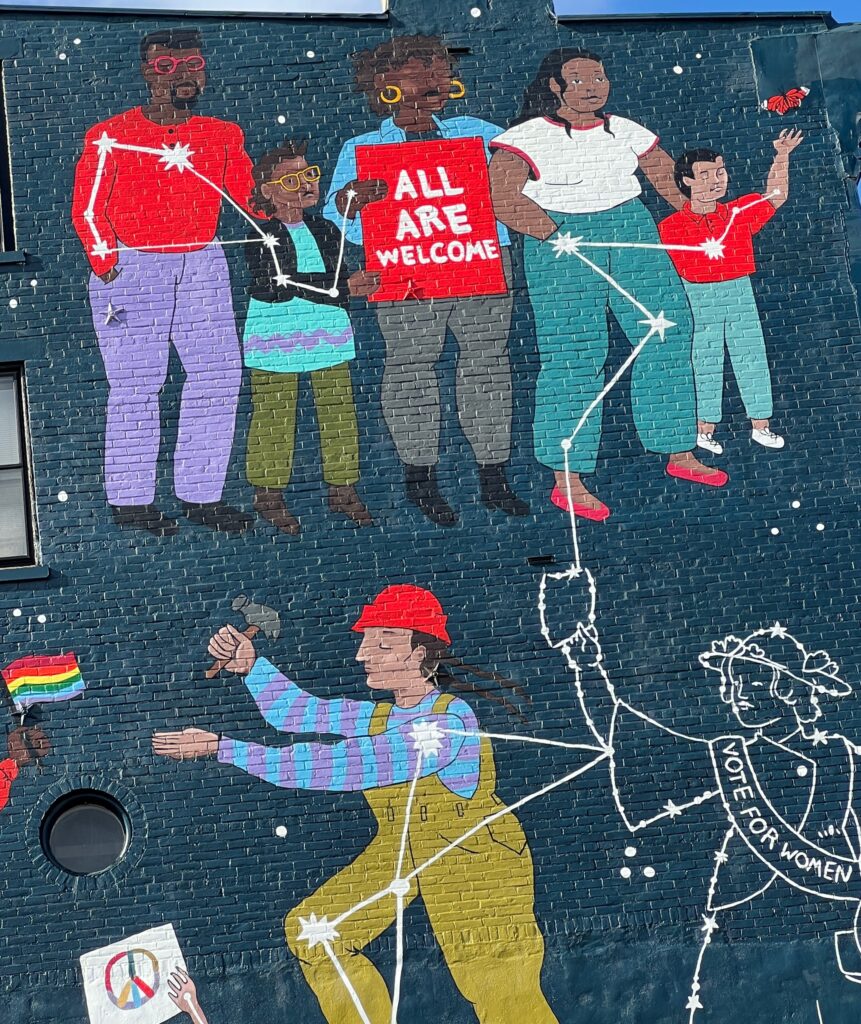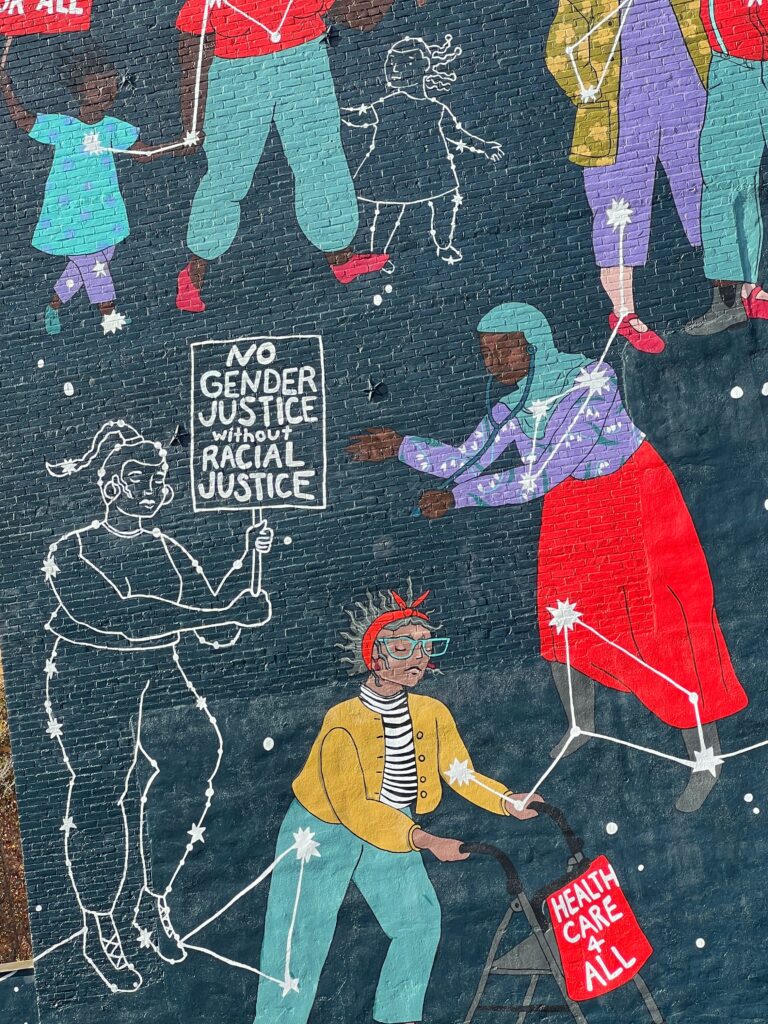 FRESH HARVEST
Located on the side of the Kroger Headquarters building in Cincinnati on Vine Street, the mural by Jonathan Queen was designed from a photograph he took. It is meant to bring the essence of farming to a large scale and follows the methods of classical European paintings. To me it is one of the most realistic murals in all of Cincinnati. Queen was also the main artist behind the very realistic Toy Heritage mural noted above.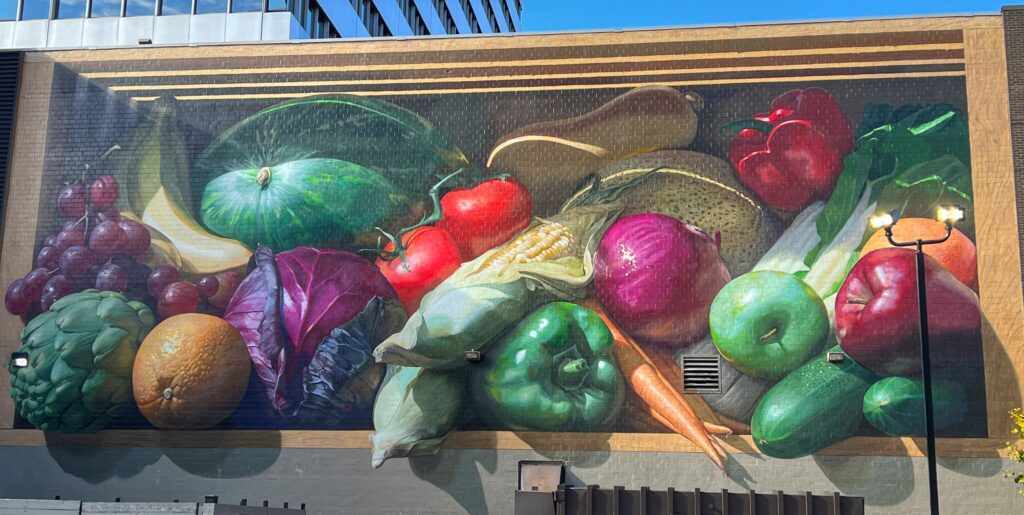 LITTLE NEMO IN SLUMBERLAND
This giant mural on Main Street comes from Winsor McCay's (1866-1934) famous comic strip from the early 1900s. Cincinnati artist Tim Parsley added to this wall in 2016. McCay moved to Cincinnati in 1891 where he spent a number of years making posters and advertisements for local businesses. This mural is to remember his contributions to Cincinnati.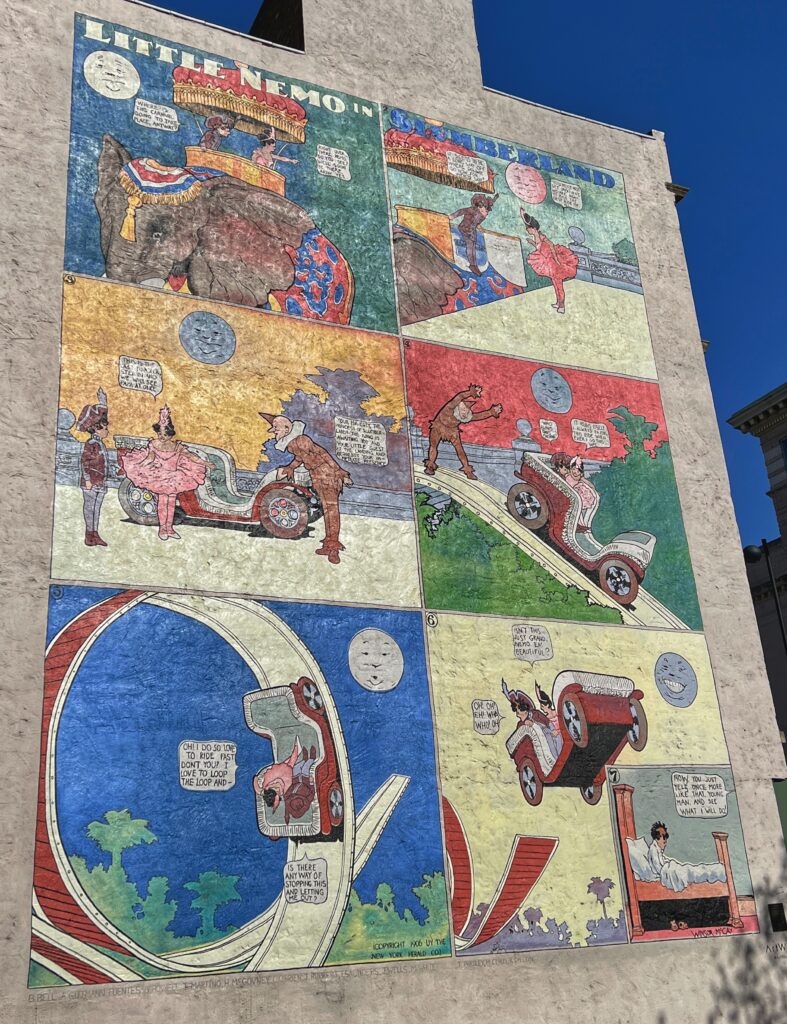 8C4I5N1
This contemporary mural was created by Cincinnati artist Chase Melendez with the intent of incorporating light as a major component.  It is intended to incorporate the culture of 84.51°, a retail data science, insights and media company owned by Kroger and located in Cincinnati. At night some portions of the mural are lit up with blue, white and purple lights.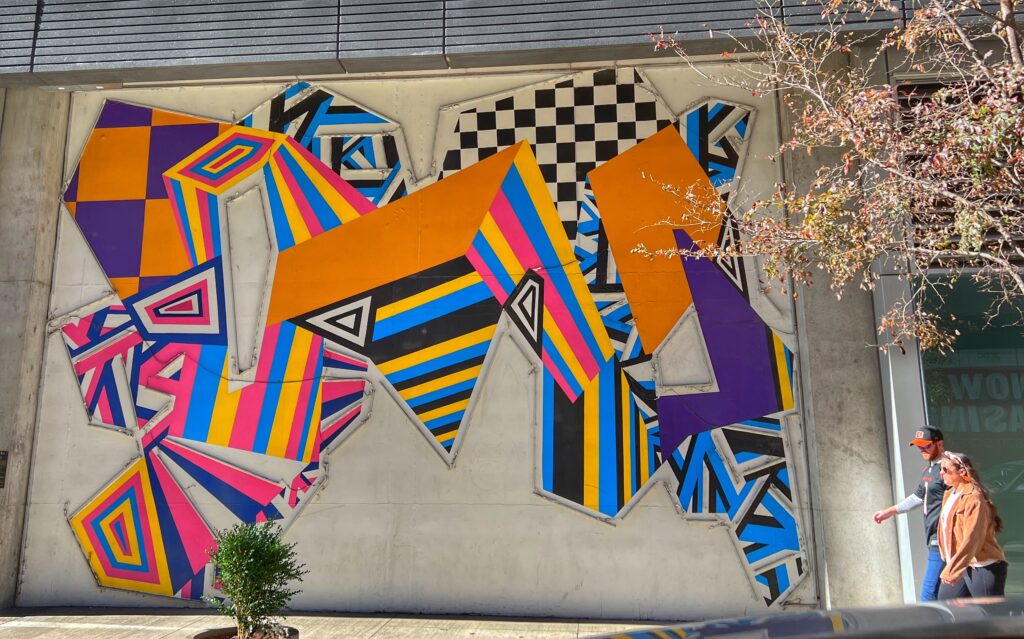 TIME SAVED VS. TIME SERVED
This mural on W. Court Street designed by Tyra Patterson, Russell Craig and Jayme Antini with Project Manager Evan Hildebrandt celebrates and uplifts women who are returning citizens after having been incarcerated.  You can read more about this mural here.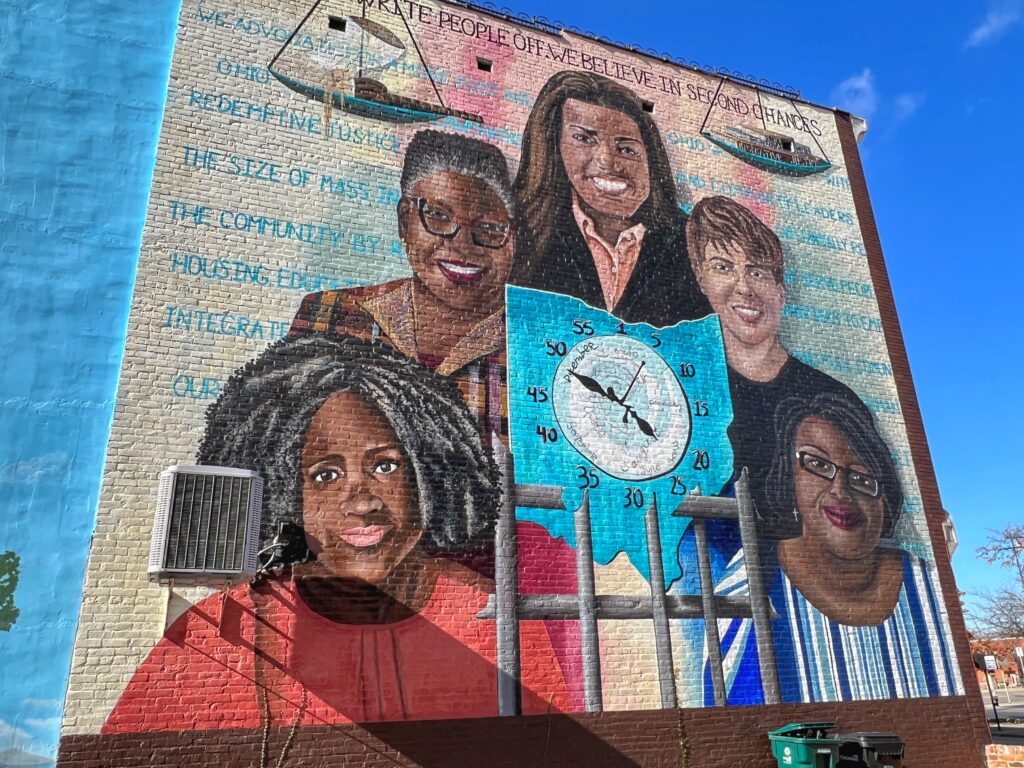 A FEW OTHERS
There are dozens of other murals in and around Cincinnati.  I found a couple of others that I couldn't find any information about, but thought I would share.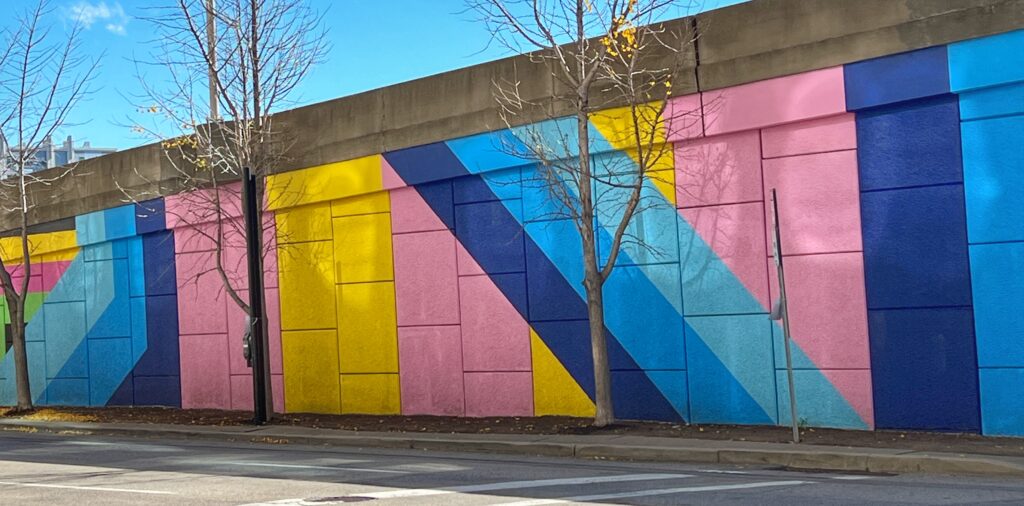 The Lost & Found mural below was done by Cincinnati Designer and Artist Cody Gunningham. I was especially fond of his description of this mural. His last comment about this mural is "Enjoy the Ride!"  Y'all know I use that all the time.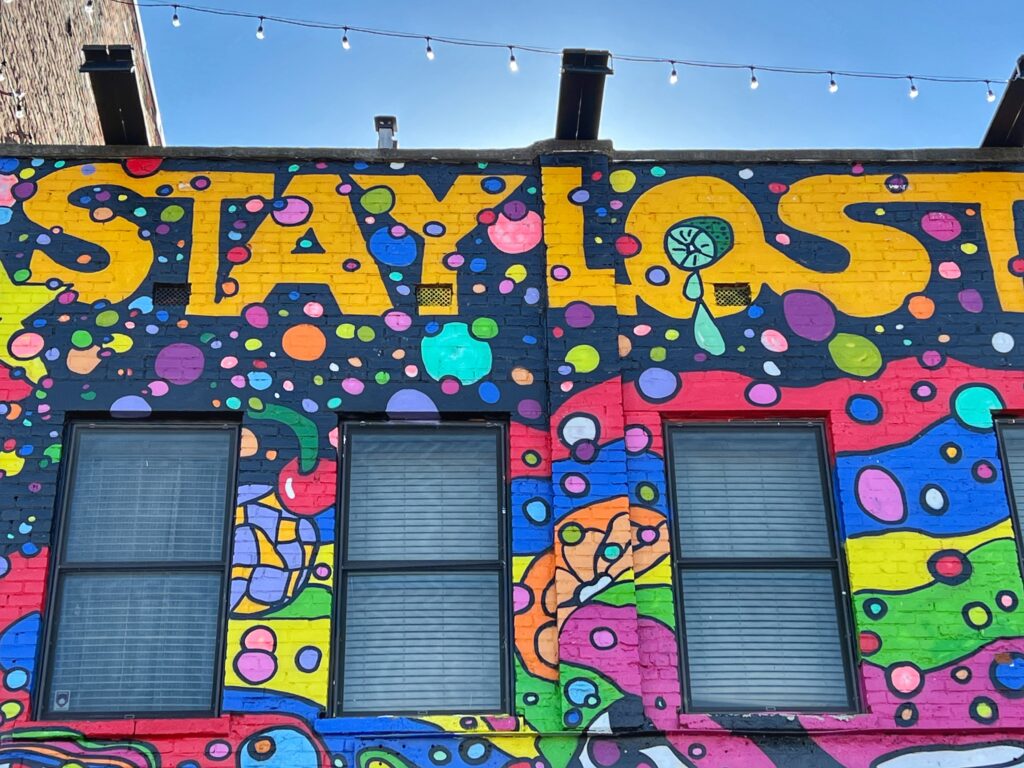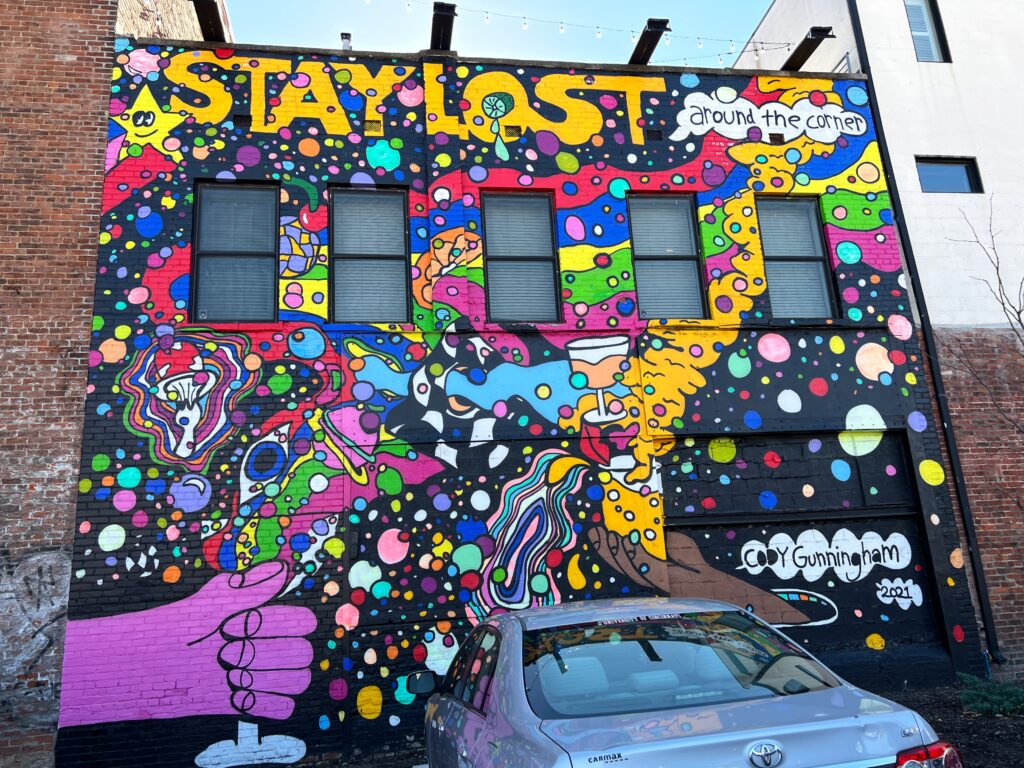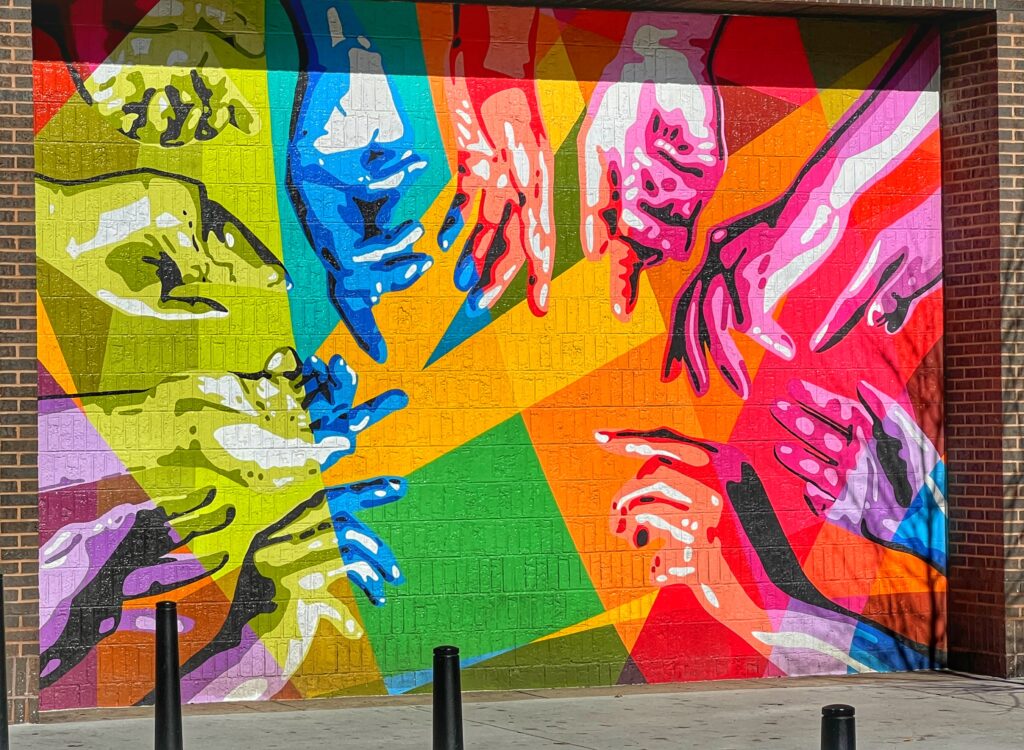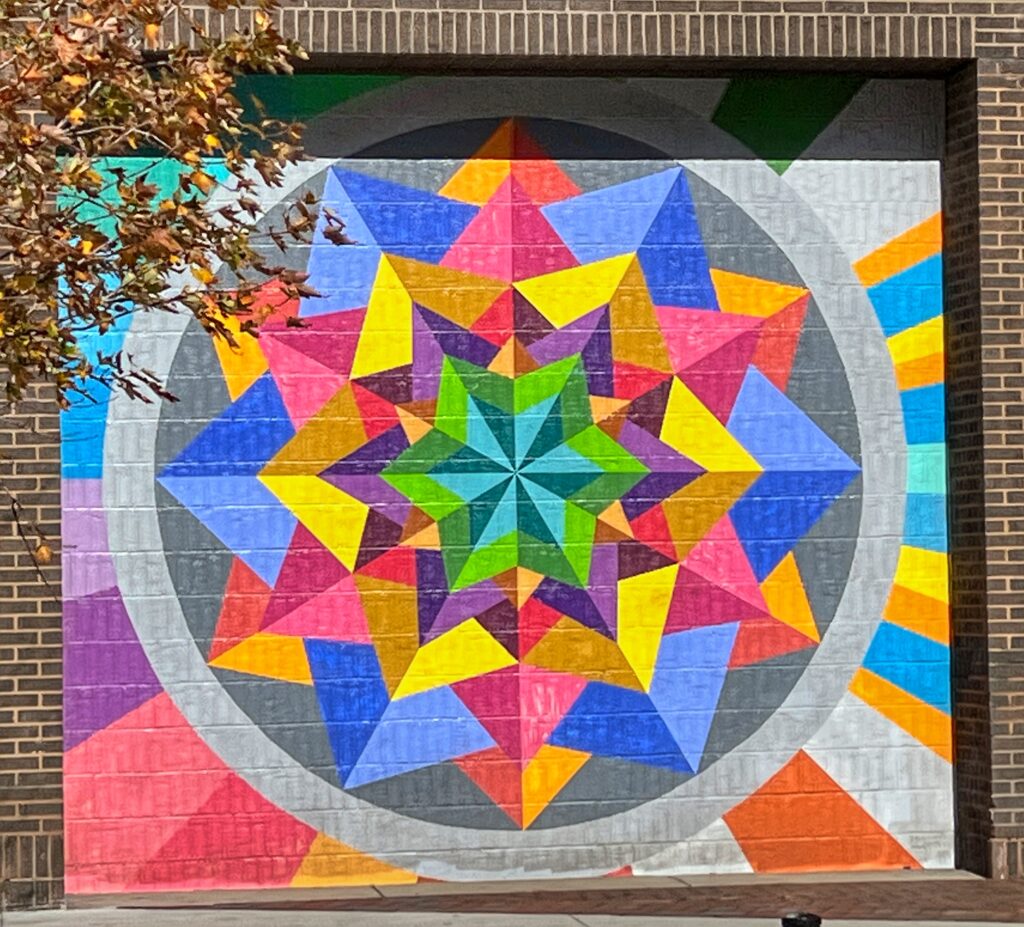 Another unique mural I found.  Wish I knew who did this one.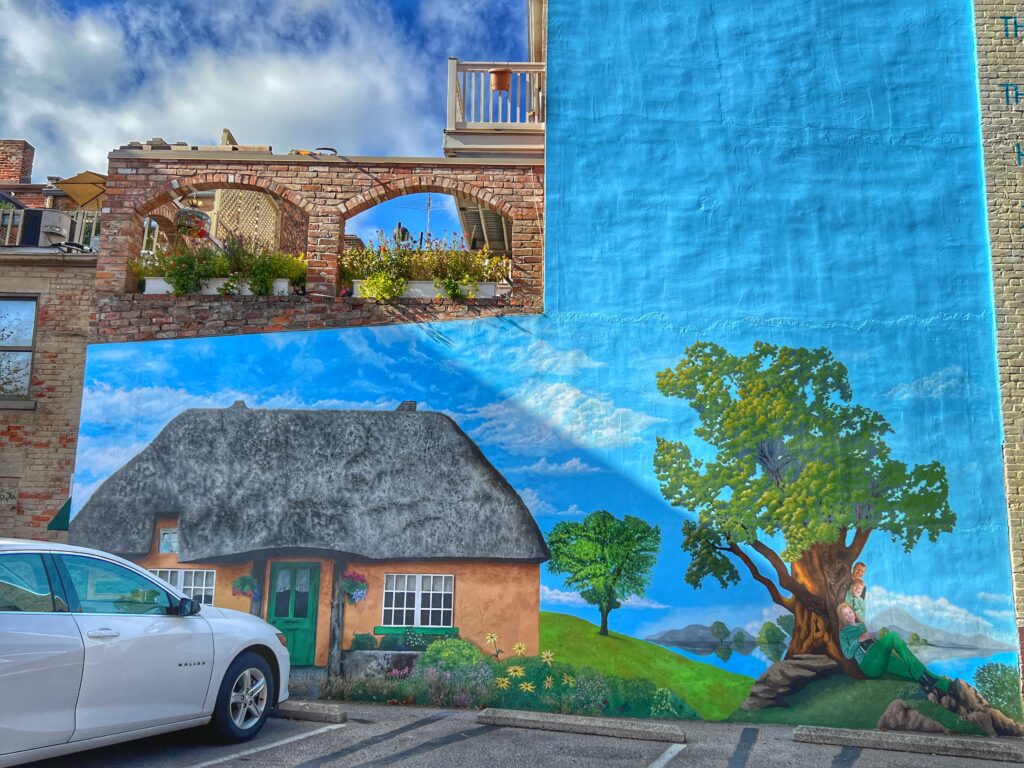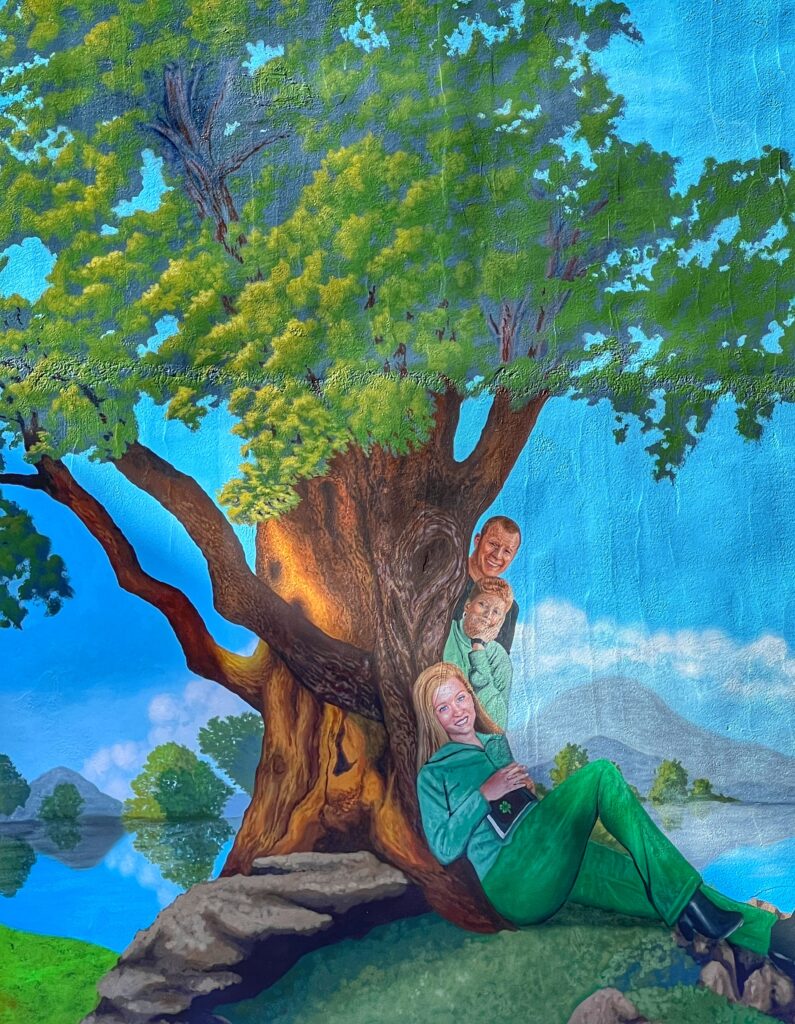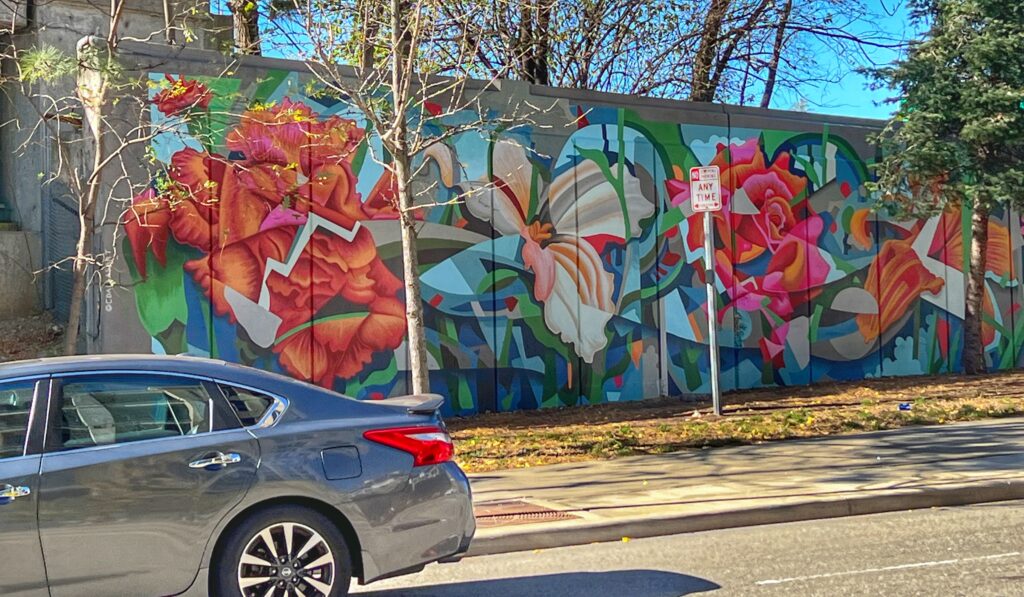 If you like what you see, you can check out my books which cover so much more!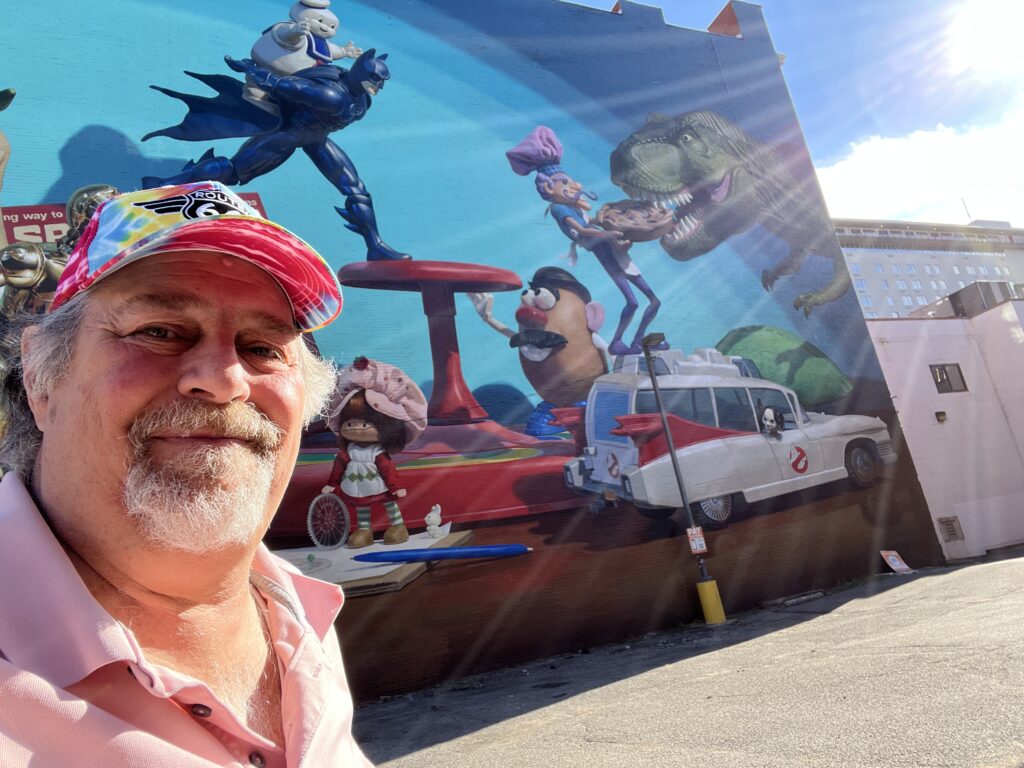 LESS BEATEN PATHS OF AMERICA TRAVEL SERIES

You can get my books online!  The series now has five books and I am working on books six and seven. Book Six will be all about murals from all over the country!! Watch for them later this year.