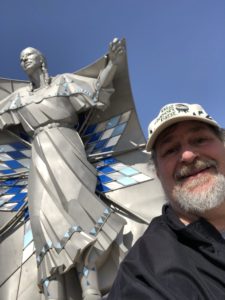 I love having the opportunity to come upon new and unplanned discoveries in my roadtrips.  While traveling, I constantly check my Roadside America app (which is available for iPhone download here) which has a handy dandy location finder and will tell you the closest of their featured attractions.  While driving through South Dakota near Chamberlain, I did so and came across "Dignity: A 50 foot-tall Indian Woman" statue entry.  Turns out it is located at a rest area near Chamberlain, SD overlooking the Missouri River valley way below.  It was also a Lewis and Clark stopover.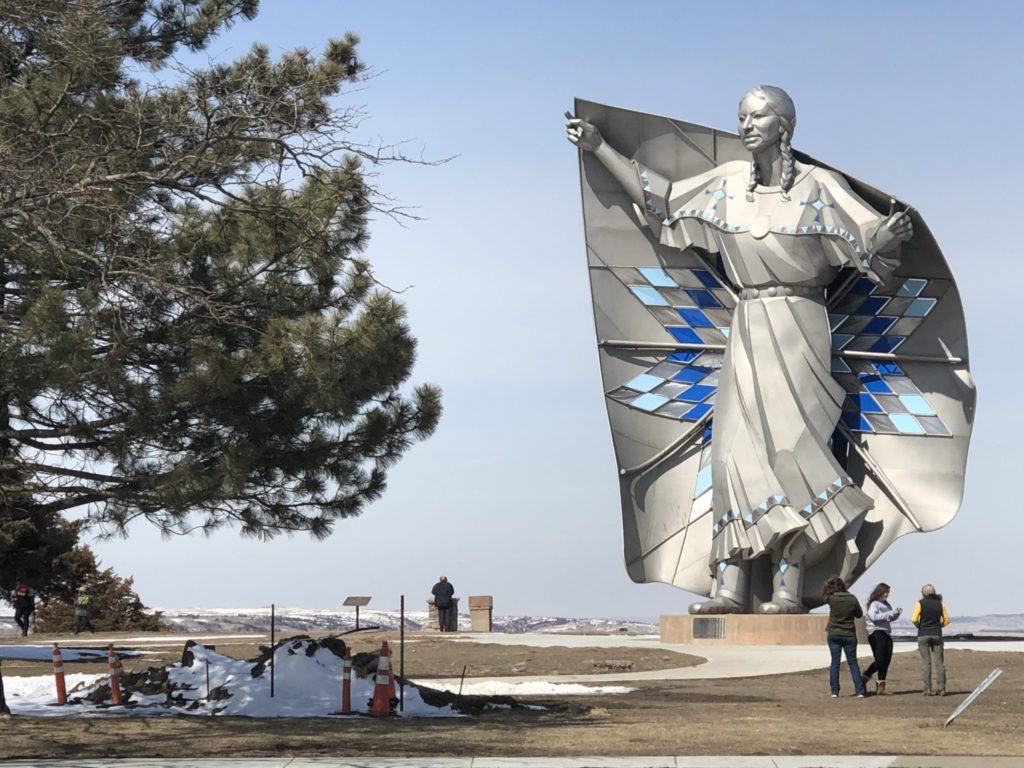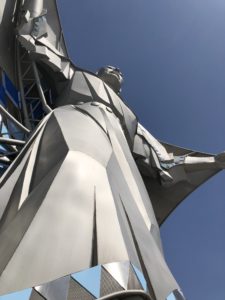 Dignity (a.k.a. Dignity of Earth & Sky) is a 50-foot high stainless steel statue by South Dakota artist Dale Lamphere that depicts an indigenous woman in Plains-style dress receiving a star quilt. The massive sculpture honors the culture of the Lakota and Dakota peoples who are indigenous to South Dakota.   Lamphere notes on his website:
"Dignity represents the courage, perseverance and wisdom of the Lakota and Dakota cultures in South Dakota. My intent is to have the sculpture stand as an enduring symbol of our shared belief that all here are sacred, and in a sacred place. My hope is that the sculpture might serve as a symbol of respect and promise for the future."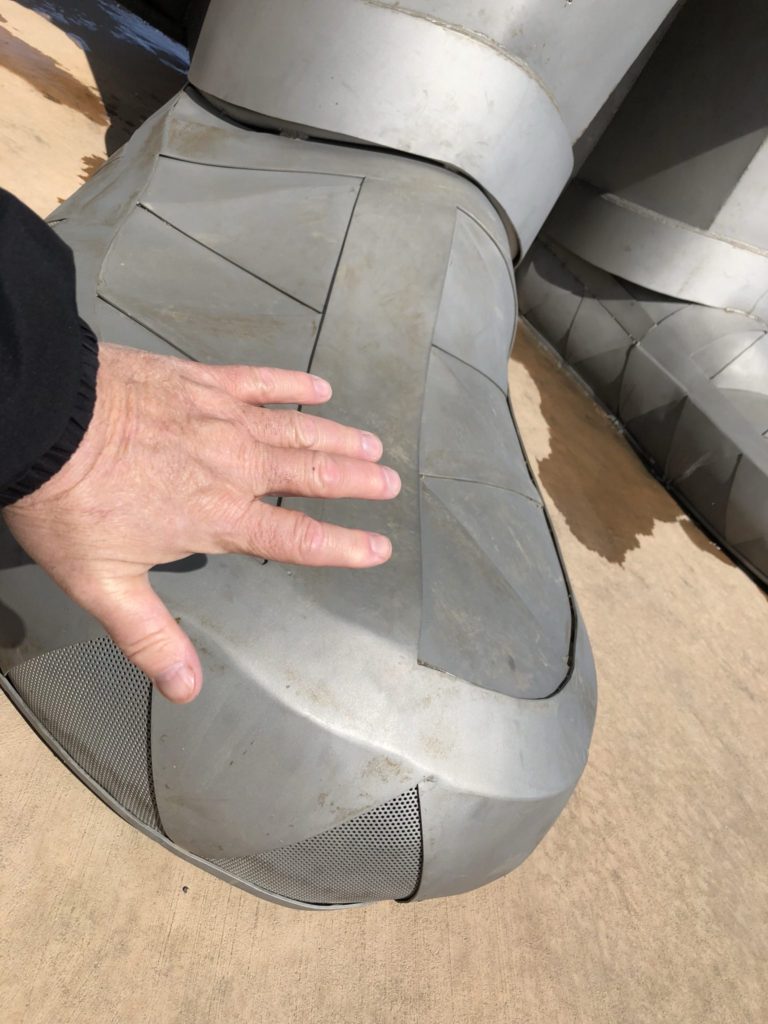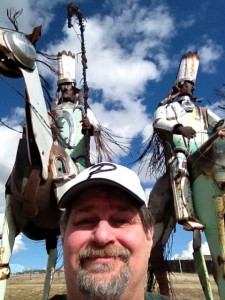 I am always interested in things about the various Native American tribes.  Having worked as a tour guide in Arizona, I became somewhat expert on the Navajo and Hopi as well as the old Anasazi cultures.  My travels across the United States and Canada have allowed me to pass through many Native American reservations and lands.  In these travels I have come across many large statues dedicated to these great indigenous peoples (such as the Hiawatha statue in Ironwood, MI – which stands 52 feet tall and the Standing Brave statue in Big Cabin, OK – which is also nearly 50 feet tall).  And of course, in an earlier post on my April road trip, I mentioned the "Whispering Giants" series by Peter Toth, of which I have seen more than a dozen. And there are the Blackfeet Warrior metal sculptures that are at all four entries to the Blackfeet Reservation in Montana. The 44 foot tall Keeper of the Plains in Wichita, Kansas is another good one.  I believe the tallest Native American statue is the 62 foot tall Indian of Skowhegan in Skowhegan, Maine, which I have not visited.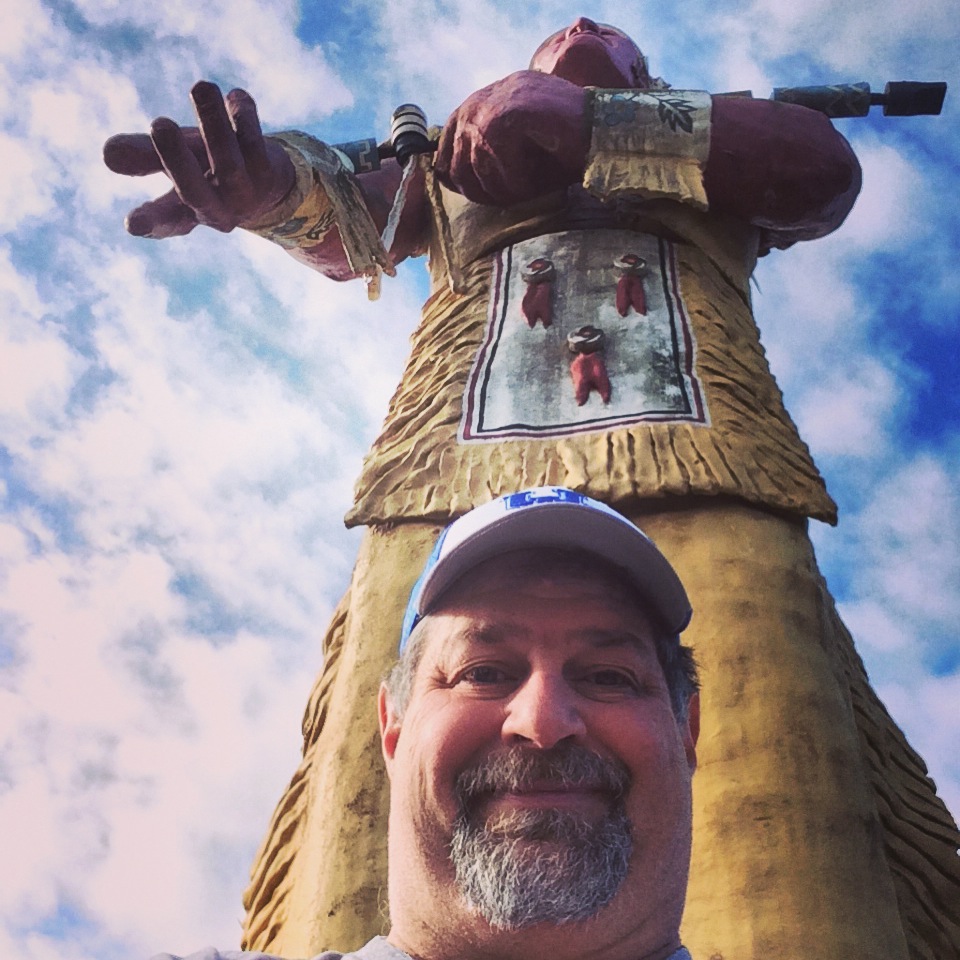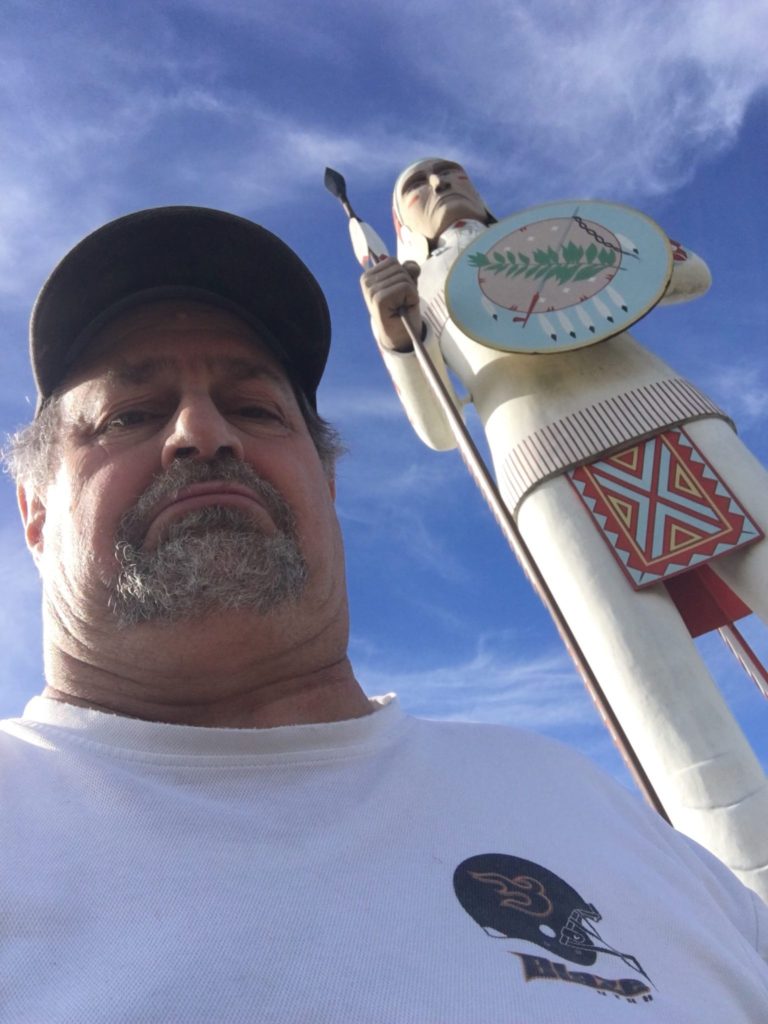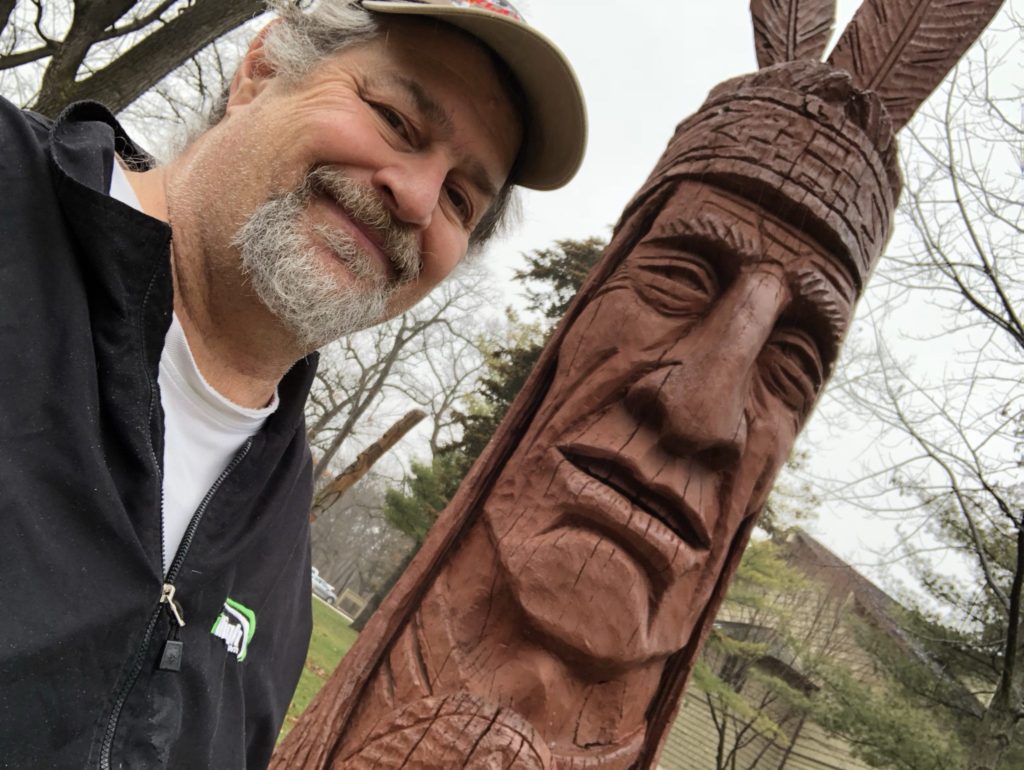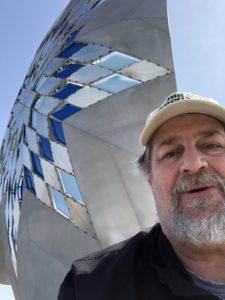 Back to Dignity – Representing the rich Native American culture of South Dakota, the 50-foot Native American woman wears a dress that is patterned after a two-hide Lakota or Dakota dress of the 1850s. She also holds a quilt that has 128 stainless steel blue diamond shapes designed to flutter in the wind. Apparently, the quilt was also bedecked with LED lights that cause the diamond shapes to glow in the night sky which can be seen from Interstate 90 (which I would have loved to have seen).  The quilt is very impressive as you can see in the photo on the left as well as the expanded one below.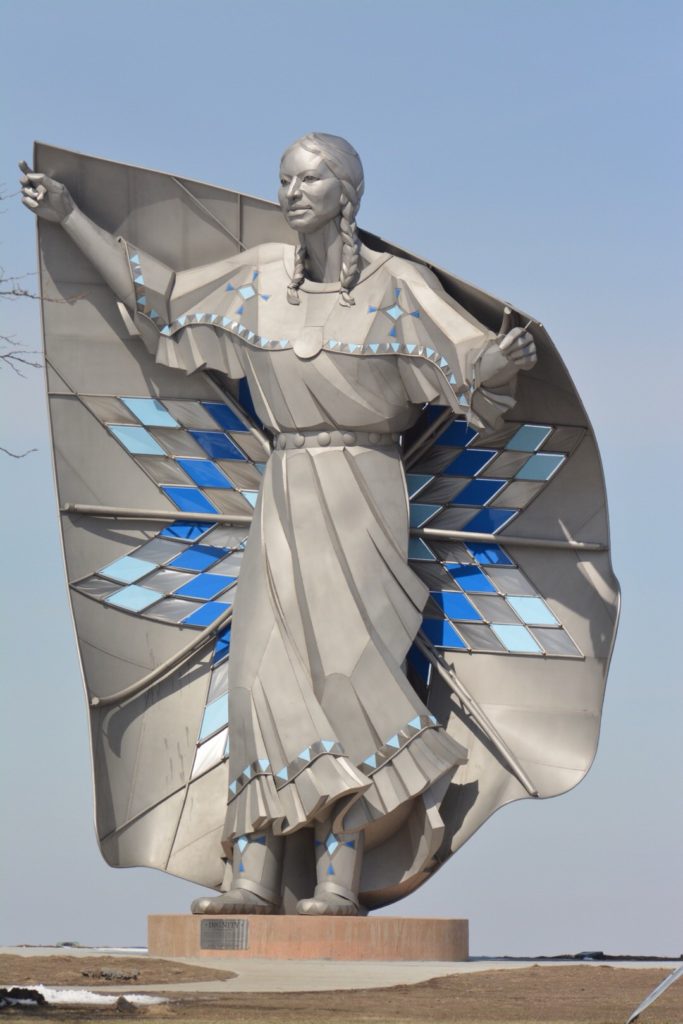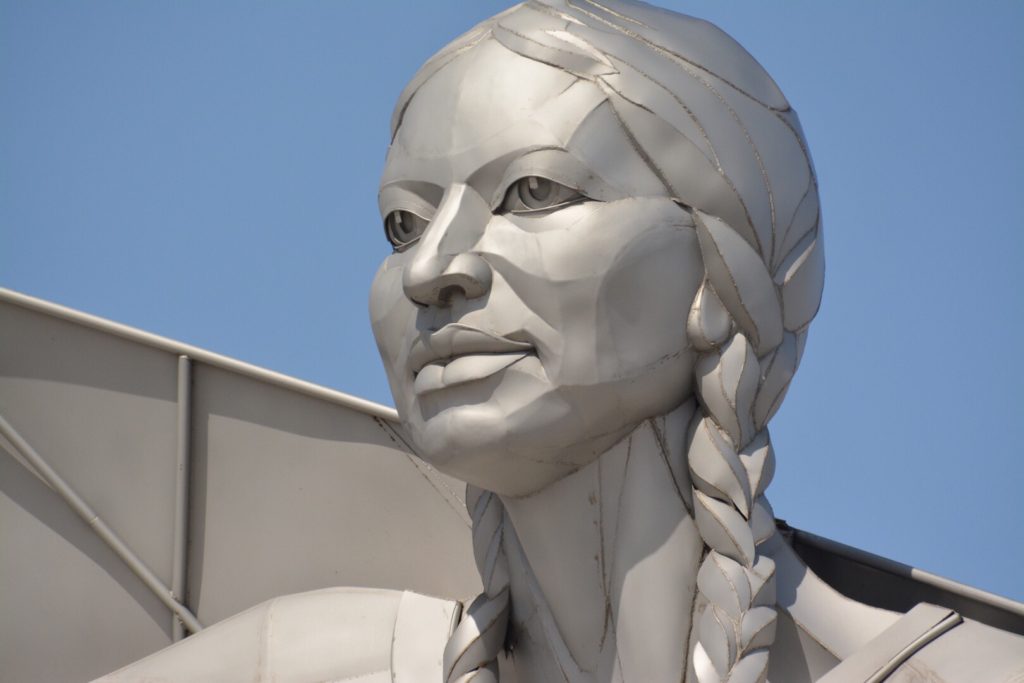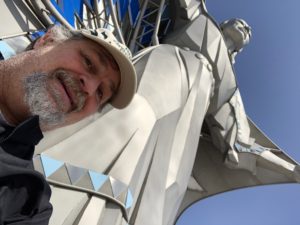 Dignity is not only 50 feet tall, but her base is 16 feet deep (to help withstand the strong South Dakota winds on this bluff) and is 32 feet wide.  The statue weighs in at nearly 11 tons and cost over $1 million dollars to make. The money was kindly donated by a couple from nearby Rapid City, South Dakota. The statue was officially dedicated in September 2016. It is truly a sight to see and I was so glad to have been on this highway.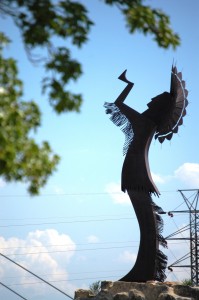 At 50 feet tall, the statue is one of the 25 tallest statues in the United States.  I have been to 13 of the 25 including #2 – Statue of Liberty in NYC (151 ft tall); #4 – Our Lady of the Rockies in Butte, MT (88.6 ft. tall); Tuo Phat Quan Am in Houston, TX (72 ft. tall); Brachiosauraus in Indianapolis, IN (70 ft. tall); Giraffe at Dallas Zoo, Dallas, TX (67.6 ft tall); A Tribute to Courage – Sam Houston in Huntsville, TX (67 ft. tall); Christ of the Ozarks in Eureka Springs, AR (65.5 ft. tall); Stephen F. Austin in Angleton, TX (60 ft. tall); Hiawatha in Ironwood, MI (52 ft. tall); Standing Tall in Big Cabin, OK (50 ft. tall); Paul Bunyan and Babe in Bemidji, MN (49.2 ft. tall); Hammering Man in Seattle, WA (48 ft. tall);  and The Keeper of the Plains in Wichita, KS (44 ft. tall).
The view from Dignity is impressive as it overlooks the Missouri River valley down below.  This was also a Lewis and Clark observation point.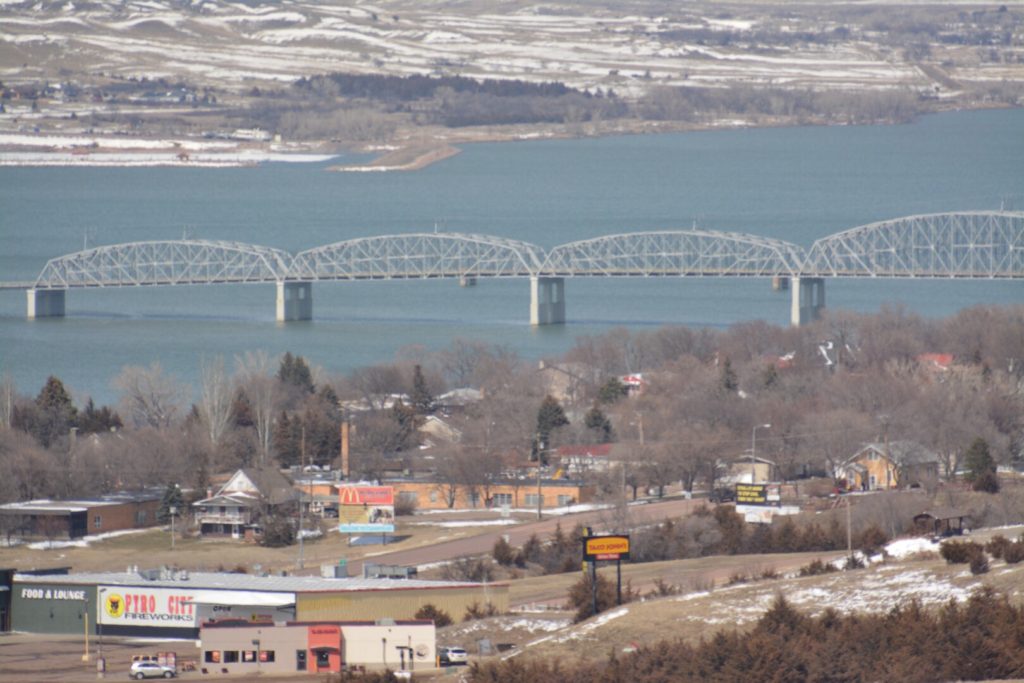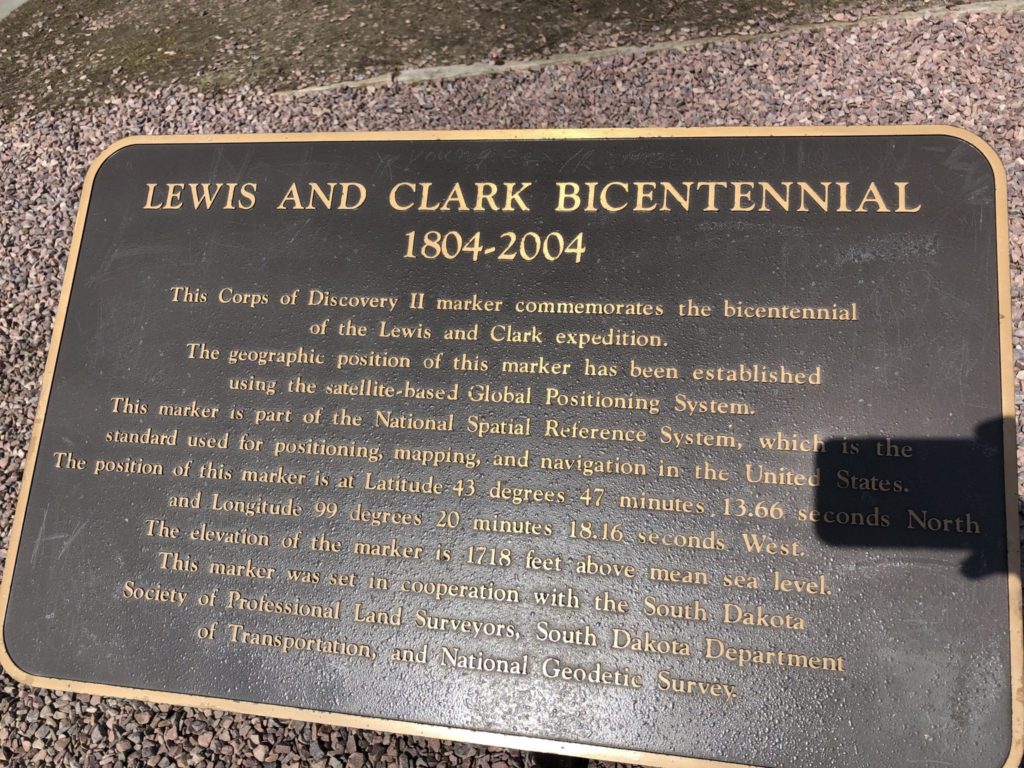 Finally, I would like to note that South Dakota is proud of its tourism and especially its numerous sculptures which would include the famed Mt. Rushmore, the giant Crazy Horse statue still under construction and the giant brontosauraus at Wall Drug. They have a website especially focused on the sculptures of South Dakota called the South Dakota Sculpture Trail.
In closing, I want to note that in my upcoming book (hopefully to be released at the end of June), I will have a complete chapter on Native American statues and art.
ENJOY THE RIDE!  CHOOSE HAPPY!
If you like what you see, you may want to check out my book: Less Beaten Paths of America: Unique Town Names, available on Amazon.  My second book, Less Beaten Paths of America: Quirky and Offbeat Roadside Attractions, is currently being worked on and I hope to make it available in late  June 2018. Click on the photo below for more details or to get a copy of the book.