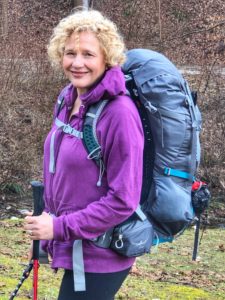 The Shakedown
I awoke this morning to the lingering smell of Deep Blue essential oil on my pajamas. A Ziploc bag full of water was beside me, the bed around it damp from the condensation of melting ice cubes. I was stiff and my leg hurt. I grabbed my phone to self diagnose an inflamed IT Band (Iliotibial Band). It took several minutes to gather the courage to arise from the bed, and I walked stiff-legged to a bare wall to lean on while I gently stretched my tight muscles. The blue foam roller called to me. As I slowly lowered myself to my knees then onto the roller, I clasped my hands as if in prayer, my head bowed while I rolled back and forth over my thighs. It hurt so good. I tenuously maneuvered my aching body into Child's pose, and lingered there, not wanting to get up.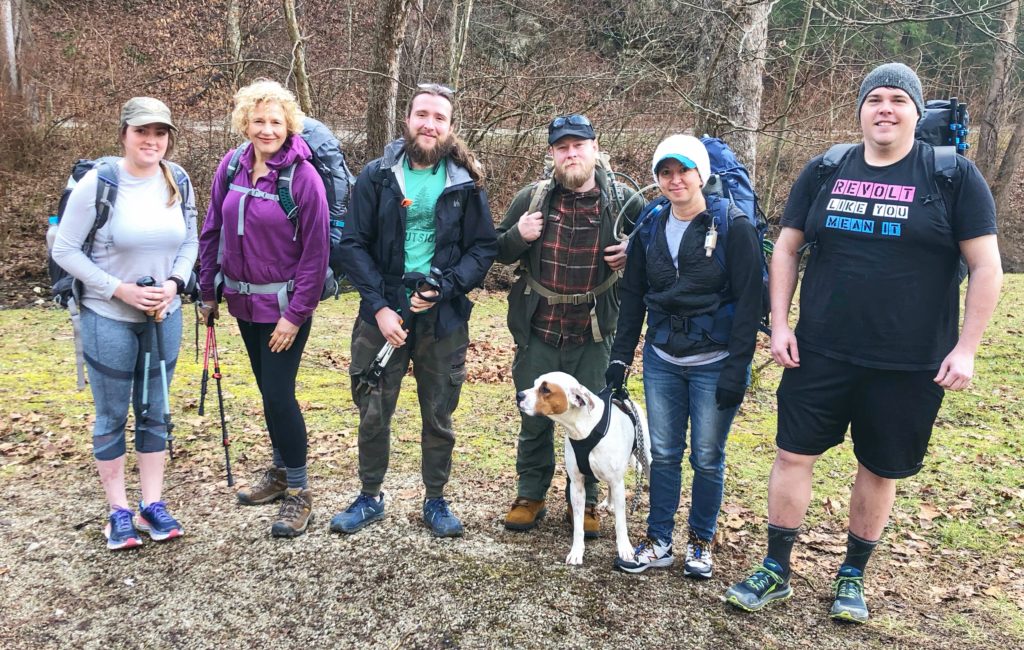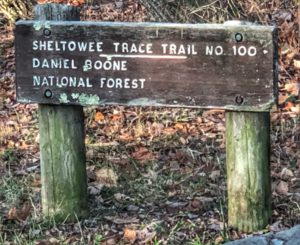 Two days earlier (12/28/19) I met 5 strangers who were up for the adventure of a 17 mile "shakedown" hike on the Sheltowee Trace in preparation for the 2020 Sheltowee Trace Hiker Challenge with the Sheltowee Trace Association. A shakedown is meant to test your equipment, your pack and your ability. We arrived at the Corner Ridge Road Trailhead near Frenchburg, KY (our ending point), where David would shuttle us all to Whittleton Campground in Slade KY. I learned that Vicky Lantz (see Vicky's great blog – Vicky's Adventures), Morgan, Brent, Andy and Rush were all seasoned hikers and a bit of intimidation began to set it. Oh, but I mustn't forget Roscoe! This gentle, part pit rescue dog also accompanied us, pulling along Morgan or Brent from his leash.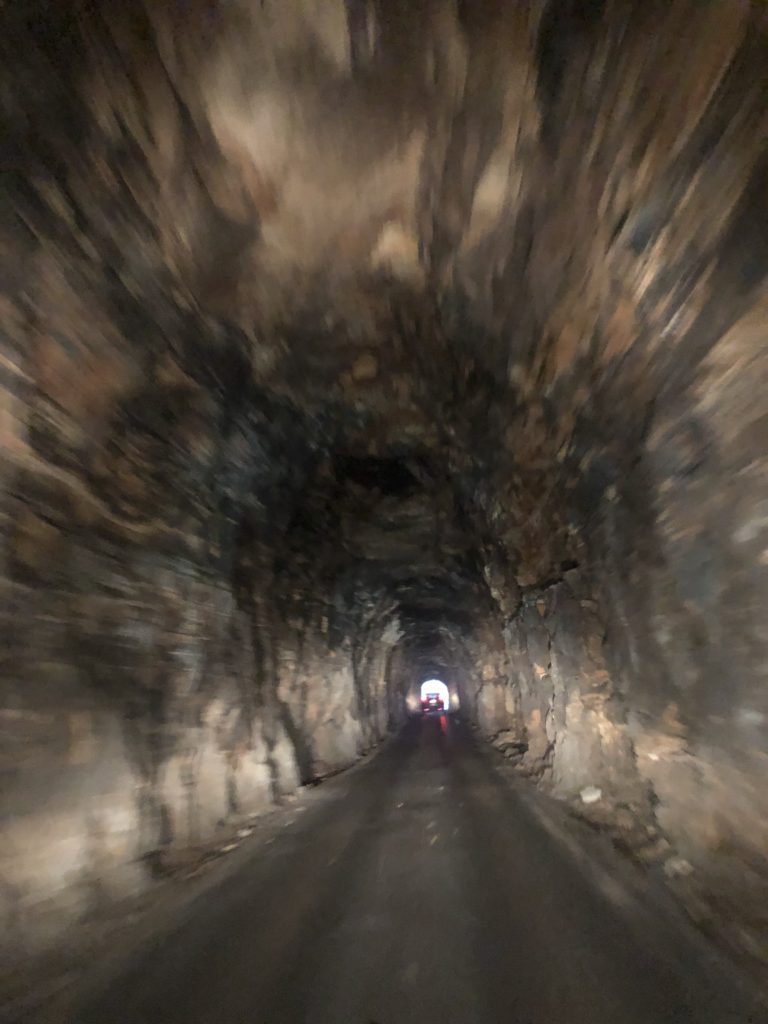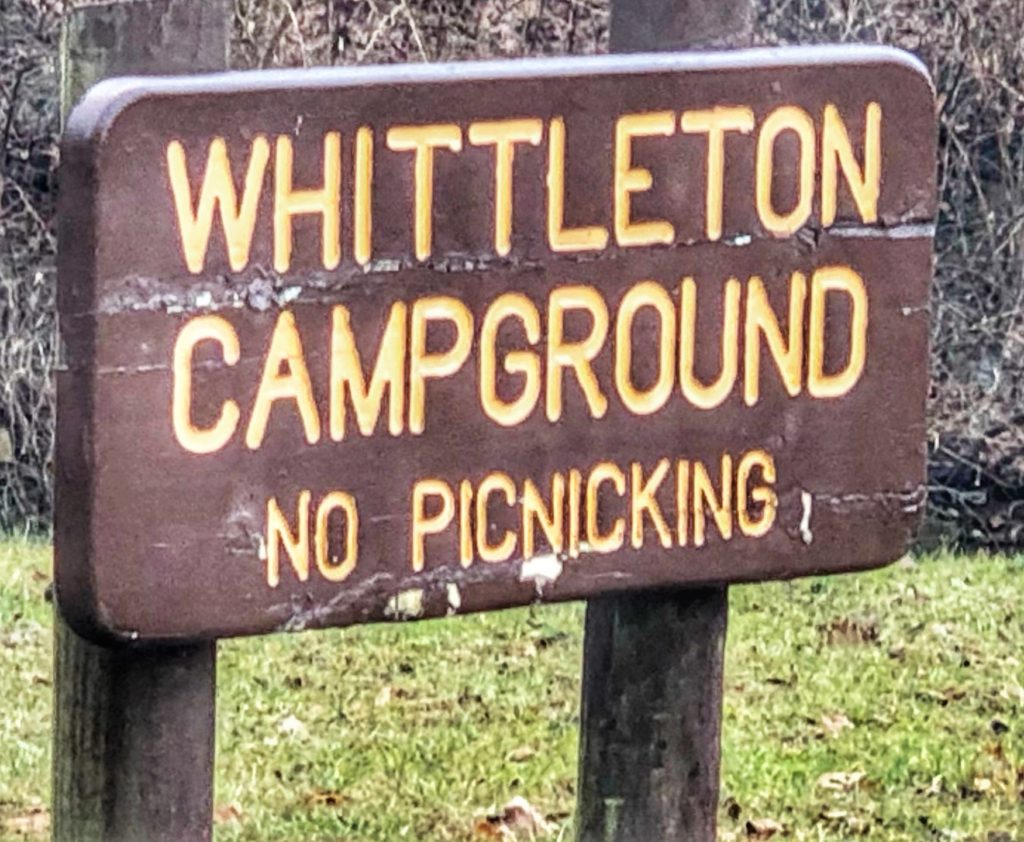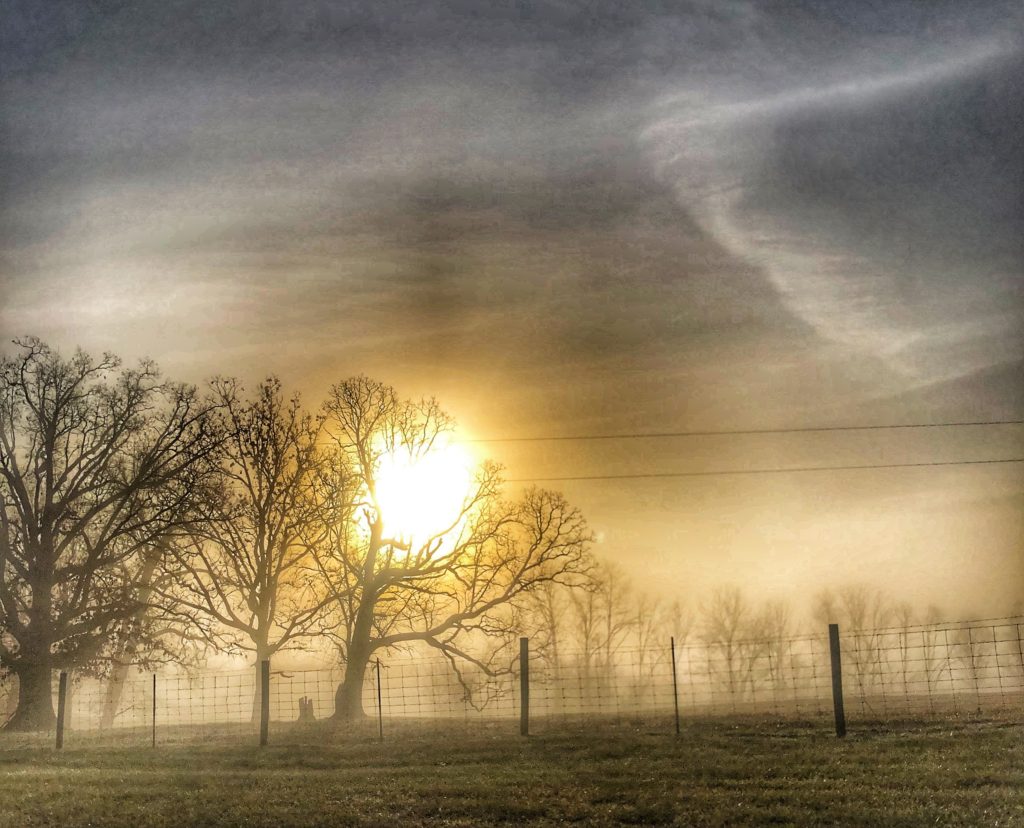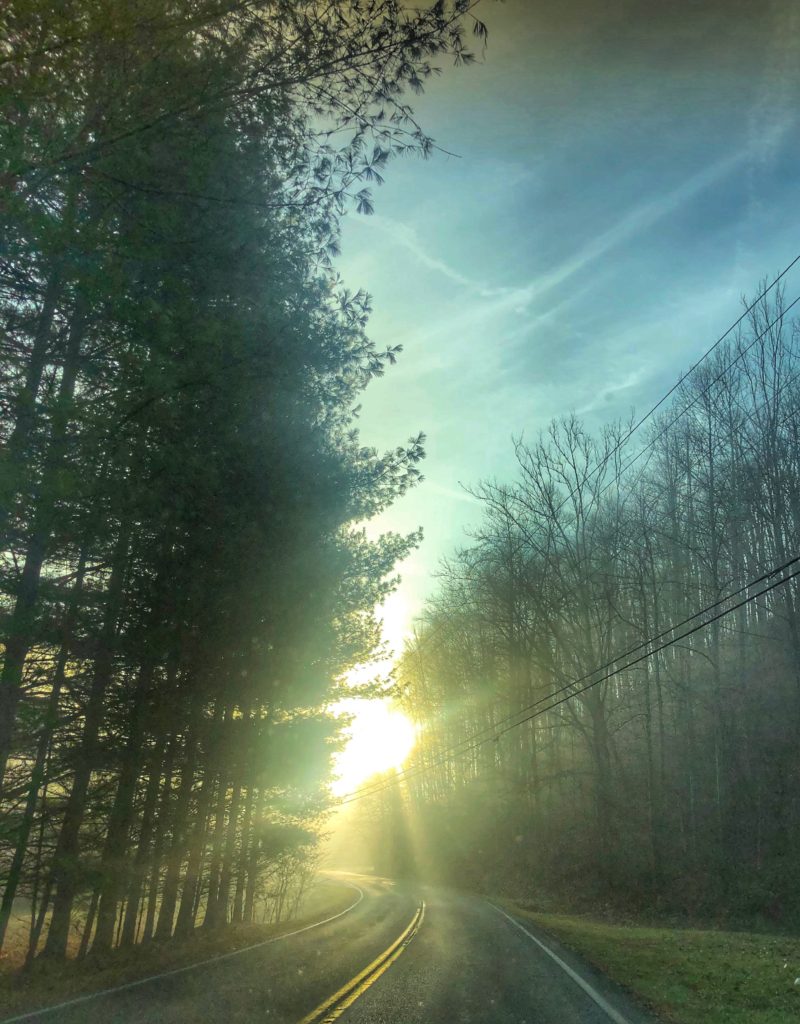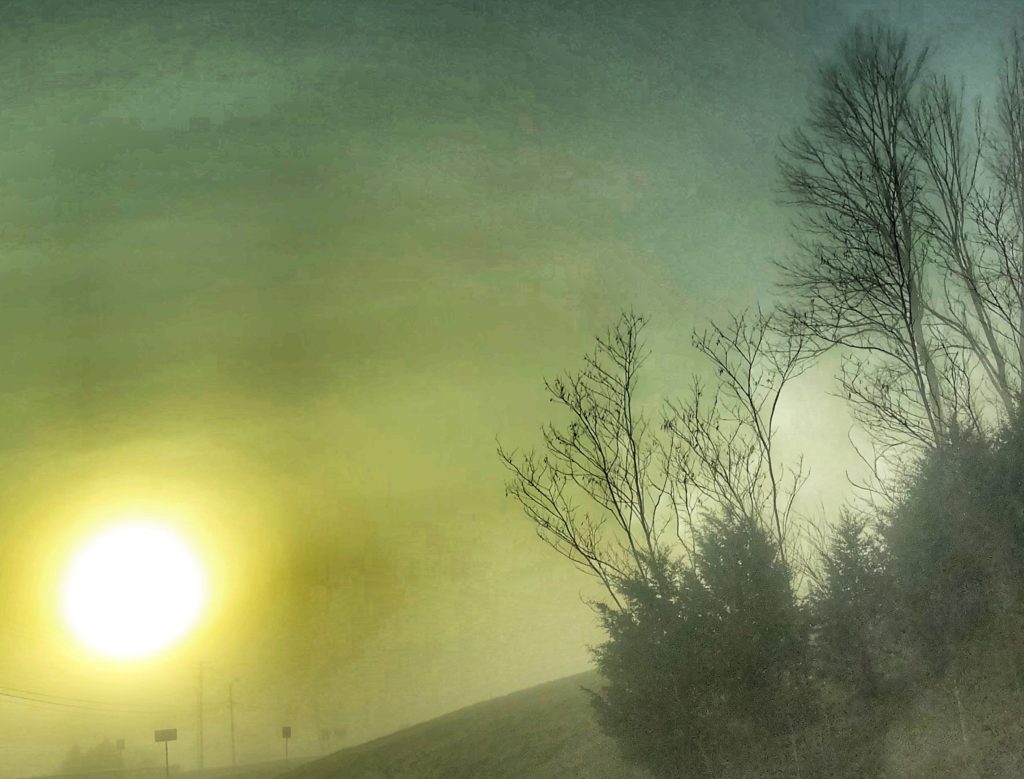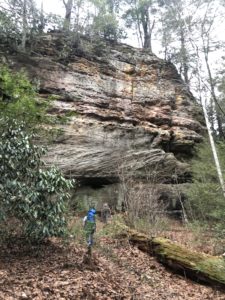 The early morning fog had introduced a beautiful day for a hike, temperatures in the 50's. I was immediately full of both awe and reverence as I always am when I enter a forest. As we hit the trail, it was apparent that this was a group of fast hikers. Rush was enthusiastic as he chatted about his adventures on the Appalachian Trail, Pacific Crest Trail and others. Even as they pulled ahead I could hear his voice competing with the sounds of the forest that I longed to hear. I found myself thinking "utshay upyay Rush!" I quickly forgave him though. He was friendly. They all were, and I learned that I liked to experience both the sounds and the sights of the forest as well as the new friendships this hike would bring.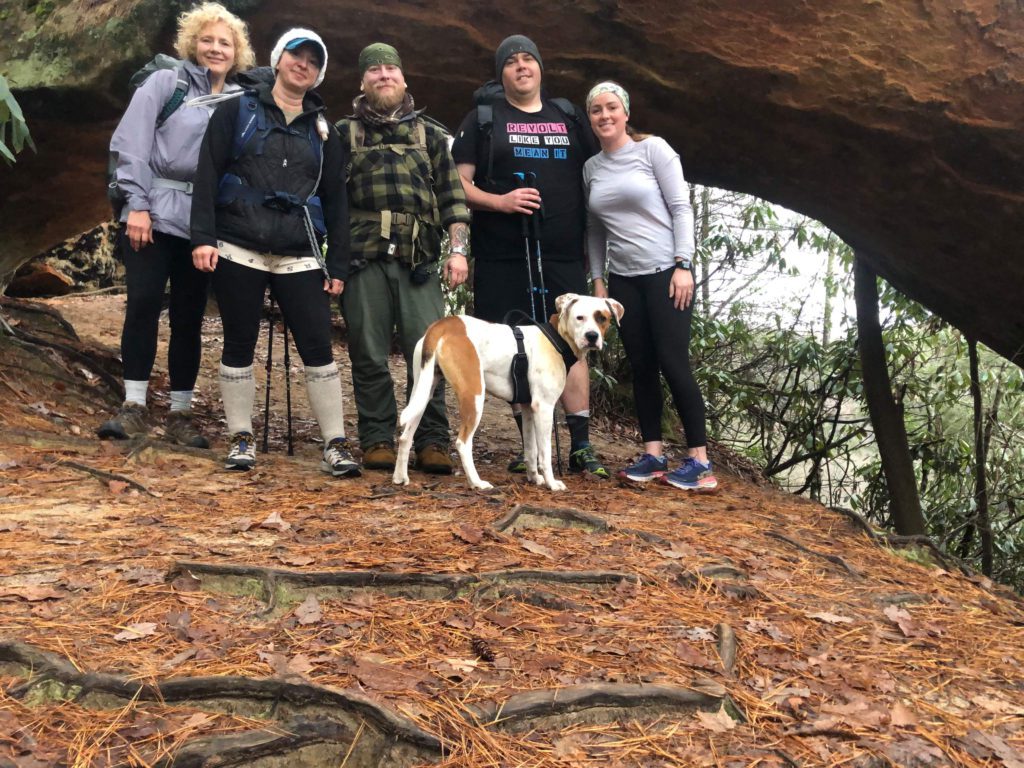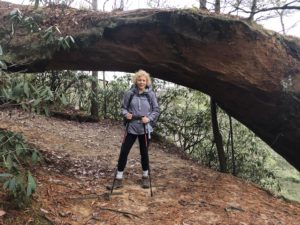 Periodically I would find the group waiting for me until I caught up. I hated to hold them up – actually enjoyed hiking alone, but was so grateful to have them watching out for me. This was especially true when I grabbed onto a decaying tree trunk to pull myself up over a steep outcrop. The added burden of my backpack made it more difficult. My hand came away with a handful of rotten wood and I slipped. Catching myself, I looked down. This could have been a deadly fall. I was comforted in knowing that at least there would be someone who could potentially locate my lifeless body.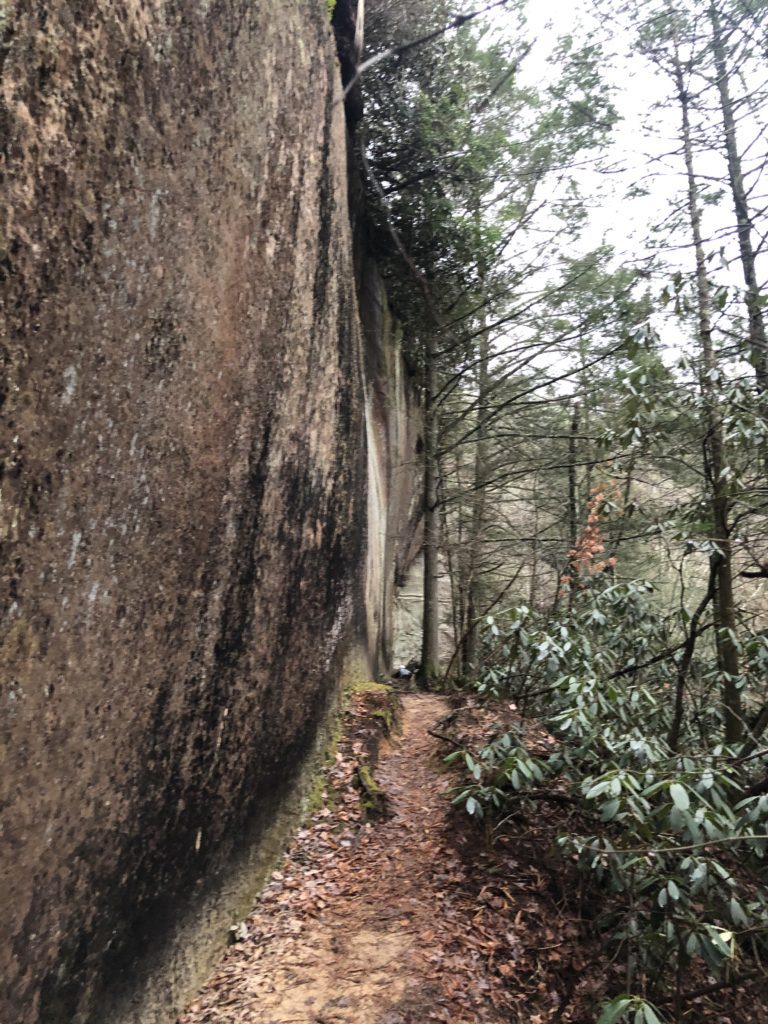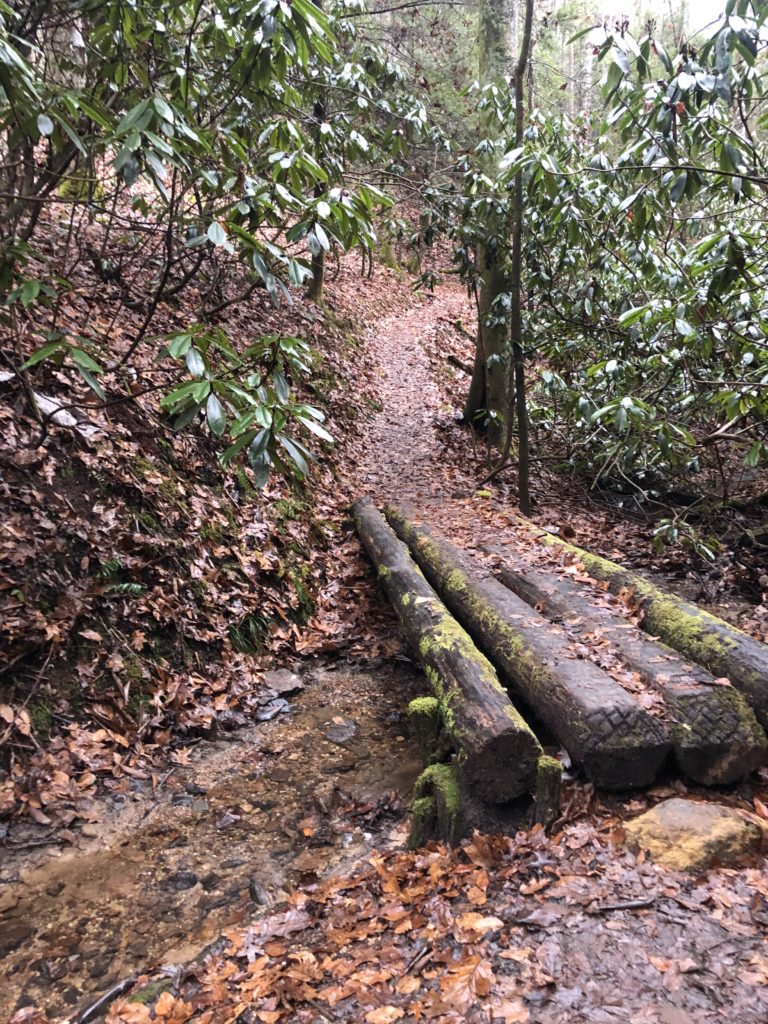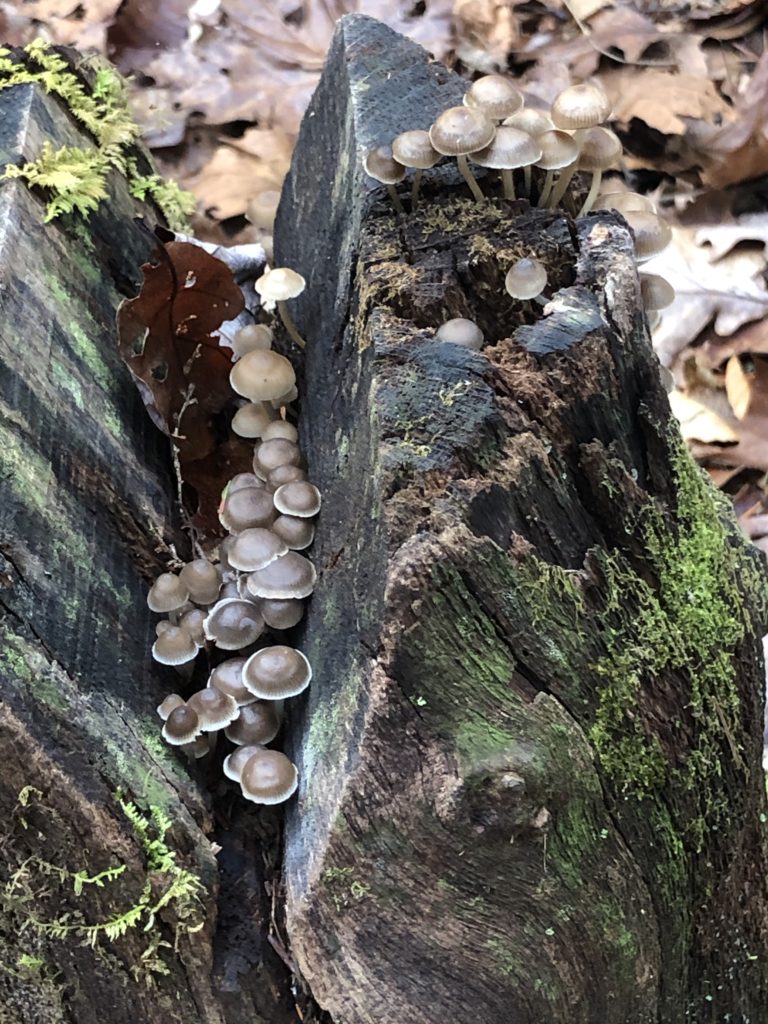 There are no words for the beauty around me, the wonder that I felt. There are also no words for the difficulty either. The effort was rewarding, satisfying, worth the sacrifice. I realized that I was more capable than I thought. We hiked over 11 miles the first day, the longest distance ever for me.
I'm certain that my slower pace delayed our arrival at camp until after dark. Headlamps adorned we quickly set up camp near Indian Arch. Brent had a fire in no time and I broke in my alcohol stove which boiled water within minutes for my freeze dried meal pouch of Chana Masala for two. I set up my Sheltowee Hammock and tent like tarp like a pro (although it was the first time), tying the knots that Alex Gash (the owner of Sheltowee Hammocks) had shown me. Alex made my hammock with custom colors of grey and Moroccan Blue. I loved it. I was feeling grateful for what I knew would be a warm, dry, comfortable night in solitude where I could ponder the spectacular day. I sat there in my hammock, gently swaying as I ate the entire meal for two and settled in to sleep. It was only 7:30 PM.
Sleep would not come however. Outside my enclosed sanctuary of the tent like tarp, the others sat around the campfire. Unseen, I felt like an intruder to their conversation, yet could not escape their words. This common experience had already created both a bond and freedom as they shared their most intimate stories. Much of it was difficult to hear. These were my new friends, but I realized it was another world they lived in, with experiences foreign and at times horrific to me. It was another reminder of how insulated my life is. With this new adventure I embraced the richness that comes with acceptance and diversity.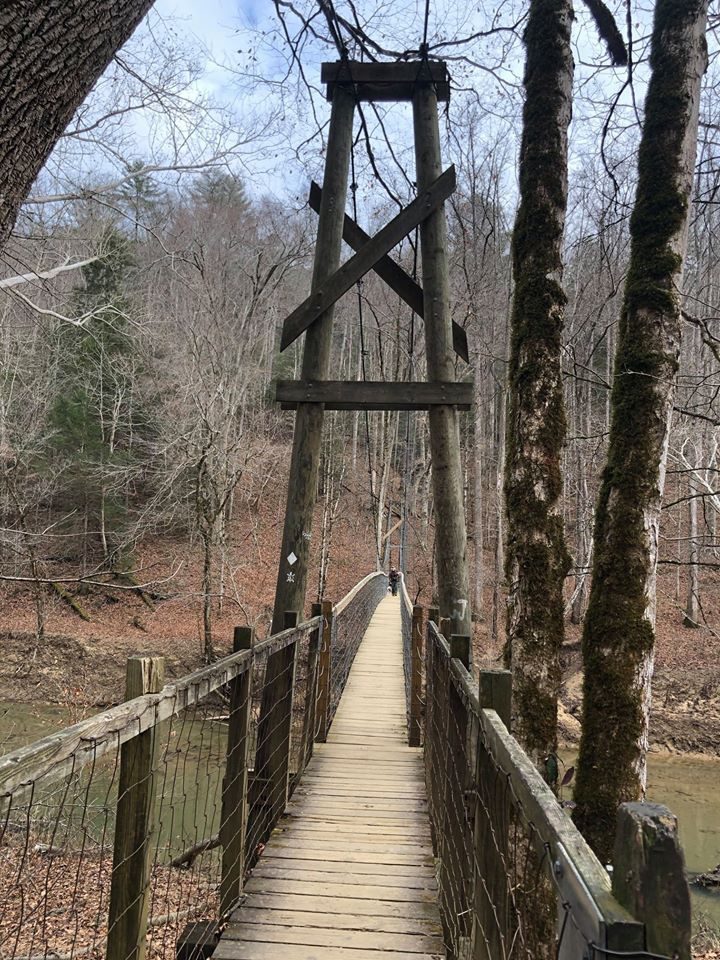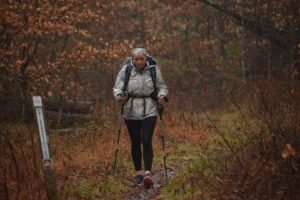 The night was long with sleep evading me. Once the campfire conversations died down and others retreated to their tents, the quiet solitude was deafening. I was desperate for sleep. At about 1:30 AM I begin to hear sporadic raindrops on my tarp which was unexpected. I quickly unzipped my Hammock cocoon and grabbed the things I had left outside my tarp, pulling them in to be safe and dry. The hypnotizing rain became steady and yet sleep still eluded me. I began to meditate, concentrating on the cadence of the rain accompanied by the synchronized snores of my fellow campers. The symphony was punctuated by the occasional jingle from the chain on Roscoe's collar as he shook the rain from his coat. Soon I would feel his nudge under my hammock as he found a dry space under my tarp. Added to the concert of falling rain and snoring was the smell of wet dog.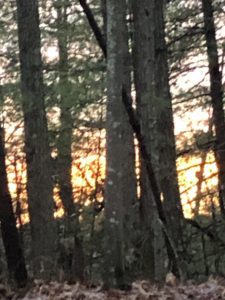 We arose with the sun. I'm not sure I slept at all but was spurred into action when I realized others were packing up. I quickly heated the water I had filtered from the creek for my oatmeal which I had pre-assembled in a baggie with raisins, cinnamon, walnuts, and ground flax seeds. I knew it would be a hearty start to a challenging day and hoped it would sustain me until the hike was over. As it set in my camp pot, it tipped over spilling some of its contents. I would have a smaller portion, and Roscoe would get an unexpected treat which he eagerly lapped up.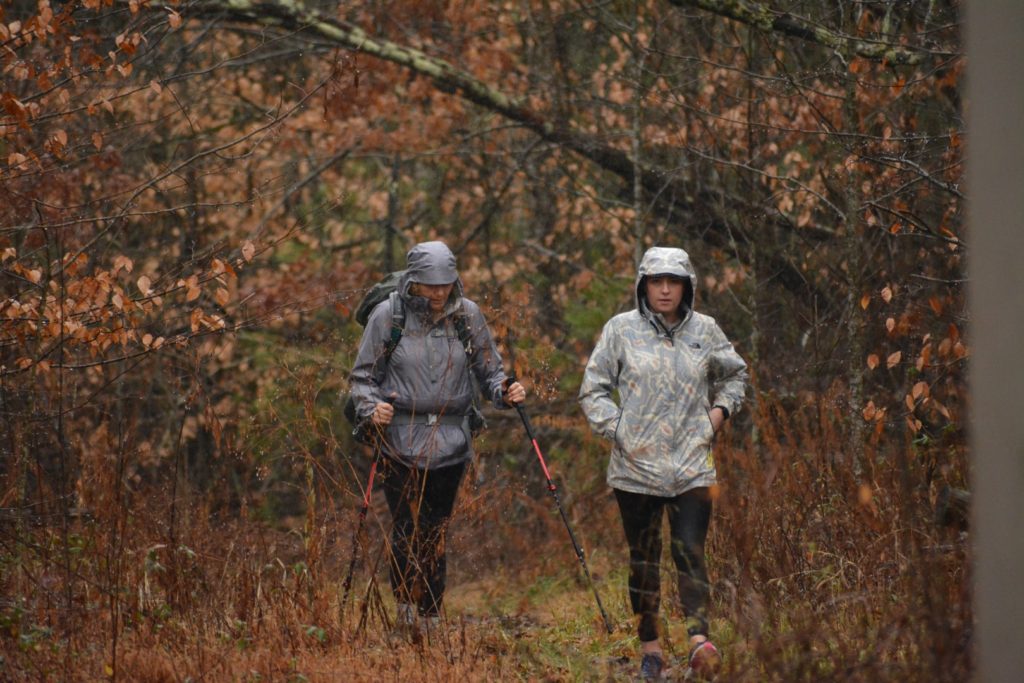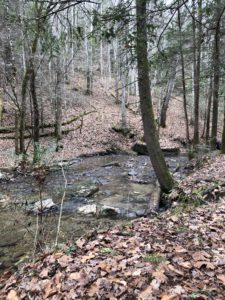 The second day of our hike would be 6 miles. I thought it would be easy, with such a short distance compared to the day before. But adding to the hike was a steady downpour of rain. I enjoyed this new experience in reality. It was new to me and refreshing. It wasn't too cold, and the rain made the forest glisten, adding a new layer of beauty. I was prepared with a new raincoat which included pit zips, a feature using descriptive terminology I found hilarious. It provided great ventilation and I was comfortable despite the rain. The hiking though became more tenuous for me. My previous broken arm had occurred on a slippery rock face and I cautiously considered and gingerly placed each foot in front of the other, falling further and further behind. My right knee began to bother me, especially walking downhill, and despite the added exertion I looked forward to trudging up the hills, and dreading the downhill. The path had become less rocky, more steady, but there was evidence that horses had used the trail which created deep puddles of muddy water mixed with horse manure. Ahead of me now was a wide creek and there, sitting alone under a tree in the rain was Vicky, the wonderful trail guide who had volunteered to host my shakedown. The others thankfully had long before abandoned any effort to wait for me, and on this day I enjoyed a mostly solitaire hike. I was happy to see Vicky though. Surely we were almost done! The creek was deeper than any we had crossed and I scanned the banks for a place to rock-hop. It wasn't to be. Vicky matter-of-factly announced that I would be getting my feet wet during the upcoming challenge and I may as well get used to it. She instructed me to just march through the water. I knew it would come over the boots which had thus far kept my feet dry, and it did! I hiked the remaining distance with wet feet!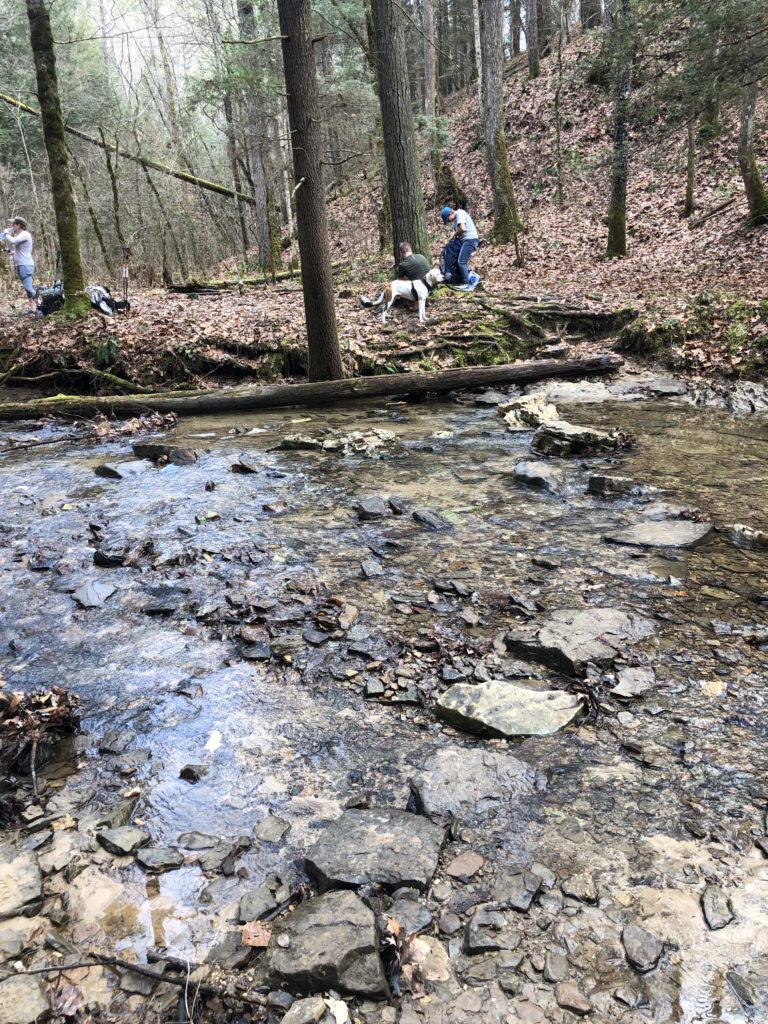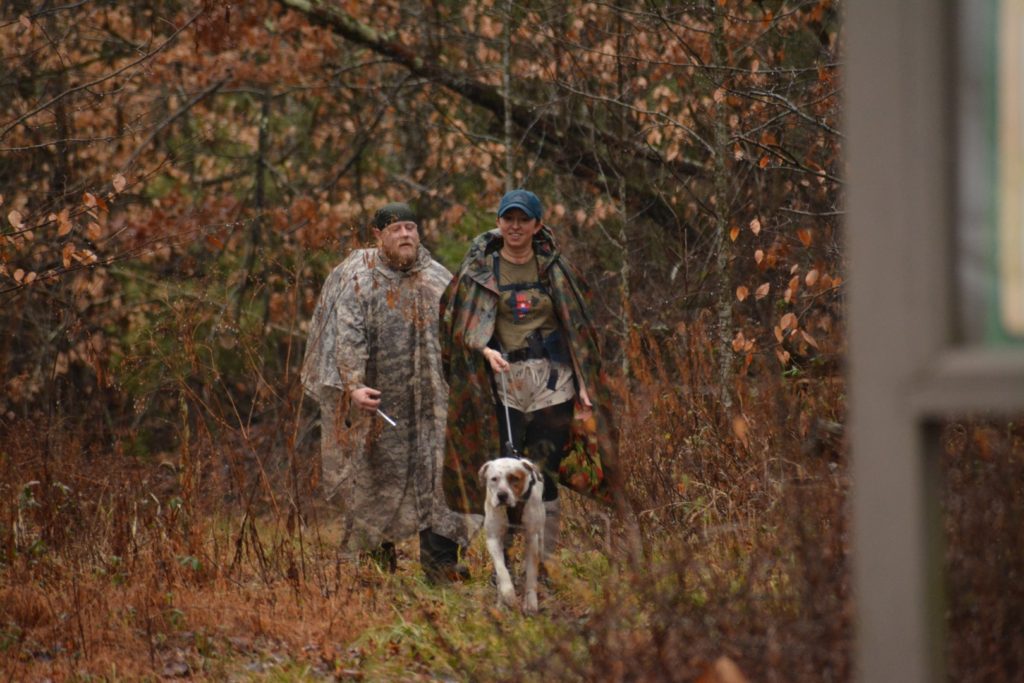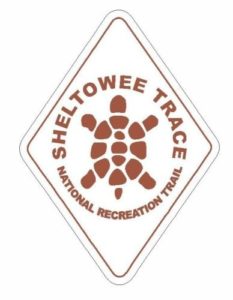 Once across the creek I saw ahead of me the familiar white turtle trail blaze on a tree trunk, yet Vicky was turning left. I questioned her to make sure we were on the right path and pointed out the blaze ahead of us. Vicky knew the trail and assured me that we were to go left, and I trusted her. Soon she was once again out of sight. Had Vicky not been there to guide me, it would've met another 11 miles on top of my 6 mile hike that day.
I methodically placed one foot in front of the other, weary and in pain hoping the next turn would reveal the trail head parking lot. Each log across the path became a dreaded barrier as I contemplated how I would navigate it without bending my knee. I began to become discouraged, questioning my ability to complete the Sheltowee trace challenge during the upcoming year. I realized that I was completing this 17 mile hike in two days, and that many of the hikes in front of me would be 17 miles in one day! How could I possibly do that as tired, as weary, as spent as I was?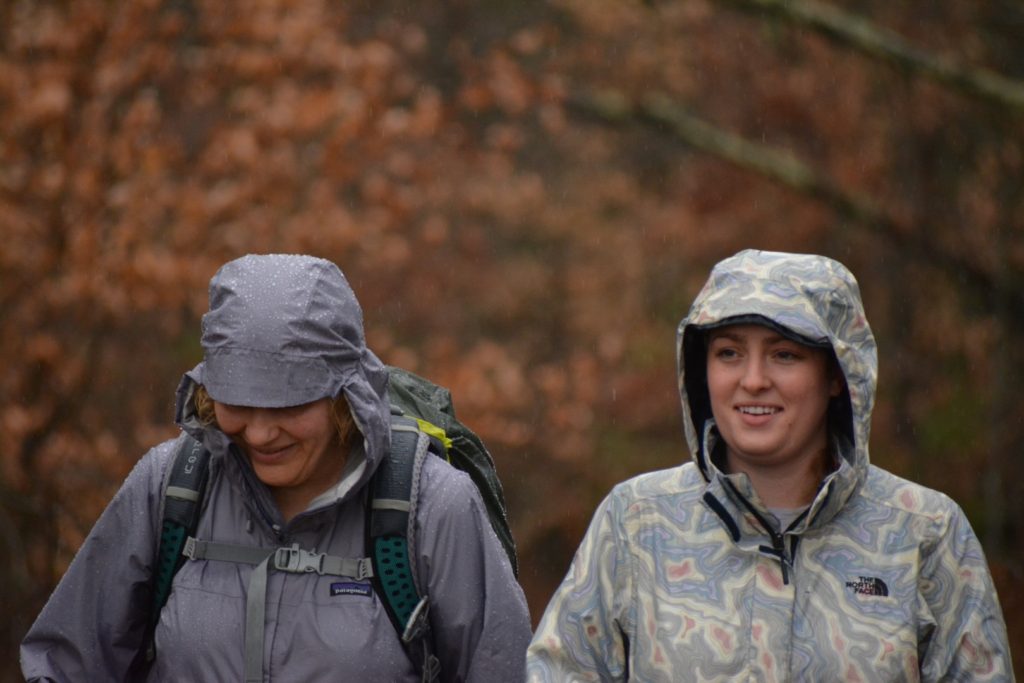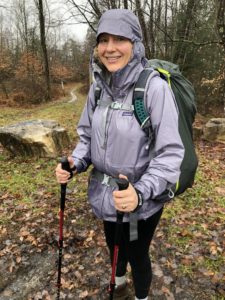 Once again, I saw ahead of me the familiar  patterned raincoat that Vicky wore. Missing was her backpack! As I approached she announced that we were close, and that David was waiting. She had come back to escort me the remaining distance. We talked as I hobbled onward. She asked about and addressed my concerns regarding the upcoming Sheltowee Trace Challenge. She reassured and encouraged me. Her confidence in my ability lifted me from despair and discouragement. I can do this! I will do this!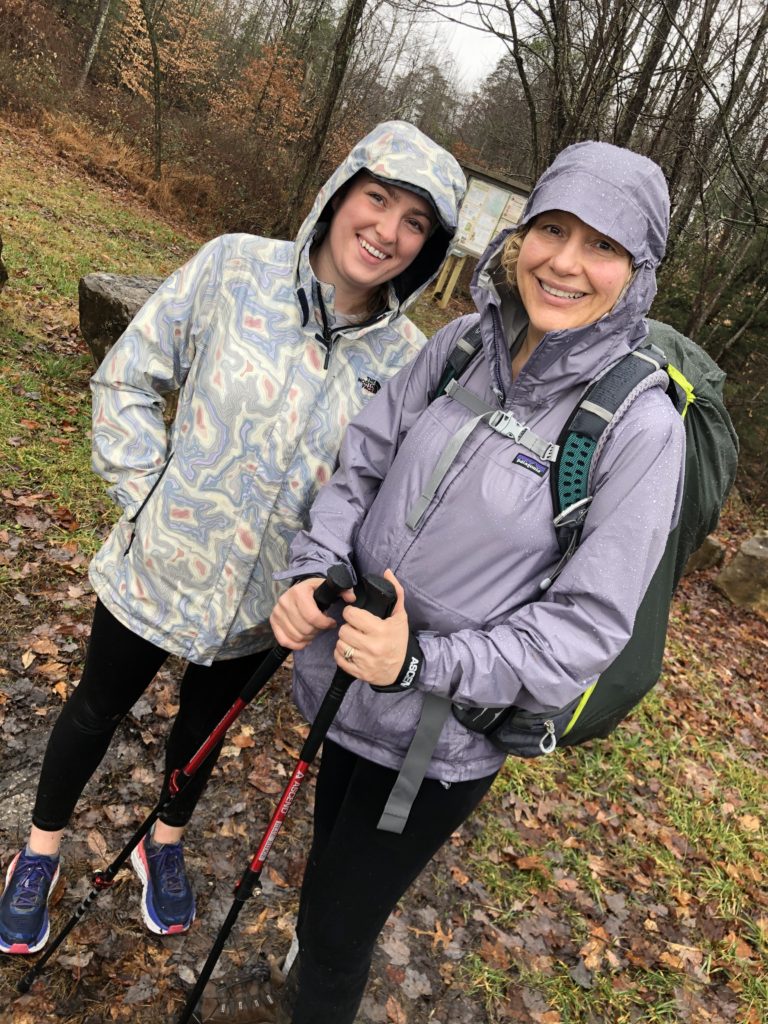 David took pictures as we approached — my own personal paparazzi! The sense of accomplishment surprised me, and the gratitude I felt elevated my spirits, overwhelming me. I will be forever thankful for this experience and the part that Vicky and the others played in making it a most memorable and rich introduction to more adventures ahead.