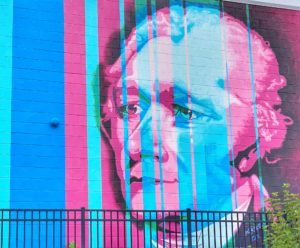 Many cities are moving towards becoming "mural towns" as a drawing card to their towns.  The nice thing about murals is that they are each so unique and original.  In late October 2020 I had the opportunity to visit Hamilton, Ohio, which has now added numerous murals to buildings all around the town.  Thanks to an organization called StreetSpark, some lovely murals have begun dotting the town.
StreetSpark is similar to Lexington's PRHBTN organization, which I have written about a number of times. StreetSpark is a public art program established in 2016 in partnership with the Fitton Center for Creative Arts, the City of Hamilton and the Hamilton Community Foundation, and was founded to further the creative identity in Hamilton, Ohio through exciting murals and public art projects. Since the summer of 2016, 14 murals have been created in a variety of styles. Like PRHBTN, each year artists are invited to submit a range of designs, and the winning murals are chosen by a selection committee of art professionals and appreciators in our area.  There is nice PDF map of the StreetSpark Murals HERE.
There is also another section of town called Strauss Market and there are a number of murals added there.  Called the Strauss Market Murals.  These had a unique theme…Ten different artists with ten different styles— but each mural was painted with the same Obstinate Orange color to reflect the positivity of Hamilton's beautiful sunsets.
I didn't have the time to get to all of the murals in town, but I did find most of them.  It was lots of fun. In fact, it was my first time to Hamilton and I was impressed with the downtown area and all of the art installations…not just the murals, but many statues an monuments.
Following are my photos and the descriptions of the murals that I was able to visit.
StreetSpark Murals: 2016 -2020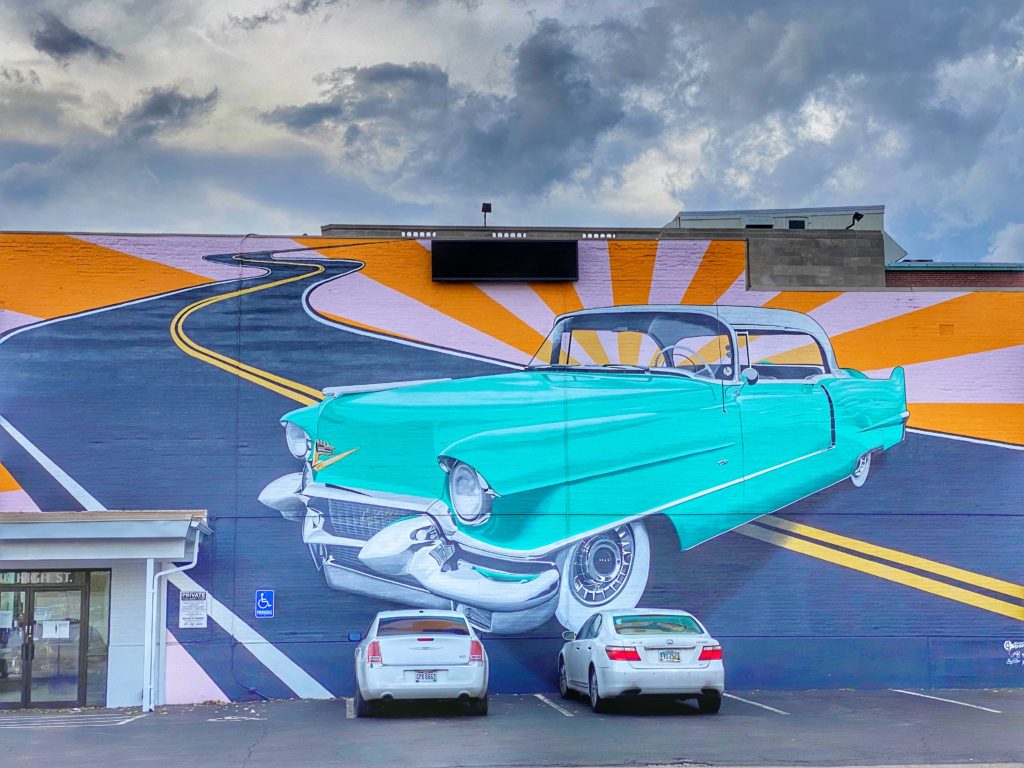 The first mural I saw as I came into town was this beautiful large mural of a mid-1950s mint green Cadillac Coupe De Ville on the side wall of Jeff Pohlman Tire on High Street. Titled Caddy-O, this mural was created by Cincinnati Artist Nicole Trimble.  This mural was completed in the summer of 2018.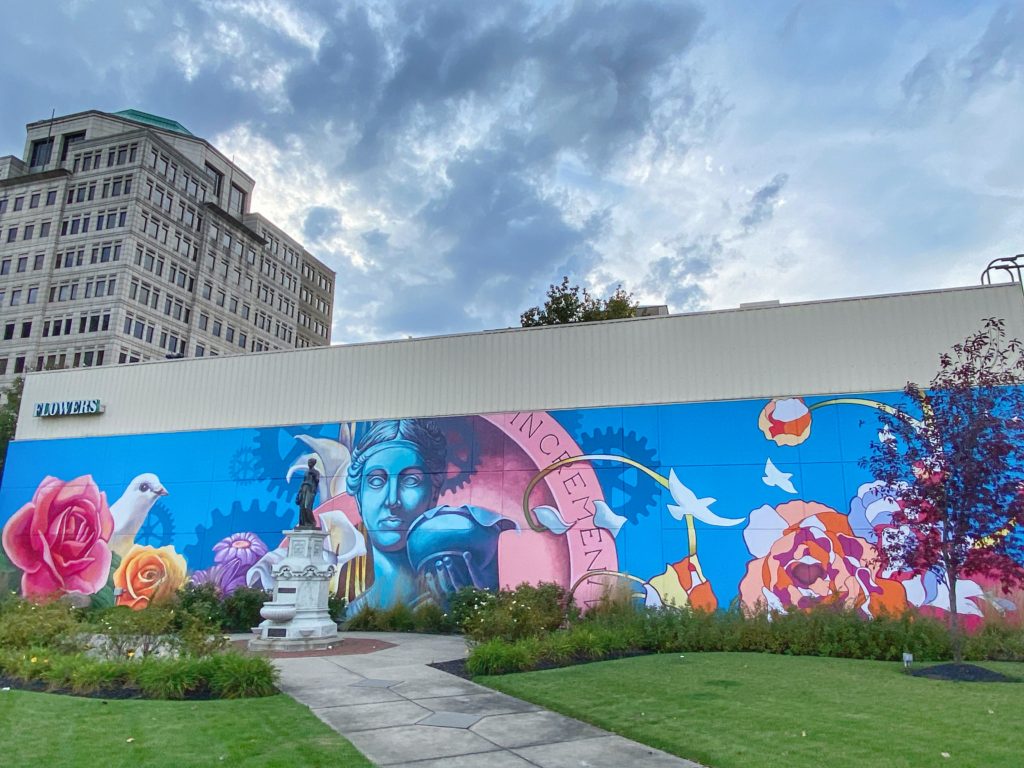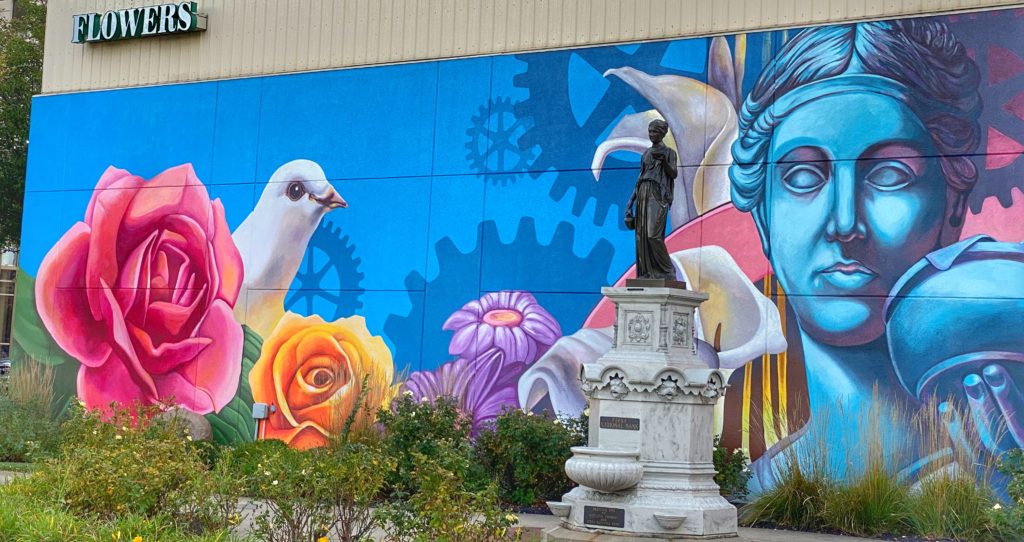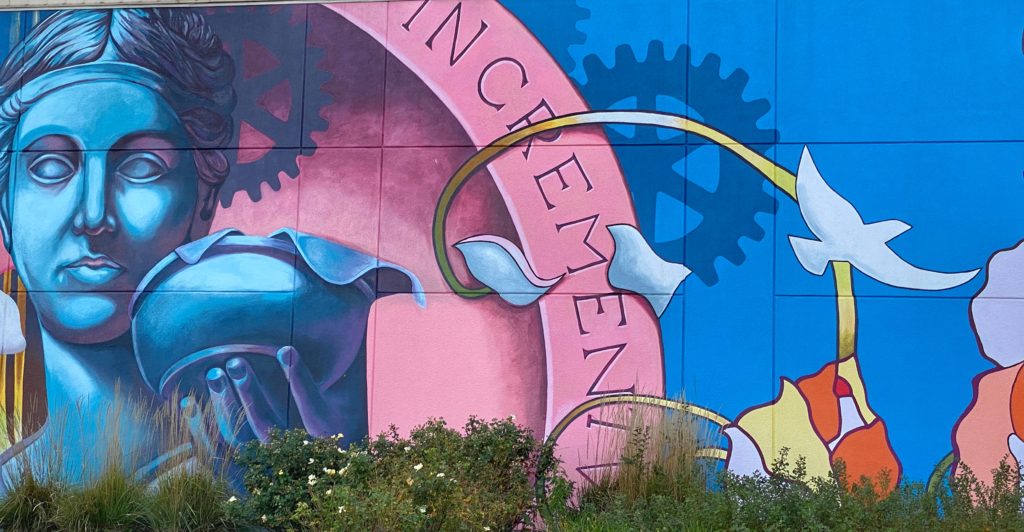 Incrementum is another mural by Cincinnati designed by Paul Loehle and painted by artist Nicole Trimble. It is also on High Street and was completed in the Summer of 2019.  The mural depicts Hebe, the Greek goddess of Spring, as a central figure that pays tribute to the statue that adorns the landscape in front of the mural (see the second photo).  Its a unique mural with doves and Greek art styles.  The mural was sponsored by the Rotary Club of Hamilton, so the design included gear symbols to represent this organization. According to the StreetSpark website, "The concept of "service above self," on which Rotary is founded, creates a strong community full of peace, growth and hope, as expressed through this design's strong symbolism."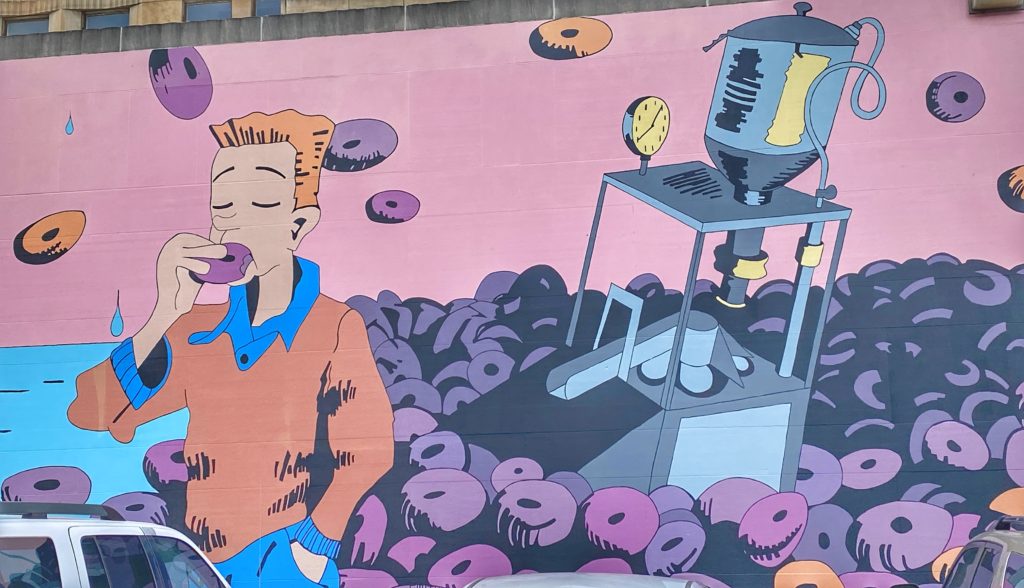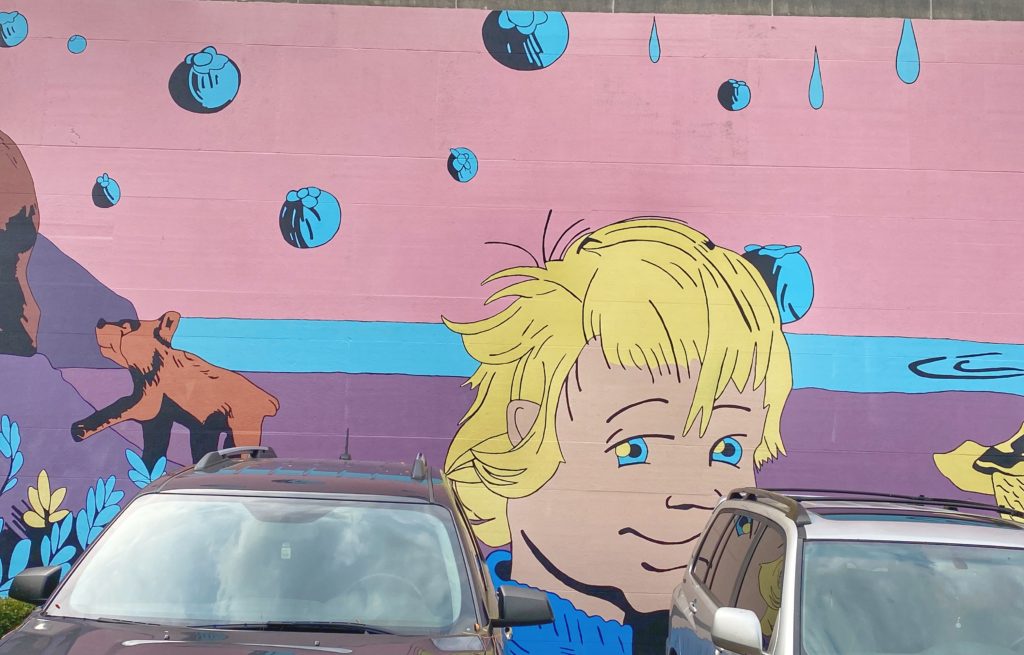 Perhaps the most whimsical of all of Hamilton's Murals is Make Way for McCloskey by local Hamilton artist Stephen Smith. This was one of the first murals in downtown Hamilton, having been completed in the summer of 2016.  It is located in downtown Hamilton at Hamilton Mill at Front Street and High Street. Smith designed this mural to honor local writer and illustrator Robert McCloskey (Sept. 14, 1914 – June 30, 2003). McCloskey was a writer and illustrator of children's books. He wrote and also illustrated nine picture books, and won two Caldecott Medals from the American Library Association for the year's best-illustrated picture book.  This mural incorporates images from his books Blueberries for Sal (1948), Make Way for Ducklings (1941) and Homer Price (Homer Price).  The donut eating comes from Homer Price where you can win a hundred dollars by eating all the doughnuts you want.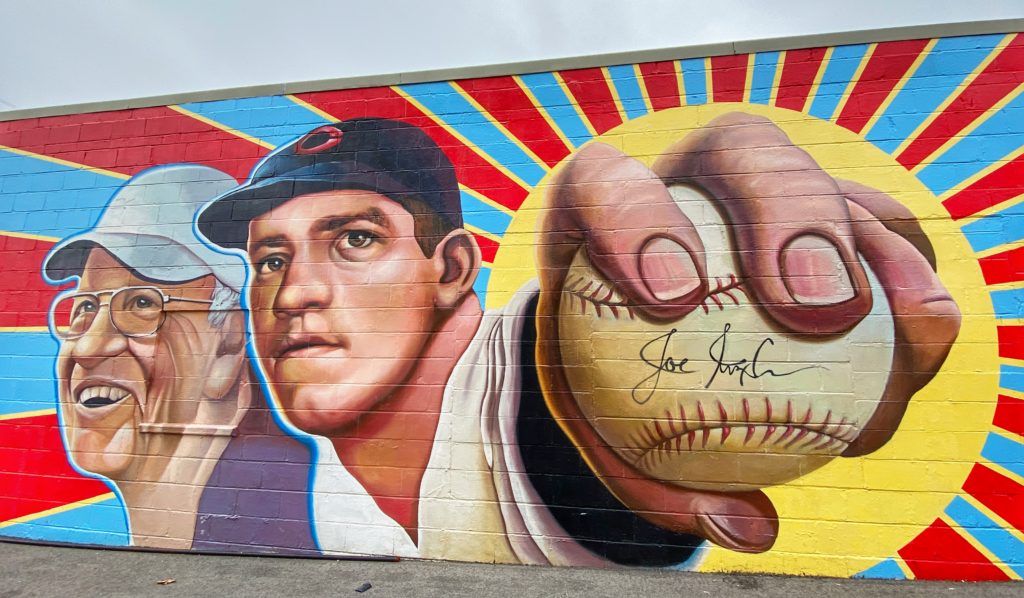 Tucked in a small alley behind Clarks Sporting Goods at 15 South B Street, the mural honors Hamilton native Joe Nuxhall (July 30, 1928 – November 15, 2007), who was a major league left-handed pitcher who played mainly for the Cincinnati Reds.  After retiring from baseball, Nuxhall then became a radio broadcaster for the Reds from 1967 through 2007.  This mural, designed and painted by Hamilton High School art teacher and well-known Cincinnati area artist Paul Loehle, features Nuxhall as a young Reds pitcher and then a second image of him in his later years as a local philanthropist and local figure.  Loehle completed this mural in the Summer of 2017.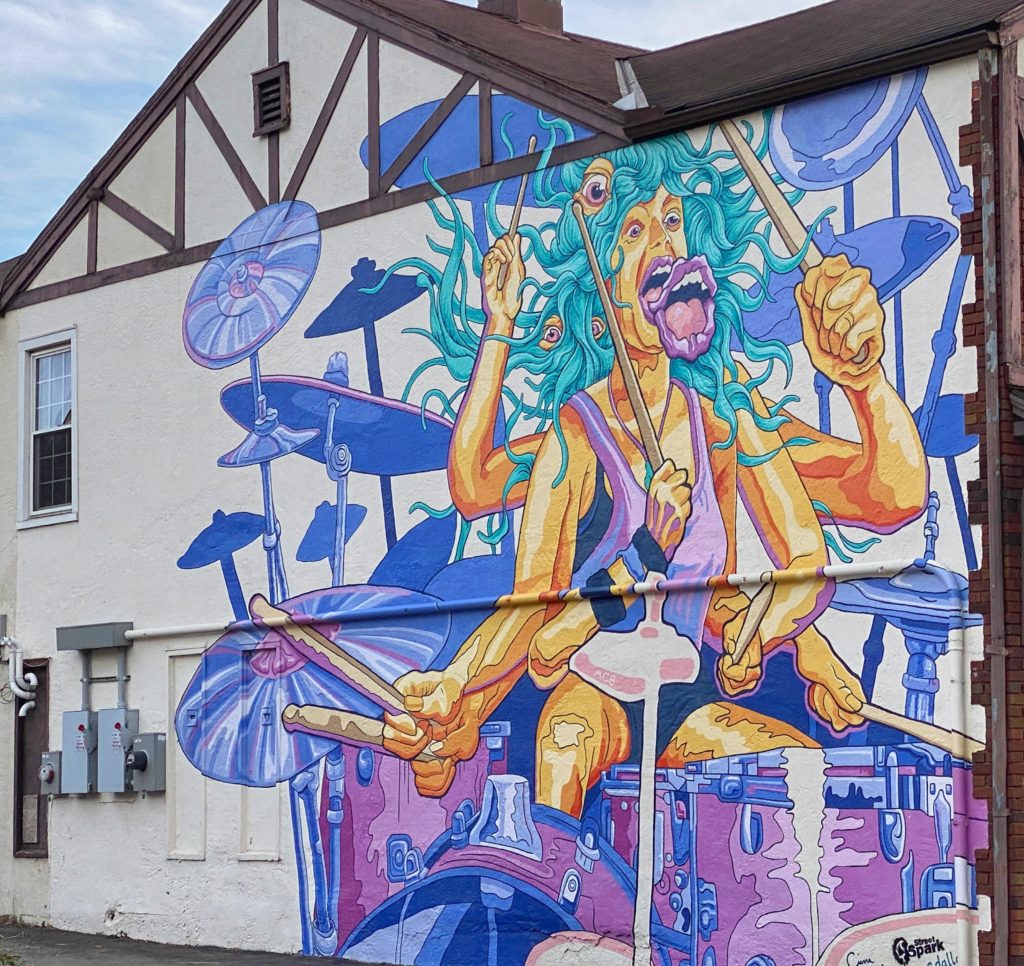 Golden Ethos is a unique and colorful mural by artist Christian Dallas from Cincinnati suburb Florence, Kentucky.  This lovely mural that celebrates music in Hamilton, is on the side of North Second Tap on North Second Street in Hamilton. It was completed in the summer of 2018. Dallas' goal was to interpret kinetic elements into a static form that interacts with the wall as opposed to a rectangular rigid design, just as a performer interacts with their audience.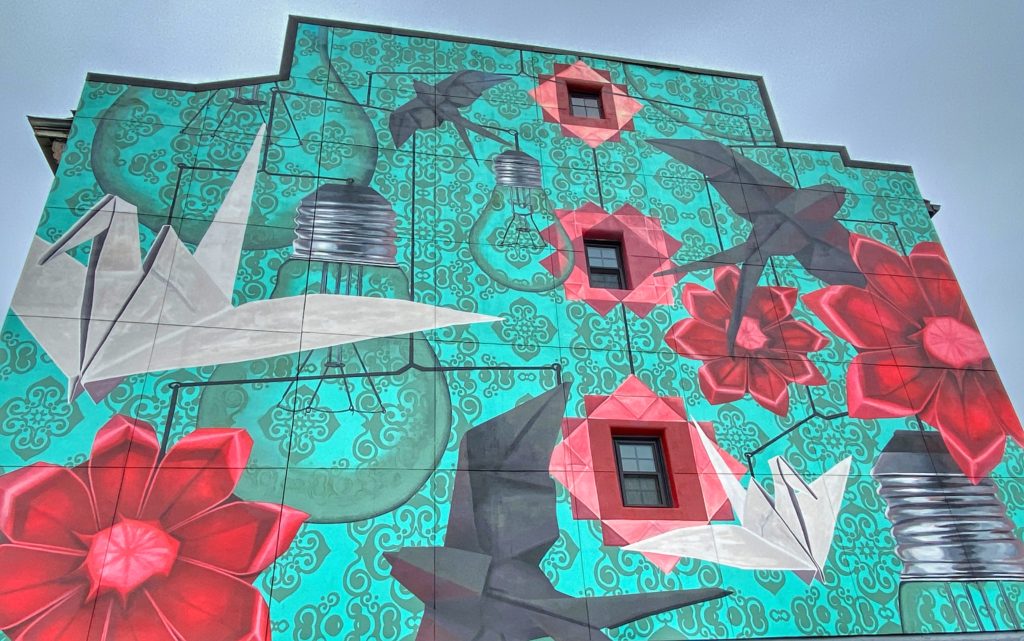 This beautiful mural with origami cranes and swallows sits on the side of the Unsung Salvage Design Co. on Main Street in Hamilton. It was designed by Montreal mural artist Annie Hamel and painted by Cincinnati artist Nick Scrimenti in the summer of 2017.  I have had the opportunity to see of his other work in Cincinnati and up in Aurora, Indiana.  This design of this mural is intended to evoke the notions of serenity, fragility and peace. The contrast of the ancient origami coupled with the light bulbs provides a contrast of manual art versus innovation.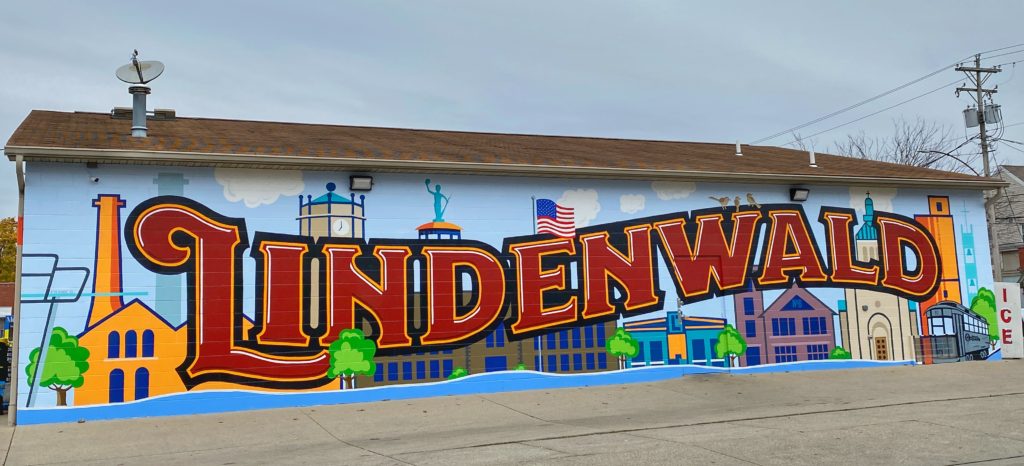 Lindenwald is a nice historic section of Hamilton.  This mural was created by Dave Rickerd from Springdale, Ohio. It is on the side of Minnick's Drive Thru  on Pleasant Avenue in Hamilton.  the mural features some of the history of Hamilton and Lindenwald.  I am always fond of murals that advertise the town names and their history.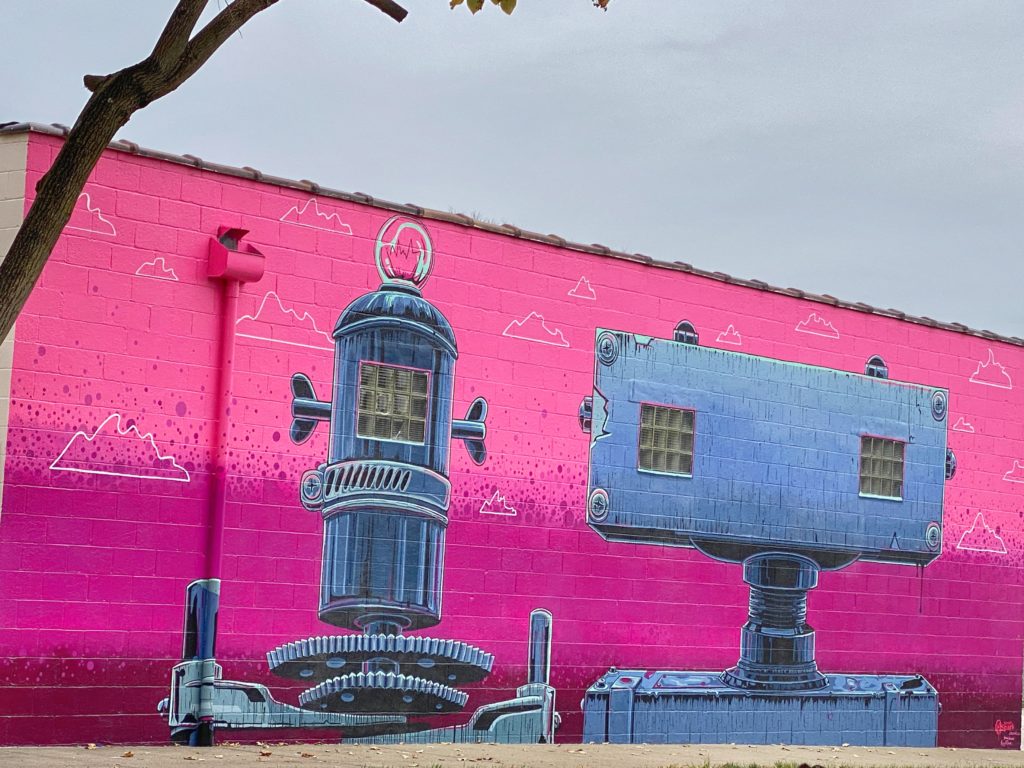 One of the newest murals in Hamilton is Ro-Bros, which was completed this past summer at 802 Heaton Street.  It was designed and created by Cincinnati artist Logan Walden. The mural depicts two larger-than-life robot brothers  and has a lovely pink sky.  An interesting feature of this mural is Walden's use of the windows as eyes that can cause these murals to light up at night.  This mural was painted in a predominantly industrial area of Hamilton.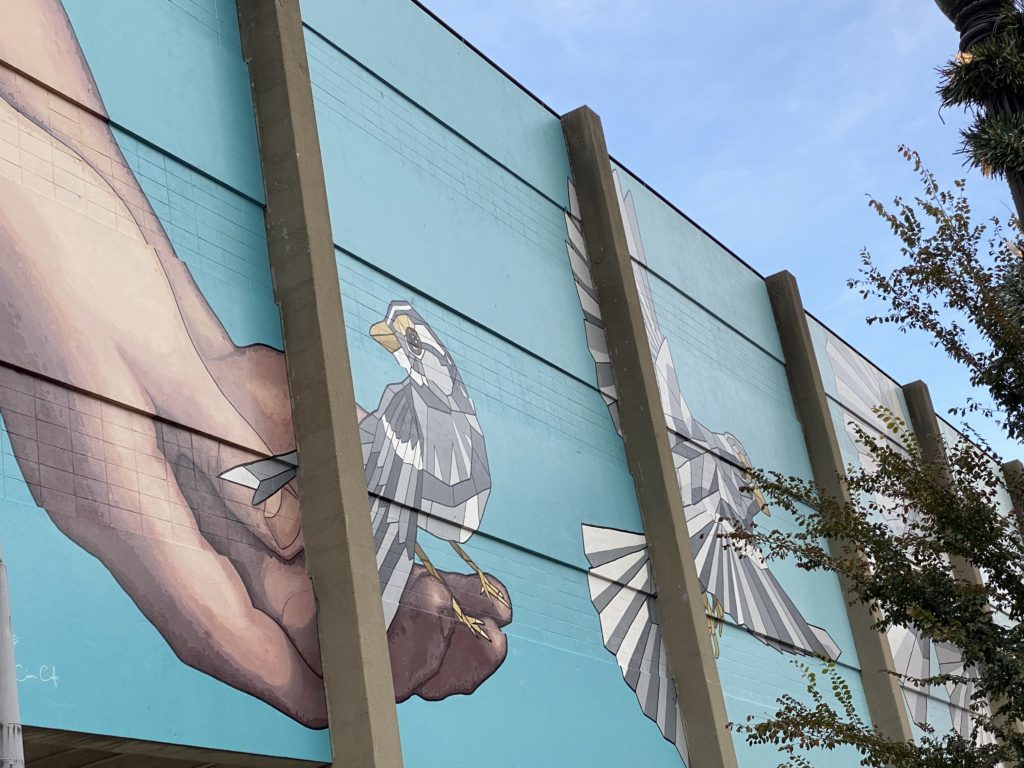 This is yet another work by Nicole Trimble with a design by Hamilton artist Taylor Stone-Welch. The artwork is meant to symbolize a city reaching new heights with an origami-style sparrow taking flight.  This one was kind if difficult to get a full shot from where I was so I really only got two stages of the flight.
The Strauss Market Murals – August 2020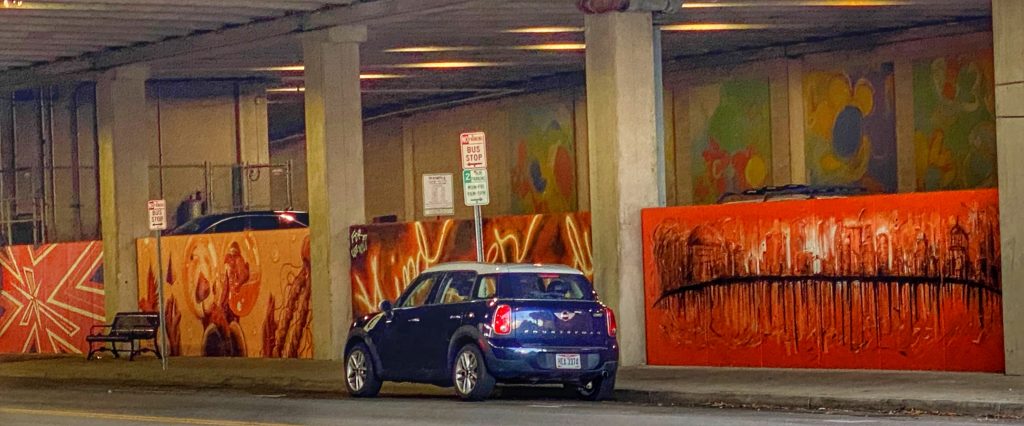 In August 2020 a group of 10 mural artists gathered in a project by The Strauss Art Gallery and a couple of other organizations to create this collection of murals, all utilizing the same orange hews.  Each of the murals is a stand-alone piece with the only connectivity being the Obstinate Orange color that represents the sunsets in Hamilton. These can all be seen on walls in the McDulin Parking Garage on Market Street.  Once again, I didn't get all of them, but here are some that I did get.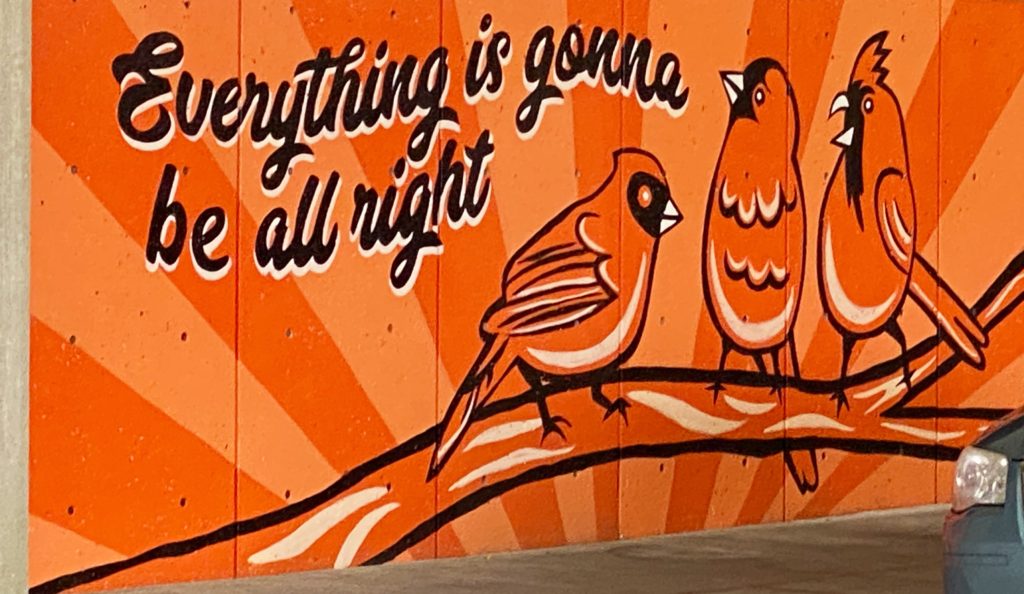 I already noted another mural above by Dave Rickerd.  For inspiration, Rickerd used some words from the song "Three Little Birds" by Bob Marley.  Its one of those songs with a wonderful reassuring message.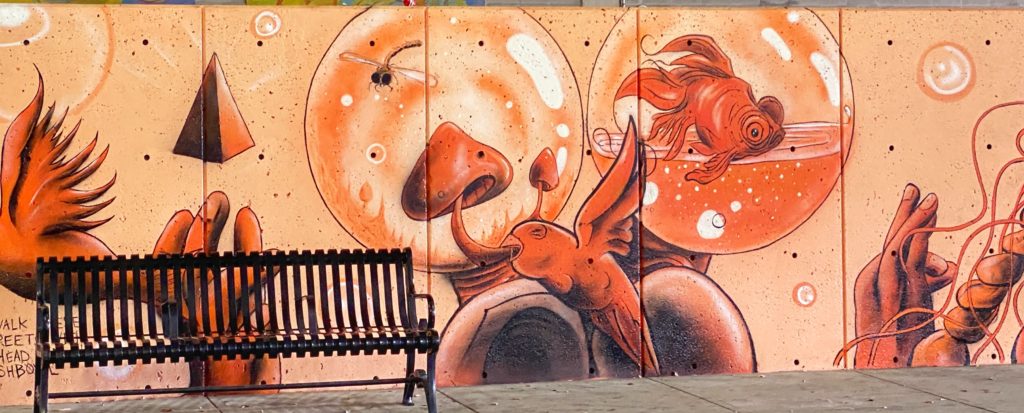 Brian Beck is a self-taught mural artist who has works all over the Cincinnati area.  Brian explains this art: "In this scene of the abstract animal planet, I am blending certain things that don't belong, but within the concept of nature. Is it underwater, thus the jellyfish and fish? Or is it in the sky, thus the birds? And is that currents or clouds? Truth is… even I don't even know. And that's the point. We humans are featured too as part of this narrative of nothingness, which I will do with a variety of techniques and methods."

Apparently Hamilton has plenty of pigeons that like to hang around the many lovely old buildings of Hamilton. Hamilton artist Logan Walden referred to these pigeons as "punk pigeons" and also included skateboarding kids, kids riding bikes, etc.  This is a fun mural to look at in detail and find all of the unique things that provide the character of the City of Hamilton.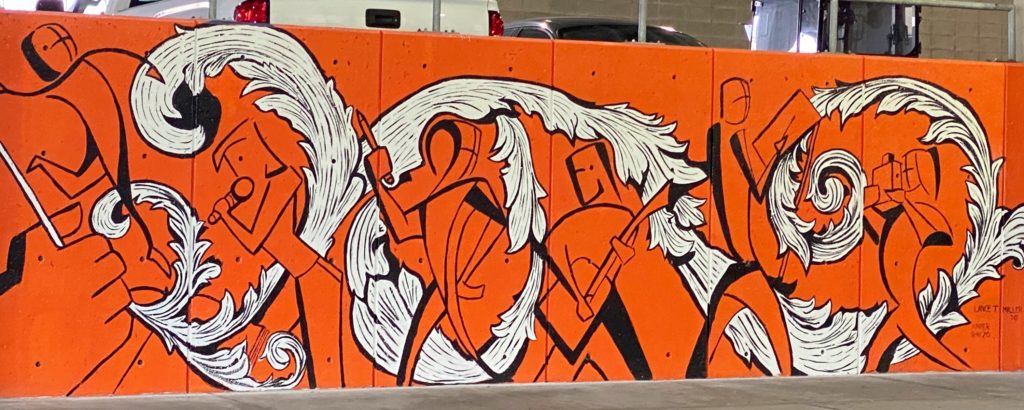 Lance Miller is mainly a playing card designer/artist and also a freelance artist from the Cincinnati area.  But he joined in with the Strauss Market project to create what he has titled "Inspiration." In his own words, Miller describes this unique piece: "It is a double creation story which flows from left to right and right to left. The writer is telling the tale of the dancer, who was inspired by the singer, who was inspired by the songwriter, who had been inspired by the musician, that created music to capture the feeling of a piece from the painter, who was inspired by a photographer taking a picture of them all. One side of the story does not exist without the other having happened. This captures the raw essence of Inspiration that thrives and is intertwined throughout the whole of human existence. There is no depiction of religion, age, race, or gender, so that any individual human being passing by can identify themselves within and see themselves transformed into a larger than life creator, thus being inspired to live the ultimate life as a powerful creative."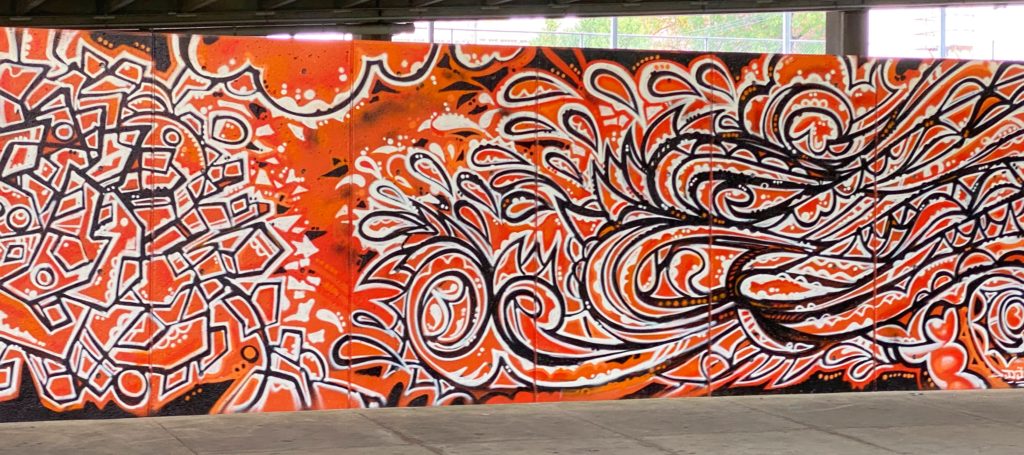 David Jonathan is another local artist that has some great creativity.  This mural features jagged rocks on the left and ocean waves surging at the rocks on the left.  Eventually, the waves will wear the rocks down to sand. He notes that what we see now may be different in the future.

Cincinnati artist Ben Kaczmarek wanted to highlight the nightlife of Hamilton. Its a whimsical representation of the fun the city offers.  DORA is a play on the words Door and DORA, according to the artist.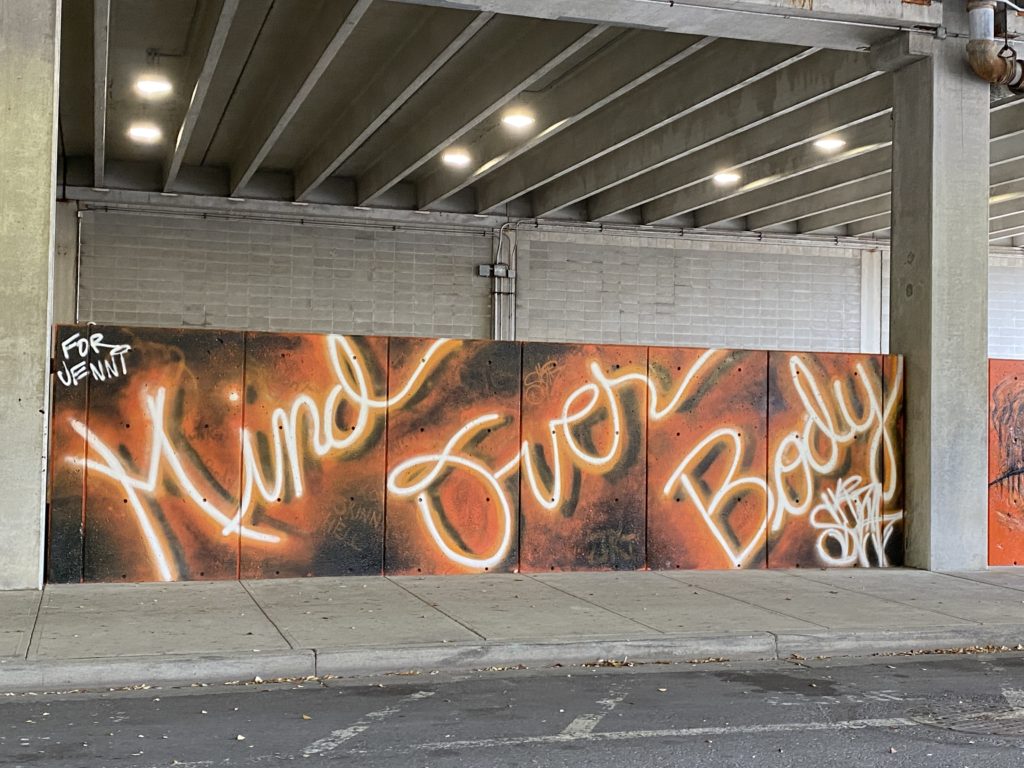 Inspired by his wife, Scott Hubbard of Hamilton created this piece called "Mind Over Body" to express how those that struggle with Body Over Mind can overcome it. As the artist wrote: "This piece literally highlights the importance of putting people's minds first."
OTHER FINDINGS IN HAMILTON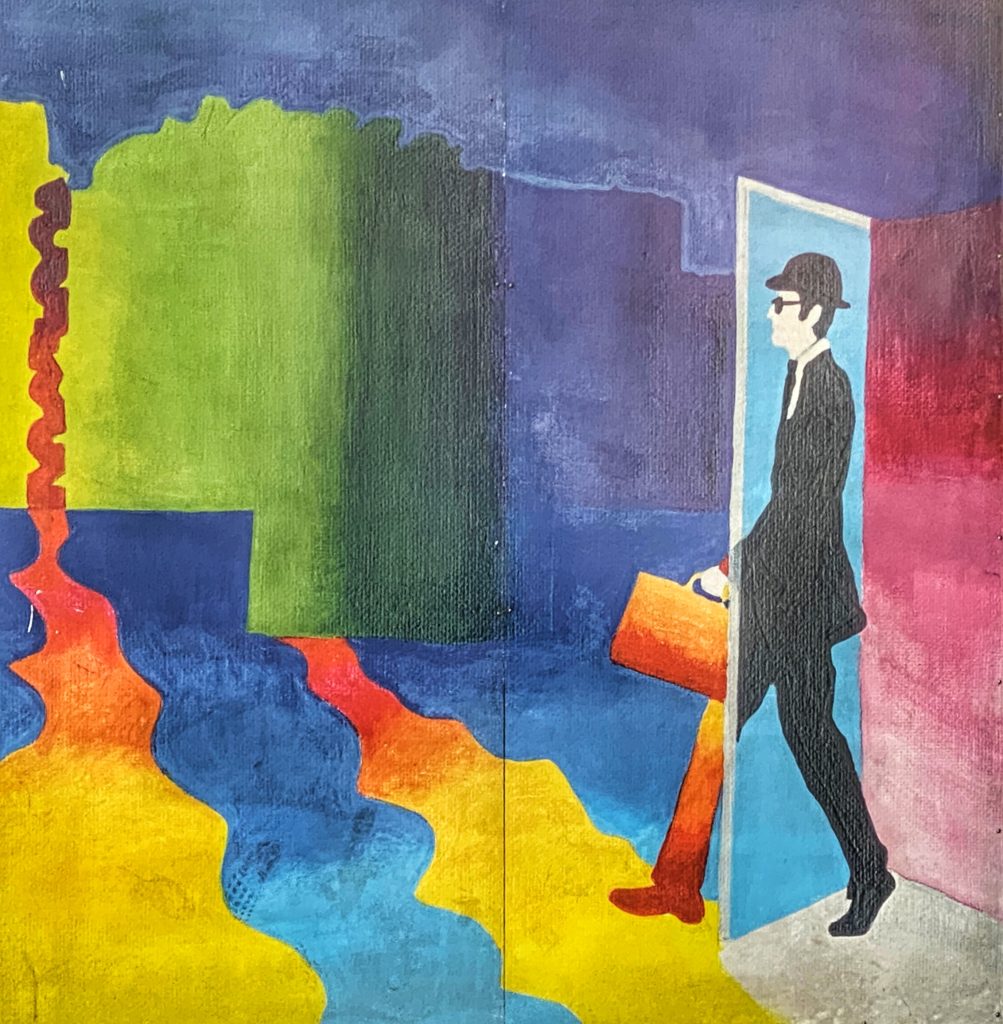 In my search for the other murals, I came across a few others that I don't have information about, but did want to also include them in this post.  The one above is actually in the same garage with all of the Strauss Market Murals, but I am not sure who did it or what its about.