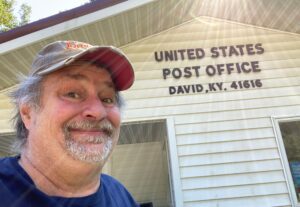 What an interesting year 2021 turned out to be for me.  I started out the year with dreams of a road trip down the Florida panhandle to the southernmost point, but it didn't pan out. With COVID on the rampage, there were limitations and I didn't want to risk getting out too much.  But, I was also very heavily engaged in doing support driving for the Sheltowee Trace Association and my wife and daughter who participated in the 2021 STA Hiking Challenge, hiking sections of the 343 mile trail each month.  This took up a great deal of my time and ended up becoming the theme of my fifth Less Beaten Paths book, which was published on November 30 (see the bottom of this post for more details).  I drove many miles on gravel and forest service roads.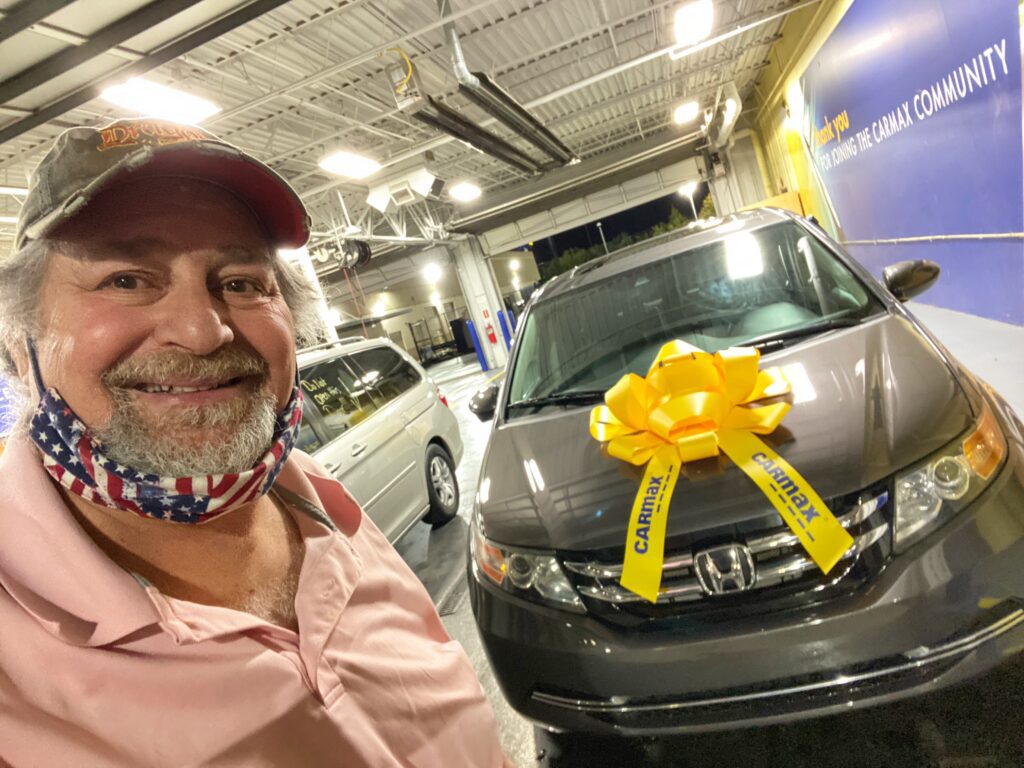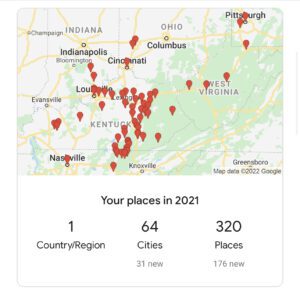 The year also saw the demise of our trusty 2005 Honda Odyssey van and introduced our much newer 2015 Honda Odyssey van, which we purchased in late January (1/20/21) in Nashville.  It was really nice to have a much newer vehicle to haul equipment and travel all over the place in.
Despite all of that, I did manage to get out for a bit of travel into Tennessee, Ohio, Indiana, West Virginia, Pennsylvania and Virginia.  According to Google Maps, which I have tracking all of my travel, I drove over 17,000 miles in 2021, much of which, I am sure, was related to Sheltowee Trace travel.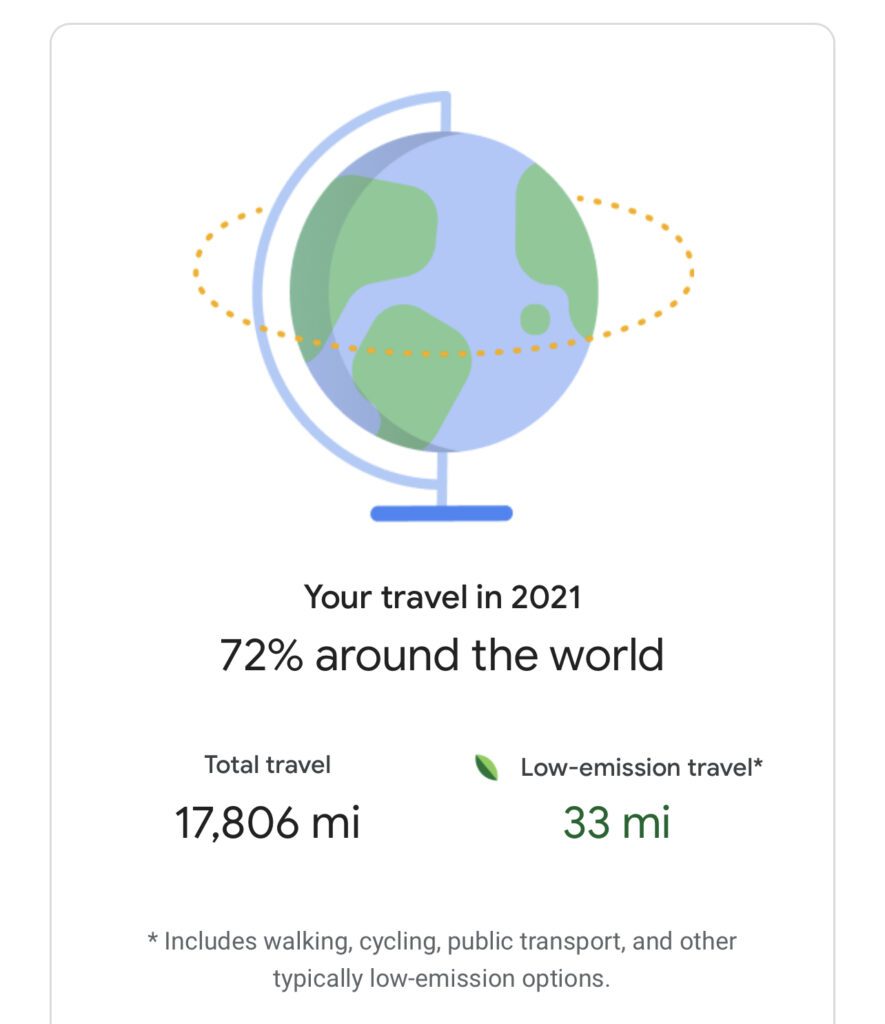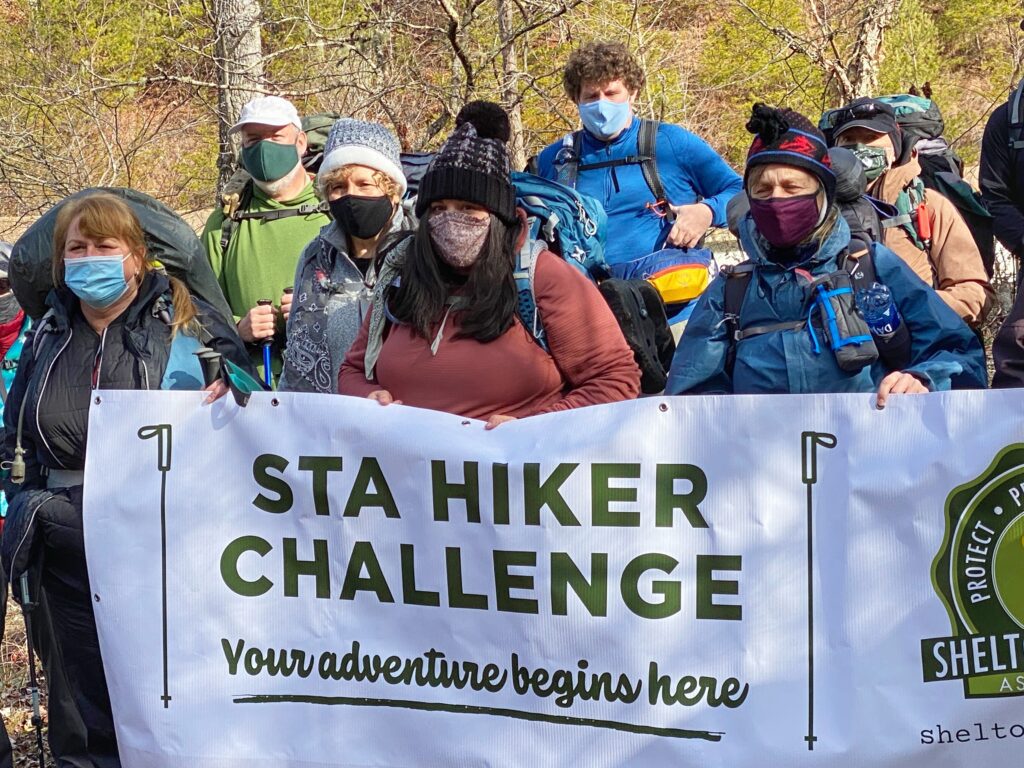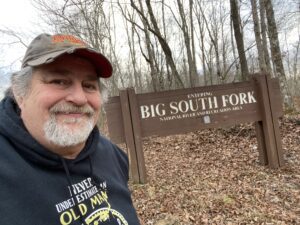 My first travel of the year was down to the Burnt Mill Bridge in Big South Fork National River and Recreation Area in North Central Tennessee, where Julianne and Marissa would begin their Sheltowee Trace adventure.  We would make a few trips down there during the course of the year.  On January 15 it was a nice, but cold day.  But on January 16 it snowed quite a bit as they hiked.  I enjoyed the warmth of my car, but really was able to capture some beautiful scenes from the road.  We returned back down to Big South Fork on January 23 for a second section of the hike.  It provided me a good opportunity to explore some of the surrounding area including the lovely Pickett State Park near Oneida, Tennessee.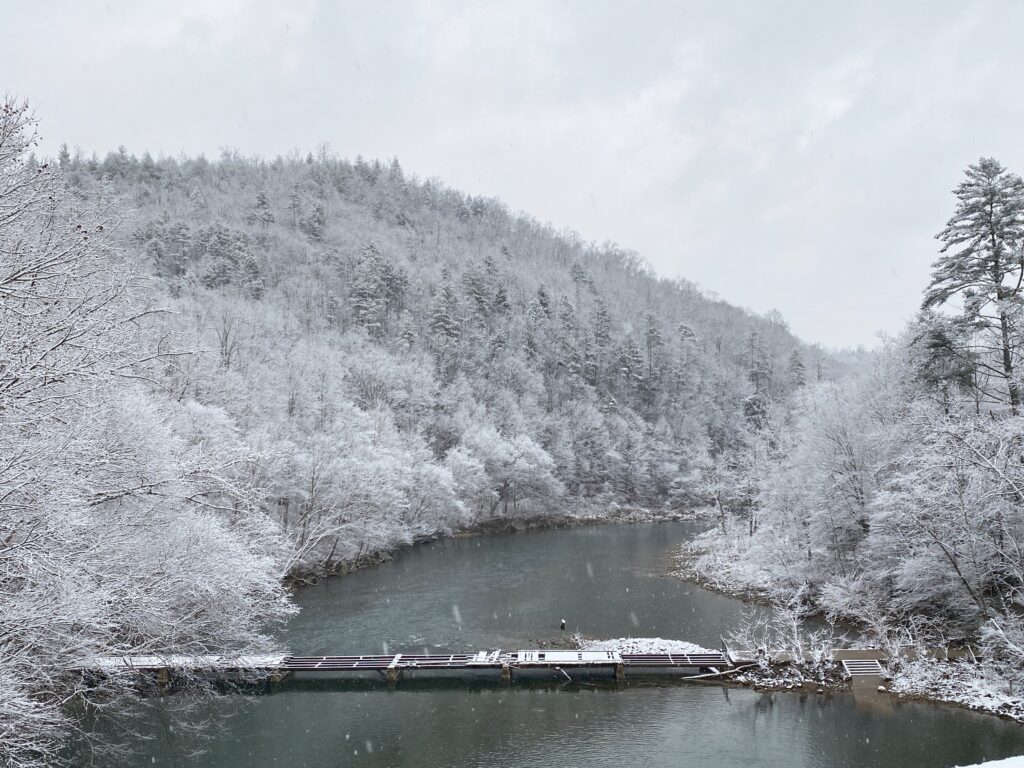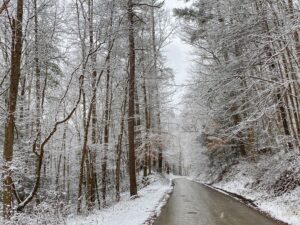 Part of this first hike had the hikers crossing over the old O & W Railroad Bridge in the middle of the Big South Fork Park. From the Burnt Mill Bridge to the O & W Bridge is 45 minute drive along over 22 miles of winding roads through the main part of the Big South Fork, then through Helenwood, and then on ten miles of gravel road. And in the winter  with snow it takes even longer.  I really wasn't sure I would make it all the way to bridge.  It was quite an adventure and the narrow road went through some interesting chasms and along a creek and then to the river.  But, I wanted to be there to meet the hikers and see the scenery.  I did make it and it was fun scene as they crossed the bridge in the snow.  And the river from the bridge was beautiful. This is a great place to visit even if you are not hiking!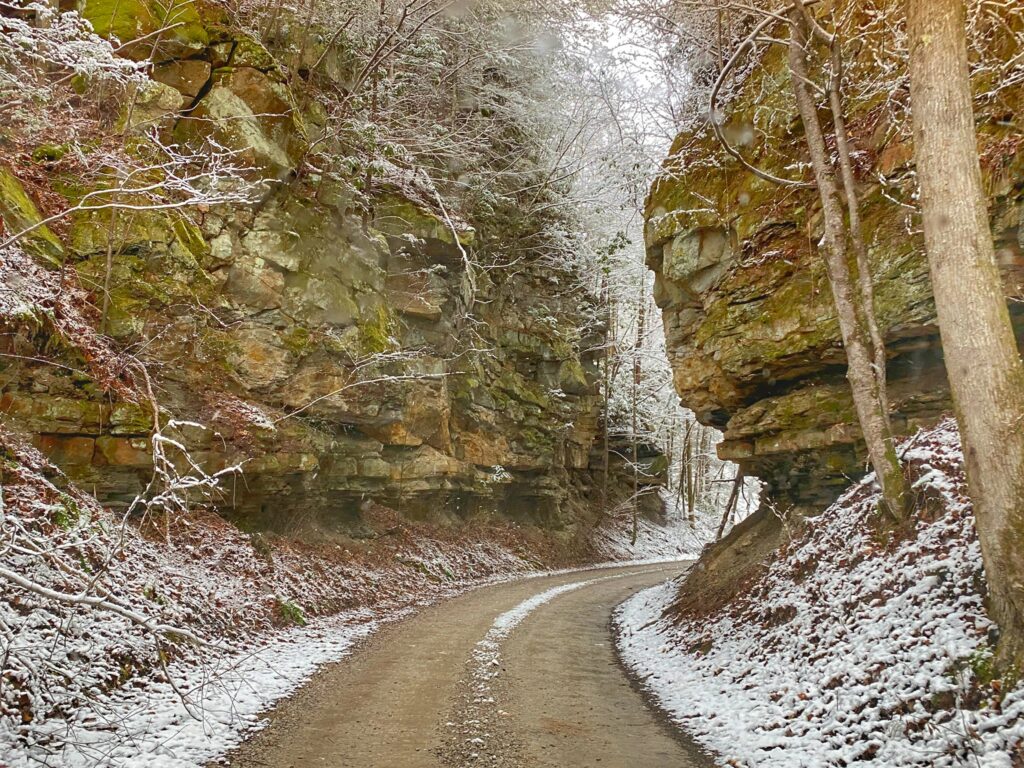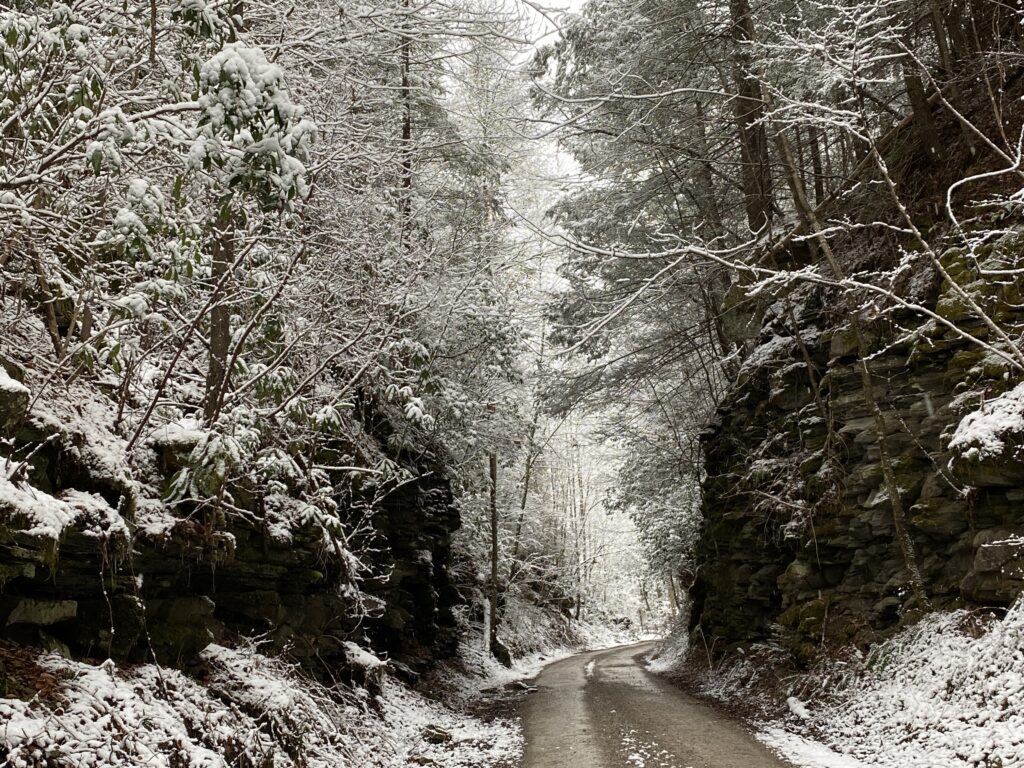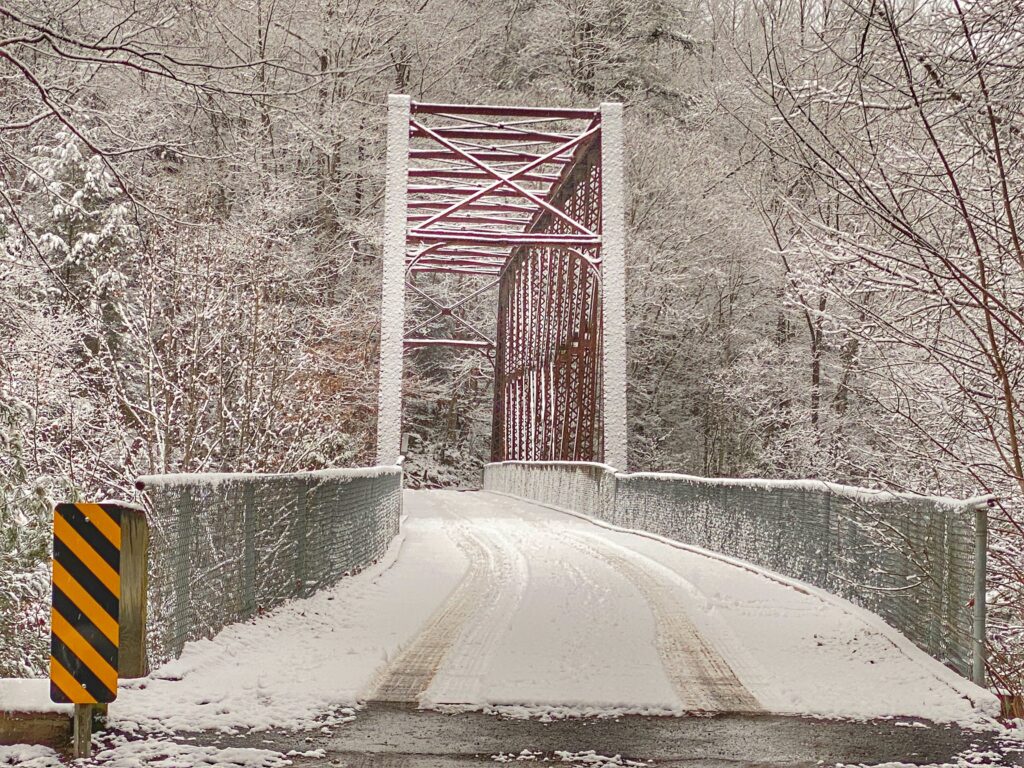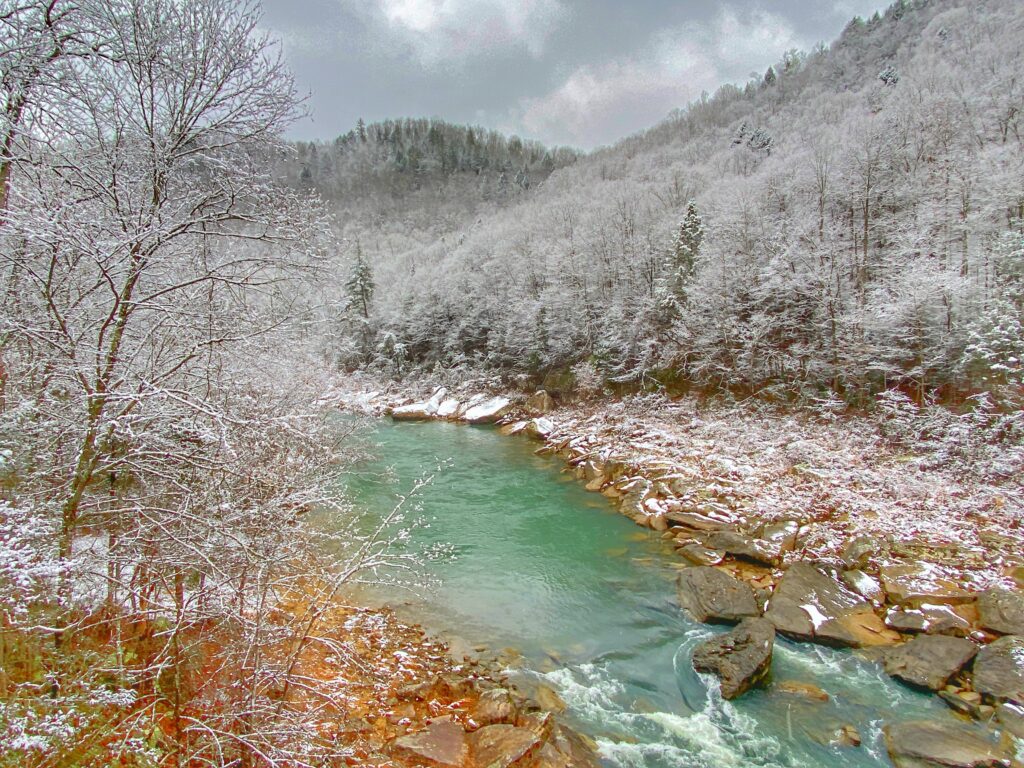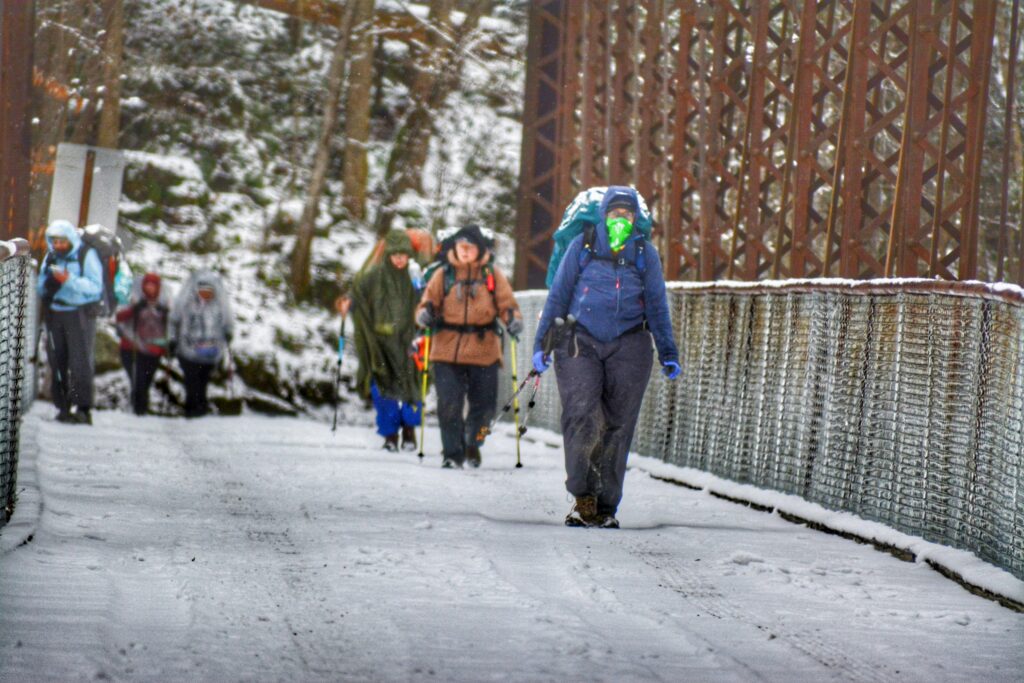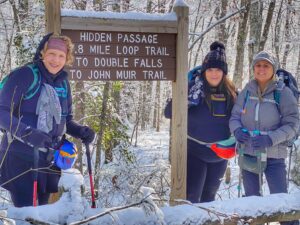 We traveled south again in mid-February only to be barraged by a major snowstorm, which ultimately canceled the STA hike.  But, we down in Tennessee, so we took advantage.  We stayed in Jamestown, Tennessee and Julianne, Marissa and their friend Sharon took a nice winter hike in Pickett State Park on the Hidden Passage Loop.  While they trudged through the snow, I took to the road to enjoy the magical beauty of the snow.  I made my way to Pall Mall, Tennessee and on to Static, Kentucky via US 127 from Pickett.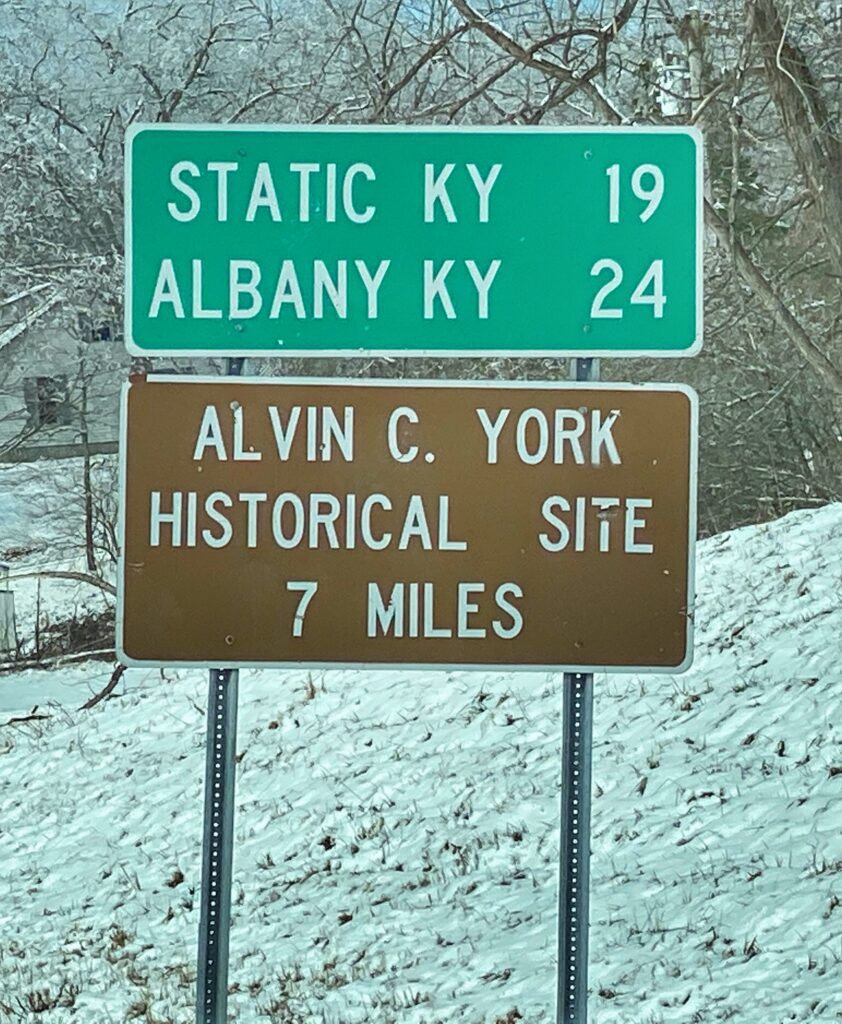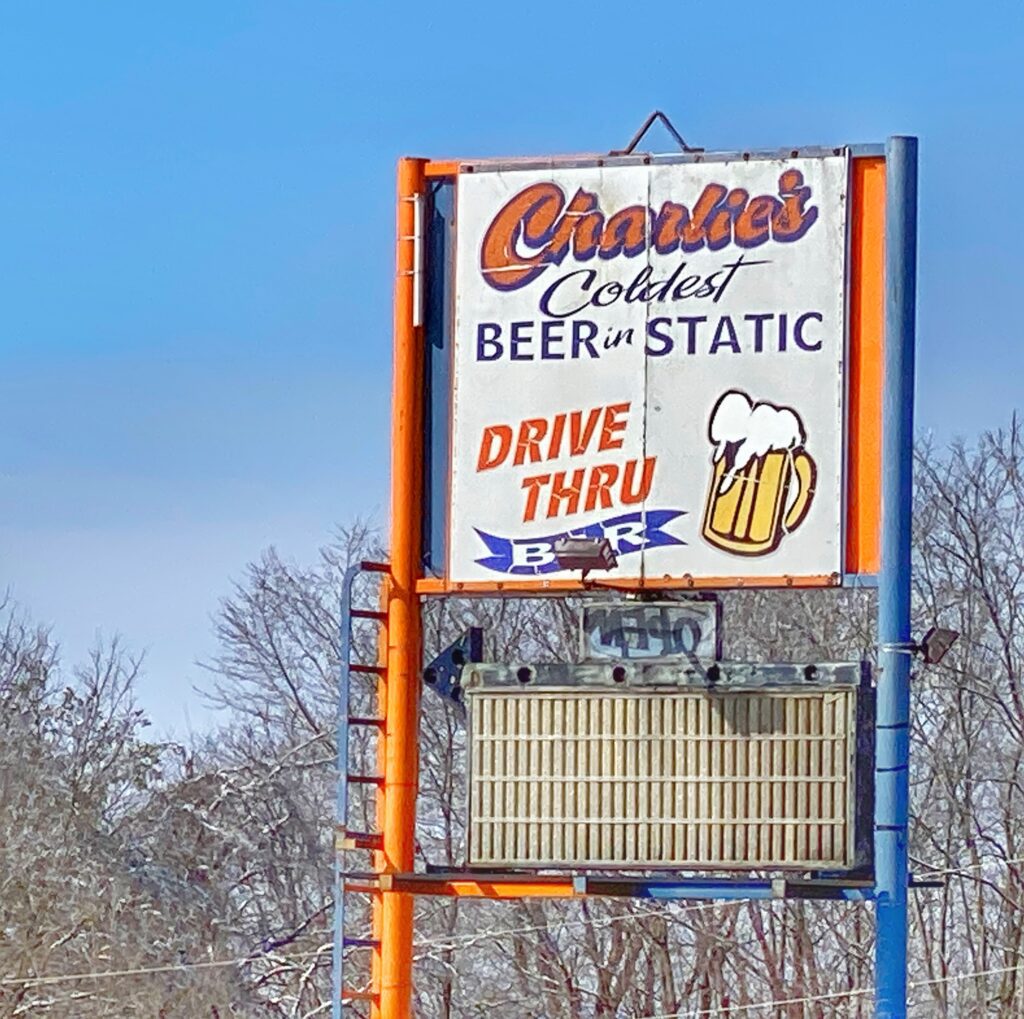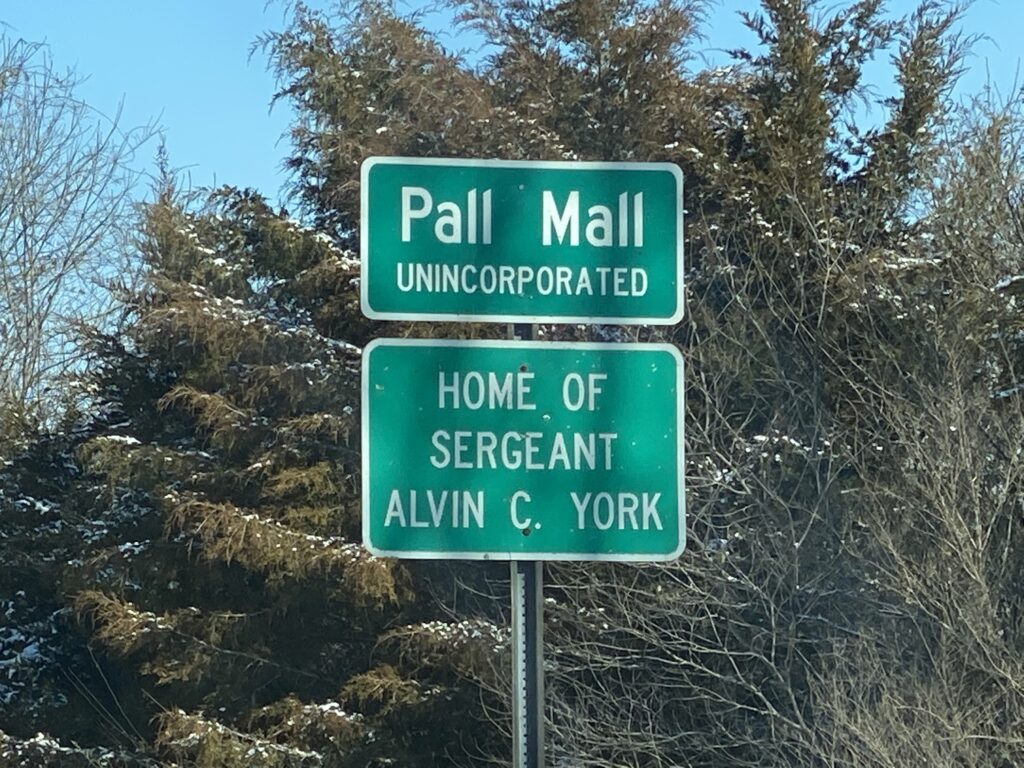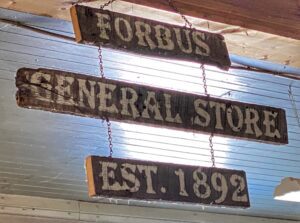 It was in Pall Mall that I came across the Forbus General Store, one of a few really old general stores.  They made breakfast, so I took full advantage.  Forbus General Store was built in 1892 by W.M. Johnson, who operated it until his death in 1941. These old general stores have all sorts of fun items, unique old-timey candies, homemade fudge and that good ole' breakfast.
After breakfast, I took a little time to meander around the store as it was really cold outside.  The wooden floors, the big wood burning stove and all of the other stuff really added to the ambiance of this place.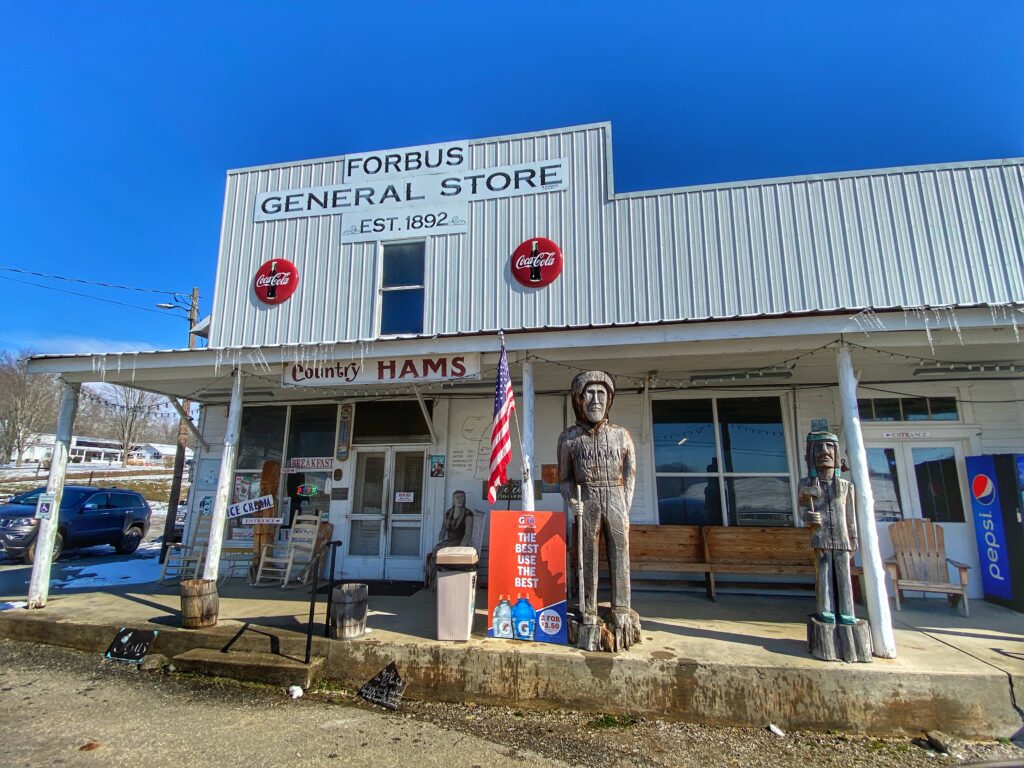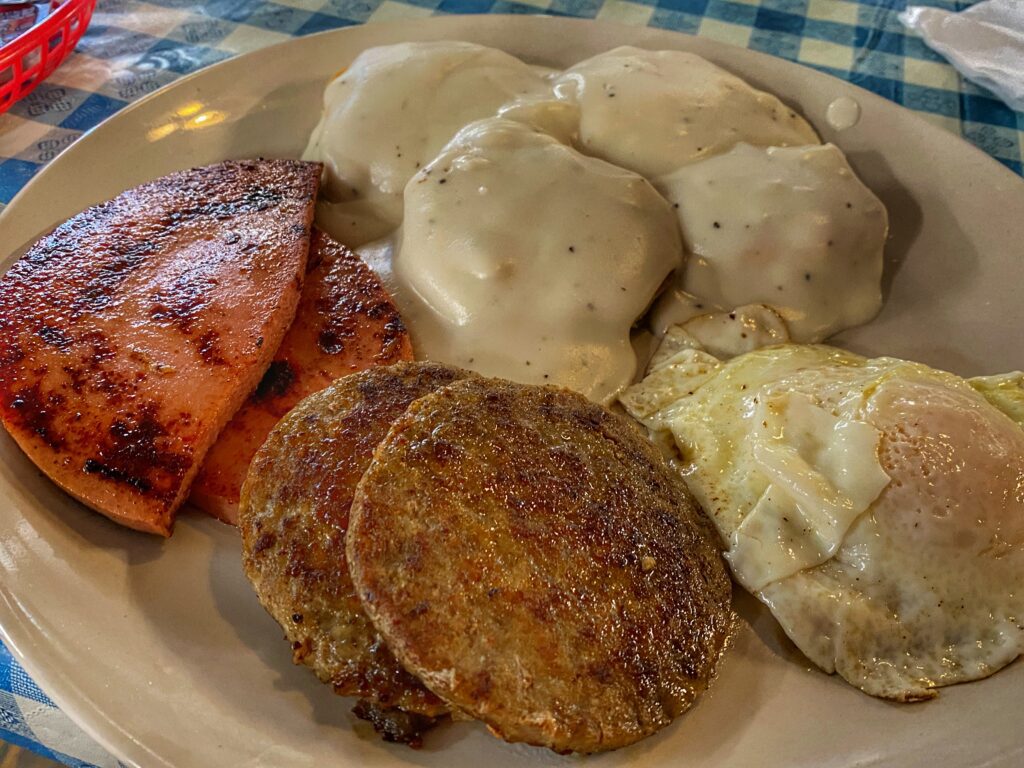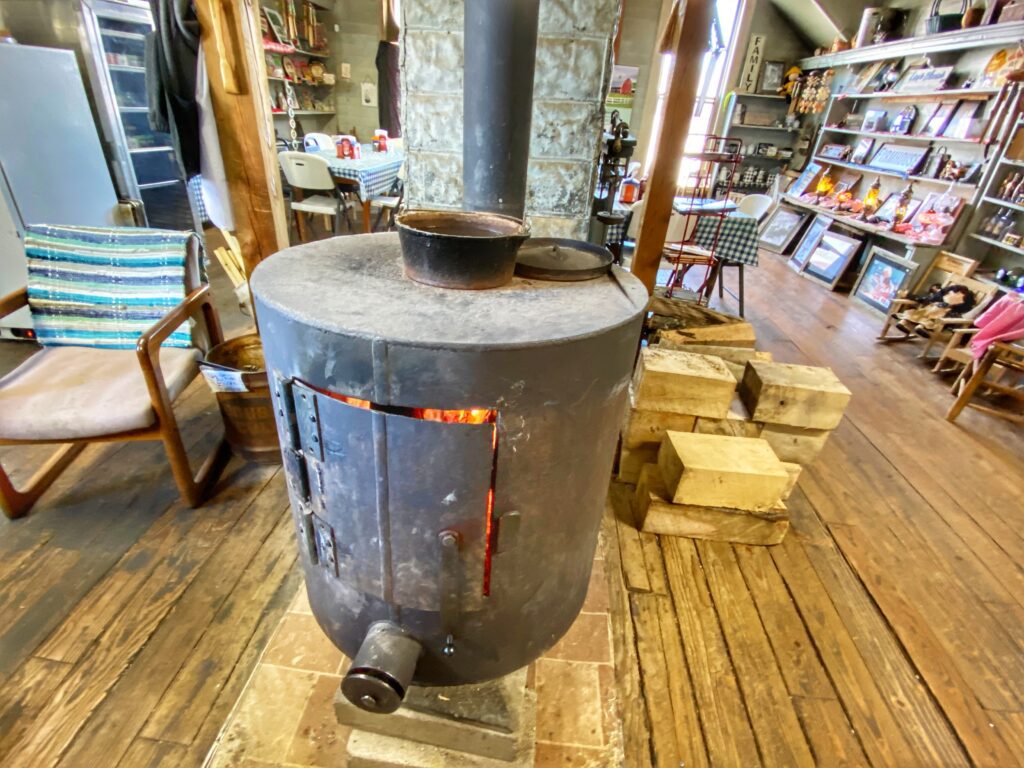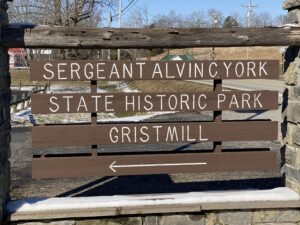 After Static and Forbus, I made my way back down US 127 past the Sgt. Alvin C. York State Historic Park and then on to Pickett State Park on TN 154. The sky was clear and blue and the trees and landscape were a crystal white.  It was a splendid drive!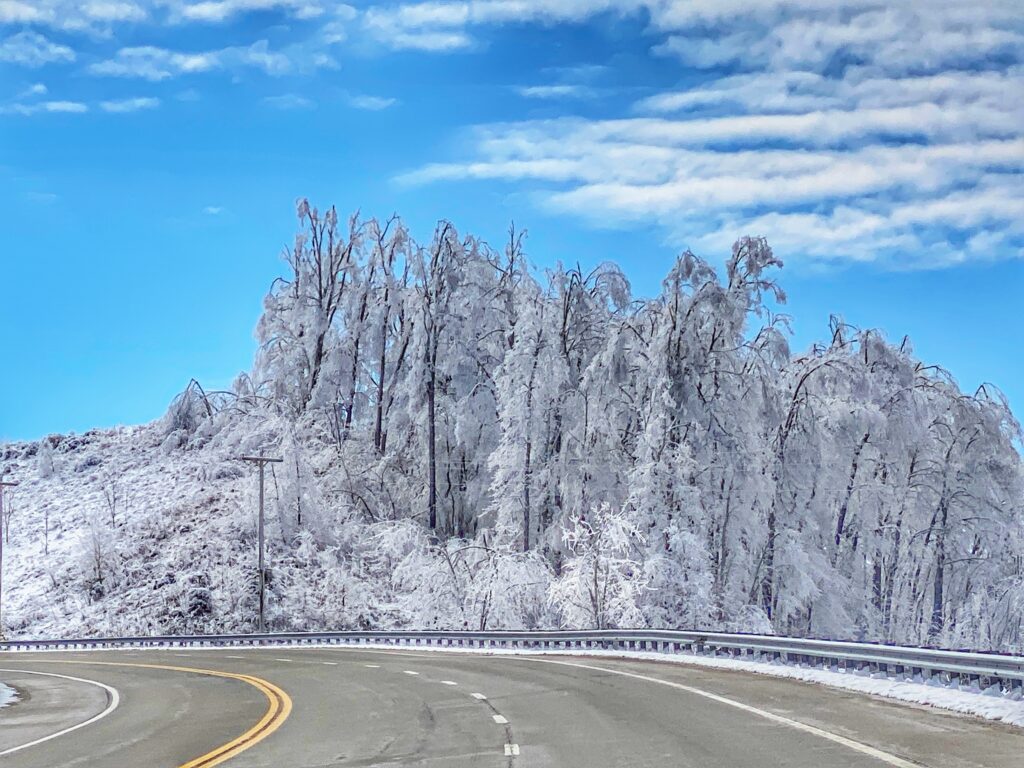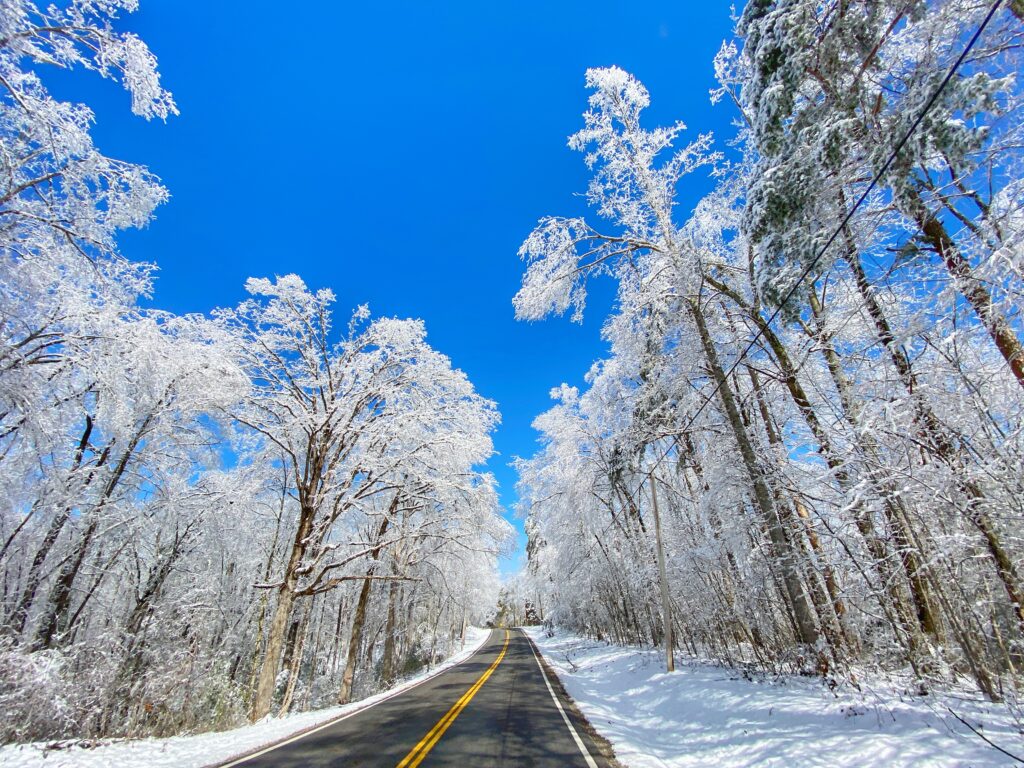 We once again headed to Big South Fork on March 5 as Julianne had more hiking.  For this trip we stayed in Jamestown at the Jordan Motel.  There aren't many motels in the area, but I was very happy with this locally owned and operated motel.  Clean rooms, friendly owners and decent prices. During the course of the year I stayed there four times.
While they were out hiking, I took a trip over to the R.M. Brooks General Store, had breakfast and enjoyed yet another old General Store.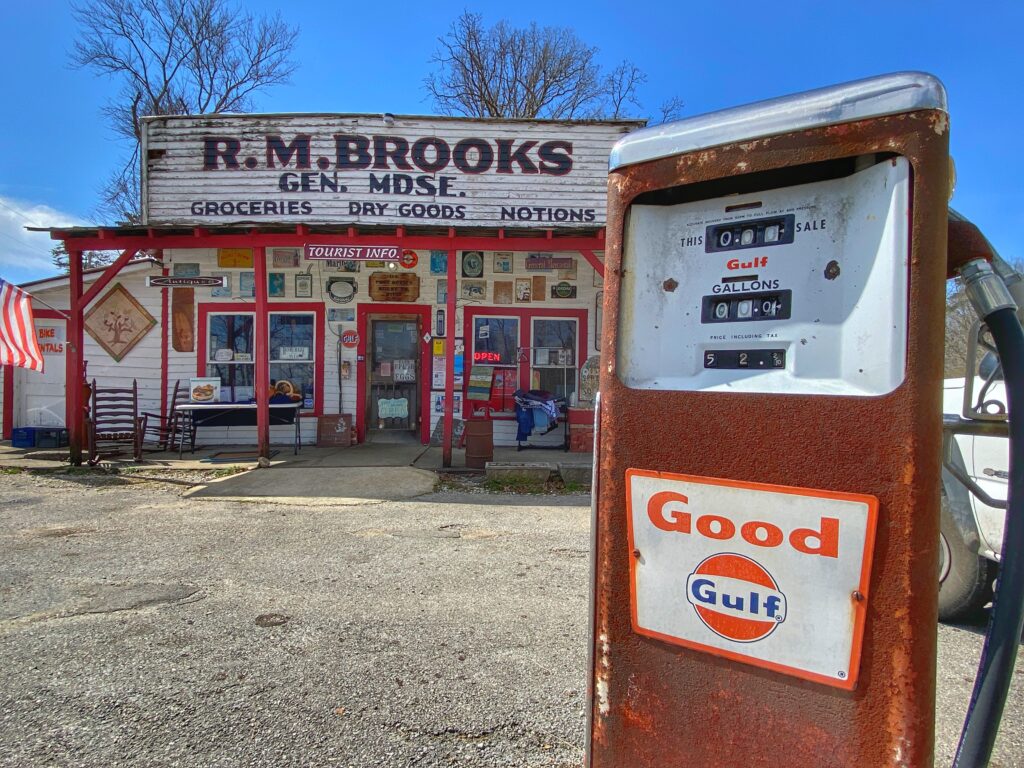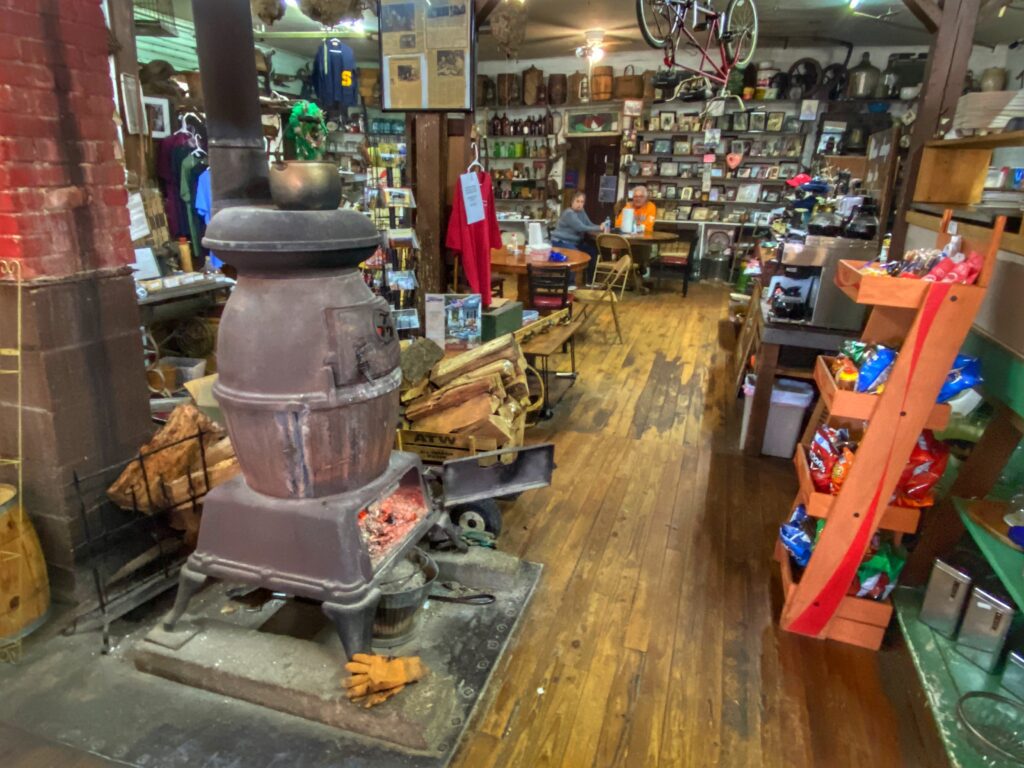 Like the Forbus, the R.M. Brooks General Store is an oldie but a goody. It too has the old wooden floors, a big wood burning stove and a place to serve food. In Fact, they are famous throughout Tennessee for their grilled baloney sandwich, which I had on this visit.  Really yummy!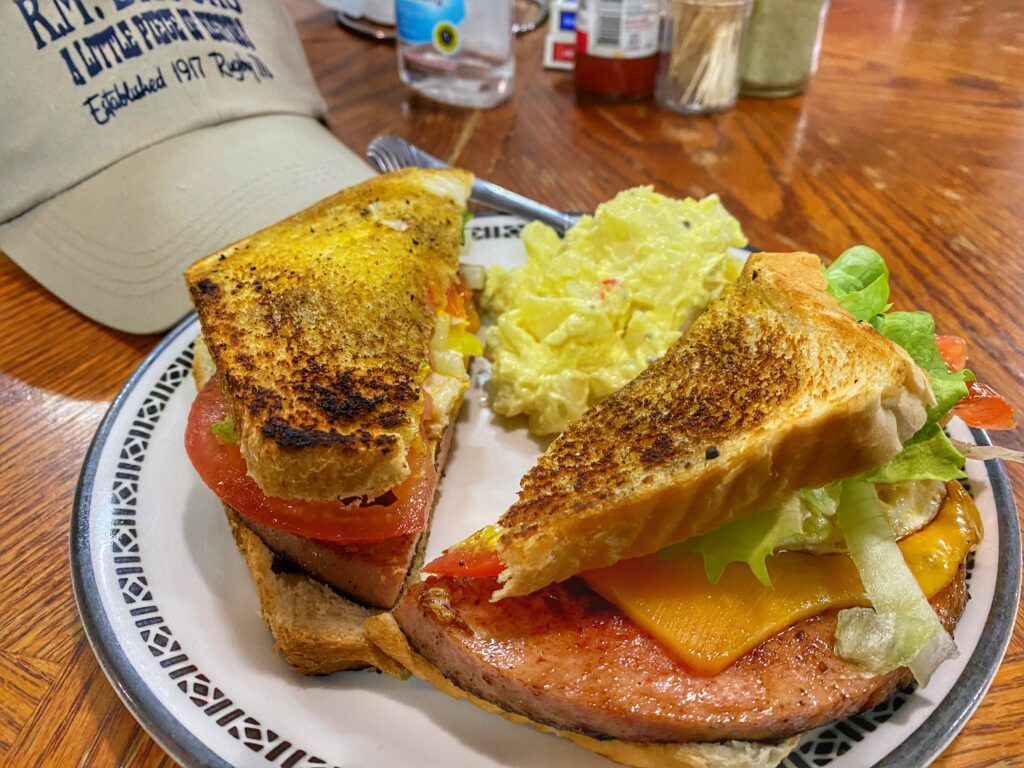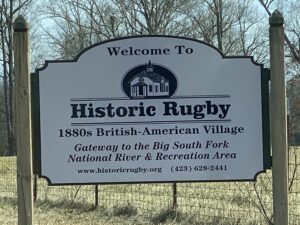 After my visit I zipped over to the nearby historic town of Rugby. This is a fun little place set up as an old Victorian-style village.  Nowadays it has gift shops, a museum and a few places to eat and lodge.
The village was founded in 1880 by British author Thomas Hughes. In 1966 Historic Rugby, Inc. was established to preserve, protect and interpret the man-made and natural historic resources and heritage of the British Isles and of Appalachia.
Today visitors can see unique shops and the nice Victoria-era architecture throughout the Village.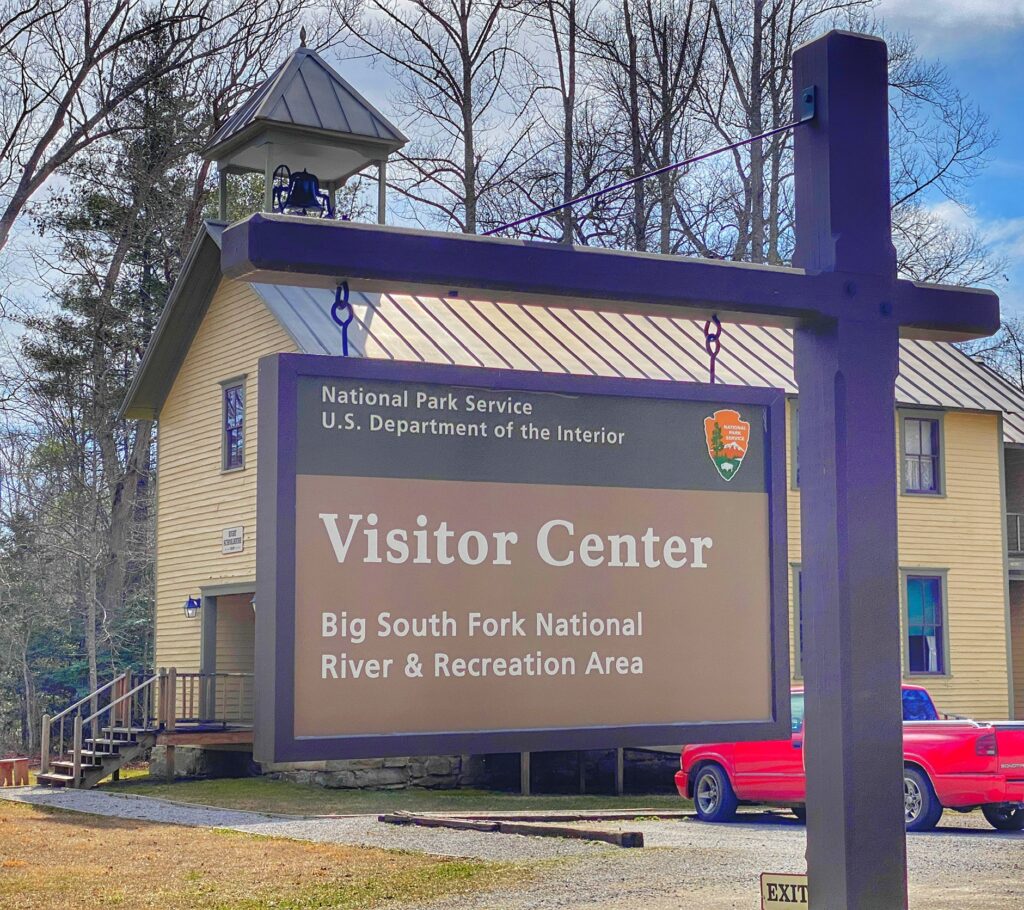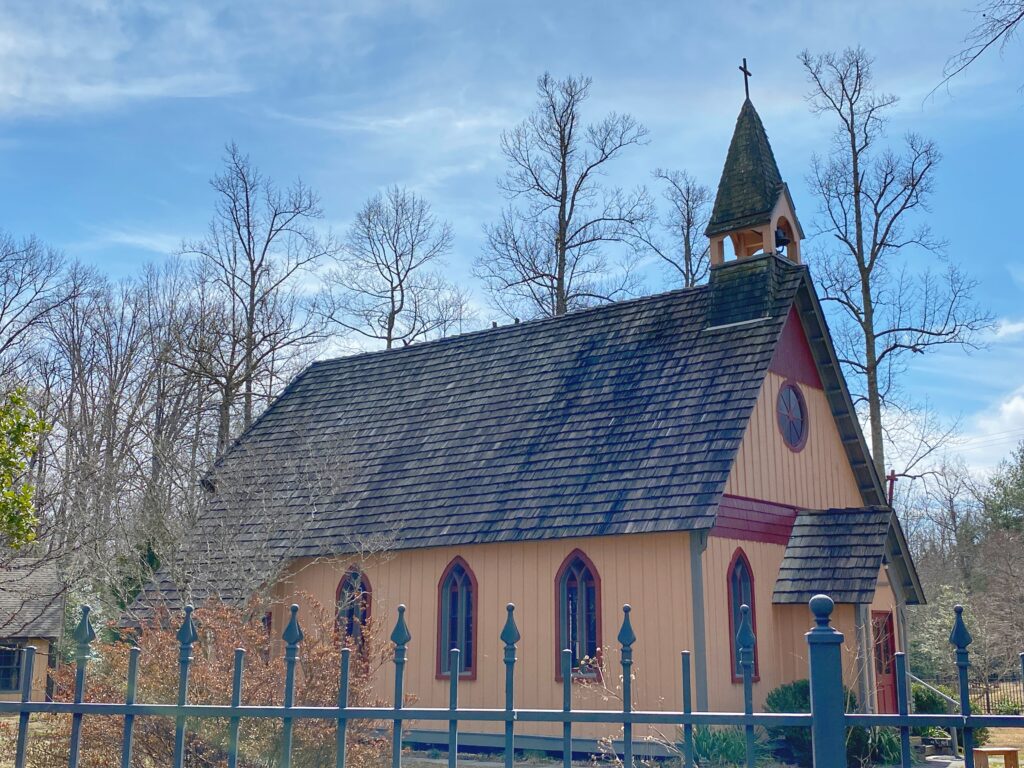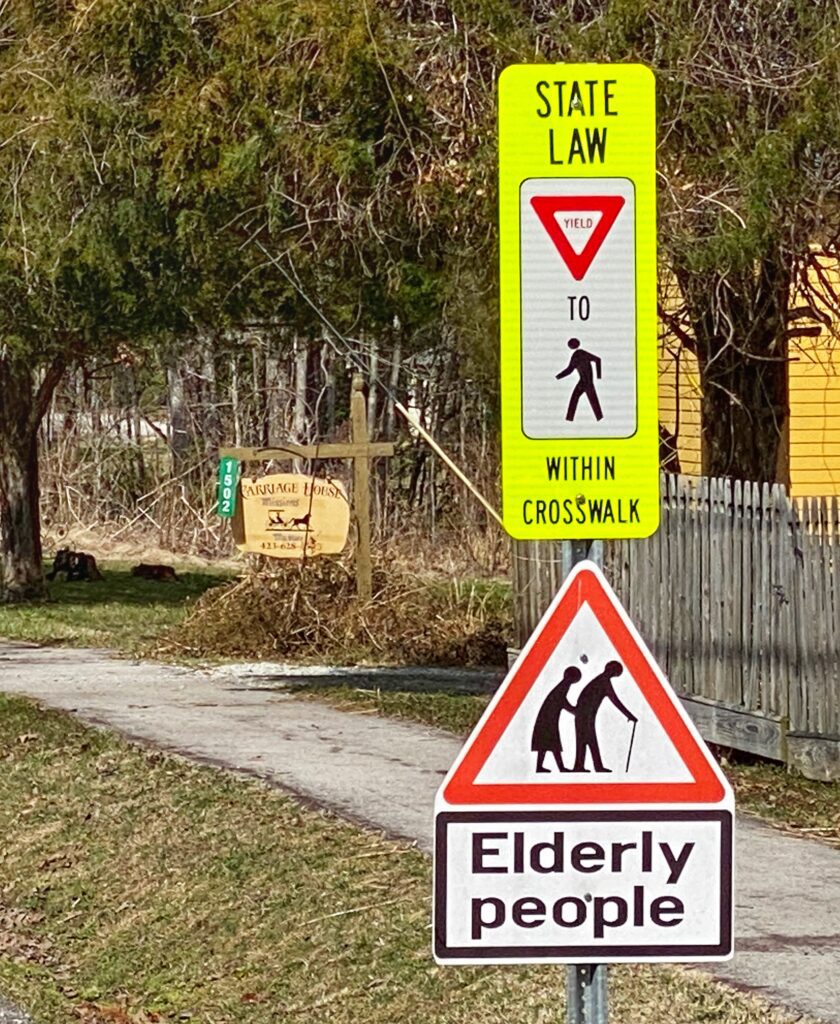 Their hike ultimately took them into Kentucky so I visited more of the Big South Fork on the Kentucky side including the beautiful crossing at Yamacraw.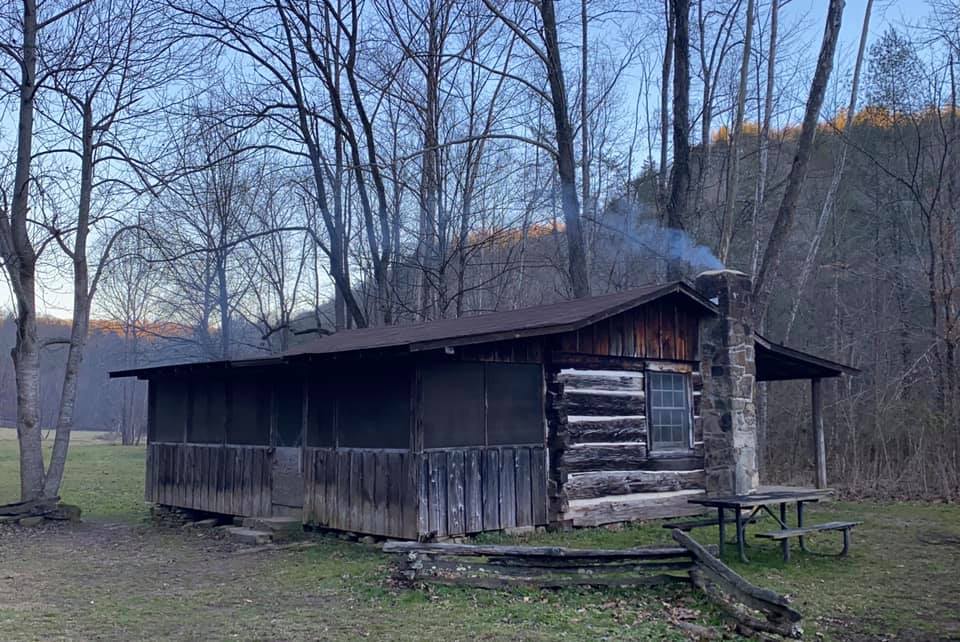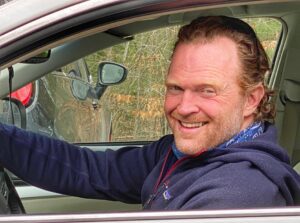 A week later we were once again heading to Big South Fork as Julianne's sisters visited.  They hiked down to the Charit Creek Lodge and spent the night.  I again stayed at the Jordan Motel in Jamestown while they enjoyed their visit to the rustic lodge that has no road access.  For hikers, Charit Creek Lodge provides a unique way to experience the beauty and serenity of Big South Fork.  To get there, we had to drive from Lexington and then they had a 1.1 mile hike down. The Lodge provided the meals and beds.   No cell service or electricity in the buildings that may be some of the oldest in the National Park Service. After they had hiked out, I got to meet the proprietor Gregg White (since I was not able to hike down there.)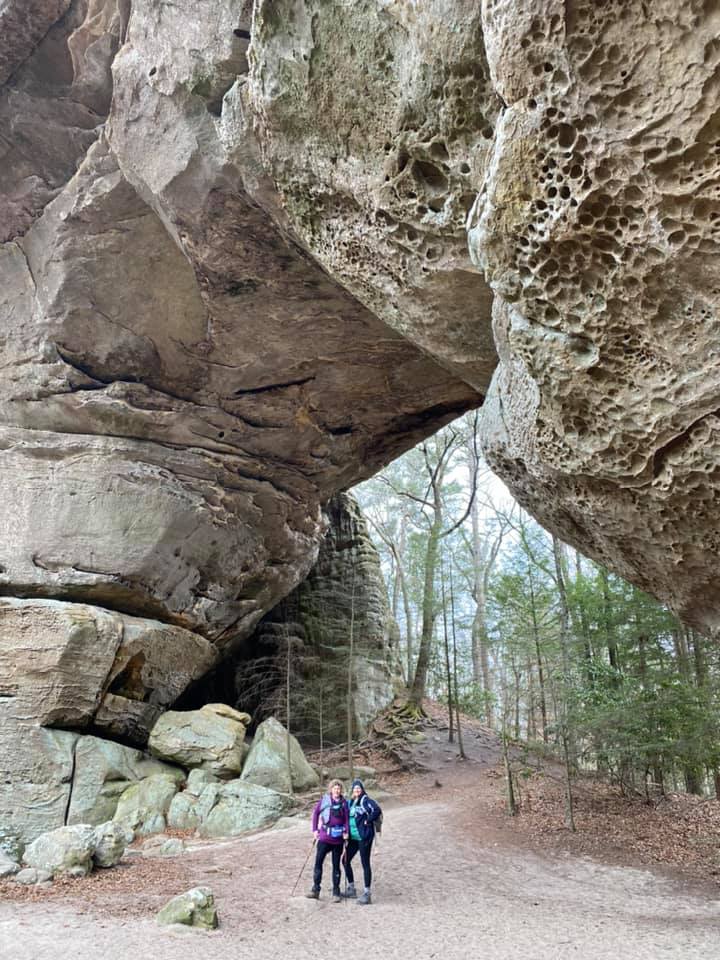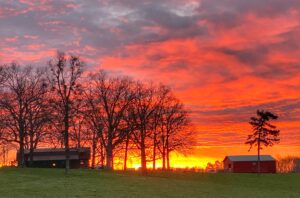 After a splendid sunrise south of Jamestown on March 14, I was back on the road to meet the gang.  A few other family members came down to join them on their hike to the impressive Double Arches in the park.  For me it was just another drive down Divide Road…a long well-maintained gravel road.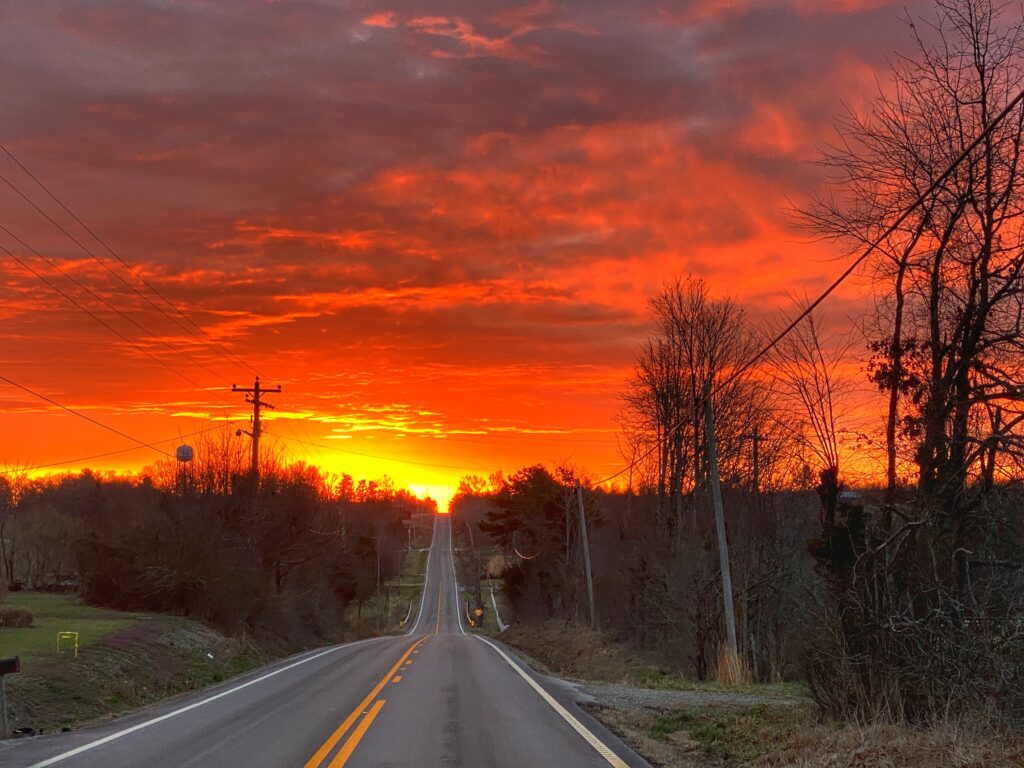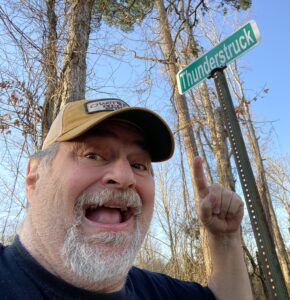 The very next weekend we were off on another hiking adventure as Julianne and Marissa hiked through the woods and eventually would make their way to Cumberland Falls State Park with about a dozen other challenge hikers.  I liked this portion because I got a great shot at Thunderstruck Road.
The waters were high with all of the snow melt.  I was able to grab some nice shots of the Edward M. Gatliff Memorial Bridge, also just known as the Cumberland Falls Bridge.  The bridge has a sandstone facing and spans about 500 feet over the lovely Cumberland River, just a few hundred yards from the falls.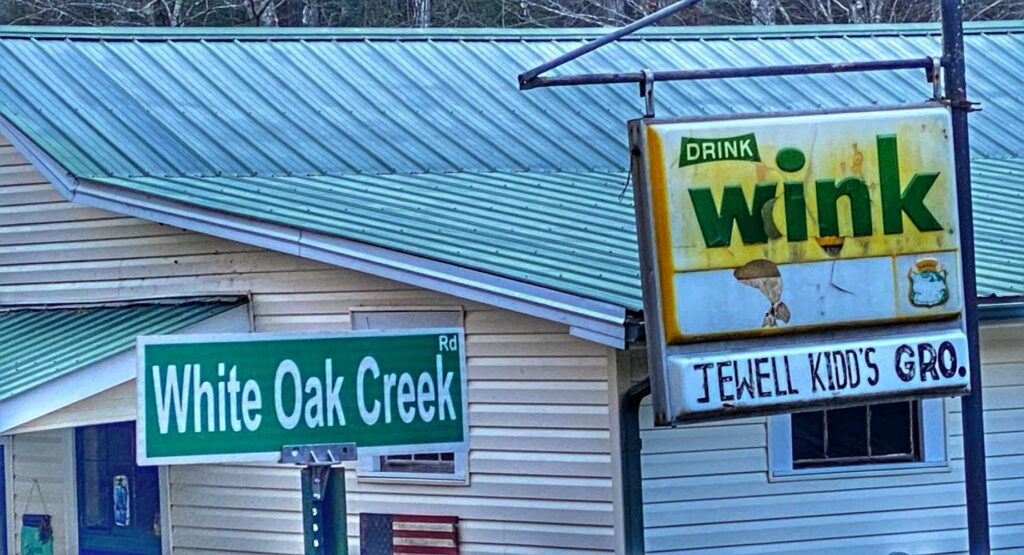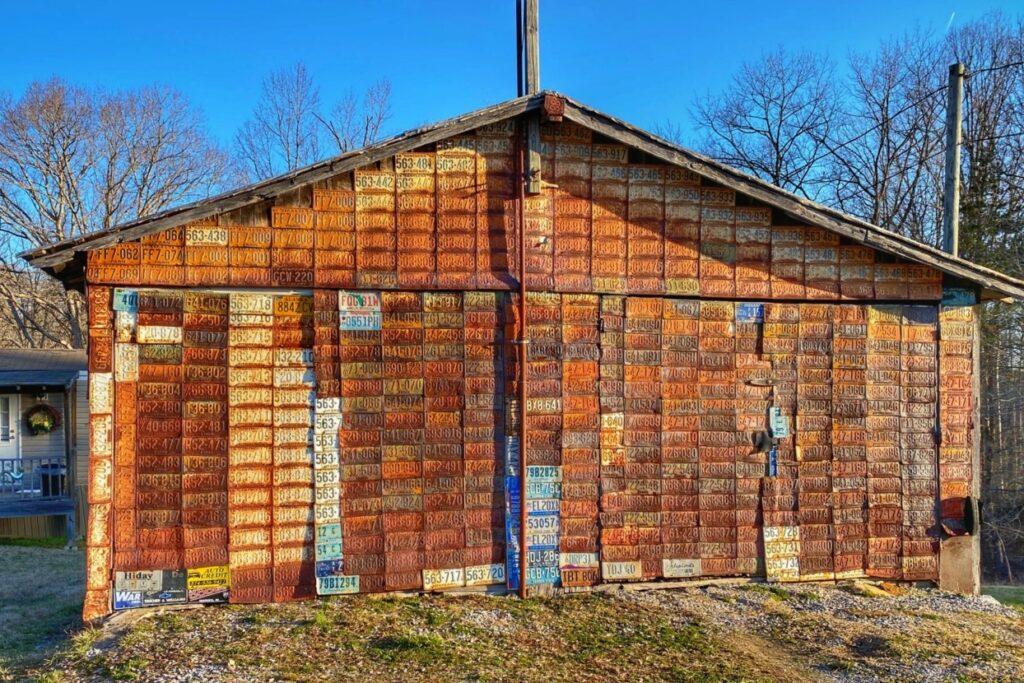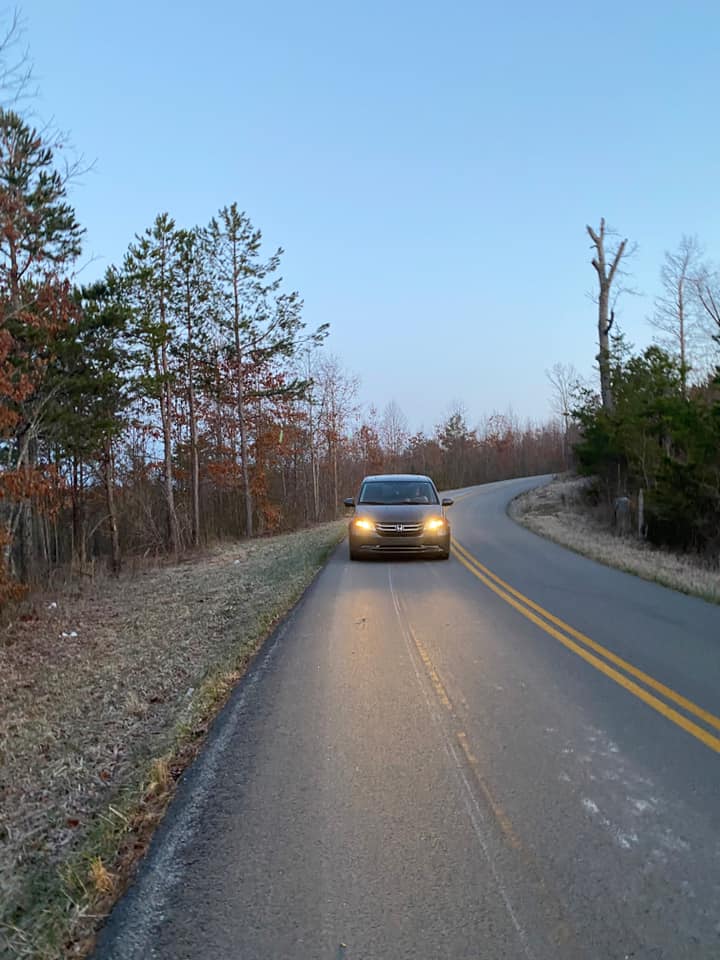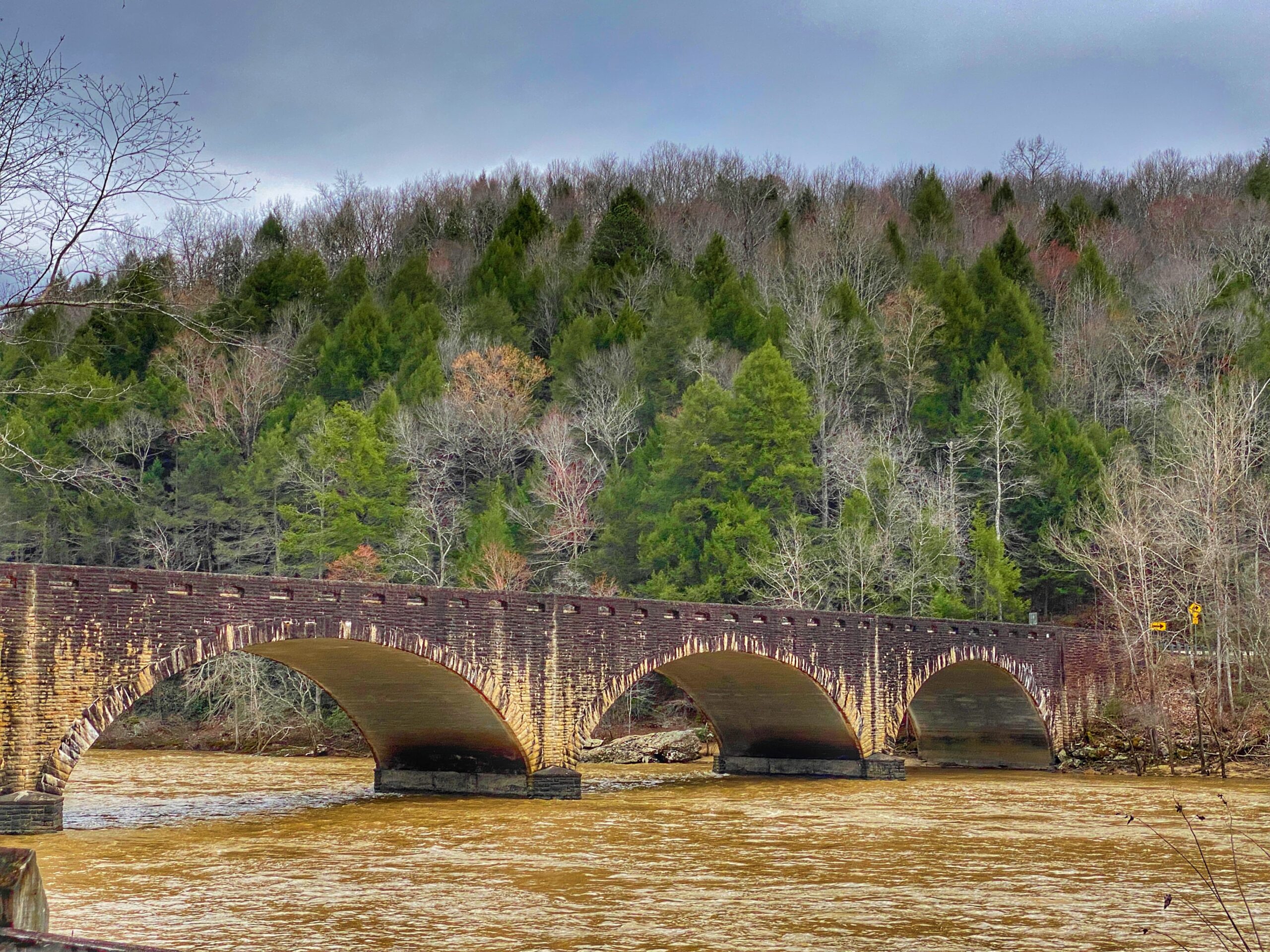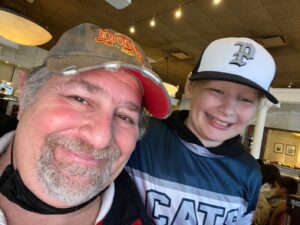 At the end of March we ventured north, instead of south, and made our way up to Liberty Township, Ohio, just a few miles northwest of Cincinnati.  This was for a visit to watch our grandsons play ball and visit our son Seth and his family. It was a quick on-day turnaround trip and, sadly, there was not much time to get out and get any fun photos.
On April 15 we were again off to the Sheltowee Trace and Big South Fork to make up the hike that was canceled due to heavy snow.  Much of my time was on the back roads and dirt roads.  By this time flowers were beginning to blossom on the trees and the wildflowers were beginning to show. Spring colors are always wonderful this time of year, especially in Kentucky and Tennessee. I had the opportunity to stay overnight in the old railroad town of Stearns, Kentucky on this particular trip. They camped at the Blue Heron Campground and I stayed overnight in Stearns.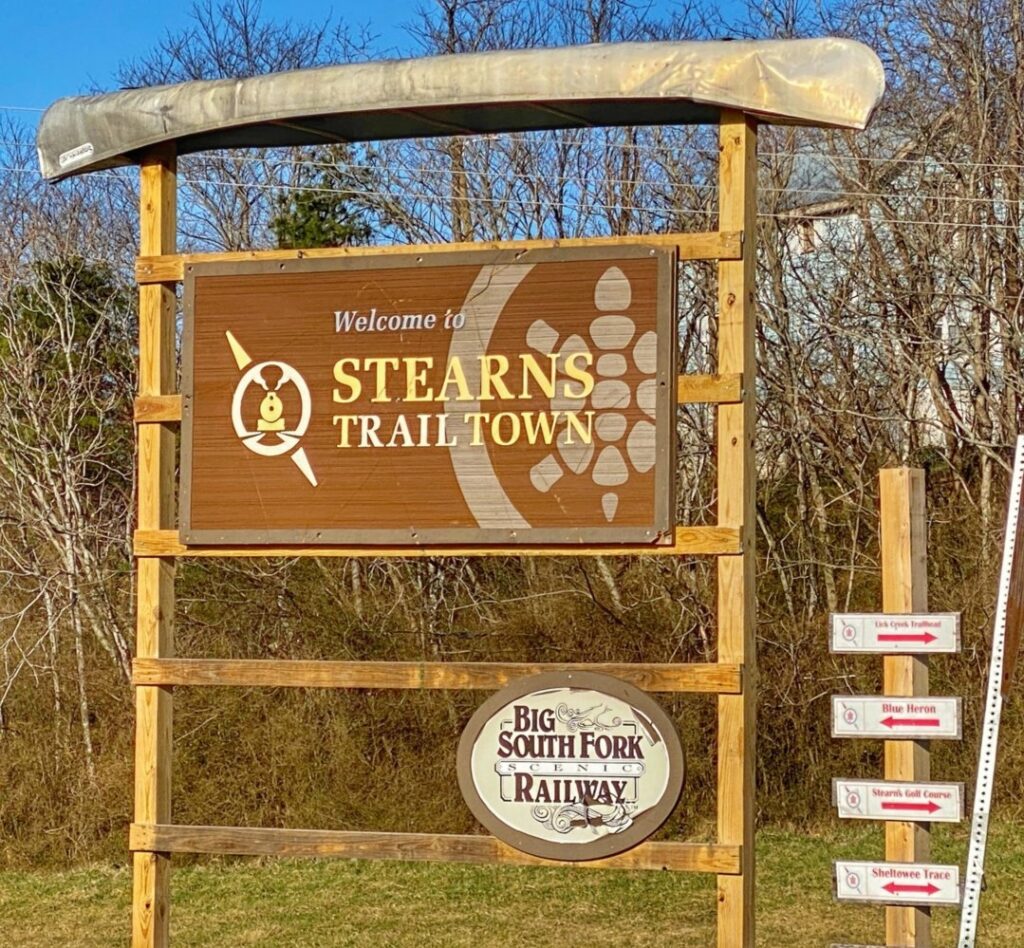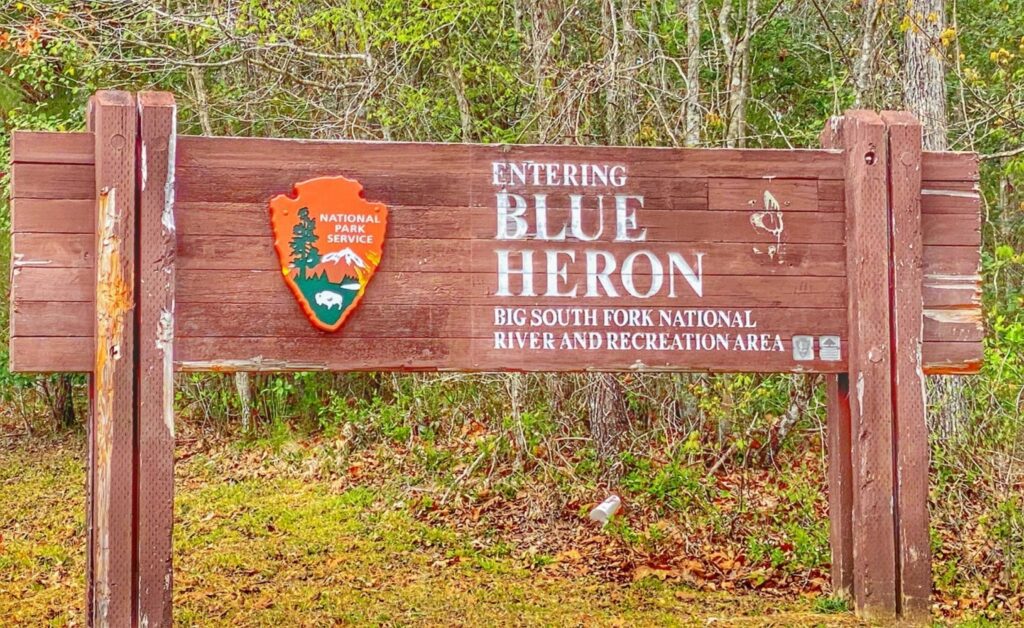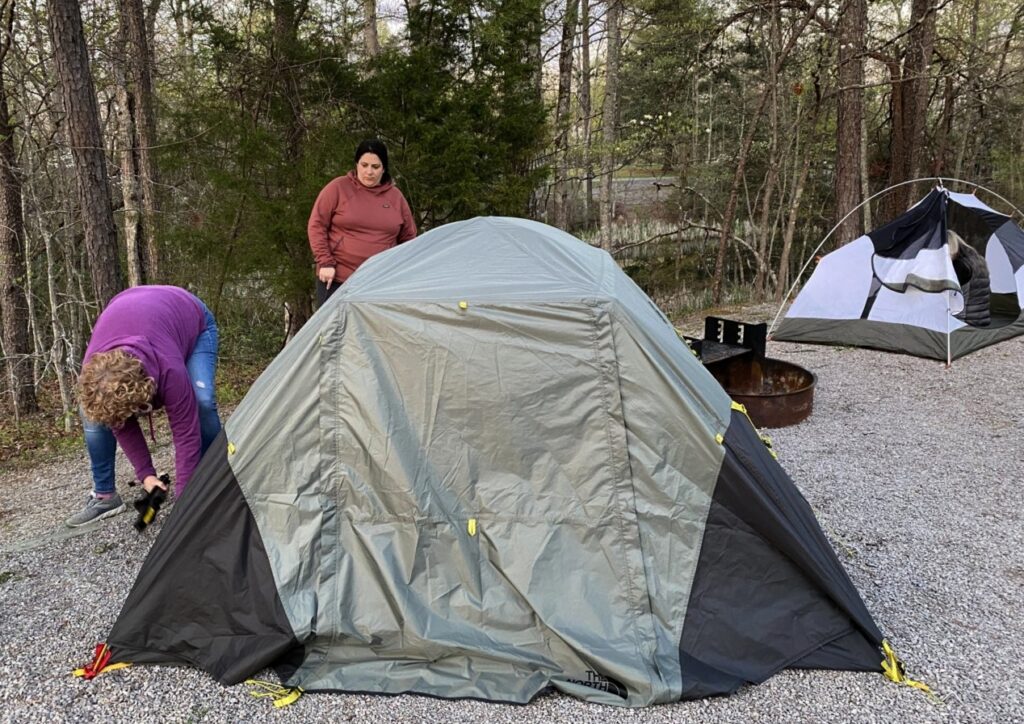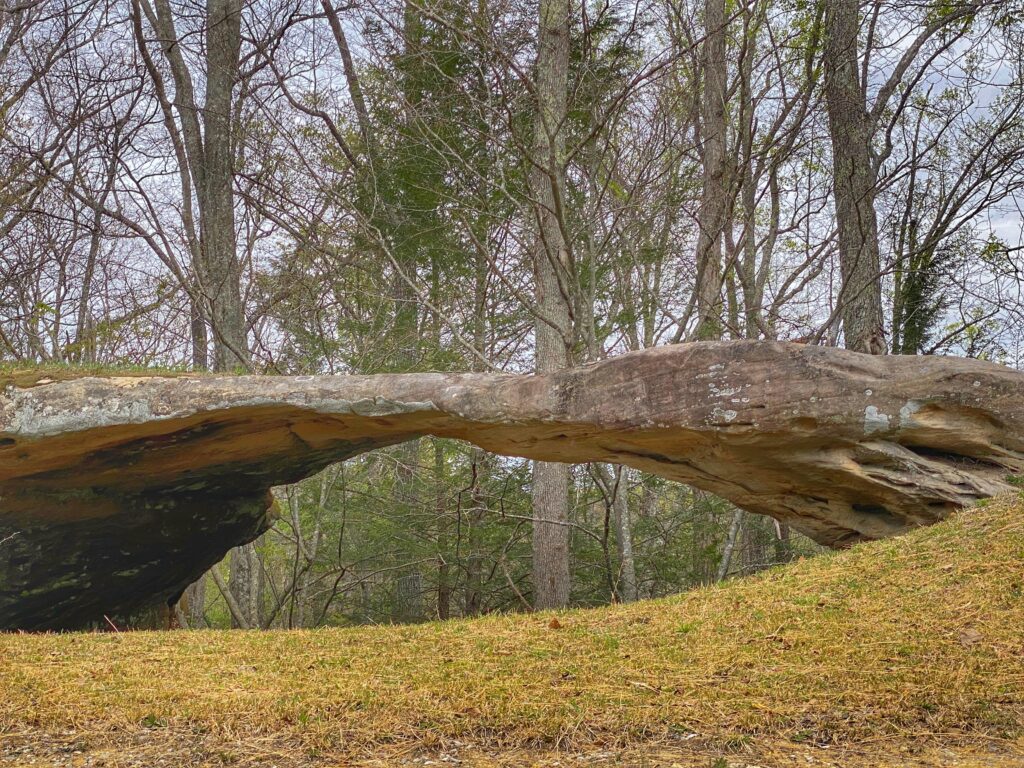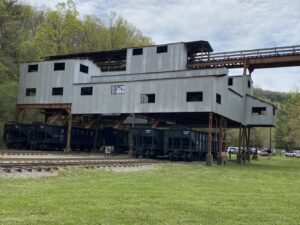 On April 17 I made a visit to the old Blue Heron Mining Camp on the Big South Fork.  This historical setting features a very scenic bridge. The Blue Heron Bridge was used to carry coal mine cars across the river.  The Blue Heron Mining Camp was opened by Stearns Coal & Lumber Company in 1937 and was in operation until the end of 1982. This huge Baltimore Deck Truss bridge spans a total of 676 feel with a 244 foot span across the river.  It is now used as a walking bridge for tourists and hikers.  The adjacent mining camp was recreated by the National Park Service in 1989 for visitors to get a glimpse of what it was like there.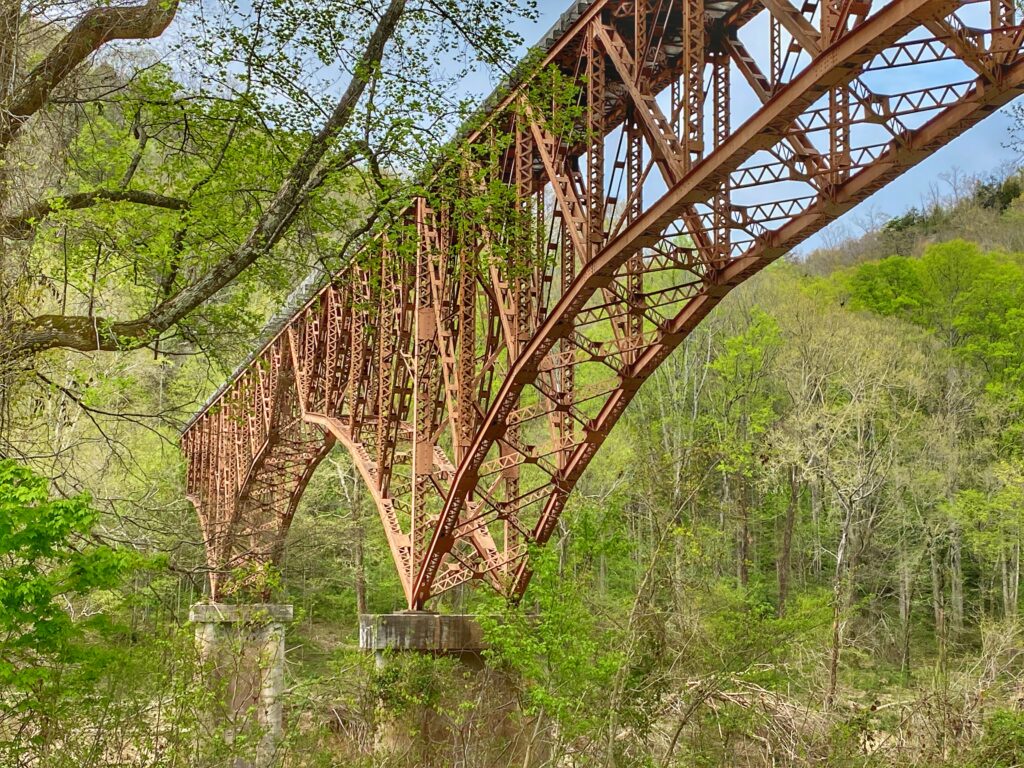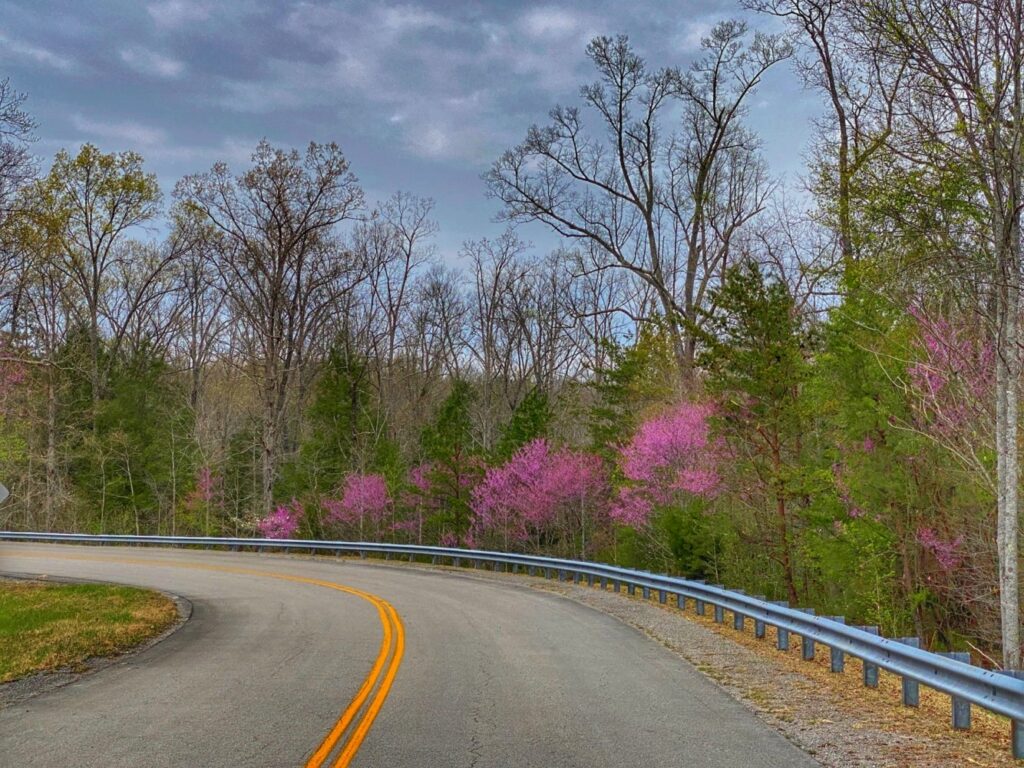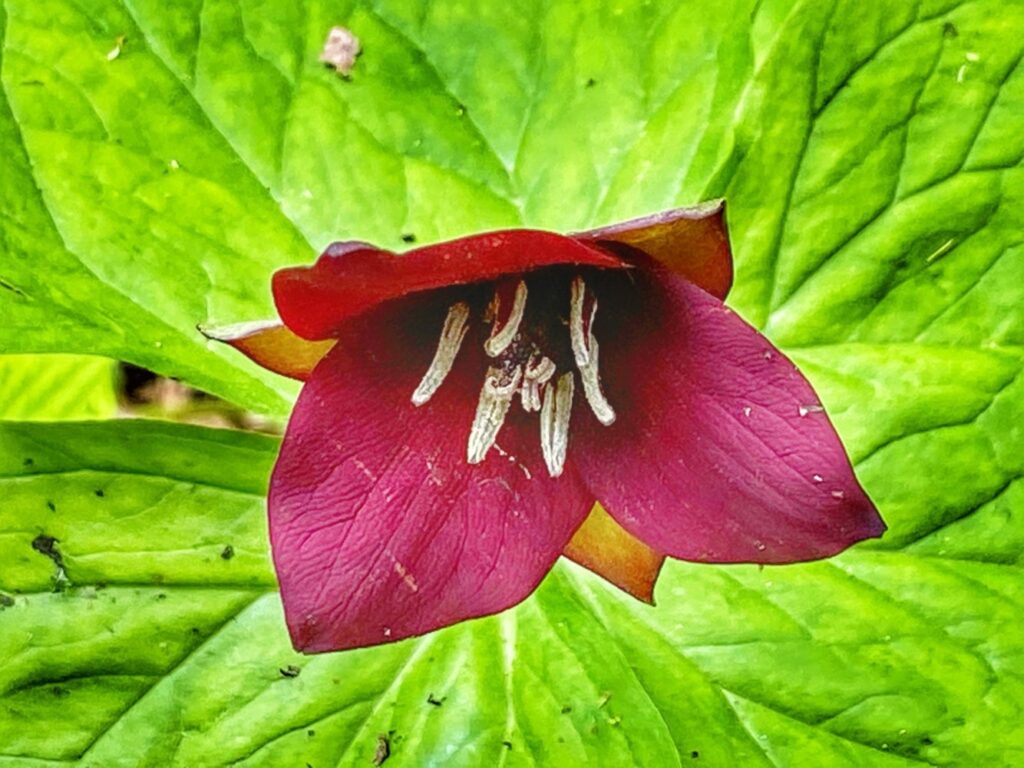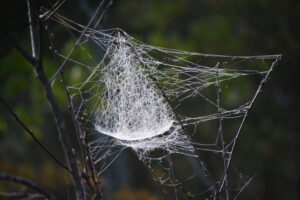 Driving on the forest service roads always seems to provide me ample opportunity to see new and unique things. Such was the case on one of the roads near Stearns.  I saw fields of web-covered plants.  Unlike the large round spider webs typically seen, these appeared to be more like hammocks. Sometimes called "Hammock Webs,", the actual name is "Sheet Web." These webs act like a deadly hammock, crafted as a dense mass of threads with a maze of crisscrossing trip threads strung above the sheet. When an insect flies into one of these threads, it's knocked off course into the net below where the spider lies in wait.  It was fascinating to see these unique webs on hundreds of plants along the road.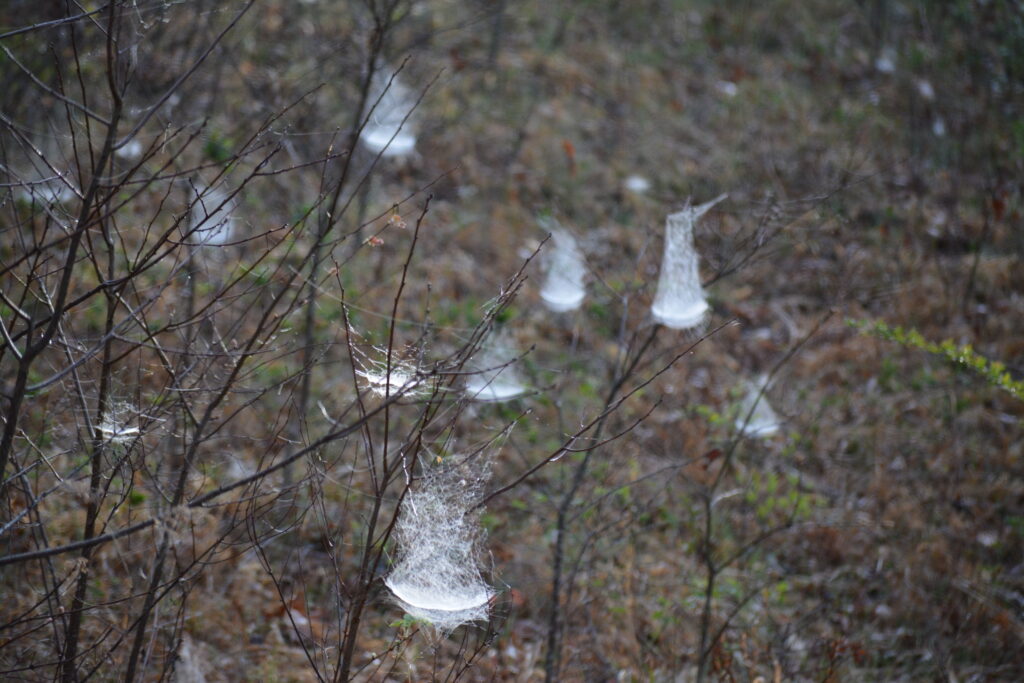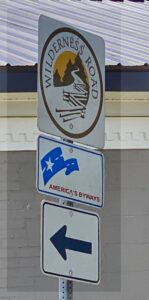 May once again took us south to continue the Sheltowee.  Now in Kentucky, Julianne and Marissa were beginning the very scenic and somewhat rugged sections through the heart of Kentucky. While they hiked from Cumberland Falls, I  used my time to explore the Mount Vernon area and its lovely small Lake Linville. Flowers were everywhere.  My adventure also took me into Livingston, Kentucky on the Wilderness Road that was blazed by Daniel Boone.  This small Kentucky Trail Town is home to the Sheltowee Trace Association Headquarters.  The town features a huge turtle mural and some of those fun mileage signs, including a sign pointing to Livingston, Montana near my old stomping grounds of Bozeman.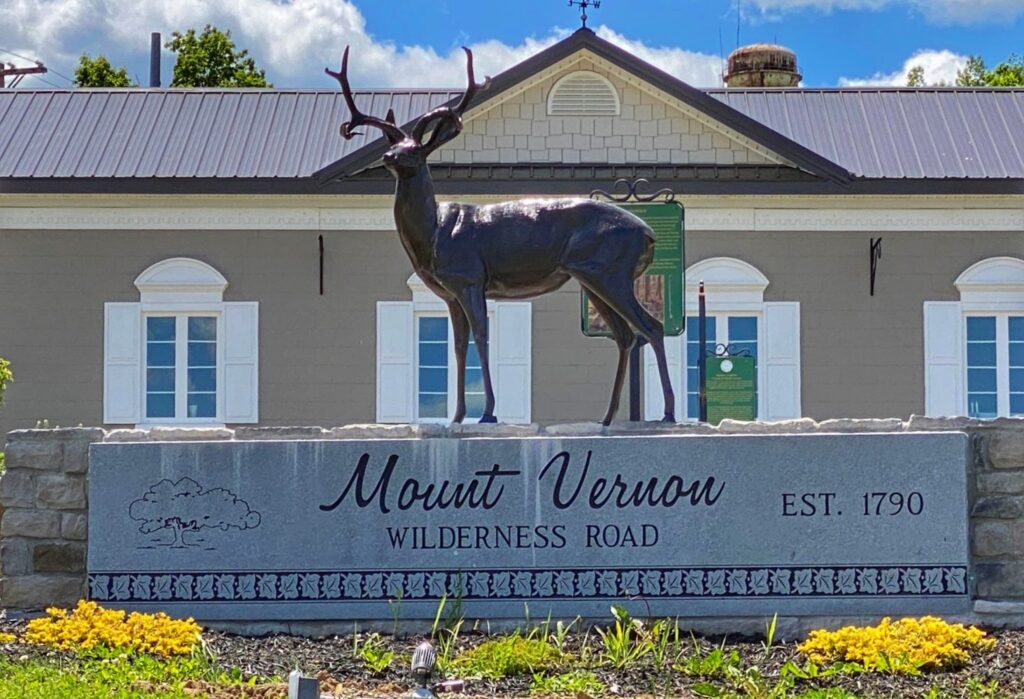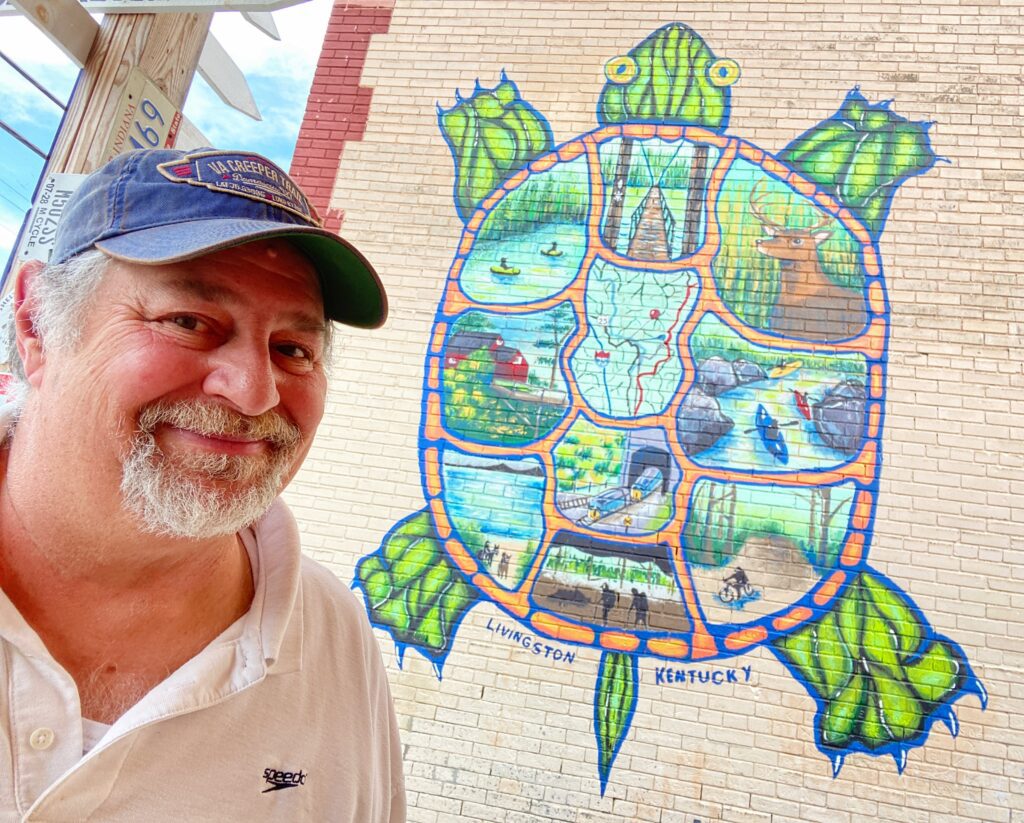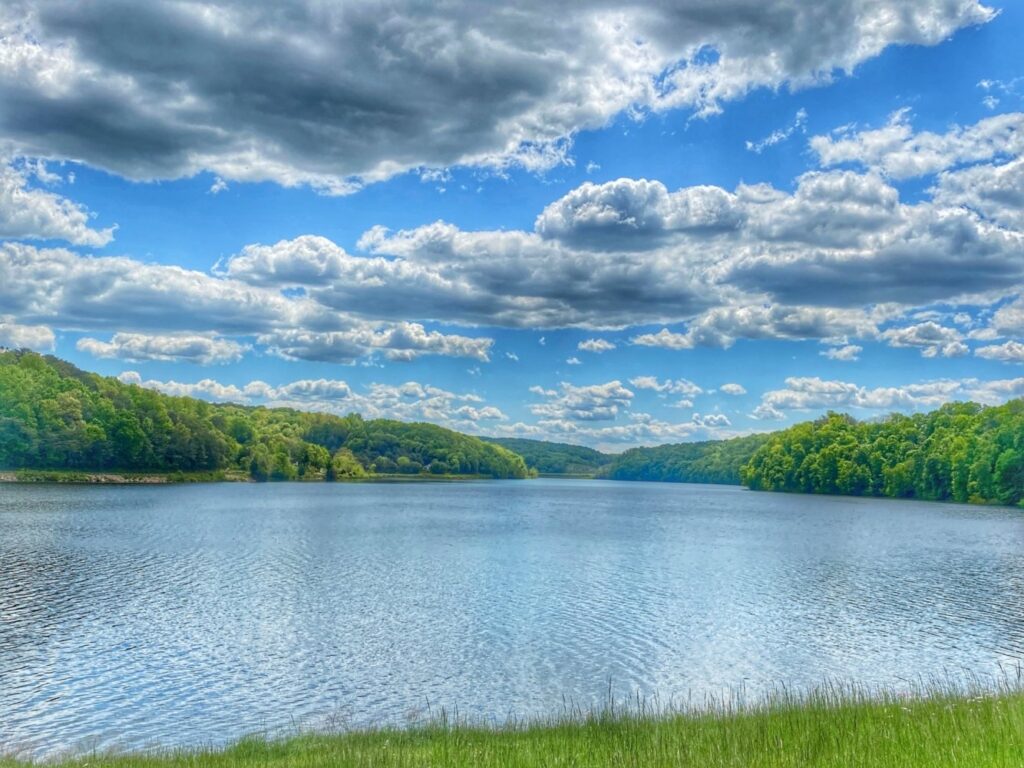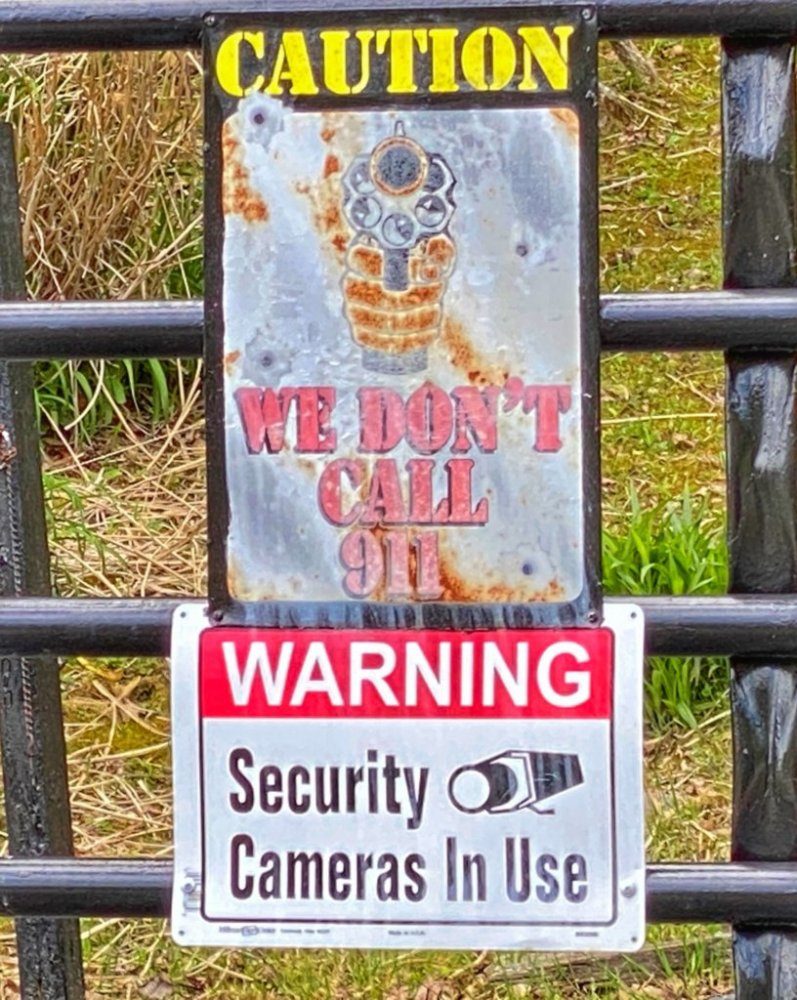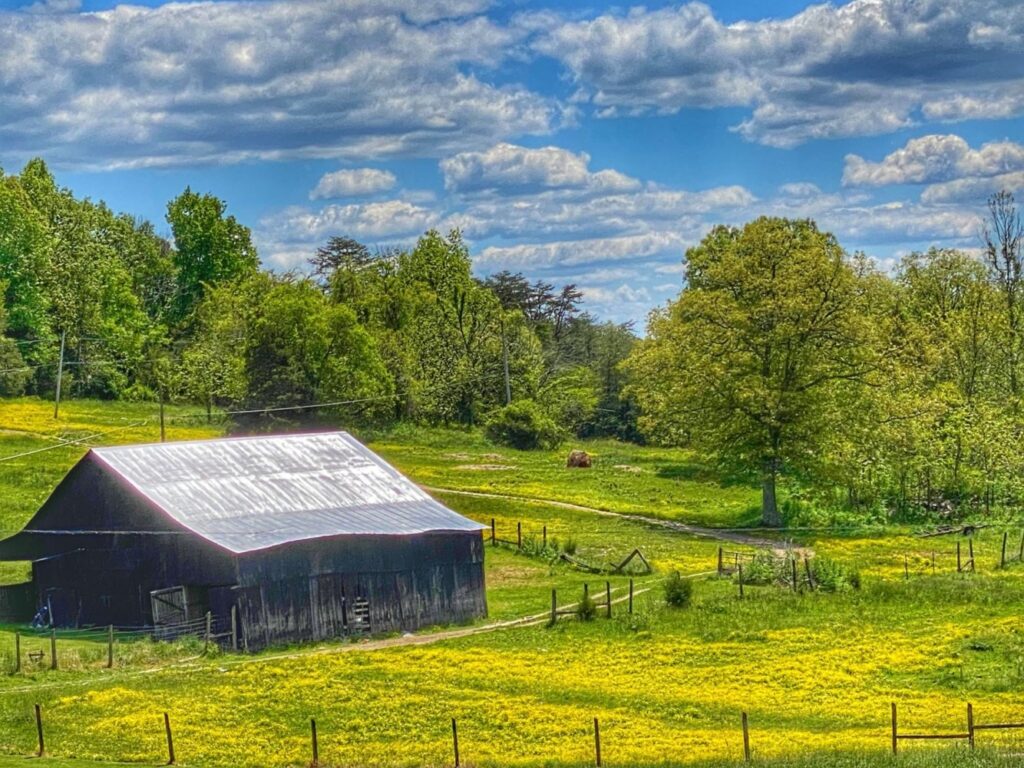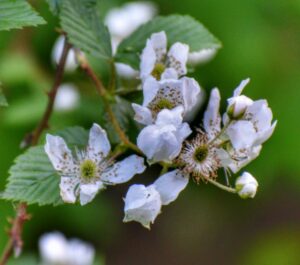 On the morning of May 15, I was blessed with a sensational sunrise over Laurel Lake near London, Kentucky.  Nature ALWAYS provides the best art and it always changes. After enjoying the sunrise, I was back on the road to meet the hikers and grab gear.  Wildflowers were everywhere, many of which I had never seen before. The three-day, two-night weekend was one of the more perfect weekends of 2021 in my opinion.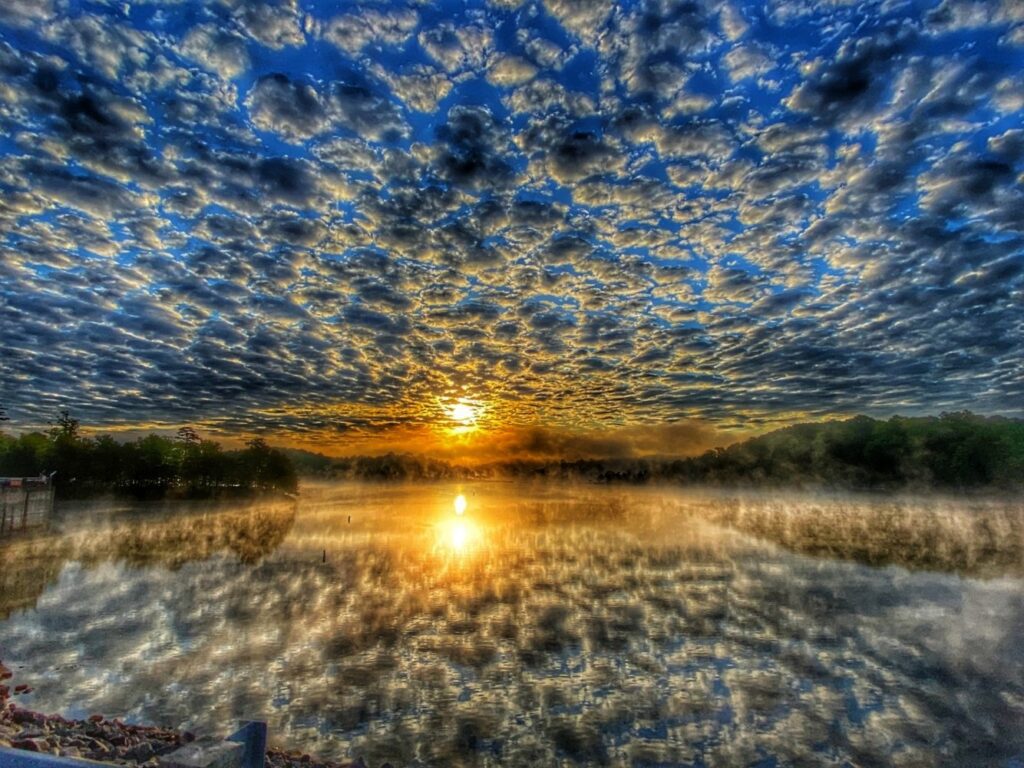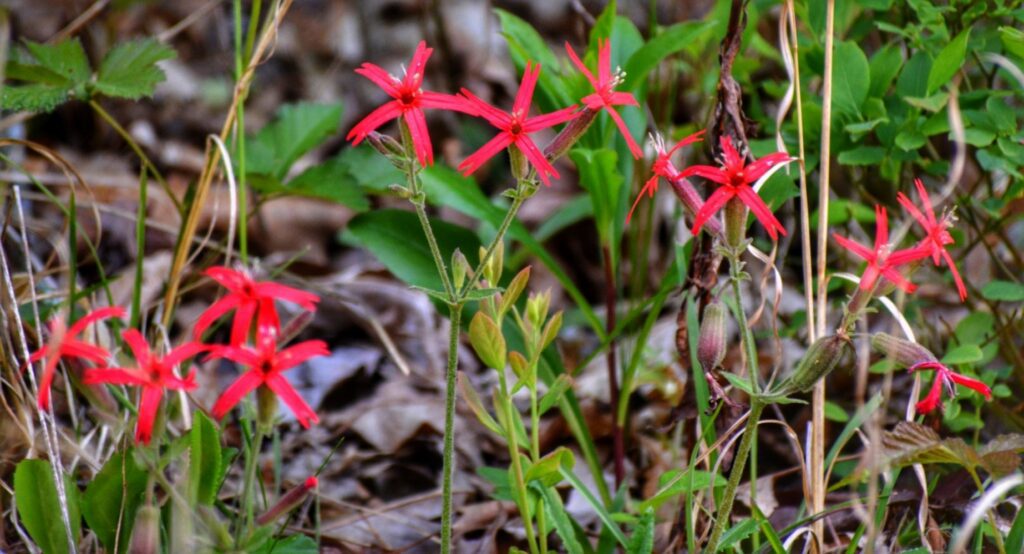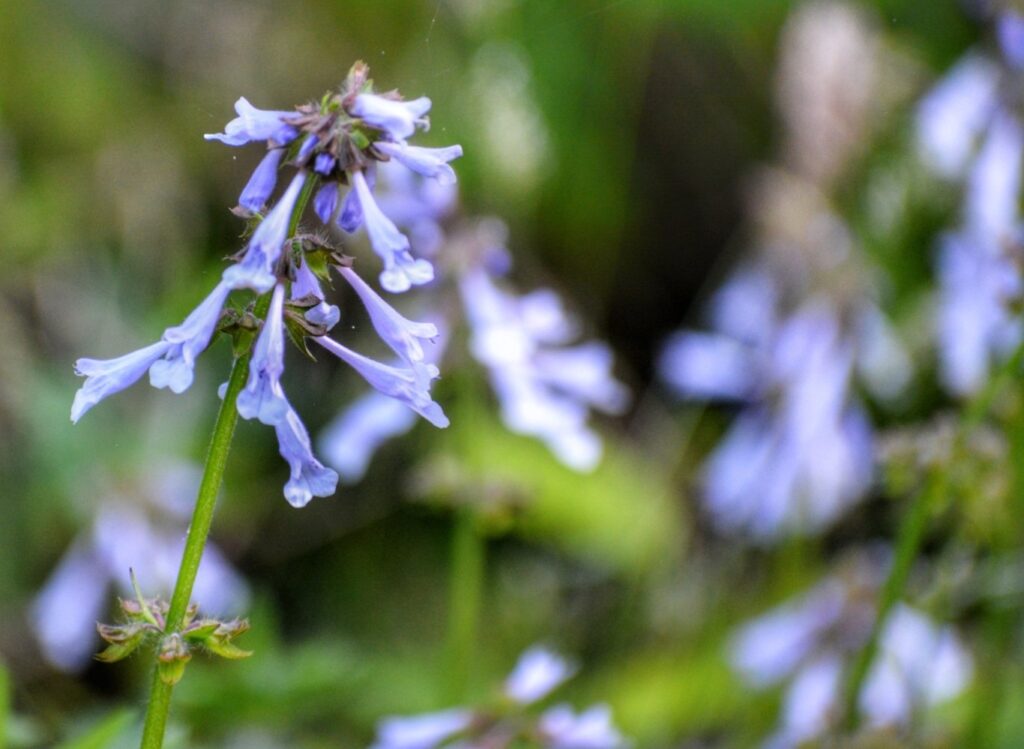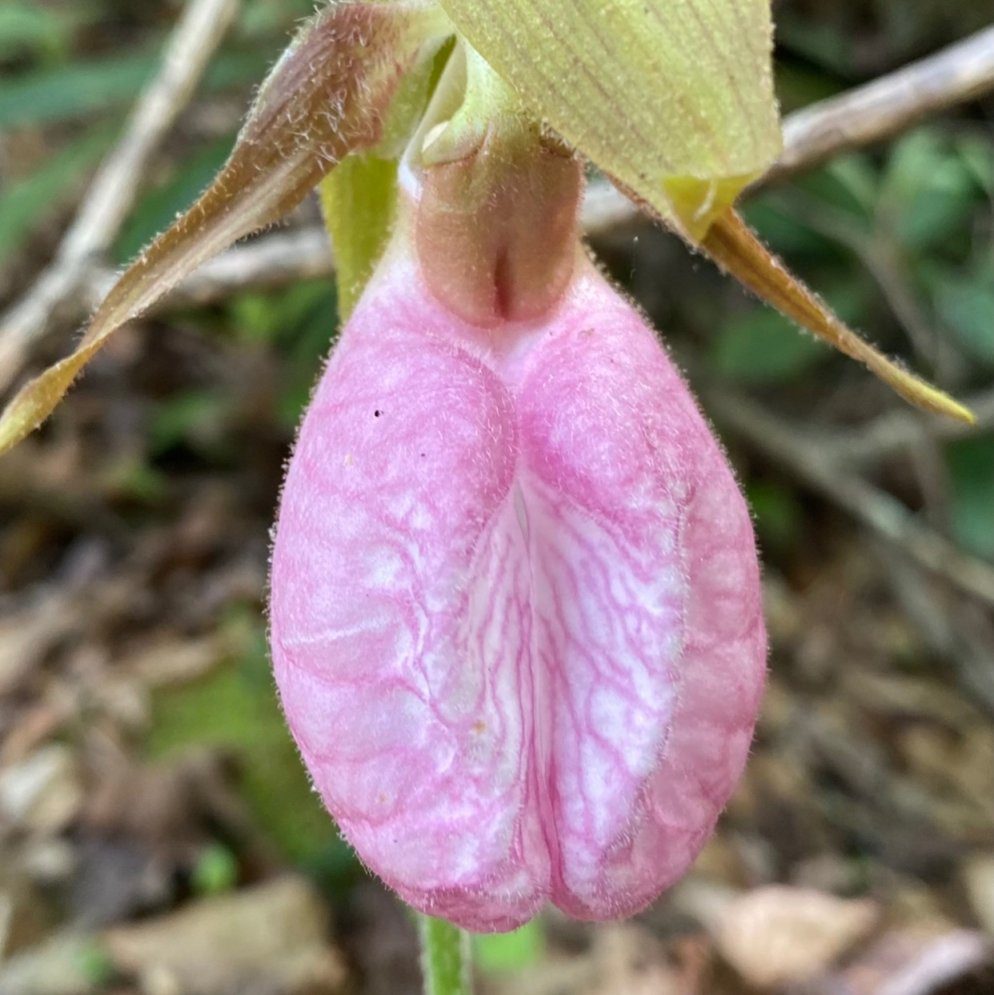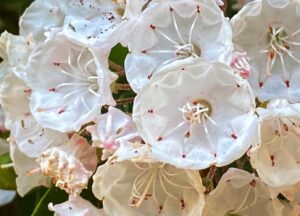 The next weekend we ventured south near Laurel Lake for Julianne and Marissa to make up a few miles on the hike.  This was my first time to ever see the famed Mountain Laurel (also called Calico-bush and Spoonwood).  What an amazing flowering plant! The flowers are hexagonal, sometimes appearing to be pentagonal, ranging from light pink to white, and occur in clusters. There are several named cultivars that have darker shades of pink, red and maroon. It blooms in May and June. All parts of the plant are poisonous. The roots are fibrous and matted. Interestingly, even the pollen and the honey produced by bees are all toxic to many mammals, including humans.  But the flowers themselves are really decorative.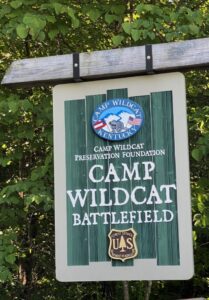 The last weekend of May provided another Sheltowee trip.  By now the hikers were in the southern region of central Kentucky.  This was my first visit to the historic Camp Wildcat Battlefield, way up on a hill in Laurel County.  The Battle of Camp Wildcat was one of the early engagements of the American Civil War. It occurred October 21, 1861 during the campaign known as the Kentucky Confederate Offensive or Operations in Eastern Kentucky.  The site now has a nice history display under a covered roof and features numerous panels that lay out the history of the battle.  It is managed by the Camp Wildcat Preservation Foundation. One can really spend almost all of their travel time visiting Civil War monuments in the southeast, many of which are in Kentucky.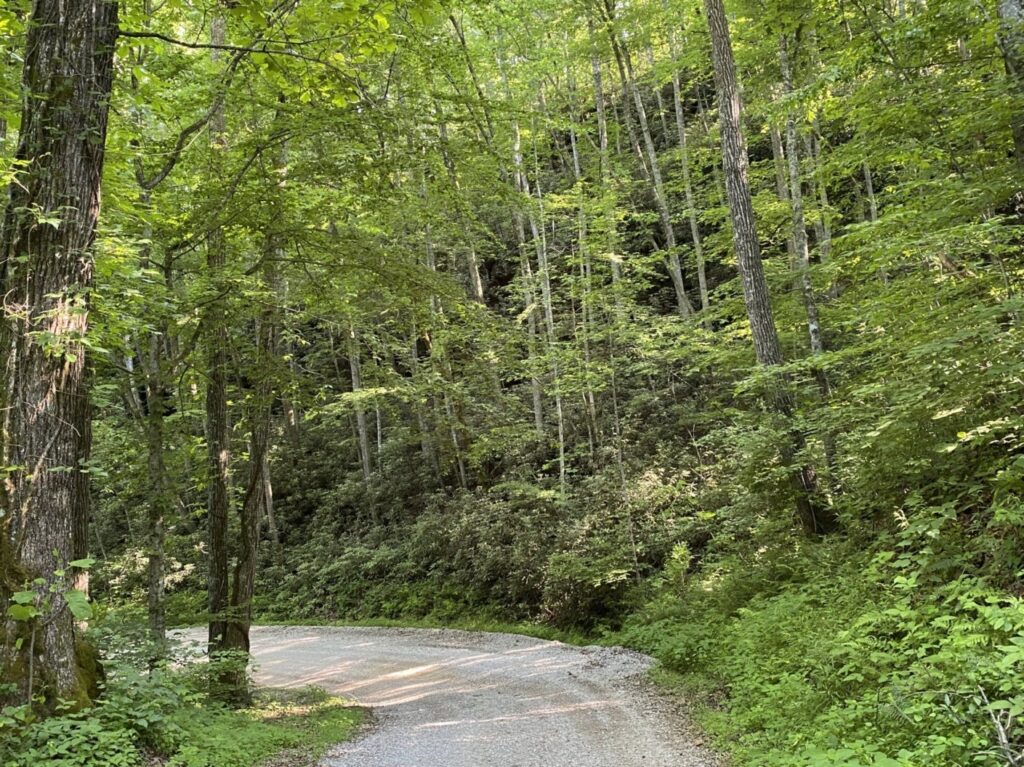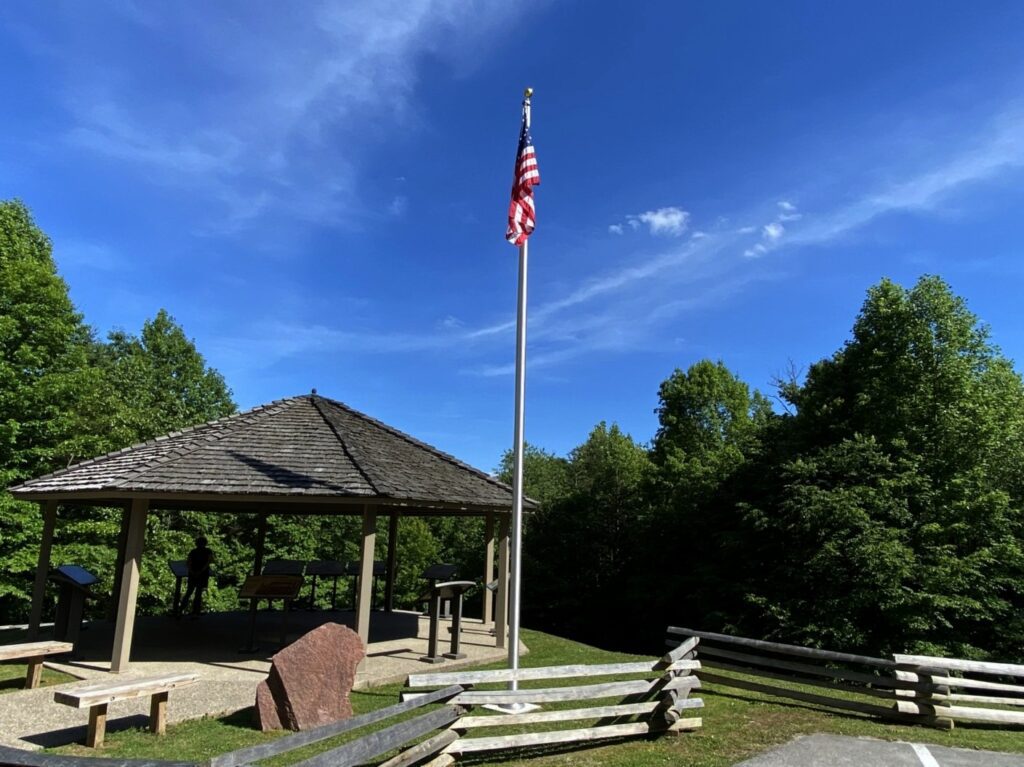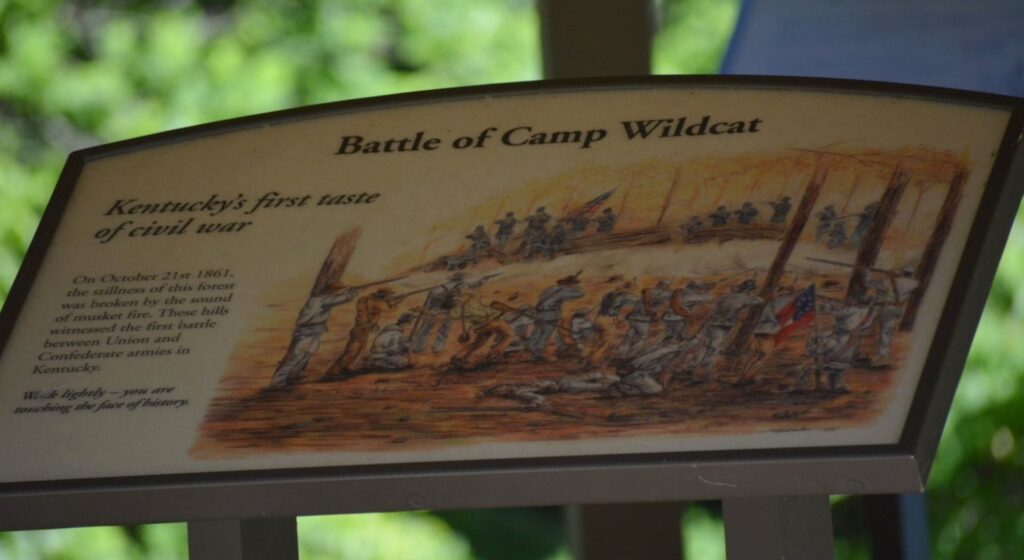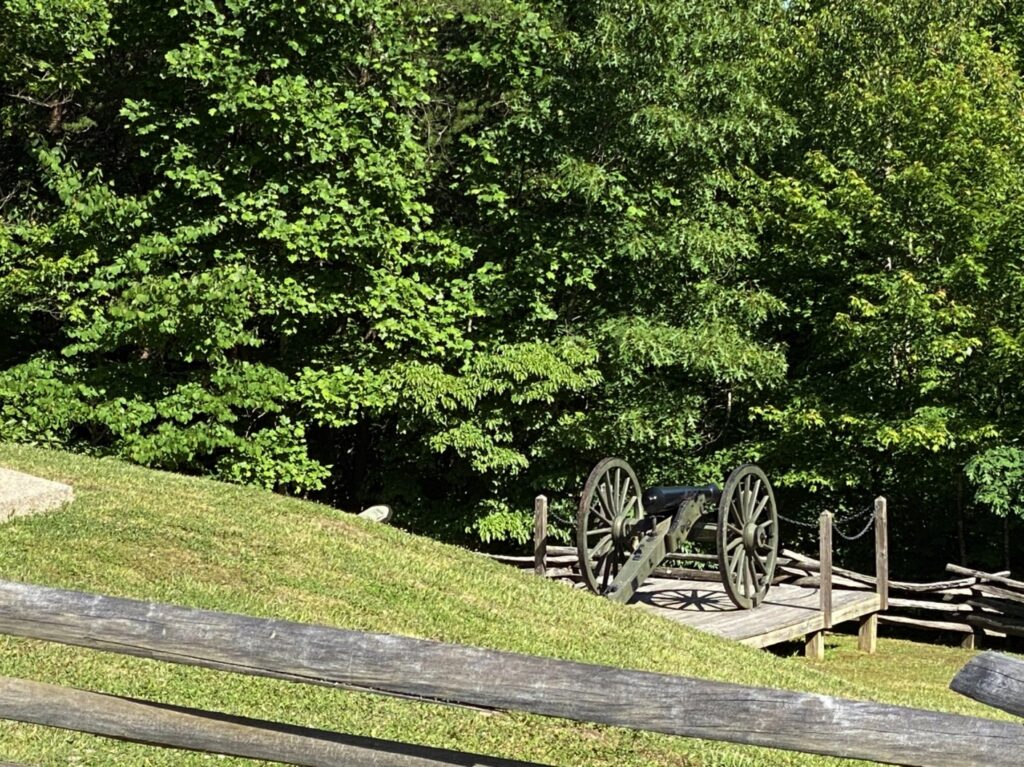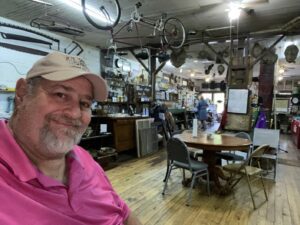 On June 4, Julianne made her first trail construction trip to help work on clearing and working on a new southern section of the Sheltowee Trace.  We drove down to Rugby, Tennessee for this and once again got to visit the R.M. Brooks General Store.  I once again got to get some good food. This time I tried their grilled cheese sandwiches made with their homemade Wheel Cheese. I spent a bit more time in Rugby as more things were open.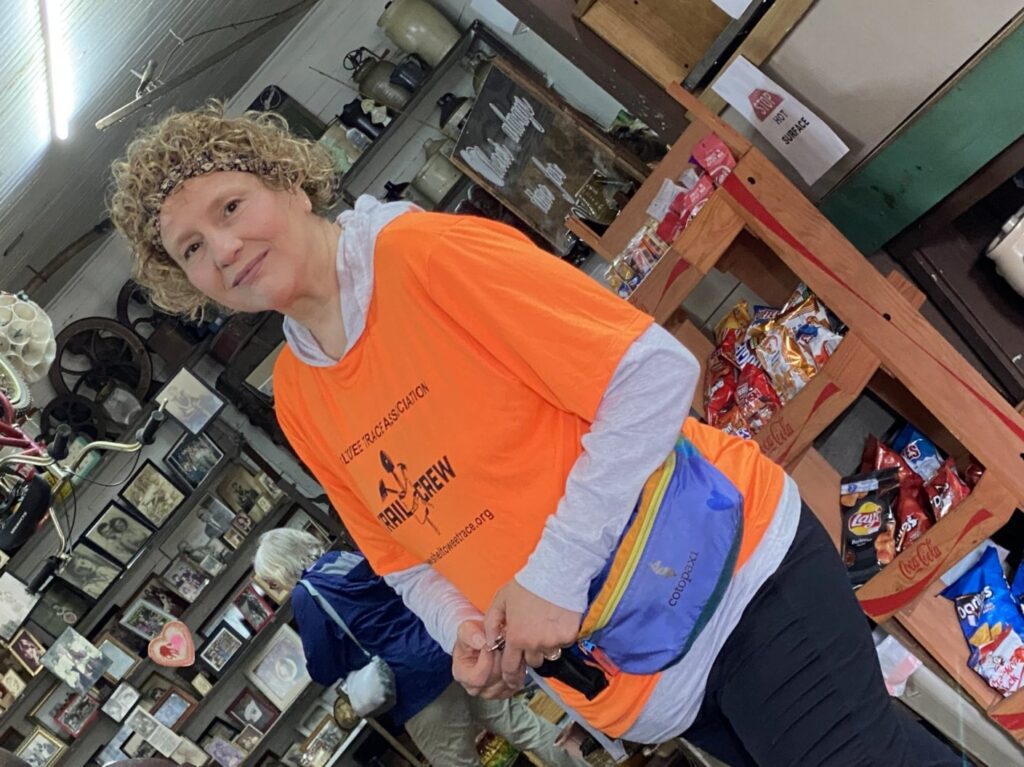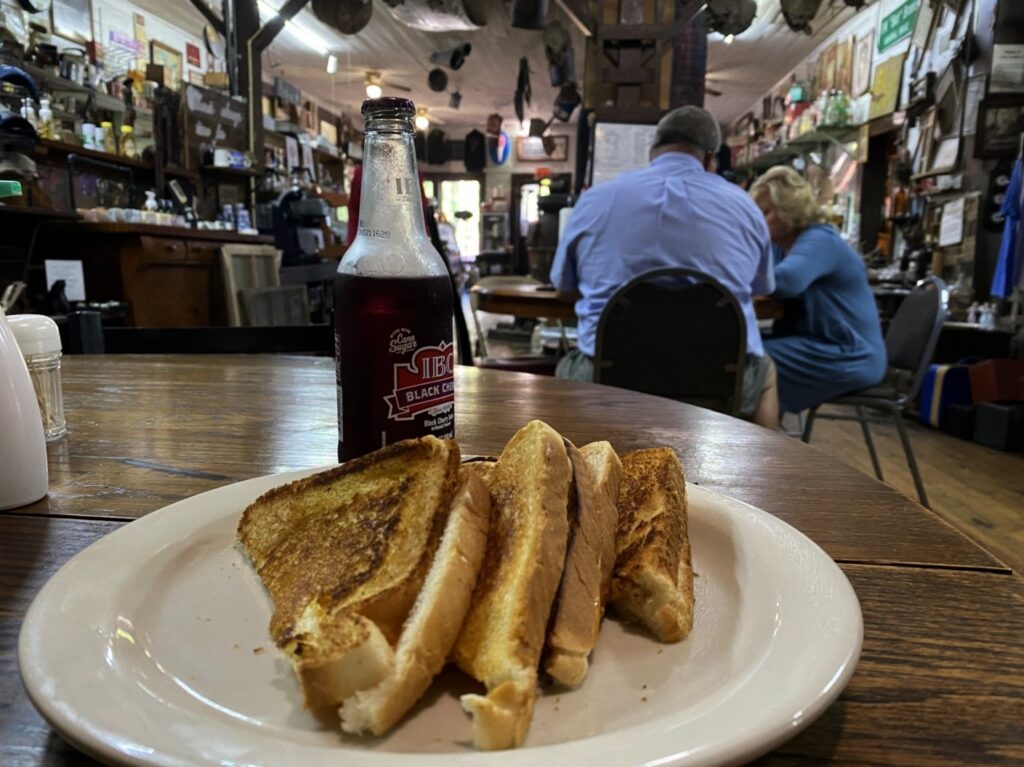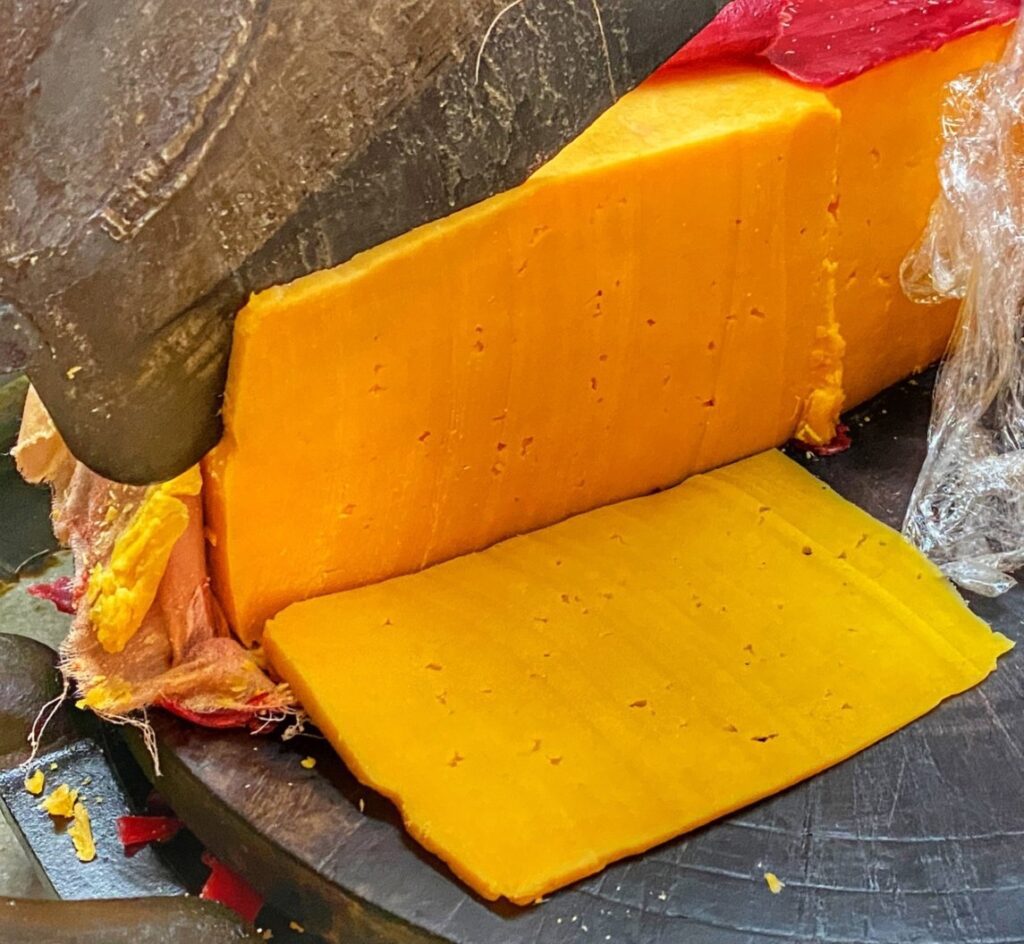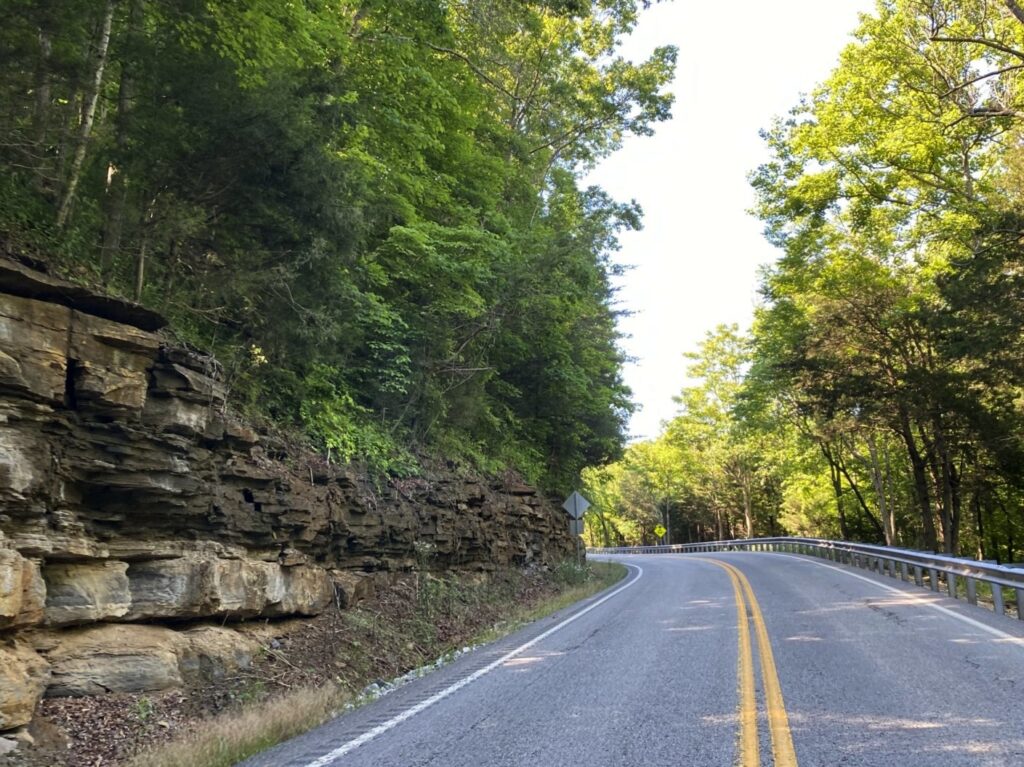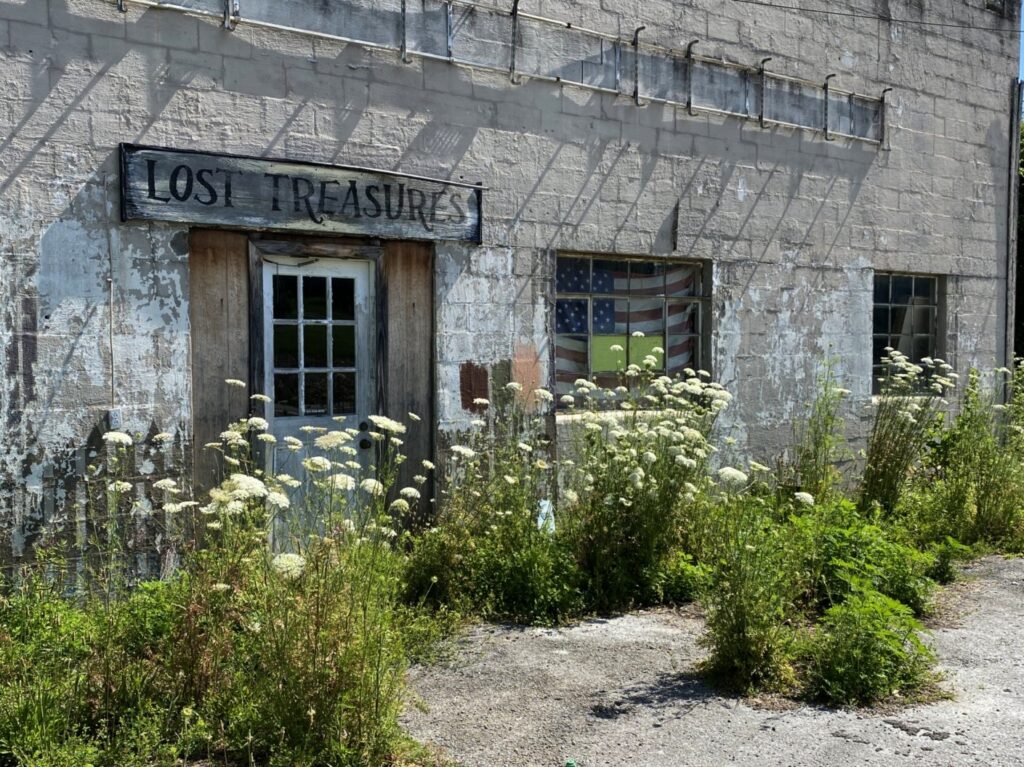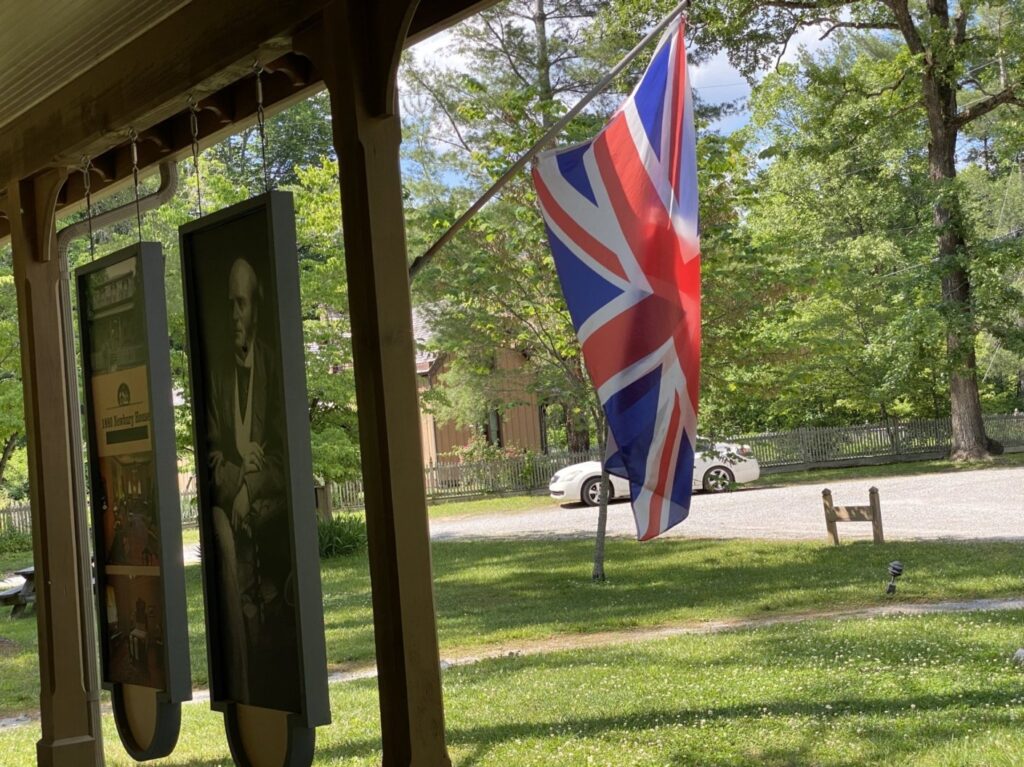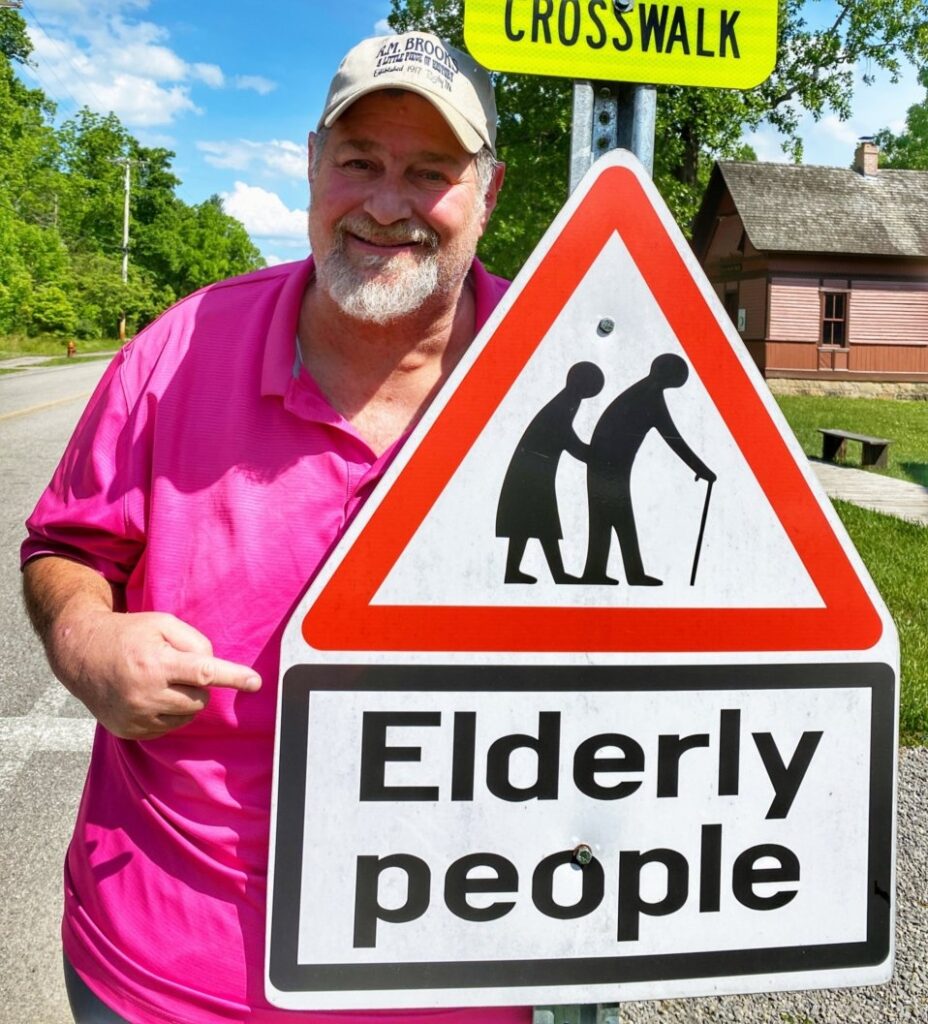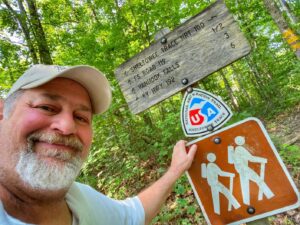 We didn't travel for a couple of weeks, but, on June 18 were again on the trail, this time near London, Kentucky, where they joined many other hikers.  I spent most of the day on gravel Forest Service Roads to meet the hikers.  It was actually a great opportunity because I got to see two arches right on the side of the road. They were hiking through the Cane Creek Wildlife Area a good part of the day. It is a 6,691-acre area dedicated to provide sustainable populations of wildlife.  I even saw a young Cooper's Hawk in the trees, which is always a treat.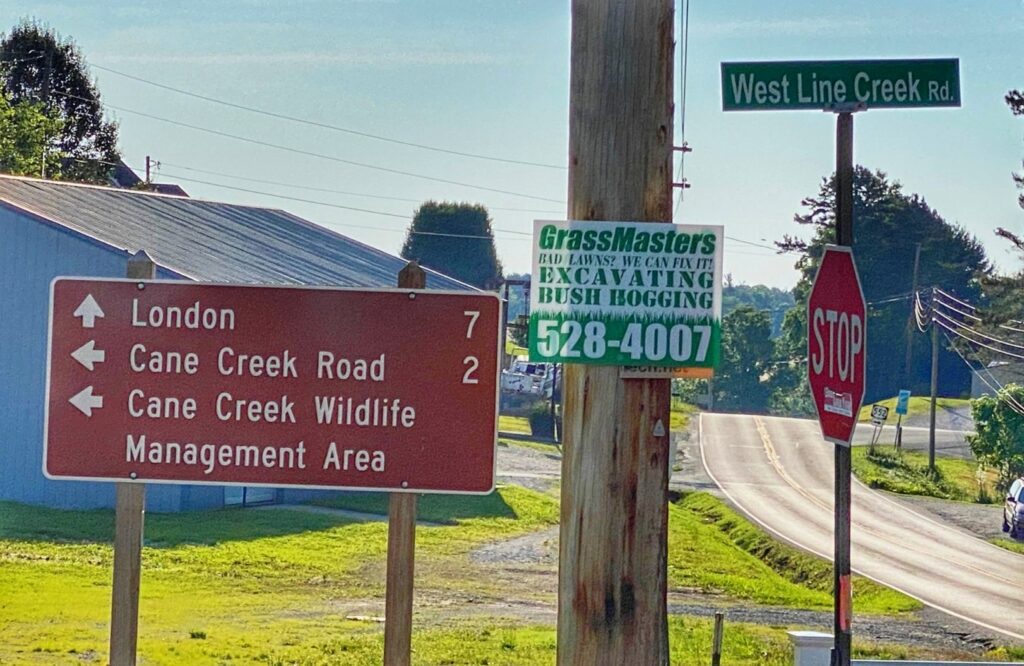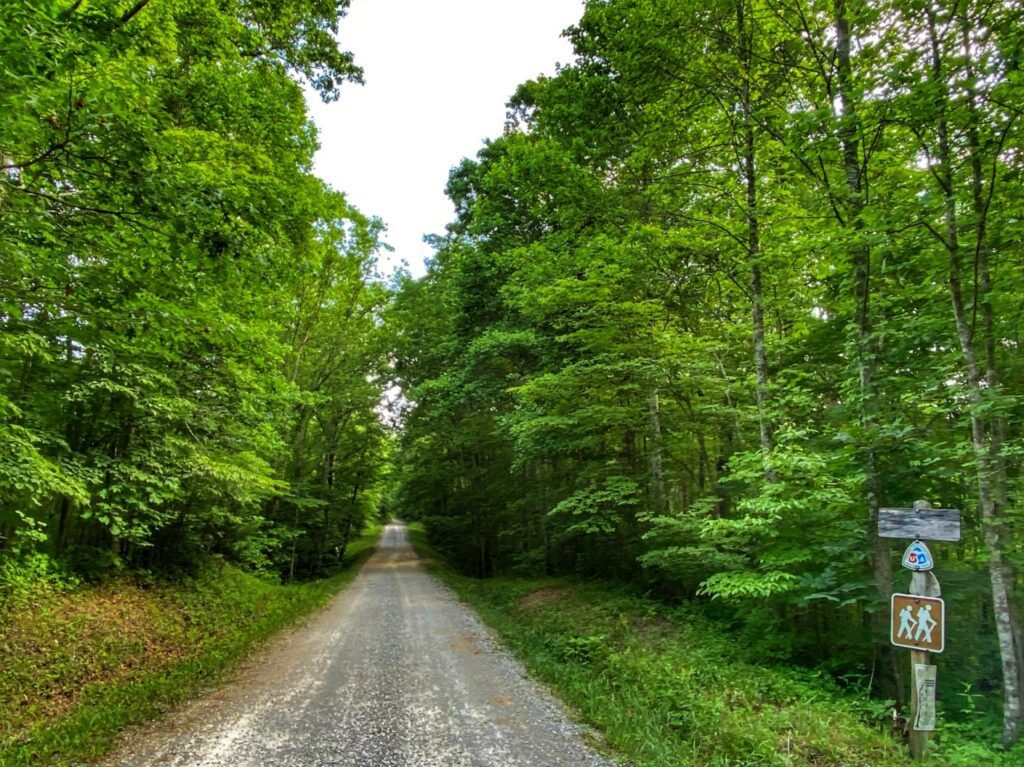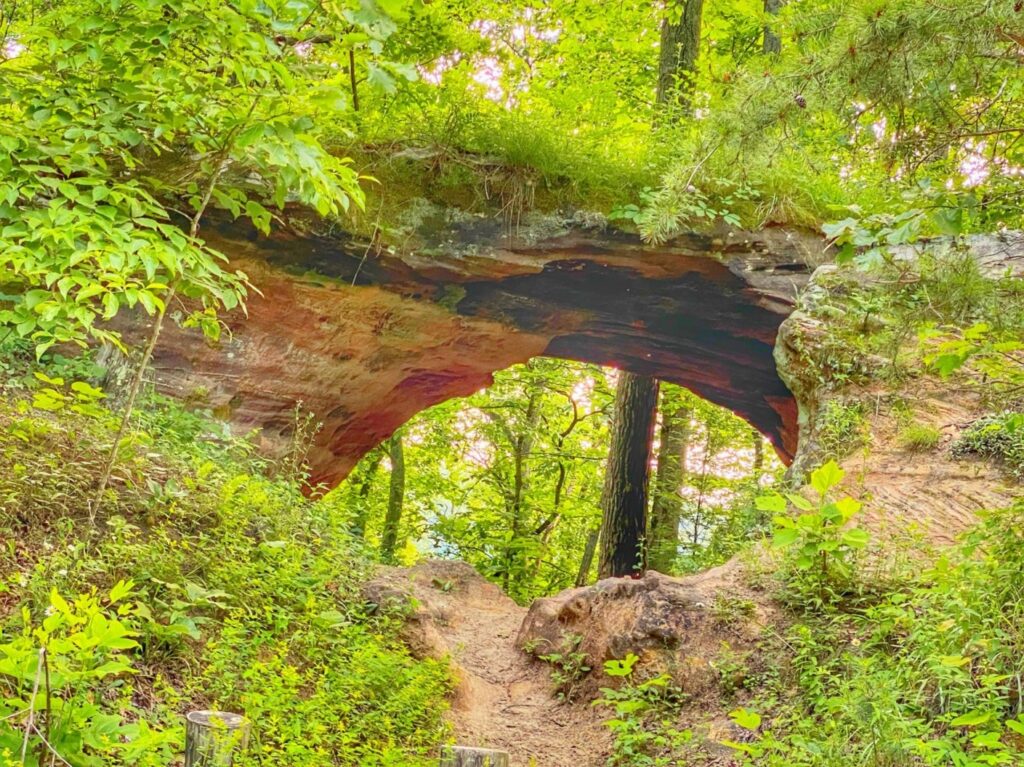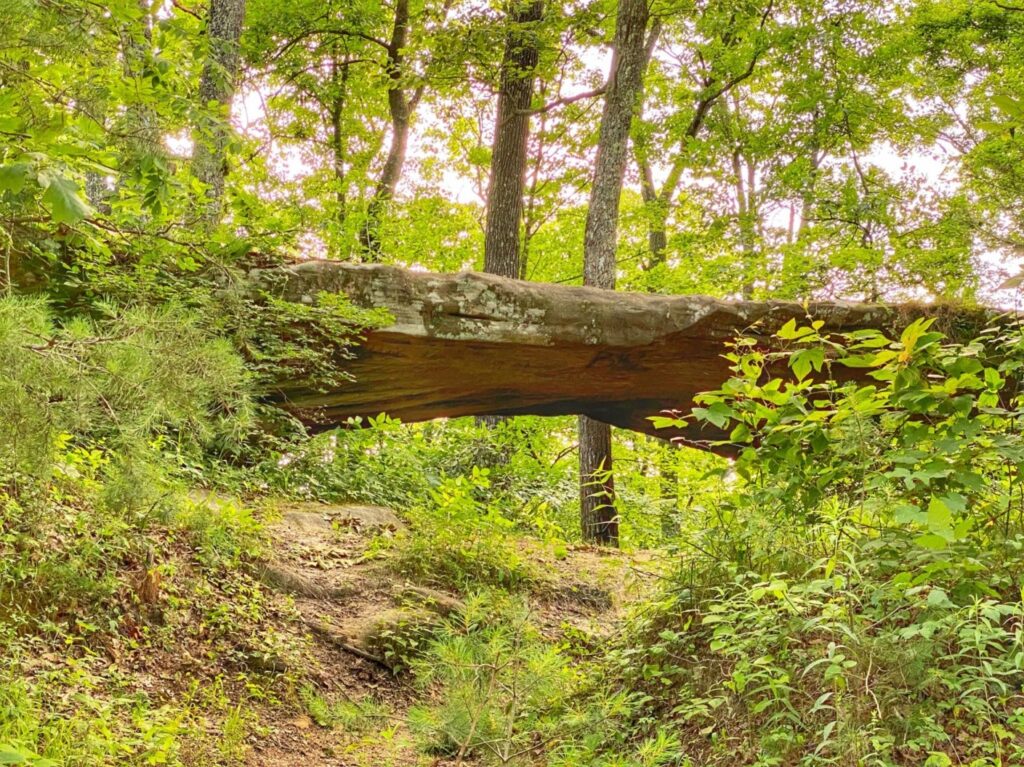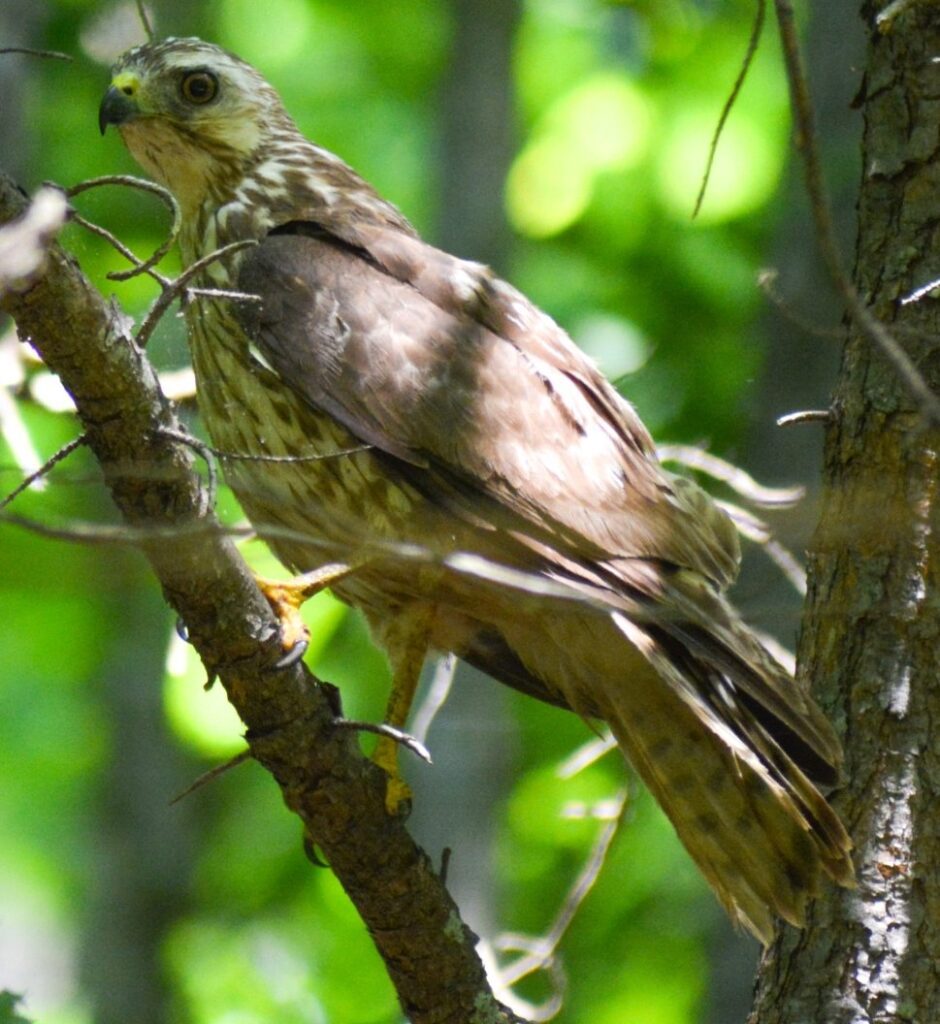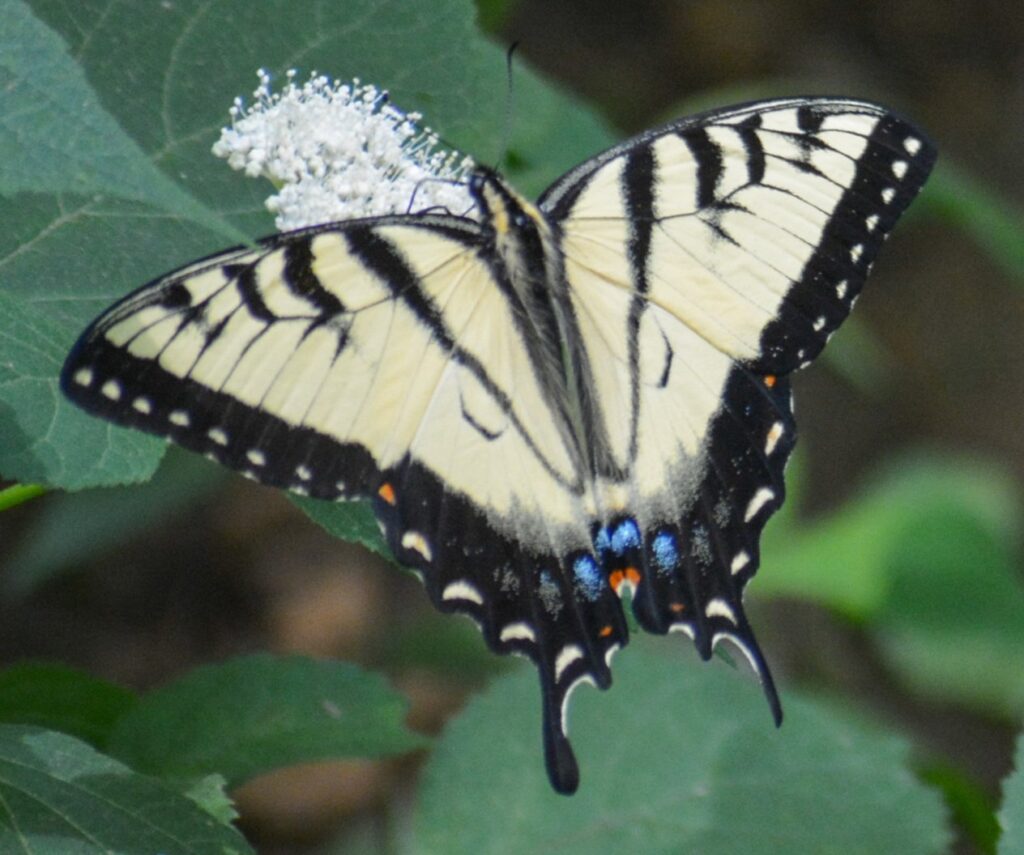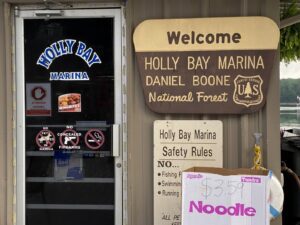 On July 9 we took a break from hiking and, instead, rented a boat and spent a day at Lake Laurel and Holly Bay Marina.  This was a fun adventure for family.  And it was fun to drive a boat instead of the van. Holly Bay rents various sizes of boats and we got one that could hold ten people.  We basically spent all day on the lake…a first for us in many years.  Being on the lake was a wonderful escape from all of the road travel.  It was so enjoyable to spend time with family, enjoy the warm weather and take in the lovely lakescapes on this "daycation."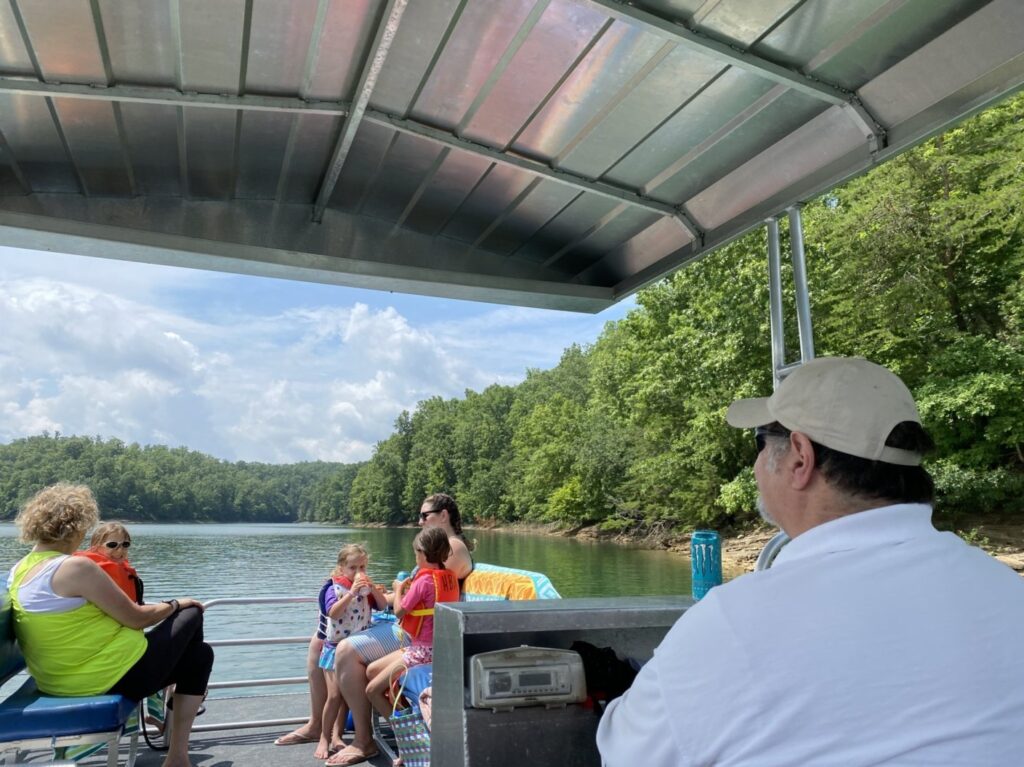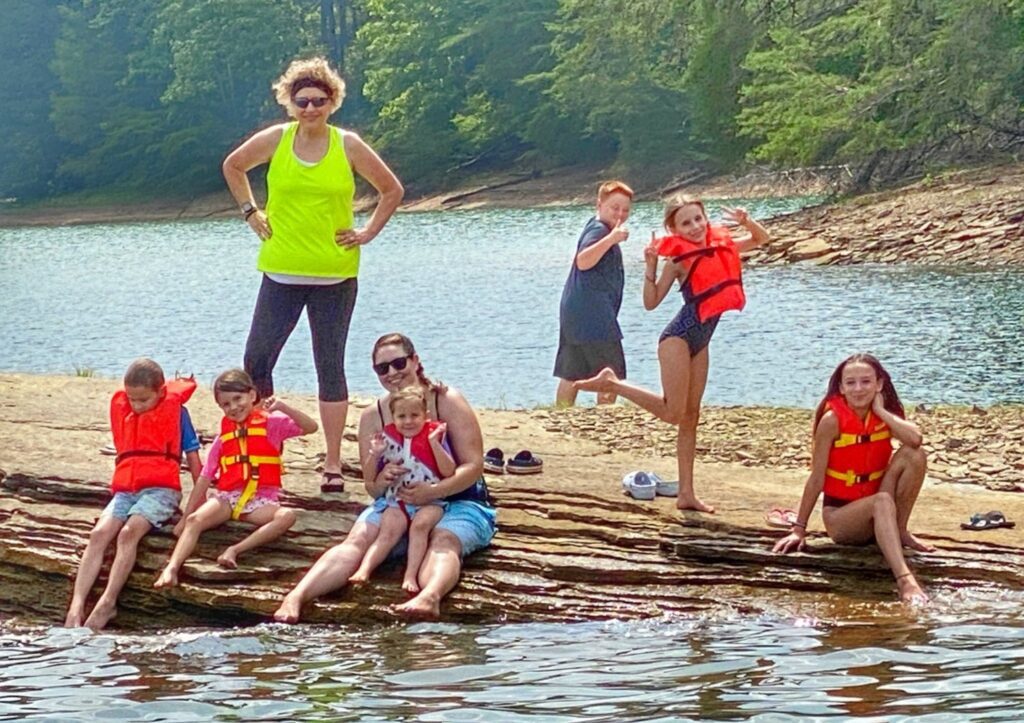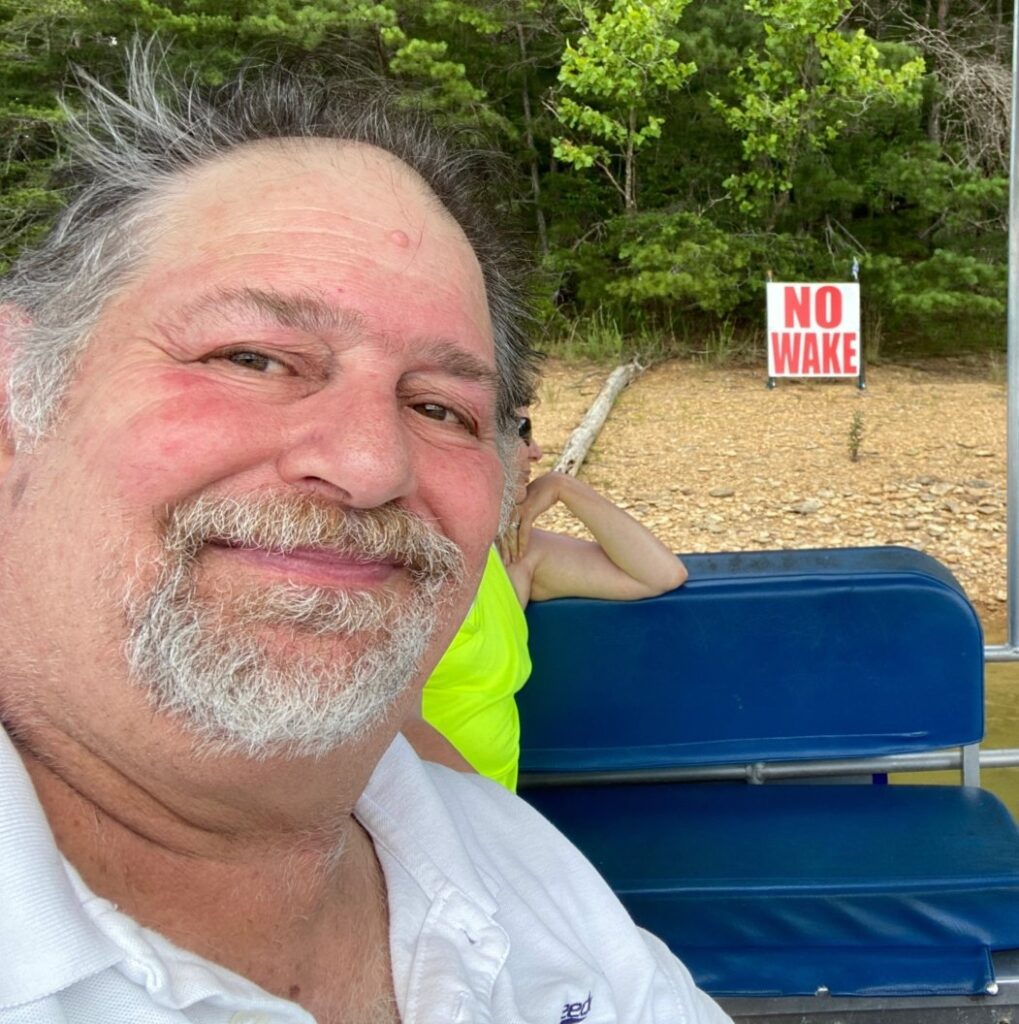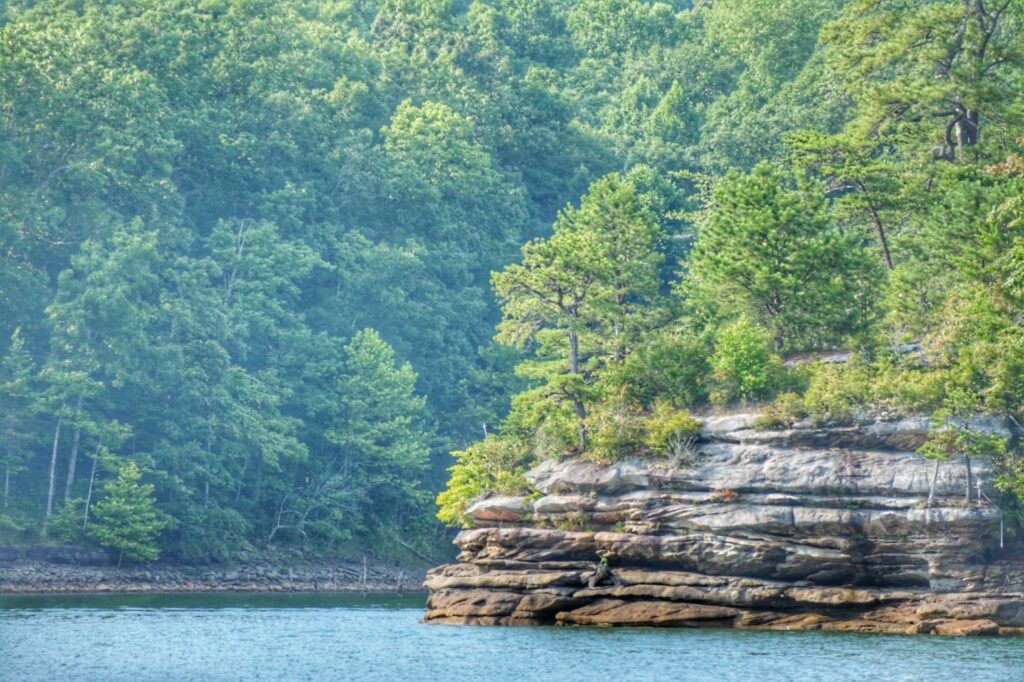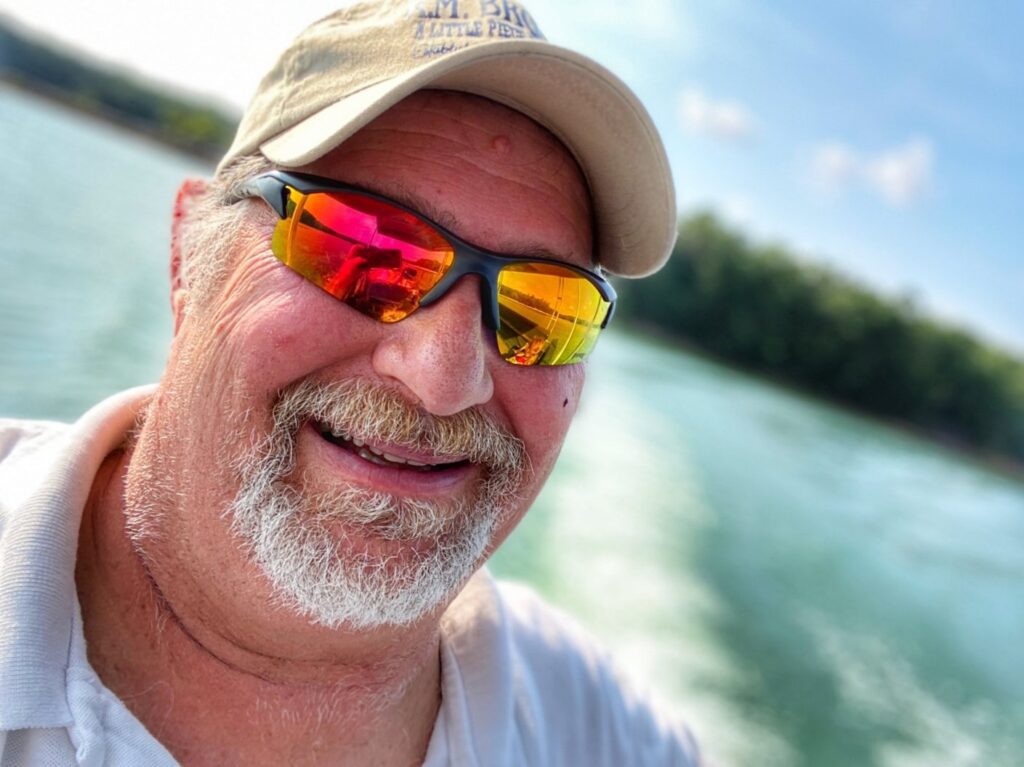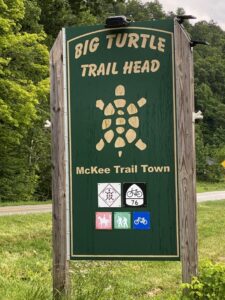 The next weekend the hikers were at it again, trudging through the Daniel Boone National Forest from Camp Wildcat to McKee, Kentucky.  I was happy to be on many back roads to enjoy the luscious pastoral scenery along the Rockcastle River. Julianne and Marissa rode their bikes on many of these back roads to speed up the hike.
Much of this trip was actually on narrow paved backroads as they came down off of Wildcat Mountain and headed northeast.  For me, it was a fun and kind of unique roundabout way to get places since there weren't as many through roads.  Once they were done hiking, I was able to pick them up and move on to the biking roads.  They rode on KY Hwy 490, crossed the Rockcastle River and then headed on KY 89, which is a rough paved road that meanders its way along the river where they would eventually cut off to the S-Tree Campground.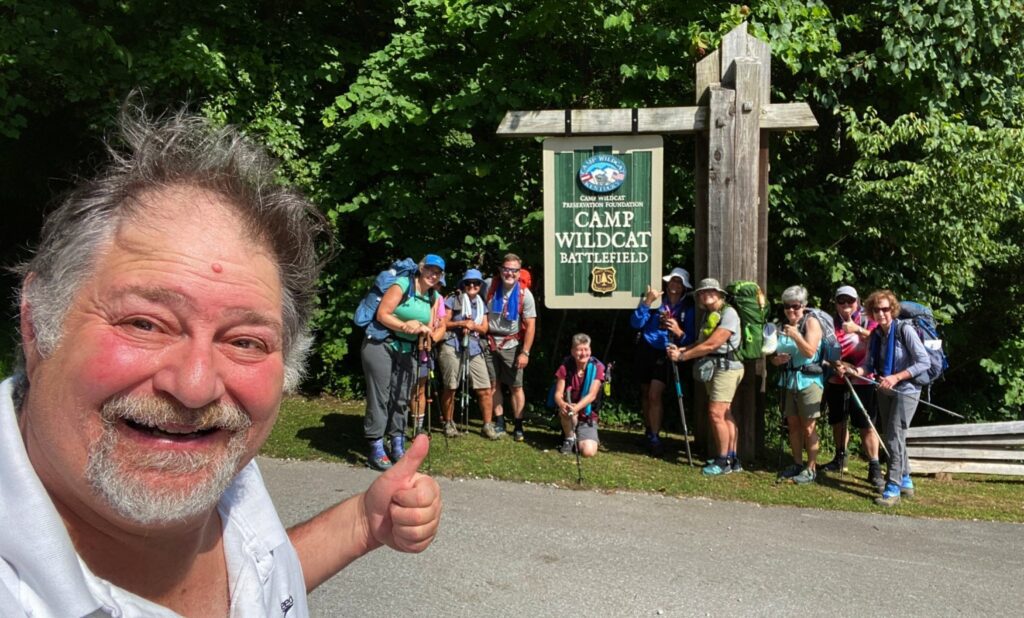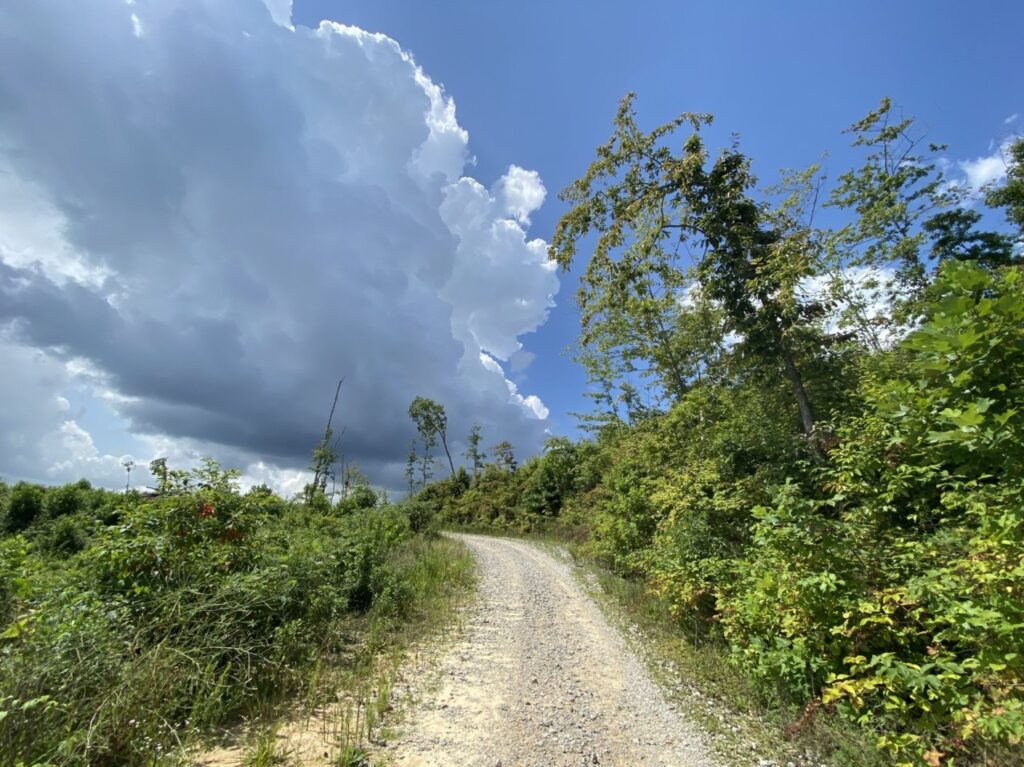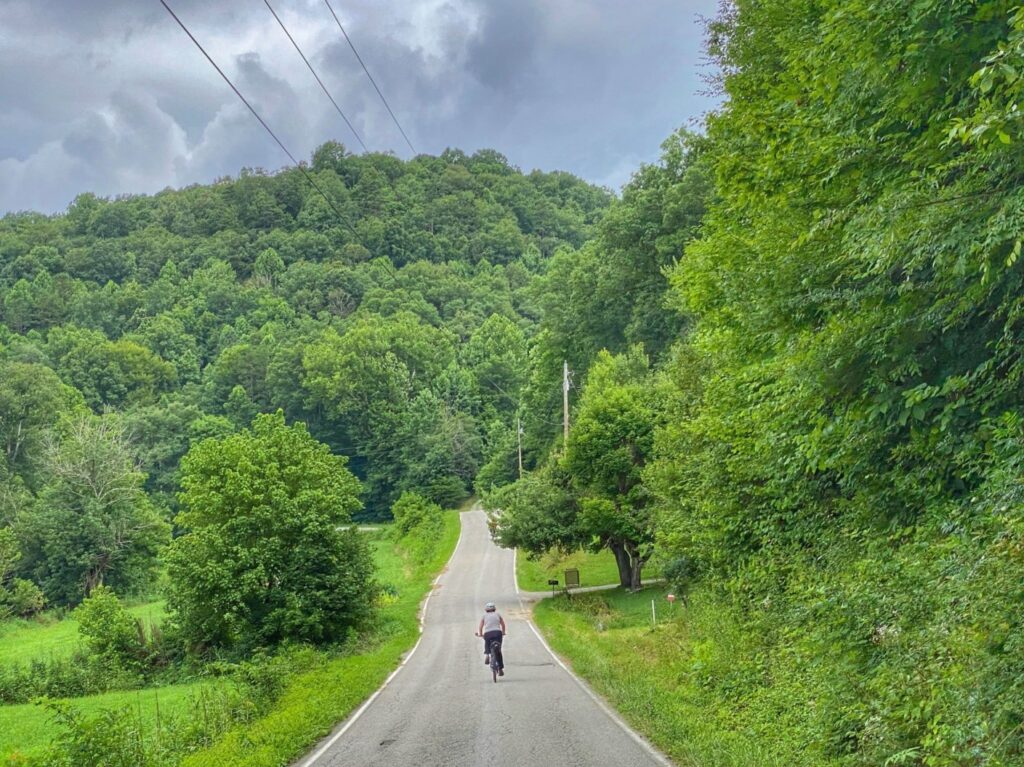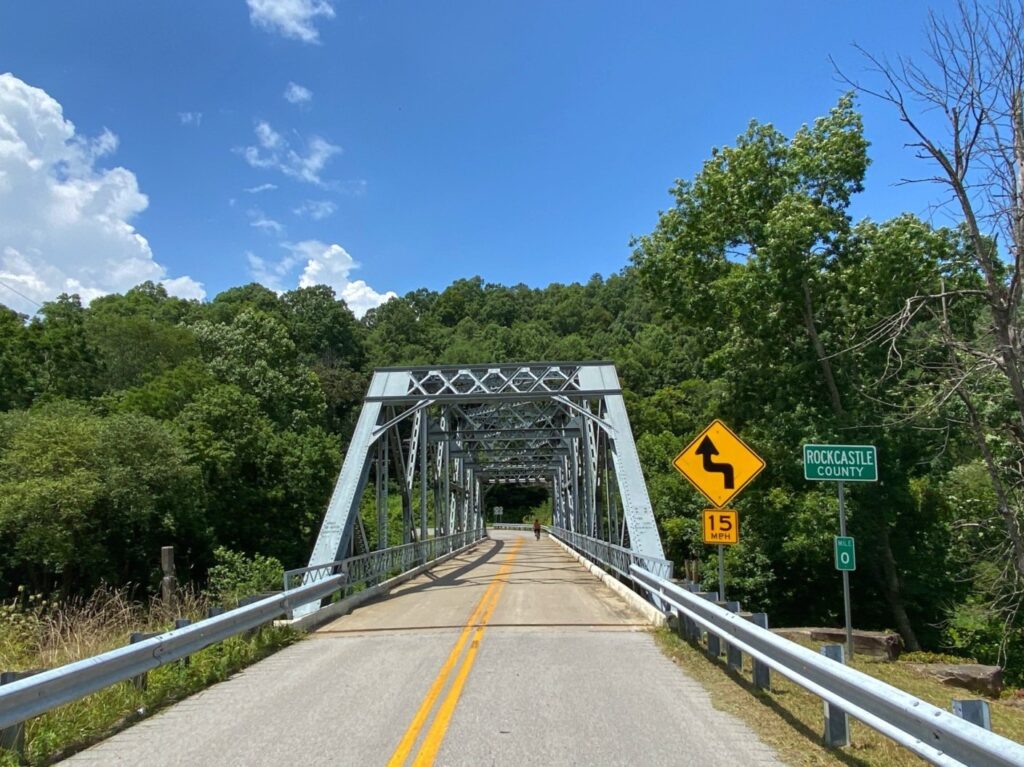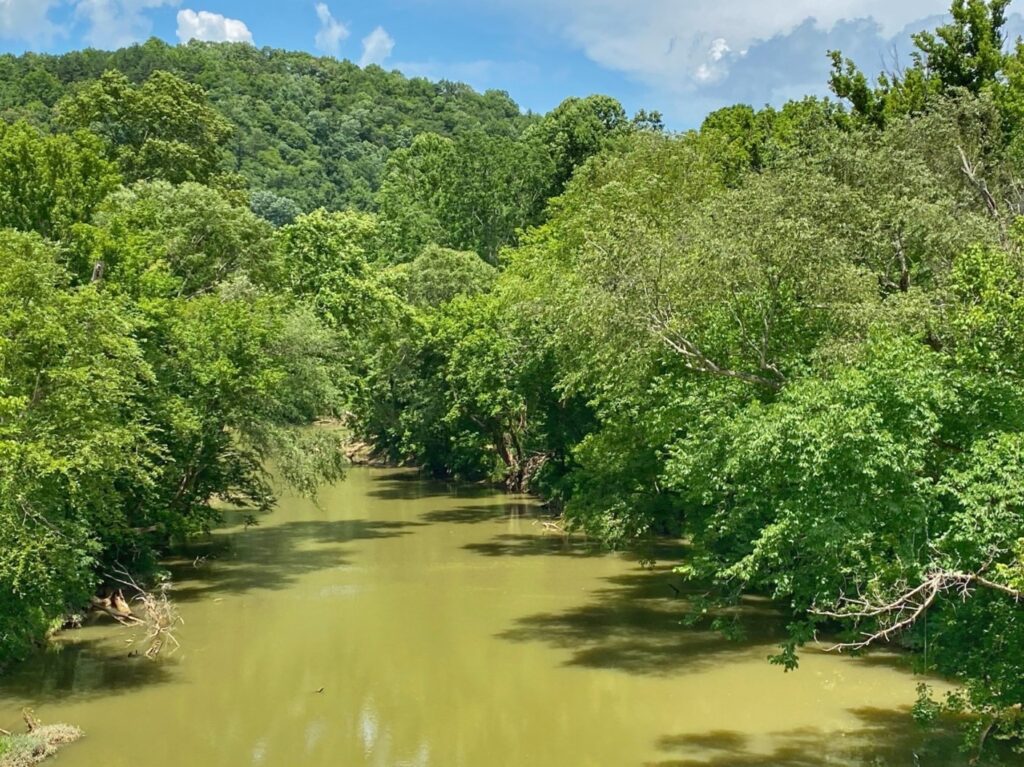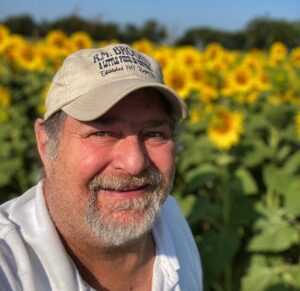 Keeping the "Daycation" theme alive for 2021, on July 24 I took a short day trip to Paris, Kentucky.  There is a lovely farm, Stepping Stone Farm in Cynthiana, that grows sunflowers…fields of them…and welcomes visitors to take pictures.  I try to make a trip out there each year. After a visit to the sunflowers, I went into Paris to see the new Eiffel Tower replica in town.  This was really new, so I wanted to make sure to get photos to pass on to my friends at Roadside America.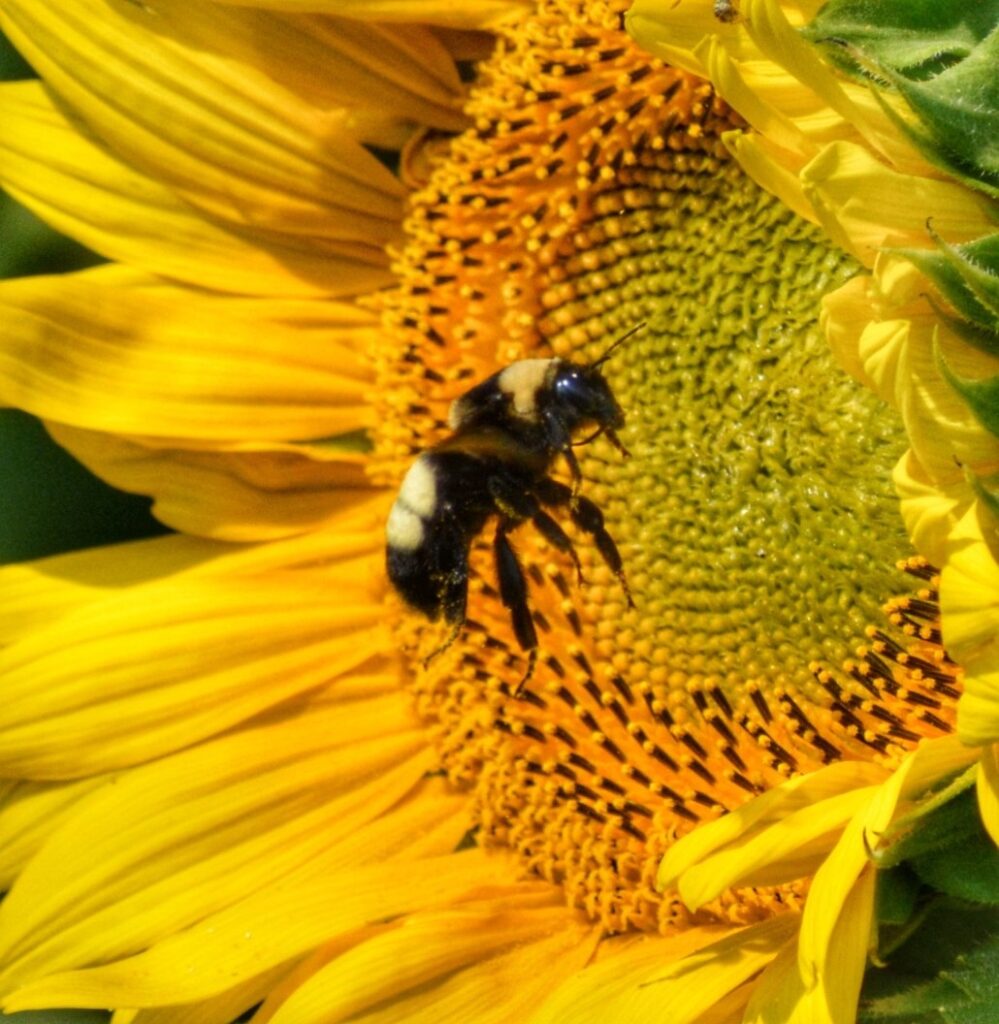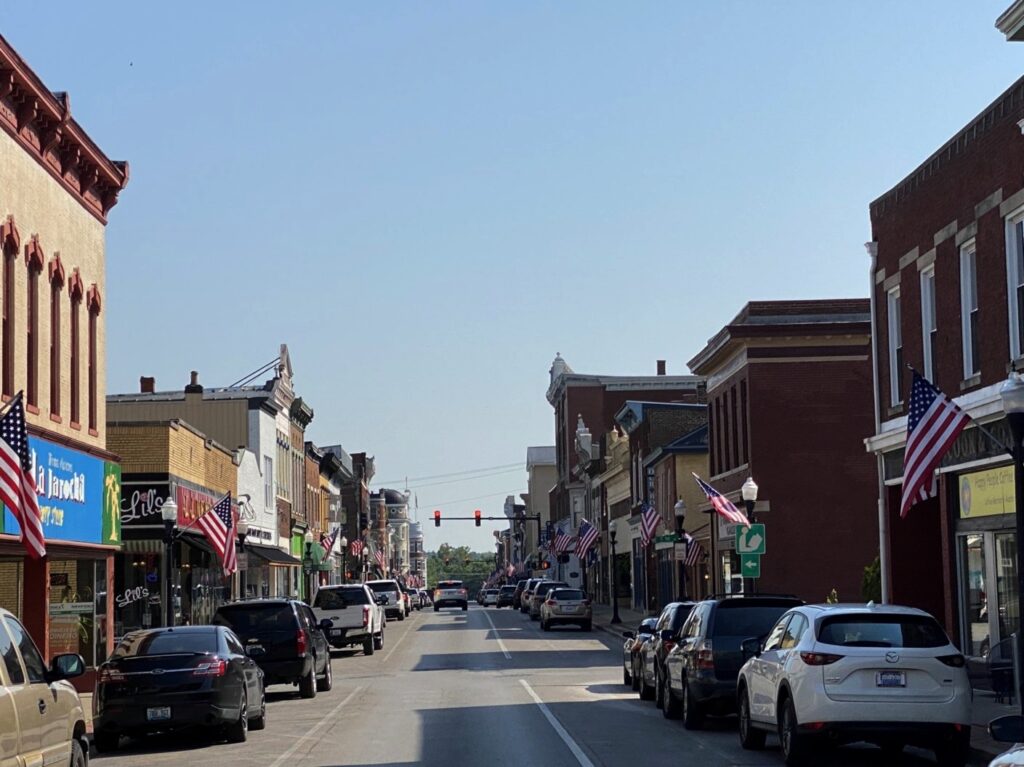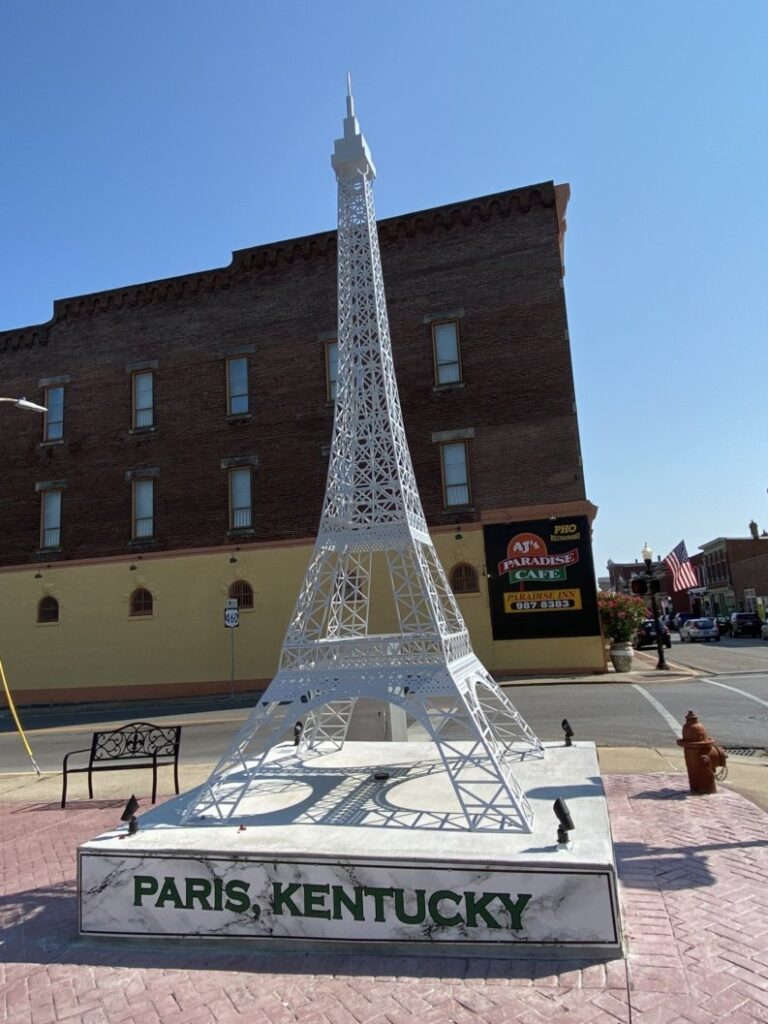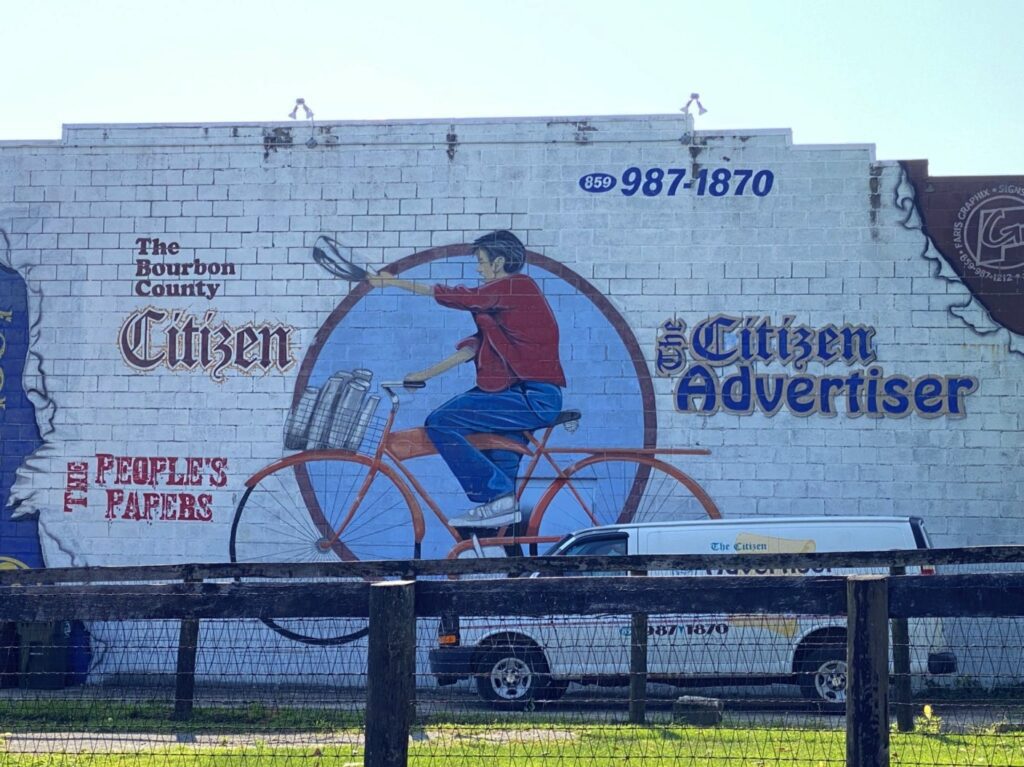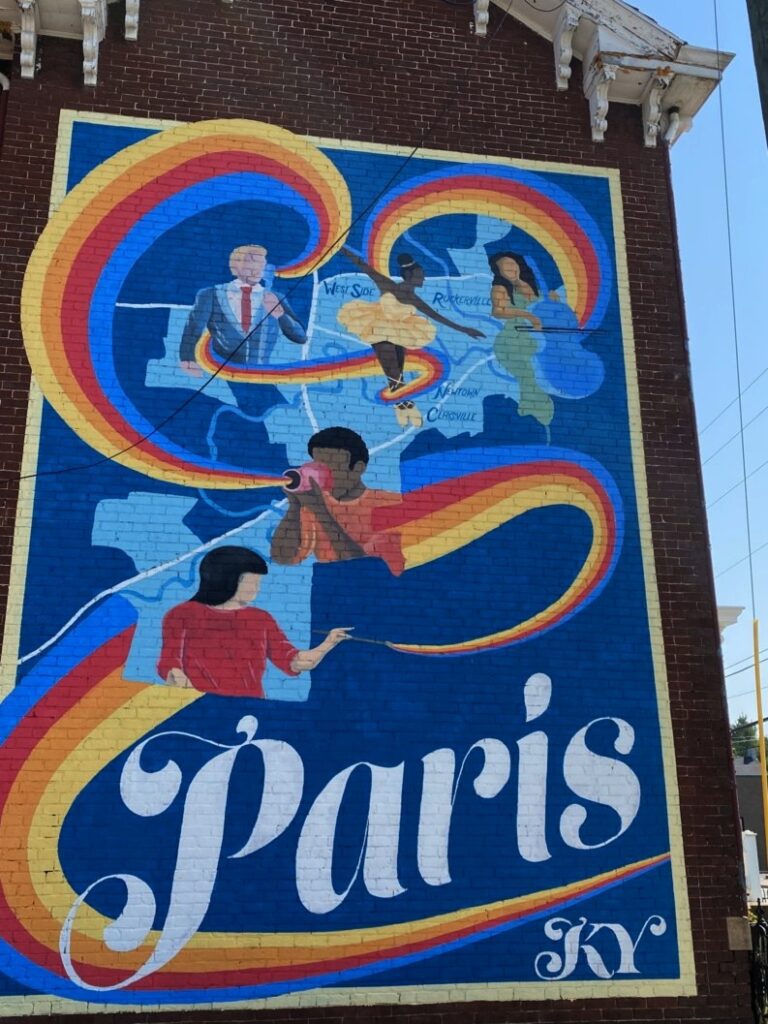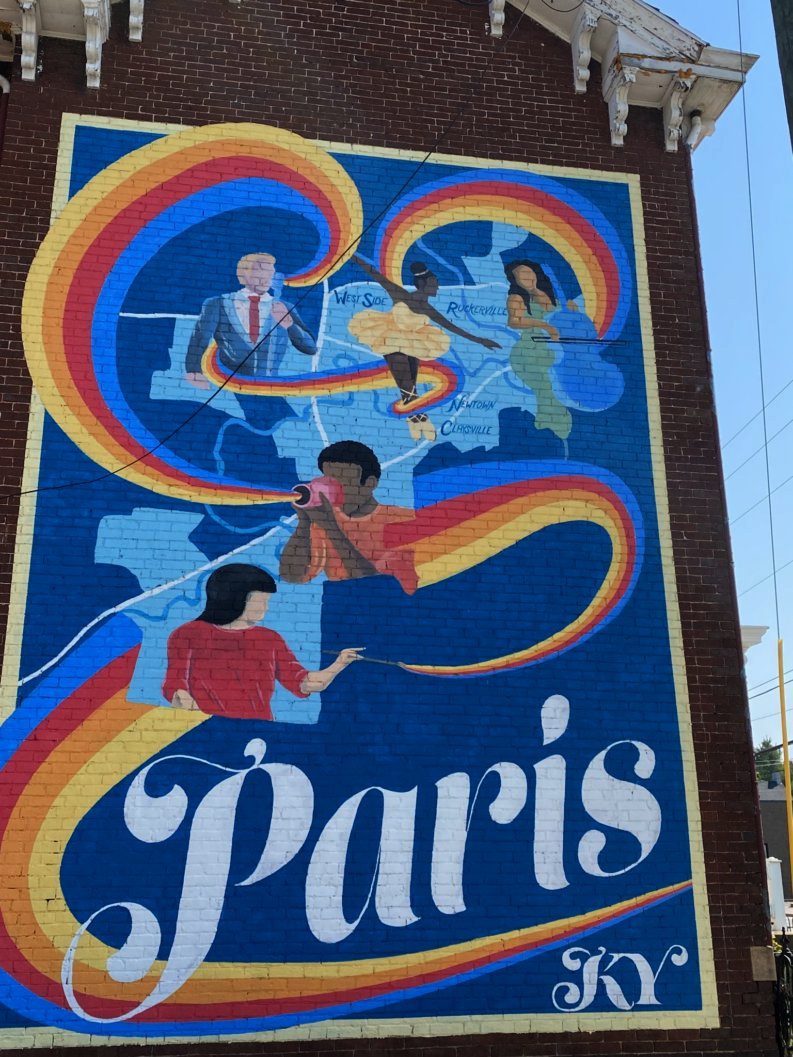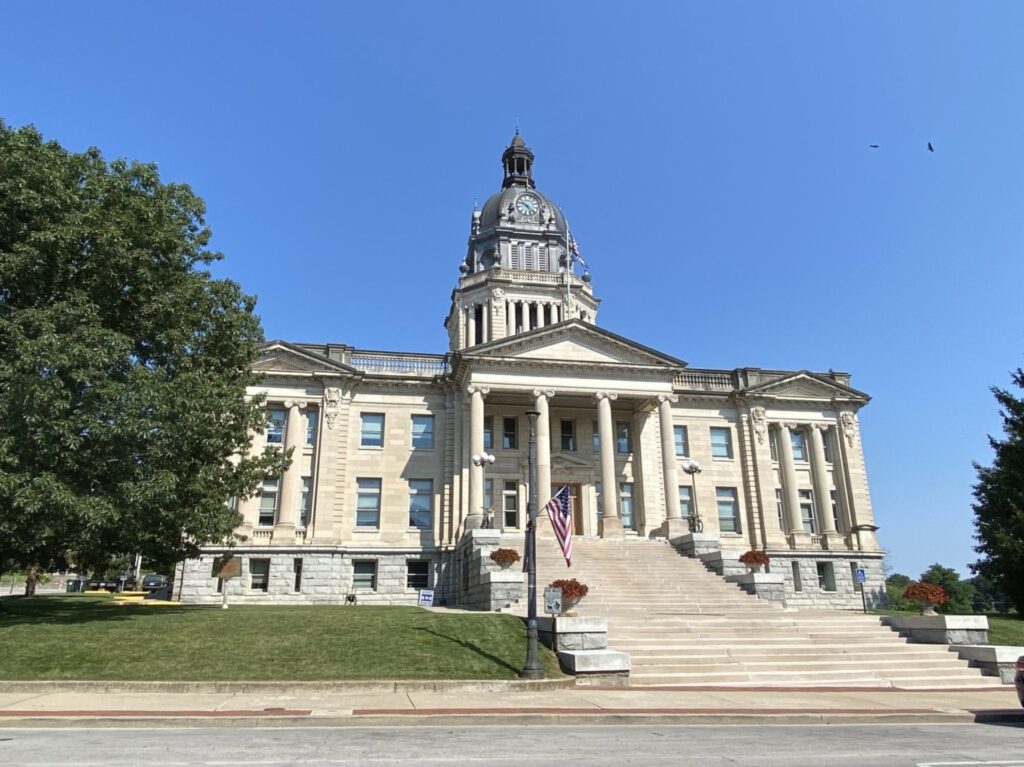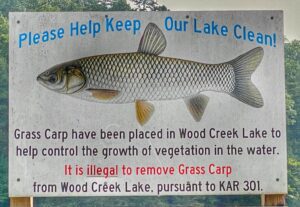 The next weekend it was back on the trail. This time it was near Swiss Colony, Kentucky near London to do some makeup hiking and biking.  While they hiked, I made my first visit to another small lake called Wood Creek Lake.  There is a road that follows the lake and it was fun to see what folks have done with their lakeside properties on this road.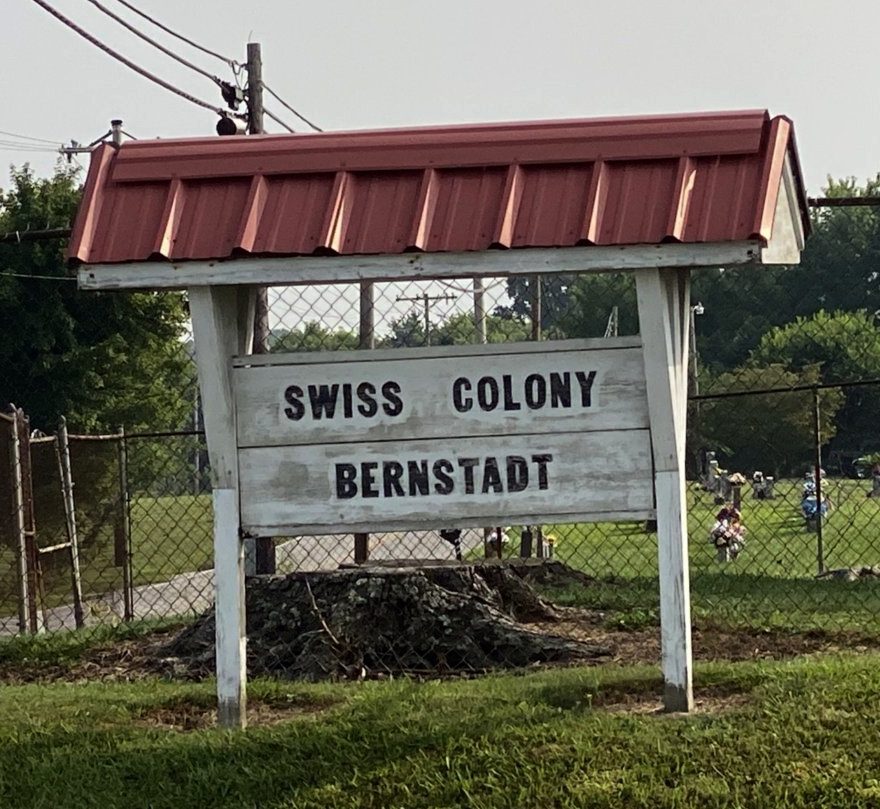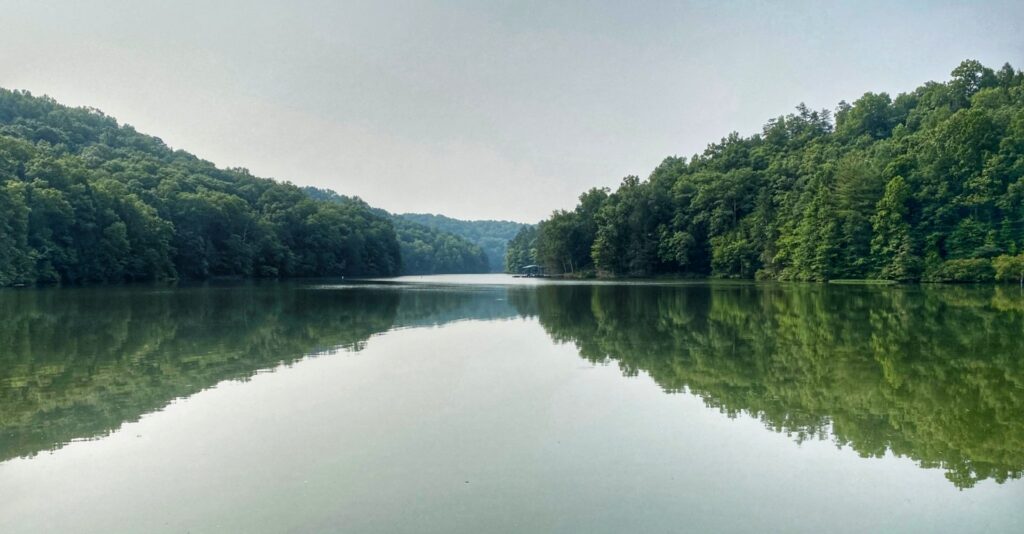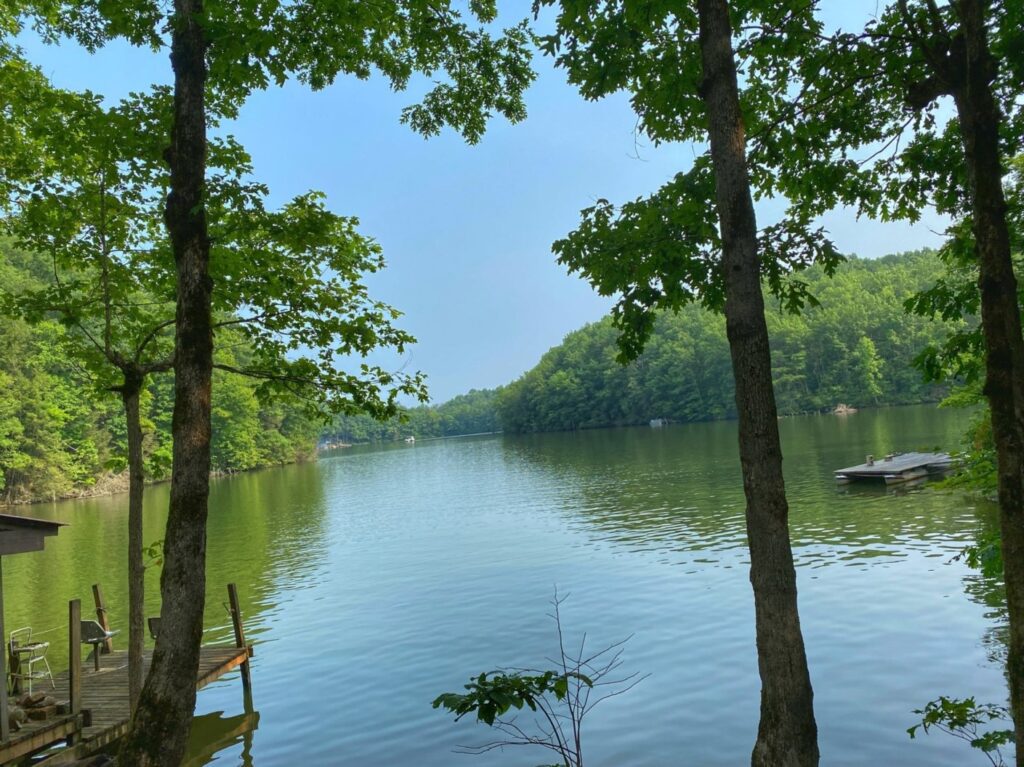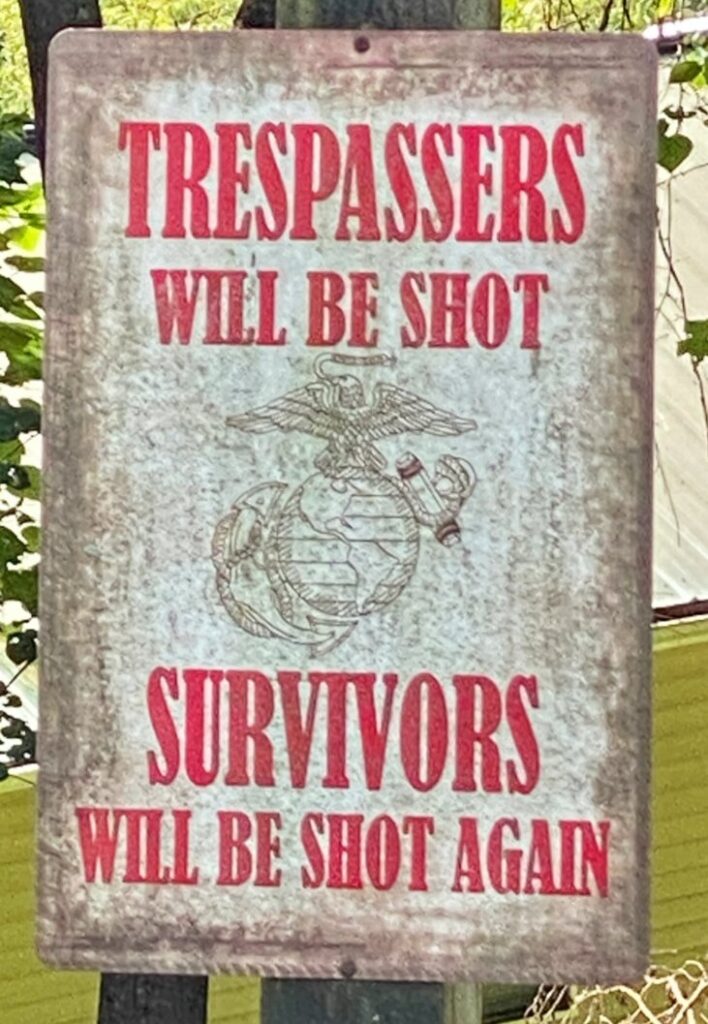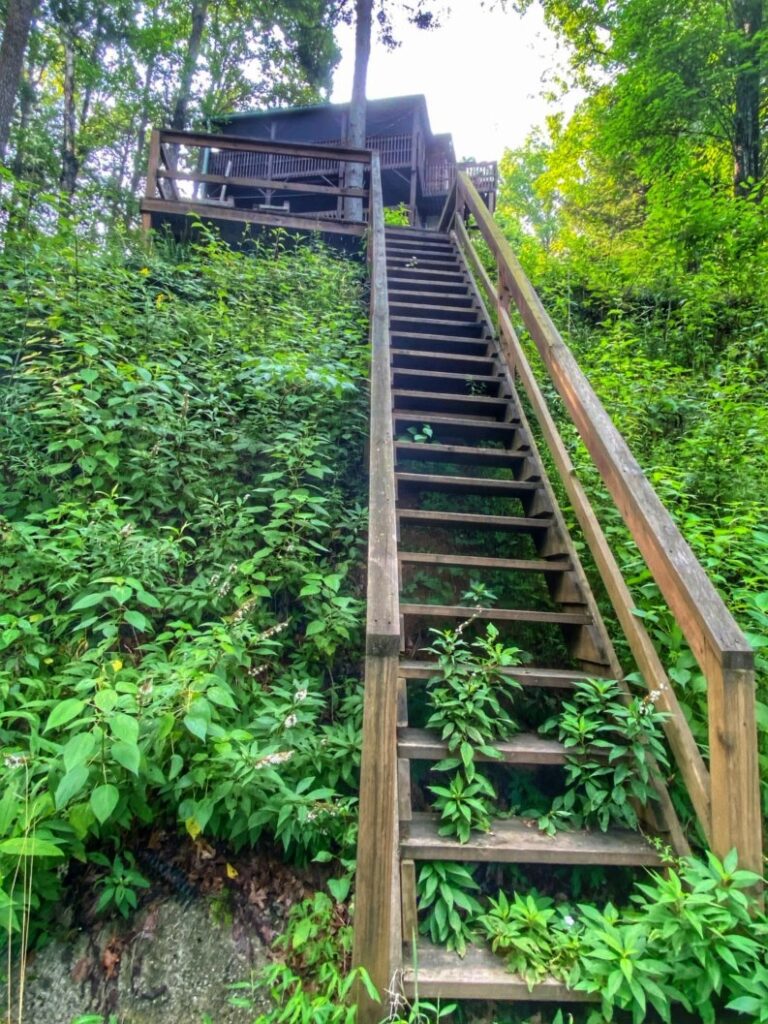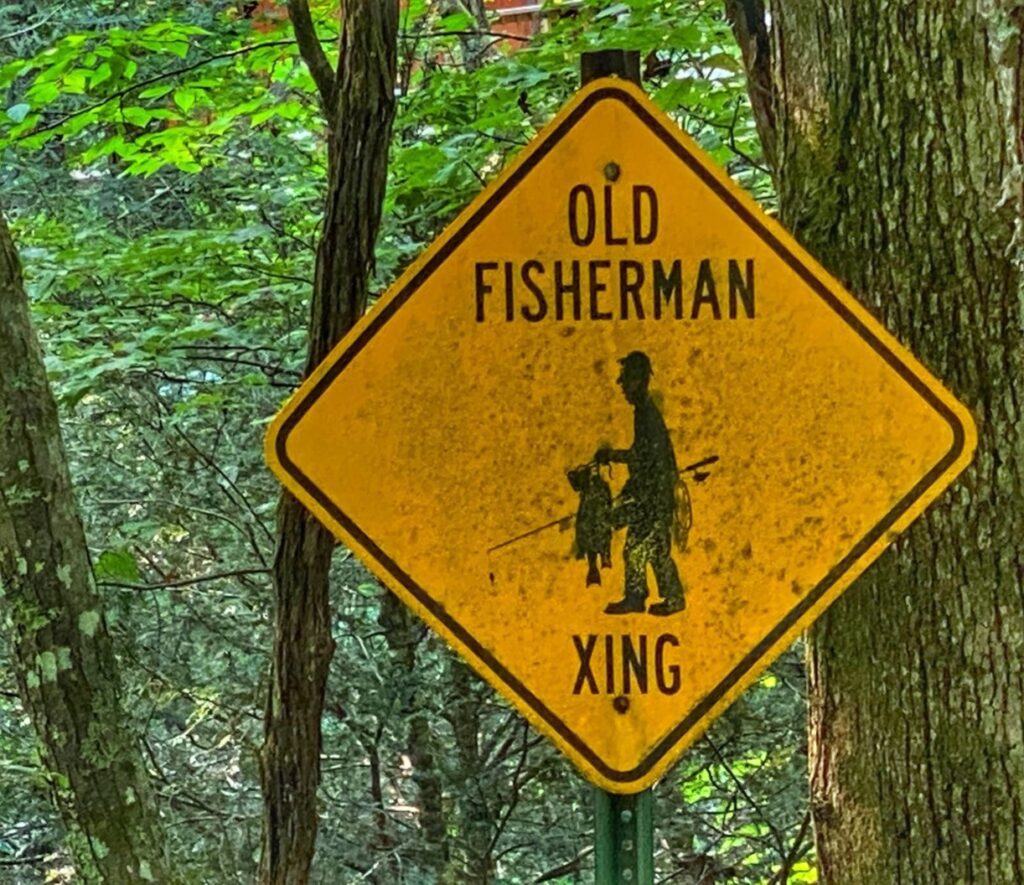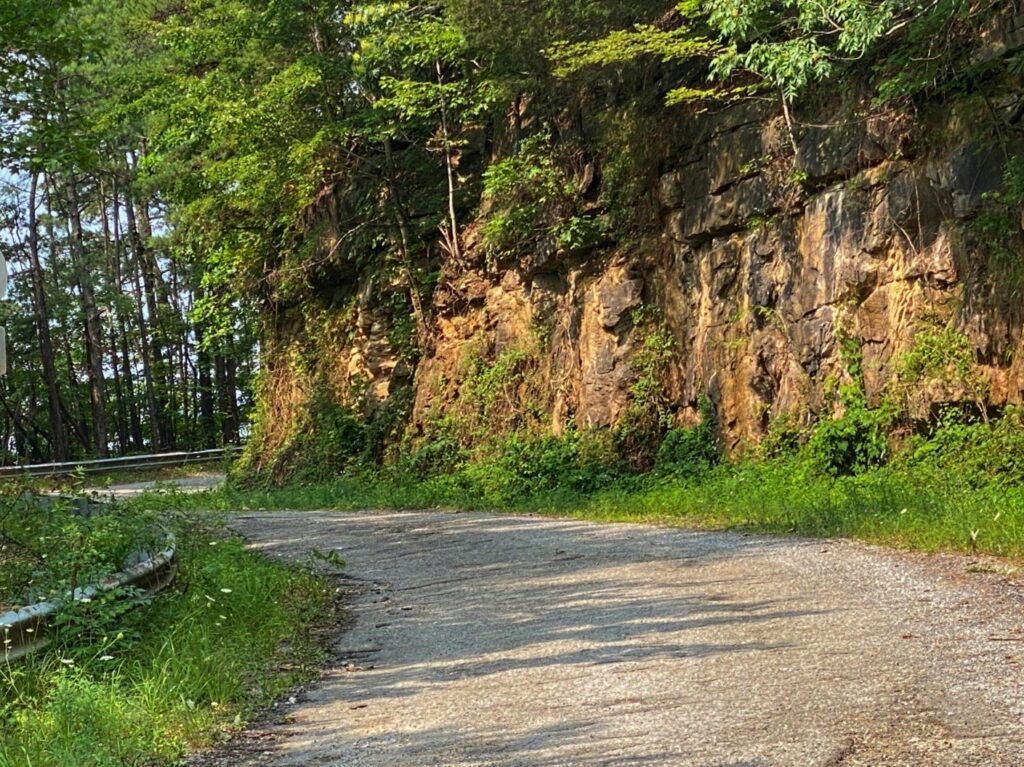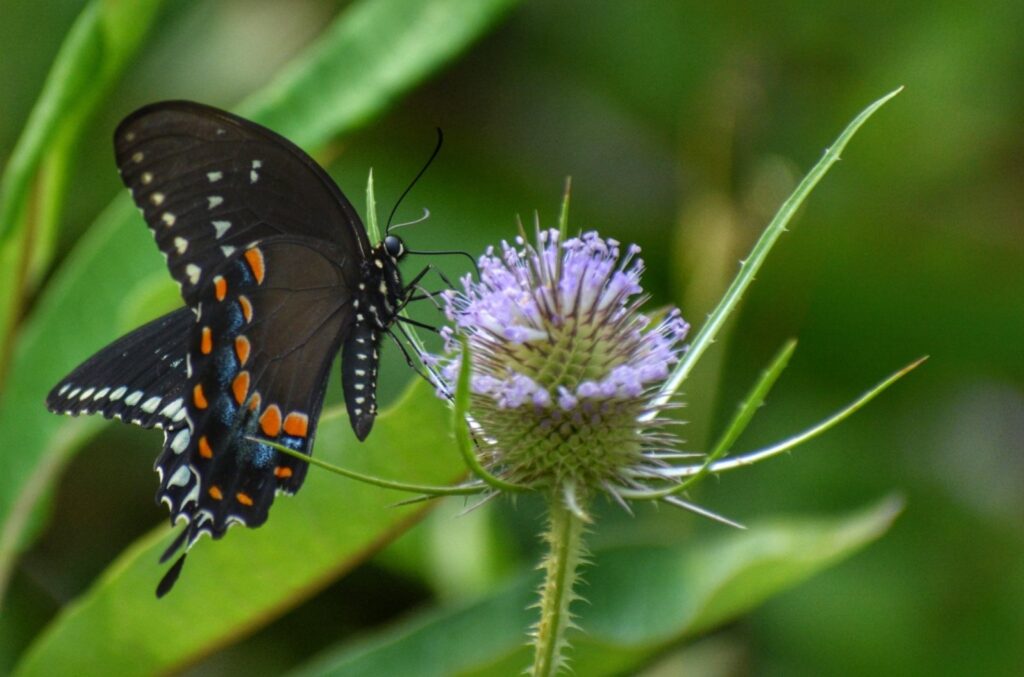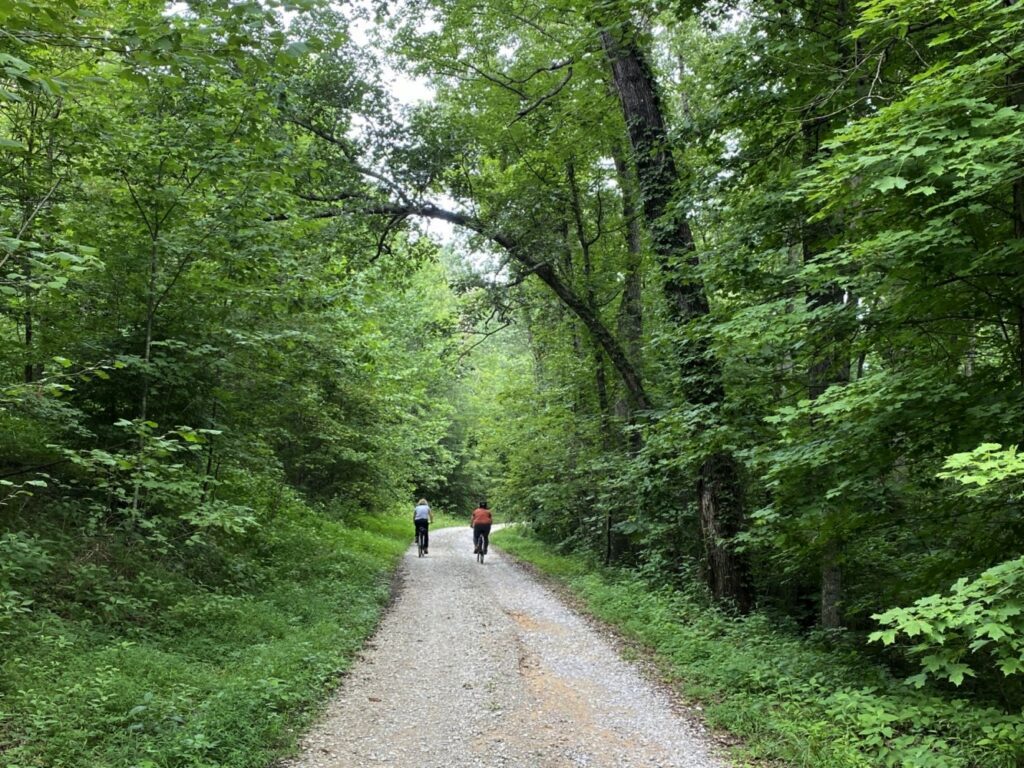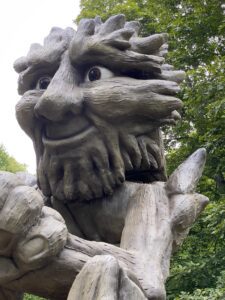 In August, I was invited to visit Muhlenberg County by their tourism department.  I wrote a number of posts about the visit, but I was really excited to visit their "Big Twigs," as well as the Music Museum and even a visit to Paradise.  You can see my posts starting with this one: https://lessbeatenpaths.com/2021/08/apple-house-mercantile/
On August 27 I took Marissa and Julianne back down to McKee, Kentucky.  They would hike near Turkey Foot Campground and then ride their bikes to Heidelberg, Kentucky, a small former railroad community along the Kentucky River.  I got one of my best scenery photos ever while down there.  We returned to Lexington for the night and went back down on the 28th.  I dropped them off at the trail and then went down one of the forest service roads.  The sun beamed through the trees making for some wonderful morning scenes.  And, due to fog, there were hundreds of big spider webs everywhere.  It was lovely.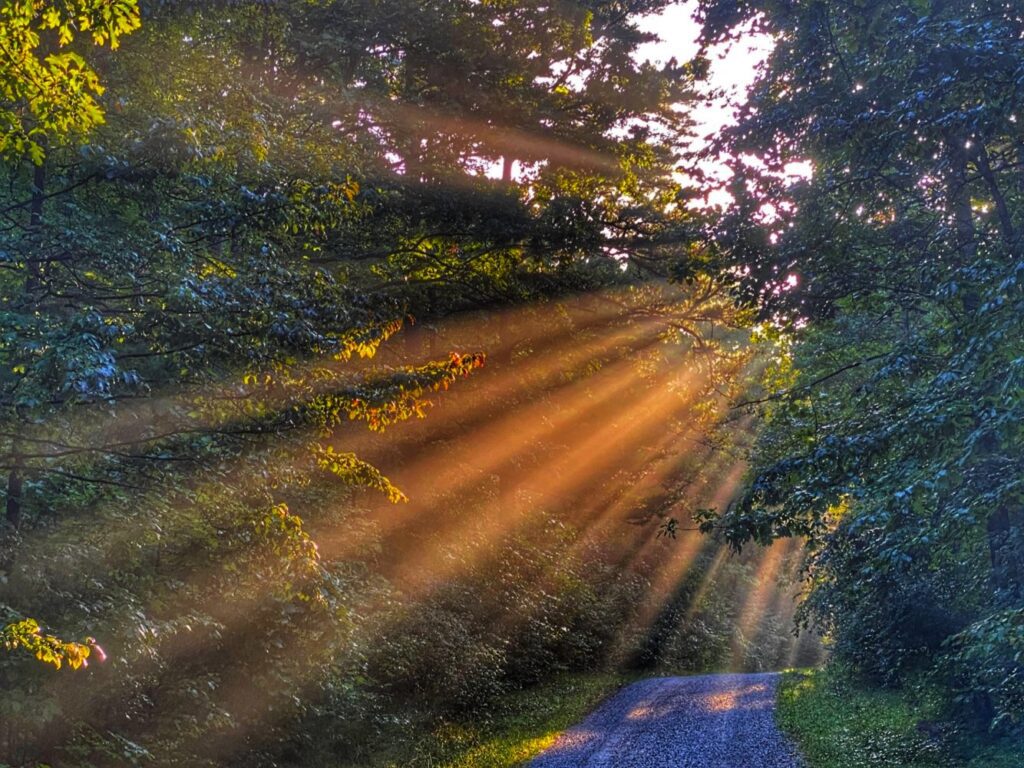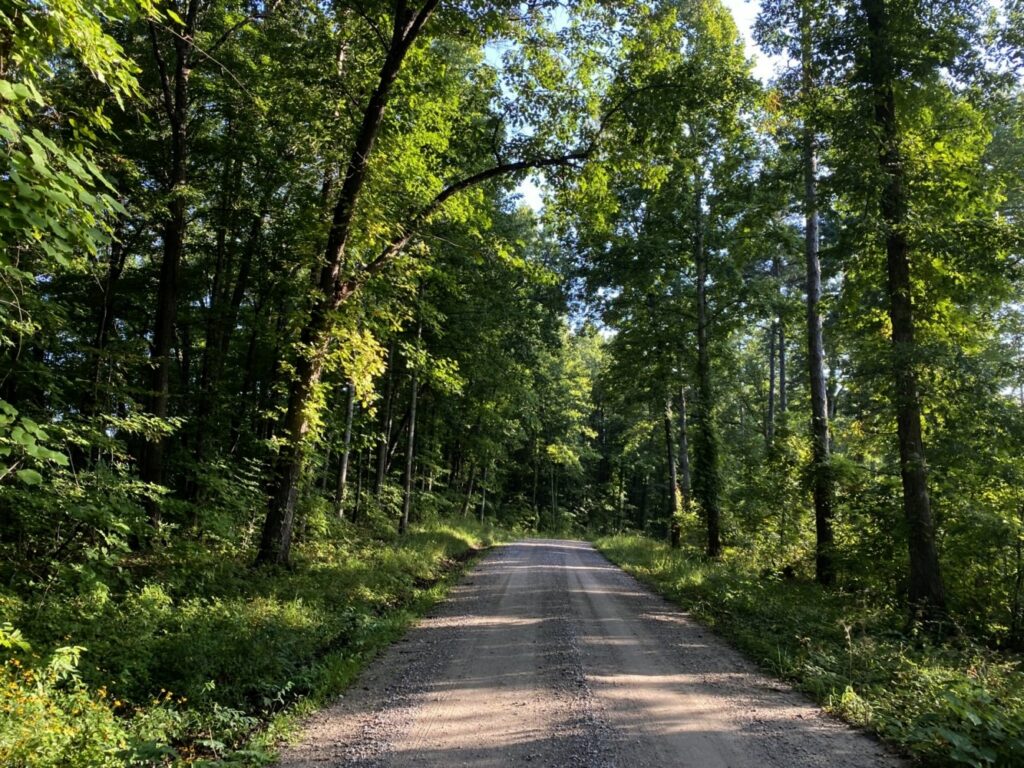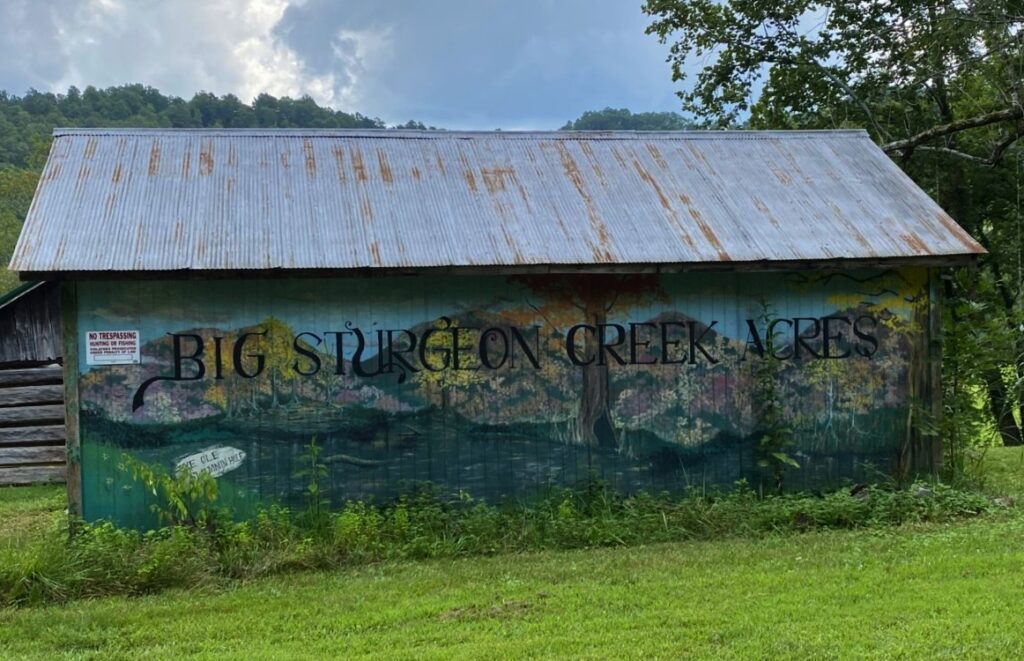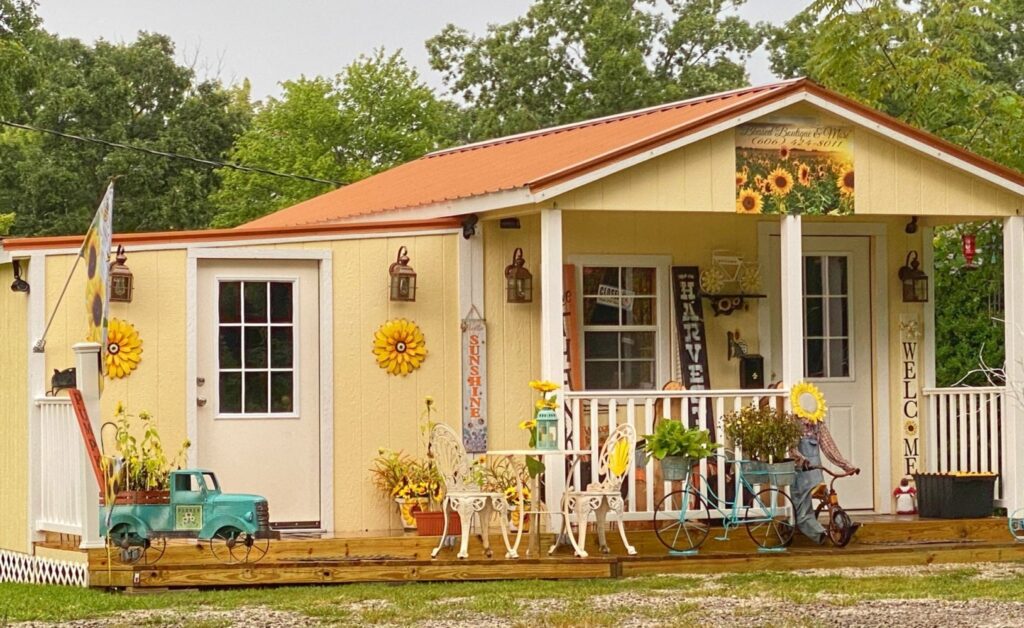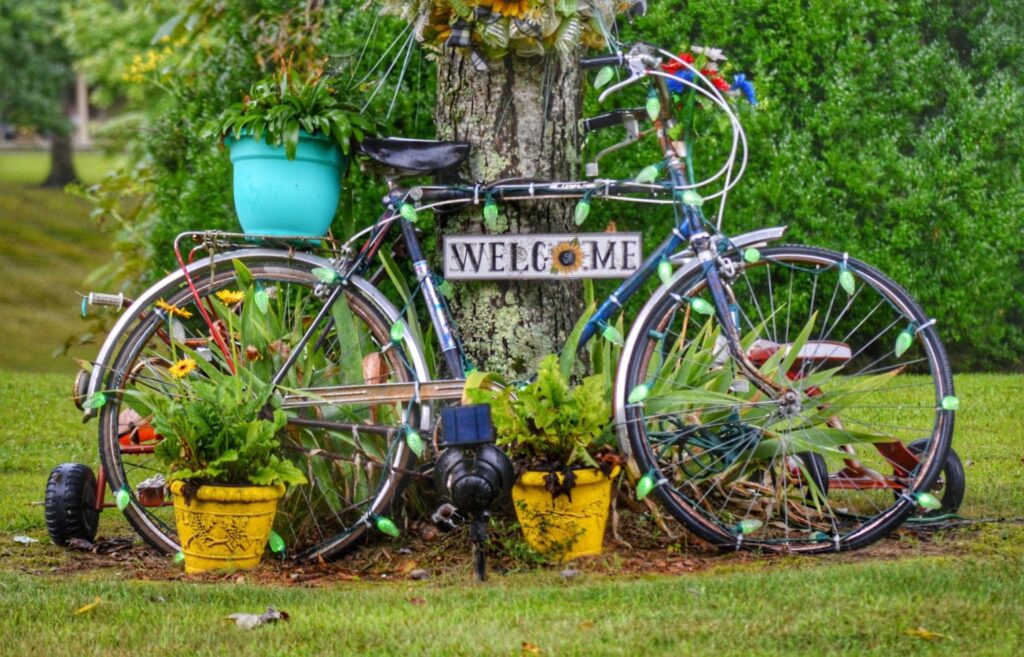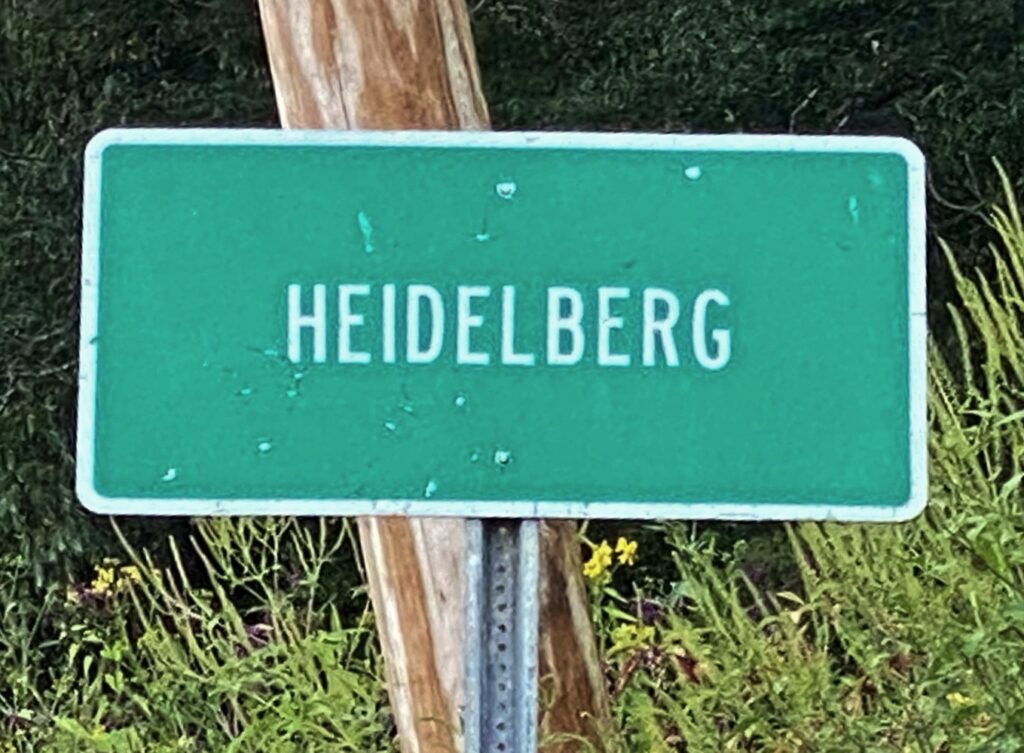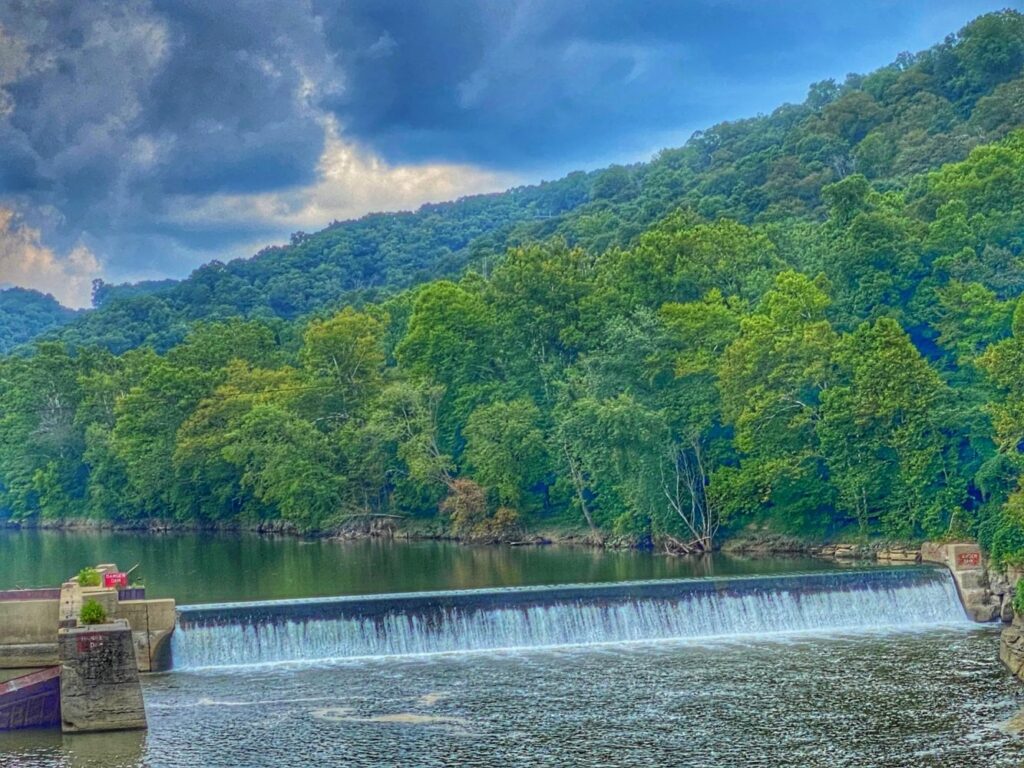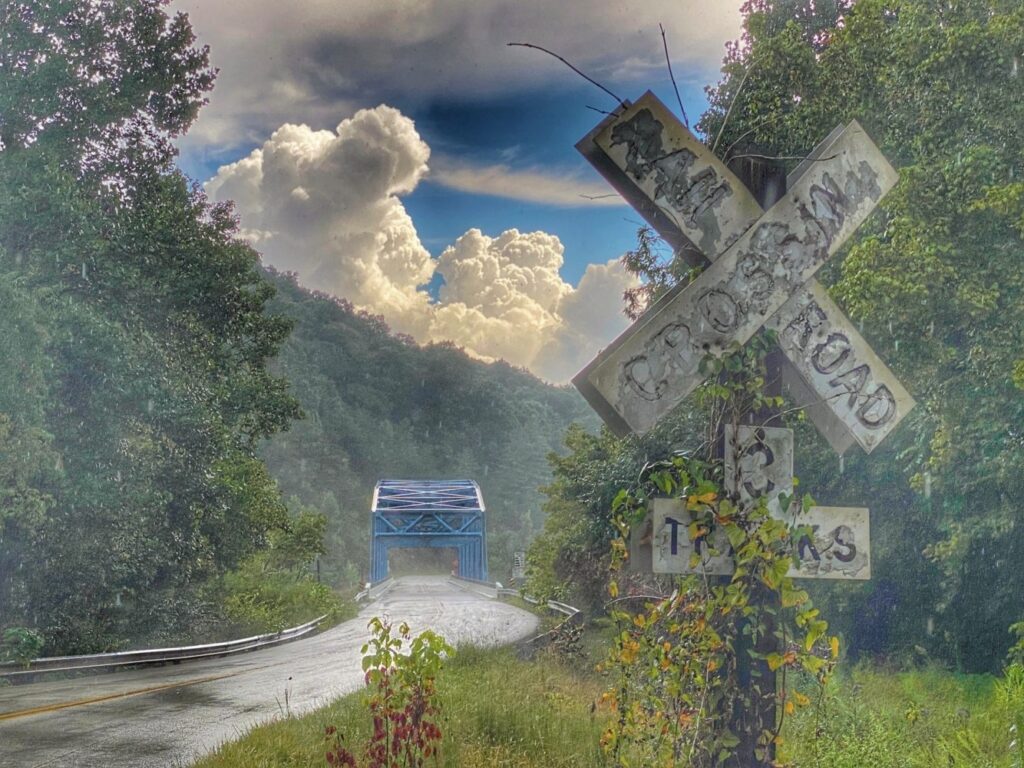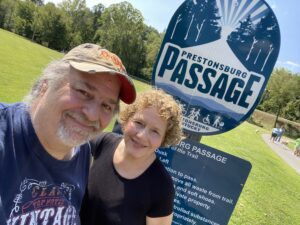 On September 11, Julianne and I took a small daycation down to Prestonsburg, Kentucky.  She would ride the Prestonsburg Passage bike trail while I drive around.  I had never been to this nice town in southeast Kentucky.  And, joy of all joys to me, I even visited the small community of David, Kentucky, which I didn't know was a place until this day!! This day offered up many other touristy places for me, including a small replica statue of the Lincoln Memorial and a newly built bridge on the bike trail that was built from a school bus. And, of course, there were murals too.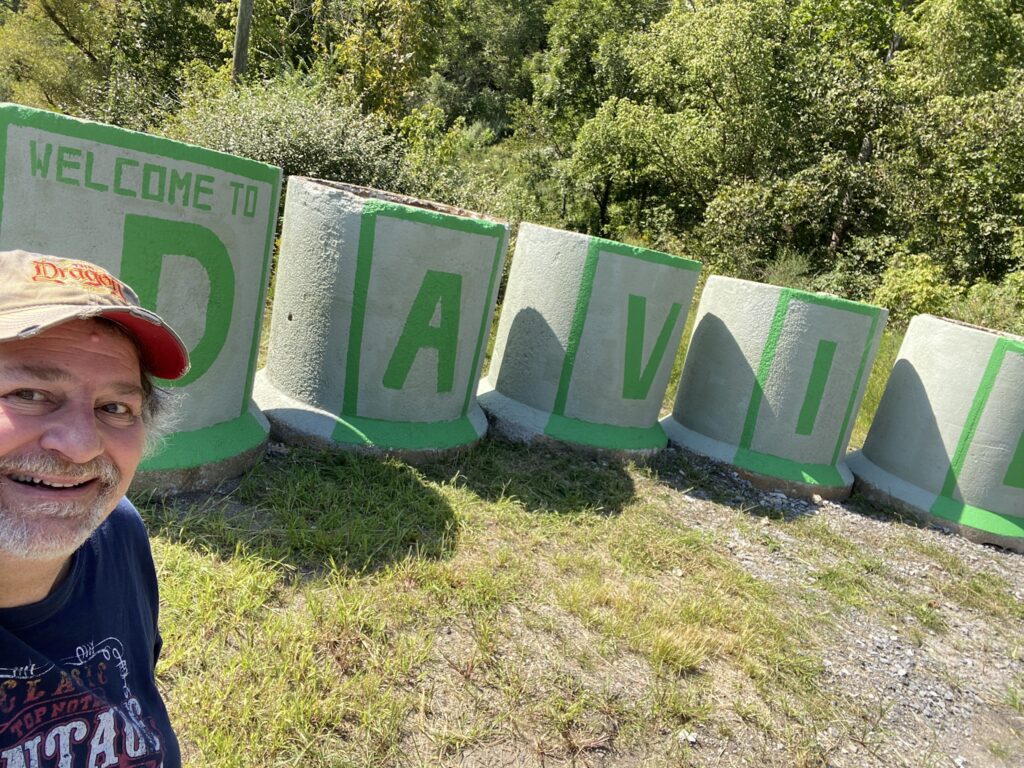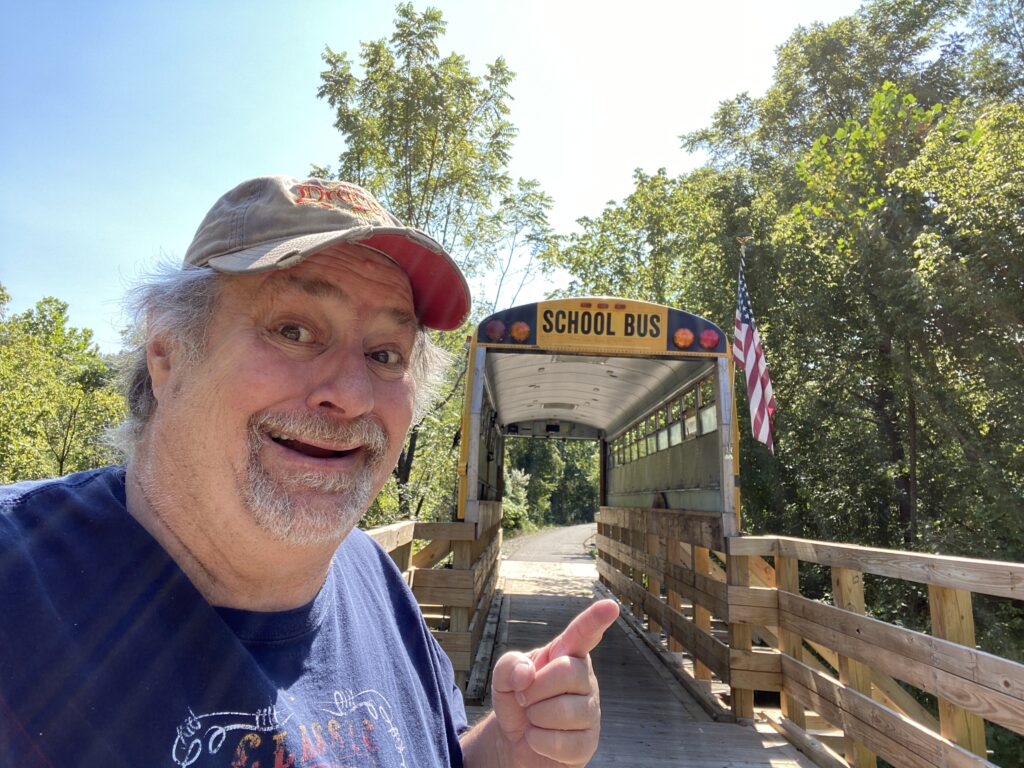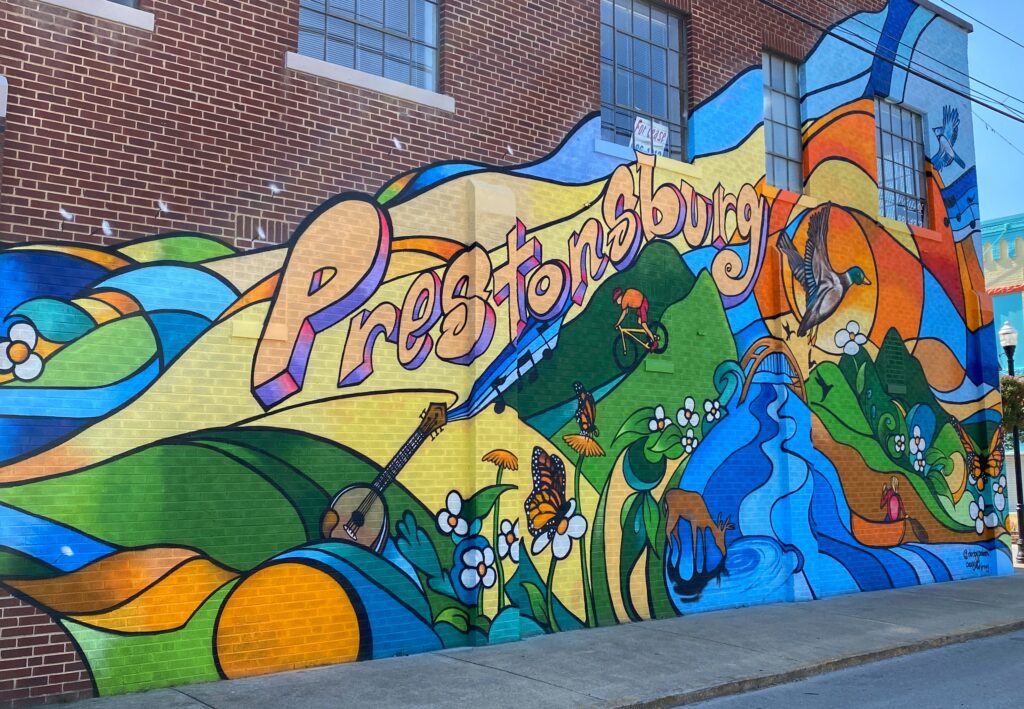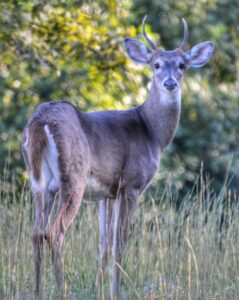 September 24 weekend was another Sheltowee adventure. The backwoods from McKee to Natural Bridge offered up views of a young buck and unusual fungi, among other things. Julianne and Marissa biked on some pretty rough dirt roads on the trip for the first couple of days. Lots of hikers were out, so I was also busy providing support. By the end of the weekend they were getting close to Natural Bridge State Park in the heart of Kentucky and on the fringes of the world famous Red River Gorge.  After their hike finished at Pinch 'Em Tight trailhead near the Red River Gorge, we went back into Slade and joined my son Solomon at the famed Miguel's Pizza.  It was my first time to eat there. Nearly 100 different options were available!!  How fun it was.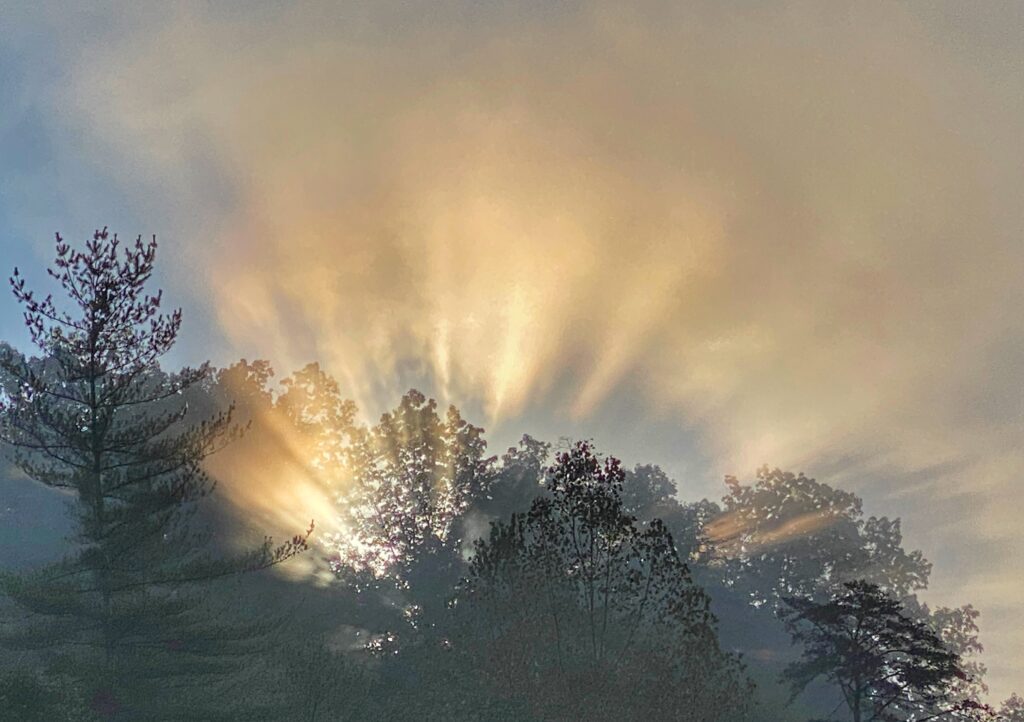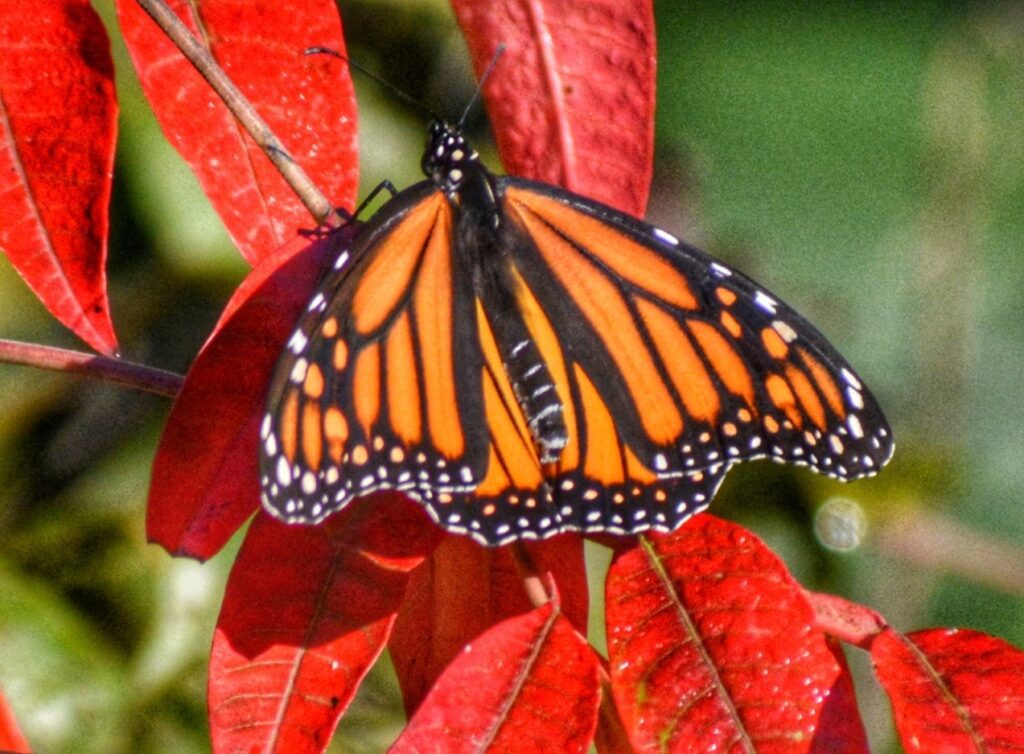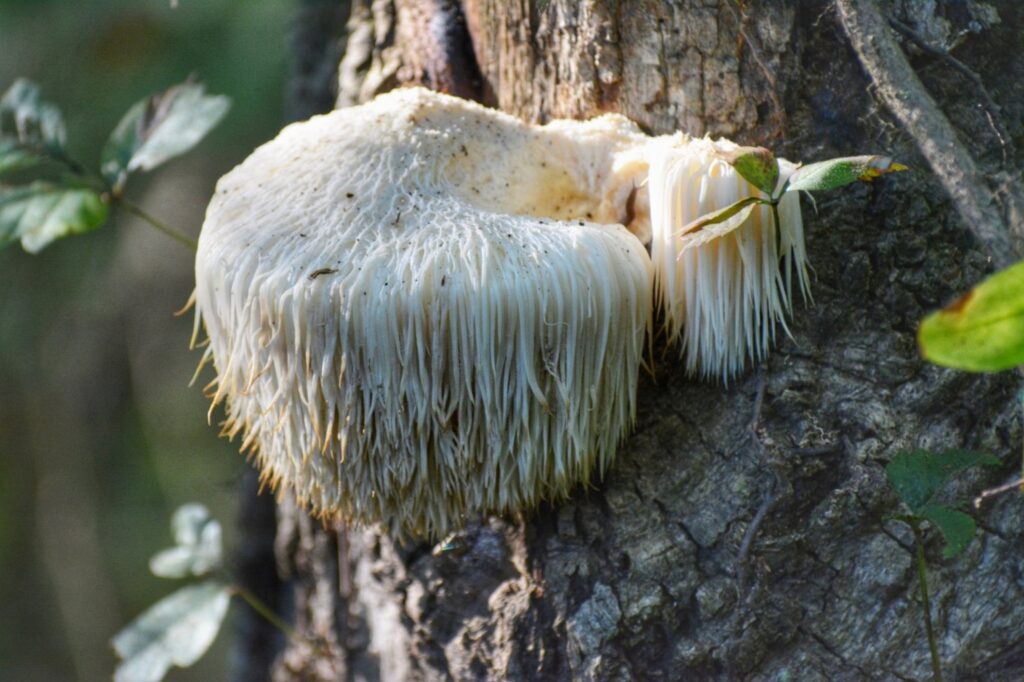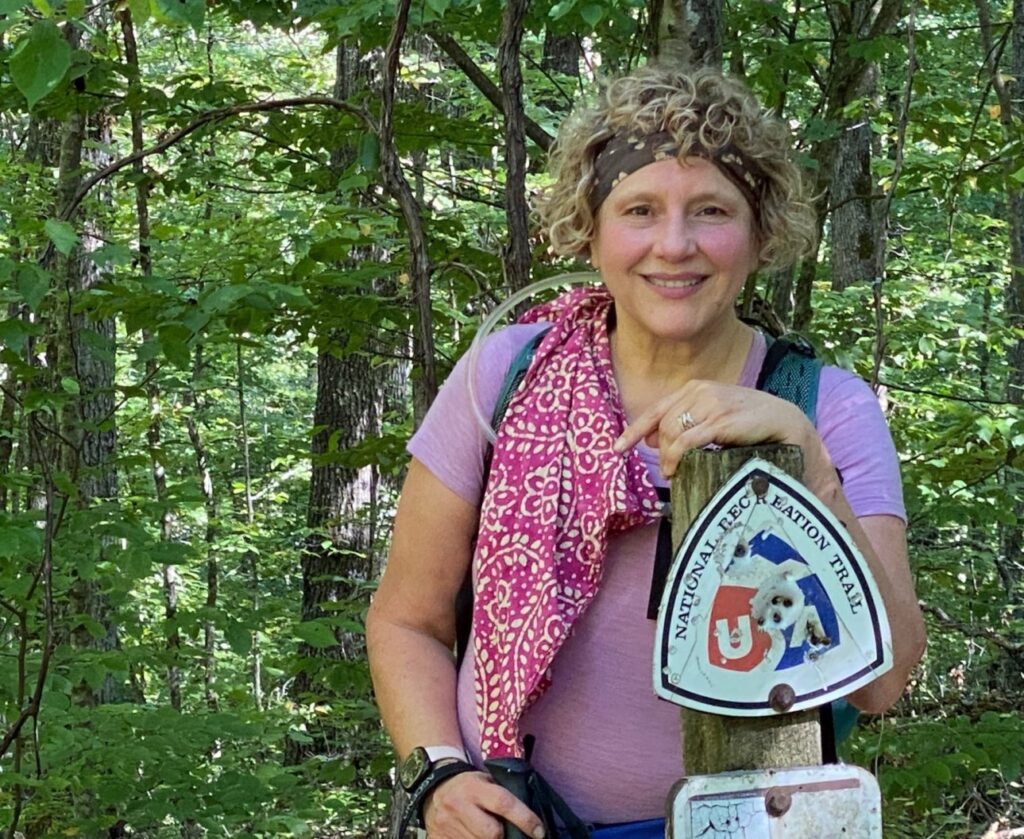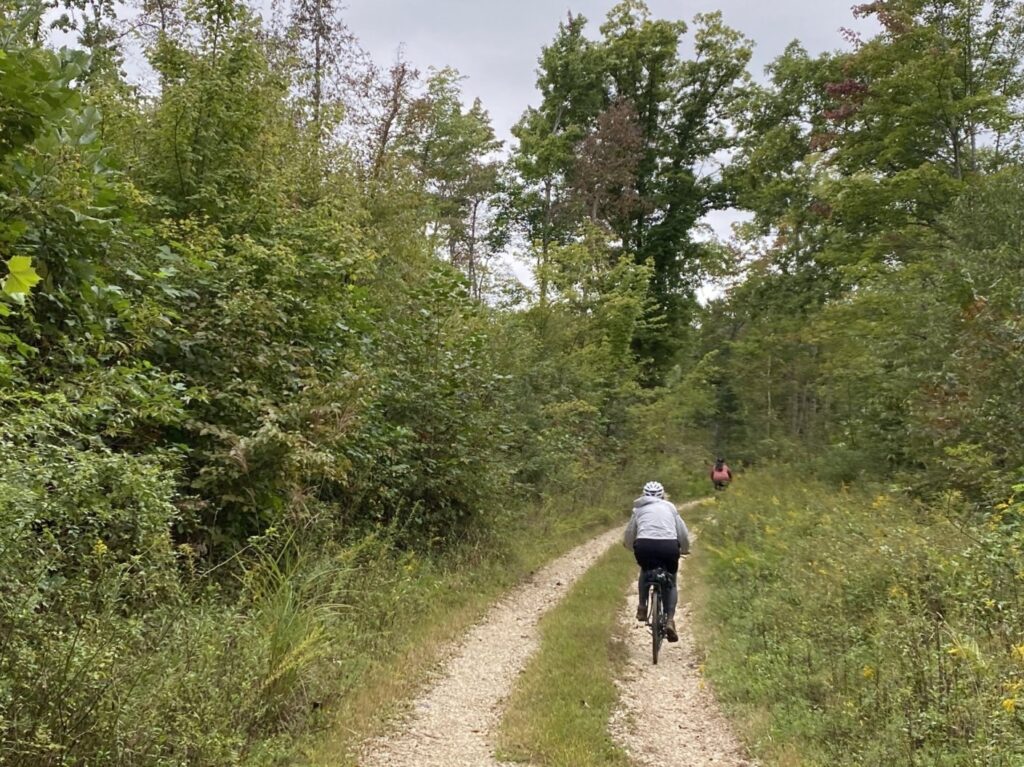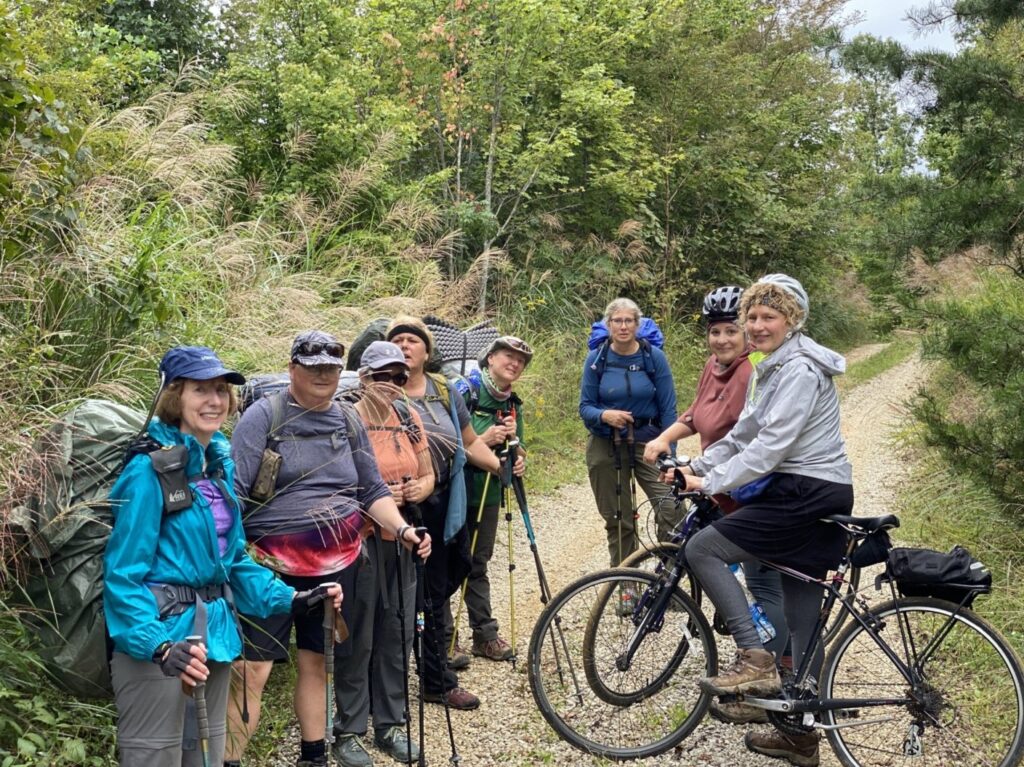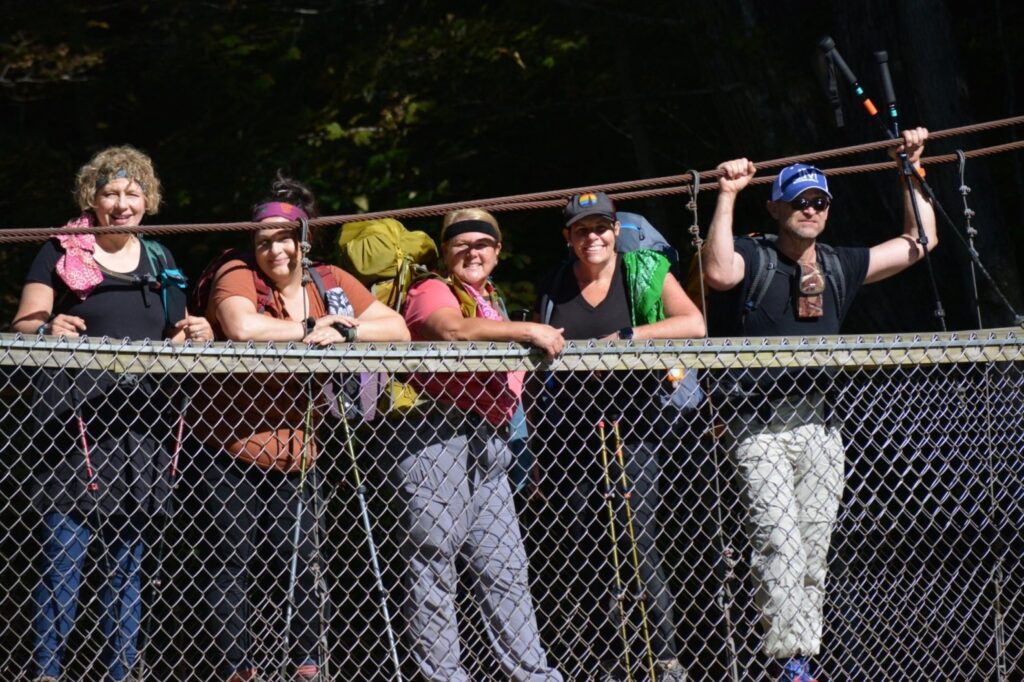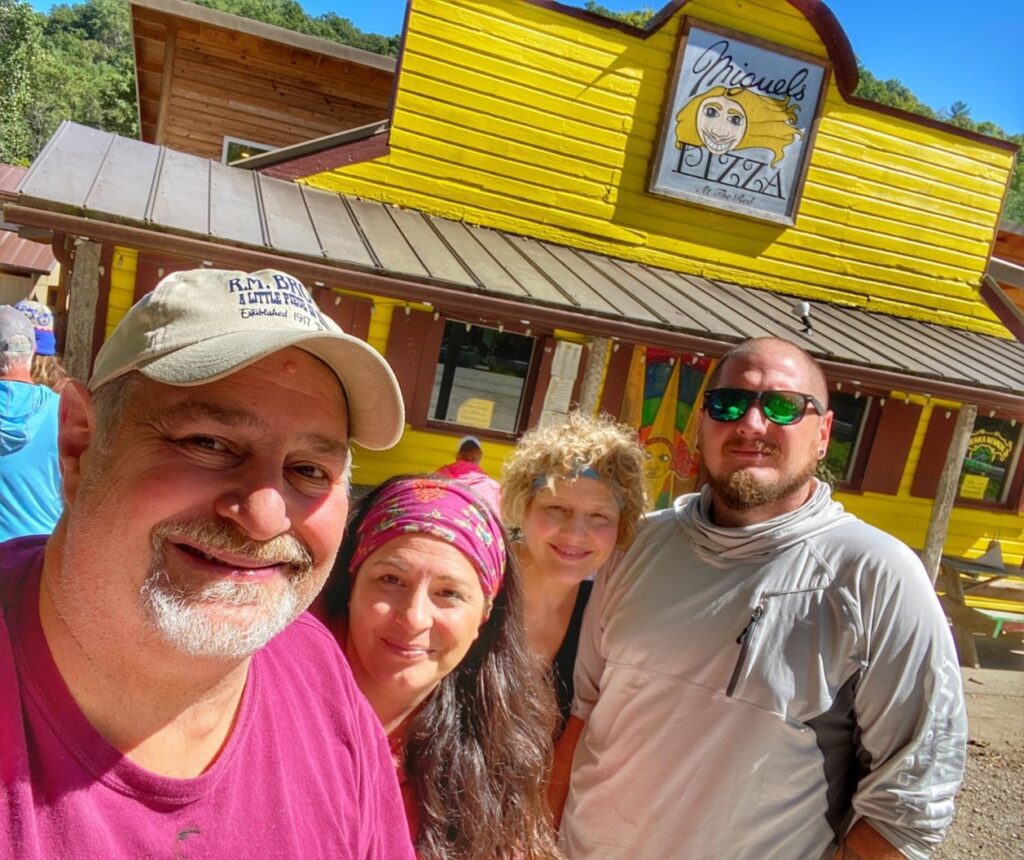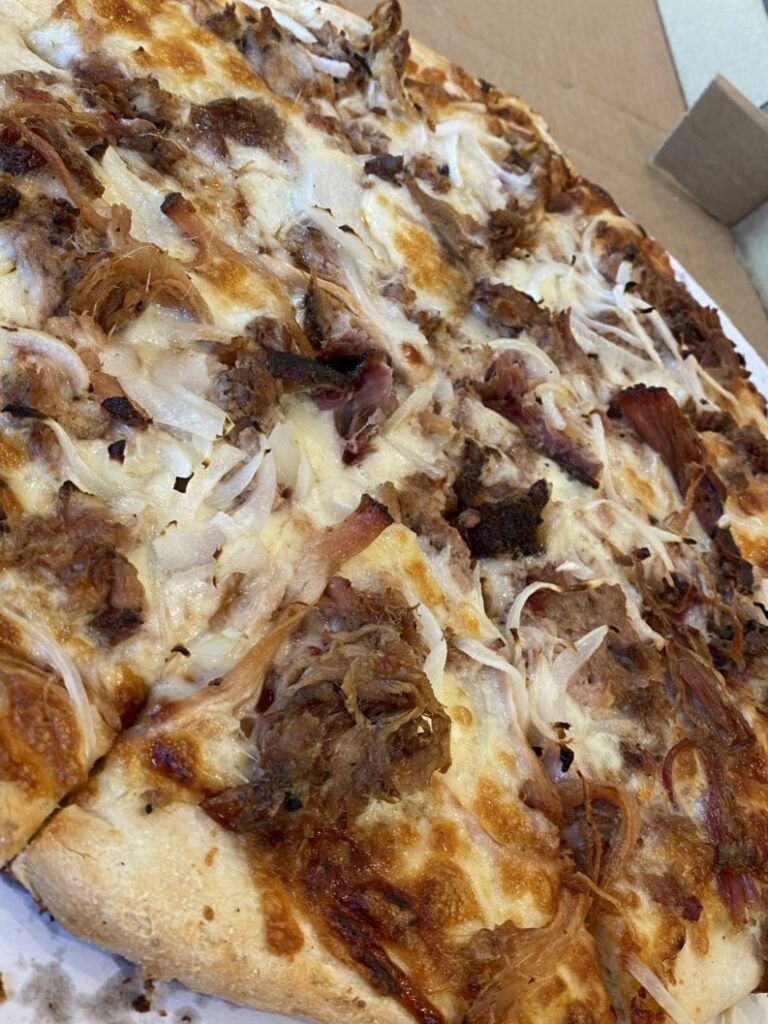 The next weekend, October 1, was the big drop at Red River Gorge. While all the hikers made their through this beautiful arch and waterfall-filled area, I took my time revisiting the Nada Tunnel, and a few other places. I have frequented the Red River Gorge and really love the natural scenes.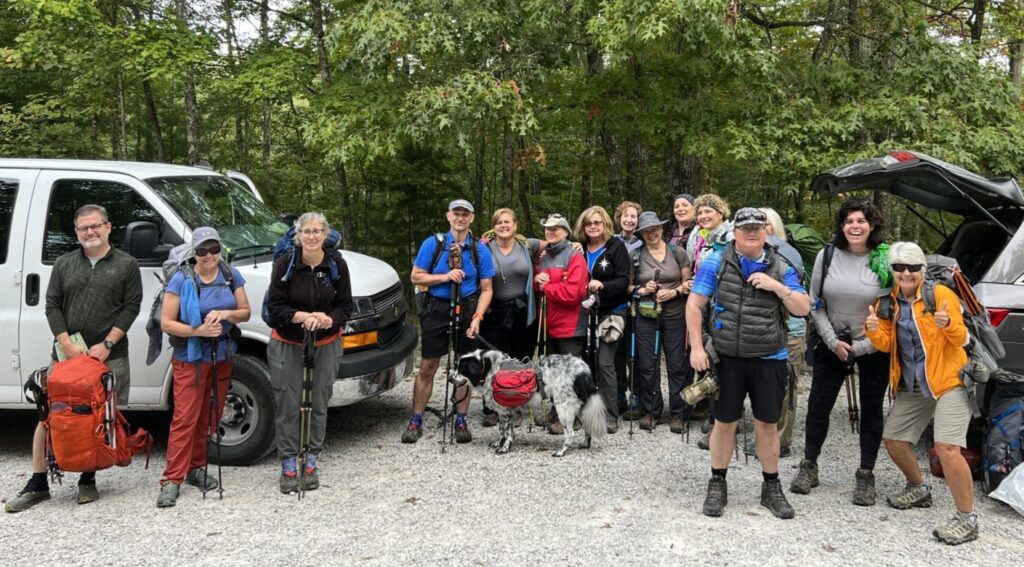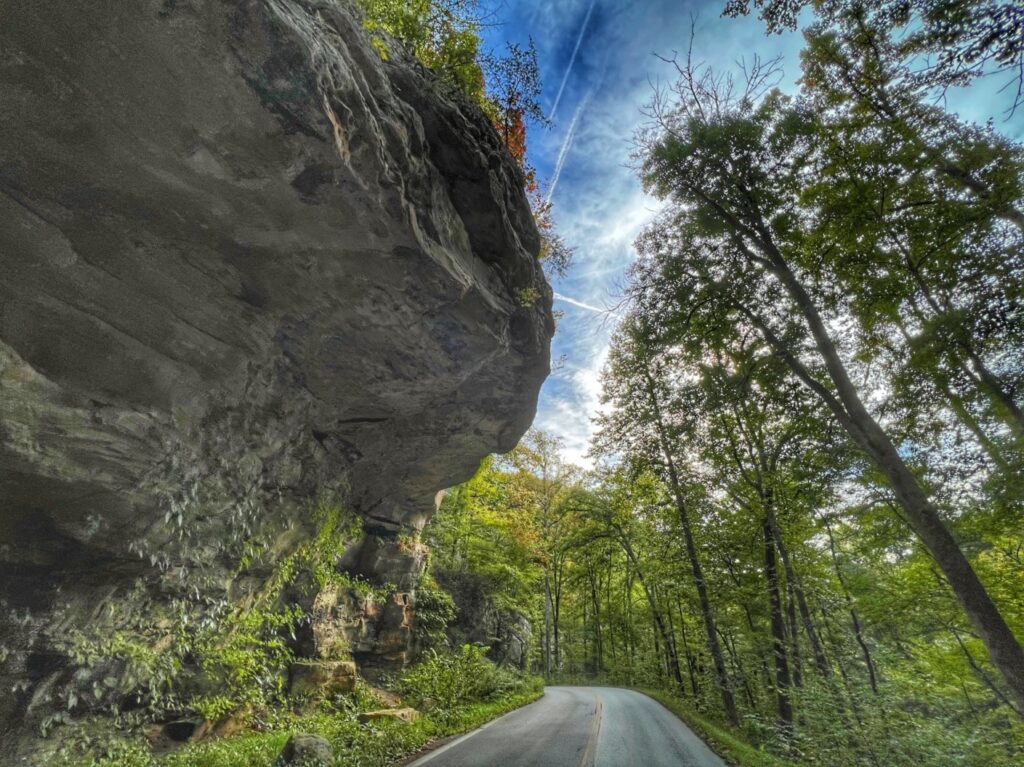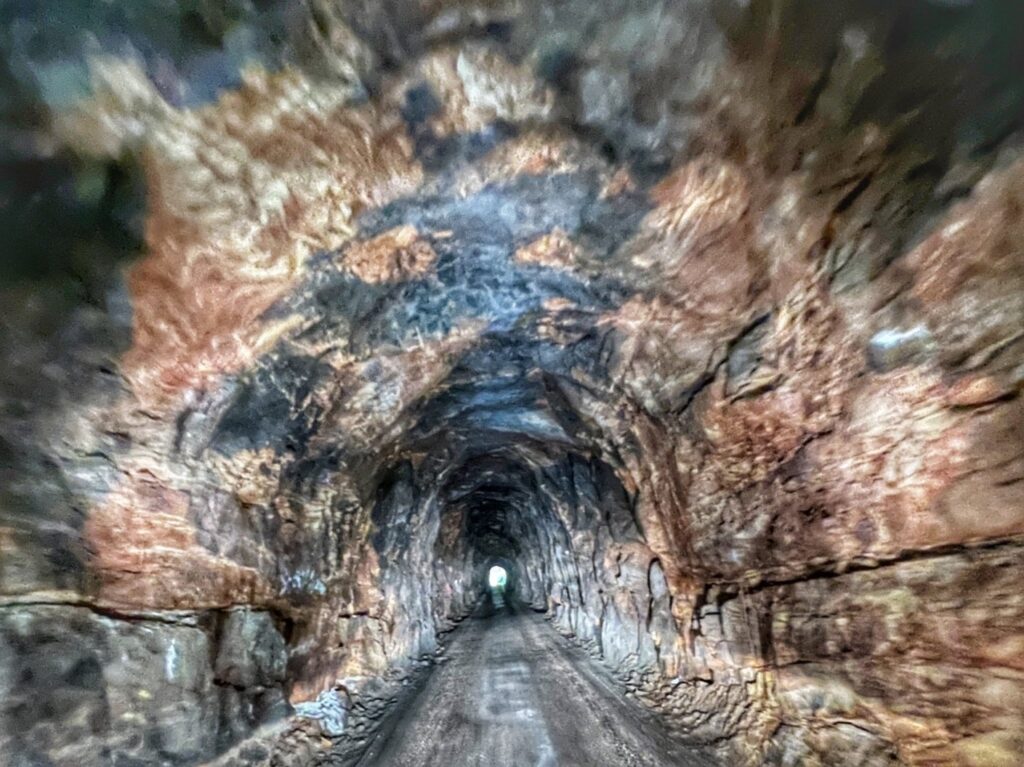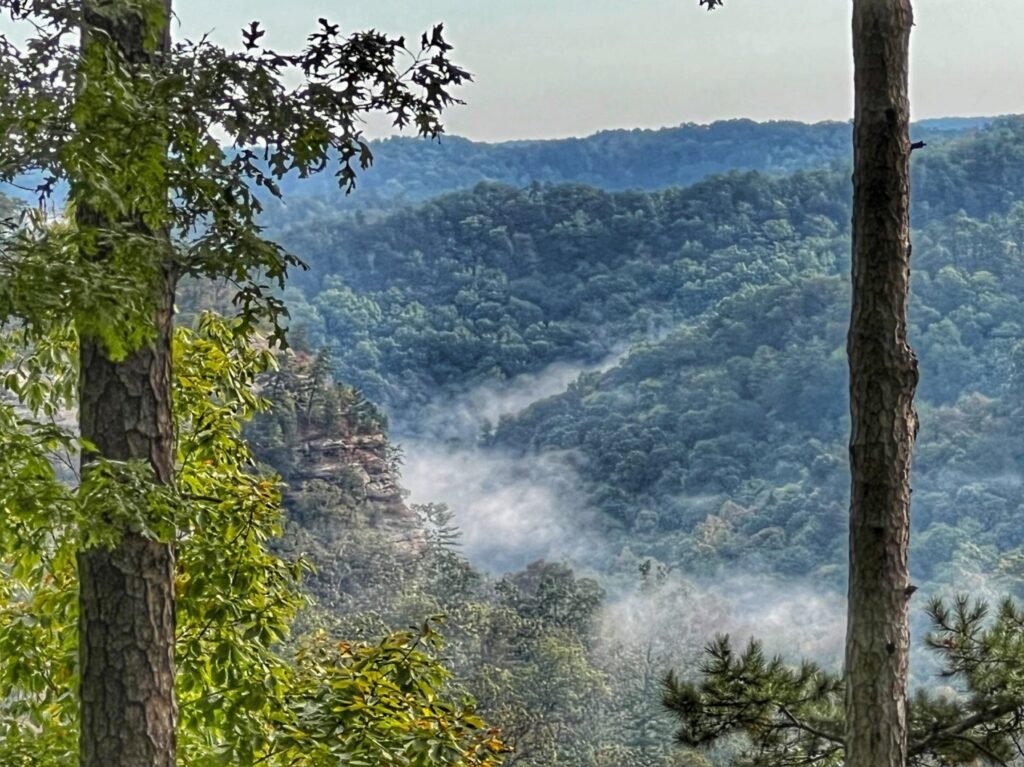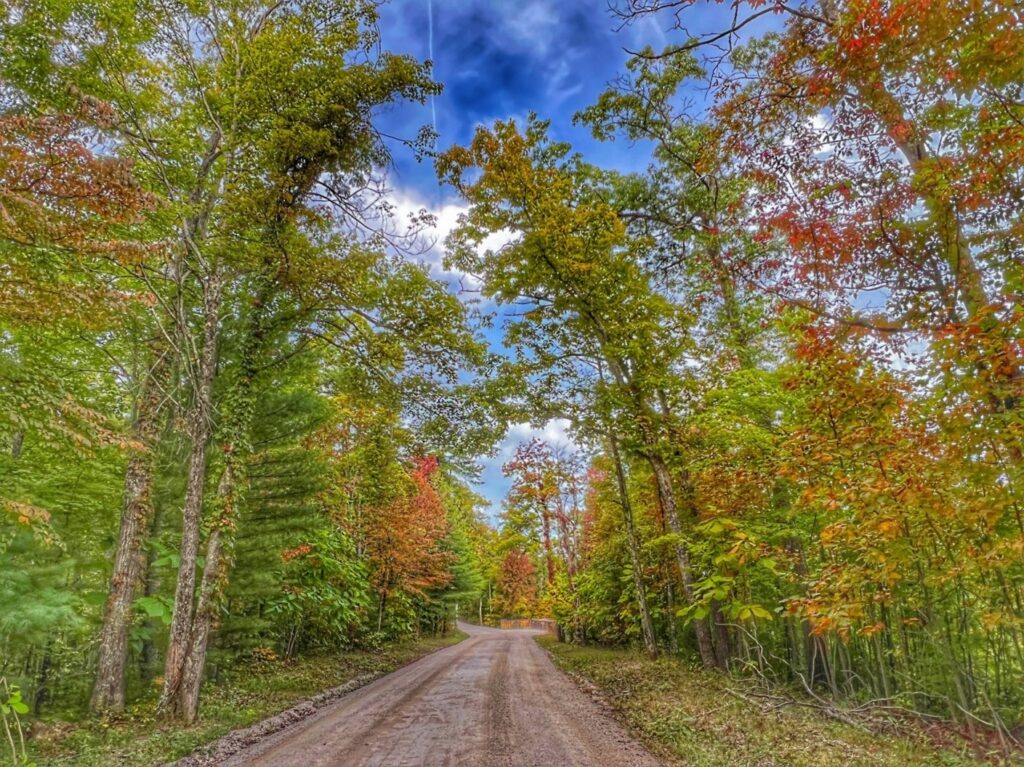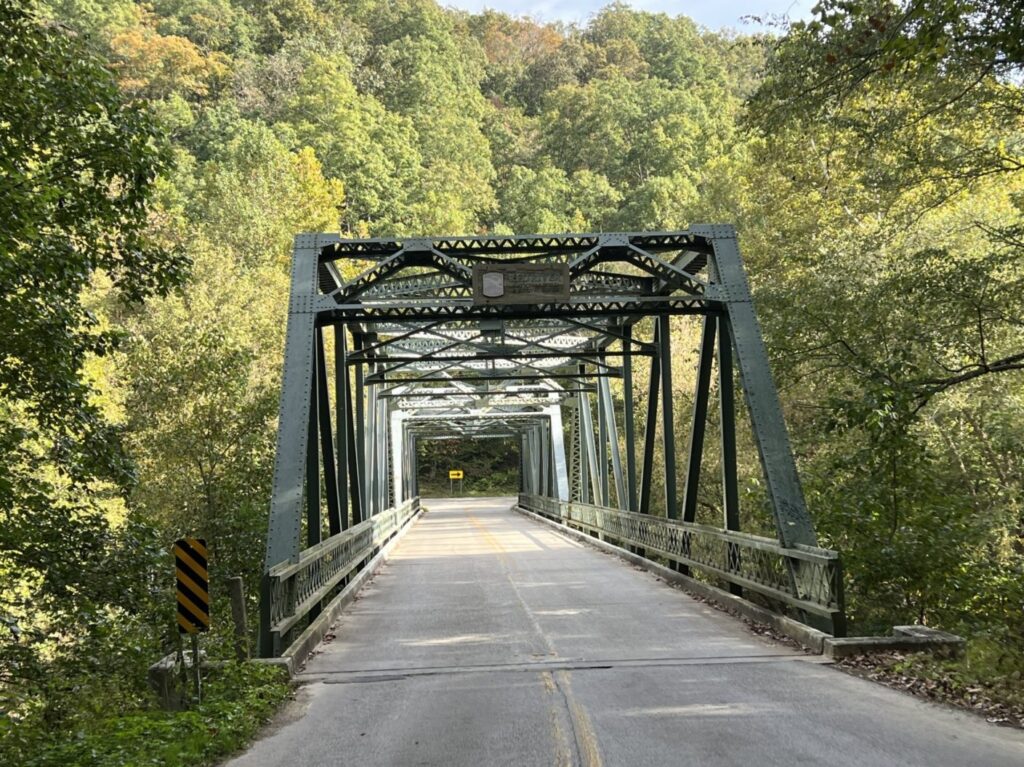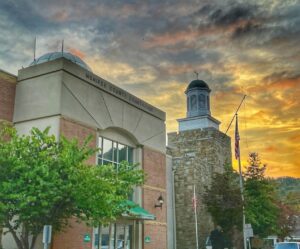 I drove back down from Lexington on October 2 and drove east into a beautiful sunrise. By the time I reached Frenchburg, Kentucky I was able to capture a wonderful shot with the small county courthouse. I soon met the hikers at the Corner Ridge Trailhead, which exits the gorge on the eastern end.  While they hiked and biked, I visited Korea, Kentucky and saw a few other unique places along the way.  Seems like there is always something to see on the back roads!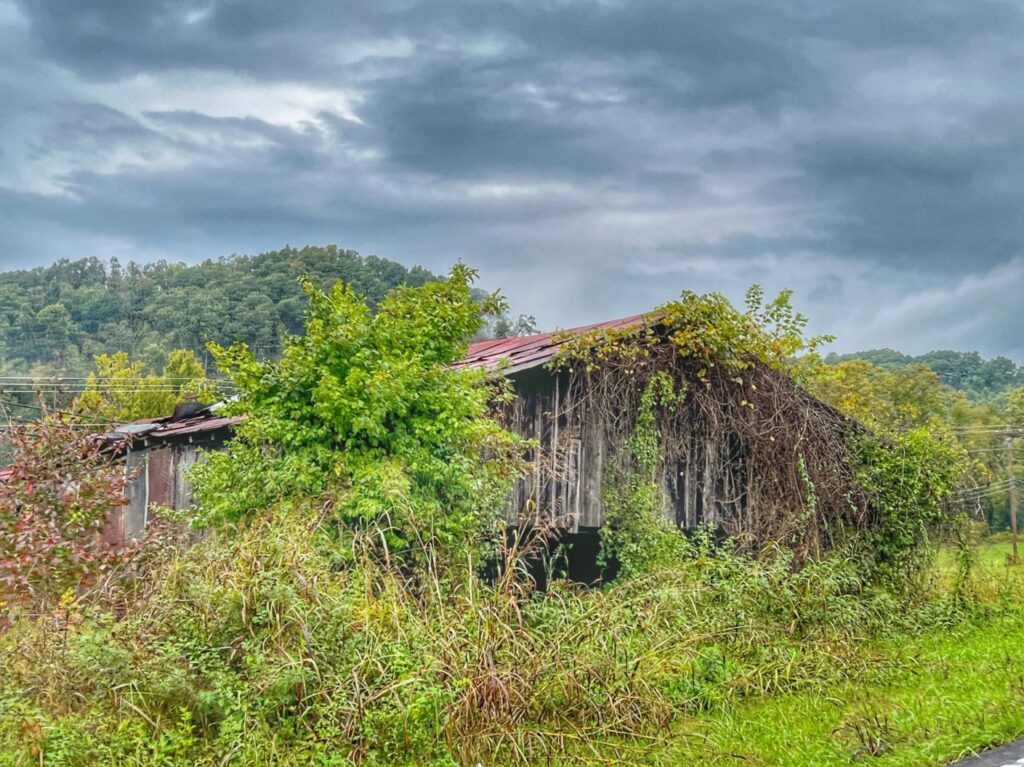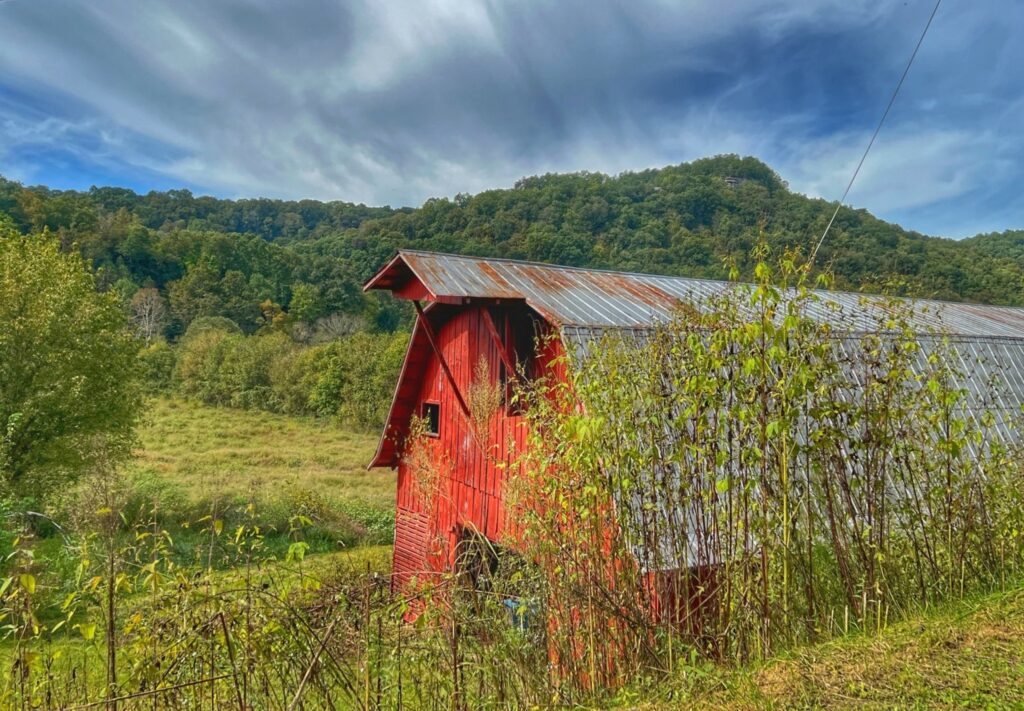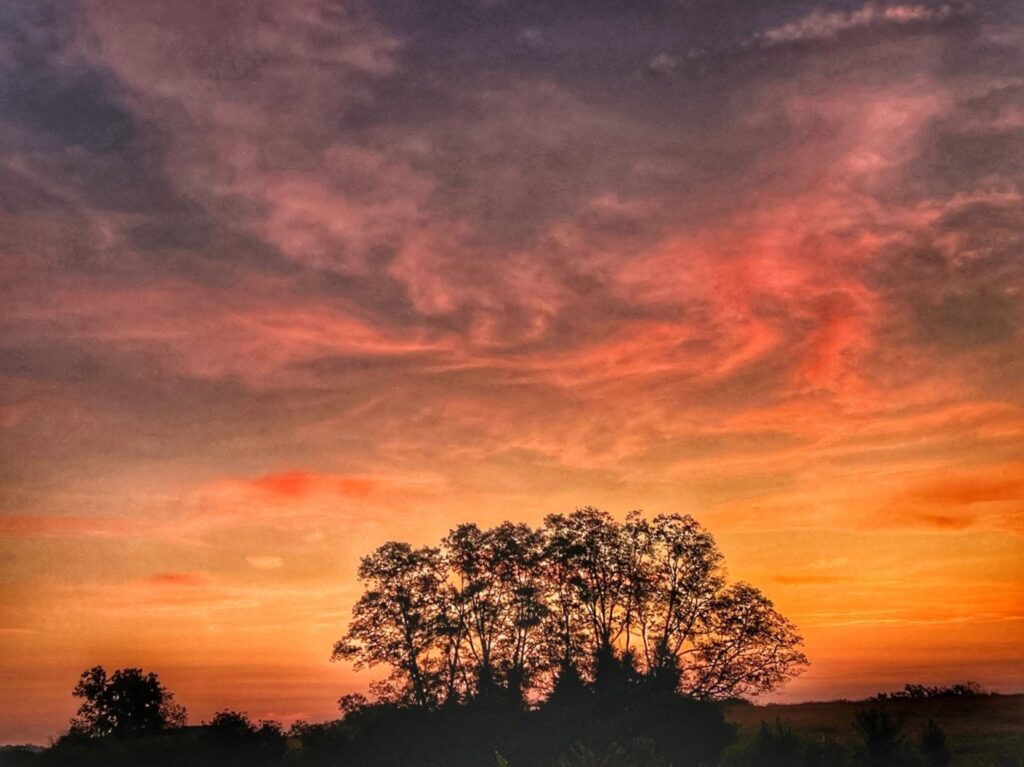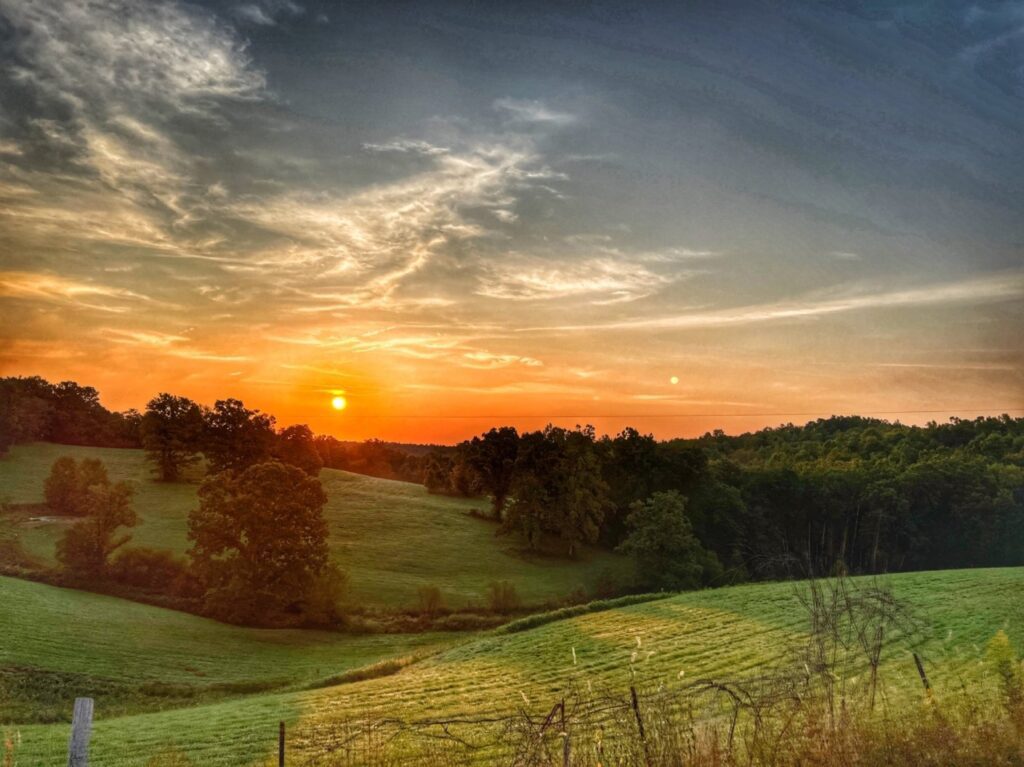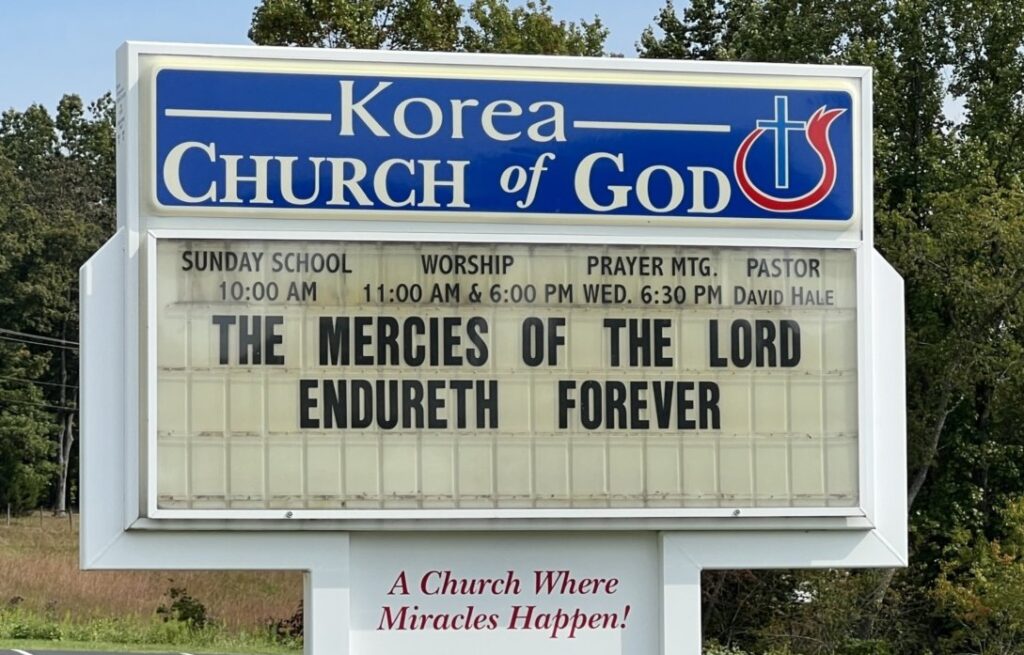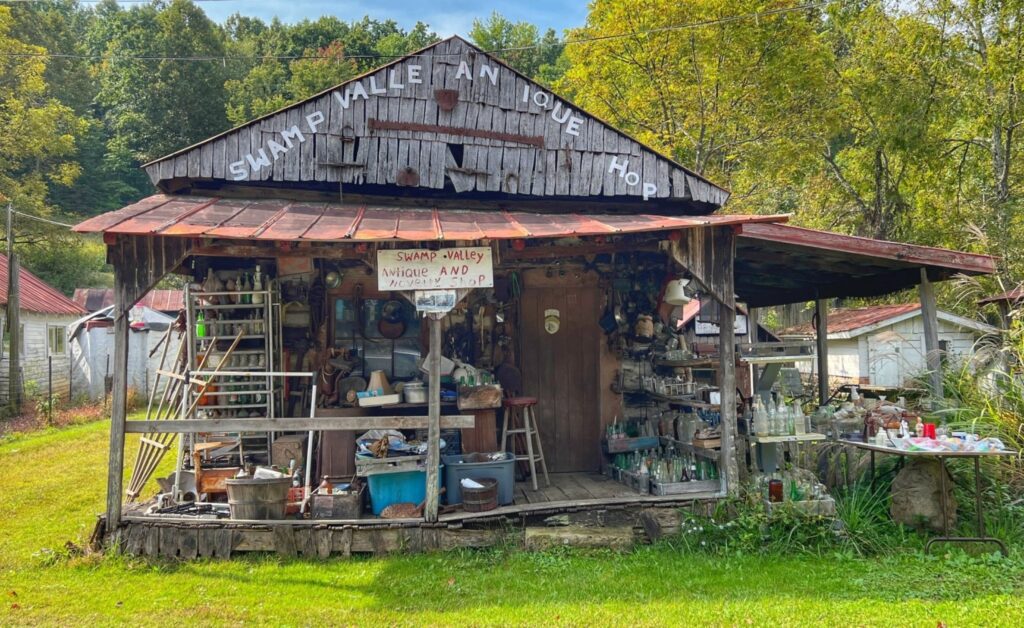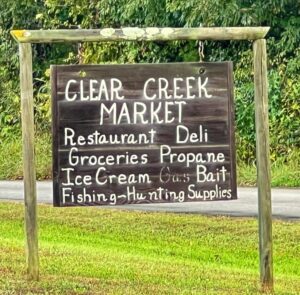 Day three of the weekend saw the hikers making their way to the end of the month's hike, finishing at Clear Creek Campground.  I drove from Lexington again for this.  After stopping at the Clear Creek Market for a wonderful breakfast, I made my way to the campground to wait for the hikers. The lake had fall foliage around it, for a lovely scene. And then I visited the historic Clear Creek Iron Furnace, just near the parking lot.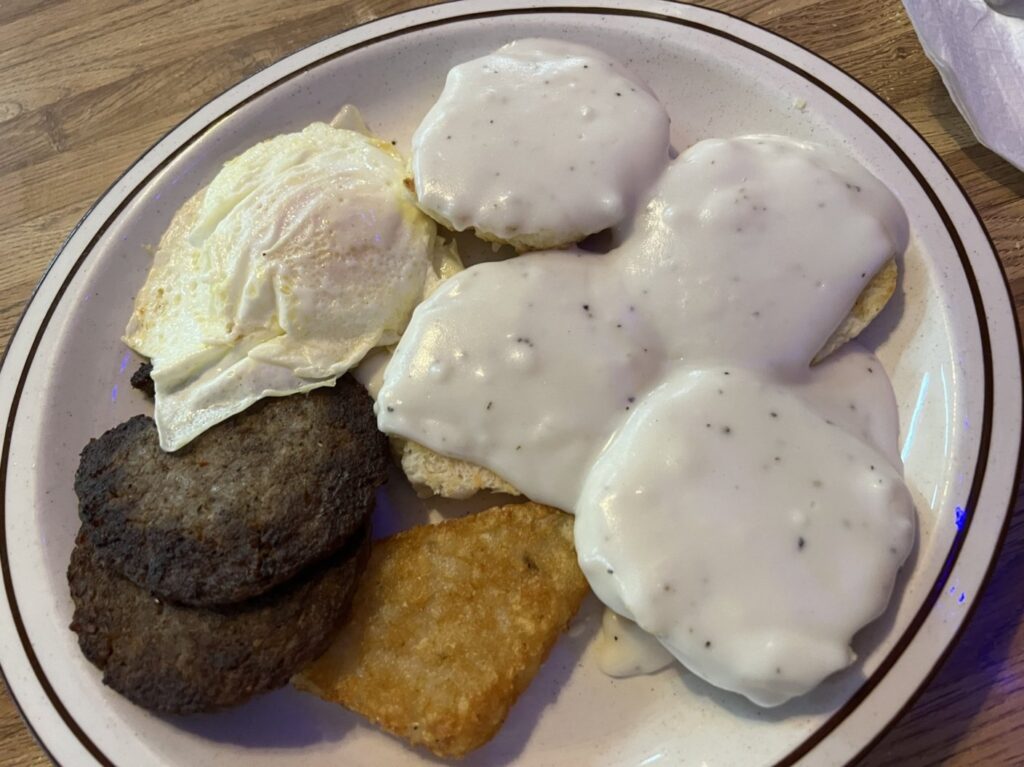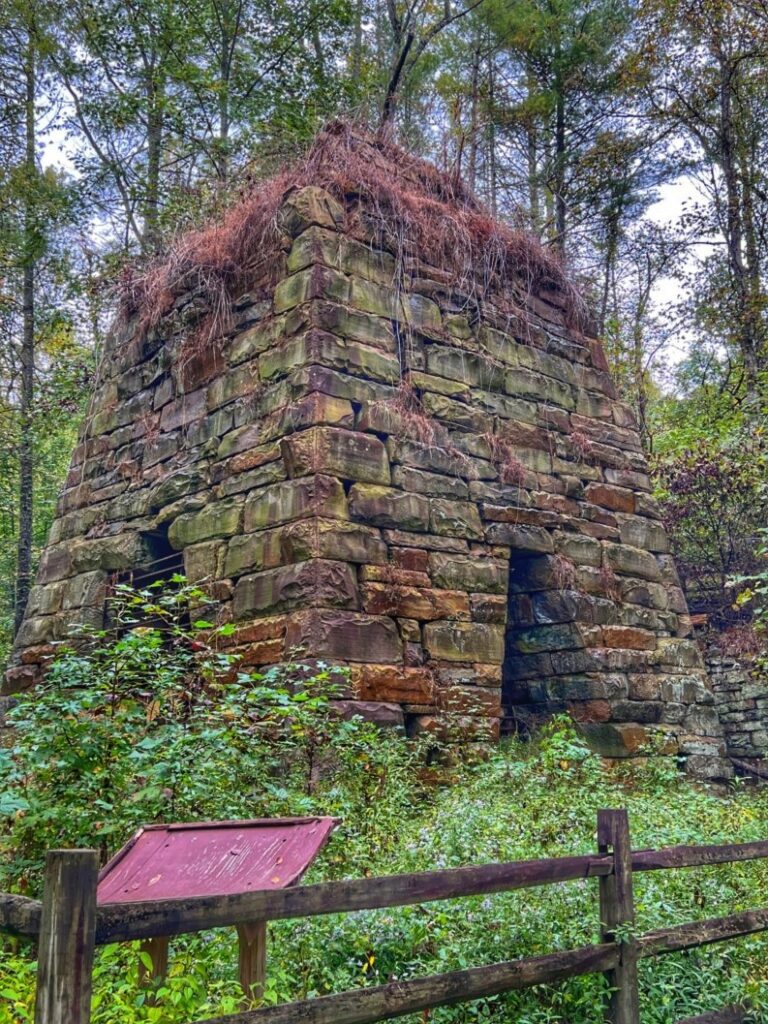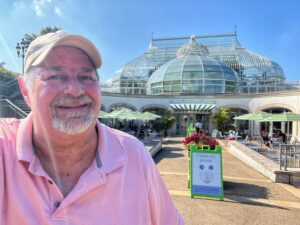 After returning home on the evening of October 3 and a good night's rest, Julianne were on a real road trip heading to Canonsburg and Pittsburgh, Pennsylvania to visit her sister and family.  October 4, our travel day, was my 65th birthday.  This made for a very fun birthday trip as we visited some very unique and quirky places in Pittsburgh, including the beautiful Phipps Conservatory and Botanical Gardens near the University of Pittsburgh. I plan to do a more detailed blog post about this place in the future.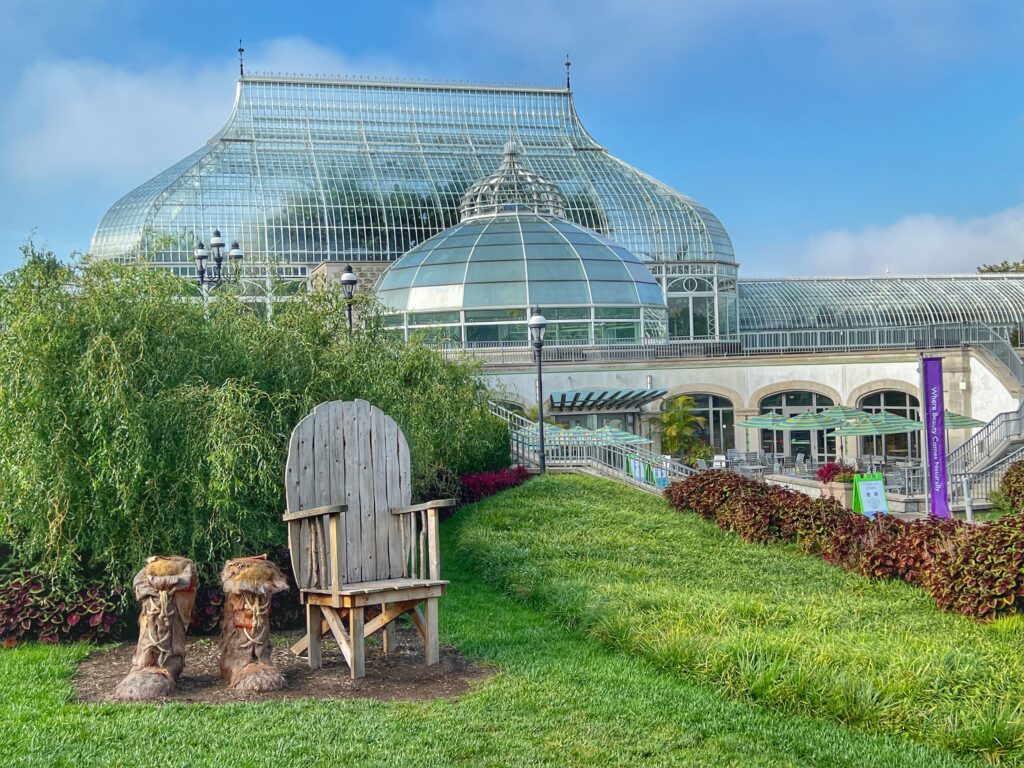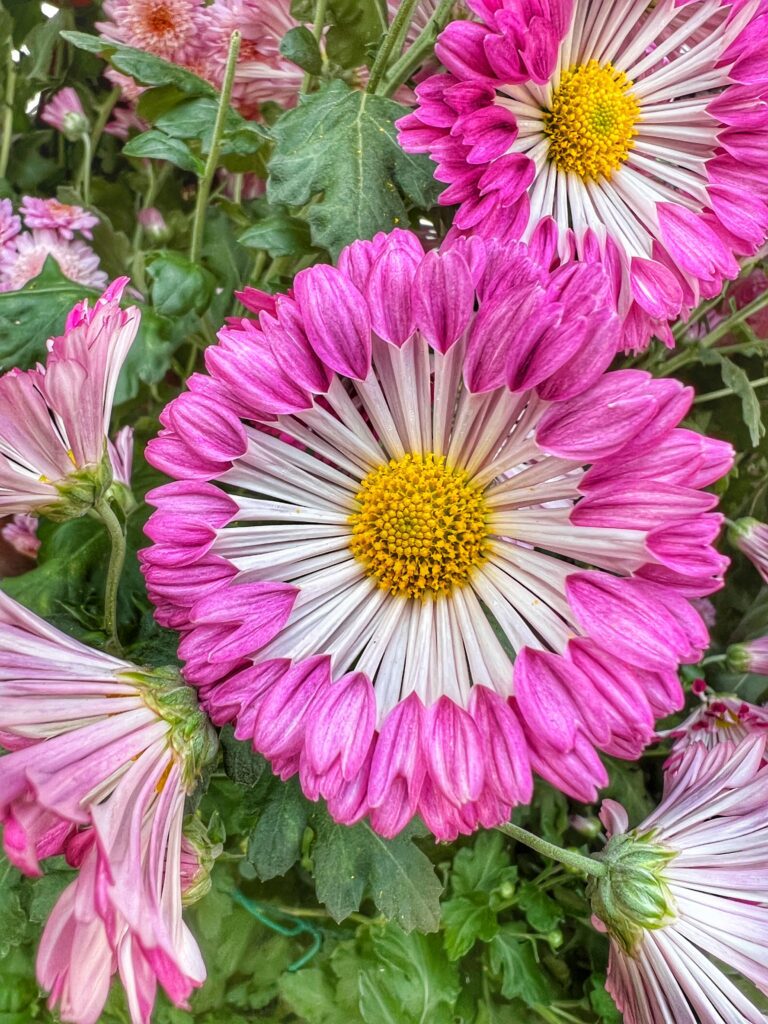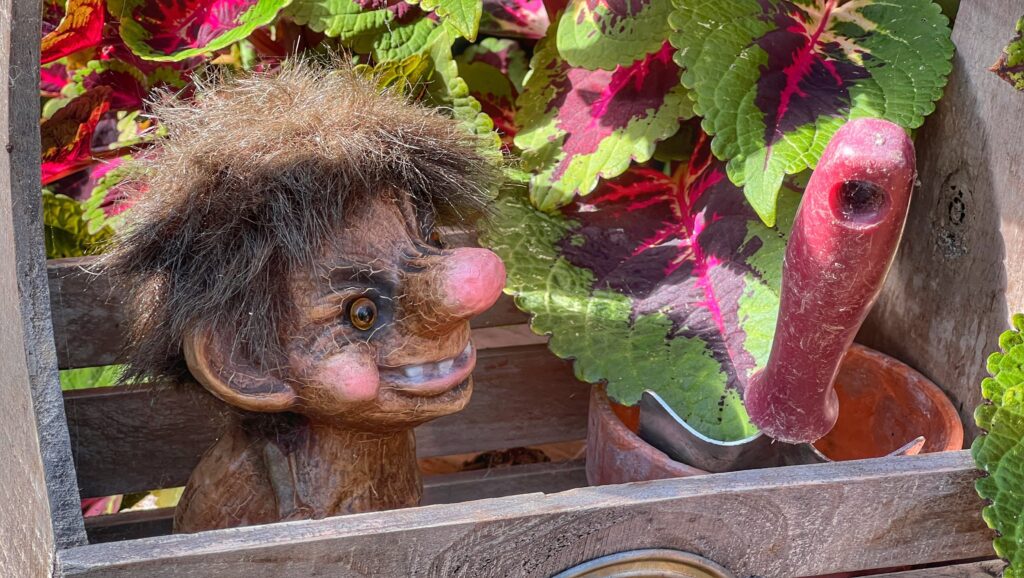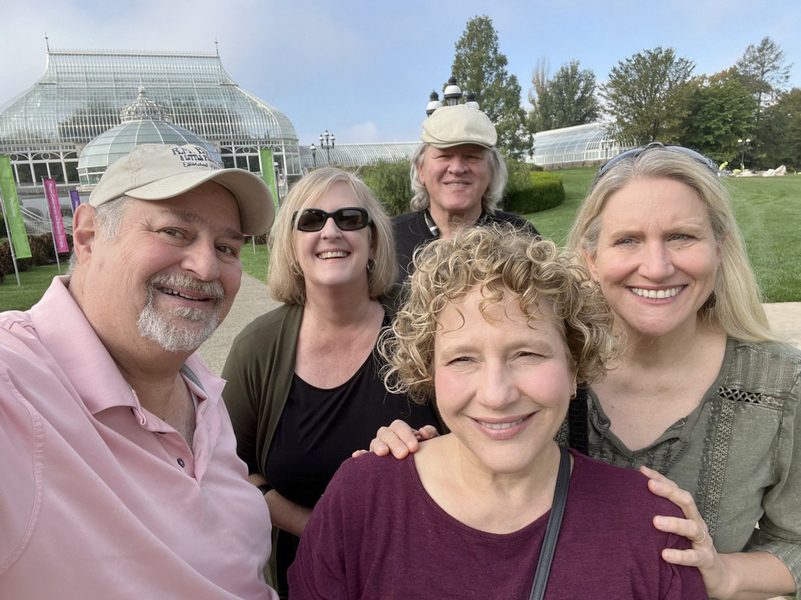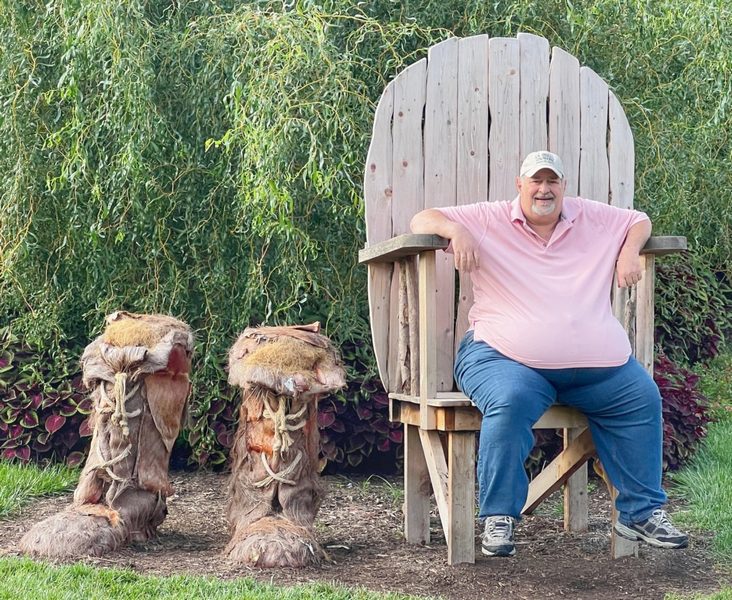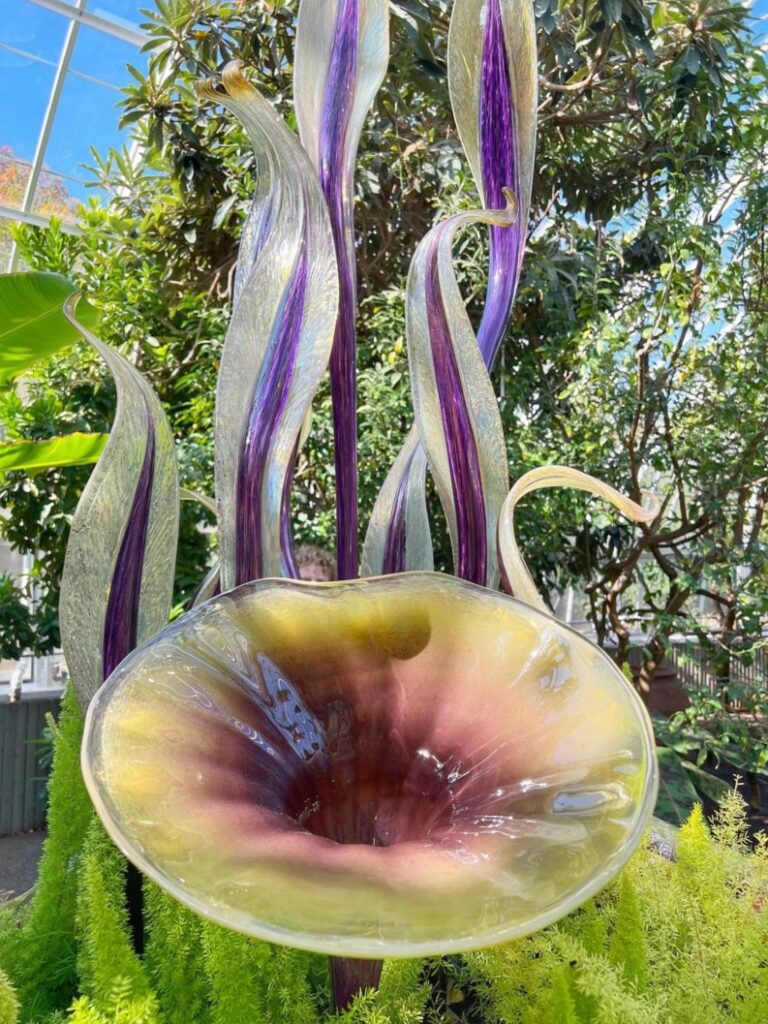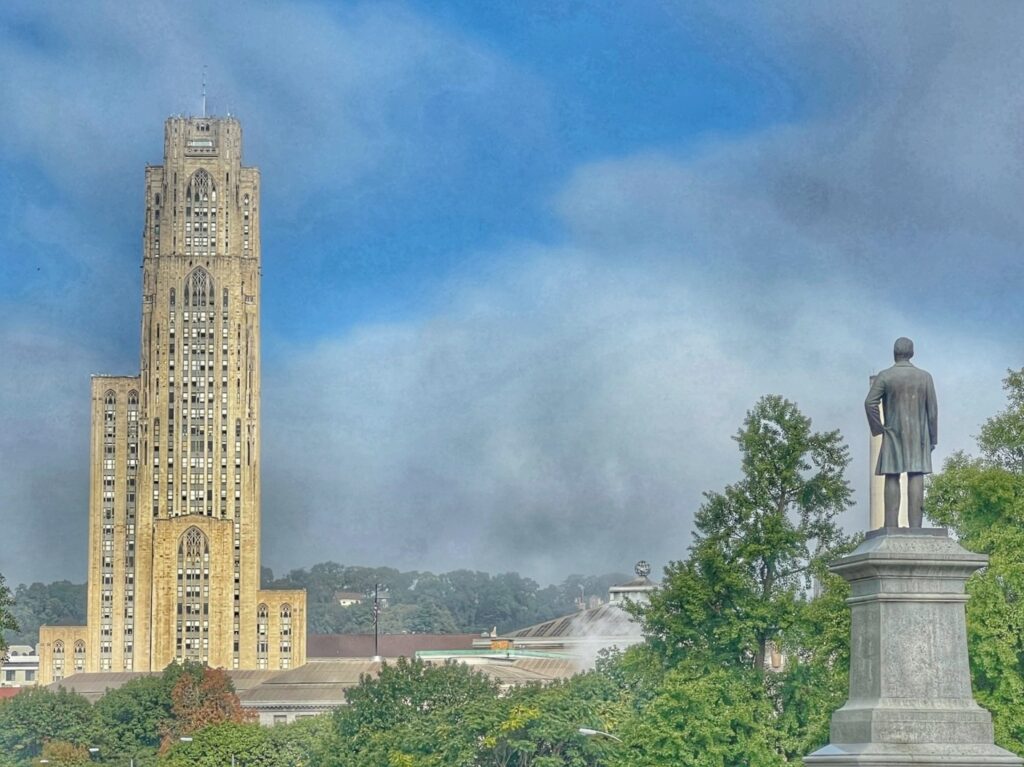 We also made the trip up Mount Washington for the views of the city.  But the fun really started when we got to Bicycle Heaven, a funky museum chock full of all sorts of bikes and other kitschy and whimsical things.  Bicycle Heaven was started and branded in 1996. Starting with one discarded bike that founder Craig Morrow found in the junk. Doing repairs and selling used bikes and collecting vintage Antique and collectible bikes with over 3000 bikes and now has over 3000 of them scattered in garages through out the Bellevue area of Pittsburgh. The museum was founded in 2011 and they claim to be the world's largest bicycle museum.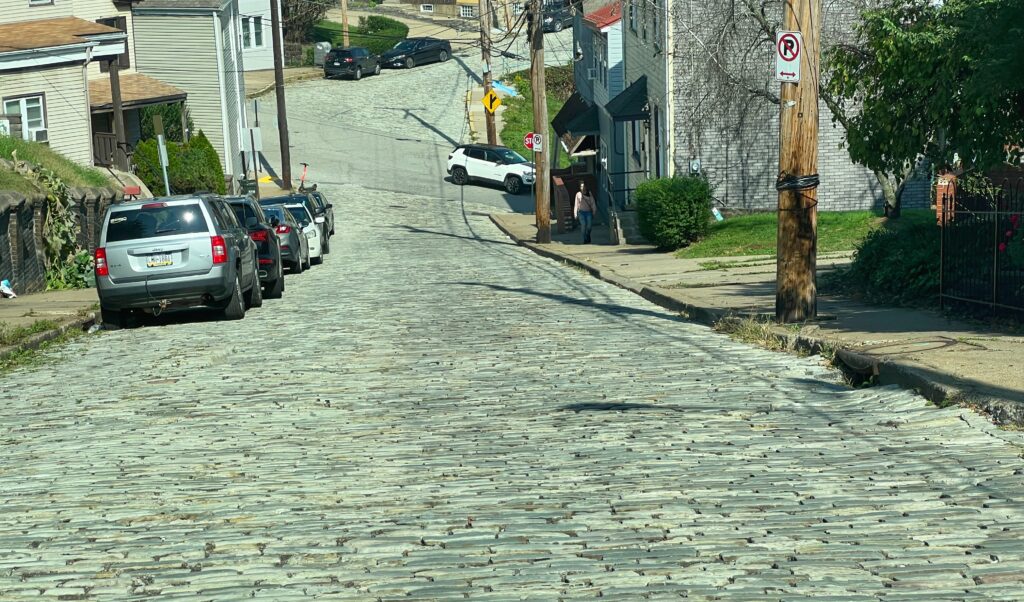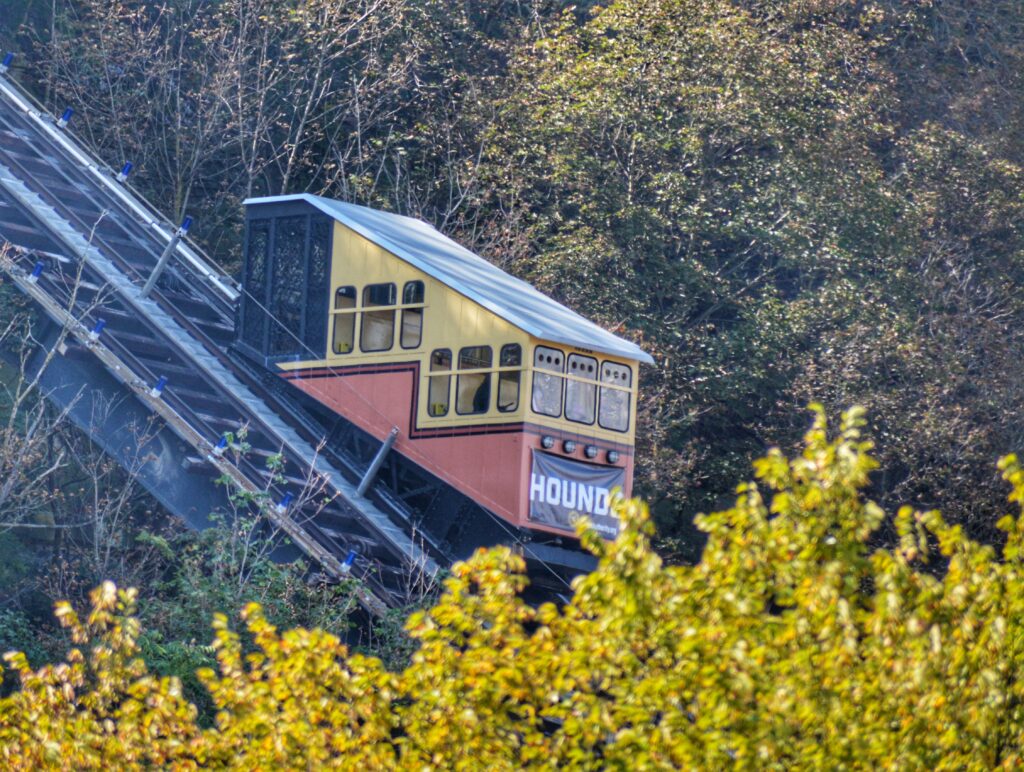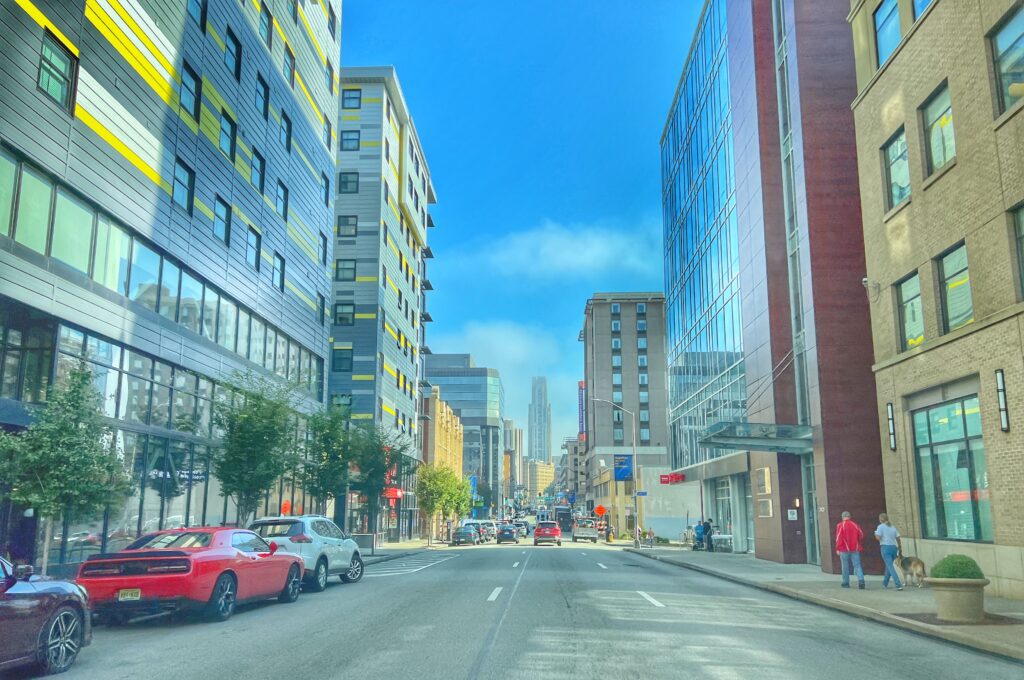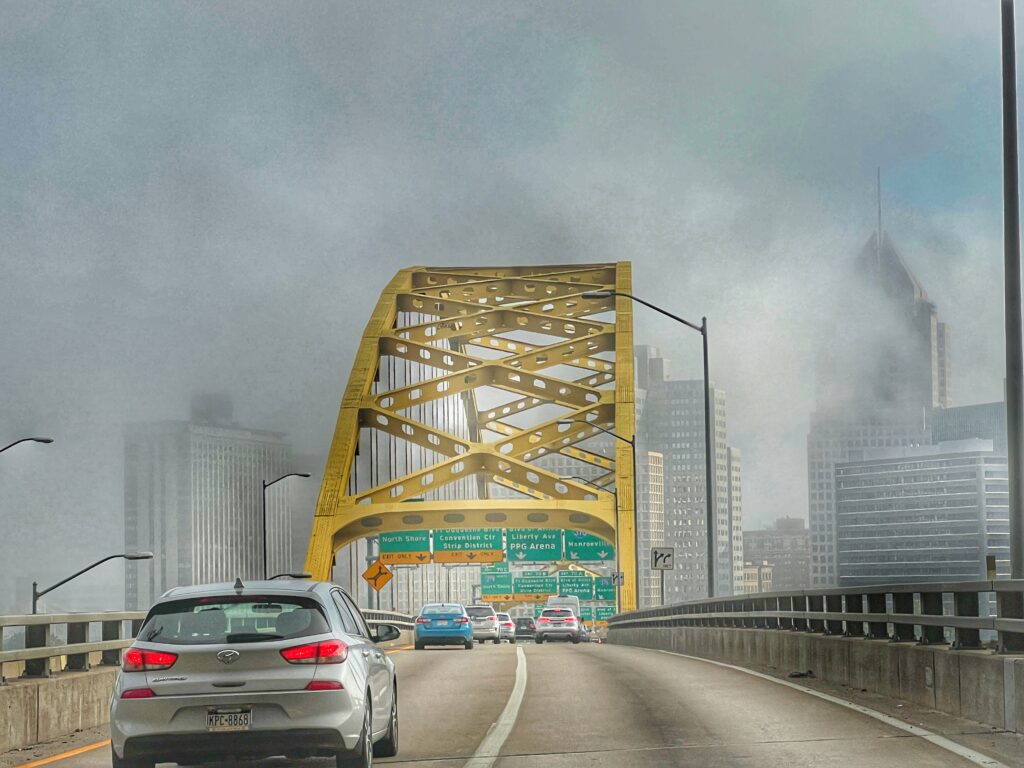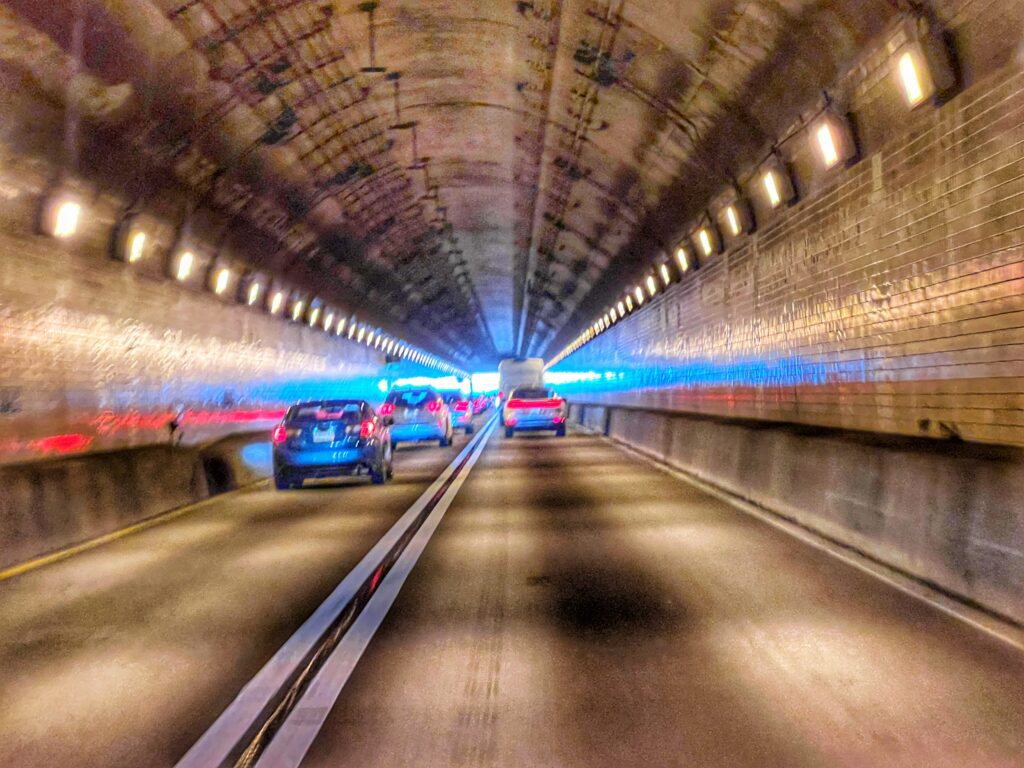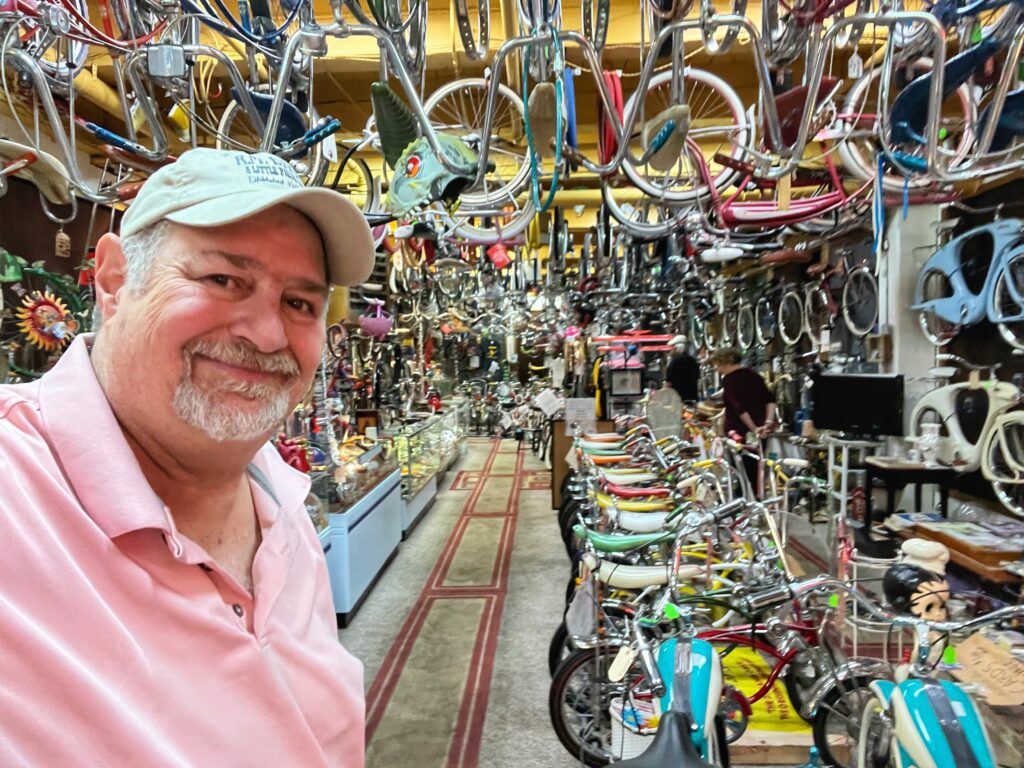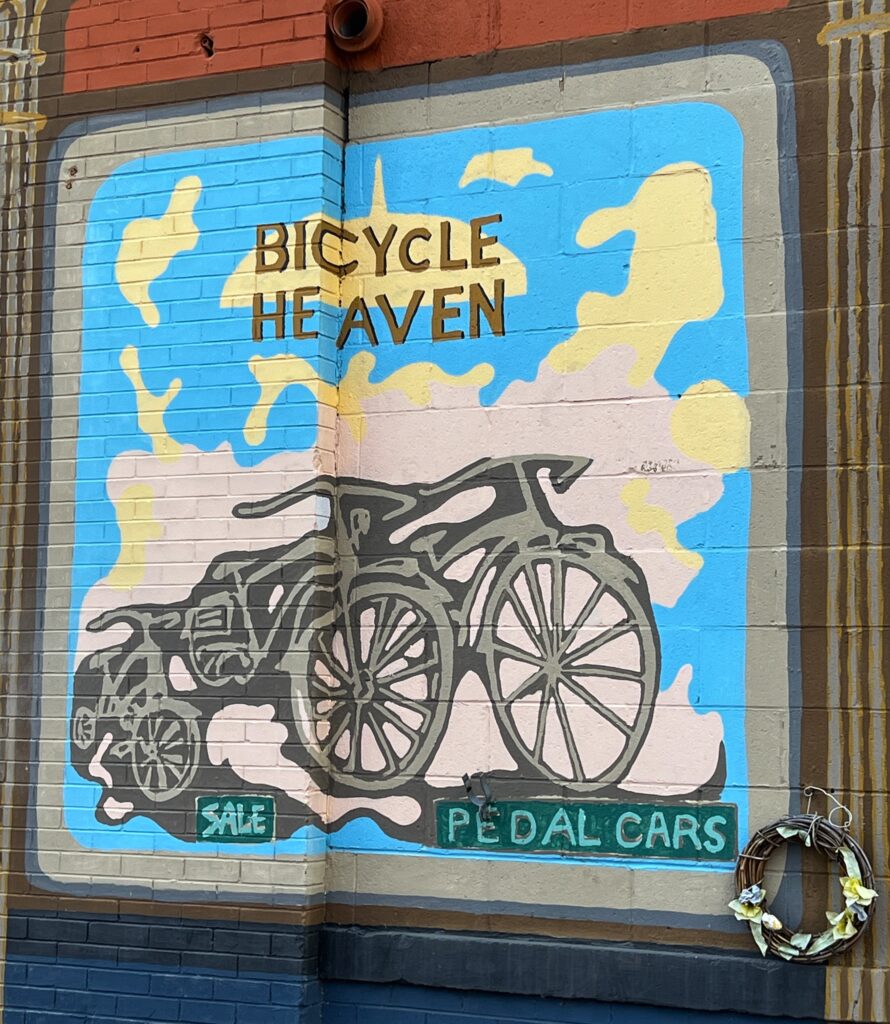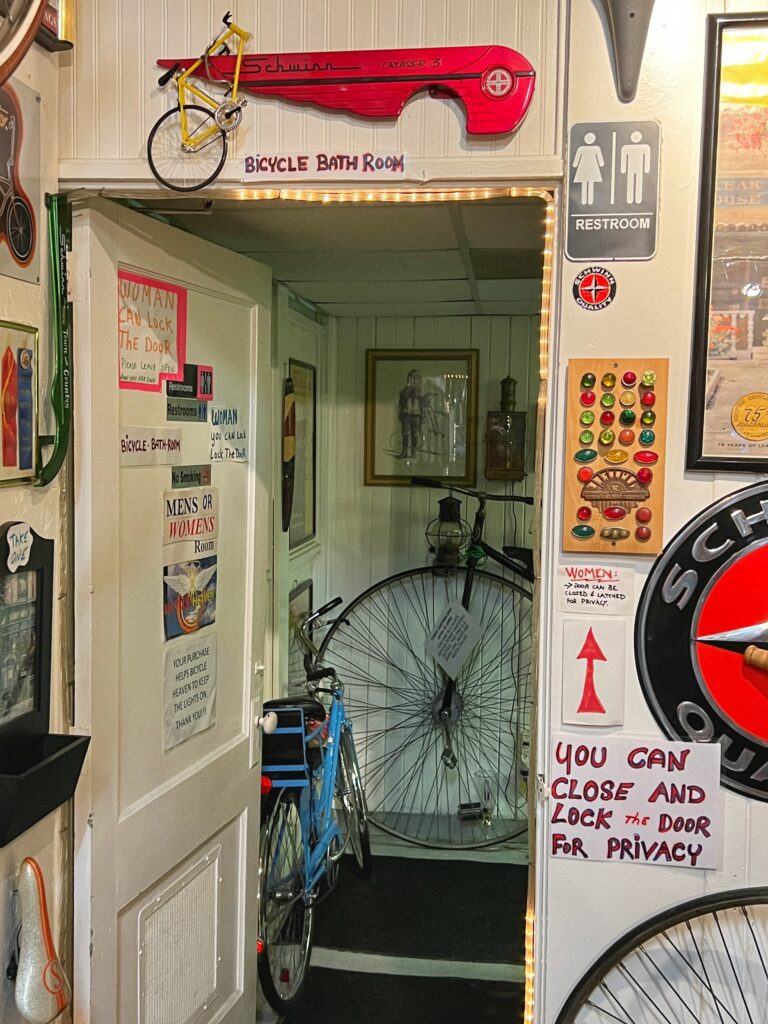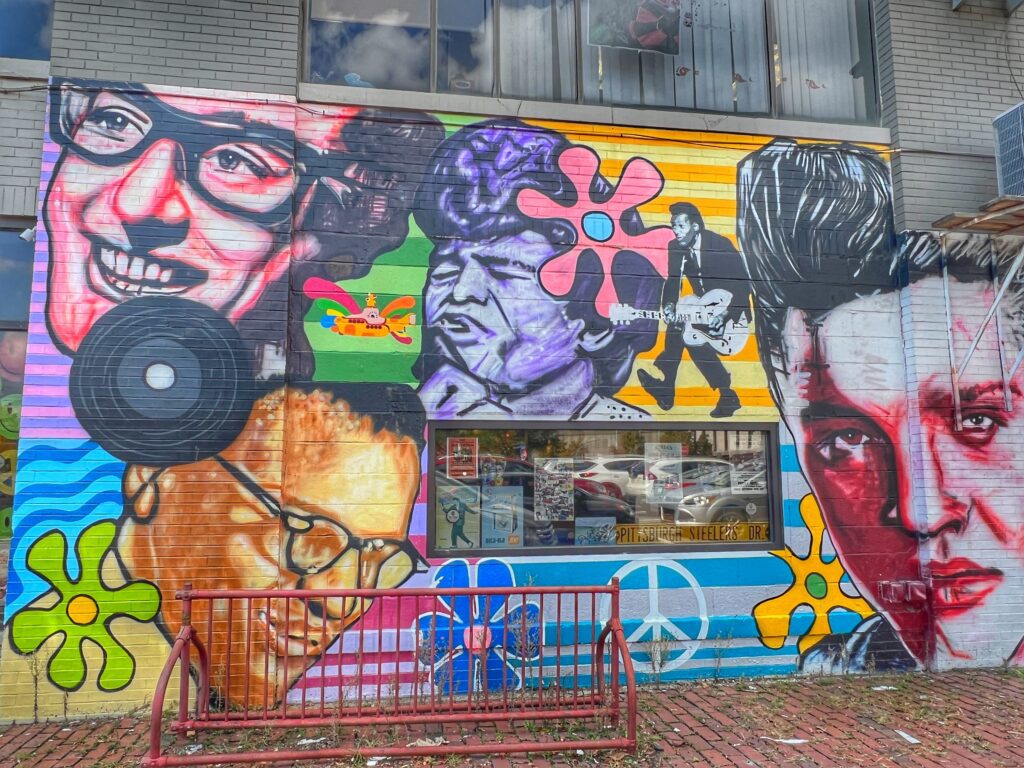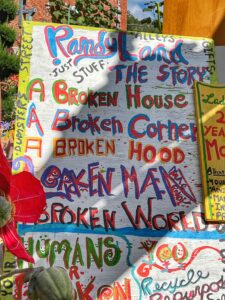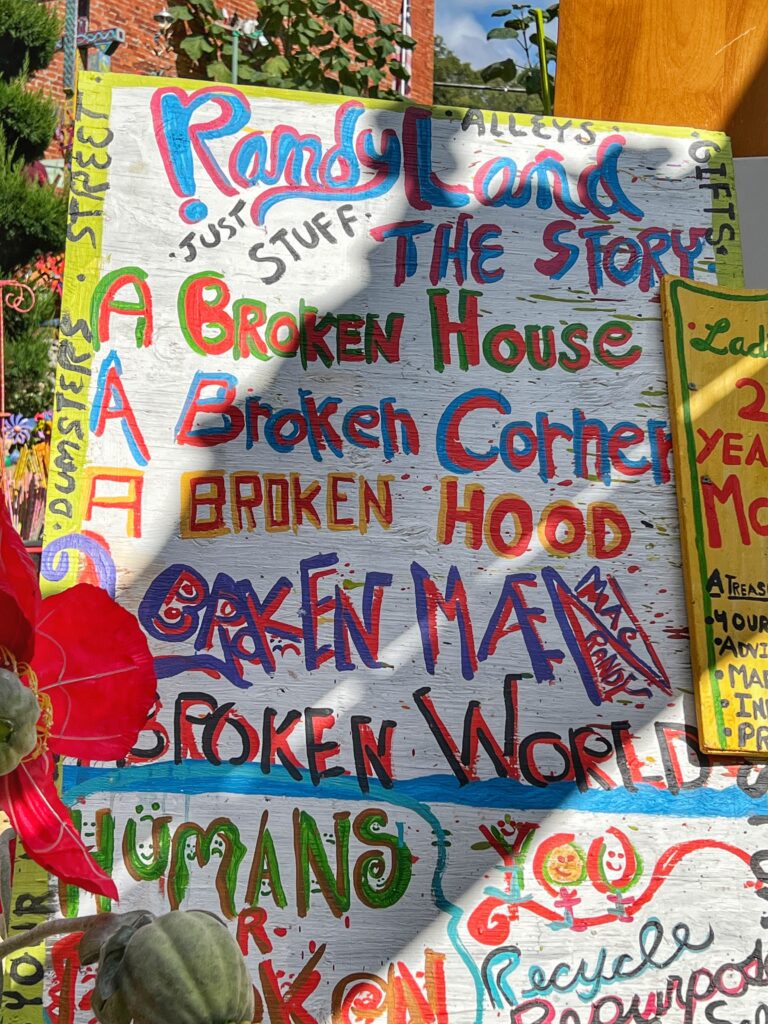 We next ventured a couple of miles to the nearby Randyland.  What a fun and quirky attraction. Randyland is yet another "museum," but it is more of a collection of whimsical and strange "outsider" art work gathered together and often created by owner Randy Gilson.  According to a Wikipedia article, it is widely regarded as one of America's most colorful public art landmarks. The museum is dedicated to Randy's therapy which involves painting and taking care of the grounds at Randyland. Gilson likes dumpster diving and upcycling to fill his home with colorful oddities that include pink flamingos, mannequins, and plastic dinosaurs. The houses and fences are adorned with murals depicting neighbors dancing and smiling. The colors are truly eye-candy!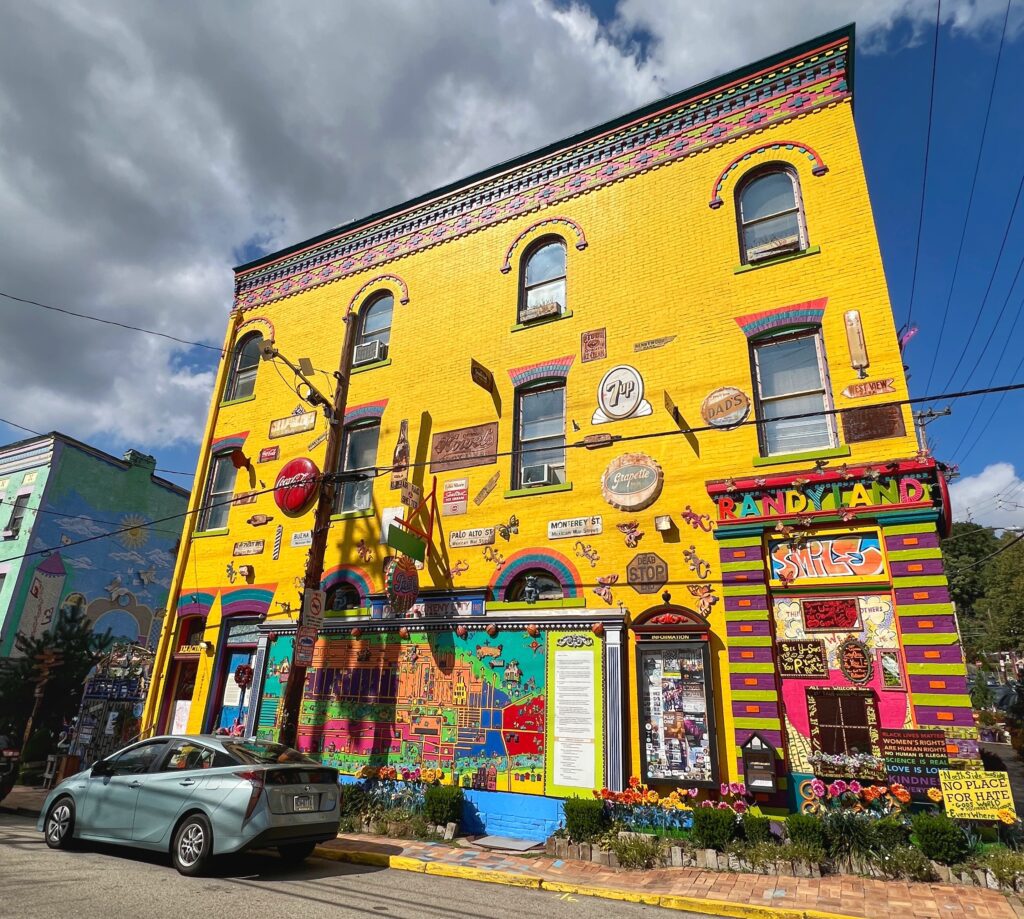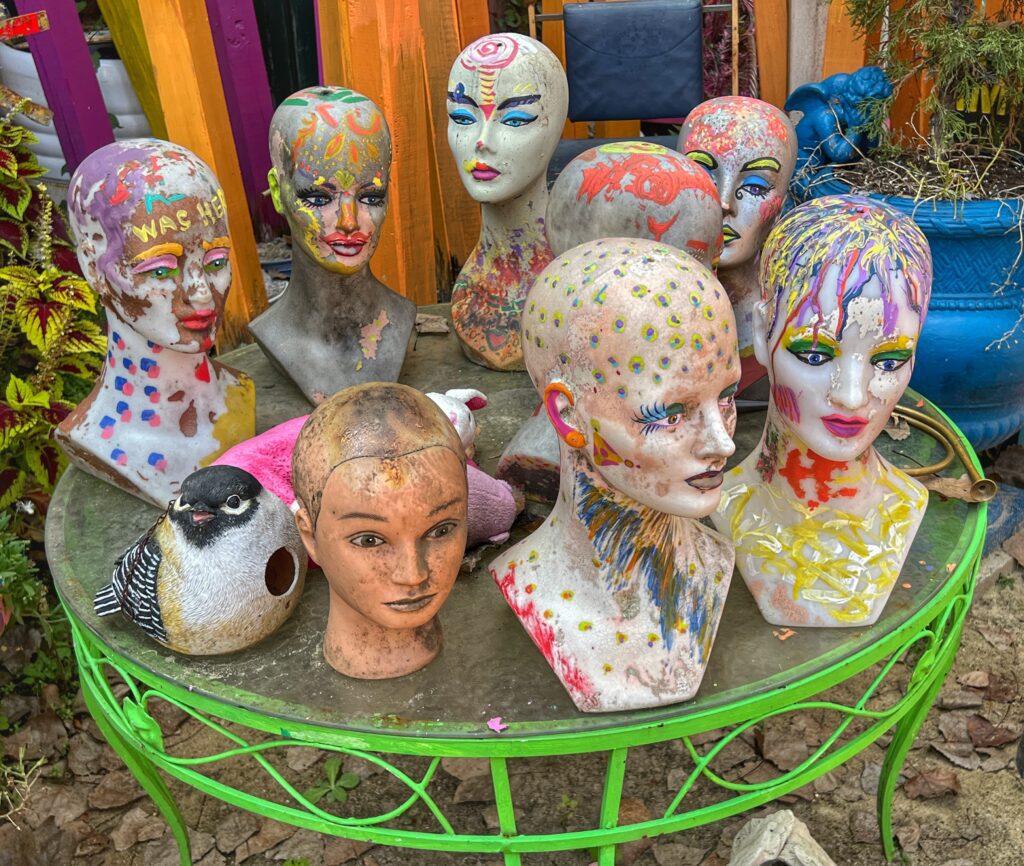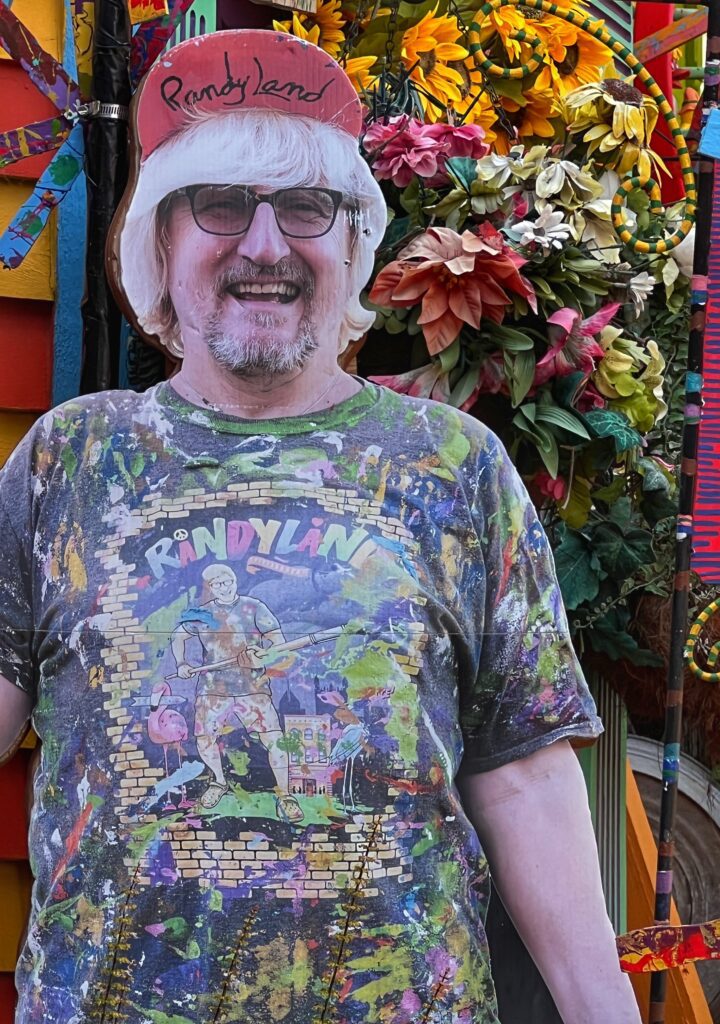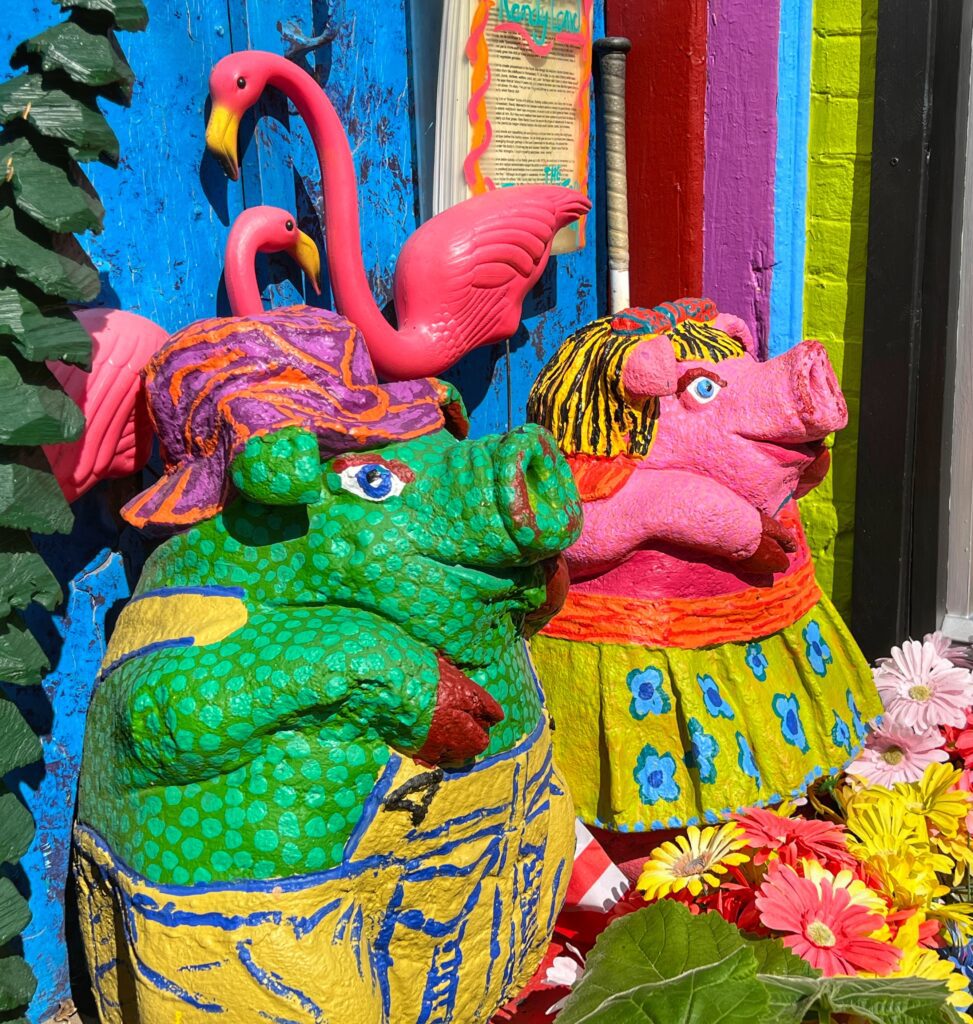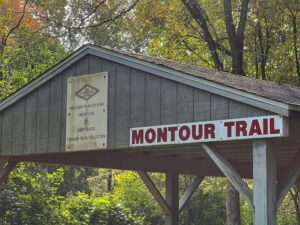 The next day, while Julianne and her sister rode 15 miles on the Montour Trail (a famed Rails to Trail bike trail), I meandered over to Presto, Pennsylvania.  Though nothing fancy, the name itself was magical to me.
The Montour Trail is over 47 miles long, but actually connects to another trail that one can ride their bike all the way to Washington D.C. Eventually, there are plans to extend the trail westward and connect to trails such that one can actually ride their bike across the entire United States on Rail Trails.  That will be amazing once it is completed.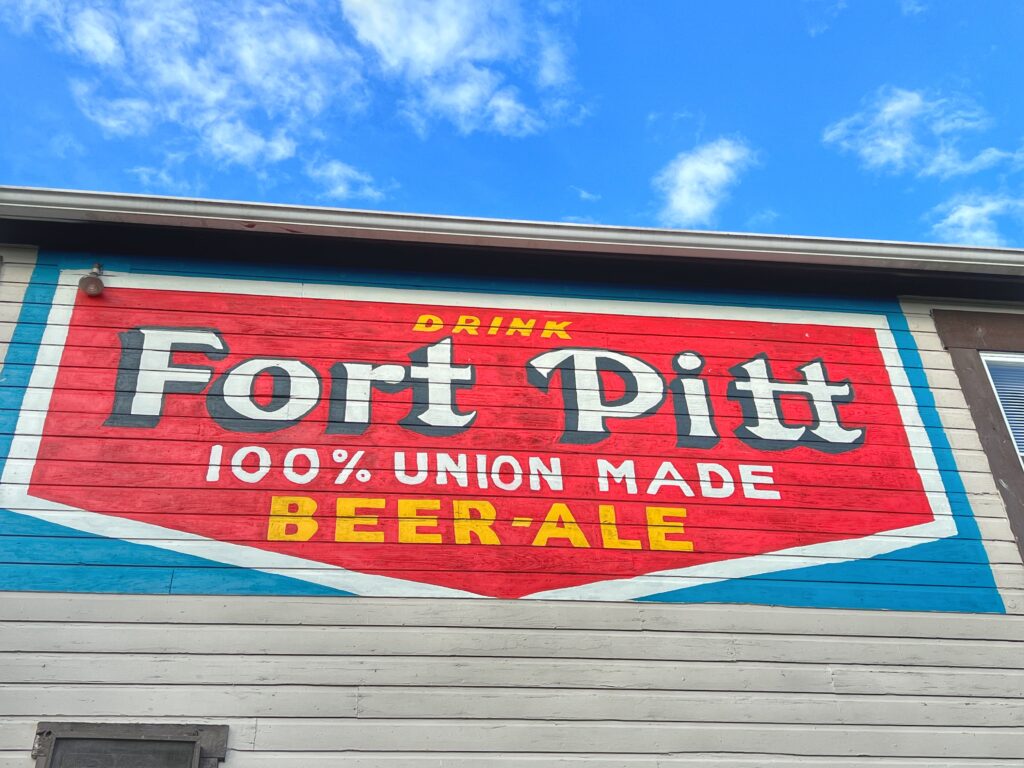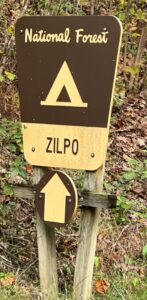 October 23 started a new weekend of hiking for the gang.  They started a Clear Creek, which was now in full fall color mode.  They would hike all the way to Morehead, Kentucky on this weekend. While they did this, I drive up the scenic Zilpo Road which offered splendid views of Cave Run Lake.  I also visited the Minor E. Clark fish hatchery for some bird watching.  After they completed this section, they only had 25 miles remaining on the 343 mile Sheltowee Trace.
All the hikers were mainly away from roads, so I took most of my two days meandering on some of the narrow back roads to look at the burgeoning fall colors.  Clear Creek Lake, Cave Run Lake and some high ridge roads provided plenty of scenic views of the colors. This part of Kentucky is very hilly and has some amazing views and scenery.  I really enjoyed my drives this particular weekend.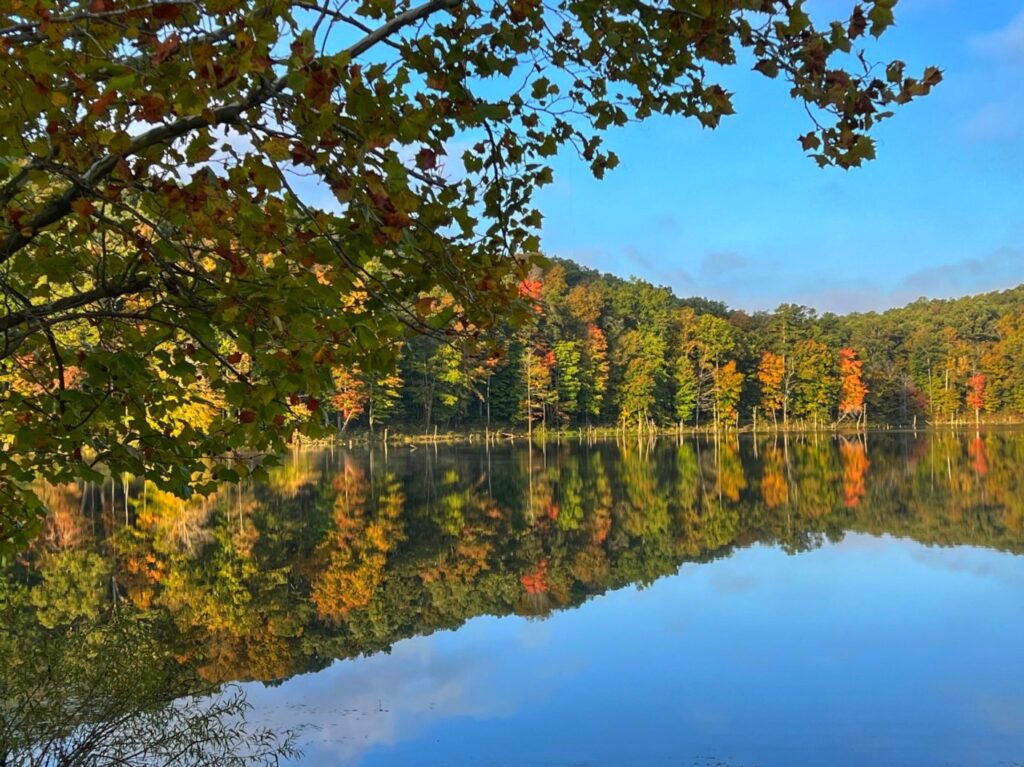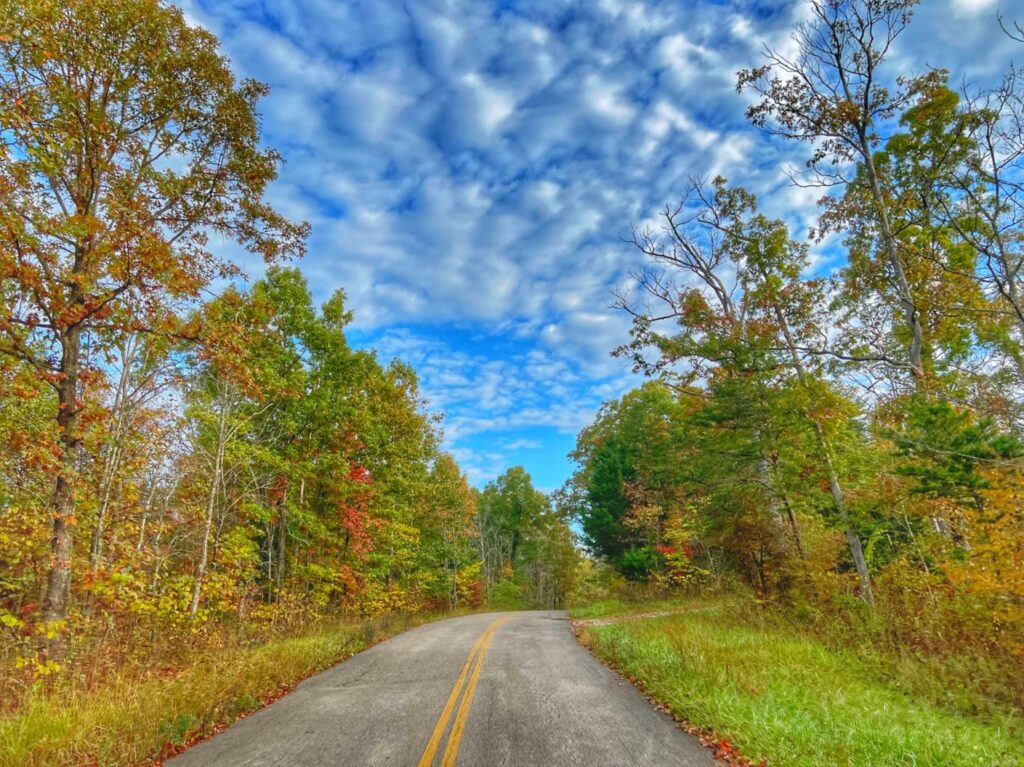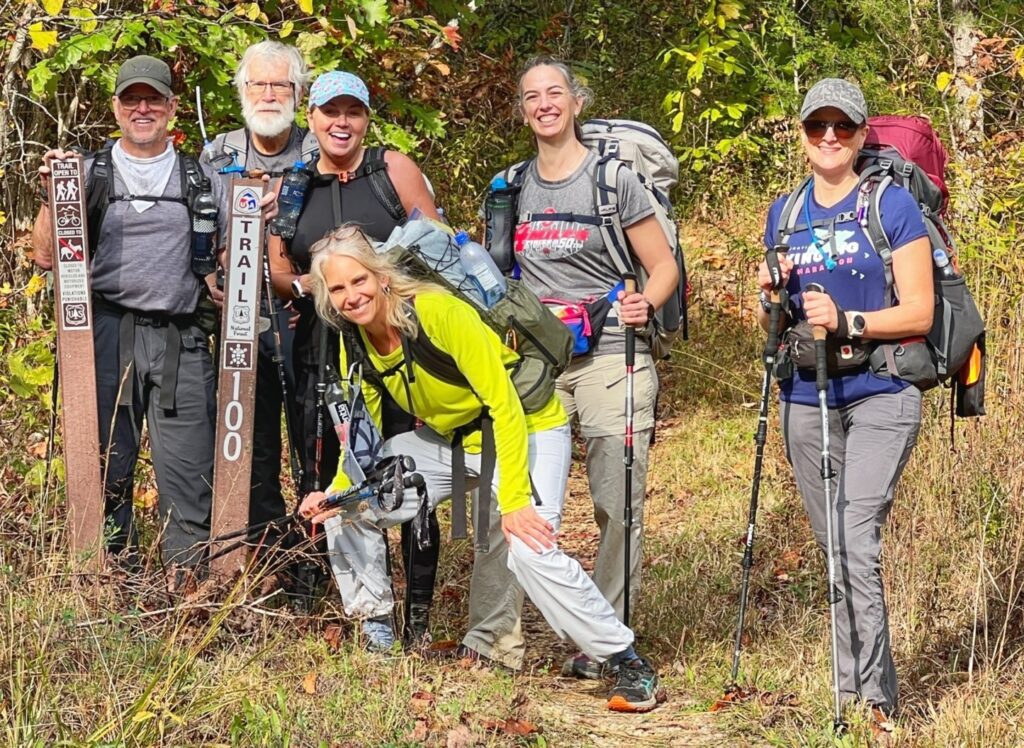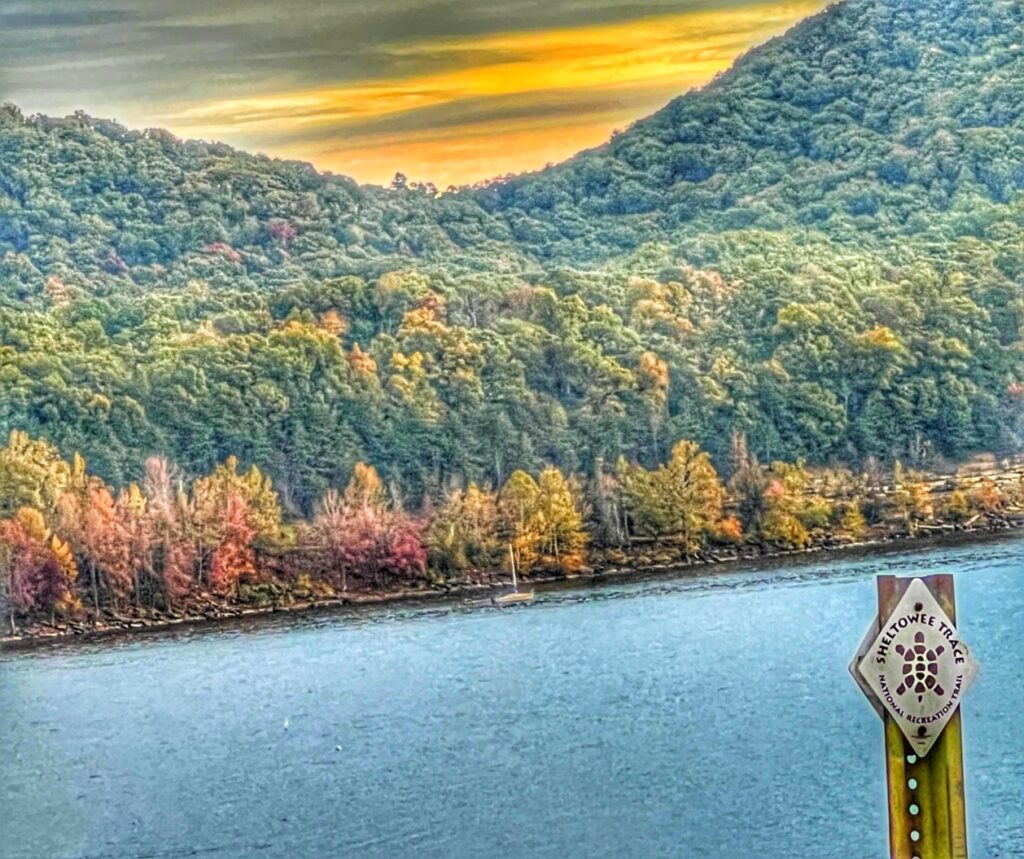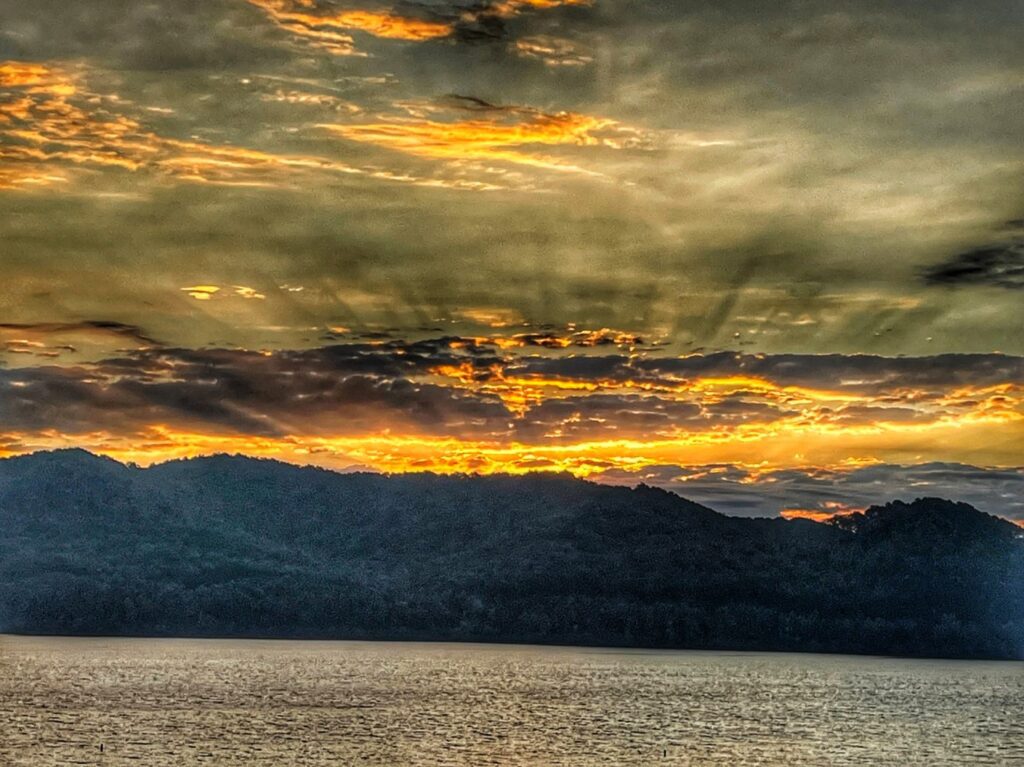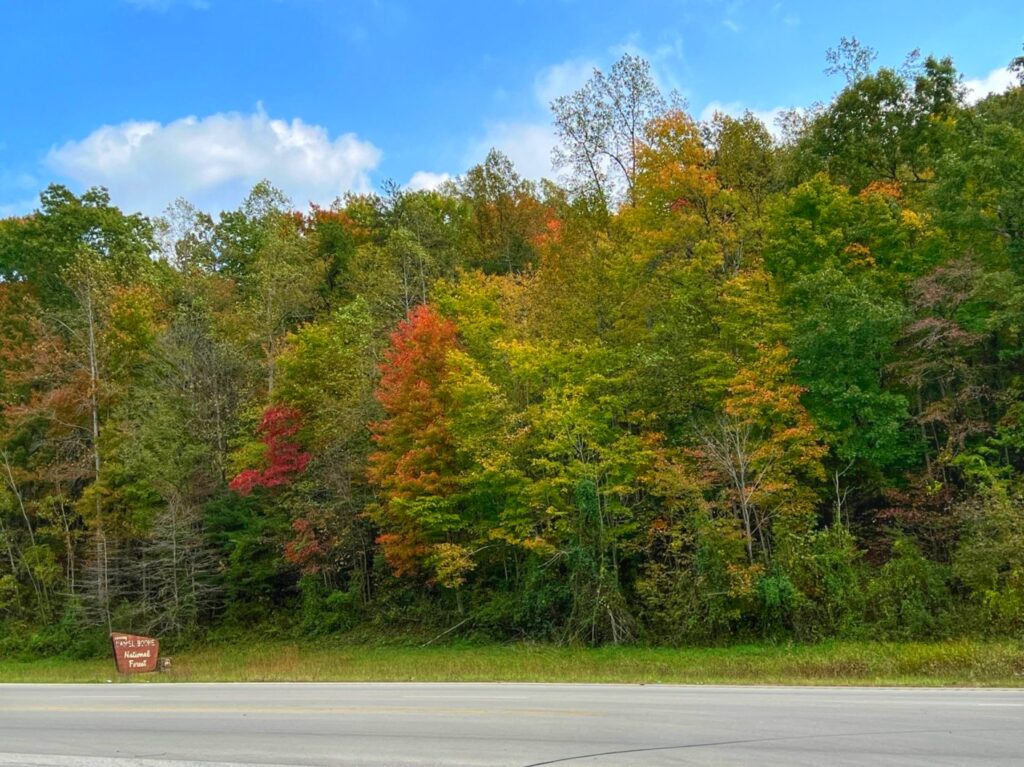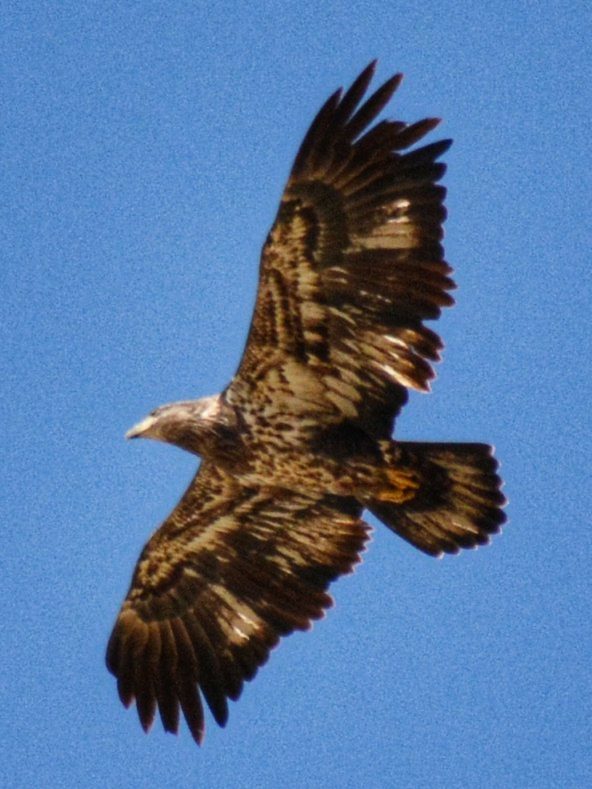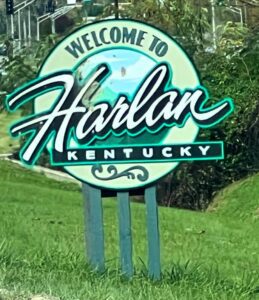 In early November Julianne went to San Diego for a sister retreat.  I took advantage of the nice weekend and took a long day trip down to southeastern Kentucky and parts of Virginia to go look at the fall colors.  This took me down to Harlan, Pineville and Lynch, Kentucky as well as Appalachia and Big Stone Gap, Virginia, with a stop at Black Mountain, Kentucky's highest point.
The fall colors down in southeast Kentucky and northeast Virginia were wonderful.  I also a splendid weather day on the entire trip. One of the highlights of the trip was the drive through the Kentenia State Forest.  It is the oldest state-owned forest, having been acquired in 1919.  The forest runs along the south side of Pine Mountain, one of the highest areas in the state. I took the Little Shepherd Trail which was way way up on the ridge looking down into the valleys.  I also enjoyed the drive along the Dragon Slayer Highway, KY 160, from Lynch, KY to Black Mountain, KY.  It is a 20 mile drive with about 226 curves.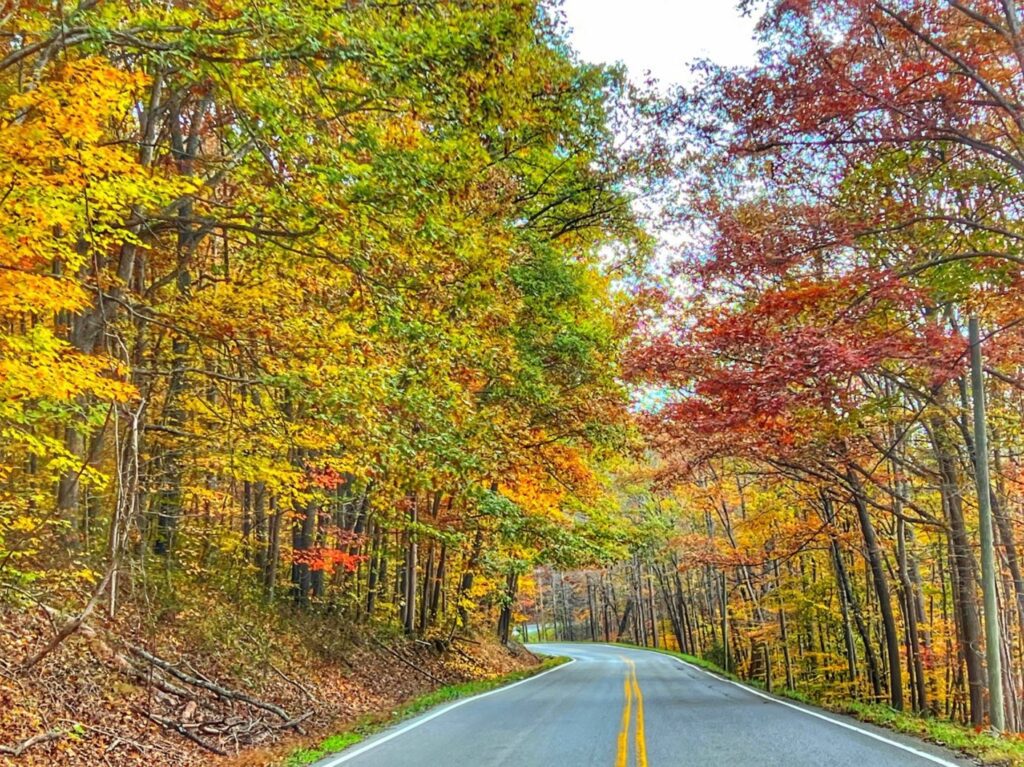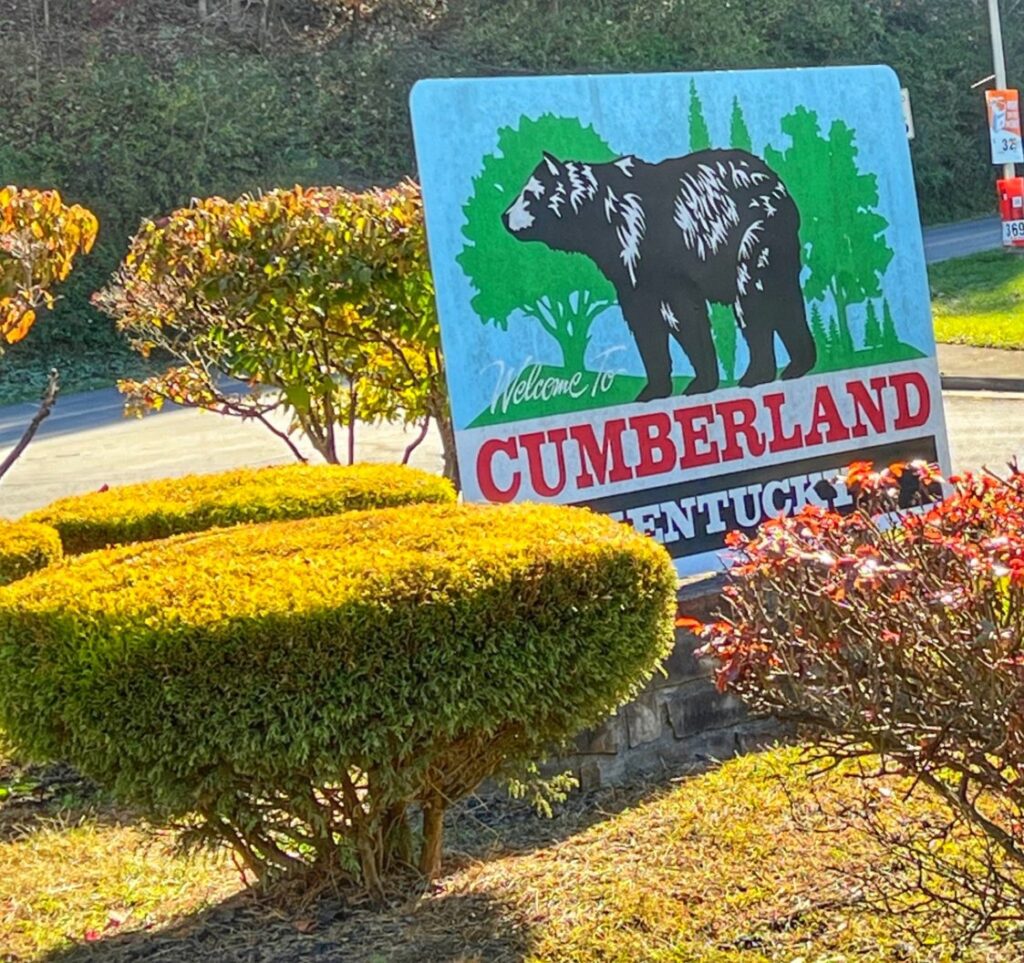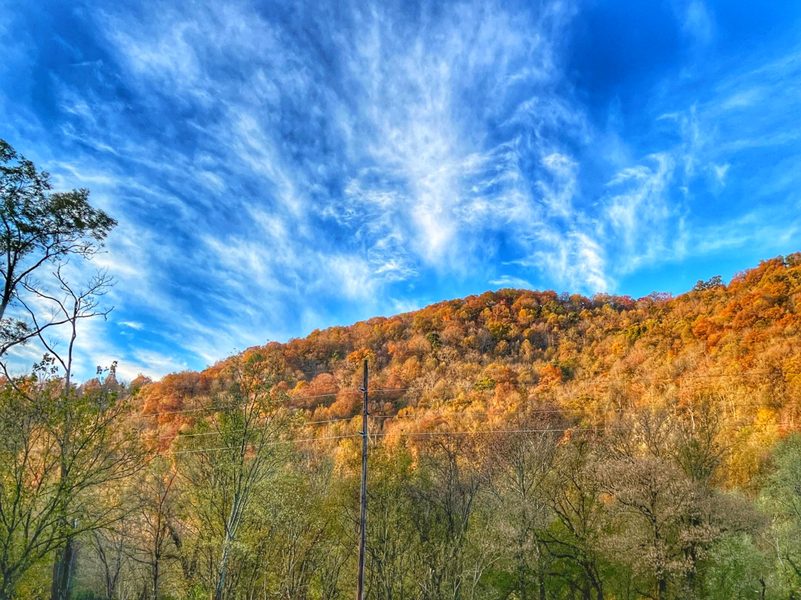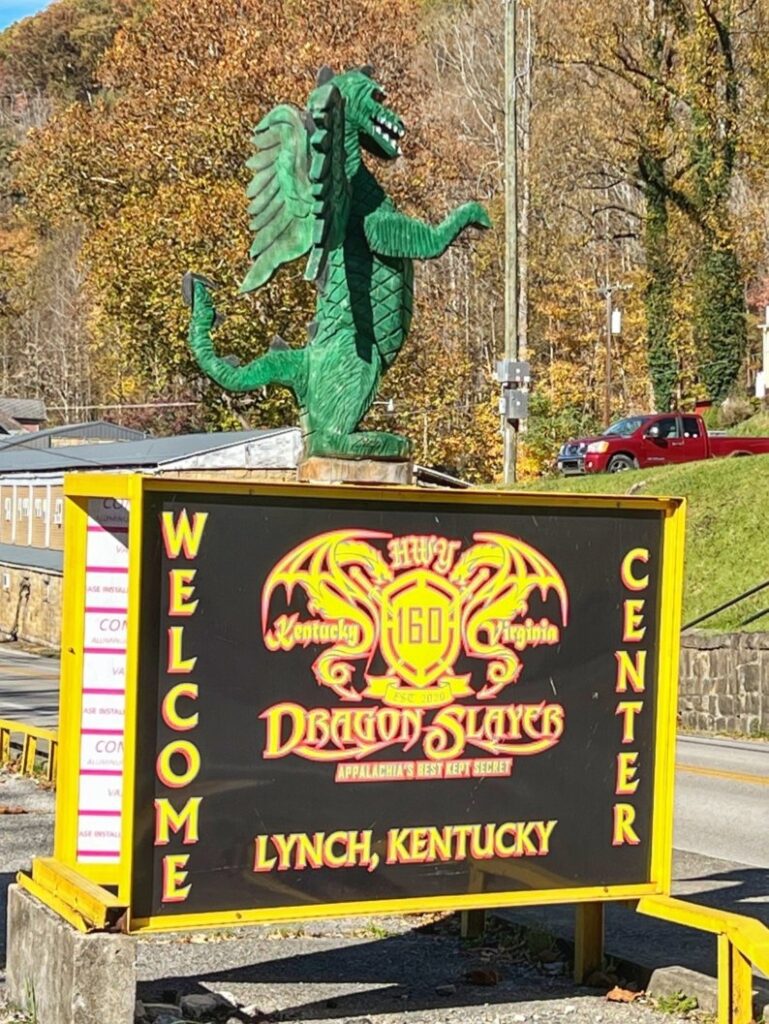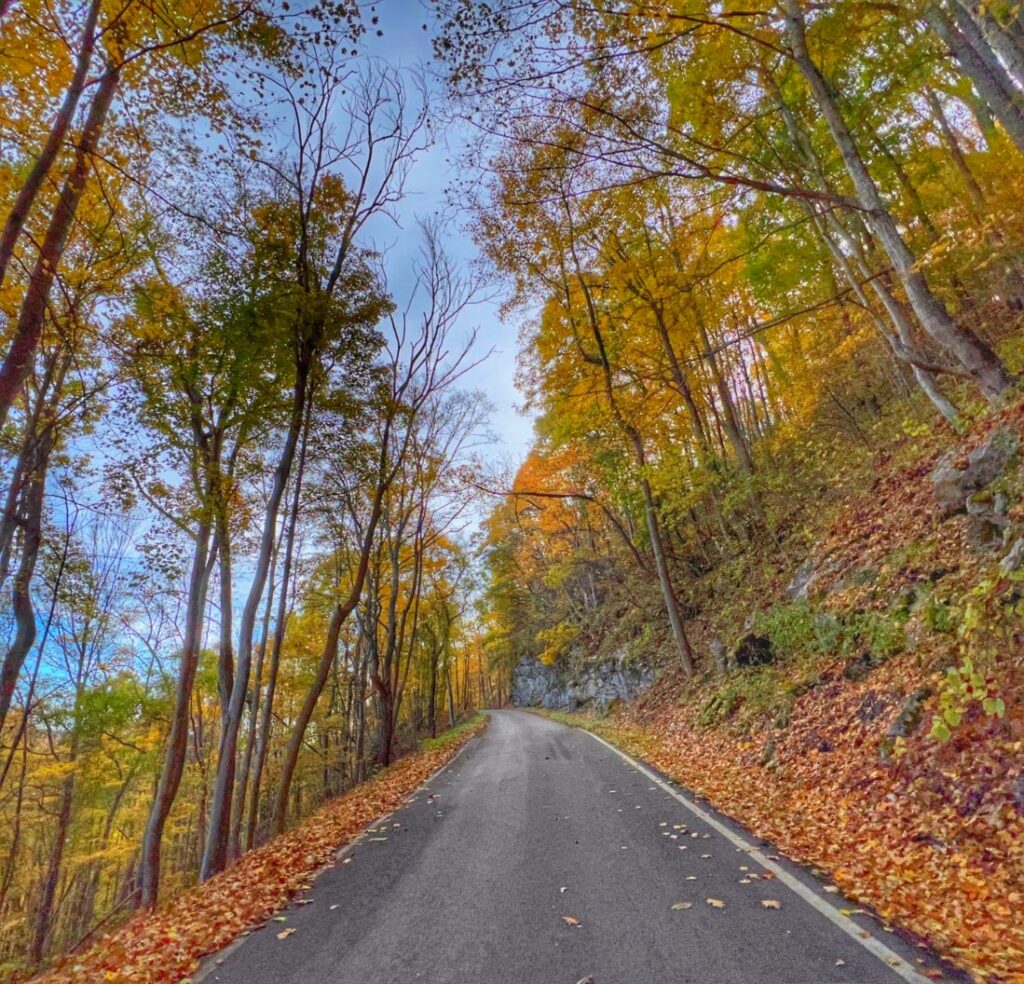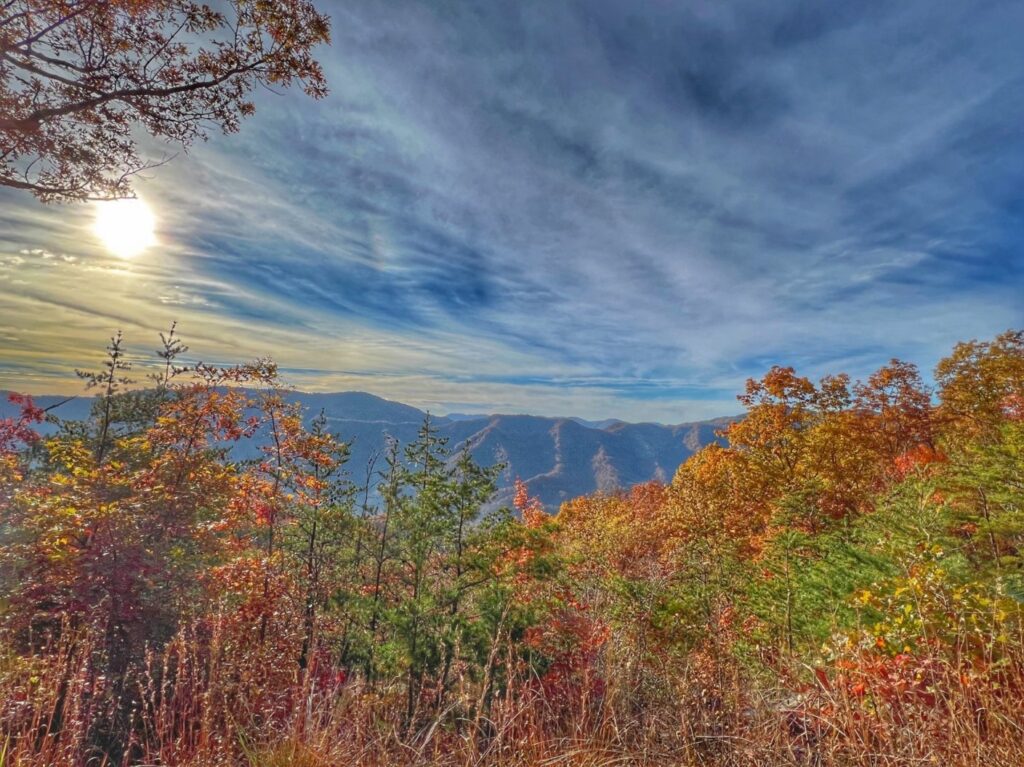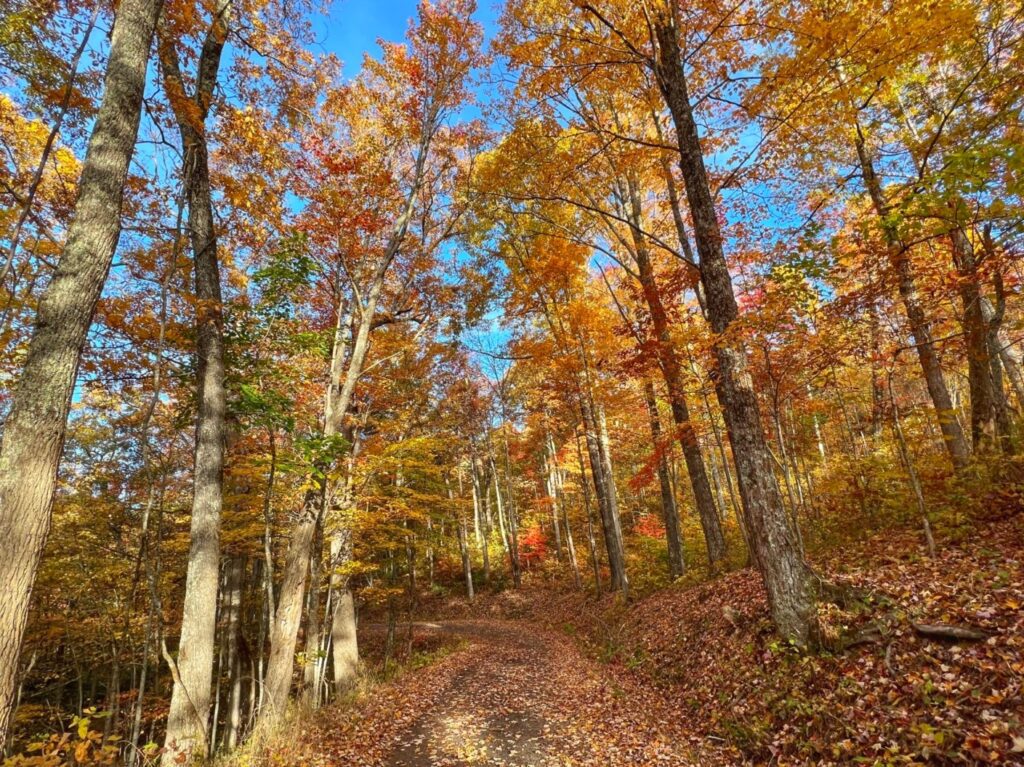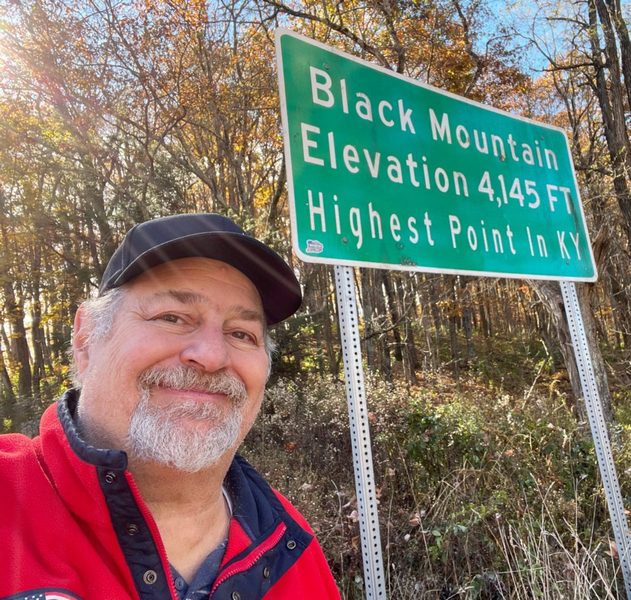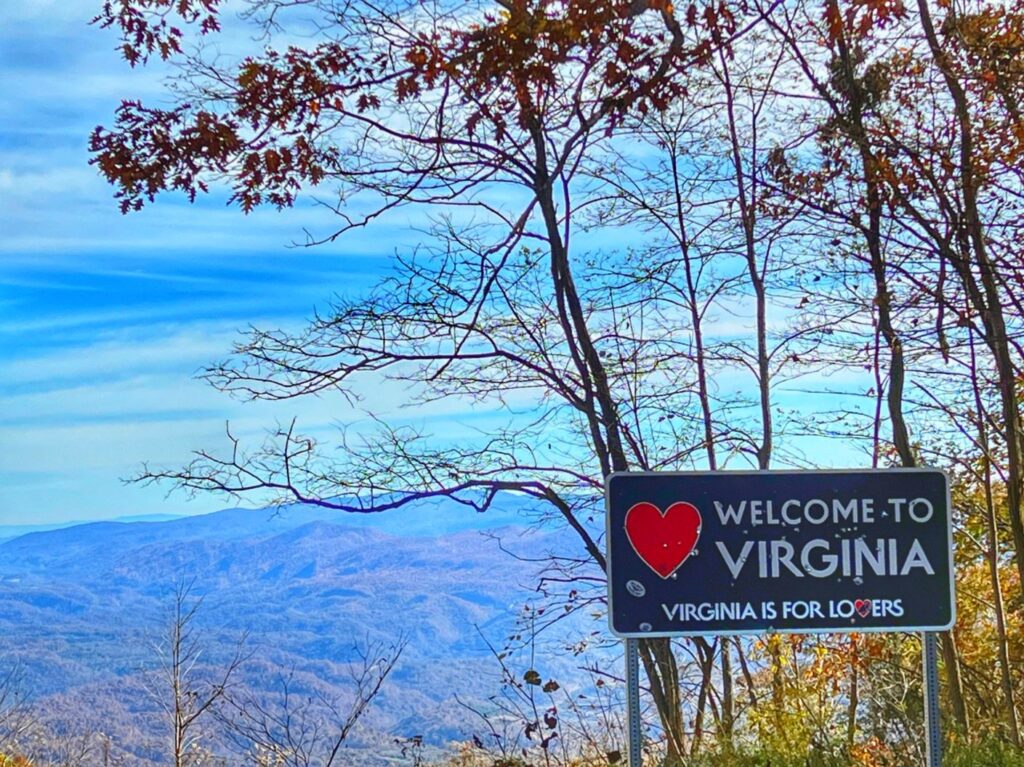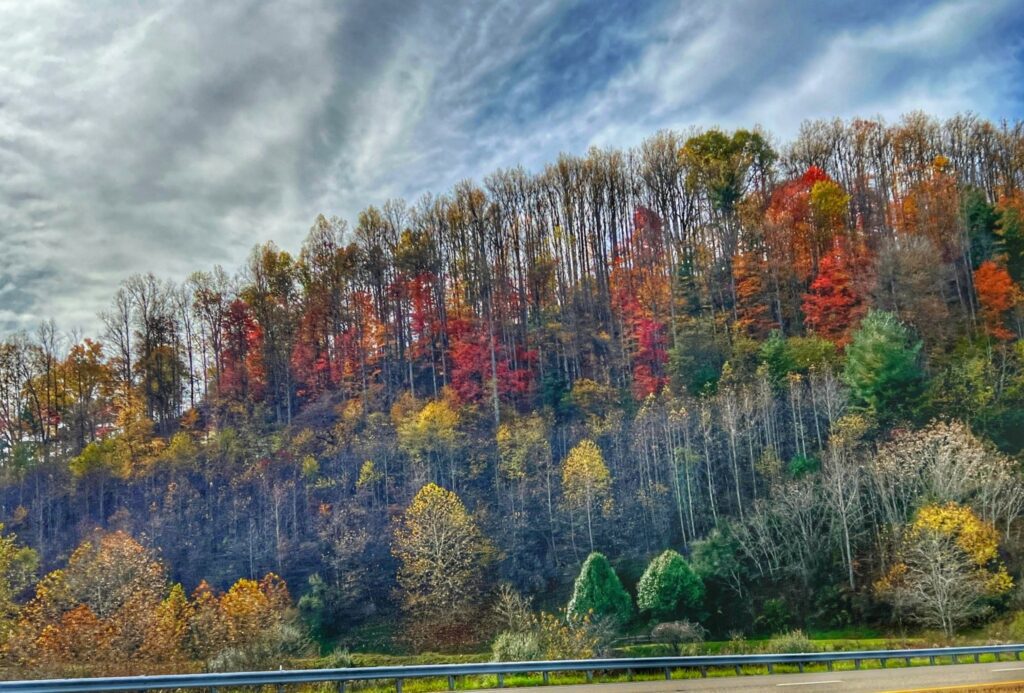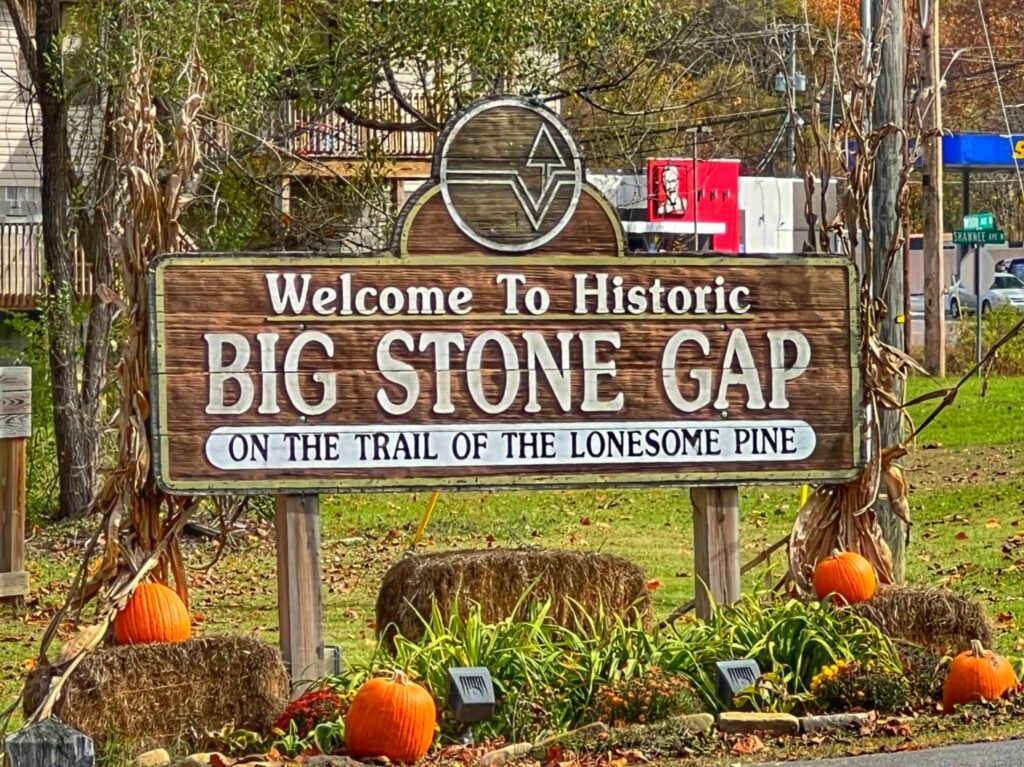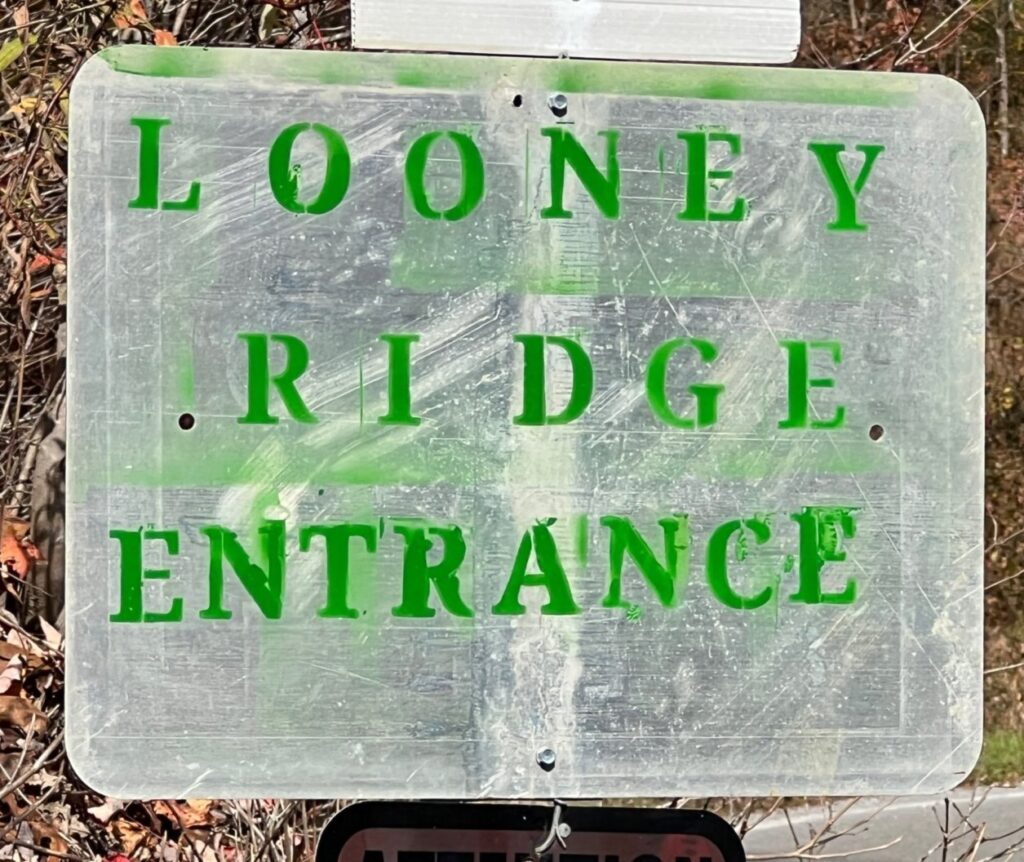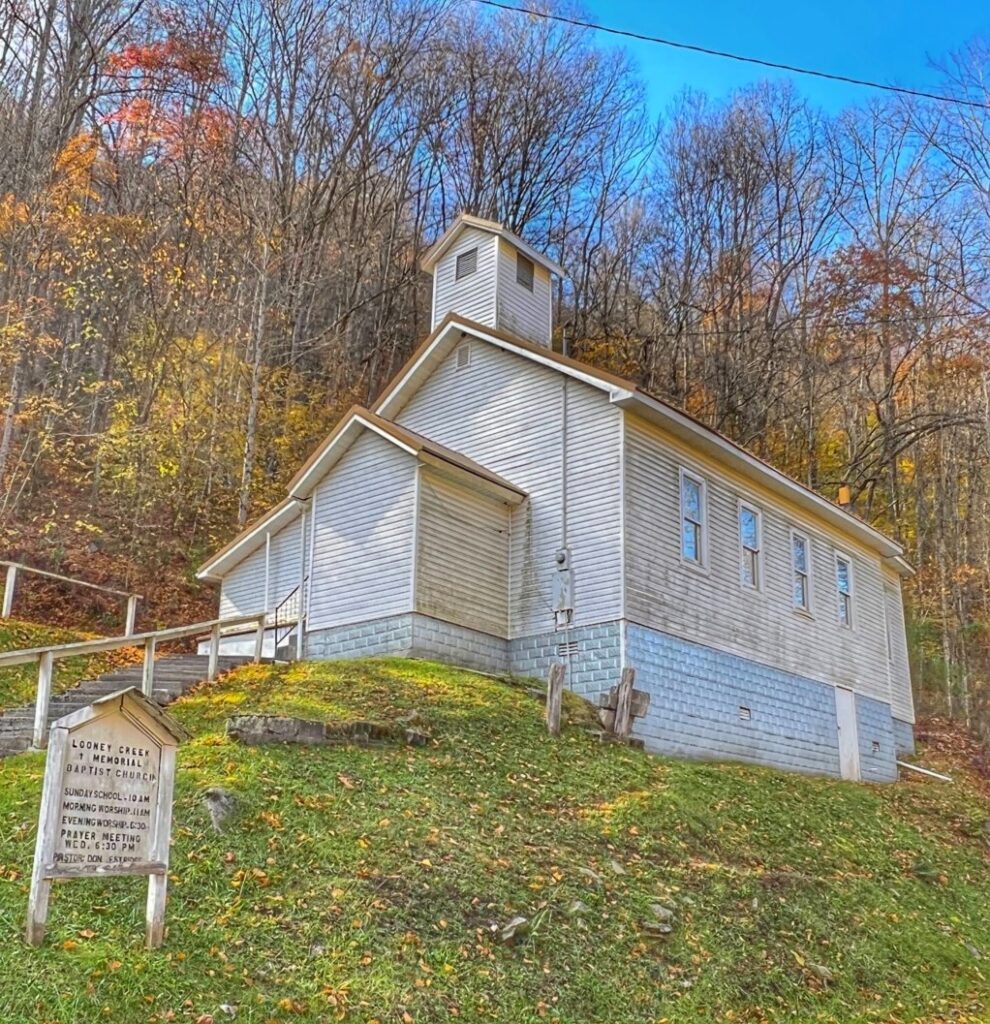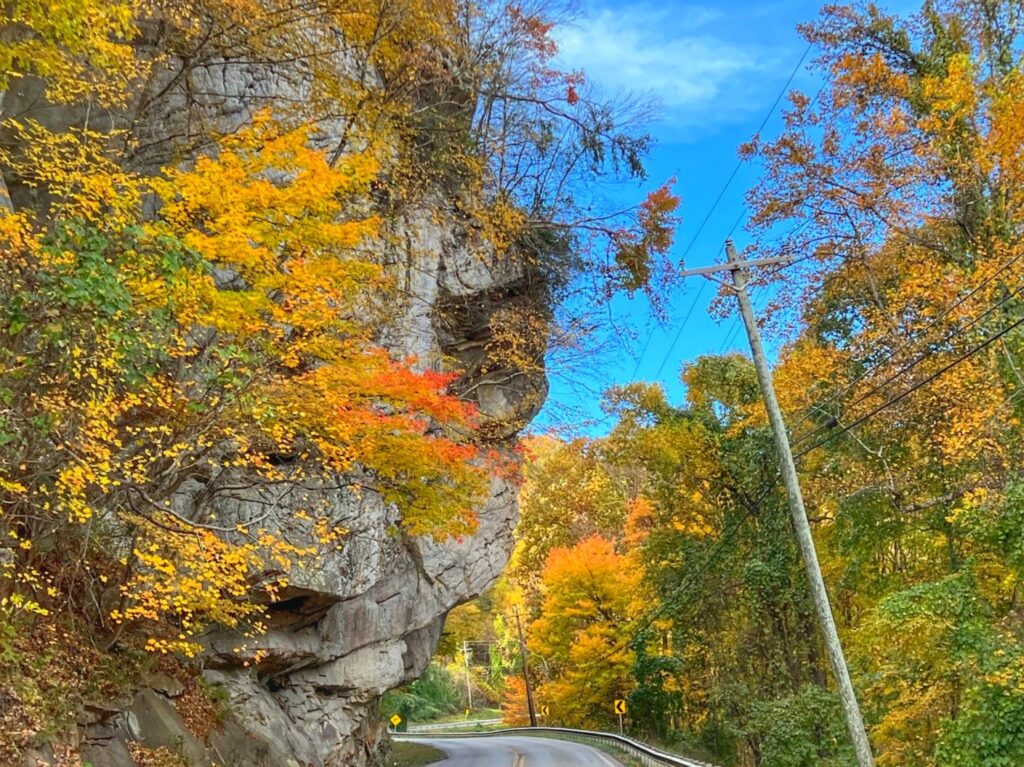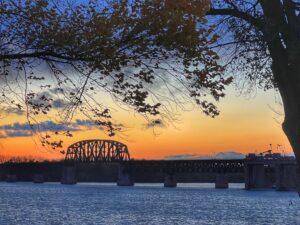 On November 12 Julianne was to return via Louisville, so I made an early trip and got nice pics in Louisville as well as a visit across the Ohio River into Clarksville, Indiana.  I was there for a lovely sunset that shone through the numerous bridges over the Ohio.  It was a nice daycation.
The sky was wonderful and, while there, a few interesting clouds were blowing in and provided some interesting views over the Ohio River Bridges.  As the skies darken, some of the Louisville to Indiana bridges are lit up, making for some colorful scenes over the river.  And finally, the visit to Falls of the Ohio State Park in Clarksville, Indiana really offer some splendid views of the Louisville Skyline across the river.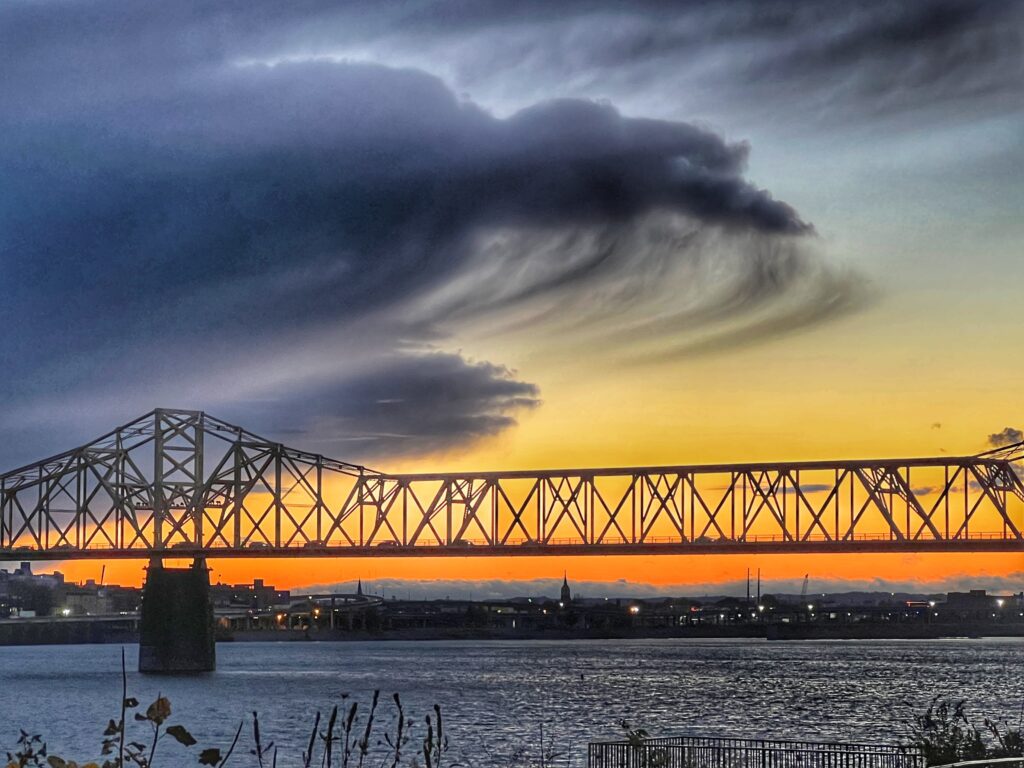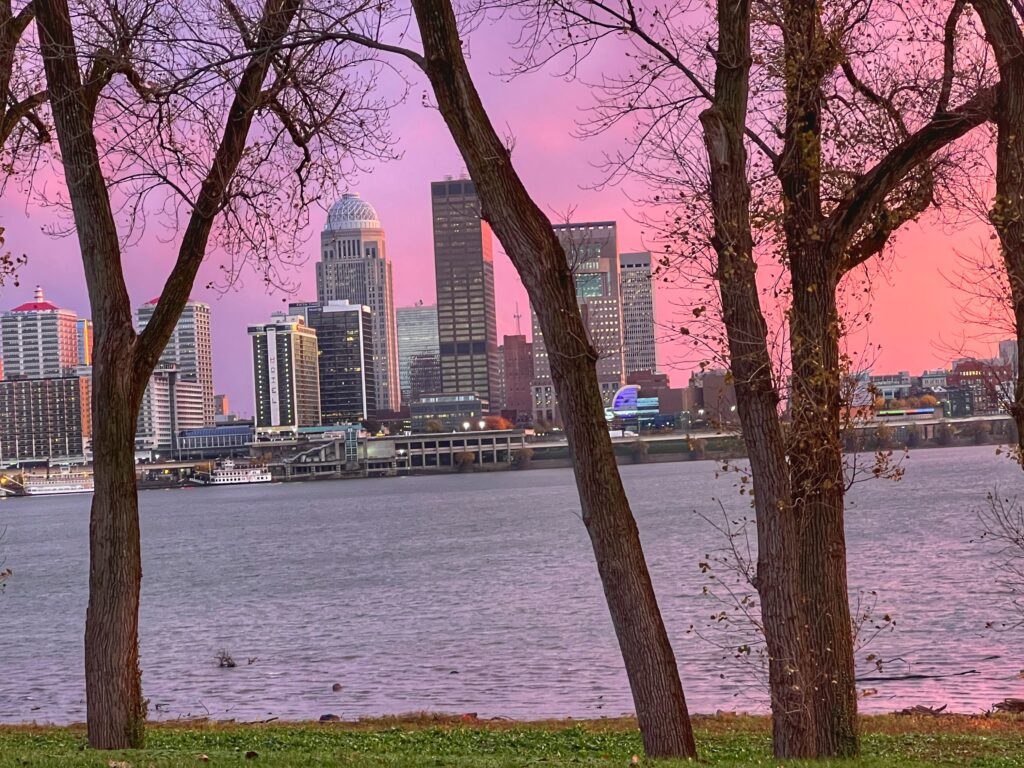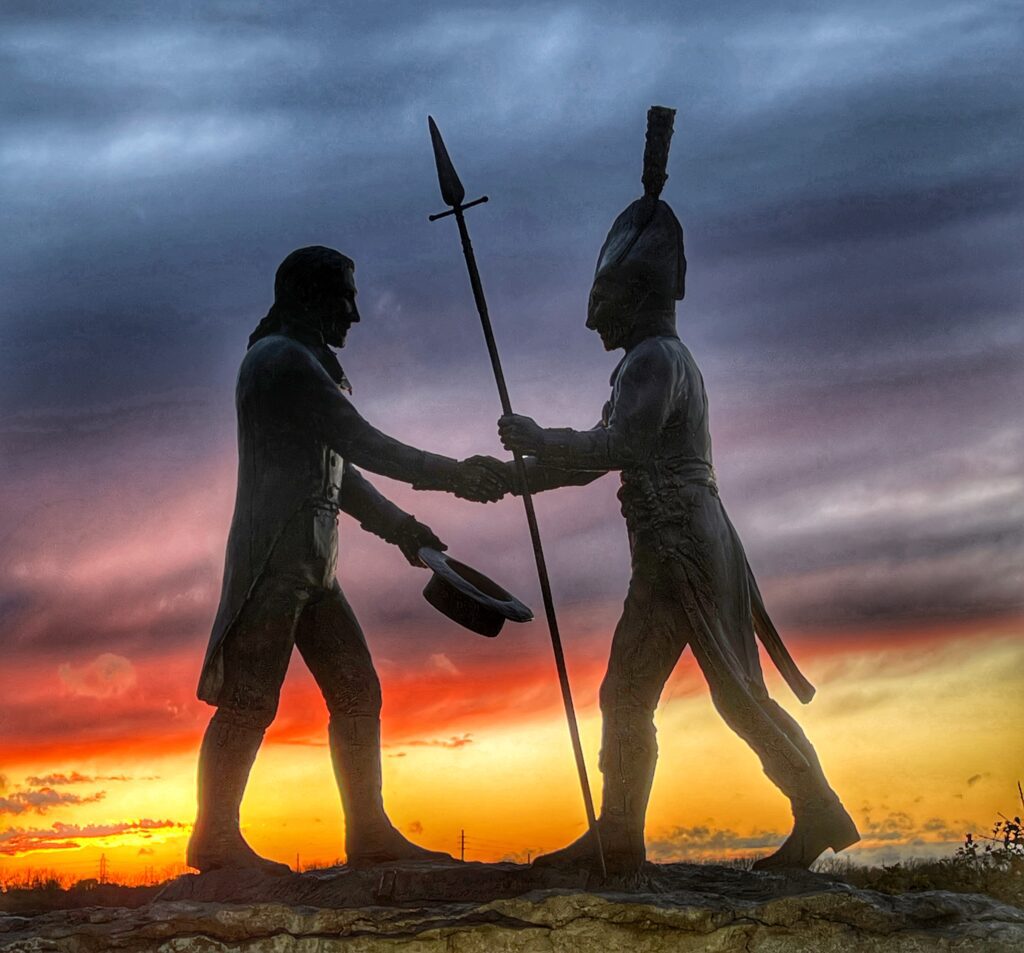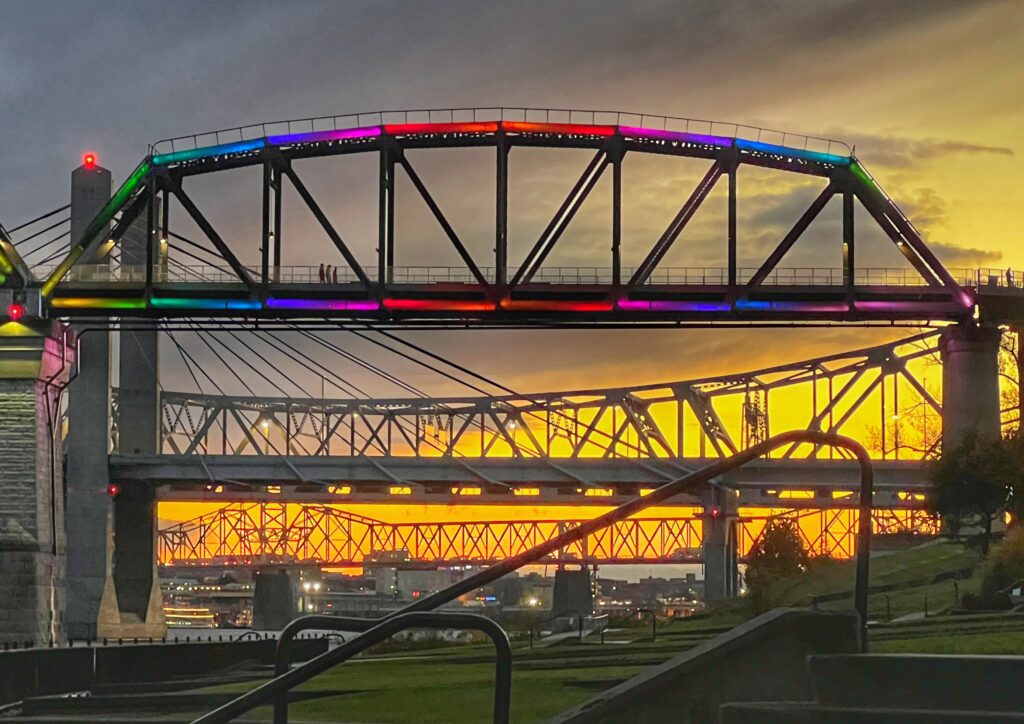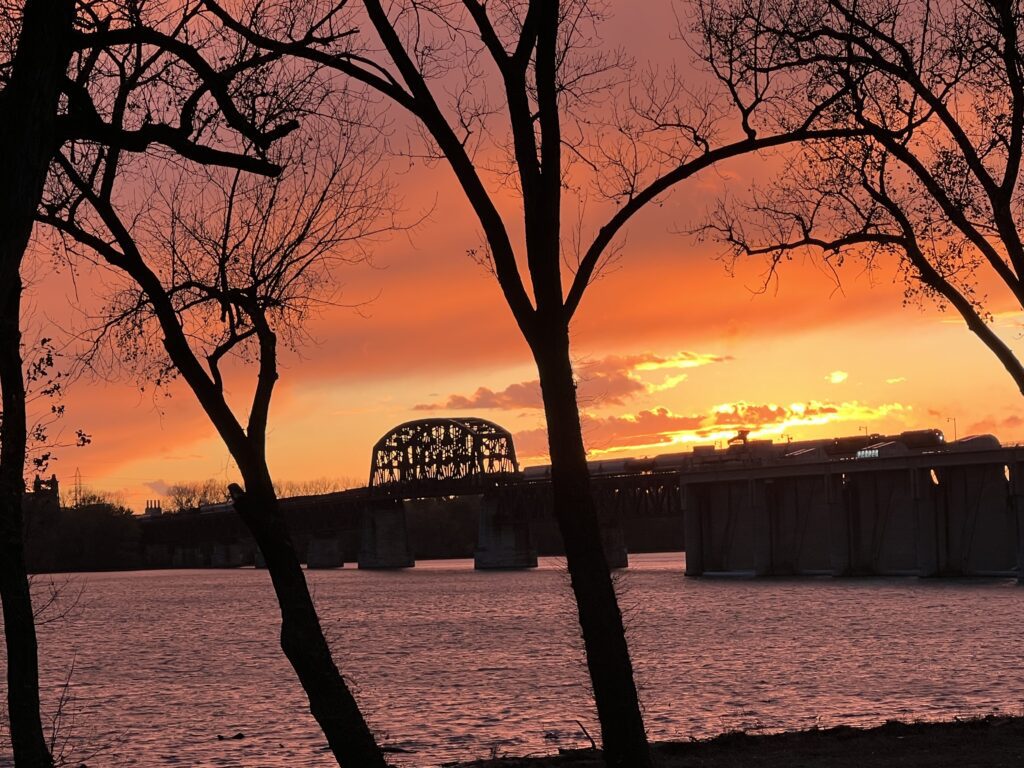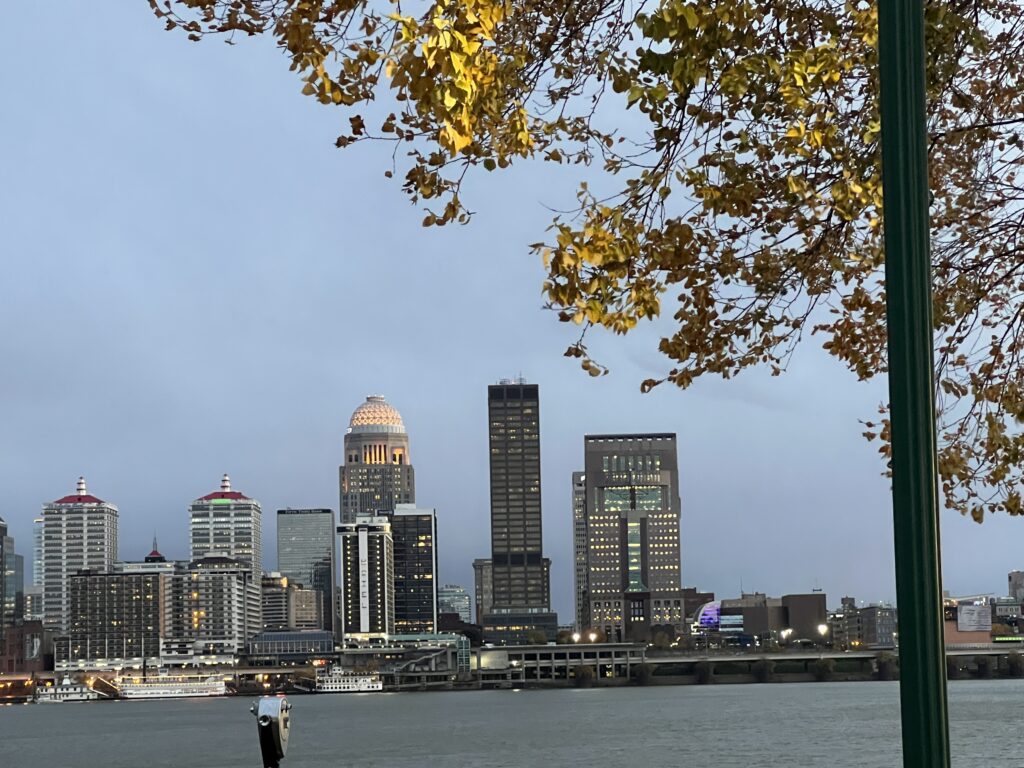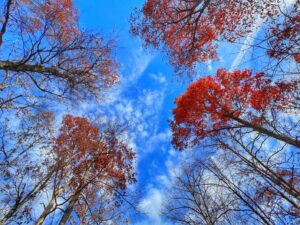 The weekend of November 20 would be the finishing weekend for Julianne and Marissa and the others to finish the Sheltowee Trace.  They finished the hike just before a heavy rainstorm north of Morehead, Kentucky.  What an adventure it was for all of us, in our own ways.
As with other areas of Kentucky, the fall colors were out in abundance and there were some splendid views. This weekend there were over 30 hikers that finished up the hike, and even a couple of dog hikers. Of course, I am always on the lookout for fun signs.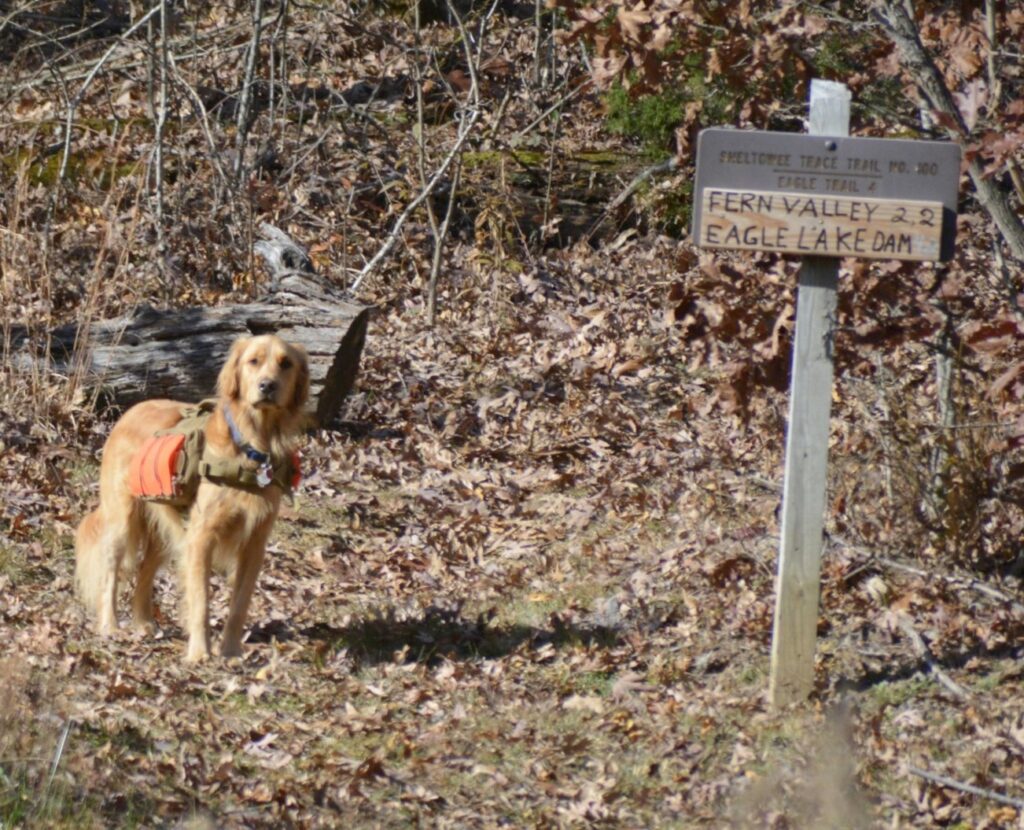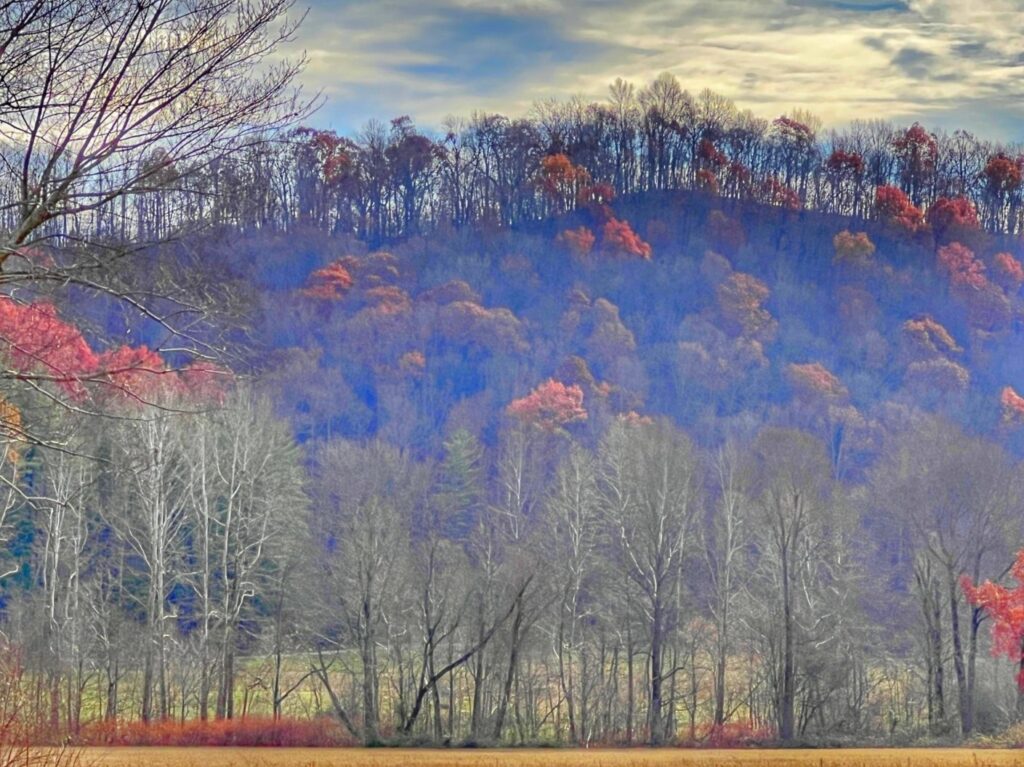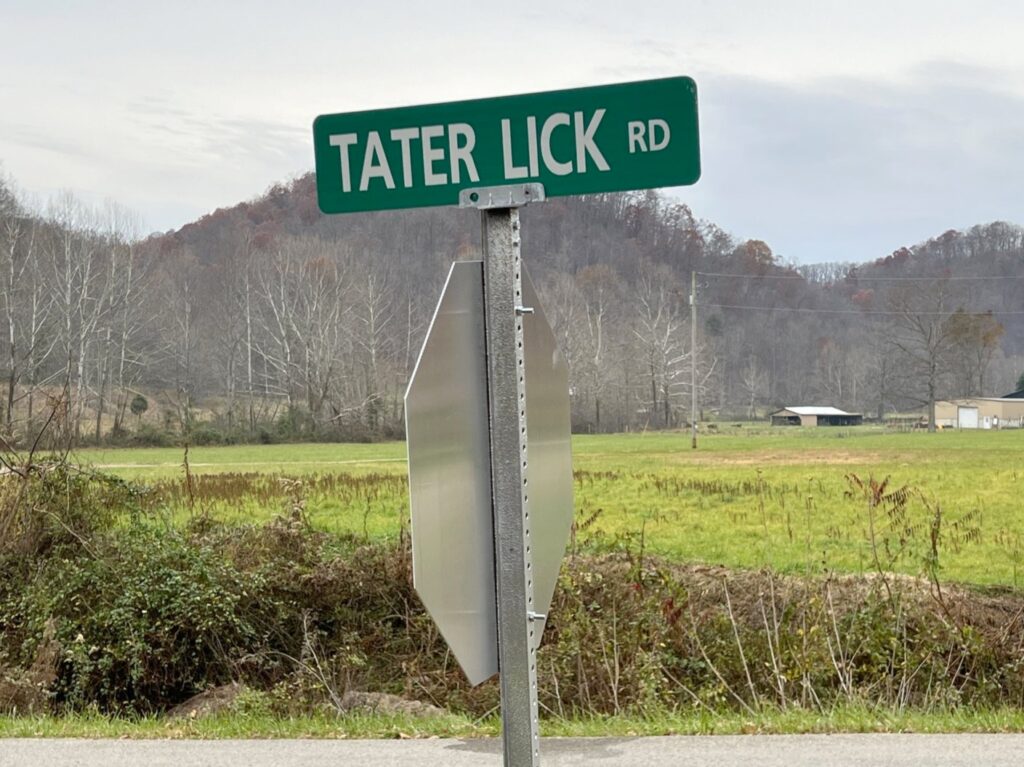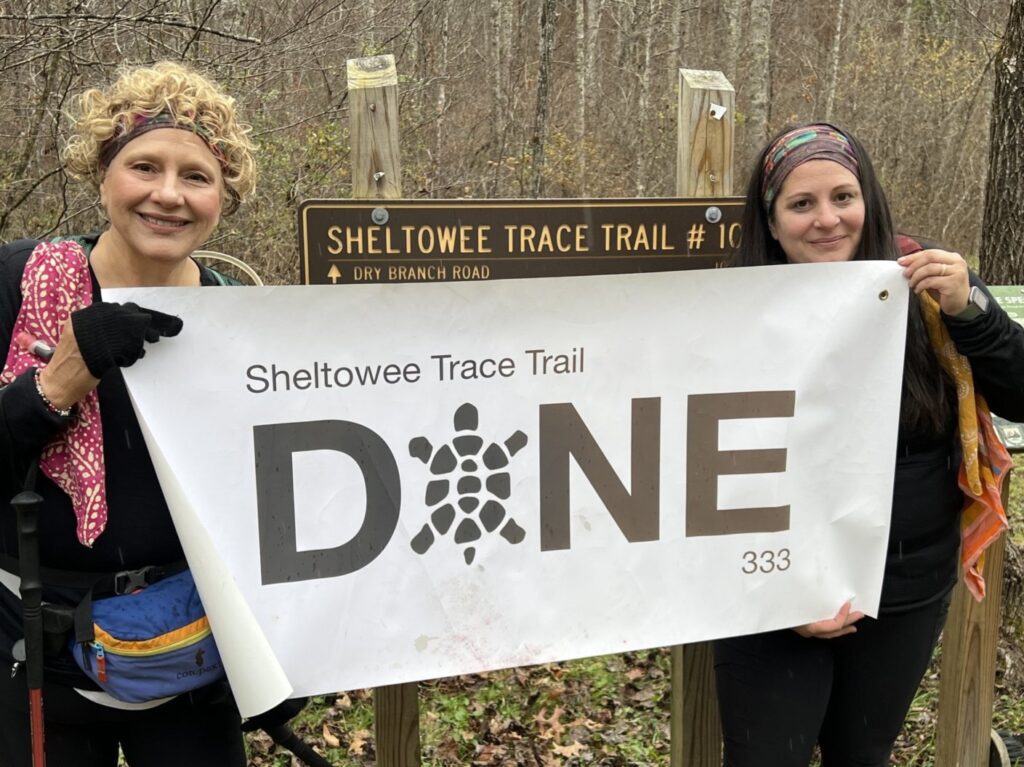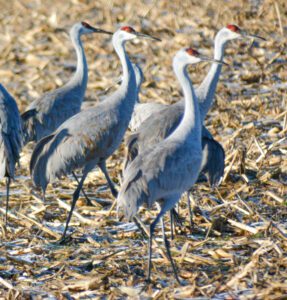 I had one more road trip left in me for 2021.  On December 12 I was joined by three other photographer friends for yet another trip to Seymour, Indiana to witness the Sandhill Crane migration.  It was a great day trip with some good people and with thousands of the beautiful Sandhill Cranes.
I have made four trips up to Seymour to view the annual Sandhill Migration.  We were blessed with nice, but really cold, weather.  There were thousands of these lovely birds grazing on corn in the fields or flying above.  Their unique  and eerie sounds emanate from the sky and can be heard from almost a mile away.  Truly, my viewing trips are always one of my highlights of the year, and this trip was no exception.  Here are a couple more photos of these amazing birds.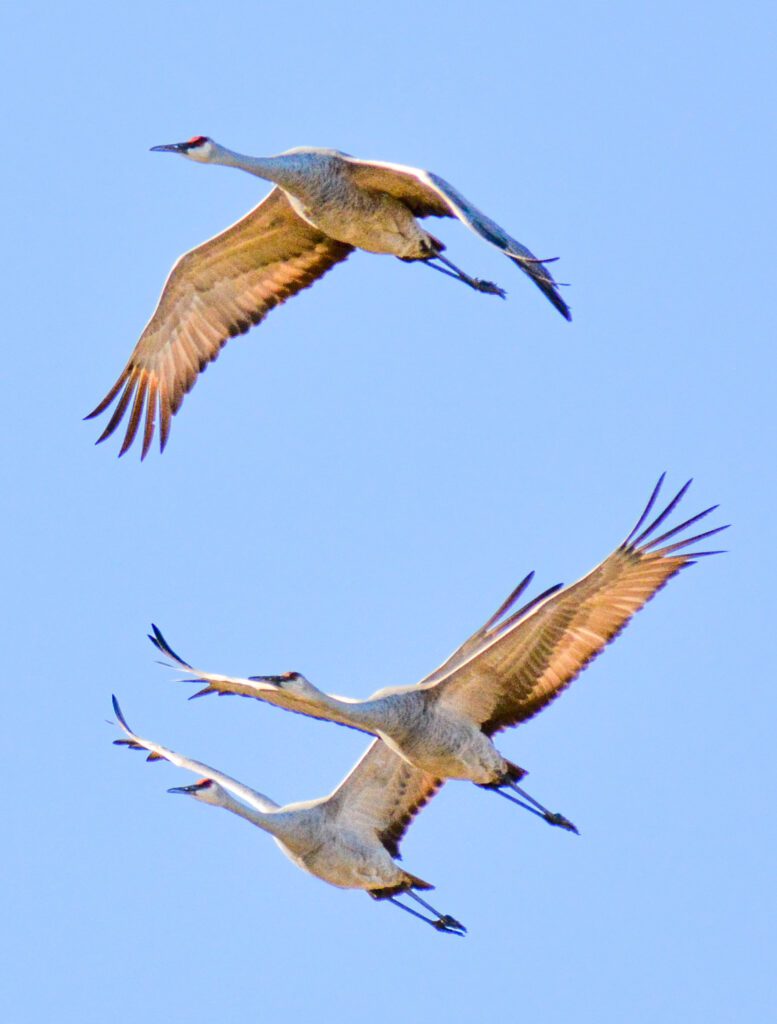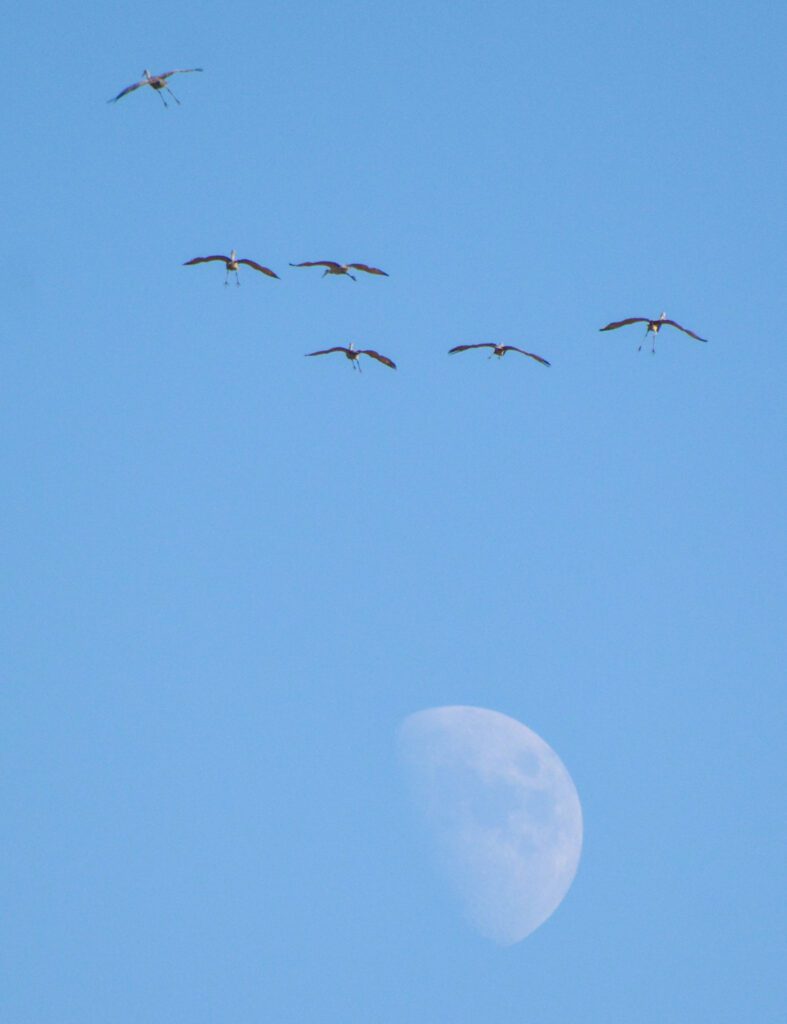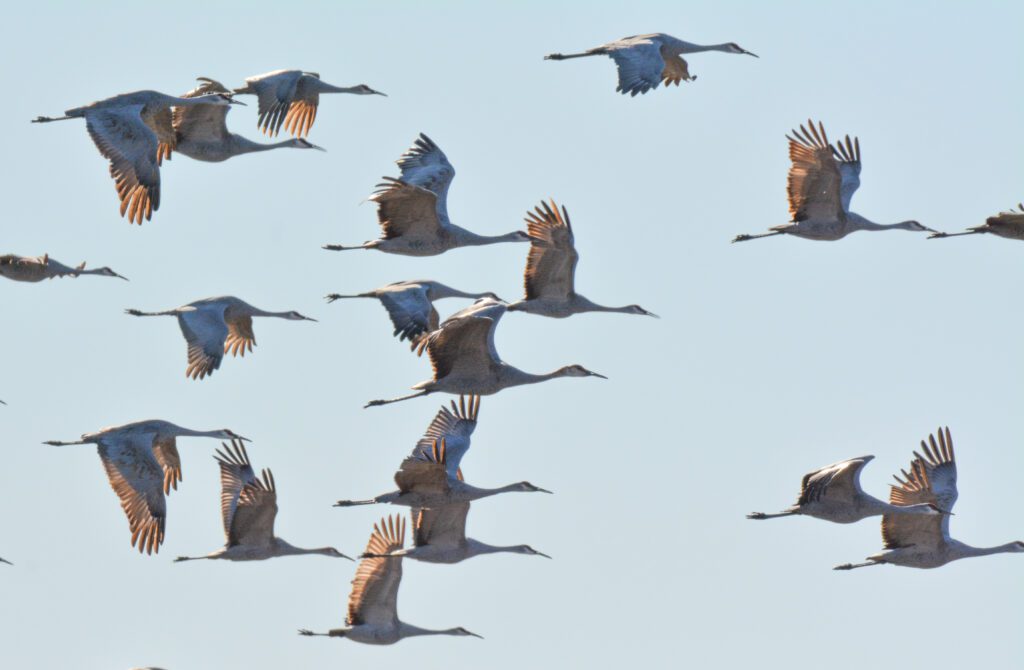 Did you find this post interesting?  I have visited many interesting places like this one that dot  the United States. My books detail dozens of these kinds of places. You can find my Less Beaten Paths books on Amazon.com!  Currently there are five in print (and in Kindle version too!!)  You can see all of my books on my author page at https://www.amazon.com/~/e/B0784XVGSW
TWO NEW 2021 BOOKS NOW AVAILABLE ON AMAZON! (CLICK ON COVER FOR MORE DETAILS)